Political upheaval has major influence over the stock markets, and with climate-change-denying Donald Trump's "disaster" of an election win, renewable energy investment is looking bleak at the moment as dirty energy surges.
Really?! What is happening?! Leo needs to have a word #TrumpDigsCoal #ClimateChange #BeforeTheFlood #USElection2016 https://t.co/tbqAbpIRn3

— Stacey Goater (@Stacey Goater)1478687825.0
The world's top coal trader Glencore Plc rose more than 5 percent today while the world's biggest wind-turbine maker Vestas Wind Systems A/S fell about 13 percent, according to Bloomberg. Solar companies First Solar, SunPower and SolarCity were down a respective 6 percent, 17 percent and 6 percent this morning. Shares in European renewable energy equipment makers and utilities with significant investments in the U.S. have fallen as much as 10 percent, Reuters reported.
As Bloomberg warned in its report, "the swing foretells a story of fossil fuels making a comeback, while the fight against climate change—and investment in wind and solar power—languishes."

Our president-elect—who literally said "the wind kills all your birds" and solar is "not working so good"—has made no bones about his support of dirty energy, from his ties to the controversial Dakota Access Pipeline to his pledge to bring back the dirtiest fuel on the planet, coal.
The U.S. wind power industry is "bracing itself for an uncertain future following the election of Donald Trump to the presidency," staff from Wind Power Monthly wrote in a column today. The publication quoted Trump's plans to "unleash America's $50 trillion in untapped shale, oil, and natural gas reserves, plus hundreds of years in clean coal reserves."
'Trump's Election Is a Disaster' by @StefanieSpear of @EcoWatch: https://t.co/jjnWs7tWQX #GameOverForClimate

— Michael E. Mann (@Michael E. Mann)1478701114.0
Meanwhile, crude oil prices have wavered between gains and losses as investors are uncertain over the president-to-be's energy plans. Experts explained that while Trump would likely scale back regulations and encourage drilling, that plan would effectively keep oil prices low due to a global oil glut.

"It probably ends up not being all that supportive for prices because supply will be ample," Bill O'Grady, chief market strategist at Confluence Investment Management, told The Wall Street Journal. "But the oil companies themselves will be thrilled."
With the legislative and (likely) the judicial branch as trump cards, the 45th President of the United States stands to sully much of President Obama's environmental legacy, especially Obama's landmark Clean Power Plan to cut greenhouse gas emissions from power plants.
"Under the [Clean Power Plan] and current renewables incentives, most U.S. utilities are opting to replace retiring coal plants with wind and solar facilities," Utility Dive's Gavin Bade wrote. "But without those programs, the investment situation may start to look different for many utilities. Whereas Hillary Clinton was likely to build upon existing regulations on power sector pollution, the promise of less stringent rules could increase the appeal of fossil fuel assets."
Here's What #Trump Would Do in His First 100 Days https://t.co/dPfOhlj3Gf @ClimateNexus @billmckibben @MichaelEMann @kxlblockade @janekleeb

— EcoWatch (@EcoWatch)1477315272.0
Alexandre Andlauer, head of oil at research firm Alphavalue in Paris, told Bloomberg that "the oil and gas industry is a clear winner with the new president. U.S. Oil companies have a better future today than yesterday."
On the federal level, clean energy development and policies are unlikely. Trump has spoken of dismantling the U.S. Environmental Protection Agency (EPA) and renegotiating the Paris agreement. He will will likely stack his cabinet with pro-business and pro-fossil fuels appointees. According to POLITICO, potential names in the hat for Interior Secretary includes Lucas Oil co-founder Forrest Lucas; venture capitalist Robert Grady, a George H. W. Bush White House official with ties to New Jersey Gov. Chris Christie; former Alaska Gov. Sarah Palin; former Arizona Gov. Jan Brewer; Oklahoma Gov. Mary Fallin; Wyoming Rep. Cynthia Lummis (R); and Oklahoma oilman Harold Hamm. Both Hamm and Grady are also considered potential picks for Energy Secretary. On Trump's list for EPA administer is Competitive Enterprise Institute's Myron Ebell, a well-known climate skeptic who is leading Trump's EPA transition team.
Federal tax incentives for solar and wind might also be at risk. Christian Roseland of PV Magazine warned that Trump and his Republican government can decide to "pre-emptively end the 30 percent solar Investment Tax Credit (ITC), which was recently extended to 2020."
However, there is one silver lining. Roseland noted that "if there is a saving grace, it is that other than the ITC the most important policies for solar are at the state and not the national level. Trump's presidency will not undo the renewable portfolio standards in California or New York, or the implementation of PURPA in North Carolina and Utah."
States, a clean energy future might be up to you.

EcoWatch Daily Newsletter
It's no secret—here in the U.S., there's an election coming up. It's soon. It's a big decision for American voters. And it's a big deal.
It's also not the only decision with global consequences this fall. Because at the same time the U.S. campaign season was getting into the business end of things, more and more leaders all around the world were deciding to stand up to climate change and sign on to the historic Paris Agreement. In fact, 86 parties (representing over 61 percent of global emissions) have already joined this landmark agreement—which will now go into effect on Nov. 4, four days before the U.S. votes. Interesting timing, don't you think?
Coincidence or not, the timing of the two events highlights what's at stake for our planet in these decisions and why—we've learned anything after months and months of way too many ads, speeches and debates, it's that politicians go where the voters tell them. So let's make the climate issue their issue, the one they can't afford to ignore. And not just this year, but in every year that follows.
Why now? Because with the Paris Agreement becoming official, we finally have the framework to fight climate change together as one planet in a way we never have before. And with all the incredible progress we're seeing in renewables and other areas of solutions, we finally have the tools and technology to make a global shift from fossil fuels to clean energy, affordably and effectively. Want proof? Here are seven reasons we're hopeful for the future, because the solutions are out there:
1. Renewables are growing and getting cheaper
Due to declining costs and improvements in renewable technologies, solar and wind projects are being built in more places around the globe more cheaply than any time in history. On top of that, if the price of photovoltaic cells continues to drop as rapidly as it has over the past 10 years, solar power could be as cheap as coal almost everywhere by as early as 2017!
According to some studies, almost 100 percent of the world's energy needs could be met with renewable sources by mid-century—as long as the right supportive public policies are put in place to help implement them. That's where our elected leaders come in— and where you come in too.
2. Cost of rooftop solar is competitive
In many places across the U.S., not only is solar power becoming more affordable than ever before, it's actually becoming cost competitive with most utility rates for energy from fossil fuel. When solar power costs the same (or less!) as purchasing power from the grid, it's called solar grid parity, and it's an important milestone in demonstrating the cost-effectiveness of harnessing the power of the sun. The U.S. is well on the way to achieving the SunShot Initiative's 2020 goal of solar grid parity—with several major regions following suit.
3. Remarkable progress in energy storage
How we create energy with renewables is important. How we store this energy—so we can use it when needed—is just as critical. That's because the sun doesn't shine 24 hours a day every day, nor is it always windy. The good news is this: we're seeing incredible progress in energy storage. For example, a bill for California's energy storage mandate passed unanimously, instructing the state's investor-owned utilities to greatly expand electricity storage capacity. And since then, the state has expanded the mandate to allow even more energy storage. Similar policies in Japan and Germany are spurring similar growth in energy storage overseas.
4. The electric grid is evolving
Just like energy storage is important for renewable energy to thrive, a smarter and more flexible electric grid is critical too. Smart grids improve energy efficiency, save money, and can improve reliability—all great reasons to move away from fossil fuels towards cleaner sources of energy. And since the grid is evolving and more renewables are being introduced, there is huge potential to revolutionize the energy market—for the benefit of the environment and economy.
5. The electric vehicle market is booming
Sure, the news that Tesla was releasing its cheapest electric car yet threatened to break one corner of the internet, but that's not the only sign the electric vehicle industry and market are booming. Just look at China: the government has expanded incentives for electric vehicles, waiving or even cutting sales taxes. And plug-in cars are even changing the face of auto racing! Just last year, Miami hosted a Formula E race, where all the race cars were electric. How cool is that?
6. Transportation is more efficient and public transit is growing
A recent survey by Consumer Reports found that the overwhelming majority of Americans (84 percent, in fact) believe automakers should keep making cars and trucks more and more fuel efficient. And automakers are listening—and not just in the US. At the same time use of public and mass transportation is growing rapidly. Technical improvements for new vehicles could avoid about 1.4 gigatons of CO2 annually by 2030, several countries are implementing eco-driving programs, and emissions mandates on cars in the US and EU are saving drivers at the pump in a big way. Meanwhile, huge investments in public transportation in countries like India and Colombia are helping contribute to energy conservation, land preservation, reduced air pollution, and so much more.
7. Energy efficiency is improving and saving you money
The more efficient you are at a task, you're wasting less time to complete it, right? It works the same way with energy: the more efficient energy is, the less you'll waste. Listen to this: a study across certain countries showed in just five years, energy efficiency measures avoided the consumption of 570 million tons of dirty energy. In other words, without these measures, energy use across these countries would have actually increased by 5 percent.
There was a record amount of new renewable energy installations globally in 2015, with 500,000 solar panels installed every day.
According to the International Energy Agency (IEA), total clean power capacity increased by 153 gigawatts, overtaking coal for the first time.
"We are witnessing a transformation of global power markets led by renewables and, as is the case with other fields, the center of gravity for renewable growth is moving to emerging markets," Dr. Fatih Birol, the IEA's executive director, said.

The agency also raised its five-year forecast for renewable energy by 13 percent and now expects renewables to be 42 percent of global energy capacity by 2021.
"Last year was a year of records for #renewables" says IEA Executive Director @IEABirol. Find out more 👉… https://t.co/7Hh21UjHN8

— IEA (@IEA)1477384270.0
For a deeper dive:

Guardian, Reuters, Politico Pro, Financial Times, Bloomberg, PV Magazine, San Diego Union-Tribune, CNBC, BusinessGreen

For more climate change and clean energy news, you can follow Climate Nexus on Twitter and Facebook, and sign up for daily Hot News.

A 13-year-old student from Ohio won the top prize at the 2016 Discovery Education 3M Young Scientist Challenge Tuesday for developing a cost-effective device that uses solar and wind power to create energy.
Grand prize winner Maanasa Mendu with 3M scientist mentor Margaux Mitera at the 2016 Discovery Education 3M Young Scientist Challenge in St. Paul, MN.Discovery Education
Maanasa Mendu, a ninth grader at William Mason High School in Ohio, said she was inspired by a visit to India where she discovered many people lacked basic life necessities such as clean water and lighting.

Mendu's initial idea harnessed only wind energy when she entered the competition. According to Business Insider, the leaves cost roughly $5 to make.
During the past three months, Mendu worked with Margaux Mitera, a 3M senior product development engineer, to develop a more advanced system that was inspired by how plants function. Mendu decided to create "solar leaves" that harnessed vibrational energy. Her "leaves" get energy from rain, wind and the sun, using a solar cell and piezoelectric material—the part of the leaf that picks up on the vibrations—and transforms it into usable energy, Business Insider said.
Besides being named "America's Top Young Scientist," Mendu won $25,000 for her invention.
"Each year, the Discovery Education 3M Young Scientist Challenge reminds us of the inspiring ingenuity that results when we empower our youngest generation to apply science, critical-thinking and creativity to solve real-world problems," said Bill Goodwyn, president and CEO, Discovery Education.

The second, third and fourth place winners each received a $1,000 prize and a trip to a taping of a show on Discovery's family of networks for their inventions:

Rohan Wagh from Portland, Oregon, a ninth grader at Sunset High School in Beaverton School District, received second place for his innovation that utilizes the natural metabolism of bacteria to create energy.
Kaien Yang from Chantilly, Virginia, an eighth grader at Nysmith School for the Gifted, received third place for his innovation that uses pumpkin seed oil to create both a biodiesel and bioplastic that reduces emissions and pollution from plastic.
Amelia Day from Sumner, Washington, a ninth grader at Sumner High School in Sumner School District, received fourth place for her invention that uses sensory feedback to help rebuild neural connections inside of the brain during rehabilitation.
Wind energy had a banner day in Scotland. Thanks to an unseasonably windy Sunday, wind turbines generated more electricity than the country actually needed.
Gale-force winds helped provide a record 106% of Scotland's electricity needs on Aug. 7. Flickr
After analyzing data from WeatherEnergy, the environmental group WWF Scotland announced that wind turbines generated more than 100 percent of the total amount of electricity used in the country on Aug. 7.
As per the Guardian:
Turbines in Scotland provided 39,545 megawatt-hours (MWh) of electricity to the National Grid on Sunday while the country's total power consumption for homes, business and industry was 37,202 MWh—meaning wind power generated 106% of Scotland's electricity needs.

"Electricity demand during weekends is usually lower than the rest of the week," Karen Robinson of WeatherEnergy said. "Nevertheless, the fact that wind power was able to generate the equivalent of all Scotland's electricity needs shows just how far renewables have come."

"While it's not impossible that this has happened in the past, it's certainly the first time since we began monitoring the data in 2015 that we've had all the relevant information to be able to confirm it," WWF Scotland's director Lang Banks said. "However, on the path to a fully renewable future, this certainly marks a significant milestone."
Incidentally, Aug. 7 was possibly the " windiest summer's day on record," prompting the Met Office to issue yellow "be aware" warnings. Wind speeds clocked in at 115 miles per hour at the Cairngorm mountains and roughly 60-miles-per-hour gusts in northern towns, disrupting train and ferry services and causing power outages.
Despite the weather mishaps, Banks said that the particularly windy day had a silver lining.
"While Sunday's weather caused disruption for many people, it also proved to be a good day for wind power output, with wind turbines alone providing the equivalent of all Scotland's total electricity needs," he said. "This major moment was made possible thanks, in part, to many years of political support, which means that across the year now, renewables contribute well over half of our electricity needs.
"However, if we want this ensure we reap the many benefits of becoming a low-carbon economy we need to see this political support for renewables continue."
Wind power is not the only renewable power source Scotland has at its disposal, Banks pointed out. "If we continue to take steps to reduce our energy demand, invest in storage, and increase our use of renewables we can hopefully look forward to many days that are fully powered by nature," he said.
WWF Scotland has urged the government to set plans to secure half of all of the country's energy needs, including heat and transport, from renewables by 2030, The Independent reported.
Environmentalists believe the goal is within reach since Scotland's impressive energy mix already achieved a number of milestones, including:
• For homes fitted with solar PV panels, there was enough sunshine to generate an estimated 100% of the electricity needs of an average household in Aberdeen, Dundee, Edinburgh, Glasgow and Inverness.
• For those homes fitted with solar hot water panels, there was enough sunshine to generate 100% of an average household's hot water needs in Aberdeen and Dundee, 98% in Inverness, 97% in Edinburgh and 94% in Glasgow.
• Wind turbines in Scotland provided 692,896MWh of electricity to the National Grid, enough to supply, on average, the electrical needs of 76% of Scottish households (1.8 million homes).
• Wind turbines generated enough electricity to supply 100% or more of Scottish homes on ten out of the 31 days of May.
• Scotland's total electricity consumption (i.e. including homes, business and industry) for May was 1,938,785MWh. Wind power therefore generated the equivalent of 36% of Scotland's entire electricity needs for the month.

According to Banks, "These figures underline the fantastic progress Scotland has made on harnessing renewables, especially to generate electricity."
"However," he added, "with less than 13 percent of our total energy needs coming from renewable sources, it's now time to widen our attention on de-carbonizing our economy beyond just our power sector."

The Scottish government states on its website that it has a renewable energy target of generating the equivalent of 100 percent of gross annual electricity consumption and 11 percent of heat consumption by 2020. But a statement from a spokeswoman suggests that government may be considering a new renewables target after the record-breaking weekend.
"Scotland's abundant energy resources play a vital role in delivering security of electricity supply across the UK," a Scottish government spokeswoman told the Guardian . "The Scottish Government is committed to supporting onshore wind, which is one of our most cost-effective low-carbon energy technologies.
"We remain fully supportive of low-carbon technologies, which offer a huge economic opportunity for Scotland and have a key role to play in our fight against the threat posed by climate change to our society and natural environment.
"We have a clear policy for an energy mix to provide energy security for the future and will set out our ambitions for an integrated approach to low-carbon technologies within our draft energy strategy later this year. This will include exploring the option of setting a new renewable energy target."

Surrounded by monstrous blades and tower sections on the docks of the Port of Providence, Gov. Gina Raimondo was joined by local elected leaders and clean energy advocates Monday to celebrate the final stages of construction of the nation's first offshore wind farm.
Fred. Olsen Windcarrier
As soon as next week, the company Deepwater Wind will begin installing the turbine towers and blades for the project, located three miles southeast of Block Island, Rhode Island and east of Long Island, New York.

With the potential to supply all of Block Island with clean power, the 30 MW wind farm could jumpstart the nation's efforts to finally capture the immense pollution-free resource off our coasts, advocates say.
"We're poised to tap the tremendous energy resource provided by the winds that blow off our shores," Rob Sargent, Environment America's Energy Program director and among those celebrating the project today in Providence, said. "Rhode Island deserves tremendous credit for being the first, but it certainly won't be the last."
Located in a renewable energy zone designated by Rhode Island state officials several years ago, the Block Island project will reduce carbon dioxide emissions over the next 20 years in amounts equivalent to taking 150,000 cars off the road, create more than 300 jobs and save local residents up to 40 percent on their energy bills.
Other projects off the Atlantic Coast could provide similar benefits. A 2014 report showed that the 1.5 million acres designated for wind energy off the Atlantic Coast could support enough electricity to power more than 5 million homes, offsetting dirty fossil fuel energy sources and creating local jobs.
Advocates urged other Atlantic Coast states to follow Rhode Island's lead and pressed federal decision makers to continue to do their part to support offshore wind.
"If we're serious about tackling pollution from fossil fuels and helping our local economy, we should commit ourselves to meeting all our energy needs with clean, renewable energy sources such as offshore wind," Sargent said.
"That's why we need bold commitments from governors and state leaders, we need Congress to extend offshore wind tax incentives and we need federal officials to continue leading the way through programs like the Smart from the Start Initiative. With the right support, Block Island will be just the beginning."
The nation's largest offshore wind energy project is just one approval away from coming to fruition.
The Long Island Power Authority's (LIPA) board of directors will meet July 20 to approve Deepwater Wind's 90-megawatt, 15-turbine wind farm, according to Politico. Turbines would be placed 30 miles offshore—over the horizon and out of sight from land—and could provide energy to Long Island customers by the end of 2022.
London Array is the world's biggest offshore wind farm located in the outer Thames Estuary of the U.K. The farm consists of 175 Siemens 3.6MW turbines. Photo credit: Xcite Fun
"This is the first in New York, it's the largest to date, but we're looking at this and seeing a tremendous offshore wind resource that will be developed and it's not the last," Deepwater Wind CEO Thomas Falcone told the AP. "I think this is a very big step ... for New York, but also for the United States."
Deepwater Wind's Long Island project got a major boost today when New York Gov. Cuomo announced his support for the planned wind farm. In a statement, Cuomo said:
The LIPA Board of Trustees Wednesday will consider advancing the development of the nation's largest offshore wind farm off the coast of Long Island. I strongly encourage the Trustees to once again demonstrate New York's leadership on climate change and help achieve the state's ambitious goal of supplying 50 percent of our electricity from renewable energy by 2030.

Investing in New York's clean energy economy strengthens our communities by providing access to clean, affordable power and good quality green jobs. Next week marks another opportunity for this state to lead the nation in creating a stronger, more resilient energy system and protecting the environment for future generations.

The Sierra Club applauded Cuomo's announcement. Lisa Dix, the organization's senior New York representative, said:
This announcement is the first step toward a bold, long-term, large-scale offshore wind program for New York and catapults New York to the forefront of America's clean energy economy. Today was the result of years of hard work by concerned citizens across the island and around the state that understand that offshore wind is essential to moving New York to a 100 percent clean energy future, while protecting our wildlife, environment and coastal communities from the devastating impacts of climate disruption.
Deepwater Wind, a Rhode Island-based company, is currently building the nation's first offshore wind farm near Block Island, Rhode Island. The 30-megawatt, 5-turbine project farm is expected to go online later this year, the Providence Journal reported.
.@AWEA: U.S. #Wind Energy Blew Away Records in 2015 https://t.co/q2rVDJtA0y @VanJones68 @sierraclub @ClimateReality https://t.co/DmsG8INriv

— EcoWatch (@EcoWatch)1460642006.0
Falcone said because the Long Island and Block Island projects are located in the same federally-approved waters, construction on the Long Island farm could be expedited to meet the plan's deadline.
"There's already construction going on there," he said. "It's in the same area."
The Long Island project would produce enough energy to power 50,000 homes in the Hamptons, the Providence Journal said.
Deepwater Wind's plan also includes the construction of two battery energy storage facilities that the Long Island Power Authority can use at peak demand for electricity. General Electric would design and install the facilities.
"Not only will the project reduce air pollution emissions on Long Island, but it'll also defer the need to build costly new power plants and transmission systems on the South Fork," then-Deepwater Wind CEO Jeffrey Grybowski said when announcing the proposal last year.
Wind turbines in the Nysted Wind Facility, located 8-12 miles offshore Denmark, are arranged to take advantage of prevailing winds. Turbine spacing is carefully designed to maximize cost efficiency and power production.Photo credit: Bureau of Ocean Energy Managment
The Long Island project is just one of a number being considered in the Atlantic Ocean.
But, our nation's oceans aren't the only potential home for offshore wind farms. In June, Lake Erie Energy Development Co's (LEEDCo) "Icebreaker" project received a $40 million boost from the U.S. Department of Energy to build six 3.45-megawatt turbines in Lake Erie between 8 and 10 miles off the coast of Cleveland.
The U.S. lags behind other countries in utilizing this clean, renewable form of energy. Offshore wind has a projected 4,223 gigawatts of electric generating potential, with Lake Erie's waters alone accounting for more than 50 gigawatts of that power, as LEEDCo explained in an article.
World's Largest Offshore Windfarm Will Power More Than 1 Million Homes https://t.co/z9iK4nrgYj @EWEA @ClimateReality https://t.co/Ph8U5980V3

— EcoWatch (@EcoWatch)1454601128.0
Lorry Wagner, LEEDCo's president, told EcoWatch that political roadblocks are what's holding up the development of offshore wind as a viable energy source.

"It always comes down to policy and we have not had much for offshore wind," he said. "It is also true that onshore has been so successful, that offshore tends to get lost in the big picture. It will take a combination of policy and successful projects that will enable the industry to take hold."
The U.S. has seen several proposals for offshore wind farms, the Providence Journal said, but none have come to fruition yet.
"Offshore wind needs to be a significant part of the energy mix," Heather Leibowitz, the director of Environment New York, said. "It is key to putting the Empire State on a path toward an economy powered entirely by renewable energy. The 90-megawatts of energy produced off east Montauk will get us one step closer to this goal.
"LIPA's approval of the project is key to meeting Governor Cuomo's interim goal of 50 percent clean energy within 15 years. Constructing the nation's largest offshore wind energy project is momentous and puts New York right where it should be—at the front of the pack. Accelerating our transition to pollution-free energy sources means cleaner air for families, less global warming pollution, more stable electricity bills, and a stronger economy."
As the UK cleans up after being lashed by the remnants of Hurricane Bertha, which brought summer flooding and travel disruption, it is also reaping the benefits of a boost to the country's wind industry brought by the storm, with output hitting near record highs.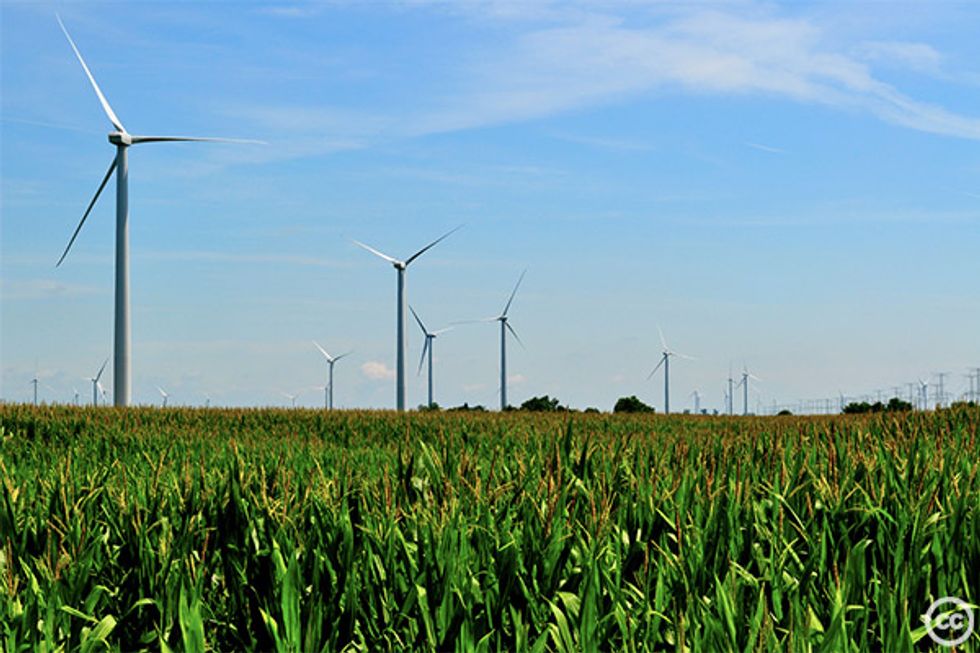 A surge in wind power say clean energy outstrip coal in the UK. Creative Commons: Tom, 2010
Wind power met almost 16 percent of the UK's power demand on Monday morning, and 13.1 percent of demand over the preceding 24 hours.
The strong performance meant wind power output exceeded coal power—which accounted for 11.3 percent, according to trade body EnergyUK.
It also took output to levels close to the record set during last December when wind energy met 10 percent of electricity demand throughout the month and peaked at 17 percent of demand.
The UK has broken a series of wind records over the past 12 months, and last week new government figures confirmed that 2013 had seen around 15 percent of electricity in the country come from renewables—7.9 percent of which was provided by onshore and offshore wind turbines.
The plentiful supply of wind energy is also helping to pick up the slack this week as French energy companies EDF was forced to shut down four nuclear reactors in the UK.
The reactors are expected to remain closed for eight weeks—after a fault was found in a boiler unit—but National Grid have said the closures should not affect the UK's energy supply.
It told the Financial Times:
Demand is low at this time of year, and a lot of wind power is being generated right now.
This is an ironic turn of events, with critics of renewables arguing that surges in output caused by weather conditions create problems as renewable energy can not provide a reliable supply.
They argue such sources of energy will also fail to deliver the needed steep emissions reductions as back-up power capacity is still needed.
But the National Grid has said it can manage high levels of variable renewables, and this week's events have shown that large reactors and generators can also suddenly go offline with no warning.
As recent government figures have show, in 2013 the load factors from onshore and offshore wind actually exceeded or equaled that of gas at nearly 28 percent.
You Might Also Like
How Doubling Renewable Energy Worldwide Could Save $740 Billion per Year
Germany's Windiest State Set to Achieve 100-Percent Renewable Energy
Wind energy figures from 2013 keep pouring in and they continue to impress.
According to a report preview from the American Wind Energy Association (AWEA), wind generation reduced carbon dioxide emissions in the power sector by 4.4 percent. That's good for 96 million metric tons, or the equivalent of taking 16.9 million cars off the road.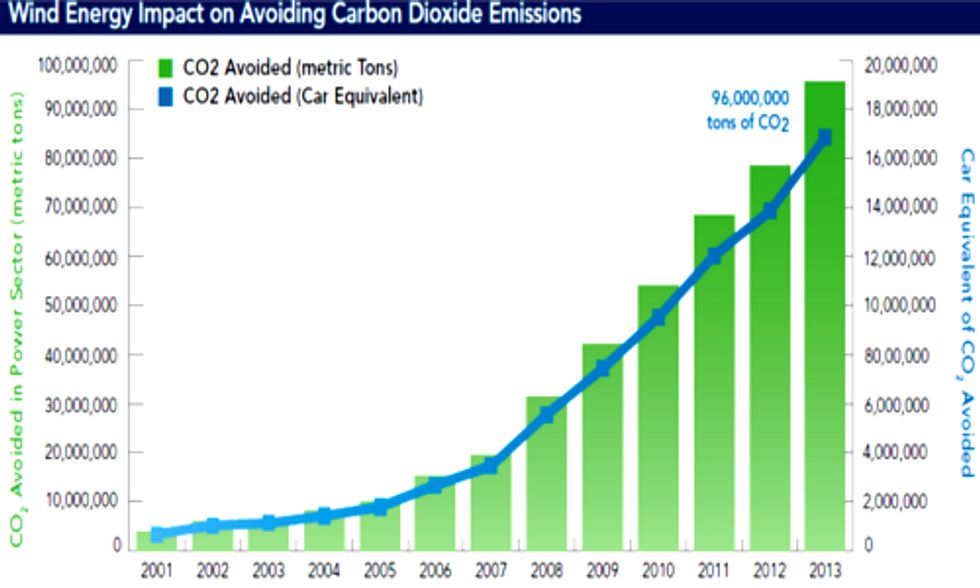 "Wind energy is leading the U.S. to a low carbon future," Emily Williams, a senior policy analyst for AWEA, said in a statement. "Not only is wind energy reliable and affordable, but it's providing sustained emissions reductions in the sector that contributes the most to climate change, the power sector."
Just one month ago, AWEA released data that detailed information about each state's generation of wind energy in 2013. Led by Iowa, South Dakota and Kansas, wind energy provided 4.14 percent of the country's wind energy, pushing it to become the country's fifth-largest power source.
According to AWEA, wind also reduced sulfur dioxide, nitrogen oxides and other toxins. It also helped the nation cut down on the amount of water typically evaporated during the process used at most conventional power plants.
Water savings totaled 36.5 billion gallons of water, or 276 billion bottles of water.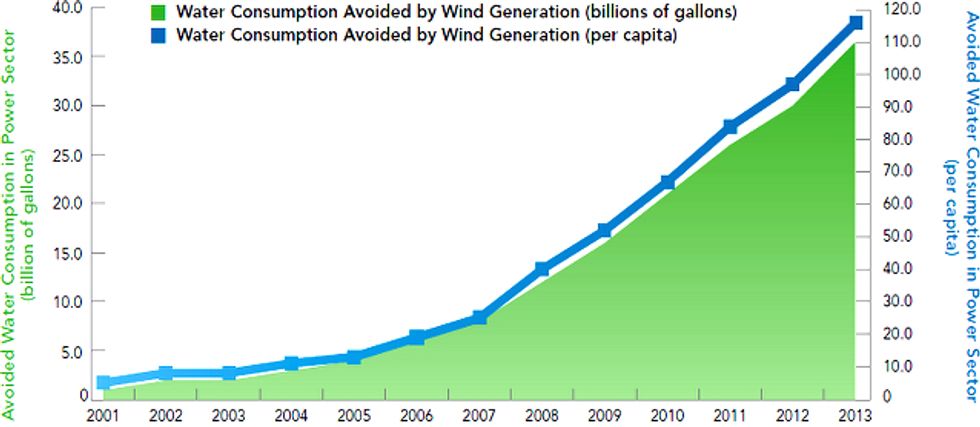 The organization says there were about 12,000 megawatts under construction at the end of last year. On average, each megawatt hour avoids about 0.6 metric tons, or 1,300 pounds, of carbon dioxide for every megawatt hour. That would reduce the power sector's emissions by 117 million tons annually, or by more than 5.3 percent.
——–
YOU ALSO MIGHT LIKE
Wind Energy's Rise: The Numbers Behind a Milestone-Setting Year
First-Ever Collegiate Turbine Competition to Hit Annual Wind Industry Conference
Why States That Produce More Wind Energy Have Lower Power Prices
——–
At first glance, you might mistake the potential future of wind energy as a blimp—the type of added effect perfect for flying over a carnival or football game.
Instead, the BAT—Buoyant Airborne Turbine—is a wind turbine inside of an inflatable, helium shell capable rising 1,000 feet above ground. Altaeros Energies, a firm housed at small business incubator Greentown Labs near Boston, MA, is deploying the BAT as part of an 18-month, $1.3 million project in Alaska as the first-ever commercial, high-altitude wind turbine demonstration project.
The 1,000-foot height would also qualify as a record for the tallest wind turbine. At that height, the BAT would be about 275 feet taller than the current record holder for the highest wind turbine, the Vestas V164-8.0-MW, which was installed as a prototype at the Danish National Test Center for Large Wind Turbines in Østerild, Denmark. Last year, Altaeros successfully tested a BAT prototype in 45 mile-per-hour winds,  500 feet above its test site in Maine.
Altaeros CEO Ben Glass says the BAT represents a breakthrough in wind energy when compared to what he views as "incremental" improvements in the industry's technology. That's partly because it makes use of strong winds at heights that promise to generate more energy than the average turbine. The device's tethers are designed to hold the BAT steady and send electricity to the ground.
"The reason high-altitude wind is so exciting and worth going after is really very simple—there's just a lot more of it," Glass said in a video interview. "Winds 1,000 to 2,000 feet above the ground are, on average, five to eight times as powerful as what you get nearer to the ground."
Altaeros is targeting off-grid areas, including island communities and disaster relief zones. The demonstration project is funded through a partnership with the Alaska Energy Authority and private investment from Ratan Tata. Additional funding comes from the National Science Foundation, the California Energy Commission, and the ConocoPhillips Energy Prize.
The company says the BAT can be transported and set up without large cranes, towers or underground foundations.
Glass formed Altaeros with Adam Rein, a Greentown Labs board member, a few years ago while the two studied at the Massachusetts Institute of Technology.
———
Related Content:
Incubator Expands Opportunities for Entrepreneurs Creating Game-Changing Energy Technologies
Wind Energy's Rise: The Numbers Behind a Milestone-Setting Year
Offshore wind farms are coming to the U.S., the Department of Energy (DOE) announced this month, but nobody is sure just when.
Eleven offshore wind projects have reached "an advanced stage of development," according to the 2013 U.S. Offshore Wind Market and Economic Analysis, published earlier this month by Navigant Consulting. The farms would collectively generate 3,824 megawatts (MW) of energy. Parties involved in the projects have all signed a power purchase agreement, received approval for an interim or commercial lease in state or federal waters, or conducted baseline or geophysical studies at a proposed site.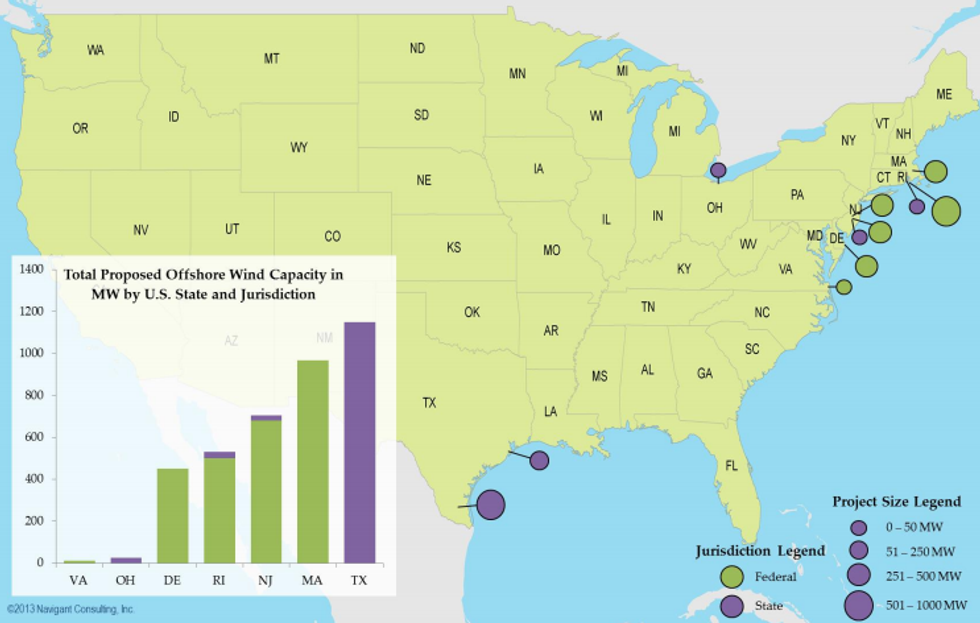 A map of proposed offshore wind projects in the U.S. Graphic credit: Navigant Consulting
The report shows that cost-competitiveness, regulatory processes and a lack of infrastructure—including offshore transmission and purpose-built ports and vessels—as the main deterrents to offshore development. Still, the Atlantic Wind Connection and New Jersey Energy Link  are two transmission infrastructure projects that made progress in the past year, according to the report.
Though no offshore wind farms currently exist in the country, the DOE has committed more than $300 million to the development of 72 offshore wind projects. Most of the funding was approved in fiscal years 2011 and 2012, though the DOE in 2006 began issuing $2.5 million to Bowling Green State University to research and remove impediments for deploying wind turbines on Lake Erie. 

Graphic credit: U.S. Department of Energy
 The average size of the turbines in the advanced projects is just over 4 MW, which is larger than most that are on shore.
"This trend toward larger turbines will likely continue, driven by advancements in materials, design, processes and logistics, which allow larger components to be built with lower system costs," the report reads. "The United States is largely planning to utilize larger offshore turbines rather than smaller turbines that have previously been installed in European waters."
The DOE also released information about various wind-farm studies that agencies and universities are collaborating on, ranging from interconnection to environmental surveys and electromagnetic interference mitigation. For example, the DOE, National Oceanic & Atmospheric Administration, National Weather Service and a host of private companies have been working on the Wind Forecast Improvement Project, which seeks to upgrade short-term weather forecast models for predicting foundational weather parameters that impact wind energy generation. A final report is expected by December.
Here are more key findings from Navigant:
There are approximately 5.3 gigawatts (GW) of offshore wind installations worldwide
Offshore wind projects around the world are trending further from shore into increasingly deeper waters, leading to higher capital costs
Approaches to drivetrain configurations continue to diversify in an effort to improve reliability and reduce exposure to volatile supplies of the rare earth metals required for direct drive generators.

By Michael Goggin
New research released by an independent grid operator confirms that wind energy is drastically decreasing both the price of electricity and emissions of harmful pollutants. The study was led by PJM, the independent grid operator for all or parts of 13 Mid-Atlantic and Great Lakes states (Delaware, Illinois, Indiana, Kentucky, Maryland, Michigan, New Jersey, North Carolina, Ohio, Pennsylvania, Tennessee, Virginia, and West Virginia) and DC. The results are posted here.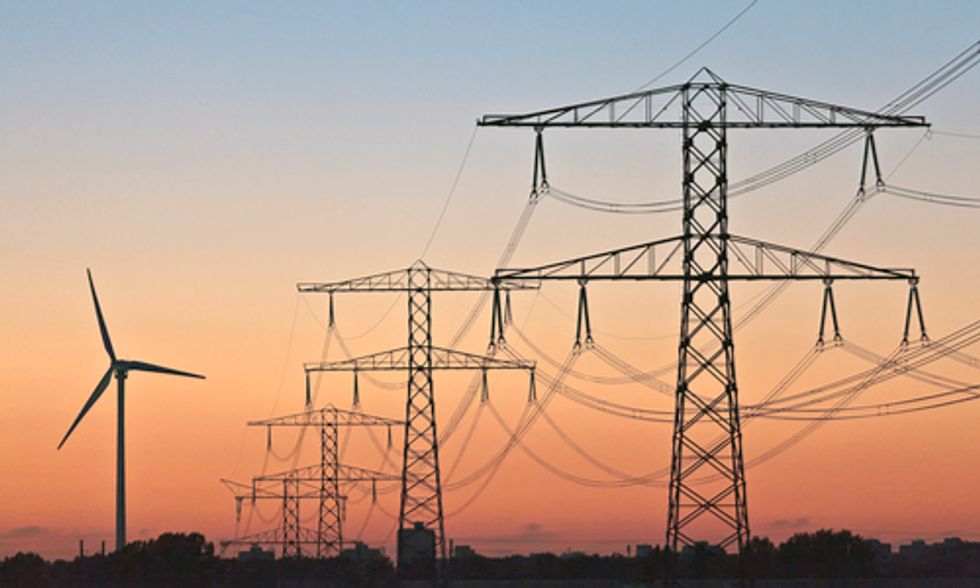 PJM, the independent grid operator for all or parts of 13 states, released a study this week showing that wind energy is decreasing electricity costs and emissions. Photo courtesy of Shutterstock
Highlights of the study:

By Paul Brown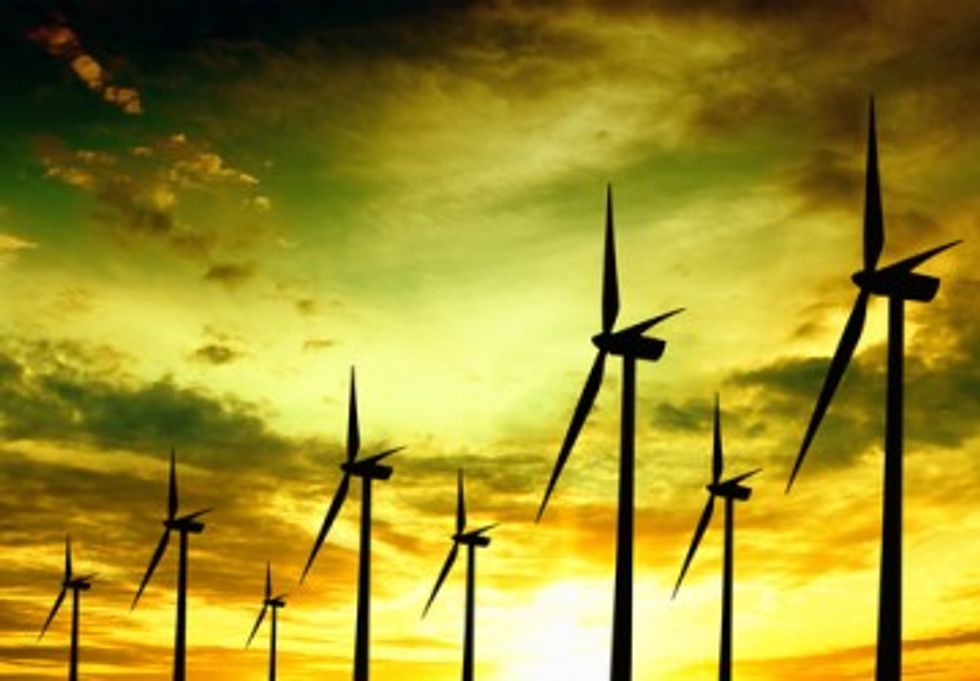 Photo credit: Shutterstock
One of the most oft-repeated arguments of the anti-wind lobby is that turbines produce electricity only intermittently, when there is enough wind to turn them.
This, the wind critics argue, means that so much gas has to be burnt to provide a reliable back-up supply of electricity that wind power's overall benefit to the environment is erased.
But extensive research in Spain means this claim can now definitively be declared a myth. Wind, the researchers found, is a very efficient way of reducing carbon dioxide emissions.
The anti-wind campaigners claim that fossil fuel plants have to be kept running at a slow speed, continuously producing CO2, just in case the wind fails. At slow speeds these plants are less efficient and so produce so much CO2, wind opponents say, that they wipe out any gains from having wind power.
Not true, according to a report published in the journal Energy by researchers at the Universidad Politécnica de Madrid. There are some small losses, the researchers say, but even if wind produced as much as 50 percent of Spain's electricity the CO2 savings would still be 80 percent of the emissions that would have been produced by the displaced thermal power stations.
25 percent of electricity
Spain is second behind Germany in wind energy production in Europe, according to the U.S. Energy Information Agency. The country regularly obtains 25 percent of its electricity from wind, reports Renewables International, a trade magazine.
The study looked at 87 of the country's coal and gas plants and how they were run alongside Spain's wind industry. Adjustments made by the fossil fuel plants as they compensated for variable wind strengths had little impact on the plants' C02 emissions.
This is the opposite of reports reproduced repeatedly by right-wing think tanks and campaigners opposed to renewables.
The Spanish report adds that even the small losses caused by running thermal power plants at less-than-maximum efficiency to safeguard the grid can be reduced by better renewables management. Spain for example has wind, solar and wave power among its portfolio of renewables, each of which can support the others.
CO2 credits
The findings are important for governments trying to calculate the amount of CO2 they have saved by the introduction of wind power. Countries like Spain, struggling to meet EU targets on reducing emissions, need to know how much CO2 saved can be credited to their wind industries. This research provides the answers.
The paper says: "The finding has generated the first comprehensive analysis on interaction between wind parks and thermal power plants in Spain and has concluded that the global balance of CO2 reduction is still significant. Besides, the study suggests how to enhance the effectiveness of potential sources that can be helpful for promoters of renewable technologies.
"Renewable energy is capable of replacing fossil fuels and of reducing emissions dramatically."