This website uses cookies to ensure you get the best experience while browsing it. By clicking 'Got It' you're accepting these terms.


The best of EcoWatch, right in your inbox. Sign up for our email newsletter!
On September 4, 2019, a loose chain of tropical cyclones lined up across the Western Hemisphere.
Joshua Stevens / NASA Earth Observatory / NOAA / NESDIS
We're going to make this very simple. These are the 5 non-negotiable policies an ideal climate plan must include:
69 percent of Chicago's office space square footage is now green-certified.
Marco Verch / CC BY 2.0
By Hilary Firestone and Olivia Walker
City Energy Project cities once again dominated CBRE's list of greenest U.S. commercial real estate markets. CBRE, the world's largest commercial real estate services and investment firm, released their fourth annual Green Building Adoption Index study in partnership with Maastricht University, examining nationwide commercial building energy use trends and impacts of energy efficiency programs and policies on U.S. building markets.
EcoWatch Daily Newsletter
Flourescent lamps must now be 4 percent more efficient. DOE
By Lauren Urbanek
Hotels, offices, stores and other commercial spaces across the U.S. are reaping benefits from new energy efficiency standards taking effect this year, one of which is the largest ever set by the Department of Energy (DOE). Consumers will see lower bills from these efficiency efforts, which were finalized during the Obama administration, even as the Trump DOE seeks to stall new standards.
According to many headlines blared around the Internet this week, "microwaves are as damaging to the environment as cars." But this misleading information, based on a new study from the University of Manchester, hopefully doesn't make you feel guilty about zapping your next Hot Pocket.
The research, published in the journal Science of the Total Environment, found that microwave ovens across the European Union generate as much carbon dioxide as nearly 7 million cars and consume an estimated 9.4 terawatts per hour of electricity per year. Okay, that sounds like a lot. But also consider that there are about 130 million microwaves in Europe and some 291 million vehicles on its roads.
District heating pipes in Germany. Mbdortmund / Wikimedia Commons
By Paul Brown
Heating homes and offices without adding to the dangers of climate change is a major challenge for many cities, but re-imagined district heating is now offering an answer.
A district heating scheme is a network of insulated pipes used to deliver heat, in the form of hot water or steam, from where it is generated to wherever it is to be used.
By John Rogers
Autumn makes me think of leaves colored orange and amber and red, of the smell of cinnamon and nutmeg wafting from a range of desserts … and of states vying for top honors in the annual state ranking of energy efficiency policies and progress.
The leaves are mostly done, and the desserts are in my belly. But the latest ranking from the American Council for an Energy-Efficient Economy is out and available, and ready for sampling. It's always a beautiful sight and a tasty treat.
energystar.gov
President Trump and his allies in Congress are seeking to eliminate energy efficiency requirements for appliances, automobiles and other energy consuming applications in an effort that will cost American families and consumers trillions of dollars over time, according to a new report issued today by Public Citizen.
The answer to powering our devices might have been hiding in our sushi all along. An international team of researchers has used seaweed to create a material that can enhance the performance of superconductors, lithium-ion batteries and fuel cells.
It's no secret—here in the U.S., there's an election coming up. It's soon. It's a big decision for American voters. And it's a big deal.
It's also not the only decision with global consequences this fall. Because at the same time the U.S. campaign season was getting into the business end of things, more and more leaders all around the world were deciding to stand up to climate change and sign on to the historic Paris Agreement. In fact, 86 parties (representing over 61 percent of global emissions) have already joined this landmark agreement—which will now go into effect on Nov. 4, four days before the U.S. votes. Interesting timing, don't you think?
Coincidence or not, the timing of the two events highlights what's at stake for our planet in these decisions and why—we've learned anything after months and months of way too many ads, speeches and debates, it's that politicians go where the voters tell them. So let's make the climate issue their issue, the one they can't afford to ignore. And not just this year, but in every year that follows.
Why now? Because with the Paris Agreement becoming official, we finally have the framework to fight climate change together as one planet in a way we never have before. And with all the incredible progress we're seeing in renewables and other areas of solutions, we finally have the tools and technology to make a global shift from fossil fuels to clean energy, affordably and effectively. Want proof? Here are seven reasons we're hopeful for the future, because the solutions are out there:
1. Renewables are growing and getting cheaper
Due to declining costs and improvements in renewable technologies, solar and wind projects are being built in more places around the globe more cheaply than any time in history. On top of that, if the price of photovoltaic cells continues to drop as rapidly as it has over the past 10 years, solar power could be as cheap as coal almost everywhere by as early as 2017!
According to some studies, almost 100 percent of the world's energy needs could be met with renewable sources by mid-century—as long as the right supportive public policies are put in place to help implement them. That's where our elected leaders come in— and where you come in too.
2. Cost of rooftop solar is competitive
In many places across the U.S., not only is solar power becoming more affordable than ever before, it's actually becoming cost competitive with most utility rates for energy from fossil fuel. When solar power costs the same (or less!) as purchasing power from the grid, it's called solar grid parity, and it's an important milestone in demonstrating the cost-effectiveness of harnessing the power of the sun. The U.S. is well on the way to achieving the SunShot Initiative's 2020 goal of solar grid parity—with several major regions following suit.
3. Remarkable progress in energy storage
How we create energy with renewables is important. How we store this energy—so we can use it when needed—is just as critical. That's because the sun doesn't shine 24 hours a day every day, nor is it always windy. The good news is this: we're seeing incredible progress in energy storage. For example, a bill for California's energy storage mandate passed unanimously, instructing the state's investor-owned utilities to greatly expand electricity storage capacity. And since then, the state has expanded the mandate to allow even more energy storage. Similar policies in Japan and Germany are spurring similar growth in energy storage overseas.
4. The electric grid is evolving
Just like energy storage is important for renewable energy to thrive, a smarter and more flexible electric grid is critical too. Smart grids improve energy efficiency, save money, and can improve reliability—all great reasons to move away from fossil fuels towards cleaner sources of energy. And since the grid is evolving and more renewables are being introduced, there is huge potential to revolutionize the energy market—for the benefit of the environment and economy.
5. The electric vehicle market is booming
Sure, the news that Tesla was releasing its cheapest electric car yet threatened to break one corner of the internet, but that's not the only sign the electric vehicle industry and market are booming. Just look at China: the government has expanded incentives for electric vehicles, waiving or even cutting sales taxes. And plug-in cars are even changing the face of auto racing! Just last year, Miami hosted a Formula E race, where all the race cars were electric. How cool is that?
6. Transportation is more efficient and public transit is growing
A recent survey by Consumer Reports found that the overwhelming majority of Americans (84 percent, in fact) believe automakers should keep making cars and trucks more and more fuel efficient. And automakers are listening—and not just in the US. At the same time use of public and mass transportation is growing rapidly. Technical improvements for new vehicles could avoid about 1.4 gigatons of CO2 annually by 2030, several countries are implementing eco-driving programs, and emissions mandates on cars in the US and EU are saving drivers at the pump in a big way. Meanwhile, huge investments in public transportation in countries like India and Colombia are helping contribute to energy conservation, land preservation, reduced air pollution, and so much more.
7. Energy efficiency is improving and saving you money
The more efficient you are at a task, you're wasting less time to complete it, right? It works the same way with energy: the more efficient energy is, the less you'll waste. Listen to this: a study across certain countries showed in just five years, energy efficiency measures avoided the consumption of 570 million tons of dirty energy. In other words, without these measures, energy use across these countries would have actually increased by 5 percent.
An uptick in energy consumption is inevitable with the the end of Daylight Savings Time coming this Sunday.
The majority of the U.S. will gain an extra hour Nov. 3 when our digital clocks move back an hour at 2 a.m. As fall and winter carry on, the days will get shorter and require more lighting in our homes. Emphasizing the importance of efficiency, the Natural Resources Defense Council released a light buying guide this week to encourage U.S. residents to consider the most efficient options—and the savings that come with them—when they stock up on bulbs.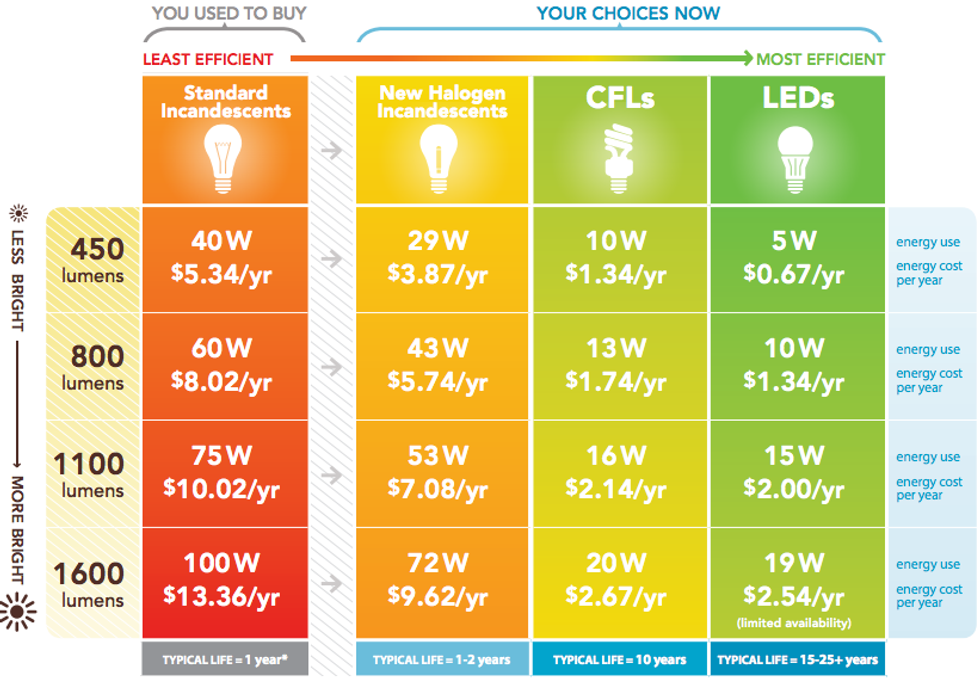 "This time of year offers an excellent opportunity to review our lighting and switch to the new and improved light bulbs that have recently entered the market," said Noah Horowitz, senior scientist and director of NRDC's Center for Energy Efficiency.
"Just because it's the end of Daylight Savings Time, it doesn't mean our electric bill savings also need to end. With more than 4 billion screw-based light bulb sockets in the United States, getting an efficient bulb into each socket also is really important for our environment because the energy savings would be massive."
The NRDC's goal is inspire more people to buy compact fluorescent lamp (CFL) or light-emitting diode (LED) lights. The agency estimates that consumers would save $13 billion on their electric bills if a CFL or LED is screwed into every socket. Altogether, the nation would annually avoid the equivalent of paying for the electricity of 30 large coal-burning power plants.

Light bulb packaging is required to help consumers make efficiency choices as a result of the six-year-old Energy Independence and Security Act, signed into law by then-President Bush. The law also required manufacturers to improve efficiency, even for standard incandescent bulbs that look the same as but operate more efficiently.
CFL and LED lights use 75 percent less energy and last 10 and 25 times longer, respectively, than incandescent bulbs, according to the NRDC.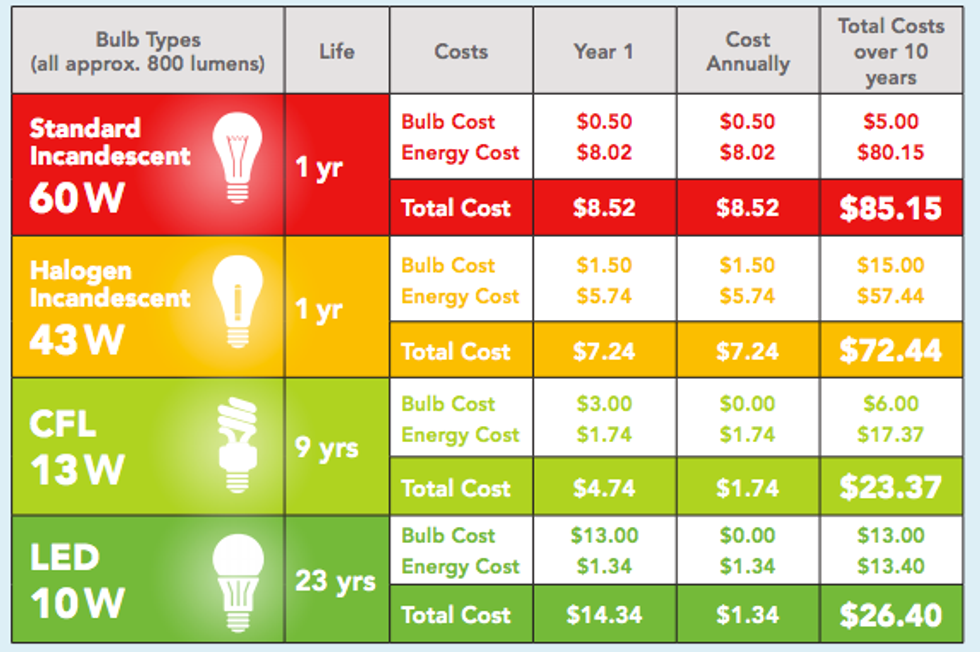 "As you're preparing to move the clock hands back an hour, consider that the end of Daylight Savings Time doesn't mean your savings have to end," the NRDC's Noah Horowitz
wrote in a blog
. "Today's lighting options offer numerous ways to save energy and money, too."

With hydropower accounting for 69 percent of generating capacity, Washington State has one of the nation's cleanest energy profiles.
Still, 14 percent of the state's grid is powered by coal and that portion accounts for 81 percent of the state's climate pollution from electricity. The majority of the electricity comes from a coal plant in Colsrip, MT.
The state is searching for clean and local solutions and could find them in two reports from the Sierra Club—Washington State's Next Big Step to Clean Electricity, Climate Protection and 21st Century Jobs and Employment Effects of Investing in Select Electricity Resources in Washington State.
"These two reports together create a roadmap for the Governor, the legislature, and utilities for replacing coal," said Doug Howell, Washington State campaign director for the Sierra Club's Beyond Coal campaign. "Done right, our businesses, communities and working families can benefit from hundreds of millions of dollars of investments into energy efficiency upgrades, solar, and wind generation."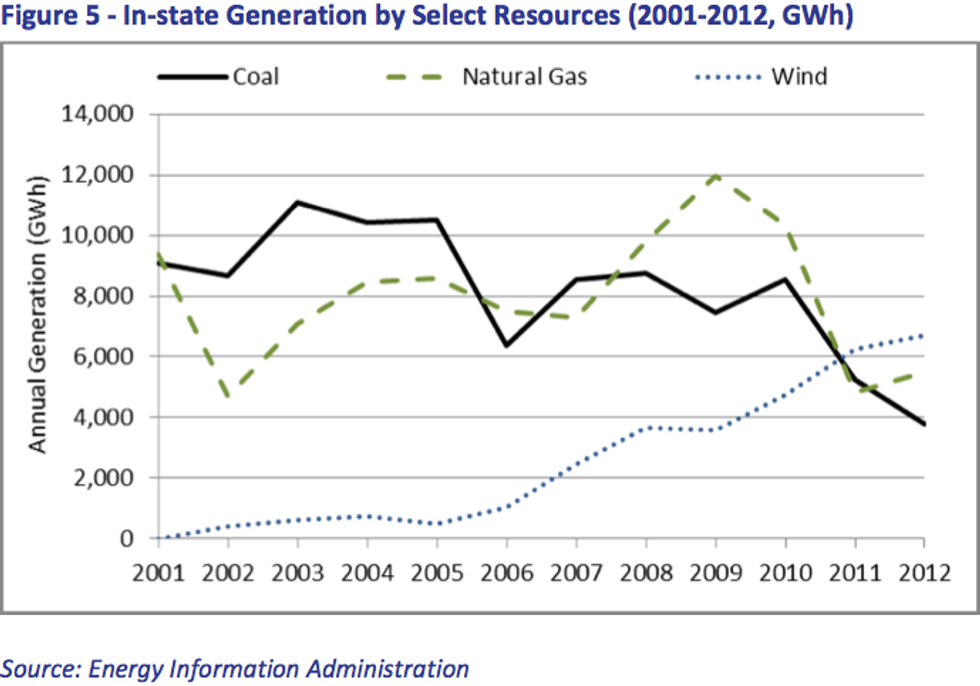 Washington is already the sixth-largest producer of wind energy  in the nation, and that source has the greatest growth potential in the state, the "Employment Effects" study says. Citing the National Renewable Energy Laboratory, the study estimates that Washington could produce 55,550 gigawatt (GW) hours from 18,000 megawatts (MW) of potential capacity. That amount excludes 70 percent of windy land that was unavailable for development.
"Our analysis find that replacing out-of-state coal generation with cleaner, local resources will bear significant fruit in terms of jobs in the state," said Tyler Coming of Synapse Energy Economics. "And for every unit of generation that is replaced—new solar PV, wind and energy efficiency would each create more jobs than new natural gas could create in the state."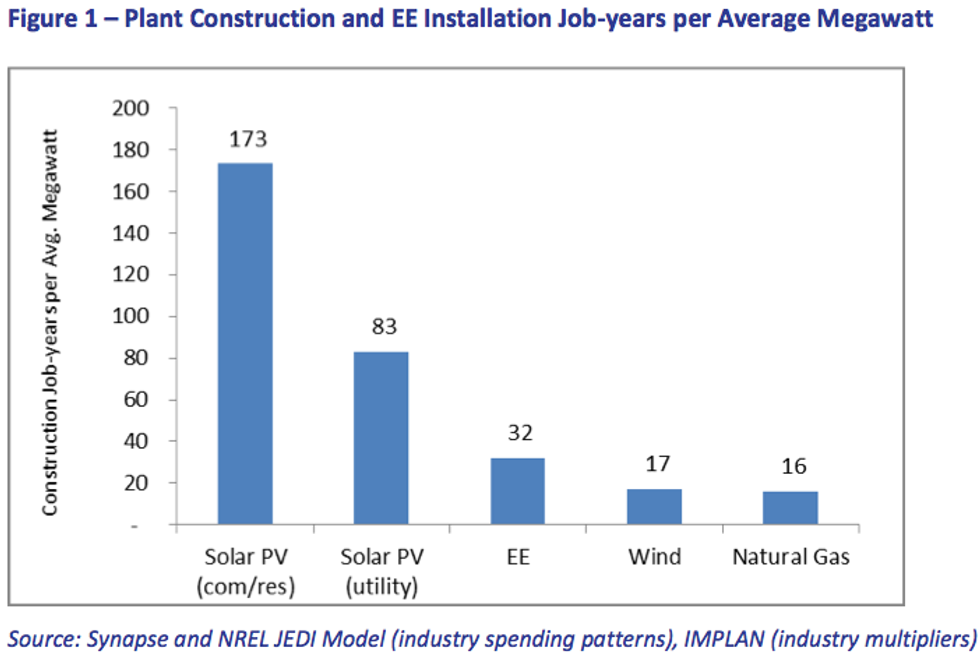 One of the studies examines the job impact of capital investments, operations and maintenance of renewable energy projects. Measured by job years per MW, solar photovoltaic (PV) has the largest impact, with 173 job years for commercial and residential projects.
Both studies point to policy as the best way to achieve even more clean energy resources in Washington. Gov. Jay Inslee and a bipartisan legislative workgroup kicked off a set of hearings regarding carbon reduction goals and clean energy investment for Washington. The Climate Legislative Executive Workgroup will meet again this week.
"This study confirms that as we work to achieve our greenhouse gas reduction goals and a clean energy future, Washington workers and families will be winners, as well as the environment," said State Rep. Joe Fitzgibbon (D-24). "Our state has innovative programs and has invested in energy efficiency for more than 25 years. Now is the time to act."