Integrating solar panels with farming can provide partial shade for plants. Photo credit: Werner Slocum / NREL
By Charles F. Kutscher and Jeffrey Logan
In the summer of 1988, scientist James Hansen testified to Congress that carbon dioxide from burning fossil fuels was dangerously warming the planet. Scientific meetings were held, voluminous reports were written, and national pledges were made, but because fossil fuels were comparatively cheap, little concrete action was taken to reduce carbon emissions.
By Charles F. Kutscher and Jeffrey Logan
In the summer of 1988, scientist James Hansen testified to Congress that carbon dioxide from burning fossil fuels was dangerously warming the planet. Scientific meetings were held, voluminous reports were written, and national pledges were made, but because fossil fuels were comparatively cheap, little concrete action was taken to reduce carbon emissions.
Then, beginning around 2009, first wind turbines and then solar photovoltaic panels decreased enough in cost to become competitive in electricity markets. More installations resulted in more "learning curve" cost reductions – the decrease in cost with every doubling of deployment. Since 2009, the prices of wind and solar power have decreased by an astonishing 72% and 90%, respectively, and they are now the cheapest electricity sources – although some challenges still exist.
With the planet facing increasingly intense heat waves, drought, wildfires and storms, a path to tackle the climate crisis became clear: Transition the electric grid to carbon-free wind and solar and convert most other fossil fuel users in transportation, buildings and industry to electricity.
The U.S. is headed in that direction. Early projections suggest the world just wrapped up a record year of renewable electricity growth in 2021, following a record 33,500 megawatts of solar and wind electricity installed in the U.S. in 2020, according to BloombergNEF data. Even faster growth is expected ahead, especially given the Biden administration's plans to tap high-value offshore wind resources. But will it be fast enough?
The Biden administration's goal is to have a carbon emissions-free grid by 2035. One recent study found that the U.S. will need to nearly triple its 2020 growth rate for the grid to be 80% powered by clean energy by 2030. (As difficult as that may sound, China reportedly installed 120,000 megawatts of wind and solar in 2020.)
The foundation of this transition is a dramatic change in the electric grid itself.
3 Ways to Bring Wind and Solar Into the Grid
Hailed as the greatest invention of the 20th century, our now-aging grid was based on fundamental concepts that made sense at the time it was developed. The original foundation was a combination of "base load" coal plants that operated 24 hours a day and large-scale hydropower.
Beginning in 1958, these were augmented by nuclear power plants, which have operated nearly continuously to pay off their large capital investments. Unlike coal and nuclear, solar and wind are variable; they provide power only when the sun and wind are available.
Converting to a 21st-century grid that is increasingly based on variable resources requires a completely new way of thinking. New sources of flexibility – the ability to keep supply and demand in balance over all time scales – are essential to enable this transition.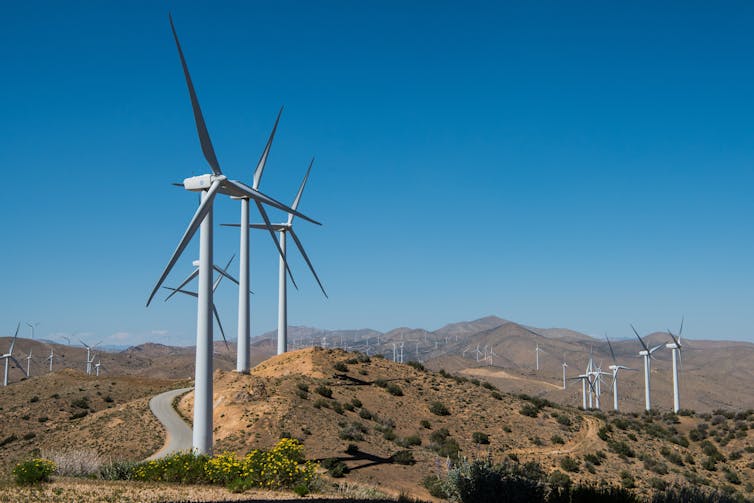 There are basically three ways to accommodate the variability of wind and solar energy: use storage, deploy generation in a coordinated fashion across a wide area of the country along with more transmission, and manage electricity demand to better match the supply. These are all sources of flexibility.
Storage is now largely being provided by lithium-ion batteries. Their costs have plummeted, and new storage technologies are being developed.
Expanded transmission is especially valuable. When the Northeast is experiencing peak electric demand in the early evening, there is still sun in the West. And, with more transmission, the large wind resources in the center of the country can send electricity toward both coasts. Transmission studies have shown that stronger interconnections among the country's three power grids are highly beneficial.
Making buildings more efficient and controlling their demand can also play a big role in cleaning up the grid. Buildings use 74% of U.S. electricity. Interconnected devices and equipment with smart meters can reduce and reshape a building's power use.
Innovations That Make 100% Clean Power Possible
Many analysts believe the U.S. can cost-effectively and reliably operate a power grid with 80% to 90% clean electricity, but decarbonizing the last 10% to 20% will be notably more challenging. While short-duration storage, lasting four hours or less, is becoming ubiquitous, we will likely need to provide power during some periods when wind and solar resources are at low levels (what the Germans call dunkelflaute, or "dark doldrums"). An expanded national transmission network will help, but some amount of long-duration storage will likely be needed.
Numerous options are being explored, including alternative battery technologies and green hydrogen.
Flow batteries are among the promising approaches that we are working on at the Renewable and Sustainable Energy Institute at the University of Colorado. In a typical design, liquid electrolyte flows between two storage tanks separated by a membrane. The tanks can be scaled up in size corresponding to the desired storage duration.
Green hydrogen is a potential storage option for very long durations. It is produced by splitting water molecules with an electrolyzer powered by renewable electricity. The hydrogen can be stored underground (or in above-ground tanks) and either burned in combustion turbines or converted back to electricity in fuel cells. Green hydrogen is currently very expensive but is expected to become more affordable as the cost of electrolyzers decreases.
In addition, new business, market design and grid operator models are emerging. Community solar gardens, for example, allow homeowners to purchase locally produced solar electricity even if their own roofs are not suitable for solar panels. Microgrids are another business model becoming common on campuses and complexes that produce electricity locally and can continue to operate if the grid goes down. Clean microgrids are powered by renewable energy and batteries.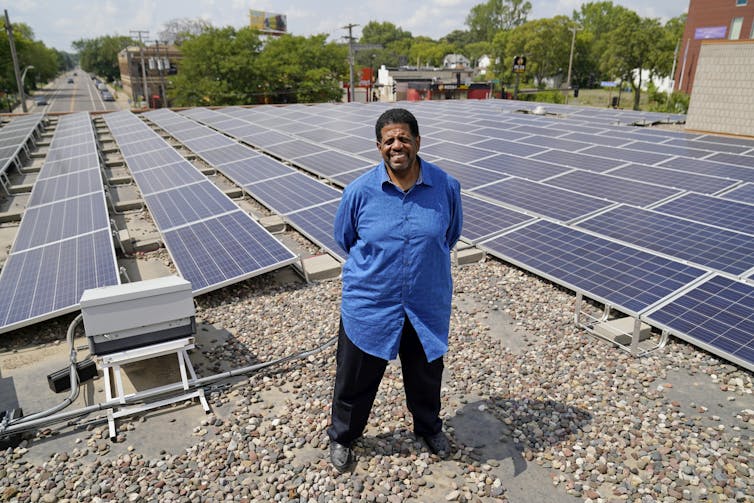 Innovative market designs include time-of-use rates that encourage electricity use, such as for charging electric vehicles, when renewable electricity is plentiful. Expanded balancing area coordination draws on variable solar and wind resources from a wide region to provide a smoother overall supply. Improved grid operations include advanced forecasting of wind and solar to minimize wasted power and reduce the need for costly standby reserves. Dynamic line rating allows grid operators to transmit more electricity through existing lines when favorable weather conditions permit.
Across the economy, greater attention to energy efficiency can enable power sector transformation, minimizing costs and improving reliability.
Nuclear power is also essentially carbon-free, and keeping existing nuclear plants running can make the transition to renewables easier. However, new nuclear plants in the U.S. are very expensive to build, have long construction times and may prove too costly to operate in a manner that would help firm variable solar and wind.
In our view, the urgency of climate change demands an all-out effort to address it. Having a 2035 emissions goal is important, but the emissions reduction path the U.S. takes to reach that goal is critical. The No. 1 need is to minimize adding carbon dioxide and other greenhouse gases to the atmosphere. The world already has the tools to get the grid 80% to 90% carbon-free, and technical experts are exploring a wide range of promising options for achieving that last 10% to 20%.
Charles F. Kutscher is a fellow and senior research associate at the Renewable & Sustainable Energy Institute, University of Colorado Boulder.
Jeffrey Logan is associate director of energy policy and analysis at the Renewable & Sustainable Energy Institute, University of Colorado Boulder.
Disclosure statement: Charles F. Kutscher has disclosed no relevant affiliations beyond his academic appointment. Jeffrey S. Logan also works at the National Renewable Energy Laboratory.
Reposted with permission from The Conversation.
EcoWatch Daily Newsletter
By Matan Shelomi
What is the life of a cricket worth?
By Matan Shelomi
What is the life of a cricket worth?
---
Insect farming is a rapidly growing industry, with hundreds of companies worldwide rearing insects at industrial scales. The global value of insect farming is expected to surpass $1.18 billion by 2023.
Farmed insects, or "mini-livestock," refers to insects such as crickets and mealworms raised for the sole purpose of being sold as food or animal feed.
These are not the fried tarantulas on a stick hawked to tourists or scorpion lollipops sold as novelties. High-protein insect powder can be used in foods from breads to buns, pasta and protein bars. Such products are already available in countries including the U.S., Switzerland and Finland.
As an entomologist who has studied the potential and promotion of edible insects in new markets, I have seen how much progress has been made in the past decade in normalizing the idea of eating insects worldwide. Now is the time to evaluate the ethical aspects of insect farming.
Insects for Humanity
The main motivation for edible insects' rising popularity is environmental. Producing 1 kilogram (2.2 pounds) of insect protein requires about 10% of the feed, water and land used for the same amount of beef production, and releases as little as 1% of the greenhouse gases. Insects have a lower environmental impact even compared to other meat alternatives like dairy, gluten and mycoprotein.
Raising insects on waste products significantly ups these benefits. Black soldier flies can be raised on agriculture byproducts like vegetable peels or spent grains. The larvae are then used as feed for fish and poultry, recycling waste and reducing reliance on more expensive soymeal and fishmeal feeds.
Besides being big business, insect farms also provide important sources of protein and income for rural households. They can be established cheaply, with little space, and are a boon for smallholder farmers who lack the resources for livestock, all the while sustainably providing feed and fertilizer.
A good example is the "Insects for Peace" program that has helped ex-combatants in post-conflict Colombia with their reintegration. The former soldiers have found livelihood farming black soldier flies, which are used as a feed component for livestock.
Is Insect Meat Cruelty-Free?
An additional bonus is that insects do not evoke much empathy. With exceptions, even vegetarians rarely think twice about swatted mosquitoes, let alone the millions of agricultural pests killed when farming crops.
Those who do mind can rest assured that farmed insects lead net-positive lives, with no fear of predators or starvation. Insect welfare is conveniently easy: While cramped, hot, filthy settings in factory farms are cruel for vertebrates, they are ideal for insects like mealworms that thrive when crowded together. One can imagine that there are not many requirements to set up a humane cockroach farm, though one's neighbors might disapprove.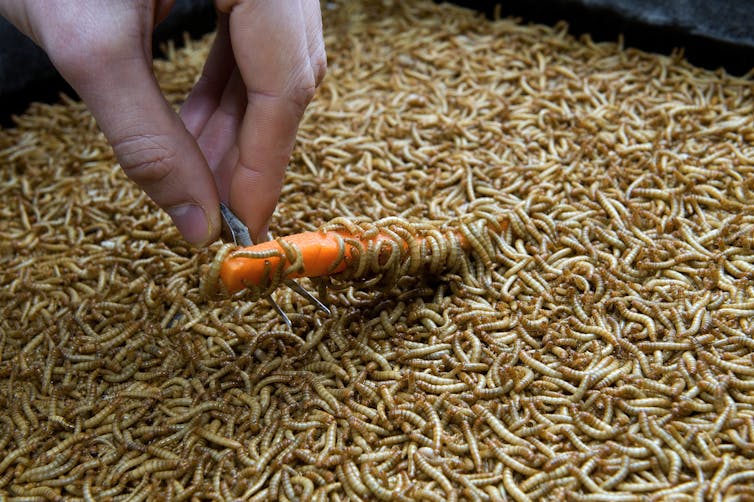 The slaughter of insects is another issue.
Recent surveys of UK insect farmers found many are concerned about insect pain perception and providing their mini-livestock a "good death." The most common slaughter methods large-scale insect farmers use are freezing or freeze-drying, with the assumption that the cold-blooded insects will humanely fall asleep and never wake up.
While insects can and do sense physical pain, they likely do not do so consciously. Invertebrate neurologist Shelley Adamo notes that many insect behaviors are "incongruent" with pain as mammals experience it, citing reports of insects walking normally on broken legs or mantids mating while their partner eats them alive. Entomologist Craig H Eisemann's influential review of the field, "Do Insects Feel Pain?," concluded that they are missing too many neurological, chemical and behavioral signs for a pain state.
Nonetheless, scholars such as Eisemann and other advocates agree that insects should be farmed and killed with the assumption that they do feel pain. That means the slaughter method should be as quick and painless as possible.
While certainly less potentially painful than boiling, as extreme heat is known to induce pain responses in insects, freezing is slow. Shredding is a popular alternative: At their small size, insects can be reduced to powder almost instantaneously, before they could sense any pain. Current surveys suggest public perception of pulverization is still negative compared with freezing, but insect farmers increasingly view it as the more humane choice.
The low probability that farmed insects suffer pain, if they can "suffer" at all, combined with the environmental and social benefits of insect farming, caused philosopher Chris Meyers to argue that eating insects is not only morally acceptable but also morally good.
This idea gave rise to the term "entovegan." Like pescatarians follow a vegetarian diet but still eat seafood, entovegans happily eat arthropods, secure in the knowledge that their diet is both sustainable and ethical.
How Much Are Insect Lives Worth?
What gives some strict vegans pause is the sheer number of insects involved.
In a 2020 preprint, animal welfare activist Abraham Rowe calculates that 1 trillion to 1.2 trillion individual insects are farmed annually for food and feed, not including harvested wild insects. On average, 79 billion to 94 billion farmed insects are alive on farms globally in any given day, compared with only about 22 billion chickens, Earth's most popular meat.
So, how valuable is an insect's life compared with a plant's or a bacterium's? Capacity for consciousness is a popular metric for determining if an organism has moral standing, even though there is no agreement on how to actually measure that.
If one assumes, hypothetically, that insects are 0.1% as sentient as cows, or that the probability that insects can suffer is 0.1%, then killing 1,000 crickets has a similar ethical footprint as killing one cow. That may seem generous, yet in his guide "How to Reply to Some Ethical Objections to Entomophagy," philosopher Bob Fisher calculates that one cow produces as much meat as 900,000 crickets.
The math changes, however, when one considers how many animals die in agricultural fields: Conservative estimates place at least 10 million invertebrates per acre of crops at risk from pesticides, as well as thousands of small, undeniably conscious vertebrates like mice and rabbits at risk from mechanical harvesters. This math adds millions of deaths not only to traditional meat production through the fields of feed, but also to almost any cultivated crops, including soy. To quote biologists Charles Nicoll and Sharon Russell, "There is no such thing as a bloodless veggieburger."
Fisher calculated that the number of insects killed to produce a plant-based diet or an insect-based diet are about the same, meaning entoveganism and veganism are in that sense equivalent. Eating insects raised on organic wastes, all but eliminating the environmental and animal death costs of plant farming, may be the best option of them all.
The rise in insect farming means questions about insect sentience and slaughter are no longer just philosophical: The well-being of trillions of creatures is at stake.

Matan Shelomi is an associate professor of entomology at National Taiwan University.
Disclosure statement: Matan Shelomi does not work for, consult, own shares in or receive funding from any company or organization that would benefit from this article, and has disclosed no relevant affiliations beyond their academic appointment.
Reposted with permission from The Conversation.
A recent study finds that superyachts emit the most carbon emissions. xefstock / Getty Images
Musk isn't alone in seeing a significant increase in wealth during a year of pandemic, recession and death. Altogether, the world's billionaires saw their wealth surge over .9 trillion in 2020, according to Forbes.
Those are astronomical numbers, and it's hard to get one's head around them without some context. As anthropologists who study energy and consumer culture, we wanted to examine how all that wealth translated into consumption and the resulting carbon footprint.
By Richard Wilk and Beatriz Barros
Tesla's Elon Musk and Amazon's Jeff Bezos have been vying for the world's richest person ranking all year after the former's wealth soared a staggering US$160 billion in 2020, putting him briefly in the top spot.
---
Musk isn't alone in seeing a significant increase in wealth during a year of pandemic, recession and death. Altogether, the world's billionaires saw their wealth surge over .9 trillion in 2020, according to Forbes.
Those are astronomical numbers, and it's hard to get one's head around them without some context. As anthropologists who study energy and consumer culture, we wanted to examine how all that wealth translated into consumption and the resulting carbon footprint.
Walking in a Billionaire's Shoes
We found that billionaires have carbon footprints that can be thousands of times higher than those of average Americans.
The wealthy own yachts, planes and multiple mansions, all of which contribute greenhouse gases to the atmosphere. For example, a superyacht with a permanent crew, helicopter pad, submarines and pools emits about 7,020 tons of CO2 a year, according to our calculations, making it by the far worst asset to own from an environmental standpoint. Transportation and real estate make up the lion's share of most people's carbon footprint, so we focused on calculating those categories for each billionaire.
To pick a sample of billionaires, we started with the 2020 Forbes List of 2,095 billionaires. A random or representative sample of billionaire carbon footprints is impossible because most wealthy people shy away from publicity, so we had to focus on those whose consumption is public knowledge. This excluded most of the superrich in Asia and the Middle East.
We combed 82 databases of public records to document billionaires' houses, vehicles, aircraft and yachts. After an exhaustive search, we started with 20 well-known billionaires whose possessions we were able to ascertain, while trying to include some diversity in gender and geography. We have submitted our paper for peer review but plan to continue adding to our list.
We then used a wide range of sources, such as the U.S. Energy Information Administration and Carbon Footprint, to estimate the annual CO2 emissions of each house, aircraft, vehicle and yacht. In some cases we had to estimate the size of houses from satellite images or photos and the use of private aircraft and yachts by searching the popular press and drawing on other studies. Our results are based on analyzing typical use of each asset given its size and everything else we could learn.
We did not try to calculate each asset's "embodied carbon" emissions – that is, how much CO2 is burned throughout the supply chain in making the product – or the emissions produced by their family, household employees or entourage. We also didn't include the emissions of companies of which they own part or all, because that would have added another significant degree of complexity. For example, we didn't calculate the emissions of Tesla or Amazon when calculating Musk's or Bezos' footprints.
In other words, these are all likely conservative estimates of how much they emit.
Your Carbon Footprint
To get a sense of perspective, let's start with the carbon footprint of the average person.
Residents of the U.S., including billionaires, emitted about 15 tons of CO2 per person in 2018. The global average footprint is smaller, at just about 5 tons per person.
In contrast, the 20 people in our sample contributed an average of about 8,190 tons of CO2 in 2018. But some produced far more greenhouse gases than others.
Billionaire Emissions
Some of the biggest polluters have relatively little wealth, while the two richest – Elon Musk and Jeff Bezos – have relatively small carbon footprints. Yachts make up most of the emissions of those who have one. Mansions and other dwellings make up a very minor share of their carbon footprints. Values are in terms of tons of CO2 equivalent.
The Jet-Setting Billionaire
Roman Abramovich, who made most of his billion fortune trading oil and gas, was the biggest polluter on our list. Outside of Russia, he is probably best known as the headline-grabbing owner of London's Chelsea Football Club.
Abramovich cruises the Mediterranean in his superyacht, named the Eclipse, which at 162.5 meters bow to stern is the second-biggest in the world, rivaling some cruise ships. And he hops the globe on a custom-designed Boeing 767, which boasts a 30-seat dining room. He takes shorter trips in his Gulfstream G650 jet, one of his two helicopters or the submarine on his yacht.
He maintains homes in many countries, including a mansion in London's Kensington Park Gardens, a chateau in Cap D'Antibes in France and a 28-hectare estate in St. Barts that once belonged to David Rockefeller. In 2018, he left the U.K. and settled in Israel, where he became a dual citizen and bought a home in 2020 for .5 million.
We estimate that he was responsible for at least 33,859 metric tons of CO2 emissions in 2018 – more than two-thirds from his yacht, which is always ready to use at a moment's notice year-round.
Massive Mansions and Private Jets
Bill Gates, currently the world's fourth-richest person with 4 billion, is a "modest" polluter – by billionaire standards – and is typical of those who may not own a giant yacht but make up for it with private jets.
Co-founder of Microsoft, he retired in 2020 to manage the Bill and Melinda Gates Foundation, the world's largest charity, with an endowment of billion.
In the 1990s, Gates built Xanadu – named after the vast fictional estate in Orson Welles' "Citizen Kane" – at a cost of 7 million in Medina, Washington. The giant home covers 6,131 square meters, with a 23-car garage, a 20-person cinema and 24 bathrooms. He also owns at least five other dwellings in Southern California, the San Juan Islands in Washington state, North Salem, New York, and New York City, as well as a horse farm, four private jets, a seaplane and "a collection" of helicopters.
We estimated his annual footprint at 7,493 metric tons of carbon, mostly from a lot of flying.
The Environmentally Minded Tech CEO
South African-born Elon Musk, CEO of Tesla Motors and SpaceX, has a surprisingly low carbon footprint despite being the world's second-richest person, with 7 billion – and he seems intent on setting an example for other billionaires.
He doesn't own a superyacht and says he doesn't even take vacations.
We calculated a relatively modest carbon footprint for him in 2018, thanks to his eight houses and one private jet. This year, his carbon footprint would be even lower because in 2020 he sold all of his houses and promised to divest the rest of his worldly possessions.
While his personal carbon footprint is still hundreds of times higher than that of an average person, he demonstrates that the superrich still have choices to make and can indeed lower their environmental impact if they so choose.
His estimated footprint from the assets we looked at was 2,084 tons in 2018.
The Value of Naming and Shaming
The aim of our ongoing research is to get people to think about the environmental burden of wealth.
While plenty of research has shown that rich countries and wealthy people produce far more than their share of greenhouse gas emissions, these studies can feel abstract and academic, making it harder to change this behavior.
We believe "shaming" – for lack of a better word – superrich people for their energy-intensive spending habits can have an important impact, revealing them as models of overconsumption that people shouldn't emulate.
Newspapers, cities and local residents made an impact during the California droughts of 2014 and 2015 by "drought shaming" celebrities and others who were wasting water, seen in their continually green lawns. And the Swedes came up with a new term – "flygskam" or flying shame – to raise awareness about the climate impact of air travel.
Climate experts say that to have any hope of limiting global warming to 1.5 degrees Celsius above preindustrial levels, countries must cut their emissions in half by 2030 and eliminate them by 2050.
Asking average Americans to adopt less carbon-intensive lifestyles to achieve this goal can be galling and ineffective when it would take about 550 of their lifetimes to equal the carbon footprint of the average billionaire on our list.
Richard Wilk is a Distinguished Professor and Provost's Professor of Anthropology; Director of the Open Anthropology Institute, Indiana University.
Beatriz Barros is a Ph.D. Candidate in Anthropology, Indiana University.
Disclosure statement: The authors do not work for, consult, own shares in or receive funding from any company or organization that would benefit from this article, and have disclosed no relevant affiliations beyond their academic appointment.
Reposted with permission from The Conversation.