Pan-fried periodical cicadas are coated in hot sauce on June 4, 2021 in Hyattsville, Maryland. Chip Somodevilla / Getty Images
By Matan Shelomi
What is the life of a cricket worth?
Insect farming is a rapidly growing industry, with hundreds of companies worldwide rearing insects at industrial scales. The global value of insect farming is expected to surpass $1.18 billion by 2023.
Farmed insects, or "mini-livestock," refers to insects such as crickets and mealworms raised for the sole purpose of being sold as food or animal feed.
These are not the fried tarantulas on a stick hawked to tourists or scorpion lollipops sold as novelties. High-protein insect powder can be used in foods from breads to buns, pasta and protein bars. Such products are already available in countries including the U.S., Switzerland and Finland.
As an entomologist who has studied the potential and promotion of edible insects in new markets, I have seen how much progress has been made in the past decade in normalizing the idea of eating insects worldwide. Now is the time to evaluate the ethical aspects of insect farming.
Insects for Humanity
The main motivation for edible insects' rising popularity is environmental. Producing 1 kilogram (2.2 pounds) of insect protein requires about 10% of the feed, water and land used for the same amount of beef production, and releases as little as 1% of the greenhouse gases. Insects have a lower environmental impact even compared to other meat alternatives like dairy, gluten and mycoprotein.
Raising insects on waste products significantly ups these benefits. Black soldier flies can be raised on agriculture byproducts like vegetable peels or spent grains. The larvae are then used as feed for fish and poultry, recycling waste and reducing reliance on more expensive soymeal and fishmeal feeds.
Besides being big business, insect farms also provide important sources of protein and income for rural households. They can be established cheaply, with little space, and are a boon for smallholder farmers who lack the resources for livestock, all the while sustainably providing feed and fertilizer.
A good example is the "Insects for Peace" program that has helped ex-combatants in post-conflict Colombia with their reintegration. The former soldiers have found livelihood farming black soldier flies, which are used as a feed component for livestock.
Is Insect Meat Cruelty-Free?
An additional bonus is that insects do not evoke much empathy. With exceptions, even vegetarians rarely think twice about swatted mosquitoes, let alone the millions of agricultural pests killed when farming crops.
Those who do mind can rest assured that farmed insects lead net-positive lives, with no fear of predators or starvation. Insect welfare is conveniently easy: While cramped, hot, filthy settings in factory farms are cruel for vertebrates, they are ideal for insects like mealworms that thrive when crowded together. One can imagine that there are not many requirements to set up a humane cockroach farm, though one's neighbors might disapprove.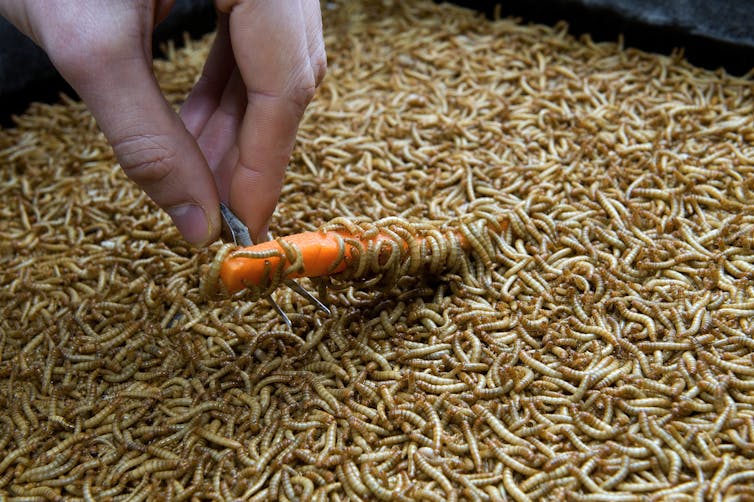 The slaughter of insects is another issue.
Recent surveys of UK insect farmers found many are concerned about insect pain perception and providing their mini-livestock a "good death." The most common slaughter methods large-scale insect farmers use are freezing or freeze-drying, with the assumption that the cold-blooded insects will humanely fall asleep and never wake up.
While insects can and do sense physical pain, they likely do not do so consciously. Invertebrate neurologist Shelley Adamo notes that many insect behaviors are "incongruent" with pain as mammals experience it, citing reports of insects walking normally on broken legs or mantids mating while their partner eats them alive. Entomologist Craig H Eisemann's influential review of the field, "Do Insects Feel Pain?," concluded that they are missing too many neurological, chemical and behavioral signs for a pain state.
Nonetheless, scholars such as Eisemann and other advocates agree that insects should be farmed and killed with the assumption that they do feel pain. That means the slaughter method should be as quick and painless as possible.
While certainly less potentially painful than boiling, as extreme heat is known to induce pain responses in insects, freezing is slow. Shredding is a popular alternative: At their small size, insects can be reduced to powder almost instantaneously, before they could sense any pain. Current surveys suggest public perception of pulverization is still negative compared with freezing, but insect farmers increasingly view it as the more humane choice.
The low probability that farmed insects suffer pain, if they can "suffer" at all, combined with the environmental and social benefits of insect farming, caused philosopher Chris Meyers to argue that eating insects is not only morally acceptable but also morally good.
This idea gave rise to the term "entovegan." Like pescatarians follow a vegetarian diet but still eat seafood, entovegans happily eat arthropods, secure in the knowledge that their diet is both sustainable and ethical.
How Much Are Insect Lives Worth?
What gives some strict vegans pause is the sheer number of insects involved.
In a 2020 preprint, animal welfare activist Abraham Rowe calculates that 1 trillion to 1.2 trillion individual insects are farmed annually for food and feed, not including harvested wild insects. On average, 79 billion to 94 billion farmed insects are alive on farms globally in any given day, compared with only about 22 billion chickens, Earth's most popular meat.
So, how valuable is an insect's life compared with a plant's or a bacterium's? Capacity for consciousness is a popular metric for determining if an organism has moral standing, even though there is no agreement on how to actually measure that.
If one assumes, hypothetically, that insects are 0.1% as sentient as cows, or that the probability that insects can suffer is 0.1%, then killing 1,000 crickets has a similar ethical footprint as killing one cow. That may seem generous, yet in his guide "How to Reply to Some Ethical Objections to Entomophagy," philosopher Bob Fisher calculates that one cow produces as much meat as 900,000 crickets.
The math changes, however, when one considers how many animals die in agricultural fields: Conservative estimates place at least 10 million invertebrates per acre of crops at risk from pesticides, as well as thousands of small, undeniably conscious vertebrates like mice and rabbits at risk from mechanical harvesters. This math adds millions of deaths not only to traditional meat production through the fields of feed, but also to almost any cultivated crops, including soy. To quote biologists Charles Nicoll and Sharon Russell, "There is no such thing as a bloodless veggieburger."
Fisher calculated that the number of insects killed to produce a plant-based diet or an insect-based diet are about the same, meaning entoveganism and veganism are in that sense equivalent. Eating insects raised on organic wastes, all but eliminating the environmental and animal death costs of plant farming, may be the best option of them all.
The rise in insect farming means questions about insect sentience and slaughter are no longer just philosophical: The well-being of trillions of creatures is at stake.

Matan Shelomi is an associate professor of entomology at National Taiwan University.
Disclosure statement: Matan Shelomi does not work for, consult, own shares in or receive funding from any company or organization that would benefit from this article, and has disclosed no relevant affiliations beyond their academic appointment.
Reposted with permission from The Conversation.
From Your Site Articles
Related Articles Around the Web
EcoWatch Daily Newsletter
The downtown skyline along Canal Street is largely shrouded in darkness as the electricity throughout Orleans Parish has failed, damaged by Hurricane Ida on August 29, 2021 in New Orleans, Louisiana. Michael Robinson Chavez / The Washington Post / Getty Images
By Theodore J. Kury
The good news when Hurricane Ida churned into Louisiana on Aug. 29, 2021 was that levees held up – especially those that were strengthened after Hurricane Katrina flooded New Orleans in 2005. The bad news: In many places, power systems failed. Nearly five days later, more than 80% of New Orleans customers were still in the dark, in sweltering heat.
Electricity is critical for health, safety and comfort. Without it, it's hard to buy groceries, fuel your car or get cash from an ATM. Many medical devices, including power wheelchairs, ventilators and nebulizers, run on electricity. Schools can't operate without power, and kids can't attend class online without computers or electricity.
Dramatic images of damaged power lines can make people wonder whether their electricity service might be more secure if those lines were buried underground. But I've studied this question for utilities and regulators, and the answer is not straightforward. There are many ways to make power grids more resilient, but they are all costly, require the involvement of many agencies, businesses and power customers, and may not solve the problem.
It's Impossible to Completely Protect the Grid
Ideas for making the electricity grid more resilient to weather and disasters have to acknowledge two unpleasant realities. First, there is no way to completely protect the grid.
Above-ground lines are vulnerable to damaging winds, flying debris and falling trees. But underground lines are susceptible to damage from water incursion driven by storm surges or flooding. So, choosing the location of power lines means choosing which threat is more manageable.
Second, the public ultimately pays for maintaining the power grid, either via their electric bills or through taxes. The greatest responsibility facing utilities, their regulators and government agencies is ensuring that people receive benefits commensurate with the money they pay for their electricity service.
Deciding how to make the grid more resilient begins locally. In general, the best place to locate power lines depends on what type of damage is most likely in that area. If a region is more concerned with storm surge and flooding, the best choice may be locating power lines above ground, with regular tree trimming to keep branches from falling on power lines. Power poles made from resilient materials, such as fiberglass composites and concrete, can withstand damaging winds and flying debris better than traditional wooden poles.
Areas with little risk of storm surge and flooding may decide that underground power lines are the best choice, if the community is willing to accept the cost. No system is sustainable if customers aren't willing to pay for it. Differences in geography, population density, societal preferences and willingness to pay across a utility's service area – especially in a diverse city like New Orleans – mean that no blanket policy will work everywhere.
Ida outages: Over 15,000 still without power in NY, NJ days after deadly storm See the latest outage numbers: https://t.co/TDIhAFpTW7

— PIX11 News (@PIX11 News)1630663183.0
Working With Regulators

When an electric utility wants to make changes to the grid, it needs approval from a regulator. This can take many forms.
Municipal utilities owned by individual cities make those decisions at the local government level. Cooperative, or customer-owned, utilities make those decisions through an executive board comprised of utility customers. Investor-owned utilities, which serve the majority of the U.S. population, are regulated at the state level by public utility commissions. Any discussion of grid resilience starts and ends with these agencies.
The situation in New Orleans is especially complex. Through a history of bankruptcies and reorganizations, New Orleans is the only U.S. city that regulates an investor-owned utility when a state regulator performs the same function.
This means that power company Entergy's operations inside of New Orleans are regulated by the New Orleans City Council, while the company's actions elsewhere across the state are overseen by the Louisiana Public Service Commission. As a result, Entergy can have distinct rates, standards for service and regulatory objectives inside and outside of New Orleans. This system allows the New Orleans City Council to focus on issues that are important to the city, but it also makes the regulatory environment more complex.
The Trouble With Transmission
The electric transmission system has several sections. High-voltage transmission lines move power over long distances from generating plants to areas of high demand, such as cities. From there, distribution networks deliver electricity to neighborhoods and individual homes or buildings.
Hurricane Ida collapsed a transmission tower carrying high-voltage power lines in Jefferson Parish, Louisiana, which is immediately west of New Orleans. This caused all eight transmission lines that supply power to the city and surrounding parishes to fail.
The US electricity grid has hundreds of thousands of miles of high-voltage power lines and millions of miles of low-voltage power lines. EIA
Hardening the transmission grid is more challenging than protecting distribution lines. Voltage is like the pressure that pushes water through a hose, so a high-voltage transmission line handles an intense flow, like a fire hose. Power is "stepped down" to lower voltages when it enters the distribution system, so the power moving through a distribution line is analogous to water flowing through a garden hose.

Burying transmission lines is technically feasible, and may be practical over short distances. But all power lines lose some of the electricity they carry as heat – and if this heat builds up, it ultimately restricts the line's ability to carry power over longer distances. Air effectively dissipates heat from above-ground lines, but buried lines are more vulnerable to heating.
Relocating transmission lines or building extra lines as backups may be the only options for strengthening the system in many places. But building new high-voltage power lines is challenging.

Many people are concerned about possible health risks from exposure to electromagnetic fields, which emanate from high-voltage lines. Regulatory agencies struggle with finding acceptable sites and allocating the costs of these projects.
Investment in the U.S. transmission system has increased over the past 15 years, but more is needed. The Grid Deployment Authority proposed in the bipartisan Infrastructure Investment and Jobs Act would address some of the challenges of transmission line siting, but other hurdles will remain.
Managing Expectations
Whatever steps utilities take to harden the grid, there still are circumstances when the power will go out – especially during climate-driven disasters like wildfires and tropical storms. It's easier to talk about making the power grid more resilient soon after disasters, but the conversation needs to continue after power is restored. In my view, the only way to solve this challenge is by finding ways for utilities, regulators, businesses and customers to transparently discuss the most feasible ways to keep the lights on.
Theodore J. Kury is the Director of Energy Studies at the University of Florida.
Disclosure statement: Theodore Kury is the Director of Energy Studies at the University of Florida's Public Utility Research Center, which is sponsored in part by the Florida electric and gas utilities and the Florida Public Service Commission, none of which has editorial control of any of the content the Center produces.
Reposted with permission from The Conversation.
Related Articles Around the Web
Installing solar panels is a great option for homeowners who want to reduce their power bills, and the payback period can be just a handful of years with favorable conditions. However, renters and apartment owners cannot use a typical solar power system due to the lack of space, and renters in particular must also negotiate with their landlords. A miniature solar system that is portable and easy to install can be a better option in these cases.
Rooftop solar systems can greatly reduce your electric bills, and you can add solar batteries to store solar energy for use at night. However, because most systems are tied to the power local grid, you must meet many technical requirements and get a permit to put solar on your property. The initial investment and paperwork are not a problem when installing solar panels in a home you own, but they're a limiting factor for renters.
If you don't own your home or apartment, you may have little incentive to invest in improving someone else's property. Even if your landlord gives you permission to install solar panels, the decision only makes sense financially if you plan to rent for a very long time — longer than the solar payback period. Also, consider the following factors:
When your lease ends, your landlord may not be willing to purchase the solar panels you installed.
Moving rooftop solar panels to another home is difficult, and you will need a professional installation and another permit for the new property.
There are many types of miniature solar systems that can be installed without the complex requirements and permitting procedures of more permanent structures. These systems are an excellent option for renters, since taking them to another property is as simple as relocating your TV.
Solar Benefits for Non-Homeowners
Solar panel systems offer a common benefit, regardless of their size: they generate electricity from sunlight, reducing the amount of electricity you must pay your utility company for each month. Solar power also lowers the environmental footprint of your home, especially if you live in a region where most of the grid electricity comes from fossil fuels.
Homeowners get a few extra benefits when they install a traditional solar system, including:
Their property becomes more valuable, and many states don't charge increased property taxes for the portion of home value that corresponds to solar panels.
Homeowners also qualify for the 26% federal solar tax credit as well as any additional incentives from state governments or utility companies.
There are permitting and grid connection requirements to meet, but once the solar PV system starts operating, it provides electricity for decades with minimal maintenance.
While mini solar panel systems may not be eligible for these perks, they have their benefits compared with rooftop systems. For example, they are much easier to install, with no permitting involved, and any maintenance is much simpler. Small-scale solar systems also have a lower price, and they are easily relocated.
The power bill savings achieved by a rooftop solar system are much higher, but that's because they're much larger. Many homeowners use solar PV systems that have capacities at or above 6 kW (6,000 W), while miniature systems often only generate up to 100 W. As you might expect, the corresponding cost of solar panels is very different: A 6 kW solar system can cost around $18,000 (before incentives) to install, while a miniature 100 W system might cost less than $300. However, each dollar invested is earned back multiple times over in both cases.
How to Utilize Solar Energy When You Rent
There are several options for renters who want to use solar power. These include:
Plug-in mini solar systems
Off-grid solar and battery systems
Portable solar panels
DIY solar setups
Appliance-specific solar panels
Plug-in mini solar systems work exactly like rooftop PV systems — they connect to your residence's wiring and synchronize with the voltage and frequency of your grid power — just at a smaller scale. The power generated by a plug-in mini system is usually enough to power several electronic devices and LED bulbs, but not high-power devices like air conditioners and washing machines.
Here are some things to consider when deciding whether a solar plug-in mini system is right for your rental property:
Plug-and-play solar panels are not subject to the permitting requirements and interconnection procedures of a traditional rooftop installation, and they can be simply connected to a suitable power outlet.
NOTE: When using plug-in solar panels, you must make sure that the power outlet used has a circuit with enough capacity to carry the current, as well as an adequate breaker. Otherwise, you can cause an electrical fault.
Because this type of panel connects to the electrical system of the property, you should ask your landlord for permission before investing in one. You should also ask an electrician to check the power outlet you plan on plugging the panels into to make sure it has adequate capacity.
Off-grid solar panels and solar battery systems are completely disconnected from the grid, which makes them a popular option for remote or rural sites with no electric service. In these types of systems, one or more solar panels are used to charge a battery or solar generator with USB charging sockets and power outlets for small appliances. These off-grid systems are also a viable option for renters, because they are entirely self-contained and don't connect to the utility grid.
Portable solar panels are popular for camping, but they can also be used by renters to power small devices. These are some of the smallest solar panels available, and they only have a few watts of capacity. Their main purpose is charging smartphones, tablets and other tiny USB devices, and many of them have built-in LED flashlights.
DIY solar panel setups are also an option. You can shop online for compatible solar panels, inverters, batteries and solar charge controllers, and then build a custom system according to your needs. However, keep in mind that you must have at least basic knowledge about electricity to safely and successfully install a homemade solar system.
Appliance-specific solar panels are also a viable option for renters. You can find many devices with built-in solar panels, which don't depend on a power outlet to operate. For example, you can install solar-powered outdoor lights for your backyard or balcony, or use a solar air conditioning unit or fan to provide extra ventilation during the hottest hours of the day.
Pros and Cons of Small Solar Units
Miniature solar systems have advantages and limitations like any device. They have a lower cost than traditional rooftop systems, plus they are easier to install and relocate. Just keep in mind that they can't power larger appliances, which means their power bill savings are small.
The following table summarizes the pros and cons of the most common types of miniature solar systems:
Renter-Friendly Solar System
Pros
Cons
Typical Price
Plug-in solar system
- Easy to install
- Can be plugged into a normal power outlet

- Can only operate when connected to the grid
- You need a dedicated circuit and breaker of adequate capacity

$1,500 for a 600 W solar system
Off-grid solar system
- Can charge batteries or generators to be used after sunset
- Fully independent from the grid

- Batteries increase the system cost significantly if you want a high energy storage capacity
$400 for a 100 W solar panel with a 24,000 mAh battery
Portable
- Easy to carry
- Can be used for camping and other trips

- Limited use: Charging smartphones and other small devices
$100 or less for a foldable 30 W panel
DIY Solar
- You can create a custom system that meets your needs
- Basic electrical knowledge is needed to set up a safe system
Variable, depending on the components used.
Appliance-specific
- Easy to install
- The solar panel is often included with the price of the device

- You can only use the solar panel to power one appliance or device
Variable, depending on the appliance
Miniature solar power systems are designed for small, low-power devices such as LED bulbs and electronic gadgets. If you're a renter and would like to increase your savings beyond what is possible with small solar kits, you can consider joining a community solar project near you.
These projects normally have two membership options: purchasing a share or paying a monthly subscription.
In both cases, you will be entitled to a portion of the kilowatt-hours produced by the system, and this portion will be subtracted from your bill.
Another advantage of community solar is that you can move freely to another apartment or home. Since the solar panels are not physically located where you live, you can usually re-assign the electricity savings to your new address.
Products to Help Renters Maximize Solar
There are many brands of miniature solar kits, but you should look for a reliable provider like Sunboxlabs. Since you're dealing with electricity, purchasing high-quality products is strongly advised to avoid accidents. Before purchasing any solar panel or a related component, make sure it has an electrical certification mark such as:
UL (Underwriters Laboratories)
ETL (Intertek)
CSA (Canadian Standards Association)
CE (Conformité Européenne)
You can look for a solar kit that includes all components, such as this WindyNation 100 Watt Solar Panel Kit. Alternatively, you can buy compatible parts separately, and build your own system. The following are some recommendations:
Keep in mind that you will also need wiring to connect all components together, and make sure you read all instructions carefully to ensure safety.
People wait in long lines at a grocery store in Austin, Texas on Feb. 17, 2021 as millions of Texans were without water and electricity during winter storms. Montinique Monroe / Getty Images
By Mathew Barlow and Judah Cohen

In February 2021, in the midst of rapidly warming global temperatures, an exceptionally severe cold wave hit large parts of North America, from Canada to Northern Mexico. It left 10 million people without power. The impact was particularly severe in Texas, which alone had more than 125 deaths associated with the event.
In the U.S., it was the coldest February in more than 30 years. The cold wave became the nation's costliest winter storm on record.
The freezing temperatures were associated with a dip southward in the jet stream, a band of strong winds about eight miles above Earth's surface associated with the boundary between colder and warmer air.
The jet stream flows from west to east, but that's not the only direction in which atmospheric waves can move – they can also move up and down over large distances, and that can link the weather and climate in one region, like the Arctic, with regions elsewhere, like Texas.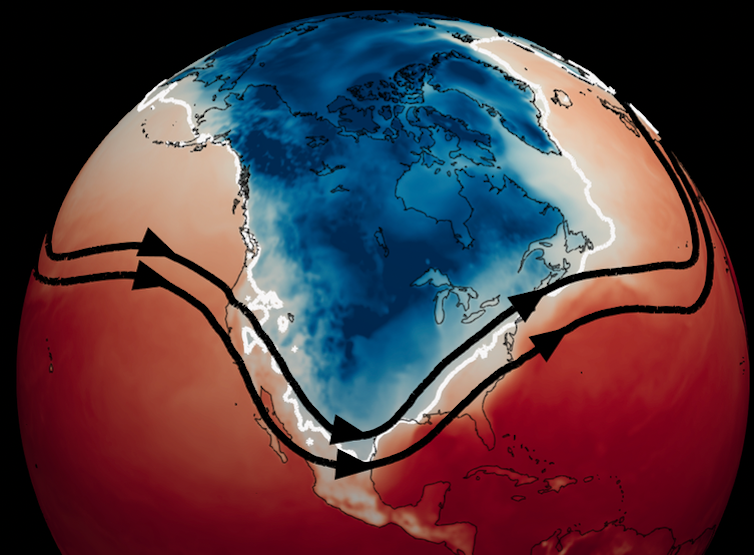 When you throw a rock in a pond, you see ripples – waves – expand away from the initial disturbance. While ripples on a pond are a different type of wave than dips in the jet stream, both types of waves can transmit the effects of a disturbance to faraway areas.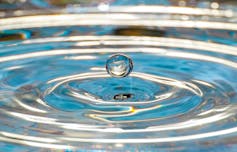 In this case, the atmospheric waves transmitted the influence of climate change in the Arctic to parts of North America and Asia.
In a study released Sept. 2, 2021, in the journal Science, we show how that happened and how, counter to what one might expect, events like the February cold wave can actually become more likely with global warming.
What Happens in the Arctic Doesn't Stay There
The Arctic is warming more rapidly than any other region, at a rate more than twice the global average.
This is causing large changes in the region's climate, including melting sea ice and, in the late fall, increasing snow cover over Siberia.
Ice and snow provide an insulating layer and are highly reflective, so their changes strongly alter the amount of energy and moisture moving between the surface of the Earth and the atmosphere. The atmosphere is sensitive to changes in energy and moisture, so substantial changes provide a "kick" to the atmosphere that results in upward moving waves rippling away from the area.
These waves move upward into the stratosphere and disrupt the stratospheric polar vortex, another band of fast winds that circles closer around the pole in the middle stratosphere, around 18 miles up. In response, the vortex weakens and stretches.
Not only can the stratospheric vortex be changed by the waves, but the vortex can also change how the waves move, because the waves are influenced by the wind and temperature fields they move through, and the vortex helps determine those winds and temperatures. What differentiates a vortex stretching event from larger vortex disruptions is that upward-moving waves are reflected back down to the surface, where they can influence lower-altitude weather patterns.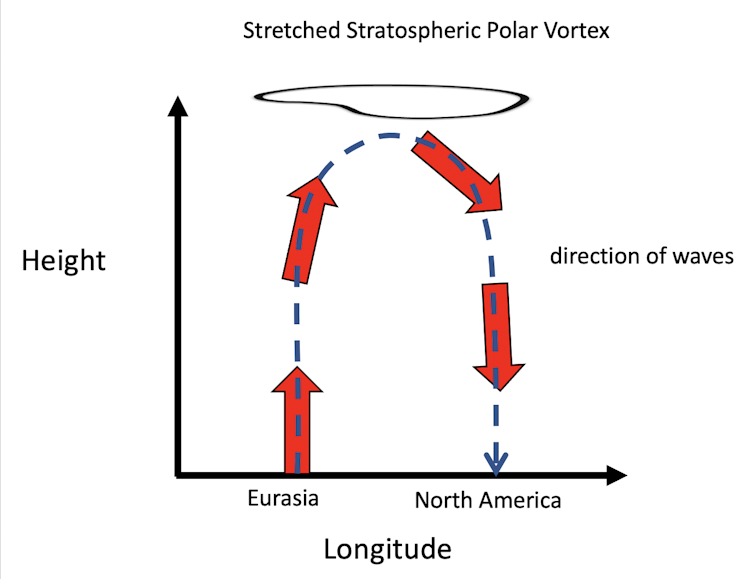 As these downward moving waves collect at lower altitudes over North America, they create a southward dip in the jet stream, bringing cold air farther south than usual. So, the upward and downward movement of atmospheric waves over long distances – like ripples moving across a pond – can link the Arctic to other regions.
Testing Cause and Effect
We took two different approaches to identifying and examining these relationships.
First, we used a machine learning, a technique in which a computer essentially trained itself to group similar events from the historical data. We then analyzed the stretched vortex events to show that, for those cases, there was a typical sequence of events: first surface temperature changes in the Arctic, then changes in the stratospheric polar vortex, followed by cold waves in North America and Asia – with vertically moving waves providing the connections over the span of a few months. The identified surface temperature changes in the Arctic are similar to those associated with the melting sea ice and increasing Siberian snow cover of Arctic climate change.
We then used a computer model of the atmosphere to evaluate cause and effect and directly test how the atmosphere responds to those Arctic changes. We found that the model reproduced the observed sequence of events.
The machine learning analysis of observations and the computer modeling experiments provide two independent lines of evidence supporting a pathway of influence – from Arctic climate change at the surface up to changes in the stratospheric winds, and finally back down to cold waves in North America and parts of Asia.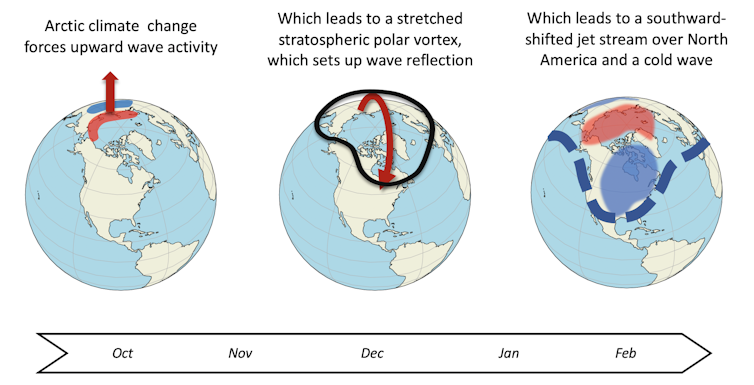 Implications of These Results
Our research reinforces two crucial lessons of climate change: First, the change doesn't have to occur in your backyard to have a big effect on you. Second, the unexpected consequences can be quite severe.
In this case, large changes in the Arctic are not just a local concern – they also have wide-ranging impacts across North America and parts of Asia. And those impacts are not always what people are expecting. The results highlight another reason to rapidly reduce the greenhouse gas emissions that are driving global warming and at the same time the need to develop better strategies for managing extreme weather events, both hot and cold.
Mathew Barlow is a professor of climate science at the University of Massachusetts Lowell.
Judah Cohen is a climate scientist at the Massachusetts Institute of Technology (MIT).

Disclosure statements: Mathew Barlow receives funding from the National Science Foundation and the National Oceanic and Atmospheric Administration. Judah Cohen receives funding from the U.S. National Science Foundation.
Reposted with permission from The Conversation.
From Your Site Articles
Related Articles Around the Web
A tree trunk killed by emerald ash borers showing missing bark and tracks of the larvae worm in the wood. catnap72 / iStock / Getty Images Plus
By Kristine Grayson
The emerald ash borer (Agrilus planipennis) is a deceptively attractive metallic-green adult beetle with a red abdomen. But few people ever actually see the insect itself – just the trail of destruction it leaves behind under the bark of ash trees.
These insects, which are native to Asia and Russia, were first discovered in Michigan in 2002. Since then they have spread to 35 states and become the most destructive and costly invasive wood-boring insect in U.S. history. They have also been detected in the Canadian provinces of Ontario, Quebec, Manitoba, New Brunswick and Nova Scotia.
In 2021 the U.S. Department of Agriculture stopped regulating the movement of ash trees and wood products in infested areas because the beetles spread rapidly despite quarantine efforts. Now federal regulators and researchers are pursuing a different strategy: biological control. Scientists think that tiny parasitic wasps, which prey on emerald ash borers in their native range, hold the key to curbing this invasive species and returning ash trees to North American forests.
I study invasive forest insects and work with the USDA to develop easier ways of raising emerald ash borers and other invasive insects in research laboratories. This work is critical for discovering and testing ways to better manage forest recovery and prevent future outbreaks. But while the emerald ash borer has spread uncontrollably in nature, producing a consistent laboratory supply of these insects is surprisingly challenging – and developing an effective biological control program requires a lot of target insects.
Adult emerald ash borer beetles are about 0.5 inches long (photo not to scale). PA DEC
The Value of Ash Trees
Researchers believe the emerald ash borer likely arrived in the U.S. on imported wood packaging material from Asia sometime in the 1990s. The insects lay eggs in the bark crevices of ash trees; when larva hatch, they tunnel through the bark and feed on the inner layer of the tree. Their impact becomes apparent when the bark is peeled back, revealing dramatic feeding tracks. These channels damage the trees' vascular tissue – internal networks that transport water and nutrients – and ultimately kill the tree.

Before this invasive pest appeared on the scene, ash trees were particularly popular for residential developments, representing 20-40% of planted trees in some Midwestern communities. Emerald ash borers have killed tens of millions of U.S. trees with an estimated replacement cost of U.S.$10-25 billion.
Ash wood is also popular for lumber used in furniture, sports equipment and paper, among many other products. The ash timber industry produces over 100 million board feet annually, valued at over $25 billion.
Why Quarantines Have Failed
State and federal agencies have used quarantines to combat the spread of several invasive forest insects, including Asian longhorned beetles and Lymantria dispar, previously known as gypsy moth. This approach seeks to reduce the movement of eggs and young insects hidden in lumber, nursery plants and other wood products. In counties where an invasive species is detected, regulations typically require wood products to be heat-treated, stripped of bark, fumigated or chipped before they can be moved.
The federal emerald ash borer quarantine started with 13 counties in Michigan in 2003 and increased exponentially over time to cover than a quarter of the continental U.S. Quarantines can be effective when forest insect pests mainly spread through movement of their eggs, hitchhiking long distances when humans transport wood.
However, female emerald ash borers can fly up to 12 miles per day for as long as six weeks after mating. The beetles also are difficult to trap, and typically are not detected until they have been present for three to five years – too late for quarantines to work.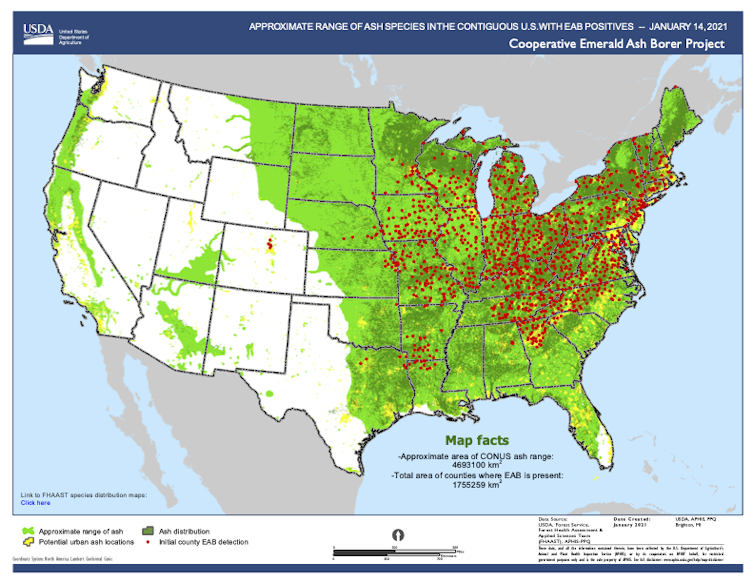 Next Option: Wasps
Any biocontrol plan poses concerns about unintended consequences. One notorious example is the introduction of cane toads in Australia in the 1930s to reduce beetles on sugarcane farms. The toads didn't eat the beetles, but they spread rapidly and ate lots of other species. And their toxins killed predators.
Introducing species for biocontrol is strictly regulated in the U.S. It can take two to 10 years to demonstrate the effectiveness of potential biocontrol agents, and obtaining a permit for field testing can take two more years. Scientists must demonstrate that the released species specializes on the target pest and has minimal impacts on other species.
Four wasp species from China and Russia that are natural enemies of the emerald ash borer have gone through the approval process for field release. These wasps are parasitoids: They deposit their eggs or larva into or on another insect, which becomes an unsuspecting food source for the growing parasite. Parasitoids are great candidates for biocontrol because they typically exploit a single host species.
The selected wasps are tiny and don't sting, but their egg-laying organs can penetrate ash tree bark. And they have specialized sensory abilities to find emerald ash borer larva or eggs to serve as their hosts.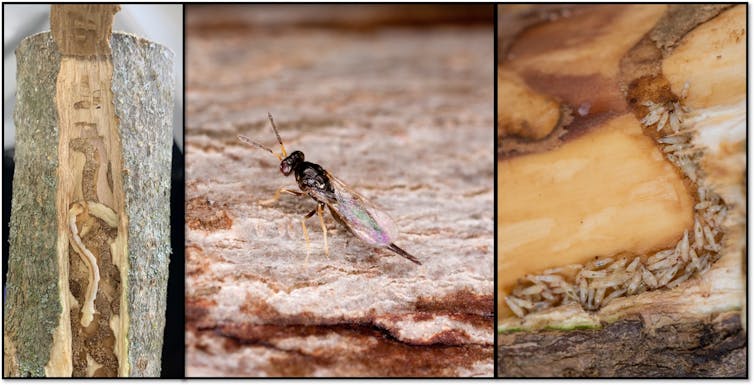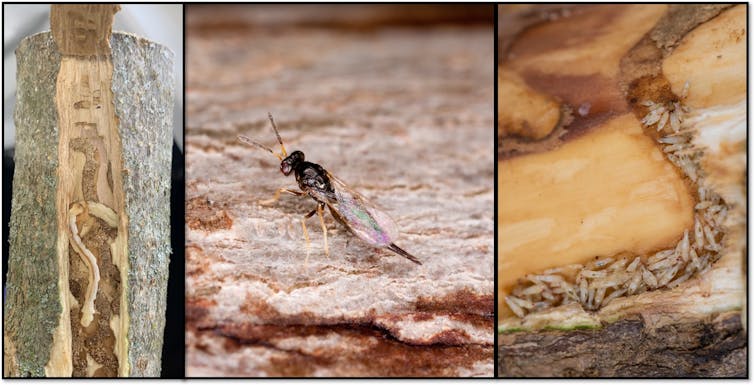 The USDA is working to rear massive numbers of parasitoid wasps in lab facilities by providing lab-grown emerald ash borers as hosts for their eggs. Despite COVID-19 disruptions, the agency produced over 550,000 parasitoids in 2020 and released them at over 240 sites.
The goal is to create self-sustaining field populations of parasitoids that reduce emerald ash borer populations in nature enough to allow replanted ash trees to grow and thrive. Several studies have shown encouraging early results, but securing a future for ash trees will require more time and research.
One hurdle is that emerald ash borers grown in the lab need fresh ash logs and leaves to complete their life cycle. I'm part of a team working to develop an alternative to the time- and cost-intensive process of collecting logs: an artificial diet that the beetle larva can eat in the lab.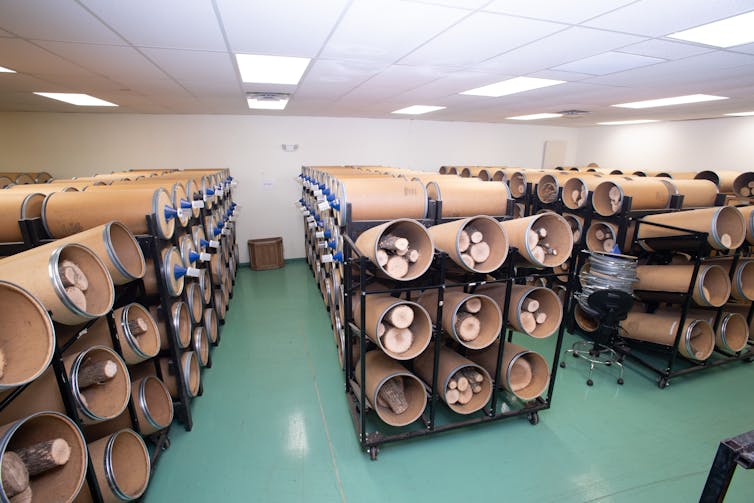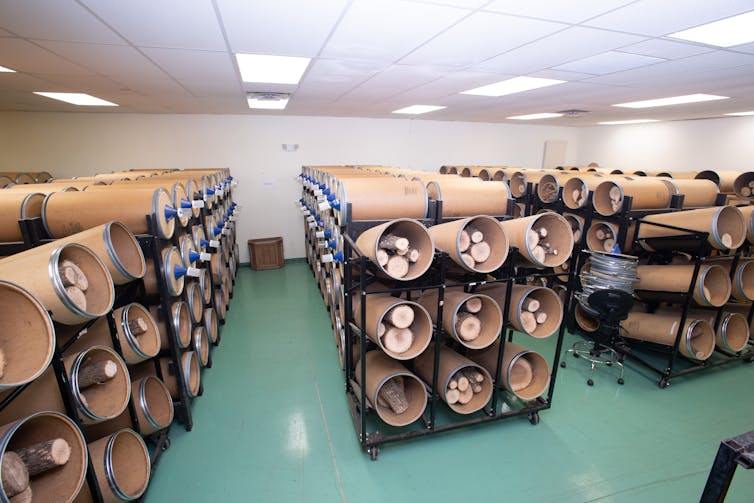 The food must provide the right texture and nutrition. Other leaf-feeding insects readily eat artificial diets made from wheat germ, but species whose larva digest wood are pickier. In the wild, emerald ash borers only feed on species of ash tree.
In today's global economy, with people and products moving rapidly around the world, it can be hard to find effective management options when invasive species become established over a large area. But lessons learned from the emerald ash borer will help researchers mobilize quickly when the next forest pest arrives.

Kristine Grayson is an associate professor of biology at the University of Richmond.
Disclosure statement: Kristine Grayson receives cooperative agreement funding from the USDA Animal and Plant Health Inspection Service (APHIS) program for Plant Protection and Quarantine (PPQ).
Reposted with permission from The Conversation.
A car charging at an electric vehicle charging station in Atlanta, Georgia. Raymond Boyd / Getty Images
By Paul N. Edwards

Most of America's 107,000 gas stations can fill several cars every five or 10 minutes at multiple pumps. Not so for electric vehicle chargers – at least not yet.
Today the U.S. has around 43,000 public EV charging stations, with about 106,000 outlets. Each outlet can charge only one vehicle at a time, and even fast-charging outlets take an hour to provide 180-240 miles' worth of charge; most take much longer.
The existing network is acceptable for many purposes. But chargers are very unevenly distributed; almost a third of all outlets are in California. This makes EVs problematic for long trips, like the 550 miles of sparsely populated desert highway between Reno and Salt Lake City. "Range anxiety" about longer trips is one reason electric vehicles still make up fewer than 1% of U.S. passenger cars and trucks.
This uneven, limited charging infrastructure is one major roadblock to rapid electrification of the U.S. vehicle fleet, considered crucial to reducing the greenhouse gas emissions driving climate change.
It's also a clear example of how climate change is an infrastructure problem – my specialty as a historian of climate science at Stanford University and editor of the book series "Infrastructures."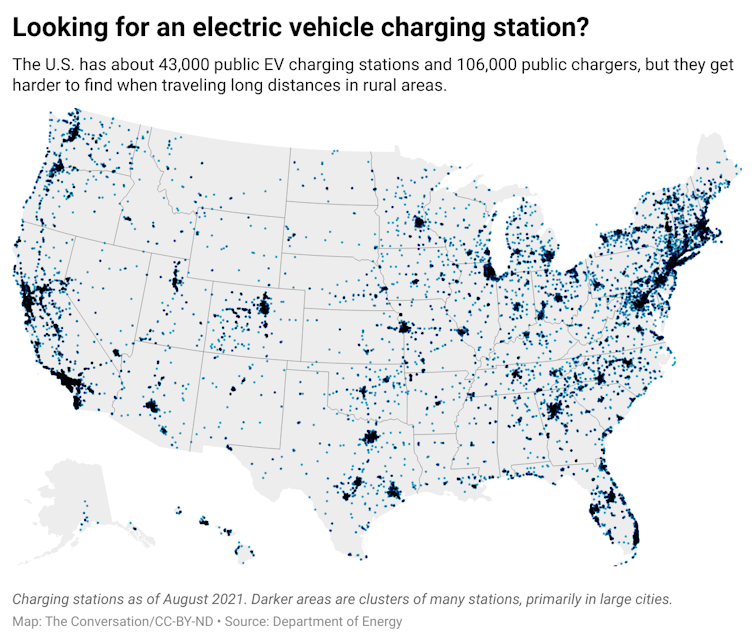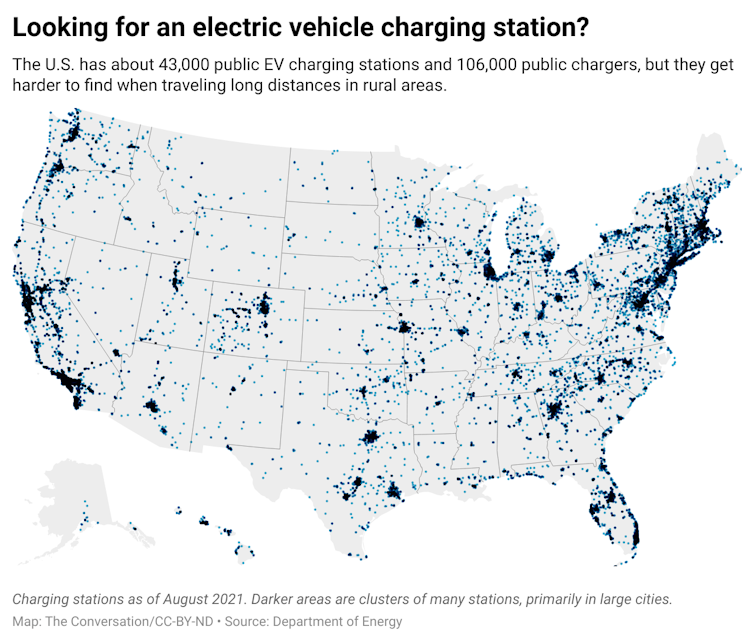 Over many decades, the U.S. has built systems of transportation, heating, cooling, manufacturing and agriculture that rely primarily on fossil fuels. The greenhouse gas emissions those fossil fuels release when burned have raised global temperature by about 1.1°C (2°F), with serious consequences for human lives and livelihoods, as the recent report from the U.N. Intergovernmental Panel on Climate Change demonstrates.
The new assessment, like its predecessor Special Report on Global Warming of 1.5°C, shows that minimizing future climate change and its most damaging impacts will require transitioning quickly away from fossil fuels and moving instead to renewable, sustainable energy sources such as wind, solar and tidal power.
That means reimagining how people use energy: how they travel, what and where they build, how they manufacture goods and how they grow food.
Gas Stations Were Transport Infrastructure, Too
Gas-powered vehicles with internal combustion engines have completely dominated American road transportation for 120 years. That's a long time for path dependence to set in, as America built out a nationwide system to support vehicles powered by fossil fuels.
Gas stations are only the endpoints of that enormous system, which also comprises oil wells, pipelines, tankers, refineries and tank trucks – an energy production and distribution infrastructure in its own right that also supplies manufacturing, agriculture, heating oil, shipping, air travel and electric power generation.
Without it, your average gas-powered sedan wouldn't make it from Reno to Salt Lake City either.
Fossil fuel combustion in the transport sector is now America's largest single source of the greenhouse gas emissions causing climate change. Converting to electric vehicles could reduce those emissions quite a bit. A recent life cycle study found that in the U.S., a 2021 battery EV – charged from today's power grid – creates only about one-third as much greenhouse gas emissions as a similar 2021 gasoline-powered car. Those emissions will fall even further as more electricity comes from renewable sources.

Despite higher upfront costs, today's EVs are actually less expensive than gas-powered cars due to their greater energy efficiency and many fewer moving parts. An EV owner can expect to save US$6,000-$10,000 over the car's lifetime versus a comparable conventional car. Large companies including UPS, FedEx, Amazon and Walmart are already switching to electric delivery vehicles to save money on fuel and maintenance.
All this will be good news for the climate – but only if the electricity to power EVs comes from low-carbon sources such as solar, tidal, geothermal and wind. (Nuclear is also low-carbon, but expensive and politically problematic.) Since our current power grid relies on fossil fuels for about 60% of its generating capacity, that's a tall order.
To achieve maximal climate benefits, the electric grid won't just have to supply all the cars that once used fossil fuels. Simultaneously, it will also need to meet rising demand from other fossil fuel switchovers, such as electric water heaters, heat pumps and stoves to replace the millions of similar appliances currently fueled by fossil natural gas.
The Infrastructure Bill
The 2020 Net-Zero America study from Princeton University estimates that engineering, building and supplying a low-carbon grid that could displace most fossil fuel uses would require an investment of around $600 billion by 2030.
The infrastructure bill now being debated in Congress was originally designed to get partway to that goal. It initially included $157 billion for EVs and $82 billion for power grid upgrades. In addition, $363 billion in clean energy tax credits would have supported low-carbon electric power sources, along with energy storage to provide backup power during periods of high demand or reduced output from renewables. During negotiations, however, the Senate dropped the clean energy credits altogether and slashed EV funding by over 90%.
Of the $15 billion that remains for electric vehicles, $2.5 billion would purchase electric school buses, while a proposed EV charging network of some 500,000 stations would get $7.5 billion – about half the amount needed, according to Energy Secretary Jennifer Granholm.
As for the power grid, the infrastructure bill does include about $27 billion in direct funding and loans to improve grid reliability and climate resilience. It would also create a Grid Development Authority under the U.S. Department of Energy, charged with developing a national grid capable of moving renewable energy throughout the country.
The infrastructure bill may be further modified by the House before it reaches President Joe Biden's desk, but many of the elements that were dropped have been added to another bill that's headed for the House: the $3.5 trillion budget plan.
As agreed to by Senate Democrats, that plan incorporates many of the Biden administration's climate proposals, including tax credits for solar, wind and electric vehicles; a carbon tax on imports; and requirements for utilities to increase the amount of renewables in their energy mix. Senators can approve the budget by simple majority vote during "reconciliation," though by then it will almost certainly have been trimmed again.
Overall, the bipartisan infrastructure bill looks like a small but genuine down payment on a more climate-friendly transport sector and electric power grid, all of which will take years to build out.

But to claim global leadership in avoiding the worst potential effects of climate change, the U.S. will need at least the much larger commitment promised in the Democrats' budget plan.
Like an electric car, that commitment will seem expensive upfront. But as the recent IPCC report reminds us, over the long term, the potential savings from avoided climate risks like droughts, floods, wildfires, deadly heat waves and sea level rise would be far, far larger.

Paul N. Edwards is a William J. Perry Fellow in International Security, Center for International Security and Cooperation, Stanford University.
Disclosure statement: Paul N. Edwards is one of 234 lead authors of the 2021 Working Group I report for the Sixth Assessment of the Intergovernmental Panel on Climate Change. This article reflects his personal views. His previous work relevant to this article was funded by the National Science Foundation and the Sloan Foundation.
Reposted with permission from The Conversation.
Organic vegetables at the Center for Urban Agriculture at Fairview Gardens, Goleta, California. Citizen of the Planet / Education Images/Universal Images Group via Getty Images
By Kathleen Merrigan
Organic food once was viewed as a niche category for health nuts and hippies, but today it's a routine choice for millions of Americans. For years following passage of the Organic Foods Production Act of 1990, which established national organic standards, consumers had to seek out organic products at food co-ops and farmers markets. Today over half of organic sales are in conventional grocery store chains, club stores and supercenters; Walmart, Costco, Kroger, Target and Safeway are the top five organic retailers.
Surveys show that 82% of Americans buy some organic food, and availability has improved. So why do overall organic sales add up to a mere 6% of all food sold in the U.S.? And since organic farming has many benefits, including conserving soil and water and reducing use of synthetic chemicals, can its share grow?
One issue is price. On average, organic food costs 20% more than conventionally produced food. Even hardcore organic shoppers like me sometimes bypass it due to cost.
Some budget-constrained shoppers may restrict their organic purchases to foods they are especially concerned about, such as fruits and vegetables. Organic produce carries far fewer pesticide residues than conventionally grown versions.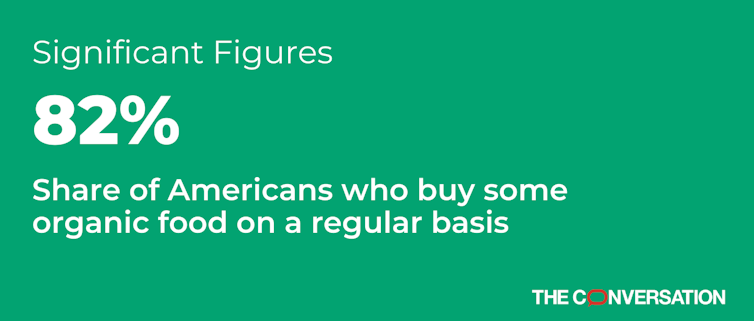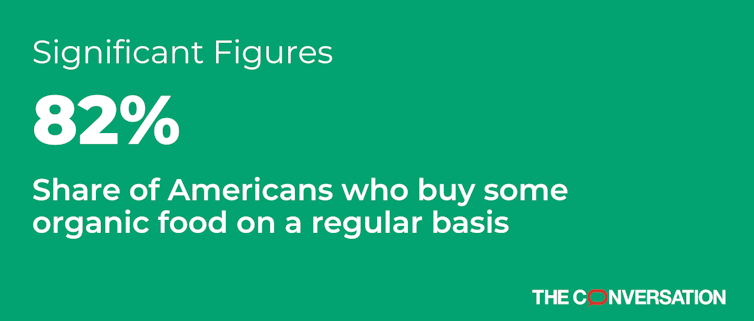 Price matters, but let's dig deeper. Increasing organic food's market share will require growing larger quantities and more diverse organic products. This will require more organic farmers than the U.S. currently has.

There are some 2 million farms in the U.S.. Of them, only 16,585 are organic – less then 1%. They occupy 5.5 million acres, which is a small fraction of overall U.S. agricultural land. Roughly two-thirds of U.S. farmland is dedicated to growing animal feed and biofuel feedstocks like corn and soybeans, rather than food for people.
In my view, converting more agricultural land to organic food production should be a national goal. Organic farmers produce healthy food, promote soil health and protect watersheds. Ruminant animals like dairy cows when raised organically must graze on pasture for at least 120 days each year, which reduces their methane emissions.
The list of climate and environmental benefits associated with organic is long. Organic farming consumes 45% less energy than conventional production, mainly because it doesn't use nitrogen fertilizers. And it emits 40% less greenhouse gases because organic farmers practice crop rotation, use cover crops and composting, and eliminate fossil fuel-based inputs.
The vast majority of organic farms are small or midsized, both in terms of gross sales and acreage. Organic farmers are younger on average than conventional farmers.
Starting small makes sense for beginning farmers, and organic price premiums allow them to survive on smaller plots of land. But first they need to go through a tough three-year transition period to cleanse the land.
During this time they are ineligible to label products as organic, but must follow organic standards, including forgoing use of harmful chemicals and learning how to manage ecosystem processes. This typically results in short-term yield declines. Many farmers fail along the way.
The transition period is just one of many challenges for organic farmers. Greater federal government support could help. In a recent report, Arizona State University's Swette Center for Sustainable Food Systems, which I direct, identified actions the Biden administration can take within existing budgets and laws to realize the untapped promise of organic agriculture.
Current USDA assistance for organic producers is paltry, especially given the billions of dollars that the agency spends annually in support of agriculture. Two-thirds of farm subsidy dollars go to the top 10% richest farms.
Our report recommends dedicating 6% of USDA spending to supporting the organic sector, a figure that reflects its market share. As an example, in 2020 the agency spent about $55 million on research directly pertinent to organic agriculture within its $3.6 billion Research, Education and Economics mission area. A 6% share of that budget would be $218 million for developing things like better ways of controlling pests by using natural predators instead of chemical pesticides.
Organic food's higher price includes costs associated with practices like forgoing use of harmful pesticides and improving animal welfare. A growing number of food systems scholars and practitioners are calling for use of a methodology called True Cost Accounting, which they believe reveals the full costs and benefits of food production.
According to an analysis by the Rockefeller Foundation, American consumers spend $1.1 trillion yearly on food, but the true cost of that food is $3.2 trillion when all impacts like water pollution and farmworker health are factored in. Looked at through a True Cost Accounting lens, I see organic as a good deal.

Kathleen Merrigan is executive director of the Swette Center for Sustainable Food Systems, Arizona State University.
Disclosure statement: Kathleen Merrigan directs the Swette Center for Sustainable Food Systems at Arizona State University, which receives funding from the Organic Trade Association. She is co-director of a project on inadvertent chemical contamination of organic crops funded by the U.S. Department of Agriculture. Merrigan is a member of the Advisory Committee for the Organic Farming Research Foundation. She also is an advisor to S2G Ventures and a Venture Partner at Astanor Ventures, two agtech firms that have some organic companies in their much broader portfolios. As a U.S. Senate staffer, Merrigan drafted the Organic Foods Production Act of 1990. She has served on the National Organic Standards Board, as Administrator of the USDA Agricultural Marketing Service and as Deputy Secretary of Agriculture.
Reposted with permission from The Conversation.
From Your Site Articles
Related Articles Around the Web
McAfee Knob in Virginia's Blue Ridge Mountains, one of the Appalachian Trail's most scenic vistas. Ben Townsend/Flickr / CC BY 2.0
By Charles C. Chester

The Appalachian Trail, North America's most famous hiking route, stretches over 2,189 mountainous miles (3,520 kilometers) from Georgia to Maine. In any given year, some 3 million people hike on it, including more than 3,000 "thru-hikers" who go the entire distance, either in one stretch or in segments over multiple years.
The AT, as it's widely known, is a national icon on a par with conservation touchstones like the Grand Canyon, Yellowstone's Old Faithful geyser and the Florida Everglades. It symbolizes opportunity – the chance to set out on a life-altering experience in the great outdoors, or at least a pleasant walk in the woods.
Benton MacKaye, the classically trained forester who proposed creating the AT in 1921, saw it as a space where visitors could escape the stresses and rigors of modern industrial life. He also believed it could be a foundation for sound land-use patterns, with each section managed and cared for by local volunteers. MacKaye was a highly original thinker who called for protecting land on a continent-spanning scale and thought about how land use patterns could influence work and social relationships.
My research focuses on how people work together to promote large landscape conservation and to protect connectivity – physically linking patches of habitat, on land or at sea, so that animals and plants can move between them. MacKaye's conception of the AT represents an early example of such comprehensive approaches to conservation.
An Escape From Industrial Life
One hundred years ago, MacKaye laid out his vision for the AT in an article for the Journal of the American Institute of Architects. At that time, progressive thinkers were conceptualizing and promoting the idea of regional planning at many different scales.
Had MacKaye focused solely on a physical trail, the editors probably would have rejected his manuscript. But MacKaye envisioned the AT as a connecting cord that would run through and define a natural and rural region. In his view, maintaining the undeveloped character of the land would only become more essential in the face of an encroaching East Coast metropolis. And because it lay in the eastern U.S., the trail would "serve as the breath of a real life for the toilers in the bee-hive cities along the Atlantic seaboard and beyond," he wrote.
By 1925 MacKaye organized an Appalachian Trail Conference to build the footpath, which was completed in 1937. The first thru-hiker, a World War II veteran named Earl Shaffer, completed the full journey in 1948. Over the following decades, most of the practical work on the AT focused on tying together the thread of the trail itself – a challenging mission of acquiring access rights to myriad public and private lands.
Maintaining the landscape around the AT in perpetuity is a bigger challenge. And climate change is making that issue more urgent, for the AT isn't just a footpath for humans. It also provides two ways for plants and animals to shift their ranges in a changing world.

First, the trail offers a chance for wildlife and plants to move northward to cooler habitats on a warming planet. Second, species can also move up mountains to avoid warmer temperatures – and any thru-hiker has the blisters to prove that the AT has plenty of mountains.
More Than a Footpath
Beginning with MacKaye, many people over the past century have aspired to frame the AT as a platform for conservation at a regional scale – that is, extending far beyond the narrow trail corridor, which averages about 1,000 feet (300 meters) wide, or less than a quarter of a mile. One impetus is to provide a natural experience for hikers. Who wants to go exploring through exurban sprawl? Protecting land around the trail also expands spaces for plants and animals.
One of the best-known examples of large landscape approaches is the Yellowstone to Yukon Conservation Initiative, often referred to as Y2Y (I am the current chair of the Y2Y Council). Since the mid-1990s, this venture has striven to conserve habitat and rural working lands across a region that stretches some 2,000 miles (3,220 kilometers) north from the Greater Yellowstone region in Wyoming, Montana and Idaho to Canada's Yukon Territory.
As the Y2Y experience has shown, conserving large landscapes around the AT will not be easy or straightforward – but it is possible. MacKaye worried about urban and suburban encroachment – a threat that has only grown more severe over the past hundred years. "Pinch points" include the mid-Atlantic portion of the AT, but development threats are present all along the trail.
"If we can't protect places we value most highly, like the beloved, heavily used Appalachian Trail, from unnecessar… https://t.co/HgIHbs5ItF

— Outside (@Outside)1593328834.0
Conservation advocates have identified key spots along the AT where land around the trail could be protected from development to support wildlife by preserving it as open space. They include highlands in northern New Jersey and southern New York; forests and wetlands in Vermont and New Hampshire; and Maine's North Woods.

Land trusts and conservation organizations from Georgia to Maine are working to protect wild lands along the length of the AT and increasingly are coordinating their efforts through the Appalachian Trail Landscape Partnership. This initiative includes more than 100 partners, led by the Appalachian Trail Conservancy and the U.S. National Park Service, which has managed the AT since the passage of the 1968 National Scenic Trails Act.
Footpath and Barrier
Benton MacKaye hoped that the AT would be a symbolic and literal pathway toward solving social problems. His initial vision for the trail included community camps, covering up to 100 acres, that would grow out of trail shelters into small settlements where people could live year-round and pursue "nonindustrial" activities such as study and recuperation. Eventually, he envisioned more permanent camps that would offer the opportunity to move from cities back to the country and work cooperatively on the land, raising food and harvesting timber.
"The camp community … is in essence a retreat from profit. Cooperation replaces antagonism, trust replaces suspicion, emulation replaces competition," MacKaye wrote.
MacKaye's grand hopes may have been idealistic, but fulfilling the AT's potential for large landscape conservation in some of the most populated regions of North America is still a worthy goal. As MacKaye presciently concluded in his 1921 article, "This trail could be made to be, in a very literal sense, a battle line against fire and flood – and even against disease." A century later, I believe the time has come for MacKaye's vision of the trail to flourish as a mutually supportive endeavor among people and nature in a changing world.
Charles C. Chester is a lecturer in Environmental Studies at Brandeis University.
Disclosure statement:
Republished with permission from The Conversation.
From Your Site Articles
Related Articles Around the Web
A digital sign displays a temperature of 115 degrees Fahrenheit as a heat wave continues to bake the Southwest United States on June 17, 2021 in Las Vegas, Nevada. Ethan Miller / Getty Images
A couple of things are important to understand about climate change's role in extreme weather like this.
First, humans have pumped so much carbon dioxide and other planet-warming greenhouse gases into the atmosphere that what's "normal" has shifted. A new study, published July 26, 2021, for example, shows how record-shattering, long-lasting heat waves – those that break records by a wide margin – are growing increasingly likely, and that the rate of global warming is connected with the increasing chances of these heat extremes.
Second, not every extreme weather event is connected to global warming.
Shifting the Bell Curve
Like so many things, temperature statistics follow a bell curve – mathematicians call these "normal distributions." The most frequent and likely temperatures are near the average, and values farther from the average quickly become much less likely.
All else being equal, a little bit of warming shifts the bell to the right – toward higher temperatures. Even a shift of just a few degrees makes the really unlikely temperatures in the extreme "tail" of the bell happen dramatically more often.
The stream of broken temperature records in the North American West lately is a great example. Portland hit 116 degrees – 9 degrees above its record before the heat wave. That would be an extreme at the end of the tail. One study determined the heat wave would have been "virtually impossible" without human-caused climate change. Extreme heat waves that were once ridiculously improbable are on their way to becoming more commonplace, and unimaginable events are becoming possible.

The width of the bell curve is measured by its standard deviation. About two-thirds of all values fall within one standard deviation of the average. Based on historical temperature records, the heat wave in 2003 that killed more than 70,000 people in Europe was five standard deviations above the mean, so it was a 1 in 1 million event.
Without eliminating emissions from fossil fuels, studies have found that heat like that is likely to happen a few times a decade by the time today's toddlers are retirees.
So, Is Climate Change to Blame?
There's a basic hierarchy of the extreme events that scientific research so far has shown are most affected by human-caused climate change.
At the top of the list are extreme events like heat waves that are certain to be influenced by global warming. In these, three lines of evidence converge: observations, physics and computer model simulations that predict and explain the changes. At the bottom of the list are things that might plausibly be caused by rising levels of greenhouse gases but for which the evidence is not yet convincing. Here's a partial list.
1. Heat waves: Studies show these are certain to increase dramatically with global warming, and indeed that's exactly what we're observing.
The hot season is getting a lot longer in some places. Michael Kolian / U.S. Global Change Research Program
2. Coastal flooding: Heat is causing ocean waters to expand, pushing up sea levels, and melting ice sheets around the world. Both high-tide flooding and catastrophic storm surge will become much more frequent as those events start from a higher average level because of sea level rise.

3. Drought: Warmer air evaporates more water from reservoirs, crops and forests, so drought will increase because of increased water demand, even though changes in rainfall vary and are hard to predict.
4. Wildfires: As the western U.S. and Canada are seeing, heat dries out the soils and vegetation, providing drier fuel that's ready to burn. Forests lose more water during hotter summers, and fire seasons are getting longer.
5. Reduced spring snowpack: Snow starts accumulating later in the fall as temperatures rise, more water is lost from the snowpack during winter, and the snow melts earlier in the spring, reducing the flush of water into reservoirs that supports the economies of semiarid regions.
6. Very heavy rainfall: Warmer air can transport more water vapor. Damaging rainstorms are due to strong updrafts that cool the air and condense the vapor as rainfall. The more water is in the air during a strong updraft, the more rain can fall.
7. Hurricanes and tropical storms: These derive their energy from evaporation from the warm sea surface. As oceans warm, larger regions can spawn these storms and provide more energy. But changes in winds aloft are expected to reduce hurricane intensification, so it's not clear that global warming will increase damage from tropical storms.
8. Extreme cold weather: Some research has attributed cold weather that dips south with the meandering of the jet stream – sometimes referred to as "polar vortex" outbreaks – to warming in the Arctic. Other studies strongly dispute that Arctic warming is likely to affect winter weather farther south, and this idea remains controversial.

9. Severe thunderstorms, hail and tornadoes: These storms are triggered by strong surface heating, so it's plausible that they could increase in a warming world. But their development depends on the circumstances of each storm. There is not yet evidence that the frequency of tornadoes is increasing.
When Extreme Heat Shatters Records
In the new heat wave study, Erich Fischer and colleagues at the Swiss Institute for Atmosphere and Climate Science looked at the frequency of weeklong heat waves that don't just push the envelope of previous climate, they shatter records by huge margins. The scientists analyzed thousands of years of climate simulations to identify unprecedented heat events and found that global warming caused by coal, oil and gas was commonly associated with such events. In models, these record-shattering weeklong heat waves don't just gradually increase with global warming but instead strike without warning.
The researchers showed that record-shattering heat is much more likely than it was a generation ago, and that these devastating events will occur much more often over the next few decades. Critically, they found that the likelihood of these unprecedented heat waves is associated with the rate of warming – and that their likelihood decreases markedly when fossil fuel emissions fall.
A Warning That Can't Be Ignored
The catastrophic impacts of extreme weather depend at least as much on people as on climate.
The evidence is clear that the more coal, oil and gas are burned, the more the world will warm, and the more likely it will be for any given location to experience heat waves that are far outside anything they've experienced.
Disaster preparedness can quickly fail when extreme events blow past all previous experience. Portland's melting streetcar power cables are a good example. How communities develop infrastructure, social and economic systems, planning and preparedness can make them more resilient – or more vulnerable – to extreme events.
Scott Denning is a professor of Atmospheric Science at Colorado State University.
Disclosure statement: Scott Denning has received funding from NASA, NOAA, the US Department of Energy, and the National Science Foundation.
Reposted with permission from The Conversation.
Miami and Miami Beach were built right up to the waterfront, with little room for nature.
Shobeir Ansari / Getty Images
By Landolf Rhode-Barbarigos and Brian Haus
Miami is all about the water and living life outdoors. Walking paths and parks line large stretches of downtown waterfront with a stunning bay view.
This downtown core is where the Army Corps of Engineers plans to build a US$6 billion sea wall, 20 feet high in places, through downtown neighborhoods and right between the Brickell district's high-rises and the bay.
There's no question that the city is at increasing risk of flooding as sea level rises and storms intensify with climate change. A hurricane as powerful as 1992's Andrew or 2017's Irma making a direct hit on Miami would devastate the city.
But the sea wall the Army Corps is proposing – protecting only 6 miles of downtown and the financial district from a storm surge – can't save Miami and Dade County. Most of the city will be outside the wall, unprotected; the wall will still trap water inside; and the Corps hasn't closely studied what the construction of a high sea wall would do to water quality. At the same time, it would block the water views that the city's economy thrives on.
Much of Miami is built right up to the water's edge. On average, it's 6 feet above sea level. Ryan Parker / Unsplash
To protect more of the region without losing Miami's vibrant character, there are ways to pair the strength of less obtrusive hardened infrastructure with nature-based "green" solutions. With our colleagues at the University of Miami's Rosenstiel School of Marine and Atmospheric Science and the College of Engineering, we have been designing and testing innovative hybrid solutions.

Natural Storm Management
Living with water today doesn't look the same as it did 50 years ago, or even 20 years ago. Parts of Miami now regularly see "sunny day" flooding during high tides. Salt water infiltrates basements and high-rise parking garages, and tidal flooding is forecast to occur more frequently as sea level rises. When storms come through, the storm surge adds to that already high water.
Hurricanes are less common than tidal flooding, but their destructive potential is greater, and that is what the Army Corps is focused on with its sea wall plan.
If Miami Beach were an undeveloped barrier island, and if thick mangrove forests were still common along the South Florida shoreline, the Miami area would have more natural protection against storm surge and wave action. But most of those living buffers are long gone.
There are still ways nature can help preserve the beauty of Miami's marine playground, though.
For example, healthy coral reefs break waves, dissipating their energy before the waves reach shore. Dense mangrove forests also dissipate wave energy with their complex root systems that rise above the water line, dramatically reducing the waves' impact. In areas where coastal flooding is an increasing problem, low-lying communities can be relocated to higher ground and the vacant land turned into wetlands, canals or parks that are designed to manage storm surge flooding.
Coral reefs like these in Biscayne National Park have struggled with warming waters. National Park Service
Each area of coastline is unique and requires different protective measures based on the dynamics of how the water flows in and out. Given Miami's limited space, living shorelines alone won't be enough against a major hurricane, but there are powerful ways to pair them with solid "gray" infrastructure that are more successful than either alone.

Hybrid Solutions Mix Green and Gray
Nobody wants to look at a cement breakwater offshore. But if you're looking at a breakwater covered with corals and hospitable to marine life, and you can go out and swim on it, that's different.
Corals help the structure dissipate wave energy better, and at the same time they improve water quality, habitat, recreation, tourism and quality of life. For a lot of people, those are some of Miami's main selling points.
By pairing corals and mangroves with a more sustainable and eco-friendly hard infrastructure, hybrid solutions can be far less obtrusive than a tall sea wall.
For example, a cement-based breakwater structure submerged offshore with coral transplants could provide habitat for entire ecosystems while providing protection. We're working with the city of Miami Beach through the University of Miami Laboratory for Integrative Knowledge to implement three hybrid coral reefs just offshore that we will monitor for their engineering and ecological performance.
Closer to shore, we're experimenting with a novel modular marine and estuarine system we call "SEAHIVE." Below the water line, water flows through hollow hexagonal channels of concrete, losing energy. The top can be filled with soil to grow coastal vegetation such as mangroves, providing even more protection as well as an ecosystem that benefits the bay.
We're currently working on testing SEAHIVE as a green engineering alternative for North Bay Village, an inhabited island in the bay, and as the infrastructure of a newly developed marine park where these "green-gray" reef and mangrove designs will be showcased.
What About the Rest of Miami?
The Army Corps of Engineers' draft plan – a final version is expected in the fall – would give nature-based solutions little role beyond a fairly small mangrove and sea grass restoration project to the south. The Corps determined that natural solutions alone would require too much space and wouldn't be as effective as hard infrastructure in a worst-case scenario.
Instead, the Army Corps' plan focuses on the 6-mile sea wall, flood gates and elevating or strengthening buildings. It basically protects the downtown infrastructure but leaves everyone else on their own.
Sea walls and flood gates can also affect water flow and harm water quality. The Corps' own documents warn that the sea walls and gates will affect wildlife and ecosystems, including permanent loss of protective corals, mangroves and sea grass beds.
Mangrove roots rising above the water help break up the energy of waves at the shoreline. Florida Guidebook / Unsplash
We would like to see a plan for all of Miami-Dade County that considers the value that green and hybrid solutions bring for marine life, tourism, fishing and general quality of life, in addition to their protective services for the shoreline.

Both types – green and gray – would take time to build out, particularly if the sea wall plan were challenged in court. And both run a risk of failure. Corals can die in a heat wave, and a storm can damage mangroves; but storms can also undermine engineered solutions, like the New Orleans levee system during Hurricane Katrina. To help build resilience, our colleagues at the University of Miami have been breeding corals to be more resistant to climate change, investigating novel cementitious materials and noncorrosive reinforcements and developing new designs for coastal structures.
Miami in the Future
Miami will be different in the coming decades, and the changes are already starting.
High ground is at a premium, and that's showing up in real estate decisions that are pushing lower-income residents out and into less safe areas. Anybody looking back at Miami will probably think the region should have done a better job of managing growth and maybe even managing some form of retreat from threatened areas.
We don't want to see Miami become Venice or a city walled off from the water. We think Miami can thrive by making use of the local ecosystem with novel green engineering solutions and an architecture that adapts.
Landolf Rhode-Barbarigos is an Assistant Professor of Civil, Architectural and Environmental Engineering at the University of Miami.
Brian Haus is a Professor of Ocean Sciences at the University of Miami.
Disclosure statement: Landolf Rhode-Barbarigos receives funding from the National Cooperative Highway Research Program (NCHRP) Innovations Deserving Exploratory Analysis (IDEA) for the research and development of the SEAHIVE - Sustainable Estuarine and Marine Revetment.
Brian Haus receives funding from the National Cooperative Highway Research Program (NCHRP) Innovations Deserving Exploratory Analysis (IDEA) for the research and development of the SEAHIVE - Sustainable Estuarine and Marine Revetment.
Reposted with permission from The Conversation.
In seven years, the lanternfly has spread from Berks County, northwest of Philadelphia, to large areas of Pennsylvania and New Jersey, and both south and north. arlutz73 / iStock / Getty Images Plus
By Frank A. Hale
The spotted lanternfly was first detected in Pennsylvania in 2014 and has since spread to 26 counties in that state and at least six other eastern states. It's moving into southern New England, Ohio and Indiana. This approximately 1-inch-long species from Asia has attractive polka-dotted front wings but can infest and kill trees and plants. We recently caught up with Professor Frank Hale, an entomologist who is tracking this species.
The Conversation: How did the spotted lanternfly get to the U.S., and how quickly is it spreading?
Frank Hale: It is native to India, China and Vietnam and probably arrived in a cut stone shipment in 2012. The first sighting was in 2014 in Berks County, Pennsylvania, on a tree of heaven — a common invasive tree brought to North America from China in the late 1700s.
By July 2021 the lanternfly had spread to about half of Pennsylvania, large areas of New Jersey, parts of New York state, Maryland, Delaware and Virginia. It also had been found in western Connecticut, eastern Ohio, and now Indiana. To give an idea of how fast these lanternflies spread, they were introduced into South Korea in 2004 and spread throughout that entire country – which is approximately the size of Pennsylvania – in only three years.
In only seven years, the spotted lanternfly has infested large areas of the Middle Atlantic and has begun to push into Connecticut. New York State Integrated Pest Management Program
TC: How do they spread so fast?

FH: The lanternflies lay egg masses in late summer and autumn on the trunks of trees and any smooth-surfaced item sitting outdoors. The egg masses, which resemble smears of dry mud, can also be laid on the smooth surfaces of cars, trucks and trains. Then, they can be unintentionally transported to any part of the country in just a few days. Once the eggs hatch, they crawl to nearby host plants to start a new infestation.
TC: How do they damage trees and plants? What do they feed on?
FH: They feed by piercing the bark of trees and vines to tap into the plant's vascular system to feast on sap. For a sucking insect, lanternflies are relatively big. They remove large amounts of sap and excrete copious amounts of clear, sticky "honeydew" that can coat the tree and anything beneath. A black sooty mold grows wherever the honeydew has been deposited. While unsightly, sooty mold isn't harmful when growing on the bark of the tree or beneath it. Lanternfly feeding seriously stresses trees and vines, which lose carbohydrates and other nutrients meant for storage in the roots and eventually for new growth. Infested trees and vines grow more slowly, exhibit dieback – begin to die from the branch tips – and can even die.
TC: How are scientists and officials trying to stop their spread?
FH: Biological control shows some promise for the future. Two naturally occurring fungal pathogens of spotted lanternflies have been identified in the U.S. Also, U.S. labs are testing two parasitoid insects – insects that grow by feeding on lanternflies and killing them in the process – that have been brought from China for testing and possible future release.
Pa. rolls out nation's first spotted lanternfly detection dog https://t.co/f7gqCeWeYw https://t.co/54tfCPS1ZH

— WKBN 27 First News (@WKBN 27 First News)1625162226.0
TC: How worried should people be about this lanternfly?

FH: Very worried. Lanternflies easily build to high numbers. The area where host trees live is relatively wide, and lanternflies damage crops, the forest and the landscape. They damage many plants and cause a major nuisance to the general public. The heavy flow of honeydew and the resulting sooty mold makes a mess of the landscape. The adults start to aggregate on plants and structures to lay their egg masses in September. Their sudden, mass appearance can be alarming to people the way periodical cicada populations shock people when they come out of the ground. But lanternflies are more shocking because the few predators that could feed on them, like wheel bugs and predatory stink bugs, do not seem to control the infestations. That is why the introduction of parasitoids from Asia are important for achieving some meaningful level of biological control.
Lanternflies can be a serious pest of grapes, and where found, they have reduced grape yields and damaged or killed vines. Multiple applications of insecticides are often needed to kill them, but this increases the cost of crop production. The pest threatens the major wine-producing regions in the East, such as the Finger Lakes and Long Island in New York; parts of Virginia; and Newport, Rhode Island.

TC: Have any other pests similarly damaged trees?
FH: Yes, the emerald ash borer, which arrived in the U.S. from China by accident and was discovered in 2002. It has killed millions of ash trees in North America. The Asian longhorned beetle, which feeds on and kills many species of trees, has turned up in multiple locations, most recently near Charleston, South Carolina. Maple, buckeye, horse chestnut, willow and elm would be threatened if this pest ever got widely established.
The box tree moth damages boxwoods and is known to live in Canada. It has been seen in Connecticut, Michigan and South Carolina. It possibly was spread accidentally into the U.S. in shipments of boxwoods from Canada. It is not known to be established in any state, but a federal government order has halted importing host plants like boxwood, euonymus and holly from Canada.
TC: What should I do if I see one?
FH: If it has already infested the region where you live and you find spotted lanternflies on your property, contact your local county extension office for control recommendations.
But if it has not been found in your county or state, report it to your state department of agriculture. If the infestation is caught early before it can become established in your area, hopefully it can be eradicated there. Eventually, it will spread to many parts of the country. We can slow the spread by identifying and eradicating new infestations wherever they arise.
Frank A. Hale is a Professor of Horticultural Crop Entomology at the University of Tennessee.
Disclosure statement: Frank A. Hale as a representative for the University of Tennessee Institute of Agriculture (UTIA) receives funding from USDA APHIS PPQ. In 2020, UTIA received funding to survey for spotted lanternfly and other pests and diseases of grapes at Tennessee vineyards. I was a PI on that cooperative agreement. I have been the state survey coordinator for the Cooperative Agricultural Pest Survey (CAPS) in Tennessee since 2014 as a representative of UTIA. CAPS allows our state to survey for invasive pests and diseases.
Reposted with permission from The Conversation.
From Your Site Articles
Related Articles Around the Web
A mother and son looking at the missing road at Vero Beach damaged by Hurricane Jeanne. Jeffrey Greenberg / Universal Images Group / Getty Images
By Bryan Keogh and Stacy Morford
Congress appears close to a trillion-dollar infrastructure deal that recognizes the risks of climate change and the need to make America's coasts more resilient.
On July 28, a bipartisan group of senators who have been working on the package for weeks announced an agreement on "major issues" of the plan. The Senate later that evening voted 67 to 32 to move it forward in a procedural vote; it still faces major hurdles.
While many of the details have yet to be disclosed – or finalized – a few have emerged. The deal provides US$550 billion in new spending on roads, transit, electricity and other physical infrastructure, including about $47 billion for flooding and coastal resiliency and funds to help adapt ports and waterways to a changing climate.
The Conversation has been exploring how climate change is affecting U.S. infrastructure and ways Congress could make it more resilient as sea levels rise, storms become more destructive and temperatures become more extreme.
These three articles from our archive describe some innovations in resilient infrastructure.
1. Adaptive Design Lessons From the Dutch
The Dutch have been dealing with flood risks for generations in the Netherlands, where a large part of the country is below sea level. They've learned that one key to living with rising water levels is adaptive design – building infrastructure that can be expanded in the future.
In the U.S., adaptive design might mean building levees wider than usual so they can be easily raised in 20 years. Or it could mean leaving room for future water pumps in areas that will become more flood-prone, or installing floodgates that can be raised or lowered as needed.
"By starting with an adaptive design, the U.S. can save billions of dollars compared with having to build new systems decades down the road," writes Jeremy Bricker, a hydraulic and coastal engineer at the University of Michigan.
He points to the cost of renovating California's Folsom Dam, built in 1955. Adding a new spillway now to improve water control is costing about $900 million, close to the price of the original dam with inflation.
2. Incorporating Nature: Corals and Mangroves
In several coastal cities, the Army Corps of Engineers is developing plans for giant flood walls to provide protection against storm surges. The instinct is to build big now to handle the worst-case scenario in the future.
But in Miami, that plan reveals two problems: While a large wall might lessen the damage of a hurricane storm surge, it would block the downtown area's million-dollar water views. And a 6-mile wall would only protect the downtown Miami area, and only from the surge. Water would still come in, and everyone outside the wall would be vulnerable.
There are other ways to protect the coastline that are less obtrusive and draw on natural coastal storm control, write University of Miami engineer Landolf Rhode-Barbarigos and ocean scientist Brian Haus.
Rhode-Barbarigos and Haus have been involved in developing "green-gray" infrastructure that pairs the strength of specially designed concrete structures with the natural protection of corals and mangroves for effective, more natural-looking hybrid coastal protection.
"Living with water today doesn't look the same as it did 50 years ago, or even 20 years ago," they write. "Parts of Miami now regularly see 'sunny day' flooding during high tides. Salt water infiltrates basements and high-rise parking garages, and tidal flooding is forecast to occur more frequently as sea level rises. When storms come through, the storm surge adds to that already high water."
They add: "We don't want to see Miami become Venice or a city walled off from the water. We think Miami can thrive by making use of the local ecosystem with novel green engineering solutions and an architecture that adapts."
3. Climate-Friendly Concrete
Concrete is also evolving for the changing climate. Scientists are developing ways to minimize corrosion when concrete structures are subjected to sea water, and they're making concrete itself more climate-friendly.
Cement, which binds concrete, is responsible for about 7% of global carbon dioxide emissions – greenhouse gases that are warming the environment and causing the oceans to rise. Some 26 billion tons are produced nationwide each year, and production is growing.
"Given the scale of the industry and its greenhouse gas emissions, technologies that can reinvent concrete could have profound impacts on climate change," write University of Michigan engineers Lucca Henrion, Duo Zhang, Victor Li and Volker Sick.
Scientists are developing new types of concrete that reduce the amount of greenhouse gases released, including infusing it with carbon dioxide so future bridges and buildings lock away greenhouse gases that might otherwise be released into the atmosphere. The Michigan team has developed carbon dioxide-infused concrete that requires less steel, is stronger and more durable – and it's bendable.
Editor's note: This story is a roundup of articles from The Conversation's archives.
Reposted with permission from The Conversation.
From Your Site Articles
Related Articles Around the Web
Two-time WSL Champion John John Florence of Hawaii on Dec. 20, 2020 in Oahu, Hawaii. Tony Heff / World Surf League via Getty Images
By Sally Warner

For the first time, surfing is on the Olympic stage.
The surfing event will last for three days and has to run within the dates from July 25 to August 1. The reason for this window? Not all waves are created equal, and organizers and surfers will wait for the best day full of the best waves to hold the competition.
As a recreational surfer and physical oceanographer, I spend a lot of time thinking about waves. But for many people, this year's Olympics will be their first time watching the sport. They might be wondering:
What generates the waves that surfers will ride at the Olympics? Where do the waves come from? And why will the new Olympians be surfing at Tsurigasaki Beach?
Wind Creates Waves
Think for a few seconds about what happens when you throw a stone into a serene pond. It creates a ring of waves – depressions and elevations of the water's surface – that spread out from the center.
Waves in the ocean act similarly by propagating outward from where they are generated. The key difference is that the vast majority of ocean waves are formed by wind. As the wind blows over the surface of the water, some of the energy of the wind is transferred into the water, creating waves. The biggest and most powerful wind-generated waves are produced by strong storms that blow for a sustained period of time over a large area of the ocean.
The waves within a storm are usually messy and chaotic, but as they move away from the storm they grow more organized as faster waves outrun slower waves. This organization of the waves creates "swell," or regularly spaced lines of waves.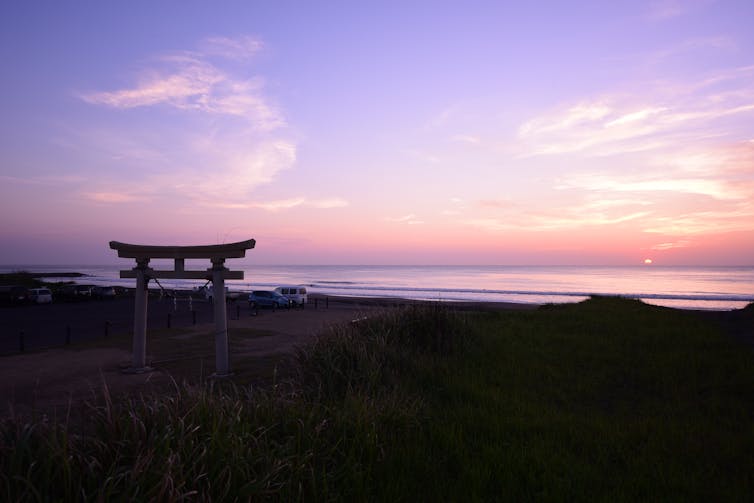 Seafloors Break Waves
As waves travel across the ocean, they don't actually bring water with them – a wave from a storm 1,000 miles away isn't made of water from 1,000 miles away. Waves are actually just energy moving from water molecule to water molecule. This energy doesn't just move through the top layer of the ocean, either. Ocean waves extend far below the surface, sometimes as deep as 500 feet. When waves move into shallower water close to shore, they start to "feel" the seafloor as it pulls and drags on them, slowing them down. As seafloor gets shallower, it pushes upwards against the bottoms of waves, but the energy has to go somewhere, so the waves grow taller.
As the waves move toward shore, the water gets ever more shallow and the waves keep growing until, eventually, they become unstable and the wave "breaks" as the crest spills over toward shore.
It is only here, after a wave has traveled perhaps thousands of miles, that the surfing starts. To catch a wave, a surfer paddles toward shore until their speed matches that of the wave. As soon as the wave starts to break, the surfer stands up quickly and maneuvers the surf board with their feet and weight to ride the wave just ahead of the crashing lip.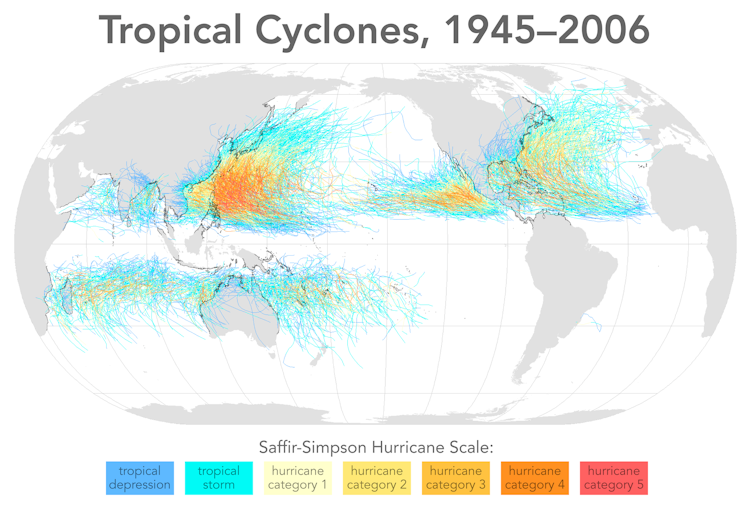 Waves at the Olympics
The waves that surfers ride at Tsurigasaki Beach for the Olympics will be generated from one of two different types of wind: trade winds and typhoons.
Trade winds consistently blow around 11 to 15 mph (18 to 24 kph) in a band that stretches across the Pacific Ocean from approximately Mexico to the Philippines. These winds generate small "trade swells" that propagate northward toward the east coast of Japan and are usually a few feet tall when they arrive.
But if the surfers and spectators are lucky, a typhoon with wind speeds greater than 74 mph (119 kph) will be supplying powerful waves for the event. Typhoons are what hurricanes are called in much of Asia and are common near Japan and China during summer and fall. Winds in a typhoon are much stronger than the trade winds. Therefore, they generate much bigger waves. Olympic surfers obviously do not want a typhoon to hit Japan. What they want is for a typhoon to form about 500 to 1,500 miles (800 to 2,400 km) to the southeast of Japan and generate big waves that will hit the coast of Japan after traveling across the ocean for one to three days.
Based on the current weather and surf forecasts, it looks like just such a situation will happen. As of July 22, 2021, weather models are predicting that a tropical cyclone or typhoon will almost certainly develop to the southeast of Japan over the next few days, and the winds from this storm will send a powerful swell to the Olympics. Currently, models are predicting that the waves could be 7 feet (2.1 m) at Tsurigasaki Beach, just in time for the surfing event to start.
Once the swell from the trade winds or a far-off typhoon reaches Tsurigasaki Beach, it is the seafloor that will determine where the waves break. Tsurigasaki Beach is a "beach break," which means that the seafloor is sand, rather than rocks or coral reef. There are a series of human-made rock walls, called groins, sticking out perpendicularly from the beach. These have been engineered to prevent sand from moving along the beach and are meant to slow erosion. These groins create shallow sandbars a few hundred yards from shore that incoming waves will break on. This is where the athletes will surf.
When you tune in to watch the surfing competition at the Olympics, marvel at the amazing skills of elite surfers, but remember too the far-off storms and the underwater sandbars that come together to create the beautiful waves.
Portions of this article originally appeared in an article published on Dec. 3, 2020.

Sally Warner is an assistant professor of climate science at Brandeis University.
Disclosure statement: Sally Warner does not work for, consult, own shares in or receive funding from any company or organization that would benefit from this article, and has disclosed no relevant affiliations beyond their academic appointment.
Reposted with permission from The Conversation.