Dry conditions across the West follow a hot, dry year of record-setting wildfires in 2020. Communities were left with scenes like this, from California's Creek Fire. Amir AghaKouchak / University of California Irvine
By Mojtaba Sadegh, Amir AghaKouchak and John Abatzoglou
Just about every indicator of drought is flashing red across the western U.S. after a dry winter and warm early spring. The snowpack is at less than half of normal in much of the region. Reservoirs are being drawn down, river levels are dropping and soils are drying out.
It's only May, and states are already considering water use restrictions to make the supply last longer. California's governor declared a drought emergency in 41 of 58 counties. In Utah, irrigation water providers are increasing fines for overuse. Some Idaho ranchers are talking about selling off livestock because rivers and reservoirs they rely on are dangerously low and irrigation demand for farms is only just beginning.
Scientists are also closely watching the impact that the rapid warming and drying is having on trees, worried that water stress could lead to widespread tree deaths. Dead and drying vegetation means more fuel for what is already expected to be another dangerous fire season.
U.S. Interior Secretary Deb Haaland and Agriculture Secretary Tom Vilsack told reporters on May 13, 2021, that federal fire officials had warned them to prepare for an extremely active fire year. "We used to call it fire season, but wildland fires now extend throughout the entire year, burning hotter and growing more catastrophic in drier conditions due to climate change," Vilsack said.
As climate scientists, we track these changes. Right now, about 84% of the western U.S. is under some level of drought, and there is no sign of relief.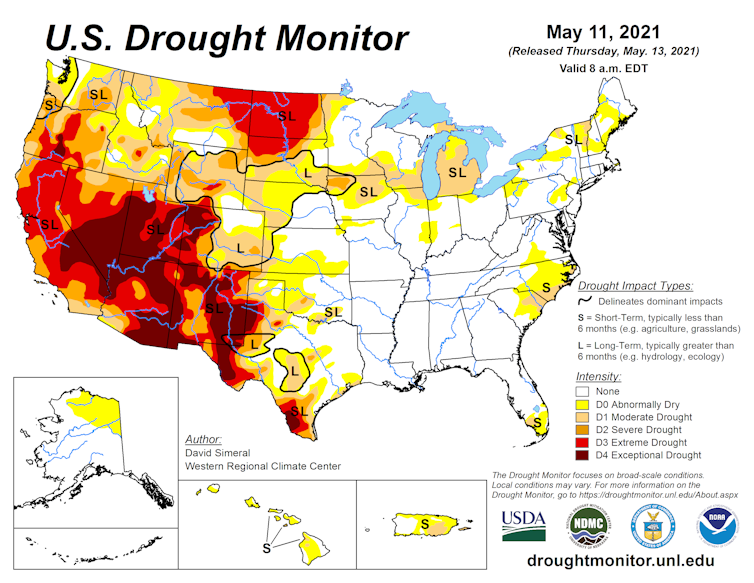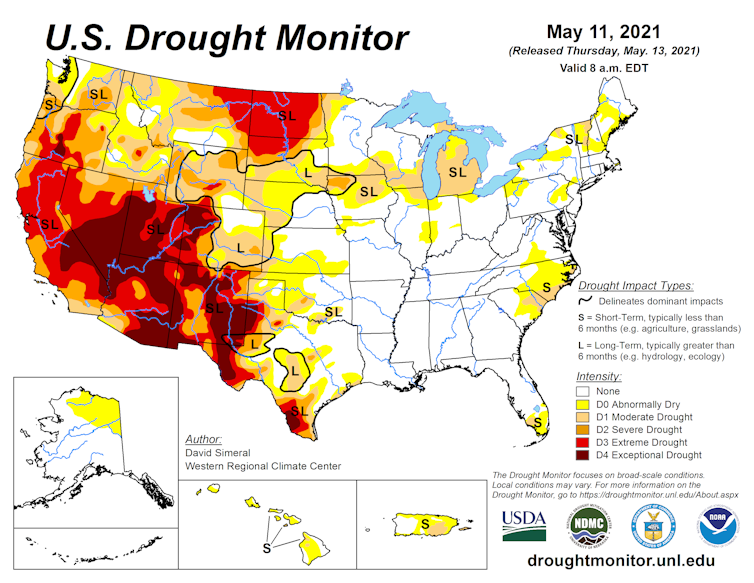 The U.S. Drought Monitor for mid-May shows nearly half of the West in severe or extreme drought. National Drought Mitigation Center/USDA/NOAA
The Many Faces of Drought
Several types of drought are converging in the West this year, and all are at or near record levels.
When too little rain and snow falls, it's known as meteorological drought. In April, precipitation across large parts of the West was less than 10% of normal, and the lack of rain continued into May.
Rivers, lakes, streams and groundwater can get into what's known as hydrological drought when their water levels fall. Many states are now warning about low streamflow after a winter with less-than-normal snowfall and warm spring temperatures in early 2021 speeding up melting. The U.S. Bureau of Reclamation said Lake Mead, a giant Colorado River reservoir that provides water for millions of people, is on pace to fall to levels in June that could trigger the first federal water shortage declaration, with water use restrictions across the region.
Dwindling soil moisture leads to another problem, known as agricultural drought. The average soil moisture levels in the western U.S. in April were at or near their lowest levels in over 120 years of observations.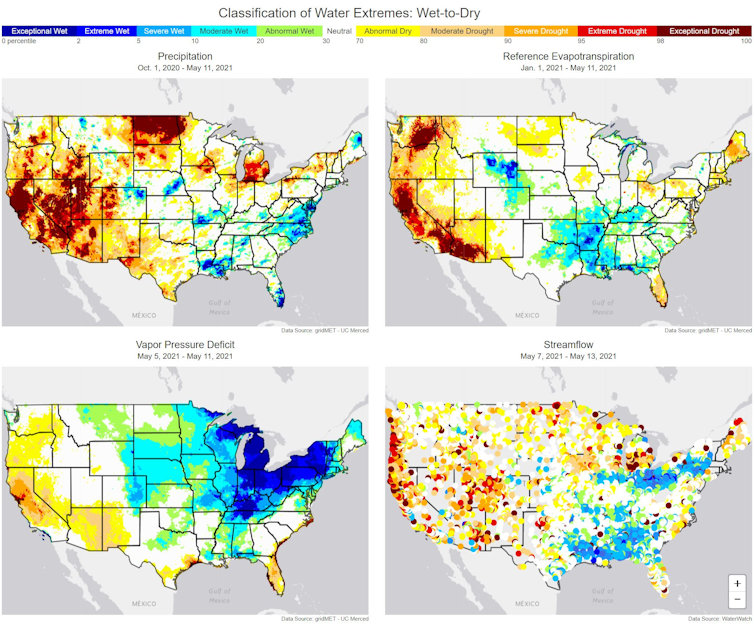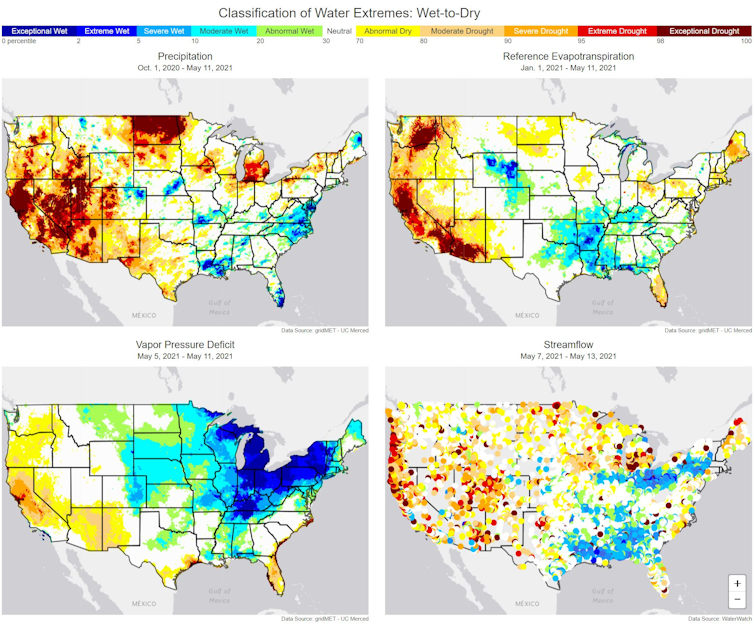 Four signs of drought. Climate Toolbox
These factors can all drive ecosystems beyond their thresholds – into a condition called ecological drought – and the results can be dangerous and costly. Fish hatcheries in Northern California have started trucking their salmon to the Pacific Ocean, rather than releasing them into rivers, because the river water is expected to be at historic low levels and too warm for young salmon to tolerate.
Snow Drought
One of the West's biggest water problems this year is the low snowpack.
The western U.S. is critically dependent on winter snow slowly melting in the mountains and providing a steady supply of water during the dry summer months. But the amount of water in snowpack is on the decline here and across much of the world as global temperatures rise.
Several states are already seeing how that can play out. Federal scientists in Utah warned in early May that more water from the snowpack is sinking into the dry ground where it fell this year, rather than running off to supply streams and rivers. With the state's snowpack at 52% of normal, streamflows are expected to be well below normal through the summer, with some places at less than 20%.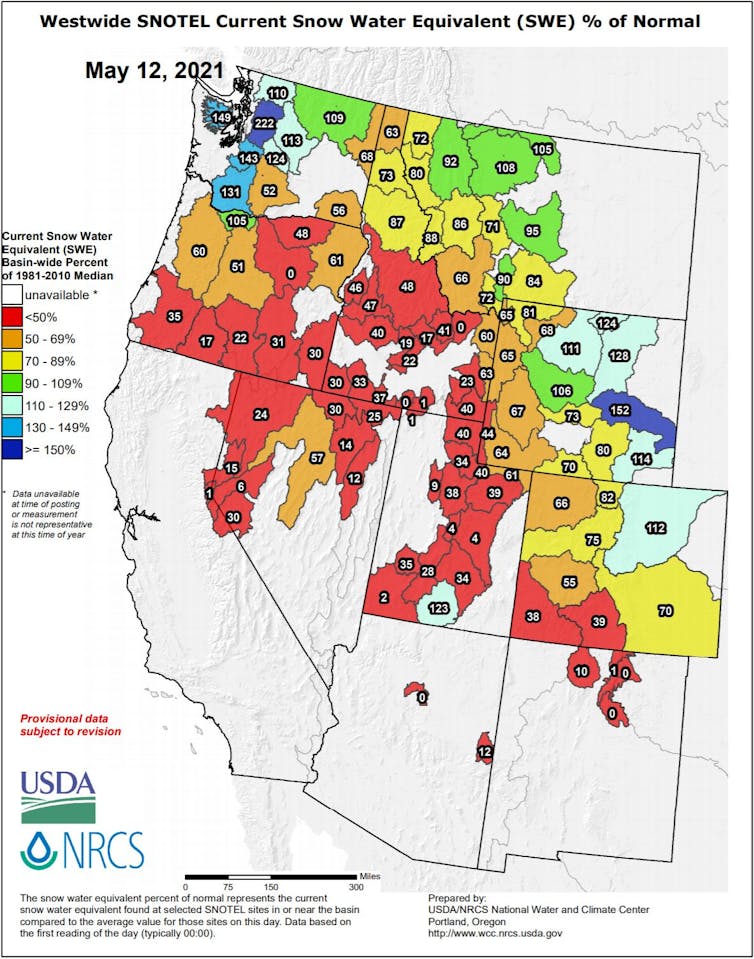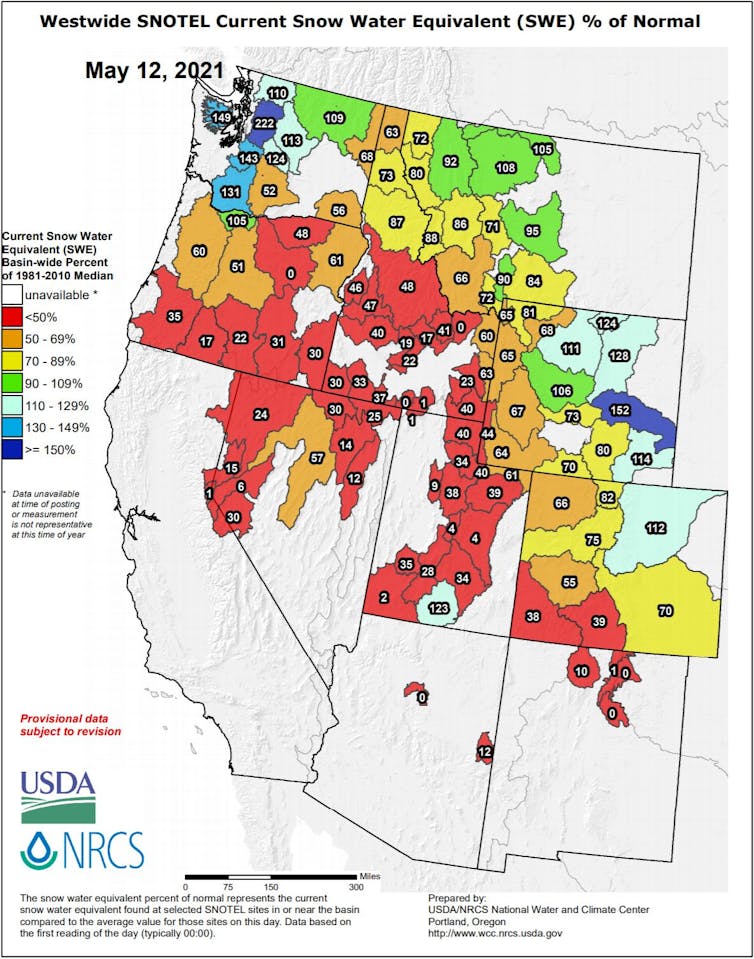 Snowpack is typically measured by the amount of water it holds, known as snow water equivalent. National Resource Conservation Service
Anthropogenic Drought
It's important to understand that drought today isn't only about nature.
More people are moving into the U.S. West, increasing demand for water and irrigated farmland. And global warming – driven by human activities like the burning of fossil fuels – is now fueling more widespread and intense droughts in the region. These two factors act as additional straws pulling water from an already scarce resource.
As demand for water has increased, the West is pumping out more groundwater for irrigation and other needs. Centuries-old groundwater reserves in aquifers can provide resilience against droughts if they are used sustainably. But groundwater reserves recharge slowly, and the West is seeing a decline in those resources, mostly because water use for agriculture outpaces their recharge. Water levels in some wells have dropped at a rate of 6.5 feet (2 meters) per year.
The result is that these regions are less able to manage droughts when nature does bring hot, dry conditions.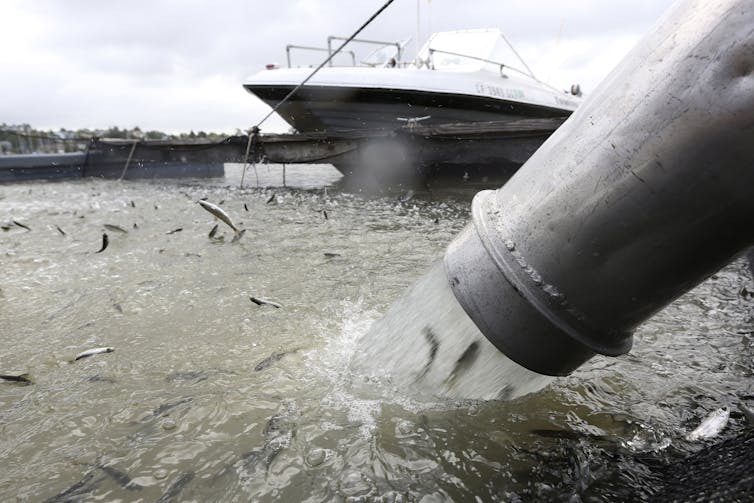 California fish hatcheries have started trucking their salmon to the Pacific Ocean because the rivers they are usually released into are too low and warm. AP Photo / Rich Podroncelli
Rising global temperatures also play several roles in drought. They influence whether precipitation falls as snow or rain, how quickly snow melts and, importantly, how quickly the land, trees and vegetation dry out.
Extreme heat and droughts can intensify one another. Solar radiation causes water to evaporate, drying the soil and air. With less moisture, the soil and air then heat up, which dries the soil even more. The result is extremely dry trees and grasses that can quickly burn when fires break out, and also thirstier soils that demand more irrigation.
Alarmingly, the trigger for the drying and warming cycle has been changing. In the 1930s, lack of precipitation used to trigger this cycle, but excess heat has initiated the process in recent decades. As global warming increases temperatures, soil moisture evaporates earlier and at larger rates, drying out soils and triggering the warming and drying cycle.
Fire Warnings Ahead
Hot, dry conditions in the West last year fueled a record-breaking wildfire season that burned over 15,900 square miles (41,270 square kilometers), including the largest fires on record in Colorado and California.
As drought persists, the chance of large, disastrous fires increases. The seasonal outlook of warmer and drier-than-normal conditions for summer and fire season outlooks by federal agencies suggest another tough, long fire year is ahead.
Mojtaba Sadegh is an assistant professor of civil engineering at Boise State University.
Amir AghaKouchak is an associate professor of civil & environmental engineering at the University of California, Irvine.
John Abatzoglou is an associate professor of engineering at the University of California, Merced.
Disclosure statement: Mojtaba Sadegh receives funding from the National Science Foundation. Amir AghaKouchak receives funding from National Science Foundation, National Oceanic and Atmospheric Administration and National Aeronautics and Space Administration. John Abatzoglou receives funding from the National Oceanic and Atmospheric Administration and the National Science Foundation.
Reposted with permission from The Conversation.
EcoWatch Daily Newsletter
An offshore wind farm at Block Island, Rhode Island on Aug. 14, 2016. Mark Harrington / Newsday RM via Getty Images
By Erin Baker and Matthew Lackner
The United States' offshore wind industry is tiny, with just seven wind turbines operating off Rhode Island and Virginia. The few attempts to build large-scale wind farms like Europe's have run into long delays, but that may be about to change.
On May 11, 2021, the U.S. government issued the final federal approval for the Vineyard Wind project, a utility-scale wind farm that has been over a decade in the planning. The wind farm's developers plan to install 62 giant turbines in the Atlantic Ocean about 15 miles off Martha's Vineyard, Massachusetts, with enough capacity to power 400,000 homes with clean energy.
The project is the first approved since the Biden administration announced a goal in March to develop 30,000 megawatts of offshore wind capacity this decade and promised to accelerate the federal review process. To put that goal in perspective, the U.S. has just 42 megawatts today. Vineyard Wind expects to add 800 megawatts in 2023.
So, are we finally seeing the launch of a thriving offshore wind industry in North America?
The Conversation /CC-BY-ND. Global Wind Energy Council
Several wind farm developers already hold leases in prime locations off the Eastern Seaboard, suggesting plenty of interest.

As engineering professors leading the Energy Transition Initiative and Wind Energy Center at the University of Massachusetts Amherst, we have been closely watching the industry's challenges and progress. The process could move quickly once permitting and approvals are on track, but there are still obstacles.
Why Offshore Wind Plans Stalled Under Trump
Vineyard Wind had planned to begin construction in 2019, but a ruling by the federal Bureau of Ocean Energy Management under the Trump administration stalled it. The ruling cast a shadow over other wind farm plans and hopes for an U.S. offshore wind industry.
The agency ruled that the developers needed to address what is called "cumulative impacts" – what the East Coast will look like when there are not one or two, but 20 or 40 large-scale wind farms. That part of the U.S. coast is ideal for wind power because of its wide, shallow shelf and proximity to cities that are looking for renewable electricity to reduce their climate impact.
Developers already hold wind energy leases for several areas off the East Coast. BOEM
Many researchers studying offshore wind, including some of our colleagues, urge planners to take this perspective.

But thinking carefully about a far future with several wind farms does not justify blocking the first utility-scale wind farm now. That first large wind farm will be an opportunity to learn, including about how wind turbines will interact with marine ecosystems. Right now there is almost no data on the impacts of offshore wind on the region's marine wildlife. The knowledge gained will be invaluable in moving forward responsibly.
Is Fast-Tracking Federal Approvals Enough?
Speeding up federal approvals for offshore wind farms is an important first step, but those aren't the only hurdles for offshore wind farm developers.
A large number of state environmental and coastal agencies also must approve offshore wind farm plans, and the communities where cables come ashore have a say.
Many of the Northeastern states, including Massachusetts, have their own offshore wind energy goals, so they're likely to support wind farms. But some wealthy communities and the fishing industry have pushed back on wind power in the past. Vineyard Wind's developers worked with community groups and fishermen from the region and agreed to compensate them for potential revenue losses.
Vineyard Wind's location and cable plan. Vineyard Wind
The federal approval process, even fast-tracked, is also time-consuming. The government conducts reviews and requires site assessment plans, including geological, environmental and hazard surveys. From planning to construction, the entire process can take five to six years or more.

Is the U.S. Ready to Build Offshore Turbines?
Some other big questions revolve around construction.
Under a 1920 law known as the Jones Act, only U.S.-registered vessels operated by U.S. citizens or permanent residents can move cargo between U.S. ports. In December 2020, Congress made clear that this law applies to wind turbine construction, too.
When companies build offshore wind turbines today, they use special vessels for the installation of the most common offshore turbine designs. The U.S. doesn't have any of these vessels yet, and the Jones Act makes it difficult to rely on vessels from Europe to do the job. There is promise, though: The first U.S.-made version of this vessel is being built in Texas right now. That's one – the country will need several to meet the new goal.
Vineyard Wind's plan uses one of the world's largest turbines, GE's Haliade-X, to reduce the number of turbines needed. Each has a capacity of 13 megawatts and blades the length of a football field.
A thriving wind power industry will also need ports for storing and deploying the long turbine blades, plus a trained workforce for construction and turbine maintenance.

A few coastal states have a head start on this. Massachusetts started laying the groundwork early and already has a port terminal in New Bedford to support the construction and deployment of future offshore wind projects. New Jersey recently announced a plan for a new offshore wind port that will start construction in 2022, and Delaware has been considering one.
States are also investing in training. New York state announced a $20 million offshore wind training institute in January 2021 with the goal of training 2,500 workers. The Biden administration envisions 44,000 people employed in offshore wind by 2030, and many more in communities connected to offshore wind power activity.
Costs and Benefits of Offshore Wind
In Europe, where many governments have reduced regulatory risks to the industry, the cost of offshore wind energy has come down much faster than experts expected, to around $50 per megawatt-hour. If the Biden administration's new approach allows U.S. wind farms to achieve costs like this, then offshore wind, with its proximity to large urban centers on the East Coast, will be competitive.
It's also important to recognize other benefits. Every year of delay for a large-scale wind farm costs the U.S. hundreds of millions of dollars in climate benefits. The Biden administration calculates that its new wind power goal would avoid 78 million metric tons of carbon dioxide, roughly equivalent to taking 17 million cars off the road for a year.
Erin Baker is a professor of industrial engineering applied to energy policy at the University of Massachusetts Amherst.

Matthew Lackner is a professor of mechanical engineering at the University of Massachusetts Amherst.
Disclosure statement: Erin Baker receives funding from the National Science Foundation and Sloan Foundation. Matthew Lackner receives funding from the U.S. Department of Energy.
Reposted with permission from The Conversation.
From Your Site Articles
Related Articles Around the Web
The contents of our mattresses are often an afterthought. That's a mistake, as research shows that the quality of your sleeping surface can significantly impact your health.
As consumers gain awareness about the health effects of sleeping on potentially toxic compounds, mattress companies are responding with new beds made from better materials. Today, you can choose from a broad range of mattresses made from all-natural components, including organic wool, cotton, and latex. Here's a summary of the best non-toxic, eco-friendly mattresses available today and how to decide between them.
Why You Should Choose an Organic Mattress
Traditionally, mattresses contain trace amounts of chemicals known as volatile organic compounds (VOCs) that act as flame retardants and coatings on plastic components. While the popular view is that these VOCs are found in too low of concentrations to be concerning, a 2019 study published in Environmental Science and Technology indicates that body heat may transform them into toxic vapors that you breathe in through the night.
That's a reason for concern, as according to the US Environmental Protection Agency, the potential health effects of VOC exposure include headaches and eye, nose, and throat irritation. In extreme cases, they may trigger cancer cell development or organ damage.
9 Top-Rated Organic and Natural Mattress Brands
Each product featured below has been selected by the writer. You can learn more about our
review methodology here
. If you make a purchase using the included links, we may earn a commission.
How We Chose These Eco-Friendly Products
When comparing the best natural mattress options, we looked at several specific factors to determine which ones stand out. Here are some of the distinguishing features.
Organic Materials
The best non-toxic mattress brands today exclusively use certified organic textiles like cotton and wool.
Certifications
Is it certified GOLS (Global Organic Latex Standard) or GOTS (Global Organic Textile Standard)? As the leading natural certifications for textiles and latex materials, GOLS and GOTS-certified products meet stringent requirements for responsible social and environmental practices.
Delivery
The best nontoxic mattresses are compressed into boxes for shipping and then expand to full size once you unpack them. Environmentally speaking, smaller packages mean less fuel wasted on transportation. Others are sent in pieces or in full form and require a delivery team for installation.
Give Back Programs
The best eco-friendly mattress brands also support nonprofit programs that benefit the environment. We like brands where a percentage of your purchase may go towards a worthwhile cause.
Manufacturing
Many of the best organic mattresses are handcrafted in the United States, which shrinks their environmental footprint by keeping production and transportation within a smaller area.
Return Policy
Standard practice in the mattress industry is to offer sleep trial testing periods. These range from three months to a year or longer.
Direct to Consumer
Direct-to-consumer mattress companies are increasing in popularity. They tend to be less wasteful than traditional retailers because the brand isn't putting resources towards maintaining showrooms.
9 Best Natural and Organic Mattresses of 2021
avocadogreenmattress.com
Materials – 100% GOTS certified cotton and wool, 100% natural latex, steel support coils
Manufacturing – Handmade in USA
Delivery – Mattress arrives compressed in a box
Certifications – GREENGUARD Gold, Rainforest Alliance, eco-INSTITUT®, and Formaldehyde-Free certified, OEKO-TEX® Standard 100 certified wool, GOTS and GOLS certified materials
Sleep Trial/Warranty – 100-night sleep trial, 25-year warranty
This mattress-in-a-box brand doesn't compromise its eco-friendly principles for low cost or convenience. The Avocado Green mattress boasts a gentle latex support system for balanced firmness that's ideal for larger people and those who sleep on their back or side.
Why buy: Avocado is a leading brand for affordable mattresses made from natural materials. The Green mattress makes this list for its affordable price point and five-zone support system with up to 1,400 pocketed steel support coils. Equally impressive, Avocado maintains control over its whole supply chain and employs strict social and environmental standards for every product.
ghostbednatural.com
Materials – Natural wool, GOLS certified Dunlop & Talalay latex, USDA organic and GOTS certified cotton
Manufacturing – Manufactured in the USA
Delivery – Mattress arrives vacuum sealed in a box
Certifications – USDA organic, Control Union certified, OEKO-TEX® certified, GOLS and GOTS certified materials
Sleep Trial/Warranty – 101 night sleep trial, 25-year warranty
The GhostBed Natural mattress offers five layers of natural comfort materials. Each mattress is made from natural wool, genuine Dunlop and Talalay latex, and organic cotton for solid support and air-flow cooling. This is an eco-friendly mattress made for comfort, cooling, and support.
Why buy: The GhostBed Natural mattress is a great option if you tend to get hot when you sleep, as it includes both a naturally cooling latex core and cooling airflow coil technology to help you sleep better. We also love that it is made in the United States with organic and natural materials like sustainably-sourced latex and USDA organic cotton.
plushbeds.com
Materials – GOLS certified latex, GOTS certified cotton and wool
Manufacturing – Handcrafted in California
Delivery – Delivered in two boxes, the customer must assemble
Certifications – GOLS certified latex, GOTS certified cotton and wool, GreenGuard Gold Certified, OEKO-TEX® Standard 100 Certified, eco-INSTITUT® certified, Control Union Certified, Forest Stewardship Council Certified
Sleep Trial/Warranty – 100-night sleep trial, 25-year warranty
Plushbeds mattresses are handcrafted in the US from certified organic materials. Orthopedic specialists recommend them for their buoyant support and pressure point relief, along with an organic latex core you can customize.
Why buy: With Plushbeds' Botanical Bliss mattress, you get a non-toxic, hypoallergenic sleeping surface that keeps you cool through the night. This bed is dust mite resistant to eliminate most home's primary allergy problems and includes an organic cotton cover for comfort.
saatva.com
Materials – Certified organic cotton, all-natural Talalay latex, 100% organic New Zealand wool
Manufacturing – Made in USA within 19 independent factories
Delivery – Purchase comes with free white glove delivery and setup, including old mattress removal
Certifications – OEKO-TEX® Standard 100, eco-INSTITUT®, Rainforest Alliance, and Cradle to Cradle certified
Sleep Trial/ Warranty – 180-day sleep trial, 20-year warranty
The Saatva Zenhaven mattress is naturally hypoallergenic and made using environmentally responsible practices. The manufacturing process is entirely water-based and produces minimal byproducts. Even the certified organic cotton cover is protected by a proprietary nontoxic botanical antimicrobial treatment. Rather than using traditional flame retardants, the mattress contains a protective layer of organic New Zealand wool.
Why buy: As Saatva's premium mattress, the Zenhaven is made for low back support and a cooling, comfortable night's sleep. This 100% Talalay latex mattress contains durable materials for supported rest and boasts a flippable design for two firmness levels. This is the best option for a luxurious yet eco-friendly mattress.
mygreenmattress.com
Materials – GOTS certified cotton, GOLS certified Dunlop latex
Manufacturing – Handcrafted in a certified organic factory in Illinois
Delivery – White glove delivery service available for $199 for setup and old mattress removal.
Certifications – GreenGuard Gold Certified, GOTS Certified cotton, GOLS certified Dunlop latex
Sleep Trial/Warranty – 120-night sleep trial, 20-year warranty
The Natural Escape mattress boasts a responsive zoned pocketed coil spring system covered with GOLS certified Dunlop latex for breathability. With an adaptive support system that conforms to the contours of your spine, the company recommends it for couples with opposite body types or who prefer different sleeping positions from each other. The mattress itself is button tufted to pull the layers together without the use of any potentially toxic adhesives or VOCs.
Why buy: The Natural Escape mattress from My Green Mattress delivers stellar lumbar support and proper spinal alignment—all underneath a comfortable organic cotton cover. It also provides limited motion transfer thanks to an upgraded innerspring system, making it a great option for couples as you won't disturb your partner when you move.
happsy.com
Materials – Organic cotton filling, organic wool, certified latex
Manufacturing – Handmade in USA
Delivery – Ships compressed in a single box
Certifications – GOTS-certified cotton, Certified Made Safe, GOLS-certified latex, Forest Stewardship Council Certified, Rainforest Alliance Certified, GreenGuard Gold Certified, Underwriters Laboratories verified formaldehyde-free, Green America Certified Business
Sleep Trial/Warranty – 120-night sleep trial, 20-year warranty
Happsy's mattresses combine comfort, the latest technology in certified organic mattress design, and premium earth-friendly materials for a bed you can feel good about from every angle. In fact, the included zipper lets you peek inside to see what you're really sleeping on. The mattress utilizes a breathable coil system designed to wick moisture away to keep you cooler at night than sleeping on heat-trapping synthetic foams.
Why buy: Happsy is a small mattress brand focused on making mattresses with a conscience — meaning that all materials are chosen for being easy on the environment. The company forgoes all glues and adhesives in favor of its own pocketed spring design that keeps the mattress supportive, but never "bouncy."
birchliving.com
Materials – Organic cotton, wool, birch wool, natural latex, steel coils
Manufacturing – Handmade in USA
Delivery – Ships compressed in a box
Certifications – GreenGuard Gold Certified, GOTS Certified, OEKO-TEX®Standard 100, Eco INSTITUT® Tested Product, Wool Integrity NZ, Fair Trade Certified Factory
Sleep Trial/Warranty – 100-night sleep trial, 25-year warranty
Birch by Helix makes a range of natural bedding options constructed in ways that support the environment. Each mattress is made from premium materials that together work to relieve your body's pressure points, no matter how you prefer to sleep. The company claims this premium product has natural flexibility that allows it to retain its shape to provide enough softness for coziness while still offering full-body support.
Why buy: We love that all Birch mattress wool comes from New Zealand sheep farms that meet Wool Integrity NZ standards, which ensures the animals are treated ethically at every stage of production. Plus, the cotton within each mattress is Fair Trade certified, making this a responsible sleep option.
ecoterrabeds.com
Materials – 100% natural latex foam rubber, organic wool, organic cotton
Manufacturing – Designed and handcrafted in Los Angeles, CA
Delivery – Free standard delivery across the US, White Glove delivery available for an extra cost
Certifications – OEKO-TEX® Standard 100 certified, GOTS Organic wool, GOTS organic certified cotton
Sleep Trial/Warranty – 90-day sleep trial, 15-year warranty
Eco Terra offers a budget-friendly latex hybrid mattress that includes natural materials, unobtrusive pocket support coils, and a 90-day sleep trial. Eco Terra's latex mattress is available in both a medium and medium-firm firmness level to support a wide range of sleepers. The bed is free of synthetic foams and VOCs, favoring a three-inch-thick layer of Talalay latex instead.
Why buy: Eco Terra offers a more budget-friendly option than other latex hybrid brands, making this mattress an excellent choice for comfortable sleep without compromising on natural materials. One thing to note is that this latex isn't GOLS-certified, though the other materials are GOTS certified.
awarasleep.com
Materials – Dunlap latex, organic New Zealand wool, organic cotton, steel coils
Manufacturing – Made in China
Delivery – Arrives compressed in a box
Certifications – Rainforest Alliance certified latex, certified organic wool, certified organic cotton
Sleep Trial/Warranty – 365-night sleep trial, Forever Warranty (lifetime guarantee against sagging and manufacturing defects)
Awara features premium Sri Lanka latex and wrapped coil springs to provide contour and a touch of bounce for supportive sleep throughout the night. At the core of this mattress are nine-inch pocketed coils that are thicker than standard. This gives the bed a firmer, more responsive feel that minimizes the sense of sinking when you reach the outer edge, so it's suitable for back, side, and stomach sleepers alike.
Why buy: Awara's natural latex mattress stands out for being slightly firmer than some other options. The mattress itself is made from quality materials with GOLS, GOTS, and Rainforest Alliance certification. Awara also partners with Trees for the Future to support forest systems throughout Africa. Every purchase funds the planting of ten trees throughout Kenya, Senegal, Uganda, or Tanzania.
Takeaway

The best night's sleep takes place on a mattress that won't make you or the environment sick. Today, there are more options than ever for finding the best organic and nontoxic mattress for your family. Seek out eco-friendly brands that use certified organic materials and that guarantee each bed is free from VOCs to rest easy every night.
Lydia Noyes is a freelance writer specializing in health and wellness, food and farming, and environmental topics. When not working against a writing deadline, you can find Lydia outdoors where she attempts to bring order to her 33-acre hobby farm filled with fruit trees, heritage breed pigs, too many chickens to count, and an organic garden that somehow gets bigger every year.
An orchard near Kettleman City in California's San Joaquin Valley on April 2, 2021. Frederic J. Brown / AFP via Getty Images
By Debra Perrone and Scott Jasechko
As the drought outlook for the Western U.S. becomes increasingly bleak, attention is turning once again to groundwater – literally, water stored in the ground. It is Earth's most widespread and reliable source of fresh water, but it's not limitless.
Wells that people drill to access groundwater supply nearly half the water used for irrigated agriculture in the U.S. and provide over 100 million Americans with drinking water. Unfortunately, pervasive pumping is causing groundwater levels to decline in some areas, including much of California's San Joaquin Valley and Kansas' High Plains.

We are a water resources engineer with training in water law and a water scientist and large-data analyst. In a recent study, we mapped the locations and depths of wells in 40 countries around the world and found that millions of wells could run dry if groundwater levels decline by only a few meters. While solutions vary from place to place, we believe that what's most important for protecting wells from running dry is managing groundwater sustainably – especially in nations like the U.S. that use a lot of it.
The U.S. has one of the highest national groundwater use rates in the world. Jasechko and Perrone, 2021,
Groundwater Use Today

Humans have been digging wells for water for thousands of years. Examples include 7,400-year-old wells in the Czech Republic and Germany, 8,000-year-old wells in the eastern Mediterranean, and 10,000-year-old wells in Cyprus. Today wells supply 40% of water used for irrigation worldwide and provide billions of people with drinking water.

Groundwater flows through tiny spaces within sediments and their underlying bedrock. At some points, called discharge areas, groundwater rises to the surface, moving into lakes, rivers and streams. At other points, known as recharge areas, water percolates deep into the ground, either through precipitation or leakage from rivers, lakes and streams.
Groundwater can remain underground for days to millennia, depending on how deep it sinks, how readily it moves through rock around it and how fast humans pump it to the surface.
Groundwater declines can have many undesirable consequences. Land surfaces sink as underground clay layers are compacted. Seawater intrusion can contaminate groundwater reserves and make them too salty to use without energy-intensive treatment. River water can leak down to underground aquifers, leaving less water available at the surface.
Groundwater depletion can also cause wells to run dry when the top surface of the groundwater – known as the water table – drops so far that the well isn't deep enough to reach it, leaving the well literally high and dry. Yet until recently, little was known about how vulnerable global wells are to running dry because of declining groundwater levels.

There is no global database of wells, so over six years we compiled 134 unique well construction databases spanning 40 different countries. In total, we analyzed nearly 39 million well construction records, including each well's location, the reason it was constructed and its depth.
Our results show that wells are vital to human livelihoods – and recording well depths helped us see how vulnerable wells are to running dry.
Millions of Wells at Risk
Our analysis led to two main findings. First, up to 20% of wells around the world extend no more than 16 feet (5 meters) below the water table. That means these wells will run dry if groundwater levels decline by just a few feet.
Second, we found that newer wells are not being dug significantly deeper than older wells in some places where groundwater levels are declining. In some areas, such as eastern New Mexico, newer wells are not drilled deeper than older wells because the deeper rock layers are impermeable and contain saline water. New wells are at least as likely to run dry as older wells in these areas.

Wells are already going dry in some locations, including parts of the U.S. West. In previous studies we estimated that as many as 1 in 30 wells were running dry in the western U.S., and as many as 1 in 5 in some areas in the southern portion of California's Central Valley.
Households already are running out of well water in the Central Valley and southeastern Arizona. Beyond the Southwest, wells have been running dry in states as diverse as Maine, Illinois and Oregon.
What to Do When the Well Gives Out
How can households adapt when their well runs dry? Here are five strategies, all of which have drawbacks.
– Dig a new, deeper well. This is an option only if fresh groundwater exists at deeper depths. In many aquifers deeper groundwater tends to be more saline than shallower groundwater, so deeper drilling is no more than a stopgap solution. And since new wells are expensive, this approach favors wealthier groundwater users and raises equity concerns.
– Sell the property. This is often considered if constructing a new well is unaffordable. Drilling a new household well in the U.S. Southwest can cost tens of thousands of dollars. But selling a property that lacks access to a reliable and convenient water supply can be challenging.
Chart: The Conversation, CC BY-ND. Source: Jasechko and Perrone 2020
– Divert or haul water from alternative sources, such as nearby rivers or lakes. This approach is feasible only if surface water resources are not already reserved for other users or too far away. Even if nearby surface waters are available, treating their quality to make them safe to drink can be harder than treating well water.

– Reduce water use to slow or stop groundwater level declines. This could mean switching to crops that are less water-intensive, or adopting irrigation systems that reduce water losses. Such approaches may reduce farmers' profits or require upfront investments in new technologies.
– Limit or abandon activities that require lots of water, such as irrigation. This strategy can be challenging if irrigated land provides higher crop yields than unirrigated land. Recent research suggests that some land in the central U.S. is not suitable for unirrigated "dryland" farming.

Households and communities can take proactive steps to protect wells from running dry. For example, one of us is working closely with Rebecca Nelson of Melbourne Law School in Australia to map groundwater withdrawal permitting – the process of seeking permission to withdraw groundwater – across the U.S. West.
State and local agencies can distribute groundwater permits in ways that help stabilize falling groundwater levels over the long run, or in ways that prioritize certain water users. Enacting and enforcing policies designed to limit groundwater depletion can help protect wells from running dry. While it can be difficult to limit use of a resource as essential as water, we believe that in most cases, simply drilling deeper is not a sustainable path forward.
Debra Perrone is an assistant professor of environmental studies at the University of California Santa Barbara.
Scott Jasechko is an assistant Professor of water resources at the University of California Santa Barbara.
Disclosure statement: The authors do not work for, consult, own shares in or receive funding from any company or organization that would benefit from this article, and have disclosed no relevant affiliations beyond their academic appointment.
Reposted with permission from The Conversation.
From Your Site Articles
Related Articles Around the Web
Fire in one part of a community can contaminate the water system used by other residents, as Santa Rosa, California, discovered after the Tubbs Fire.
Justin Sullivan / Getty Images
By Andrew J. Whelton
More than 58,000 fires scorched the United States last year, and 2021 is on track to be even drier. What many people don't realize is that these wildfires can do lasting damage beyond the reach of the flames – they can contaminate entire drinking water systems with carcinogens that last for months after the blaze. That water flows to homes, contaminating the plumbing, too.

Over the past four years, wildfires have contaminated drinking water distribution networks and building plumbing for more than 240,000 people.
Small water systems serving housing developments, mobile home parks, businesses and small towns have been particularly hard-hit. Most didn't realize their water was unsafe until weeks to months after the fire.
The problem starts when wildfire smoke gets into the system or plastic in water systems heats up. Heating can cause plastics to release harmful chemicals, like benzene, which can contaminate drinking water and permeate the system.
As an environmental engineer, I and my colleagues work with communities recovering from wildfires and other natural disasters. Last year, at least seven water systems were found to be contaminated, suggesting drinking water contamination may be a more widespread problem than people realize.
Our new study identifies critical issues that households and businesses should consider after a wildfire. Failing to address them can harm people's health – mental, physical and financial.
Wildfires Make Drinking Water Unsafe
When wildfires damage water distribution pipes, wells and the plumbing in homes and other buildings, they can create immediate health risks. A building's plumbing can become contaminated by smoke getting sucked into water systems, by heat damaging plastic pipes – or contamination penetrating into the plumbing and leaching out slowly over time.
Since 2017, multiple fires have rendered drinking water systems unsafe, including the Echo Mountain, Lionshead and Almeda fires in Oregon, and the CZU Lightning Complex, Camp and Tubbs fires in California. Thousands of private wells have been affected too.
Being exposed to contaminated water can cause immediate harm, such as headaches, nausea, dizziness and vomiting. Short-term exposure to 26 parts per billion or more of benzene, a carcinogen, may cause a decrease in white blood cells that protect the body from infectious disease. Multiple fires have caused drinking water to exceed this level. A variety of other chemicals can exceed safe drinking water exposure limits too in the absence of benzene.
Households Are Not Being Adequately Warned
In a survey of 233 households affected by water contamination, we found people reported high levels of anxiety and stress linked to the water problems. Nearly half had installed in-home water treatment because of uncertainty about the water. Eighty-five percent had looked for other water sources, such as bottled water.
In some cases, we found that advice from government agencies placed households at greater risk of harm. It has sometimes left people exposed to chemicals, caused them to needlessly spend money and given them a false sense of security. Certified in-home water treatment devices, for example, are tested only to bring down 15 parts per billion of benzene to less than 5 parts per billion, the federal standard. These devices are not tested to treat hazardous waste-scale contaminated water that's been found after wildfires.
Following the 2020 CZU Lightning Complex Fire near Santa Cruz, California, a local health department correctly warned private well owners not to use their water and to test it, but a nearby damaged water system and the state did not warn 17,000 people against bathing in the contaminated water. It was only after test results proved the water had been unsafe all along that the system owner and state advised against bathing in it.
In Oregon, some damaged systems encouraged people to boil their drinking water, later finding that the water had benzene in it.
After the 2018 Camp Fire that devastated Paradise, California, the local health department correctly warned the entire county not to use or try to treat the drinking water, which had contamination above EPA's hazardous waste limit. But one water system and the state encouraged 13,000 people to try to treat it themselves.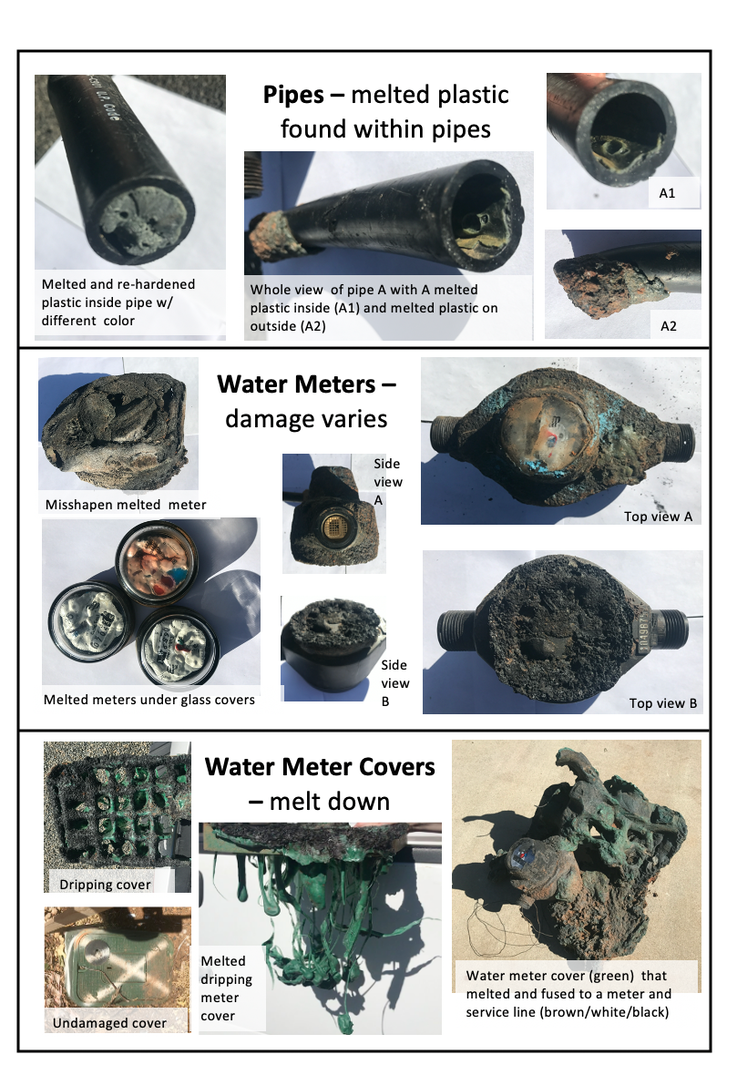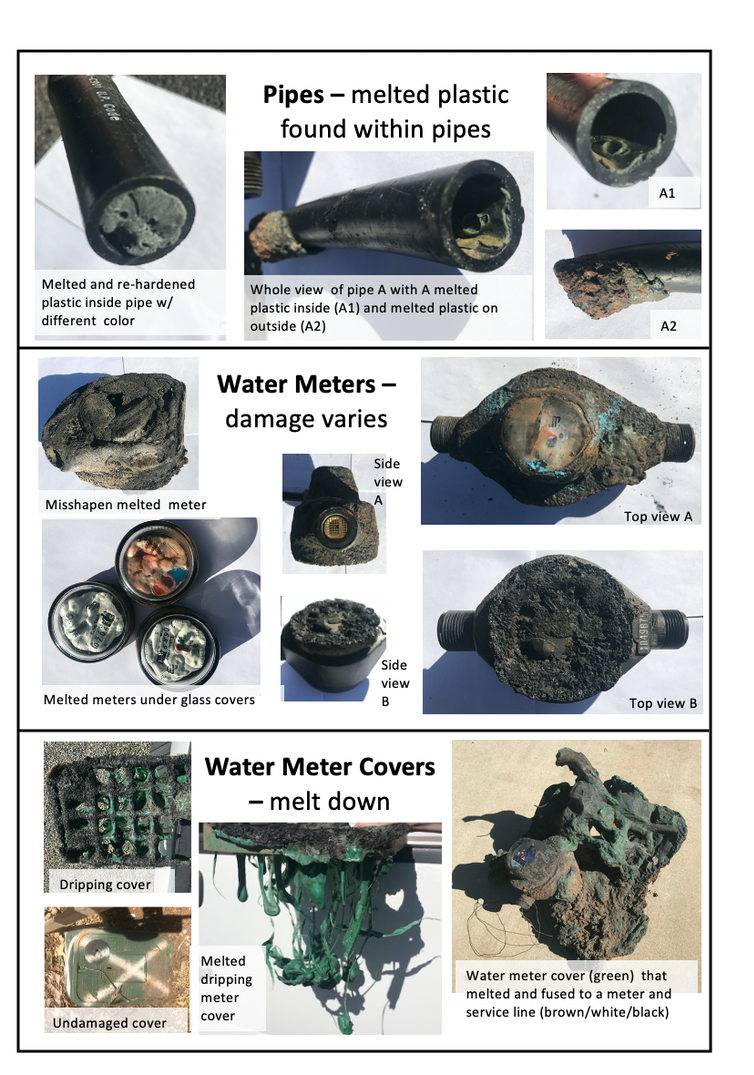 In all of these cases, the U.S. Environmental Protection Agency chose not to compel water utilities to explicitly notify customers about the water contamination and its risk.
Communities have received other bad information:
Commercial labs and government officials recommended flushing faucets for 5 to 15 minutes before collecting a water sample, thereby dumping out the contaminated plumbing water meant for testing.
Homeowners were led to believe a single cold water sample at the kitchen sink would determine if the hot water system and property service line was contaminated. It cannot.
People were led to believe that benzene water testing would determine if any other chemicals were present above safe limits. This is not possible.
What to look for after a nearby fire
Signs of potential contamination after a nearby wildfire could be loss of water pressure, discolored water, heat damage to water systems inside and outside buildings, and broken and leaking pipes, valves and hydrants.
Drinking water should be assumed to be chemically unsafe until proven otherwise.
Once a system is contaminated, cleanup can take months. The water system will have to be flushed and tested regularly to track down contamination. Health departments should also issue guidance on how to test private wells and plumbing.
When testing plumbing, include the property service line as well as the hot and cold water lines. Before collecting a water sample, the water must sit long enough in the plumbing so contamination can be found – 72 hours was the Tubbs Fire and Camp Fire standard. Tests should look for more than benzene.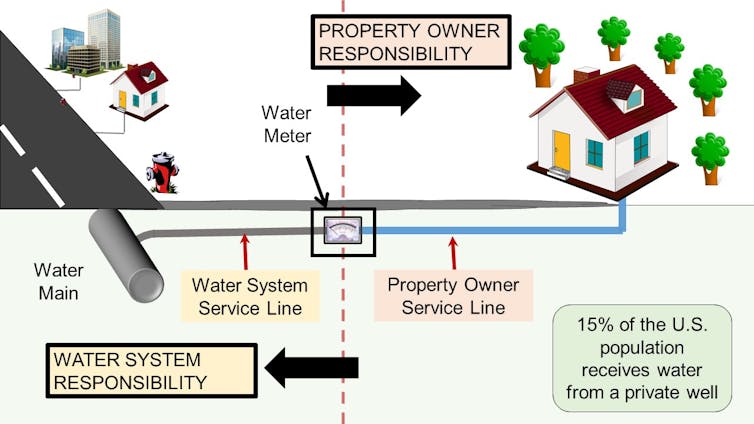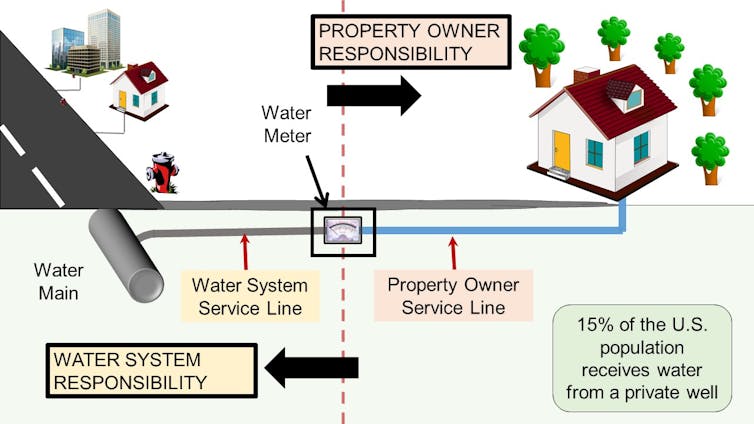 Who can help?
Many of the critical public health risks identified in our new study can be addressed by public health departments with financial support from state and local agencies.
Public health departments often have experience responding to water problems, such as legionella outbreaks, and can provide technical advice about both chemical exposures, building plumbing and private drinking water wells.
Andrew J. Whelton, Associate Professor of Civil, Environmental & Ecological Engineering, Director of the Healthy Plumbing Consortium and Center for Plumbing Safety, Purdue University

Disclosure statement: Andrew J. Whelton received funding from the U.S. National Science Foundation, Paradise Irrigation District, U.S. Environmental Protection Agency, Paradise Rotary Foundation, and Water Research Foundation.
Reposted with permission from The Conversation.
Researchers still don't know the true impact of microplastics on human health. filadendron / Getty Images
By Mark Patrick Taylor, Neda Sharifi Soltani and Scott P. Wilson

Australians are eating and inhaling significant numbers of tiny plastics at home, our new research shows.
These "microplastics," which are derived from petrochemicals extracted from oil and gas products, are settling in dust around the house.
Some of these particles are toxic to humans — they can carry carcinogenic or mutagenic chemicals, meaning they potentially cause cancer and/or damage our DNA.
We still don't know the true impact of these microplastics on human health. But the good news is, having hard floors, using more natural fibers in clothing, furnishings and homewares, along with vacuuming at least weekly can reduce your exposure.
What Are Microplastics?
Microplastics are plastic particles less than five millimeters across. They come from a range of household and everyday items such as the clothes we wear, home furnishings, and food and beverage packaging.
We know microplastics are pervasive outdoors, reaching remote and inaccessible locations such as the Arctic, the Mariana Trench (the world's deepest ocean trench), and the Italian Alps.
Our study demonstrates it's an inescapable reality that we're living in a sea of microplastics — they're in our food and drinks, our oceans, and our homes.
What We Did and What We Found

While research has focused mainly on microplastics in the natural environment, a handful of studies have looked at how much we're exposed to indoors.
People spend up to 90% of their time indoors and therefore the greatest risk of exposure to microplastics is in the home.
Our study is the first to examine how much microplastic we're exposed to in Australian homes. We analyzed dust deposited from indoor air in 32 homes across Sydney over a one-month period in 2019.
We asked members of the public to collect dust in specially prepared glass dishes, which we then analyzed.
Here's how microplastics can be generated, suspended, ingested and inhaled inside a house. Monique Chilton
We found 39% of the deposited dust particles were microplastics; 42% were natural fibers such as cotton, hair and wool; and 18% were transformed natural-based fibers such as viscose and cellophane. The remaining 1% were film and fragments consisting of various materials.

Between 22 and 6,169 microfibers were deposited as dust per square meter, each day.
Homes with carpet as the main floor covering had nearly double the number of petrochemical-based fibers (including polyethylene, polyamide and polyacrylic) than homes without carpeted floors.
Conversely, polyvinyl fibers (synthetic fibers made of vinyl chloride) were two times more prevalent in homes without carpet. This is because the coating applied to hard flooring degrades over time, producing polyvinyl fibers in house dust.
Microplastics Can Be Toxic
Microplastics can carry a range of contaminants such as trace metals and some potentially harmful organic chemicals.
These chemicals can leach from the plastic surface once in the body, increasing the potential for toxic effects. Microplastics can have carcinogenic properties, meaning they potentially cause cancer. They can also be mutagenic, meaning they can damage DNA.
However, even though some of the microplastics measured in our study are composed of potentially carcinogenic and/or mutagenic compounds, the actual risk to human health is unclear.

Given the pervasiveness of microplastics not only in homes but in food and beverages, the crucial next step in this research area is to establish what, if any, are safe levels of exposure.
How Much Are We Exposed To? And Can This Be Minimized?
Roughly a quarter of all of the fibers we recorded were less than 250 micrometers in size, meaning they can be inhaled. This means we can be internally exposed to these microplastics and any contaminants attached to them.
Using human exposure models, we calculated that inhalation and ingestion rates were greatest in children under six years old. This is due to their lower relative body weight, smaller size, and higher breathing rate than adults. What's more, young children typically have more contact with the floor, and tend to put their hands in their mouths more often than adults.
Children under six inhale around three times more microplastics than the average — 18,000 fibers, or 0.3 milligrams per kilogram of body weight per year. They would also ingest on average 6.1 milligrams of microplastics in dust per kg of body weight per year.
For a five-year-old, this would be equivalent to eating a garden pea's worth of microplastics over the course of a year. But for many of these plastics there is no established safe level of exposure.
Our study indicated there are effective ways to minimize exposure.
First is the choice of flooring, with hard surfaces, including polished wood floors, likely to have fewer microplastics than carpeted floors.
Also, how often you clean makes a difference. Vacuuming floors at least weekly was associated with less microplastics in dust than those that were less frequently cleaned. So get cleaning!

Mark Patrick Taylor is a Professor of Environmental Science and Human Health, Macquarie University.
Neda Sharifi Soltani is an Academic Casual, Macquarie University
Scott P. Wilson works at Macquarie University.
Disclosure statement: Mark Patrick Taylor received research support for this project via an Australian Government Citizen Science Grant, CSG55984, 'Citizen insights to the composition and risks of household dust' (the DustSafe project). Participant questionnaires for collecting meta-data were approved by Macquarie University's ethics panel, project ID 2446. Cochlear Sydney provided access to their Nicolet iN10-MX FTIR instrument to undertake the research. Neda Sharifi Soltani receives funding from the Australian Government as a Research Training Program (RTP) scholarship no.2017678. Scott Wilson receives funding from the Total Environment Centre and NSW EPA to conduct research on microplastics in the environment. He is the Research Director of the Australian Microplastic Assessment Project (AUSMAP), which is a citizen science focussed program.
Reposted with permission from The Conversation.
rez-art / iStock / Getty Images
Anna Mattila is the Marriott Professor of Lodging Management, Penn State.

Disclosure: Anna Mattila receives funding from The Marriott Foundation.
Reposted with permission from The Conversation.
The California Aqueduct, a system of canals, tunnels and pipelines, conveys water collected from the Sierra Nevada Mountains and valleys of Northern and Central California to Southern California. Rolf Schulten / ullstein bild / Getty Images
Roger Bales is a Distinguished Professor of Engineering, University of California, Merced.
Brandi McKuin is a Postdoctoral Researcher in Environmental Studies, University of California, Santa Cruz.
Disclosure statement: Nothing to disclose. Roger Bales does not work for, consult, own shares in or receive funding from any company or organization that would benefit from this article, and has disclosed no relevant affiliations beyond their academic appointment.
Reposted with permission from The Conversation.
A prairie strip filled with flowers and wild rye grass between soybean fields on Tim Smith's farm near Eagle Grove, Iowa, reduces greenhouse gases and stores carbon in the soil.
The Washington Post / Getty Images
As a scientist focusing on agricultural land use and adviser to several farm organizations, I have the privilege of working alongside farmers who have figured out how to do just that. I am enthusiastic about farmer-led solutions to climate change. What does this look like?
Lisa Schulte Moore is a professor of Natural Resource Ecology and Management at Iowa State University.
Disclosure statement: Lisa Schulte Moore has received funding from the U.S. Department of Agriculture, Bia-Echo Foundation, Foundation for Food and Agriculture Research, Walton Family Foundation, McKnight Foundation, Iowa State University, Leopold Center for Sustainable Agriculture, USDA Forest Service, National Science Foundation, US Fish and Wildlife Service, 11th Hour Project, Bayer Crop Science, The Nature Conservancy, Syngenta, Iowa Soybean Association, Iowa Agriculture Water Alliance, DuPont-Pioneer, Renewable Energy Group, Iowa Department of Natural Resources, Iowa Ornithological Union, and Iowa Native Plant Society. She is on the boards of the Great Lakes Bioenergy Research Center, Practical Farmers of Iowa, Iowa Chapter of The Nature Conservancy, and Iowa Wildlife Federation, and advises Iowa Smart Agriculture.
Reposted with permission from The Conversation.

For 149 years, Americans have marked Arbor Day on the last Friday in April by planting trees. fstop123 / E+ / Getty Images
By Karen D. Holl and Pedro Brancalion
For 149 years, Americans have marked Arbor Day on the last Friday in April by planting trees. Now business leaders, politicians, YouTubers and celebrities are calling for the planting of millions, billions or even trillions of trees to slow climate change.

As ecologists who study forest restoration, we know that trees store carbon, provide habitat for animals and plants, prevent erosion and create shade in cities. But as we have explained elsewhere in detail, planting trees is not a silver bullet for solving complex environmental and social problems. And for trees to produce benefits, they need to be planted correctly – which often is not the case.
Karen D. Holl is a professor of restoration ecology at the University of California, Santa Cruz.
Pedro Brancalion is a professor of forest restoration at the Universidade de São Paulo.

Disclosure statement: Karen Holl receives funding from the U.S. National Science Foundation. Pedro Brancalion receives funding from The São Paulo Research Foundation (FAPESP) and Fundação de Estudos Agrários "Luiz de Queiroz."
Reposted with permission from The Conversation.
A man walks along the Huntington Beach Pier as the biggest supermoon of 2019 sets on Feb. 19 in Huntington Beach, California. Mark Rightmire / MediaNews Group / Orange County Register via Getty Images
By Brian McNoldy
A "super full moon" is coming on April 27, 2021, and coastal cities like Miami know that means one thing: a heightened risk of tidal flooding.
Exceptionally high tides are common when the moon is closest to Earth, known as perigee, and when it's either full or new. In the case of what's informally known as a super full moon, it's both full and at perigee.
But something else is going on with the way the moon orbits Earth that people should be aware of. It's called the lunar nodal cycle, and it's presently hiding a looming risk that can't be ignored.
Right now, we're in the phase of an 18.6-year lunar cycle that lessens the moon's influence on the oceans. The result can make it seem like the coastal flooding risk has leveled off, and that can make sea level rise less obvious.
This simplified chart illustrates how the lunar nodal cycle suppresses and enhances the effects of sea level rise in Miami. The basic model assumes a constant linear increase of sea level, so it doesn't capture the expected acceleration of sea level rise. Brian McNoldy / CC BY-ND
But communities shouldn't get complacent. Global sea level is still rising with the warming planet, and that 18.6-year cycle will soon be working against us.
I am an atmospheric scientist at the University of Miami's Rosenstiel School of Marine and Atmospheric Science who keeps a close eye on sea level rise in Miami. Here's what you need to know.
What the Moon Has to Do With Coastal Flooding
The moon's gravitational pull is the dominant reason we have tides on Earth. More specifically, Earth rotating beneath the moon once per day and the moon orbiting around Earth once per month are the big reasons that the ocean is constantly sloshing around.
In the simplest terms, the moon's gravitational pull creates a bulge in the ocean water that is closest to it. There's a similar bulge on the opposite side of the planet due to inertia of the water. As Earth rotates through these bulges, high tides appear in each coastal area every 12 hours and 25 minutes. Some tides are higher than others, depending on geography.
The sun plays a role too: Earth's rotation, as well as its elliptic orbit around the sun, generates tides that vary throughout the day and the year. But that impact is less than half of what the moon contributes.
How tides work! Earth merely rotates through the tides: in 24hr 50min there are 2 high & 2 low tides, with the extr… https://t.co/6cMHB4R5oc

— Dr. James O'Donoghue (@Dr. James O'Donoghue)1589627917.0
This gravitational tug-of-war on our water was discovered nearly 450 years ago, though it's been happening for nearly four billion years. In short, the moon has very strong control over how we experience sea level. It doesn't affect sea level rise, but it can hide or exaggerate it.
So, What Is the Lunar Nodal Cycle?
To begin, we need to think about orbits.
Earth orbits the sun in a certain plane – it's called the ecliptic plane. Let's imagine that plane being level for simplicity. Now picture the moon orbiting Earth. That orbit also lies on a plane, but it's slightly tilted, about 5 degrees relative to the ecliptic plane.
That means that the moon's orbital plane intersects Earth's orbital plane at two points, called nodes.
The lunar nodes are the points where the moon's path crosses the ecliptic, the plane of Earth's orbit shown as the view of the sun from Earth over the span of a year. Wikimedia
Earth's ecliptic and equatorial planes. NASA
What Effect Does That Have on Sea Level?
The effect of the nodal cycle is gradual – it's not anything that people would notice unless they pay ridiculously close attention to the precise movement of the moon and the tides for decades.
But when it comes to predictions of tides, dozens of astronomical factors are accounted for, including the lunar nodal cycle.
It's worth being aware of this influence, and even taking advantage of it. During the most rapid downward phase of the lunar nodal cycle – like we're in right now – we have a bit of a reprieve in the observed rate of sea level rise, all other things being equal.
These are the years to implement infrastructure plans to protect coastal areas against sea level rise.
Once we reach the bottom of the cycle around 2025 and start the upward phase, the lunar nodal cycle begins to contribute more and more to the perceived rate of sea level rise. During those years, the rate of sea level rise is effectively doubled in places like Miami. The impact varies from place to place since the rate of sea level rise and the details of the lunar nodal cycle's contribution vary.
Another "super full moon" will be coming up on May 26, so like the one in April, it's a perigean full moon. Even with the lunar nodal cycle in its current phase, cities like Miami should expect some coastal flooding.
Brian McNoldy is a senior research associate at the University of Miami.

Disclosure statement: Brian McNoldy serves as a volunteer science advisor for Coastal Risk Consulting.
Reposted with permission from The Conversation.
The black cherries of
Coffea stenophylla
.
E. Couturon / IRD, Author provided
By Aaron P Davis
The world loves coffee. More precisely, it loves arabica coffee. From the smell of its freshly ground beans through to the very last sip, arabica is a sensory delight.
Robusta, the other mainstream coffee crop species, is almost as widely traded as arabica, but it falls short on flavor. Robusta is mainly used for instant coffee and blends, while arabica is the preserve of discerning baristas and expensive espressos.
Consumers may be happy, but climate change is making coffee farmers bitter. Diseases and pests are becoming more common and severe as temperatures rise. The fungal infection known as coffee leaf rust has devastated plantations in Central and South America. And while robusta crops tend to be more resistant, they need plenty of rain – a tall order as droughts proliferate.
The future for coffee farming looks difficult, if not bleak. But one of the more promising solutions involves developing new, more resilient coffee crops. Not only will these new coffees have to tolerate higher temperatures and less predictable rainfall, they'll also have to continue satisfying consumer expectations for taste and smell.
Finding this perfect combination of traits in a new species seemed remote. But in newly published research, my colleagues and I have revealed a little-known wild coffee species that could be the best candidate yet.
Coffee Farming in a Warming World
Coffea stenophylla was first described as a new species from Sierra Leone in 1834. It was farmed across the wetter parts of upper west Africa until the early 20th century, when it was replaced by the newly discovered and more productive robusta, and largely forgotten by the coffee industry. It continued to grow wild in the humid forests of Guinea, Sierra Leone and Ivory Coast, where it became threatened by deforestation.
At the end of 2018, we found stenophylla in Sierra Leone after searching for several years, but failed to find any trees in fruit until mid-2020, when a 10g sample was recovered for tasting.
Field botanists of the 19th century had long proclaimed the superior taste of stenophylla coffee, and also recorded its resistance to coffee leaf rust and drought. Those early tasters were often inexperienced though, and our expectations were low before the first tasting in the summer of 2020. That all changed once I'd sampled the first cup on a panel with five other coffee experts. Those first sips were revelatory: it was like expecting vinegar and getting champagne.
This initial tasting in London was followed by a thorough evaluation of the coffee's flavour in southern France, led by my research colleague Delpine Mieulet. Mieulet assembled 18 coffee connoisseurs for a blind taste test and they reported a complex profile for stenophylla coffee, with natural sweetness, medium-high acidity, fruitiness, and good body, as one would expect from high-quality arabica.
C. stenophylla growing in the wild, Ivory Coast. E. Couturon / IRD, Author provided
In fact, the coffee seemed very similar to arabica. At the London tasting, the Sierra Leone sample was compared to arabica from Rwanda. In the blind French tasting, most of the judges (81%) said stenophylla tasted like arabica, compared to 98% and 44% for the two arabica control samples, and 7% for a robusta sample.
The coffee tasting experts picked up on notes of peach, blackcurrant, mandarin, honey, light black tea, jasmine, chocolate, caramel and elderflower syrup. In essence, stenophylla coffee is delicious. And despite scoring highly for its similarity to arabica, the stenophylla coffee sample was identified as something entirely unique by 47% of the judges. That means there may be a new market niche for this rediscovered coffee to fill.
The taste testers approved of stenophylla's sweet and fruity flavour. CIRAD, Author provided
Breaking New Grounds
Until now, no other wild coffee species has come close to arabica for its superior taste. Scientifically, the results are compelling because we would simply not expect stenophylla to taste like arabica. These two species are not closely related, they originated on opposite sides of the African continent and the climates in which they grow are very different. They also look nothing alike: stenophylla has black fruit and more complex flowers while arabica cherries are red.
It was always assumed that high-quality coffee was the preserve of arabica – originally from the forests of Ethiopia and South Sudan – and particularly when grown at elevations above 1,500 metres, where the climate is cooler and the light is better.
Stenophylla coffee breaks these rules. Endemic to Guinea, Sierra Leone and Ivory Coast, stenophylla grows in hot conditions at low elevations. Specifically it grows at a mean annual temperature of 24.9°C – 1.9°C higher than robusta, and up to 6.8°C higher than arabica. Stenophylla also appears more tolerant of droughts, potentially capable of growing with less rainfall than arabica.
Robusta coffee can grow in similar conditions to stenophylla, but the price paid to farmers is roughly half that of arabica. Stenophylla coffee makes it possible to grow a superior tasting coffee in much warmer climates. And while stenophylla trees tend to produce less fruit than arabica, they still yield enough to be commercially viable.
The stenophylla harvest on Reunion Island. IRD / CIRAD, Author provided
To breed the coffee crop plants of the future, we need species with great flavour and high heat tolerance. Crossbreeding stenophylla with arabica or robusta could make both more resilient to climate change, and even improve their taste, particularly in the latter.
With stenophylla's rediscovery, the future of coffee just got a little brighter.
Aaron P Davis: Senior Research Leader, Plant Resources, Royal Botanic Gardens, Kew
Disclosure statement: Aaron P Davis receives funding from Darwin Initiative (UK).
Reposted with permission from The Conversation.
From Your Site Articles
Related Articles Around the Web
A view of Lake Powell from Romana Mesa, Utah, on Sept. 8, 2018. DEA / S. AMANTINI / Contributor / Getty Images
By Robert Glennon
Interstate water disputes are as American as apple pie. States often think a neighboring state is using more than its fair share from a river, lake or aquifer that crosses borders.
Robert Glennon is a Regents Professor and Morris K. Udall Professor of Law & Public Policy, University of Arizona.

Disclosure statement: Robert Glennon received funding from the National Science Foundation in the 1990s and 2000s.
Reposted with permission from The Conversation.