This website uses cookies to ensure you get the best experience while browsing it. By clicking 'Got It' you're accepting these terms.


The best of EcoWatch, right in your inbox. Sign up for our email newsletter!
www.youtube.com
Tesla is sending its Powerwall system to Puerto Rico as the island deals with widespread power loss in the wake of Hurricane Maria.
According to Electrek, the company has been quietly shipping hundreds of battery packs to be paired with solar panels to Puerto Rico ever since the storm cleared.
It just got a whole lot easier to decide whether or not to get solar panels for your roof. Google's Project Sunroof site will help you locate your home, see how much sun it gets on average and what you could save if you purchased panels.
EcoWatch Daily Newsletter
Photo credit: Tesla
Tesla unveiled a new 13MW solar farm on the Hawaiian island of Kauai Wednesday, bringing the state closer to its ambitious goal of sourcing 100 percent renewables by 2045.
The farm includes nearly 300 Tesla Powerpack batteries, which provide 52 MWh of capacity and will allow the farm to sell stored power during the evening. The company estimated that the farm will offset 1.6 million gallons of fossil fuel usage per year in the state, which relies heavily on oil-fired power plants and has some of the highest electric rates in the country.
According to The Verge:
It's the first major solar-plus-storage project for Tesla since its $2.6 billion acquisition of SolarCity last year, and Tesla said in a statement that it "will work with energy providers around the world seeking to overcome barriers in the way of building a sustainable, renewable energy grid of their own."
Stationary storage is "something I think will probably be as big as the car business long term," Tesla CEO Elon Musk said during a tour of the Gigafactory last year. "And will actually have a growth rate probably several times that of what the car business is per year. The growth in stationary storage is really under appreciated. That's a super-exponential growth rate."
For a deeper dive:

Bloomberg, Mashable, TechCrunch, Engadget, The Verge, Business Insider
For more climate change and clean energy news, you can follow Climate Nexus on Twitter and Facebook, and sign up for daily Hot News.
Pueblo, Colorado and Moab, Utah, this week became the 22nd and 23rd cities in the U.S. to commit to transition to 100 percent clean, renewable energy. The Pueblo City Council approved Monday a measure committing to power the community entirely with renewable sources of energy like wind and solar by 2035. The vote was immediately followed on Tuesday by the Moab City Council approving a resolution committing Moab to 100 percent renewable energy by 2032.
"No matter who is in the White House, cities and towns across the country will continue leading the transition to 100 percent clean, renewable energy," Sierra Club Executive Director Michael Brune said. "Pueblo and Moab join a growing movement of communities which are charting a course away from dirty fuels."
Cities like Pueblo and Moab have long suffered the consequences of dirty energy and utility reliance on fossil fuels. Pueblo, for example, has a sizable low-income population that has been suffering from the high cost of electricity due to the local utilities' decision to build new gas infrastructure and saddle the cost with ratepayers. More than 7,000 people in Pueblo have had their electricity shut off due to the high cost of electricity.
In Utah, Canyonlands National Park has been marred by haze pollution from two neighboring coal plants, which threatens the local Moab tourism industry—the economic lifeblood of the community. With this week's announcements, both communities are poised to confront these threats by transitioning away from fossil fuels to clean, renewable energy.
"The climate crisis is a global challenge, but many of our strongest leaders are at the local level," Ken Berlin, CEO of The Climate Reality Project, said. "We have a lot of hard work ahead, but it is encouraging to see more and more communities, businesses and universities understand that renewable energy is not only the right moral choice, but also the right economic choice."
Political upheaval has major influence over the stock markets, and with climate-change-denying Donald Trump's "disaster" of an election win, renewable energy investment is looking bleak at the moment as dirty energy surges.
The world's top coal trader Glencore Plc rose more than 5 percent today while the world's biggest wind-turbine maker Vestas Wind Systems A/S fell about 13 percent, according to Bloomberg. Solar companies First Solar, SunPower and SolarCity were down a respective 6 percent, 17 percent and 6 percent this morning. Shares in European renewable energy equipment makers and utilities with significant investments in the U.S. have fallen as much as 10 percent, Reuters reported.
As Bloomberg warned in its report, "the swing foretells a story of fossil fuels making a comeback, while the fight against climate change—and investment in wind and solar power—languishes."

Our president-elect—who literally said "the wind kills all your birds" and solar is "not working so good"—has made no bones about his support of dirty energy, from his ties to the controversial Dakota Access Pipeline to his pledge to bring back the dirtiest fuel on the planet, coal.
The U.S. wind power industry is "bracing itself for an uncertain future following the election of Donald Trump to the presidency," staff from Wind Power Monthly wrote in a column today. The publication quoted Trump's plans to "unleash America's $50 trillion in untapped shale, oil, and natural gas reserves, plus hundreds of years in clean coal reserves."
Meanwhile, crude oil prices have wavered between gains and losses as investors are uncertain over the president-to-be's energy plans. Experts explained that while Trump would likely scale back regulations and encourage drilling, that plan would effectively keep oil prices low due to a global oil glut.

"It probably ends up not being all that supportive for prices because supply will be ample," Bill O'Grady, chief market strategist at Confluence Investment Management, told The Wall Street Journal. "But the oil companies themselves will be thrilled."
With the legislative and (likely) the judicial branch as trump cards, the 45th President of the United States stands to sully much of President Obama's environmental legacy, especially Obama's landmark Clean Power Plan to cut greenhouse gas emissions from power plants.
"Under the [Clean Power Plan] and current renewables incentives, most U.S. utilities are opting to replace retiring coal plants with wind and solar facilities," Utility Dive's Gavin Bade wrote. "But without those programs, the investment situation may start to look different for many utilities. Whereas Hillary Clinton was likely to build upon existing regulations on power sector pollution, the promise of less stringent rules could increase the appeal of fossil fuel assets."
Alexandre Andlauer, head of oil at research firm Alphavalue in Paris, told Bloomberg that "the oil and gas industry is a clear winner with the new president. U.S. Oil companies have a better future today than yesterday."
On the federal level, clean energy development and policies are unlikely. Trump has spoken of dismantling the U.S. Environmental Protection Agency (EPA) and renegotiating the Paris agreement. He will will likely stack his cabinet with pro-business and pro-fossil fuels appointees. According to POLITICO, potential names in the hat for Interior Secretary includes Lucas Oil co-founder Forrest Lucas; venture capitalist Robert Grady, a George H. W. Bush White House official with ties to New Jersey Gov. Chris Christie; former Alaska Gov. Sarah Palin; former Arizona Gov. Jan Brewer; Oklahoma Gov. Mary Fallin; Wyoming Rep. Cynthia Lummis (R); and Oklahoma oilman Harold Hamm. Both Hamm and Grady are also considered potential picks for Energy Secretary. On Trump's list for EPA administer is Competitive Enterprise Institute's Myron Ebell, a well-known climate skeptic who is leading Trump's EPA transition team.
Federal tax incentives for solar and wind might also be at risk. Christian Roseland of PV Magazine warned that Trump and his Republican government can decide to "pre-emptively end the 30 percent solar Investment Tax Credit (ITC), which was recently extended to 2020."
However, there is one silver lining. Roseland noted that "if there is a saving grace, it is that other than the ITC the most important policies for solar are at the state and not the national level. Trump's presidency will not undo the renewable portfolio standards in California or New York, or the implementation of PURPA in North Carolina and Utah."
States, a clean energy future might be up to you.

One of the worst polluters in New England, the Mount Tom Power Station in Holyoke, Massachusetts, is making the switch from coal to solar. The plant's owner, Paris-based Engie, shuttered the coal-powered generating plant in 2014 and broke ground this month on a 5.76-megawatt solar array—enough to power 1,000 homes.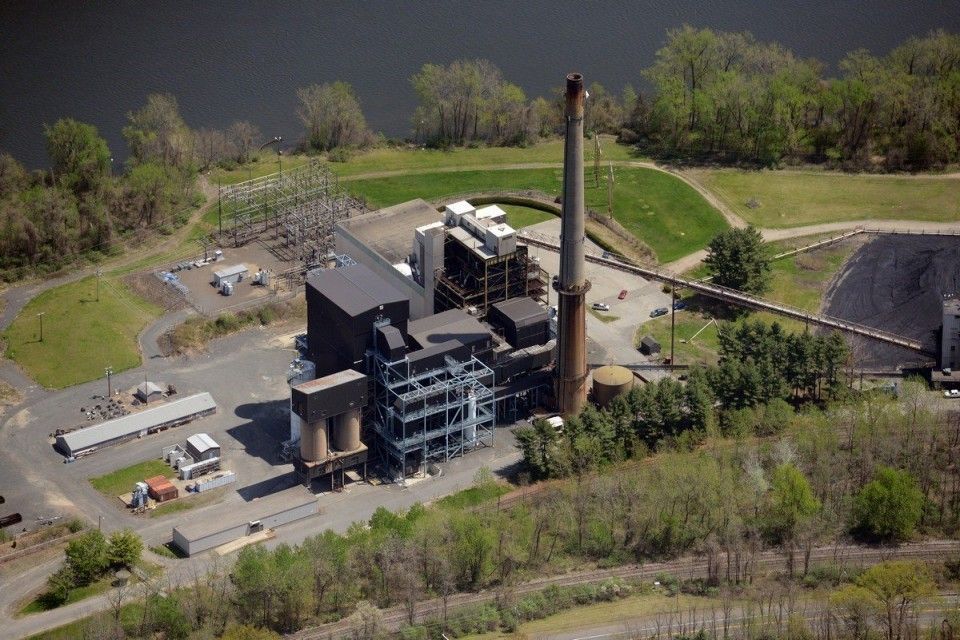 Aerial view of Mount Tom coal-fired power station. MassLive
The Mount Tom coal station, which went online in 1960, was associated with perennially poor air quality in the Holyoke area north of Springfield. The grassroots New England group, Toxics Action Center, had been organizing to shutter the aging plant and working with local residents to plan for redevelopment of the site.

"This victory came after more than five decades spent inhaling soot and struggling to breathe, and more than five years of organizing to retire and repurpose the Mount Tom coal plant," Claire B.W. Miller, lead community organizer for the Toxics Action Center, told Rhode Island-based EcoRI News.
Engie is a $76 billion global energy company with 155,000 employees, headed by Isabelle Kocher. In an interview with Le Parisien, she said, "Renewables are revolutionizing the energy industry. I believe that solar power particularly will transform our world. Not only is it available in unlimited quantities, but it is increasingly becoming economically—and therefore financially—profitable to generate and use."
The solar installation in Massachusetts will cover 22 acres with 17,000 solar panels. It will sell energy to Holyoke Gas & Electric, which serves 18,000 customers.
"Massachusetts continues to be a national leader in solar installations as we build a clean energy future that reduces costs to ratepayers," Department of Energy Resources Commissioner Judith Judson said.
The state recently set an ambitious energy storage target amounting to 600 megawatts or five percent of peak load. Energy storage creates system-wide cost savings and better integrates renewable energy generation sources. Massachusetts, California and Oregon are the only states developing energy storage plans.
The Mount Tom Power Station isn't the first coal-fired power plant to be converted to a solar farm. A joint venture of Sun Edison Canadian Construction and the Six Nations of the Grand River Development Corporation are constructing a 44-megawatt solar farm on the shores of Lake Erie in Ontario, Canada, inside the former home of one of the largest coal-fired power plants in North American.
Elon Musk unveiled solar-powered roof tiles and an upgraded PowerWall battery as he prepares for Tesla's $2.2 billion takeover of SolarCity.
During a press event at Universal Studios in LA, Musk announced that Tesla will build and sell its own line of solar panels with integrated batteries.
"We're reaching record CO2 levels," Musk said as he began his presentation. "Global warming is a serious crisis and we need to do something about that."
"We need to make solar panels as appealing as electric cars have become," Musk said as he explained his vision.

The tiles, Musk boasted, are made of textured glass integrated with solar cells and look very similar to traditional roof tiles. The solar roof would cost less than a conventional roof and could be rolled out as early as next summer.
The upgraded PowerWall 2 will allow residential homeowners to replace their entire roof with solar panels, making it much simpler for homes to be entirely powered by solar power.

Watch here:
For a deeper dive:

News: Reuters, Ars Technica, Wall Street Journal, Gizmodo, IB Times, Wired, BBC, LA Times, Forbes, CNBC, Christian Science Monitor, Mashable, AP
Commentary: Bloomberg, Tom Randall analysis; Forbes, Jeff MacMahon column

For more climate change and clean energy news, you can follow Climate Nexus on Twitter and Facebook, and sign up for daily Hot News.
It's no secret—here in the U.S., there's an election coming up. It's soon. It's a big decision for American voters. And it's a big deal.
It's also not the only decision with global consequences this fall. Because at the same time the U.S. campaign season was getting into the business end of things, more and more leaders all around the world were deciding to stand up to climate change and sign on to the historic Paris Agreement. In fact, 86 parties (representing over 61 percent of global emissions) have already joined this landmark agreement—which will now go into effect on Nov. 4, four days before the U.S. votes. Interesting timing, don't you think?
Coincidence or not, the timing of the two events highlights what's at stake for our planet in these decisions and why—we've learned anything after months and months of way too many ads, speeches and debates, it's that politicians go where the voters tell them. So let's make the climate issue their issue, the one they can't afford to ignore. And not just this year, but in every year that follows.
Why now? Because with the Paris Agreement becoming official, we finally have the framework to fight climate change together as one planet in a way we never have before. And with all the incredible progress we're seeing in renewables and other areas of solutions, we finally have the tools and technology to make a global shift from fossil fuels to clean energy, affordably and effectively. Want proof? Here are seven reasons we're hopeful for the future, because the solutions are out there:
1. Renewables are growing and getting cheaper
Due to declining costs and improvements in renewable technologies, solar and wind projects are being built in more places around the globe more cheaply than any time in history. On top of that, if the price of photovoltaic cells continues to drop as rapidly as it has over the past 10 years, solar power could be as cheap as coal almost everywhere by as early as 2017!
According to some studies, almost 100 percent of the world's energy needs could be met with renewable sources by mid-century—as long as the right supportive public policies are put in place to help implement them. That's where our elected leaders come in— and where you come in too.
2. Cost of rooftop solar is competitive
In many places across the U.S., not only is solar power becoming more affordable than ever before, it's actually becoming cost competitive with most utility rates for energy from fossil fuel. When solar power costs the same (or less!) as purchasing power from the grid, it's called solar grid parity, and it's an important milestone in demonstrating the cost-effectiveness of harnessing the power of the sun. The U.S. is well on the way to achieving the SunShot Initiative's 2020 goal of solar grid parity—with several major regions following suit.
3. Remarkable progress in energy storage
How we create energy with renewables is important. How we store this energy—so we can use it when needed—is just as critical. That's because the sun doesn't shine 24 hours a day every day, nor is it always windy. The good news is this: we're seeing incredible progress in energy storage. For example, a bill for California's energy storage mandate passed unanimously, instructing the state's investor-owned utilities to greatly expand electricity storage capacity. And since then, the state has expanded the mandate to allow even more energy storage. Similar policies in Japan and Germany are spurring similar growth in energy storage overseas.
4. The electric grid is evolving
Just like energy storage is important for renewable energy to thrive, a smarter and more flexible electric grid is critical too. Smart grids improve energy efficiency, save money, and can improve reliability—all great reasons to move away from fossil fuels towards cleaner sources of energy. And since the grid is evolving and more renewables are being introduced, there is huge potential to revolutionize the energy market—for the benefit of the environment and economy.
5. The electric vehicle market is booming
Sure, the news that Tesla was releasing its cheapest electric car yet threatened to break one corner of the internet, but that's not the only sign the electric vehicle industry and market are booming. Just look at China: the government has expanded incentives for electric vehicles, waiving or even cutting sales taxes. And plug-in cars are even changing the face of auto racing! Just last year, Miami hosted a Formula E race, where all the race cars were electric. How cool is that?
6. Transportation is more efficient and public transit is growing
A recent survey by Consumer Reports found that the overwhelming majority of Americans (84 percent, in fact) believe automakers should keep making cars and trucks more and more fuel efficient. And automakers are listening—and not just in the US. At the same time use of public and mass transportation is growing rapidly. Technical improvements for new vehicles could avoid about 1.4 gigatons of CO2 annually by 2030, several countries are implementing eco-driving programs, and emissions mandates on cars in the US and EU are saving drivers at the pump in a big way. Meanwhile, huge investments in public transportation in countries like India and Colombia are helping contribute to energy conservation, land preservation, reduced air pollution, and so much more.
7. Energy efficiency is improving and saving you money
The more efficient you are at a task, you're wasting less time to complete it, right? It works the same way with energy: the more efficient energy is, the less you'll waste. Listen to this: a study across certain countries showed in just five years, energy efficiency measures avoided the consumption of 570 million tons of dirty energy. In other words, without these measures, energy use across these countries would have actually increased by 5 percent.
[Click here for the latest on the Dakota Access Pipeline: 141 Arrested During Police Raid of Camp Halting Construction of the Dakota Access Pipeline.]
Actor Mark Ruffalo and Native Renewables founder Wahleah Johns presented Standing Rock Sioux tribal elders with mobile solar panels on trailers, bringing clean power to the protest encampment where the largest gathering of Native Americans in modern history is taking a stand against the Dakota Access Pipeline.
Jon WankThe Solutions Project
"This pipeline is a black snake that traverses four states and 200 waterways with fracked Bakken oil," said Ruffalo, co-founder of The Solutions Project, which works to accelerate the transition to 100 percent clean and renewable energy.
"We know from experience that pipelines leak, explode, pollute and poison land and water. But it doesn't have to be that way."
The solar trailers will provide clean energy to power medical tents and other critical facilities for Native American protesters and their allies at the encampment. The trailers symbolize a healthy, equitable, prosperous energy future made possible by clean renewable energy.
"Water is life," said Johns, a Navajo leader. "By leading a transition to energy that is powered by the sun, the wind and water, we ensure a better future for all of our people and for future generations."
Johns' company, Native Renewables, promotes low-cost clean energy solutions for Native American families throughout the U.S., with an emphasis on job creation and on benefiting the community as a whole. The trailers were built by members of the Navajo nation and were financed by Empowered by Light and Give Power.
Research led by Stanford Prof. Mark Jacobson, another Solutions Project co-founder, shows that it would be technically possible and economically beneficial to transition to 100 percent clean renewable energy in each and every state across the country. In North Dakota, for example, wind and solar energy would be the primary sources of clean power and transitioning to 100 percent renewables would create 30,000 jobs.

The Standing Rock Sioux tribe says it was not sufficiently consulted when the Dakota Access Pipeline was in the planning stages. The pipeline endangers the tribe's water supply—and the water supply of millions of other people, as well, given the pipeline's planned crossing under the Missouri River. The pipeline's construction has already marred sacred lands, including burial sites. The Standing Rock Sioux and their allies—including indigenous people from across the U.S. and around the world—see it as a clear threat to both the tribe's cultural heritage and the basic human right to clean water.
"Around the world, more than 80 percent of the forests and lands with protected waterways and rich biodiversity are held by indigenous tribes. This is no coincidence," Ruffalo said. "As so many of us suffer from polluted water, air and land in our rural and urban communities, the water defenders at Standing Rock are showing us another way."
There was a record amount of new renewable energy installations globally in 2015, with 500,000 solar panels installed every day.
According to the International Energy Agency (IEA), total clean power capacity increased by 153 gigawatts, overtaking coal for the first time.
"We are witnessing a transformation of global power markets led by renewables and, as is the case with other fields, the center of gravity for renewable growth is moving to emerging markets," Dr. Fatih Birol, the IEA's executive director, said.

The agency also raised its five-year forecast for renewable energy by 13 percent and now expects renewables to be 42 percent of global energy capacity by 2021.
For a deeper dive:

Guardian, Reuters, Politico Pro, Financial Times, Bloomberg, PV Magazine, San Diego Union-Tribune, CNBC, BusinessGreen

For more climate change and clean energy news, you can follow Climate Nexus on Twitter and Facebook, and sign up for daily Hot News.

A 13-year-old student from Ohio won the top prize at the 2016 Discovery Education 3M Young Scientist Challenge Tuesday for developing a cost-effective device that uses solar and wind power to create energy.
Grand prize winner Maanasa Mendu with 3M scientist mentor Margaux Mitera at the 2016 Discovery Education 3M Young Scientist Challenge in St. Paul, MN.Discovery Education
Maanasa Mendu, a ninth grader at William Mason High School in Ohio, said she was inspired by a visit to India where she discovered many people lacked basic life necessities such as clean water and lighting.

Mendu's initial idea harnessed only wind energy when she entered the competition. According to Business Insider, the leaves cost roughly $5 to make.
During the past three months, Mendu worked with Margaux Mitera, a 3M senior product development engineer, to develop a more advanced system that was inspired by how plants function. Mendu decided to create "solar leaves" that harnessed vibrational energy. Her "leaves" get energy from rain, wind and the sun, using a solar cell and piezoelectric material—the part of the leaf that picks up on the vibrations—and transforms it into usable energy, Business Insider said.
Besides being named "America's Top Young Scientist," Mendu won $25,000 for her invention.
"Each year, the Discovery Education 3M Young Scientist Challenge reminds us of the inspiring ingenuity that results when we empower our youngest generation to apply science, critical-thinking and creativity to solve real-world problems," said Bill Goodwyn, president and CEO, Discovery Education.

The second, third and fourth place winners each received a $1,000 prize and a trip to a taping of a show on Discovery's family of networks for their inventions:

Rohan Wagh from Portland, Oregon, a ninth grader at Sunset High School in Beaverton School District, received second place for his innovation that utilizes the natural metabolism of bacteria to create energy.
Kaien Yang from Chantilly, Virginia, an eighth grader at Nysmith School for the Gifted, received third place for his innovation that uses pumpkin seed oil to create both a biodiesel and bioplastic that reduces emissions and pollution from plastic.
Amelia Day from Sumner, Washington, a ninth grader at Sumner High School in Sumner School District, received fourth place for her invention that uses sensory feedback to help rebuild neural connections inside of the brain during rehabilitation.