This website uses cookies to ensure you get the best experience while browsing it. By clicking 'Got It' you're accepting these terms.
publicsource.org
By John Rogers
A new tool from The Solar Foundation breaks down the latest solar jobs numbers by state, metropolitan area, county and congressional district, and looks at who makes up the solar industry. Here's a taste of what those numbers say, and why they matter.
A home with a Powerwall 2 and solar panels. Tesla
South Australia—already home to the world's largest battery—will soon host the world's largest virtual solar plant under a landmark plan from Tesla CEO Elon Musk and the state government.
The plan involves installing a 5-kilowatt solar system and a Tesla Powerwall 2 battery on roughly 50,000 homes across the state over the next four years. The setup will be installed at no charge to the households and financed through the sale of electricity.
EcoWatch Daily Newsletter
Democratic nominee Hillary Clinton wants to make the U.S. a "clean energy superpower" if elected, she said during a speech in Michigan laying out her economic plan.
Clinton called for "enough renewable energy to power every home in our country" and knocked Republican nominee Donald Trump for not offering any "credible plans" on clean energy.

Clinton has a team of nearly 100 advisers on energy and environmental issues who have spent the past year compiling recommendations. Her entourage sharply contrasts with that of Trump, who relies on a few outside experts.
In her speech Thursday, Clinton said:
And let's build a cleaner, more resilient power grid with enough renewable energy to power every home in our country as well. Some country is going to be the clean energy superpower of the 21st century and create millions of jobs and businesses. It's probably going to be either China, Germany or America. I want it to be us! We invent the technology, we should make it and use it and export it, which will help to grow our economy.

For a deeper dive:
News: E&E News, Politico, NPR, CBS Local, Guardian
Commentary: New York Times editorial; Houston Chronicle, Lydia DePillis column

For more climate change and clean energy news, you can follow Climate Nexus on Twitter and Facebook, and sign up for daily Hot News.

Related Articles Around the Web
The Sierra Club released a new report this week showcasing 10 U.S. cities that have made ambitious commitments to be powered by 100 percent clean, renewable energy. This report is the first from Ready for 100, a new Sierra Club campaign launched in 2016 challenging 100 cities in the U.S. to move away from dirty, outdated fossil fuels, step up and commit to 100 percent clean energy. Sixteen cities, including major cities like San Diego, have already made such commitments and a handful have already achieved 100 percent clean energy and are powered today with entirely renewable sources.
"Cities, long the hotbed of innovation, the drivers of change and the incubators of solutions to the world's biggest challenges, are ready for 100 percent clean energy," Jodie Van Horn, director of the Sierra Club's Ready for 100 campaign, said. "Other city leaders should take note from these examples and take the pledge to power their cities by 100 percent clean energy."

Among the cities highlighted in the report is San Francisco, the site of the first-ever North American Renewable Cities Dialogue. In mid-July this year, staff and public officials from more than 20 cities across the U.S. participated in this dialogue to discuss opportunities, challenges and tools available to help them move to 100 percent renewable energy across all energy sectors. Also featured are Aspen, Colorado, the site of the kickoff of the Sierra Club's #Readyfor100 National Tour and San Diego, the eighth-largest city in the country and the largest city to commit to clean energy.
"San Diego is known around the world for our beautiful environment, so it's only fitting that we help set the standard for how to protect it. We're moving in a big way toward renewable energy use because it fuels green jobs and will improve the quality of life for our residents," San Diego Mayor Kevin Faulconer said. "It's about handing down to our children a city that is cleaner than it was when we received it."
"Not only are cities ready for clean energy—it's ready for them. Clean energy keeps money in local government coffers, creates local jobs, saves people money, cuts pollution, and saves lives," added Van Horn. "Other cities would be wise to mirror these commitments coast to coast."
By Noah Long and Kevin Steinberger
Renewable energy is one of the most effective tools we have in the fight against climate change and there is every reason to believe it will succeed. A recent New York Times column seems to imply that renewable energy investments set back efforts to address climate change—nothing could be further from the truth. What's more, renewable technologies can increasingly save customers money as they displace emissions from fossil fuels.
The U.S. must continue—and accelerate—its clean energy growth and the transition to a low-carbon electric grid.
Wind and solar energy have experienced remarkable growth and huge cost improvements over the past decade with no signs of slowing down. Prices are declining rapidly and renewable energy is becoming increasingly competitive with fossil fuels all around the country. In some places, new renewable energy is already cheaper than continuing to operate old, inefficient and dirty fossil fuel-fired or nuclear power plants.

In fact, the investment firm Lazard estimates that the cost of generating electricity from wind and solar has declined by 58 percent and 78 percent, respectively, since 2009. Those cost trends are expected to continue and coupled with the recent extension of federal tax credits for renewable energy, wind and solar growth is widely expected to accelerate over the next several years, with capacity projected to double from 2015 levels by 2021. With careful planning, renewable energy and clean energy options like increased energy efficiency and storing energy for use later will help pave the way.
In the longer term, the U.S. Environmental Protection Agency's Clean Power Plan to establish the first national limits on carbon pollution from power plants will continue to drive renewable energy growth. Wind and solar energy will play a central role in achieving the emissions cuts required and carbon policies like the Clean Power Plan will be critical to ensuring that low-carbon resources are prioritized over higher-emitting power plants.
The Benefits are Huge
In addition to the climate benefits that they will help deliver, renewables already provide a wide range of market and public health benefits that far outweigh their costs. A recent report from the Department of Energy and Lawrence Berkeley National (LBNL) Laboratory found that renewable portfolio standards—state policies that mandate that a specific amount of the state's electricity comes from renewables—provide a wide range of economic, health and climate benefits. The report concluded that in 2013 alone, renewable standards across the country saved customers up to $1.2 billion from reduced wholesale electric prices and $1.3 billion to $3.7 billion from lower natural gas prices (as a result of lower demand for natural gas across the power sector).
The non-market benefits of renewable energy also are considerable. The LBNL researchers estimated that renewables supported nearly 200,000 jobs, provided $5.2 billion worth of health benefits through improved air quality and resulted in global climate benefits of $2.2 billion. At the same time, according to a separate report by DBL Investors, the top 10 leading renewable states experienced lower electricity price increases than the bottom 10 states between 2002 and 2013.
The U.S. must continue—and accelerate—its clean energy growth and the transition to a low-carbon electric grid. There will be technical challenges to completing this transformation, but study after study concludes that integrating high levels of renewables into our electric grid is achievable. This is also being demonstrated in practice, as many states are already incorporating wind and solar, including in Texas, where wind has now supplied more than 45 percent of the state's total energy demand on multiple occasions and in Iowa, as the state now generates 31 percent of its total annual power from wind.
Change is Here
Much is said about the need to adapt the electric grid to the variability associated with integrating renewable energy into our electricity mix. Until recently, the huge costs of maintaining back-up generation and transmission in case they're needed to keep the lights on when large, inflexible resources like coal and nuclear plants suddenly and unexpectedly go offline has too often been ignored. Grid managers and planners are now appropriately as concerned about the need for flexibility and predictability, assets that large fossil and nuclear plants lack. Renewable energy production is variable, but predictable (we mostly know when it will be sunny or windy). However, it can be impossible to predict when large fossil or nuclear plant will have to shut down for critical maintenance.
In a sign of the declining status of large, inflexible base load resources, PG&E recently announced it will close the Diablo Canyon nuclear plant in California and replace it with 100 percent clean energy (NRDC is a signatory), PG&E explains: "California's electric grid is in the midst of a significant shift that creates challenges for the facility in the coming decades. Changes in state policies, the electric generation fleet and market conditions combine to reduce the need for large, inflexible baseload power plants."
As we move forward, there are a number of grid planning practices and technologies that will help facilitate America's transition to higher and higher amounts of renewable energy. For example, as more and more cars on the road become electric, those vehicles can help store electricity and manage peak demand so that supply and demand can be better aligned. Demand response (compensating customers for altering their electricity use at specific periods) and time of use electricity pricing can provide similar support. Leading states are currently contemplating how to design policies and market structures that support a modernized, low-carbon grid. Planning for the future can and must be done in parallel with promoting strong renewables growth in the present.
Renewable energy is already helping address climate change. It's time to put our feet on the accelerator.
Noah Long is the director of the Western Energy Project and Kevin Steinberger is policy analyst for the Climate & Clean Air Program at Natural Resources Defense Council.
By Kieran Cooke
A building boom is underway offshore in Europe. Up to 400 giant wind turbines are due to be built off the northeast coast of the UK in what will be the world's largest offshore wind development.
Output from the Dogger Bank project will be 1.2 Gigawatts—enough to power more than 1 million homes.
The sun rises behind an offshore wind farm.Aaron / Flickr
Next year, a 150-turbine wind farm off the coast of the Netherlands is due to start operating and other schemes along the Dutch coast are in the works.

Denmark, Sweden and Portugal are major investors in offshore wind and China has ambitious plans for the sector.
Wind farms—both onshore and offshore—are seen as a key ingredient in renewable energy policy and an important element in the battle against climate change.
Fossil Fuel Prices
WindEurope, an offshore wind industry group, says that at the present rate of installations it's likely Europe will be producing about 7 percent of its electricity from offshore wind by 2030.
By some calculations, all this building work would seem to make little economic sense. Fossil fuel prices are low on the world market and constructing offshore wind farms several kilometers out at sea, in often treacherous conditions, has traditionally been an expensive business.
Despite this, the offshore wind industry insists it has a bright future: costs are coming down and supporters say the sector is becoming ever more competitive.
Ironically, the slump in the price of oil has been one factor driving down the price of offshore power.
Inactivity in the oil industry and the closure of many drilling projects in the North Sea and elsewhere has led to a big surplus of offshore installation vessels. As a result, costs for transporting turbines out to sea and other support work have dropped substantially.
Costs have also dropped due to lower prices on the world market for steel, a major building component in offshore installations.
Building and technical techniques have been refined and standardized over the years. Maintenance expenditure—which can account for up to 40 percent of the running cost of an offshore installation—has been reduced. The industry now uses larger 6MW turbines, which it says need less servicing and in future it's likely a move will be made to 8MW models.
New methods have been adopted for laying foundations for pylons at sea. The industry says that as projects have grown in size, economies of scale have been achieved.
The cost of cables connecting the wind pylons to power networks onshore has also been reduced. Initially, cables were produced to operate at full capacity at all times, but new cables that are less bulky and less expensive are able to cope with the intermittent power produced.
Earlier this month, DONG Energy of Denmark, the world's largest offshore wind company, won a bid to build two wind farms 22 kilometers off the Dutch coast.
The company says power will be produced for less than any other offshore scheme to date. It is estimated that when the scheme is fully operational, electricity will cost €72.70 per megawatt hour (MWh) and €87 MWh when transmission costs are included.
At present, the cheapest offshore power is €103 MWh, generated by a wind farm off the coast of Denmark.
Costs Falling Rapidly
"It has been clear for some time that the costs of offshore wind are falling rapidly," said Giles Dickson, head of WindEurope.
"This tender goes beyond even the most optimistic expectations in the market. The €87/MWh is significantly lower than anything we've previously seen. It now puts offshore wind in the same cost range as conventional power generation," added Dickson.
The offshore industry does face problems. The majority of big projects in Europe—the main area of offshore wind activity—are backed by considerable government support. Not only do governments put considerable funds into offshore schemes, they also offer developers prices for power that are often well above wholesale market rates.
Political change might result in reductions in state support levels. For example, the UK's vote to leave the European Union has led to considerable uncertainty about government policy on wind and other renewable energy schemes.
Offshore wind faces competition not just from fossil fuel power production but also from other renewables particularly solar power, which has seen dramatic cost reductions in recent years.
Although there is also competition from onshore power generation, which is considerably cheaper than offshore wind, many countries favor the offshore option because of its lower visual impact.
This article was reposted with permission from our media associate Climate News Network.

In a historic announcement, the Leonardo DiCaprio Foundation (LDF) awarded the largest portfolio of environmental grants in the foundation's history.
The foundation awarded a total of $15.6 million in grants, including $7,631,508 for wildlife and habitat conservation; $2,525,000 for ocean conservation; $2,100,000 to protect indigenous rights; $2,085,000 to support innovative solutions to the world's problems; and $1,300,000 to combat climate change. With these grants, the Leonardo DiCaprio Foundation has provided more than $59 million in support of many projects since 1998.
The Leonardo DiCaprio Foundation supports more than 70 environmental projects across 40-plus countries and five oceans through close collaborative partnerships with environmental leaders, experts and organizations.
"Today we are greatly increasing our level of vital grant making and strategic partnerships to help solve some of the world's most pressing environmental challenges," Leonardo DiCaprio, founder and chairman, said.

The foundation also announced today the appointment of Terry Tamminen as CEO of LDF. Tamminen joins the foundation from Seventh Generation Advisors, which he founded nine years ago. Previously, he served as Sec. of the California Environmental Protection Agency under Gov. Arnold Schwarzenegger and founded the Los Angeles Waterkeeper as the Santa Monica Bay Keeper in 1993.
"Leo and his foundation have been an invaluable voice in the environmental movement for many years," said Tamminen. "I am proud to join them in the fight for the defense of our natural world and the protection of every living creature on Earth. I look forward to working with Leo and the LDF team as we expand the impact of the foundation in the years to come."

LDF supports more than 70 environmental projects across 40-plus countries and five oceans through close collaborative partnerships with environmental leaders, experts and organizations.

The portfolio objectives and grant recipients for this round of funding include:
Wildlife and Habitat Protection aims to improve the future for vulnerable wildlife on land by protecting and restoring natural habitats, end poaching in critical regions and reintroduce native species back into the wild.
Grantees include:
California Mountain Lion Conservation
"Our most iconic wildlife is on the precipice, worldwide; but the Leonardo DiCaprio Foundation and [
Wildlife Conservation Network
] have envisioned a different path forward," Jeffrey Parish, Wildlife Conservation Network's vice president for conservation, said.
"LDF's investment in the Elephant Crisis Fund has enabled support to more than 100 projects by 40 organizations across Africa and Asia to end the
ivory crisis
and ensure these giants will forever roam free. That is nothing short of game-changing, and LDF's investments will ensure more species, like African Lions, will soon be stepping back from the brink."
Ocean Conservation works to safeguard endangered ocean habitats and species, constrain overfishing and establish and expand marine protected areas.
Grantees include:

Indigenous Rights Protection invests in the emergence of an effective, empowered and indigenous-led conservation movement.
Grantees include:
"On behalf of Utah Dine Bikeyah, I am honored to accept the support of LDF to continue advancing our mission of healing people and the Earth through preservation of Native American natural and cultural resources," Willie Grayeyes, chairman of the Utah Diné Bikéyah, said.
"News of LDF's support comes at a critical moment in the Bears Ears National Monument campaign, an inter-tribal initiative calling on President Obama to protect two million acres of ancestral homelands in southeastern Utah, considered sacred by numerous regional Tribes."
Innovative Solutions supports innovation at the grassroots level that can be replicated and amplified to bring about new pathways for change.
Grantees include:

Climate Change works to increase efforts to lower greenhouse gas emissions and expedite the transition to a clean, green economy.
Grantees include:
"This important grant will help Our Children's Trust advance the global climate campaign in which more and more young people around the globe are exercising their fundamental constitutional and public trust rights to demand urgent reductions in carbon and methane pollution to stabilize our climate system and protect our oceans," Julia Olson, Our Children's Trust's executive director and chief legal counsel, said.
"Where political branches of governments have failed us, these youth are bringing landmark actions in their state and federal courts to secure the legally binding right to a healthy atmosphere and stable climate, in accordance with current science, for the benefit of all present and future generations."
By Steve Clemmer
As a certified energy geek, I always look forward to this time of year. On July 11 and July 12, the Energy Information Administration (EIA) holds their annual conference to discuss current energy technology, market and policy issues and presents results from their new Annual Energy Outlook (AEO) 2016 report.
Under EIA's reference case with the federal tax credits and Clean Power Plan, U.S. wind capacity nearly doubles by 2022, reaching 144 gigawatts.
One of the headlines this year is EIA's new projections for renewable energy, which under their reference case is expected to surpass nuclear power by 2020 and coal by 2028 to become the second largest source of U.S. electricity generation after natural gas (see Figure 1 below).
Here are seven key takeaways from the AEO 2016 that explain why EIA is projecting such a large increase in renewable energy this year:
1. Federal Tax Credits and Clean Power Plan Drive Growth in Renewables
EIA's reference case includes the recent five-year extension of the federal production and investment tax credits for wind and solar passed by Congress in December 2015 and implementation of EPA's Clean Power Plan (CPP). While the U.S. Supreme Court put a temporary hold on the rule in February 2016 until the merits of the case are decided, EIA decided to include the CPP in the reference case because the rule has not been overturned.

The federal tax credits, state renewable electricity standards (RESs) and continued cost reductions for wind and solar will drive significant growth in renewables though 2021 (Figure 1). During this time, EIA actually projects natural gas generation to decline slightly as wind and solar are more cost-effective with the tax credits.
After the CPP targets kick in 2022, EIA projects both renewables and natural gas to grow as the two most cost-effective ways (along with a modest increase in energy efficiency) for states to replace coal and comply with the CPP. These results are consistent with recent analyses by the Union of Concerned Scientists (UCS), NREL and the Rhodium Group.
Figure 1. Renewables surpass nuclear power by 2020 and coal by 2028. Renewables include wind, solar, geothermal, biomass, and hydropower. EIA, Annual Energy Outlook 2016.
2. Wind and Solar Lead Growth in Renewables
The renewable energy (including wind, solar, geothermal, biomass and hydropower) share of U.S. electricity generation grows from 13 percent in 2015 to 24 percent in 2030 and 27 percent in 2040, with almost all of the growth from wind and solar PV (Figure 2).
This is because continued cost reductions are projected for these technologies beyond the 60-70 percent cost reductions already achieved since 2009. Under EIA's reference case with the federal tax credits and CPP, U.S. wind capacity nearly doubles by 2022, reaching 144 gigawatts, while U.S. solar capacity grows five-fold by 2030, reaching 125 gigawatts. Geothermal increases a significant amount in California and the Southwest, but provides a relatively small share of U.S. electricity generation.
EIA also projects virtually no growth in hydro or biopower. Despite EIA's inaccurate assumption that all biomass feedstocks are carbon neutral, biopower is still not economically competitive with wind, solar and natural gas. The lack of growth in hydro and biomass is consistent with recent analyses by UCS, NREL and Rhodium Group that include the federal tax credit extension and CPP.
Figure 2. Renewable electricity generation by fuel. Geothermal = red, biomass = gray.EIA, Annual Energy Outlook 2016.
3. Renewable Generation Increases in all Regions of the Country by 2030

The biggest increases occur in the West and Plains, which have abundant, low cost wind, solar and geothermal (Figure 3). The Southeast also sees a big increase in solar as costs continue to fall. The Northeast and Mid-Atlantic see a smaller increase in renewables and a bigger increase in natural gas.
The Southeast also sees a modest increase in nuclear generation due to five new reactors currently under construction or operating in Georgia, South Carolina and Tennessee. This growth offsets a modest reduction in nuclear generation in Mid-Atlantic and Northeast states where EIA assumes a small number of existing plants will retire before their current operating licenses expire. (Note that the retirement of Diablo Canyon in California is not included as the announcement was made after EIA completed its modeling). The Midwest/Mid-Atlantic states also see the greatest reduction in coal generation and the largest increase in natural gas.
Figure 3. Renewables increase in all regions under the Clean Power Plan.EIA, Annual Energy Outlook 2016
4. Renewables Generation Varies Under different Clean Power Plan Implementation Scenarios

EIA projects renewable generation to increase the most if states chose rate-based rather than mass-based targets as part of their CPP compliance strategies. Broader regional trading with mass-based targets also results in more renewables, less natural gas and less reduction in coal than the more limited trading assumed in the reference case.
Not surprisingly, in their "extended case" EIA found that continuing to increase the CPP emission reduction targets through 2040 (the current program only goes through 2030) would result in more renewables and natural gas and less coal than the reference case.
Figure 4. Cumulative difference in generation in the CPP vs. the no CPP case. Renewables = green, natural gas =blue, and coal = black.EIA, Annual Energy Outlook 2016.
5. Increasing Renewable Energy is Affordable
EIA projects that average retail electricity rates would be 3 percent higher between 2025-2030 in the reference case (with the CPP) than in the no CPP case. However, total U.S. electricity expenditures would only be 1.3 percent higher in the CPP case over the same period because EIA assumes a modest increase in energy efficiency investments to comply the CPP.
A recent analysis by UCS found that energy efficiency could make a much larger contribution to state compliance with the CPP that would result in cumulative net savings to consumers of $30.5 billion between 2016 and 2030.
6. Renewables are Competitive Despite Lower Natural Gas Prices
While EIA's natural gas price projection is lower in AEO 2016 than it was in AEO 2015 (Figure 5), large amounts of wind and solar are still competitive due to continued cost reductions and the federal tax credit extension.
EIA projects natural gas prices to double by 2025, due primarily to an increase in LNG exports and greater natural gas use in the electricity and industrial sectors. The competition from renewables helps avoid greater reliance on natural gas that could increase natural gas prices even further.
Figure 5. Average Henry Hub spot prices for natural gas (2015 dollars per million Btu).
7. EIA is Finally Using More Realistic Cost Sssumptions for Renewable Energy
UCS has been an outspoken critic of EIA's pessimistic renewable energy projections and assumptions for many years. We have written several blog posts on the topic and provided input directly to EIA on a few of their analyses and as a participant on several EIA modeling working groups. We also use a modified version of EIA's National Energy Modeling System (NEMS) in-house to show how renewables could make a larger contribution to the U.S. electricity mix at a much lower cost when using more realistic assumptions.
One of the main reasons why EIA's projections have fallen short is because they have consistently overestimated the cost of renewable energy technologies like wind and solar. They often lag a few years behind what's happening on the ground. However, this year is different. For AEO 2016, EIA finally lowered their costs for wind and solar to be more in-line with cost data from a large sample of recent projects, as documented by DOE's national labs and the national wind and solar trade associations.
In EIA's defense, their reference case for each AEO only reflects state and federal energy policies that were enacted at the time they do their projections, as discussed extensively in a recent EIA report. With Congress allowing federal renewable energy tax credits to lapse several times before extending them for relatively short periods, and states adopting and increasing renewable electricity standards (RES) many times over the past two decades years, it is somewhat understandable that EIA's projections of renewable energy development have fallen short of reality.
While future EIA conferences and AEOs may highlight different topics, I'll remember 2016 as the year EIA turned the corner to show a bright future for renewables.
The Koch brothers can't buy a break—literally. Not even from the Tea Party.
Last week the Tea Party Patriots helped push a proposal through Georgia's Public Service Commission that requires the state's largest electric utility to more than double the amount of solar power it uses.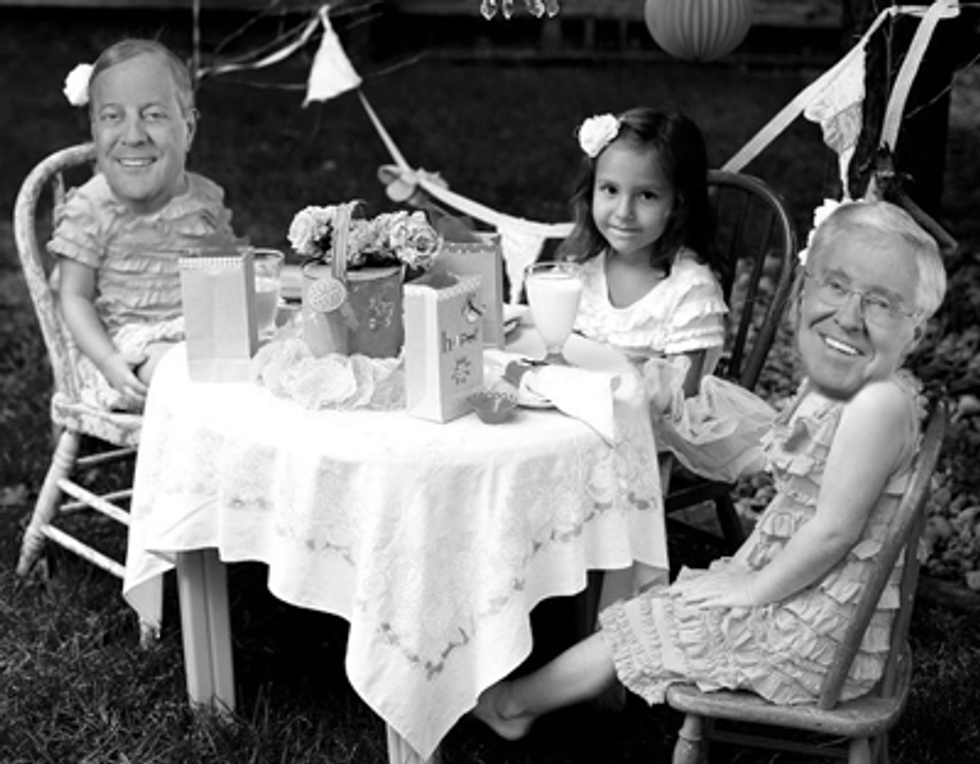 Opposing the plan was a local chapter of Americans for Prosperity, a front group for the Koch brothers and supporter of various Tea Party efforts.
Despite exaggerated warnings from Americans for Prosperity about the massive rate increases and losses in power reliability, the Patriots were unconvinced and instead viewed the expansion of solar power capacity as as an expansion of the free market, as well as providing customers with more energy sources to choose from.
The Koch brothers have had trouble all year in their battle to get states to ignore climate change and put the kibosh on green energy. Even GOP-dominated legislatures have recognized the job creation benefits of wind and solar power and have denied the Koch's attempts to do away with policies that require public utilities to use more clean energy.
But to lose to the Tea Party must really sting. At least, we hope it does.
Visit EcoWatch's ENERGY and RENEWABLES pages for more related news on this topic.
——–

According to two new reports on the global status of renewable energy, the industry posted strong rates of investment and new installation in 2012, proving itself as more than an alternative source of energy.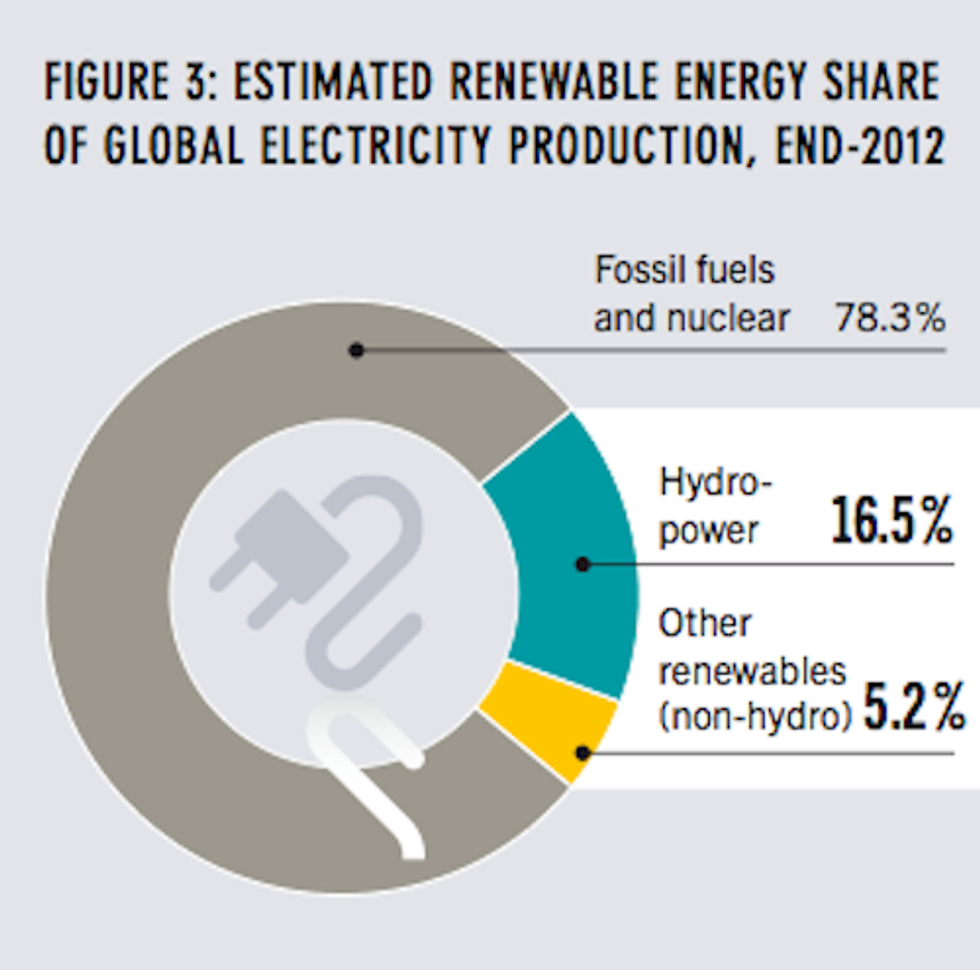 The world's economies, however, continue to spend $6 subsidizing fossil fuels for every $1 spent to support the growth renewable energy.
Global Wind Day, tomorrow, June 15, is an opportunity to highlight this harmful disparity just ahead of the G8 summit in the UK. These major economies, as members of the G20, pledged in 2009 to "phase out and rationalize over the medium term inefficient fossil fuel subsidies while providing targeted support for the poorest"—a much applauded decision that has yet to see significant follow-through.
Not only do these subsidies continue to sponsor the activities that cause climate change, but they work against the creation of stable government support for the renewable energy industry. The lack of reliable, long term support for renewables creates uncertainty that holds back the potential of the industry.
Despite uncertainty, however, the industry has achieved striking successes so far.
The promising trends seen in the industry were reported by two sister publications, REN21's Renewables 2013 Global Status Report and Frankfurt School–United Nations Environment Programme/Bloomberg New Energy Finance's Global Trends in Renewable Energy Investment 2013, launched together June 12, 2013.
The publications report that 2012 was the second highest year ever for renewable energy investments, totaling $1.3 trillion since 2006. Additionally, the installation of new renewable energy continues to grow, adding new, clean energy capacity both on and off the grid.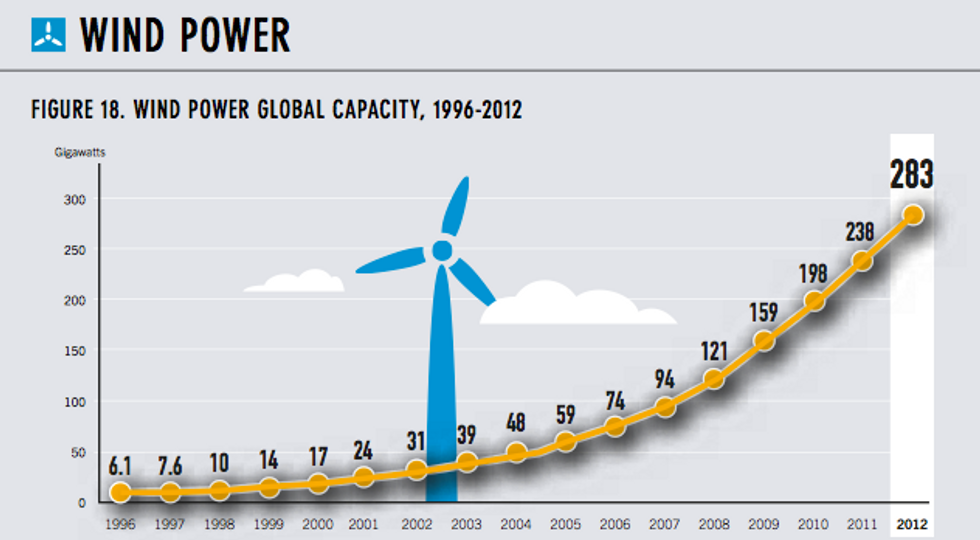 This growth isn't limited to developed nations—in fact, developing nations are quickly rising to the top of this burgeoning industry. In 2012, renewable energy investments in developing nations totaled $112 billion, just shy of the $132 billion invested in developed nations. This is a dramatic shift from 2007, when developed nations invested 2.5 times more in the industry.
The sector employs an estimated 5.7 million people worldwide, with high rates of employment in Brazil, China, India, the European Union and the U.S. Green jobs are also growing in other nations, with an increasing number of technicians and sales staff in off-grid sectors of the developing world. In Bangladesh for example, selling, installing and maintaining small solar panels employs 150,000 people directly and indirectly.
Amongst the good news, the publications point out that 2012 investment rates were down from their 2011 high. Examples of contributing factors to the decline include a 34 percent drop in the U.S. as well as similar decreases in Italy and Spain due to policy uncertainties.
In Japan, however, new feed-in tariffs for installations contributed to a 73 percent spike in renewable investment. Japan is now on track to the world's largest solar market. In only seven months following the introduction of the tariffs, the Japanese Ministry of Economy, Trade and Industry approved 12,258 mega watts of solar projects.
Policy uncertainty led to an overall decline in investments—but as the success of Japan's tariffs shows, the decline can be temporary. REN21's report demonstrates that the right policies can drive the successful integration of larger shares of renewables.
Shifting policy priorities to bolster the growth of the renewable energy sector, not just for providing economic growth but also for advancing the clean solutions needed to fight climate change, is vital for the future. The first step in showing serious commitment to do so will be cutting down harmful fossil fuel subsidies.
Visit EcoWatch's RENEWABLES page for more related news on this topic.
——–
Click here to tell Congress to Expedite Renewable Energy

By Noah Long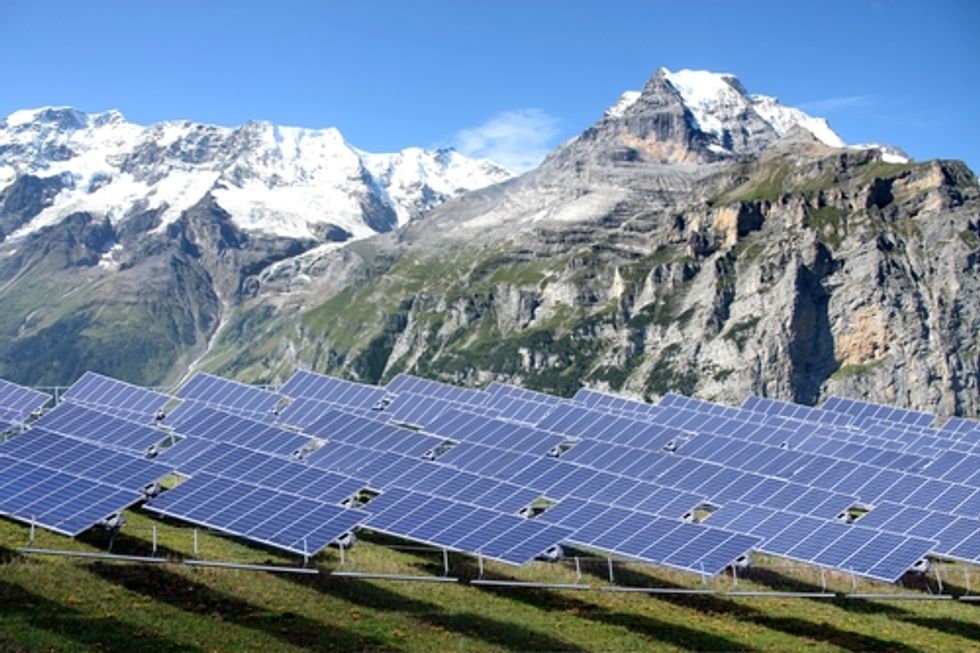 Photo courtesy of Shutterstock
Yesterday Gov. Hickenlooper (D-CO) signed a measure to expand and improve the state's Renewable Energy Standard that will drive clean energy investment, increase jobs and renewable projects development in rural Colorado.
With yesterday's signature, Senate Bill 252 increases Colorado's Renewable Energy Standard for co-operative associations that provide wholesale electricity in the state, and for large electric associations that provide service to at least 100,000 customers. The bill doubles the amount of renewable energy these utilities must provide to 20 percent (from 10 percent) by 2020, while capping cost increases at two percent. Most of Colorado already has a 30 percent standard.
The move by Gov. Hickenlooper puts Colorado back at the forefront on renewable energy and swings the momentum back in favor of clean energy nationally. The move also sends another big blow to fossil fuel interests, who invested heavily in rolling back renewable energy laws this year. So far, those efforts in the state and the ones in Montana, North Carolina and Kansas have fallen flat.
Xcel, the state's largest utility, is already on track to provide 30 percent renewable energy and is making moves to go further. The utility recently announced it is buying an additional 550 megawatts of wind power. The move was motivated by cost savings, and will be above and beyond what is required by law.
As a result of the move by Xcel and the Governor's signature on SB 252, Colorado will have an additional 1,000 megawatts of renewable energy, or a 40 percent increase from the current amount of installed renewable energy in the state.
The announcement pulled the rug from under fossil fuel funded opponents of SB 252 who had argued renewable energy is too expensive.  
The bill, co-sponsored by Senate President John Morse and House Speaker Mark Ferrandino, will also expand opportunities for distributed generation and eliminates unnecessary preferences for in-state generation.
Renewable energy has already brought significant benefits to Colorado, employing nearly 10,000 Coloradans and bringing in millions in annual lease and property tax payments in rural communities, in addition to cleaning up the air and water, reducing the state's dependence on fossil fuels and fighting back against global warming.
Visit EcoWatch's RENEWABLES page for more related news on this topic.
——–
Click here to tell Congress to Expedite Renewable Energy