This website uses cookies to ensure you get the best experience while browsing it. By clicking 'Got It' you're accepting these terms.
Manatees Dying in Record Numbers from Toxic Algal Bloom
Apr. 08, 2013 12:07PM EST
By Elizabeth Fleming
2013 is shaping up to be a particularly deadly year for the endangered Florida manatee, whose population is estimated at around 5,000 animals. More than 460 dead manatees have been documented in the first three months of this year—an alarmingly high number. It has already topped the number of manatees that died all of last year. What's going on here?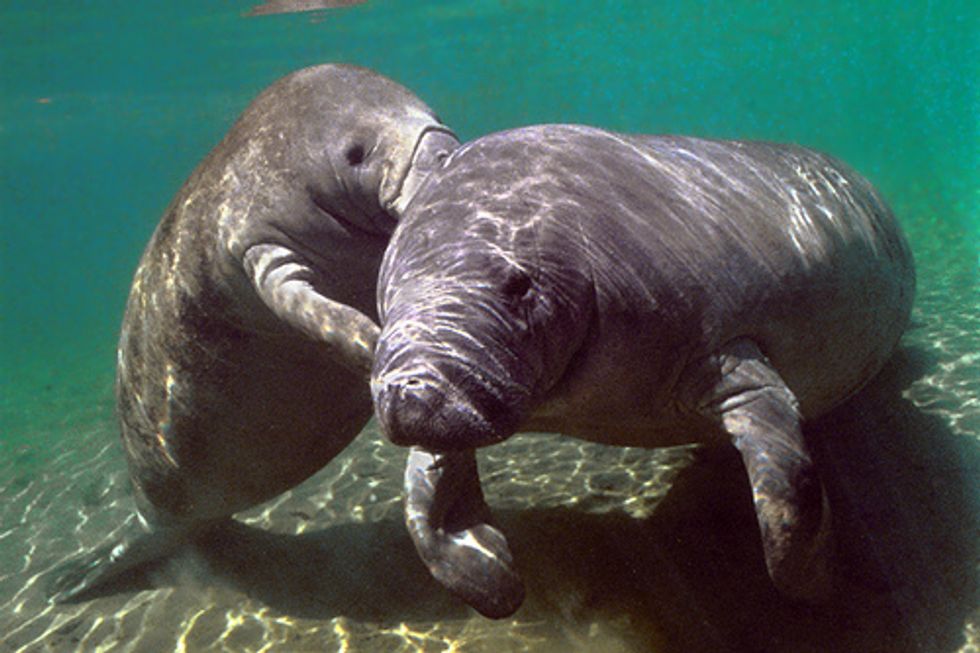 Well, among other threats, these aquatic mammals are experiencing injury and death in record numbers from exposure to a toxic algal bloom known as red tide in southwest Florida. Lee County has been particularly hard hit, followed by Charlotte County, Sarasota County and Collier County. Red tide is a naturally occurring event, but this outbreak has persisted since September 2012 and has killed as many as 240 manatees, a new record for red tide deaths in southwest Florida. Manatees are affected by red tide neurotoxins when they breathe, and even more so when they eat seagrass coated by the algae. The toxins cause seizures that can result in drowning when the animals cannot lift their snouts above the water to breathe.
According to the New York Times, experts are uncertain why this year's algae bloom was so lengthy and toxic. Phosphorus runoff from fertilized farms and lawns may have contributed, because algae thrive on a phosphorus diet. The Caloosahatchee River, which runs through rural Florida farmland, empties into the ocean at Fort Myers.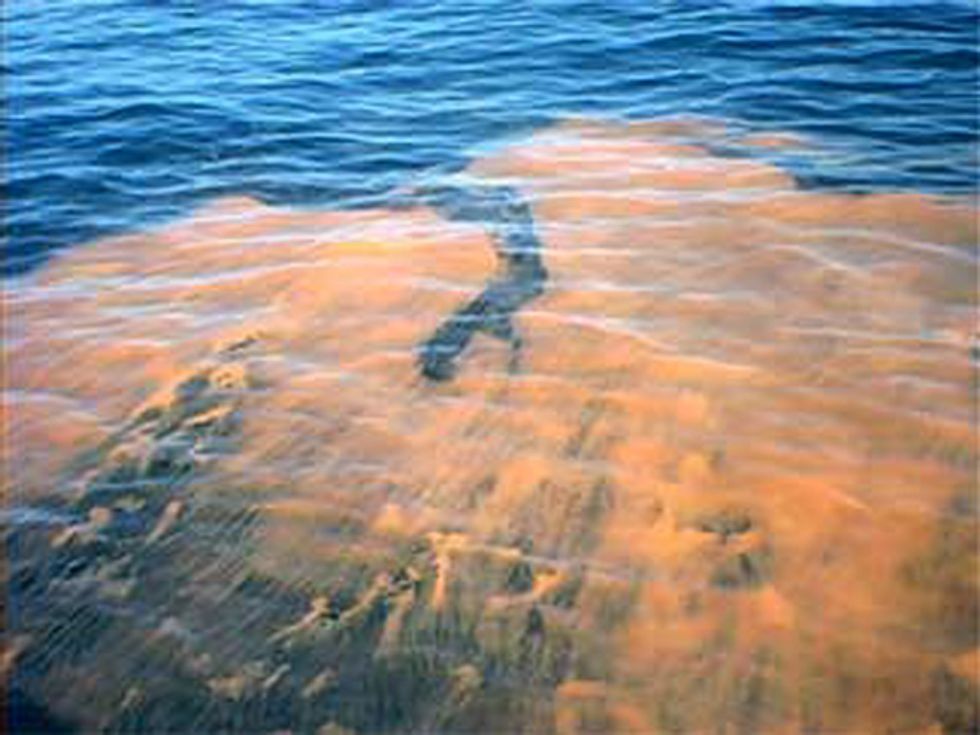 Some manatees have been found alive but very ill, and have been transported to facilities where they receive around-the-clock care. This is the worst red tide outbreak since 1996, when 151 animals were killed by the algal bloom in the southwest part of the state. Even though the bloom is subsiding, manatees will continue to be affected for some time because toxins from the red tide have settled onto seagrass beds.
On the east coast of Florida, yet another threat is claiming manatee lives in the Indian River Lagoon in Brevard County. Nearly 100 manatees have died of an unknown cause, possibly from a different toxin, since July 2012. With most of Brevard's seagrass eliminated due to a combination of factors (such as cold and drought that resulted in higher salinity) algal blooms known as "brown tide" have developed in the lagoon and impacted water clarity and seagrass growth. In some areas 99 percent of the seagrass has been lost. Without their staple food supply, manatees may be consuming macroalgae or other food sources that are making them ill and killing them.
The U.S. Fish and Wildlife Service is currently considering a proposal to downlist the manatee from "endangered" to "threatened." Considering that the existing risks to manatees have not been alleviated and that little is known about emerging new threats, Defenders of Wildlife urges the Service to carefully incorporate these significant losses into their review and assessment of the status of the manatee population.
These large manatee die-offs are the latest struggle in a long history of challenges for the Florida manatee, which was one of the first species protected by the Endangered Species Act when it was enacted in 1973. The leading human-caused threat to manatees is collisions with watercraft. So far this year, 15 manatees have been killed by boats. We expect this number to rise substantially before the year is over, and especially during the summer months. Scientists believe that unless this cause of death is controlled, the manatee population will not recover.
To address this threat, Defenders of Wildlife has been instrumental in the creation of new manatee protection speed zones, sanctuaries and refuge areas. We supported the establishment of manatee speed zones in Tampa Bay and Flagler County, and the creation of the Kings Bay Manatee Refuge that made all but a small portion of the bay a slow-speed area. We advocate for improved enforcement of speed zones and comment on management plans for federal and state parks and refuges to ensure that they adequately address manatee protections.
An even greater, long-term threat is the loss of warm water habitat that manatees need to survive in winter. The deadliest year on record, 2010, saw 766 manatees killed, nearly 300 of them by an extended period of very cold weather. Because residential development has greatly reduced the natural warm water springs manatees need to stay warm, many of the animals aggregate in the warm-water outfalls at electric power plants on cold winter days. A large percentage of the manatee population could be lost in the future if aging plants are shut down.
Defenders of Wildlife is hard at work to protect manatee habitat. We petitioned the U.S. Fish and Wildlife Service to revise critical habitat for the Florida manatee, supported the acquisition of Three Sisters Spring for Crystal River National Wildlife Refuge, increased protections for manatees overwintering in Kings Bay and strengthened seagrass protections in Everglades National Park. We advocate for increased protection for natural springs, agency efforts to increase manatee access to springs and adoption by agencies and power companies of a warm-water contingency plan to help manatees transition from artificial to natural sites.
If you're in Florida and you see a manatee in distress that may be suffering from red tide exposure or any other injury, call 1-888-404-3922 immediately. Be sure that your actions are not putting manatees at risk: refrain from pursuing, touching, feeding or watering manatees, and practice safe boating for the manatees' sake and yours.
Visit EcoWatch's BIODIVERSITY page for more related news on this topic.
EcoWatch Daily Newsletter
The CDC has emphasized that washing hands with soap and water is one of the most effective ways to prevent the spread of COVID-19. Guido Mieth / Moment / Getty Images
The Centers for Disease Control has emphasized that washing hands with soap and water is one of the most effective measures we can take in preventing the spread of COVID-19. However, millions of Americans in some of the most vulnerable communities face the prospect of having their water shut off during the lockdowns, according to The Guardian.
A California newt (Taricha torosa) from Napa County, California, USA. Connor Long /
CC BY-SA 3.0
Aerial photos of the Sierra Nevada — the long mountain range stretching down the spine of California — showed rust-colored swathes following the state's record-breaking five-year drought that ended in 2016. The 100 million dead trees were one of the most visible examples of the ecological toll the drought had wrought.
Now, a few years later, we're starting to learn about how smaller, less noticeable species were affected.
Disinfectants and cleaners claiming to sanitize against the novel coronavirus have started to flood the market.
Natthawat / Moment / Getty Images
Disinfectants and cleaners claiming to sanitize against the novel coronavirus have started to flood the market, raising concerns for the U.S. Environmental Protection Agency (EPA), which threatened legal recourse against retailers selling unregistered products, according to The New York Times.
A customer packs groceries in reusable bags at a NYC supermarket on March 1, 2020. Eduardo Munoz Alvarez/Getty Images
The global coronavirus pandemic has thrown our daily routine into disarray. Billions are housebound, social contact is off-limits and an invisible virus makes up look at the outside world with suspicion. No surprise, then, that sustainability and the climate movement aren't exactly a priority for many these days.
Ingredients are displayed for the Old School Pinto Beans from the Decolonize Your Diet cookbook by Luz Calvo and Catriona Rueda Esquibel. Melissa Renwick / Toronto Star via Getty Images
By Molly Matthews Multedo
Livestock farming contributes to global warming, so eating less meat can be better for the climate.