This website uses cookies to ensure you get the best experience while browsing it. By clicking 'Got It' you're accepting these terms.
Manatees Dying in Record Numbers from Toxic Algal Bloom
Apr. 08, 2013 11:07AM EST
By Elizabeth Fleming
2013 is shaping up to be a particularly deadly year for the endangered Florida manatee, whose population is estimated at around 5,000 animals. More than 460 dead manatees have been documented in the first three months of this year—an alarmingly high number. It has already topped the number of manatees that died all of last year. What's going on here?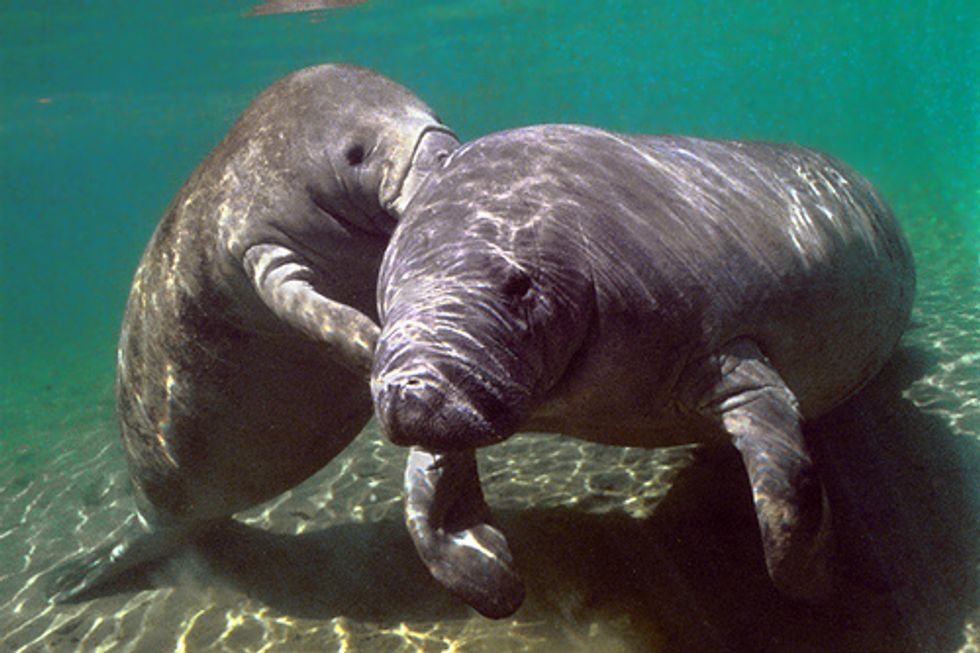 Well, among other threats, these aquatic mammals are experiencing injury and death in record numbers from exposure to a toxic algal bloom known as red tide in southwest Florida. Lee County has been particularly hard hit, followed by Charlotte County, Sarasota County and Collier County. Red tide is a naturally occurring event, but this outbreak has persisted since September 2012 and has killed as many as 240 manatees, a new record for red tide deaths in southwest Florida. Manatees are affected by red tide neurotoxins when they breathe, and even more so when they eat seagrass coated by the algae. The toxins cause seizures that can result in drowning when the animals cannot lift their snouts above the water to breathe.
According to the New York Times, experts are uncertain why this year's algae bloom was so lengthy and toxic. Phosphorus runoff from fertilized farms and lawns may have contributed, because algae thrive on a phosphorus diet. The Caloosahatchee River, which runs through rural Florida farmland, empties into the ocean at Fort Myers.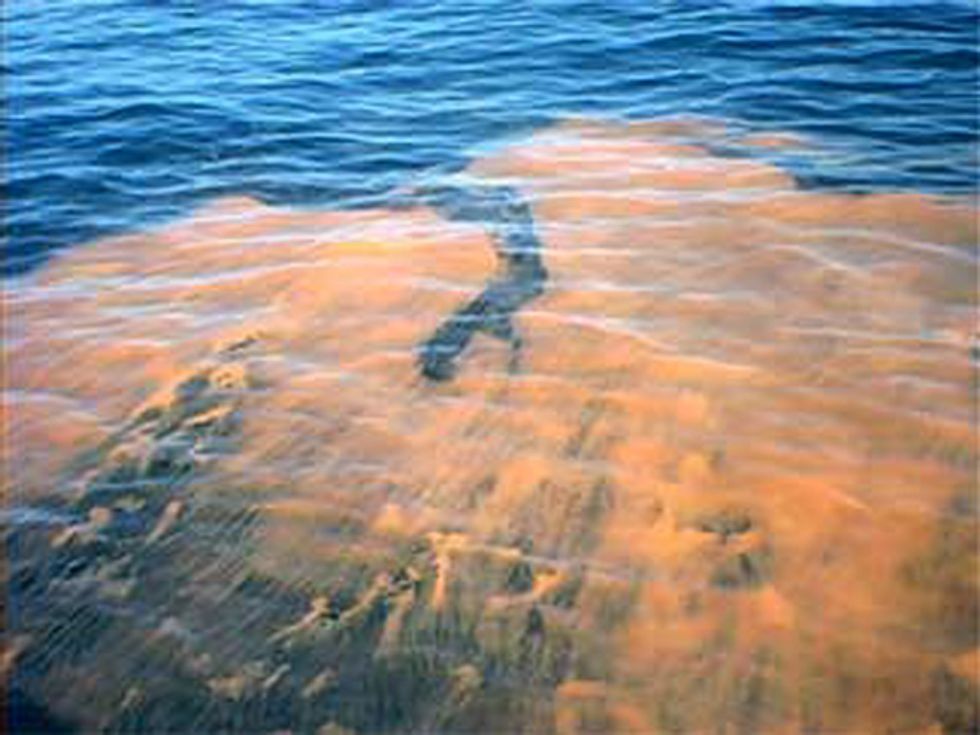 Some manatees have been found alive but very ill, and have been transported to facilities where they receive around-the-clock care. This is the worst red tide outbreak since 1996, when 151 animals were killed by the algal bloom in the southwest part of the state. Even though the bloom is subsiding, manatees will continue to be affected for some time because toxins from the red tide have settled onto seagrass beds.
On the east coast of Florida, yet another threat is claiming manatee lives in the Indian River Lagoon in Brevard County. Nearly 100 manatees have died of an unknown cause, possibly from a different toxin, since July 2012. With most of Brevard's seagrass eliminated due to a combination of factors (such as cold and drought that resulted in higher salinity) algal blooms known as "brown tide" have developed in the lagoon and impacted water clarity and seagrass growth. In some areas 99 percent of the seagrass has been lost. Without their staple food supply, manatees may be consuming macroalgae or other food sources that are making them ill and killing them.
The U.S. Fish and Wildlife Service is currently considering a proposal to downlist the manatee from "endangered" to "threatened." Considering that the existing risks to manatees have not been alleviated and that little is known about emerging new threats, Defenders of Wildlife urges the Service to carefully incorporate these significant losses into their review and assessment of the status of the manatee population.
These large manatee die-offs are the latest struggle in a long history of challenges for the Florida manatee, which was one of the first species protected by the Endangered Species Act when it was enacted in 1973. The leading human-caused threat to manatees is collisions with watercraft. So far this year, 15 manatees have been killed by boats. We expect this number to rise substantially before the year is over, and especially during the summer months. Scientists believe that unless this cause of death is controlled, the manatee population will not recover.
To address this threat, Defenders of Wildlife has been instrumental in the creation of new manatee protection speed zones, sanctuaries and refuge areas. We supported the establishment of manatee speed zones in Tampa Bay and Flagler County, and the creation of the Kings Bay Manatee Refuge that made all but a small portion of the bay a slow-speed area. We advocate for improved enforcement of speed zones and comment on management plans for federal and state parks and refuges to ensure that they adequately address manatee protections.
An even greater, long-term threat is the loss of warm water habitat that manatees need to survive in winter. The deadliest year on record, 2010, saw 766 manatees killed, nearly 300 of them by an extended period of very cold weather. Because residential development has greatly reduced the natural warm water springs manatees need to stay warm, many of the animals aggregate in the warm-water outfalls at electric power plants on cold winter days. A large percentage of the manatee population could be lost in the future if aging plants are shut down.
Defenders of Wildlife is hard at work to protect manatee habitat. We petitioned the U.S. Fish and Wildlife Service to revise critical habitat for the Florida manatee, supported the acquisition of Three Sisters Spring for Crystal River National Wildlife Refuge, increased protections for manatees overwintering in Kings Bay and strengthened seagrass protections in Everglades National Park. We advocate for increased protection for natural springs, agency efforts to increase manatee access to springs and adoption by agencies and power companies of a warm-water contingency plan to help manatees transition from artificial to natural sites.
If you're in Florida and you see a manatee in distress that may be suffering from red tide exposure or any other injury, call 1-888-404-3922 immediately. Be sure that your actions are not putting manatees at risk: refrain from pursuing, touching, feeding or watering manatees, and practice safe boating for the manatees' sake and yours.
Visit EcoWatch's BIODIVERSITY page for more related news on this topic.
EcoWatch Daily Newsletter
Protesters holding signs in solidarity with the Wet'suwet'en Nation outside the Canadian Consulate in NYC. The Indigenous Peoples Day NYC Committee (IPDNYC), a coalition of 13 Indigenous Peoples and indigenous-led organizations gathered outside the Canadian Consulate and Permanent Mission to the UN to support the Wet'suwet'en Nation in their opposition to a Coastal GasLink pipeline scheduled to enter their traditional territory in British Columbia, Canada. Erik McGregor / LightRocket / Getty Images
Tensions are continuing to rise in Canada over a controversial pipeline project as protesters enter their 12th day blockading railways, demonstrating on streets and highways, and paralyzing the nation's rail system
Horseshoe Bend (seen above) is a horseshoe-shaped meander of the Colorado River in Page, Arizona.
didier.camus
/ Flickr /
public domain
Millions of people rely on the Colorado River, but the climate crisis is causing the river to dry up, putting many at risk of "severe water shortages," according to new research, as The Guardian reported.
An alarming sign of an impending drought is the decreased snowpack in the Sierra Nevada Mountain range, as seen here in Christmas Valley, South Lake Tahoe, California on Feb. 15, 2020.
jcookfisher
/
CC BY 2.0
California is headed toward drought conditions as February, typically the state's wettest month, passes without a drop of rain. The lack of rainfall could lead to early fire conditions. With no rain predicted for the next week, it looks as if this month will be only the second time in 170 years that San Francisco has not had a drop of rain in February, according to The Weather Channel.
New and recent books explore how we can effectively respond to climate change while enhancing our health and happiness. Kei Uesugi / DigitalVision / Getty Images
A warm day in winter used to be a rare and uplifting relief.

Now such days are routine reminders of climate change – all the more foreboding when they coincide with news stories about unprecedented wildfires, record-breaking "rain bombs," or the accelerated melting of polar ice sheets.
Where, then, can one turn for hope in these dark months of the year?