Ben & Jerry's Launches Vegan Ice Cream Line With 4 Non-Dairy Flavors
Feb. 03, 2016 05:45PM EST
Food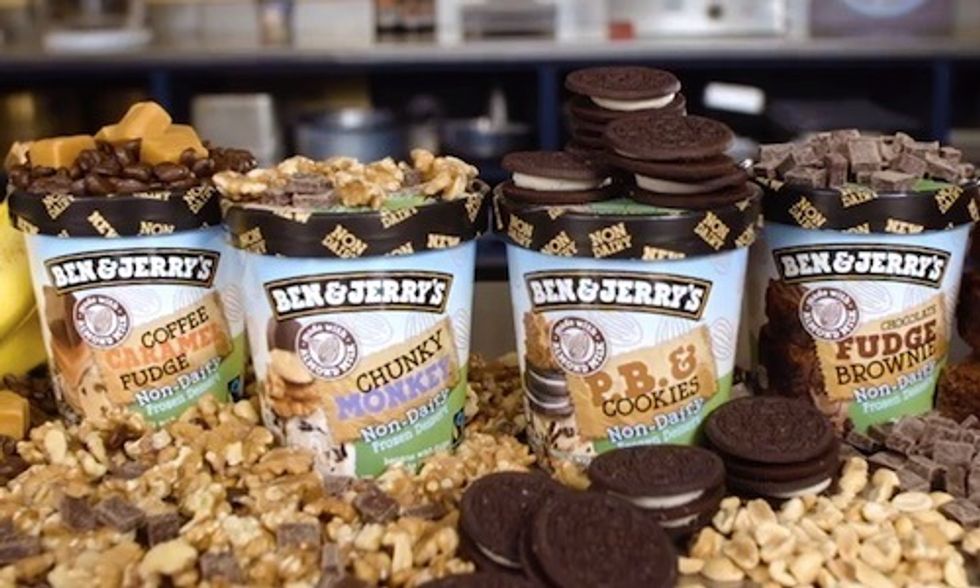 Holy cow! Ben & Jerry's has introduced its first-ever line of certified vegan ice cream made with almond milk. The Vermont-based ice cream makers now have four non-dairy creations called Chocolate Fudge Brownie, Chunky Monkey, Coffee Caramel Fudge and P.B. & Cookies that will hit the shelves later this month.
Introducing our #nondairy line - certified #vegan, made with almond milk, and oh so creamy! https://t.co/P3coMEmA0T https://t.co/akvBYrFp1x

— Ben & Jerry's (@Ben & Jerry's)1454508062.0
"You dared us to go dairyless—and we did!" company boasts. "Ben & Jerry's Non-Dairy flavor creations are made with almond milk and so boldly loaded with chunks and swirls that you'll get Ben & Jerry's euphoria in every bite."
The move comes after a concerted effort to not just satisfy the lactose-intolerant crowd, but environmentally conscious ice cream lovers, too. According to TIME, "these non-dairy creations have been two-and-a-half years in the making and are partly a response to a 2014 Change.org petition that racked up more than 28,000 signatures, including one from the current U.S. Senator from New Jersey Cory Booker."
The authors of the petition wrote:
For many, Ben & Jerry's sets the ice cream agenda. They are in a position to lead the way and make non-dairy ice cream a mainstream choice, like meatless Mondays. Offering an ice cream for their vegan customers would signal their support for cutting back on animal products. There is now a scientific consensus that animal agriculture is the single largest contributor to global warming, outstripping even the transportation industry in its production of greenhouse gases. Moreover, offering a non-animal product line of ice cream would signal to their customers that such alternatives can be mainstream and don't mean sacrificing great flavor and their favorite brands, and that they don't have to be vegan to enjoy them.
As for the taste, the folks at Huffington Post did a taste test and were surprised at how some of the flavors were incredibly creamy despite being nondairy. Of the Coffee Caramel Fudge, they said: "This baffling creation tasted and felt like it was full of milk and dairy and all the creamiest creations. The coffee extract and caramel swirls balanced really well with the almond milk."
In terms of nutrition, TIME reported that the vegan versions of Chocolate Fudge Brownie and Chunky Monkey only saves about 40-50 calories. It appears that Ben & Jerry's created the line to stoke the non-dairy sweet tooth, not to kill extra calories.
"As much as Ben & Jerry's customers say, 'We want something healthy,' the dollar really speaks," Kirsten Schimoler, principal food scientist for Ben and Jerry's, told TIME. She focused on making the chunks taste as "indulgent" as possible.
"That's what Ben and Jerry's is really known for," she added. "You want to sit on your couch with a pint of ice cream and dig out those huge pieces of cookies and chase the peanut butter swirls."
Still, even if these treats won't be so great for your waistline, there are known benefits of a vegan diet—where there are no animal products, such as eggs, butter, milk and cheese allowed. A Western-style diet rich in meat and dairy produce will lead to an 80 percent increase in greenhouse gas emissions (GHGs) from agriculture, according to Tim Redford of the Climate News Network.
A 2014 research paper from UK think tank Chatham House, Livestock—Climate Change's Forgotten Sector, explained why it may be necessary for a lot more people to go vegetarian or at least dial down their consumption of meat and dairy products. Greenhouse gas emissions from livestock, the study said, account for about 14.5 percent of the global total, more than direct emissions from the transportation sector and more than all the emissions produced by the U.S., the world's biggest economy.
Dairy alone is a major driver of environmental stress. The World Wildlife Fund pointed out that the global approximation of 270 million dairy cows and their manure produce greenhouse gas emissions which contribute to climate change and places pressure on natural resources, including freshwater and soil.
"Poor handling of manure and fertilizers can degrade local water resources. And unsustainable dairy farming and feed production can lead to the loss of ecologically important areas, such as prairies, wetlands and forests," the organization said.
Ben & Jerry's has made a clear commitment to a healthier climate future. For instance, the company only uses cage-free eggs, sources fair-trade ingredients, has banned genetically modified organisms (GMO) ingredients by origin and supports mandatory labeling of GMOs. The certified B Corporation uses ingredients including milk and cream from family farmers who do not treat their cows with the synthetic hormone rBGH.
Co-founders Ben Cohen and Jerry Greenfield are also vocal supporters of presidential candidate Bernie Sanders, and have especially applauded the Vermont senator's commitment to the environment. In a joint statement, they said:
Two degrees of warming makes ice cream melt—but when it comes to our planet, the effects would be absolutely catastrophic. In the U.S., rising sea levels due to climate change will displace poorer communities, and we've already seen how hurricanes like Katrina devastate disadvantaged coastal neighborhoods.
Study after study shows that poor communities and people of color are disproportionately affected by pollution from mountaintop removal, power plants, toxic waste, car smog and a whole host of environmental health hazards. We can fix that—but we need a plan to break our addiction to fossil fuels, and a leader who will accelerate the transition to an economy powered by clean energy sources like solar and wind. This is that plan, and Bernie Sanders is that leader.
The era of fossil fuels is coming to an end, and we couldn't be happier. https://t.co/SHOQNJgW75 #ActOnClimate https://t.co/GuJwpaSe8L

— Ben & Jerry's (@Ben & Jerry's)1453208764.0
YOU MIGHT ALSO LIKE 
These 3 Women Attend Monsanto's Annual Shareholder Meeting Demanding Answers
Dr. Mark Hyman: Why Vegetable Oils Should Not Be Part of Your Diet
Monsanto's Glyphosate Most Heavily Used Weed Killer in History
EcoWatch Daily Newsletter
Recent Stories from EcoWatch