This website uses cookies to ensure you get the best experience while browsing it. By clicking 'Got It' you're accepting these terms.
Award-Winning Sundance Film Offers 'Innovative Solutions to Mend our Broken Food System'
Feb. 03, 2015 02:59PM EST
Food
Sundance Institute premiered the Short Film Challenge today at the 2015 Sundance Film Festival. The program "is designed to spark global conversation about solutions to challenges like extreme hunger and poverty," according to Sundance. Beginning today, the short films will premiere on a variety of digital platforms.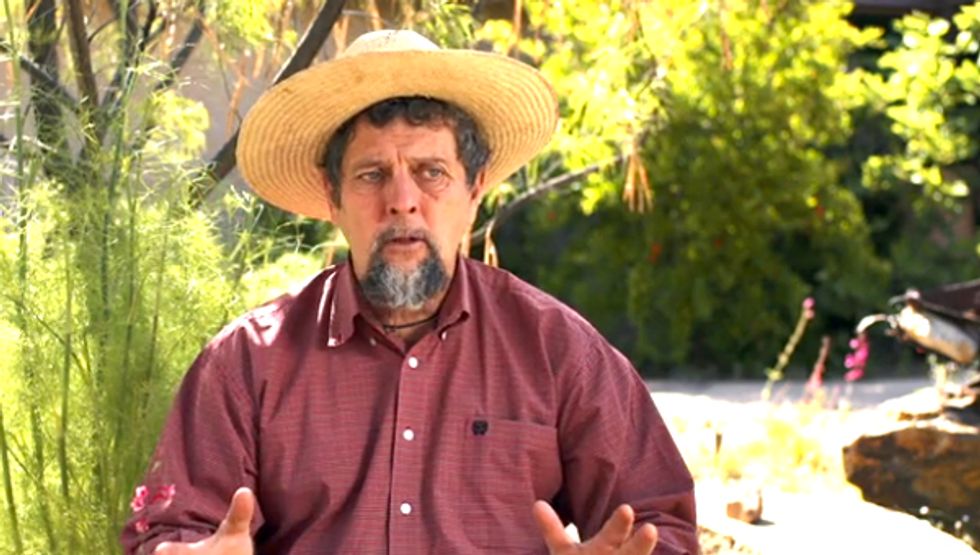 There were 1,387 submissions from 89 countries on Tongal.com, a creative platform "which powered a global call for film entries that used the transformative power of storytelling to generate discussion, shift perceptions around extreme worldwide concerns and harness the power of independent film to create a global conversation about these issues." The Short Film Challenge is supported by the Bill & Melinda Gates Foundation.
Of the more than 1,300 submissions, five were ultimately chosen as the winners. One of those winners, "Man in the Maze," tackles fixing our broken food system. The film is directed by Phil Buccellato, Jesse Ash and produced by Food Tank in partnership with Greener Media. Shot in Southern Arizona, the film features food activist, writer and conservationist Gary Paul Nabhan. The film shows how Nabhan and other food activists "are coming up with innovative solutions to mend our broken food system."
Nabhan is the W.K. Kellogg endowed chair in Sustainable Food Systems at the University of Arizona Southwest Center. He's also one of the founders of Native Seeds/SEARCH, which works on both of sides of the border to strengthen food security. A 1990 MacArthur Fellow, Nabhan has been hailed as a scholar of genetic diversity and a pioneer in the seed saving community.
The esteemed professor and farmer sees Southern Arizona as a critical place to fix the food system. "We're sitting here north of the largest inland port of entry for food in the world and the third largest port of entry for fresh produce in the United States," says Nabhan, referring to Nogales, Mexico.
Billions of pounds of produce and thousands of tractor trailers pass through this border town on their way to American supermarkets, according to Yolanda Soto, president of Borderlands Foodbank. Just how much of our produce arrives via Mexico? "Twenty-five to 30 percent of all the produce we eat year-round," according to Nabhan.
"With that is a tremendous amount of food waste because if the Florida tomato prices drop on a certain day, 120,000 pounds might be thrown into a landfill just because of the pricing," says Nabhan. Some of that food is salvaged for food banks or used as animal feed, but most of that food ends up in landfills. "This is one of the most biologically and culturally diverse regions in North America, and yet it has one of the highest rates of unemployment and childhood food insecurity," says Nabhan. "And if we can't use that biodiversity to make life better for the very people who live here, something is wrong."
We have a food system in which half of all food is wasted, yet millions go hungry. Food recovery must play a role in building an equitable and sustainable food system. That's where places like Borderlands Foodbank come in. At Borderlands, they rescue between 30 and 40 million pounds of produce per produce season. "Santa Cruz County, for one, has a very, very high rate of diabetes," says Soto. "Feeding people nutritiously is extremely important and vegetables are expensive."
Produce at local markets in rural towns is expensive and residents have to pay the higher prices or go farther away to grocery stores to get fruits and vegetables. Through a partnership with Amado Produce Redistribution Outreach Services, Borderlands Foodbank provides residents with perfectly good produce that would have otherwise been thrown out.
This is just one of the many solutions that Nabhan and other farmers and food activists propose to "rebuild the food system from the bottom up in a participatory way." You can watch the short 8-minute film exclusively on the Arizona Daily Star's website for the rest of the week.
YOU MIGHT ALSO LIKE
4 Innovative Community Food Projects Empowering Low-Income Residents
The Solution Under Our Feet: How Regenerative Organic Agriculture Can Save the Planet
Eva Longoria and Eric Schlosser Expose the Real Cost of Our Food
EcoWatch Daily Newsletter
Pro-environment demonstrators on the streets of Washington, DC during the Jan. 20, 2017 Trump inauguration.
Mobilus In Mobili
/ Flickr /
CC BY-SA 2.0
By Dr. Brian R. Shmaefsky
One year after the Flint Water Crisis I was invited to participate in a water rights session at a conference hosted by the US Human Rights Network in Austin, Texas in 2015. The reason I was at the conference was to promote efforts by the American Association for the Advancement of Science (AAAS) to encourage scientists to shine a light on how science intersects with human rights, in the U.S. as well as in the context of international development. My plan was to sit at an information booth and share my stories about water quality projects I spearheaded in communities in Bangladesh, Colombia, and the Philippines. I did not expect to be thrown into conversations that made me reexamine how scientists use their knowledge as a public good.
Mt. Rainier and Reflection Lake on Sept. 10, 2015. Crystal Geyser planned to open a bottling plant near Mt. Rainier, emails show.
louelke - on and off / Flickr
Bottled water manufacturers looking to capture cool, mountain water from Washington's Cascade Mountains may have to look elsewhere after the state senate passed a bill banning new water permits, as The Guardian reported.
Large storage tank of Ammonia at a fertilizer plant in Cubatão, Sao Paulo State, Brazil. Luis Veiga / The Image Bank / Getty Images
The shipping industry is coming to grips with its egregious carbon footprint, as it has an outsized contribution to greenhouse gas emissions and to the dumping of chemicals into open seas. Already, the global shipping industry contributes about 2 percent of global carbon emissions, about the same as Germany, as the BBC reported.
At high tide, people are forced off parts of the pathway surrounding DC's Tidal Basin. Andrew Bossi /
Wikimedia
The Jefferson Memorial in Washington, DC overlooks the Tidal Basin, a man-made body of water surrounded by cherry trees. Visitors can stroll along the water's edge, gazing up at the stately monument.
But at high tide, people are forced off parts of the path. Twice a day, the Tidal Basin floods and water spills onto the walkway.
Lioness displays teeth during light rainstorm in Kruger National Park, South Africa. johan63 / iStock / Getty Images
Ahead of government negotiations scheduled for next week on a global plan to address the biodiversity crisis, 23 former foreign ministers from various countries released a statement on Tuesday urging world leaders to act "boldly" to protect nature.