This website uses cookies to ensure you get the best experience while browsing it. By clicking 'Got It' you're accepting these terms.
73% of Child Safety Seats Found to Have Toxic Chemicals, Does Yours?
Jun. 08, 2015 08:21AM EST
Health + Wellness
We love our children. We protect them. At home we put up safety gates near the stairs and take sharp objects out of their reach. When we are in the car, we strap them into a child safety seat. But does your child safety seat pose a risk to their health. It just may, and a new study from the Ecology Center tested some popular seats for their chemical content. Some were rated safer than others.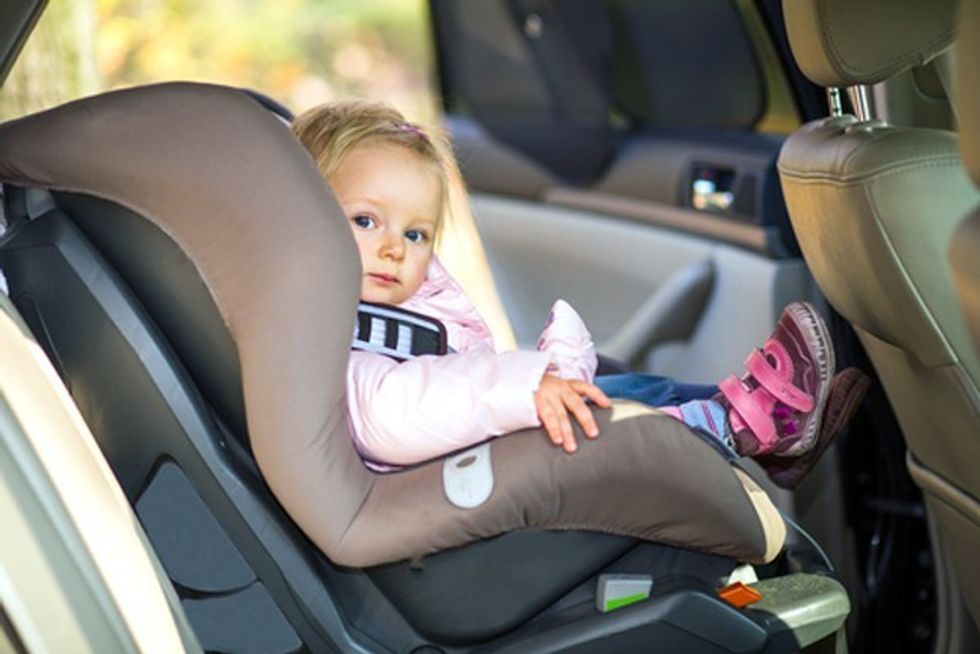 Photo credit: Shutterstock
To be clear, you must use a child safety seat. It protects your kids in the event of a collision. But what if you could shop for one that didn't contain as many chemicals that have been linked to fertility problems, learning impairments, liver toxicity and cancer? The Ecology Center's new product tests may just help you do that.
Consumer Report's reviewed the Ecology Center's study, and here's the problem as they see it:
The concerns stem from the detection of chemicals like bromine and chlorine, which are used in some flame retardants. Such halogenated flame retardants have been linked to a variety of health issues. In addition, many are considered persistent (they don't break down to something safer over time) and bioaccumulative (they build up in your system).

One such chemical, a carcinogen known as chlorinated tris, was found in two seats. It was removed from children's pajamas many years ago. Though it is prohibited in many states, it is still in use elsewhere. This and other flame retardants can be released from the foams and fabrics of products through regular use. They settle into the air and, in particular, the dust in the vehicle.
Cars can be Cocoons for Unsafe Chemicals
Nearly three-quarters (73 percent) of child safety seats tested contained hazardous halogenated flame retardants and over half contained non-halogenated organophosphate flame retardants, some of which are hazardous as well. These chemicals simply aren't necessary, and top rated companies in the study, Britax and Clek, have been proactively implementing policies to reduce hazards in their products while still meeting all safety standards.  Some are not, as was the case for the poorest performing company: Graco, which unfortunately is one of the largest in manufacturers in the country.
​There have been several iterations of this report over the last several years, and there's some good news. There's a general trend toward safer chemicals in child seats. But we are by no means "there." Fifteen 2014-model car seats were tested for specific flame retardant chemicals by gas chromatography/mass spectrometry. The seats were also tested for bromine (associated with brominated flame retardants), chlorine (indicating the presence of chlorinated flame retardants when detected in a certain range of concentration), lead and other heavy metals. These substances have been linked to thyroid problems, learning and memory impairment, decreased fertility, behavioral changes and cancer.
Heat and UV-ray exposure in cars can accelerate the release of these chemicals from products into the vehicle environment.  Many children spend hours in a car every week, or even every day, potentially exposing them to harmful flame retardants. Babies are the most vulnerable population in terms of exposure, since their bodily systems are still developing and they spend many hours in their car seats. Infants, toddlers and children can be exposed through inhalation, ingestion and dermal (skin) absorption of these chemicals.
The Best and the Worst
Car seats were evaluated using a comparative ranking method which evaluated a range of chemical hazards in the products. Complete product rankings and the ranking methodology are available at HealthyStuff.org. Here's how things came out:
Best 2014-15 Car Seats: Britax Frontier and Marathon (Convertible); Clek Foonf (Convertible)

Worst 2014-15 Car Seats: Graco, My Size 65 (Convertible); Baby Trend, Hybrid 3-in-1 (Convertible)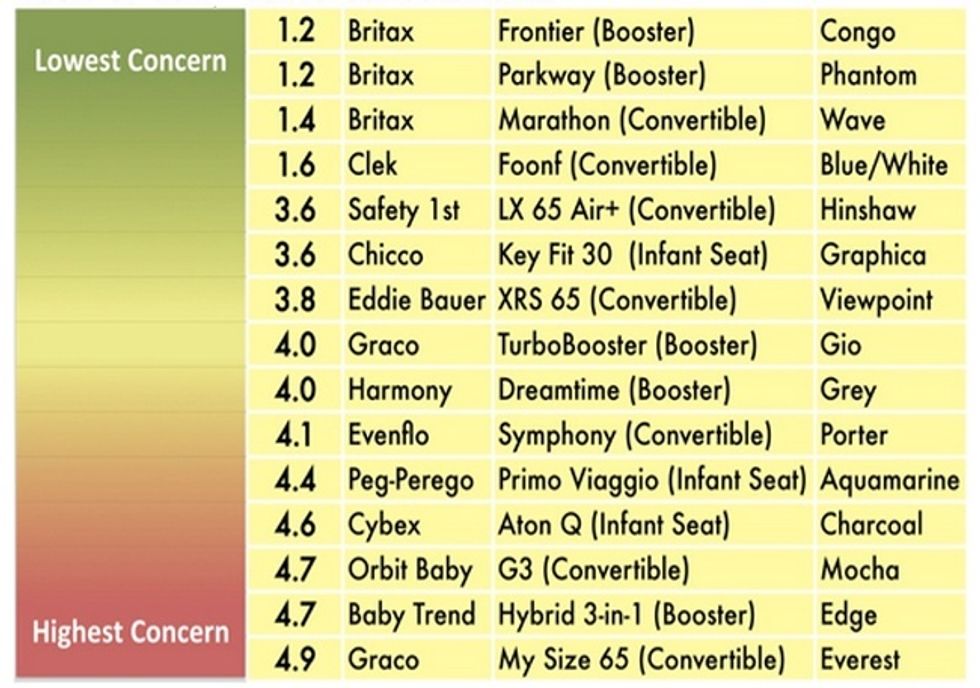 Take Action
Visit HealthyStuff.org and check out the car seat rankings. When you choose a safer seat, you not only make a safer environment for your child, you vote with your dollar. You can also check out their other consumer tips, like for example limiting the amount of time your child spends in a car, and dusting and vacuuming the car often to help remove contaminants.
YOU MIGHT ALSO LIKE
Big Ag Claims Cancer-Causing Glyphosate No More Dangerous Than 'Coffee or Working the Night Shift'
Find Out Which Brands Still Use Toxic BPA-Lined Cans (And Which Don't)
EcoWatch Daily Newsletter
Fresno, California, seen above, is receiving $66 million for walking trails, sidewalks, bike lanes, and more. DenisTangneyJr / iStock / Getty Images
Grecia Elenes grew up in Fresno, California. She says some parts of the city have been neglected for decades. When she moved back after college she realized nothing has changed.
People are seen embracing at Numeralla Rural Fire Brigade near the scene of a water tanker plane crash on Jan. 23 in Cooma, Australia. Three American firefighters have have died after their C-130 water tanker plane crashed while battling a bushfire near Cooma in southern NSW this afternoon. Jenny Evans / Getty Images
Three U.S. firefighters gave their lives battling Australia's historic wildfires Thursday when their airborne water tanker crashed.
The Doomsday Clock is now at 100 seconds to midnight. EVA HAMBACH / AFP via Getty Images
The Doomsday Clock is now 100 seconds to midnight, partly because of the
climate crisis
.
A new report spotlights a U.N. estimate that at least 275 million people rely on healthy coral reefs. A sea turtle near the Heron Island in the Great Barrier Reef is seen above. THE OCEAN AGENCY / XL CATLIN SEAVIEW SURVEY
In a new report about how the world's coral reefs face "the combined threats of climate change, pollution, and overfishing" — endangering the future of marine biodiversity — a London-based nonprofit calls for greater global efforts to end the climate crisis and ensure the survival of these vital underwater ecosystems.
Half of the extracted resources used were sand, clay, gravel and cement, seen above, for building, along with the other minerals that produce fertilizer. Cavan Images / Cavan / Getty Images
The world is using up more and more resources and global recycling is falling. That's the grim takeaway from a new report by the Circle Economy think tank, which found that the world used up more than 110 billion tons, or 100.6 billion metric tons, of natural resources, as Agence France-Presse (AFP) reported.