This website uses cookies to ensure you get the best experience while browsing it. By clicking 'Got It' you're accepting these terms.


The best of EcoWatch, right in your inbox. Sign up for our email newsletter!
73% of Child Safety Seats Found to Have Toxic Chemicals, Does Yours?
Jun. 08, 2015 08:21AM EST
We love our children. We protect them. At home we put up safety gates near the stairs and take sharp objects out of their reach. When we are in the car, we strap them into a child safety seat. But does your child safety seat pose a risk to their health. It just may, and a new study from the Ecology Center tested some popular seats for their chemical content. Some were rated safer than others.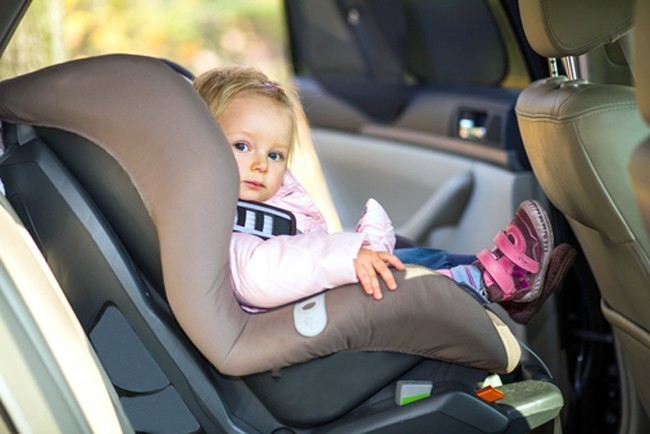 Photo credit: Shutterstock
To be clear, you must use a child safety seat. It protects your kids in the event of a collision. But what if you could shop for one that didn't contain as many chemicals that have been linked to fertility problems, learning impairments, liver toxicity and cancer? The Ecology Center's new product tests may just help you do that.
Consumer Report's reviewed the Ecology Center's study, and here's the problem as they see it:
The concerns stem from the detection of chemicals like bromine and chlorine, which are used in some flame retardants. Such halogenated flame retardants have been linked to a variety of health issues. In addition, many are considered persistent (they don't break down to something safer over time) and bioaccumulative (they build up in your system).

One such chemical, a carcinogen known as chlorinated tris, was found in two seats. It was removed from children's pajamas many years ago. Though it is prohibited in many states, it is still in use elsewhere. This and other flame retardants can be released from the foams and fabrics of products through regular use. They settle into the air and, in particular, the dust in the vehicle.
Cars can be Cocoons for Unsafe Chemicals
Nearly three-quarters (73 percent) of child safety seats tested contained hazardous halogenated flame retardants and over half contained non-halogenated organophosphate flame retardants, some of which are hazardous as well. These chemicals simply aren't necessary, and top rated companies in the study, Britax and Clek, have been proactively implementing policies to reduce hazards in their products while still meeting all safety standards.  Some are not, as was the case for the poorest performing company: Graco, which unfortunately is one of the largest in manufacturers in the country.
​There have been several iterations of this report over the last several years, and there's some good news. There's a general trend toward safer chemicals in child seats. But we are by no means "there." Fifteen 2014-model car seats were tested for specific flame retardant chemicals by gas chromatography/mass spectrometry. The seats were also tested for bromine (associated with brominated flame retardants), chlorine (indicating the presence of chlorinated flame retardants when detected in a certain range of concentration), lead and other heavy metals. These substances have been linked to thyroid problems, learning and memory impairment, decreased fertility, behavioral changes and cancer.
Heat and UV-ray exposure in cars can accelerate the release of these chemicals from products into the vehicle environment.  Many children spend hours in a car every week, or even every day, potentially exposing them to harmful flame retardants. Babies are the most vulnerable population in terms of exposure, since their bodily systems are still developing and they spend many hours in their car seats. Infants, toddlers and children can be exposed through inhalation, ingestion and dermal (skin) absorption of these chemicals.
The Best and the Worst
Car seats were evaluated using a comparative ranking method which evaluated a range of chemical hazards in the products. Complete product rankings and the ranking methodology are available at HealthyStuff.org. Here's how things came out:
Best 2014-15 Car Seats: Britax Frontier and Marathon (Convertible); Clek Foonf (Convertible)

Worst 2014-15 Car Seats: Graco, My Size 65 (Convertible); Baby Trend, Hybrid 3-in-1 (Convertible)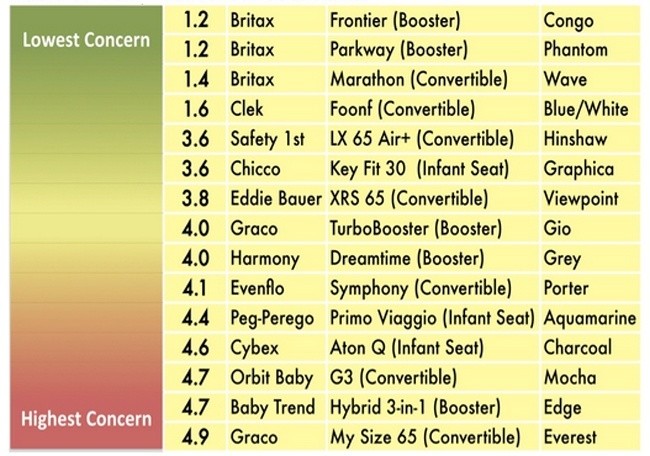 Take Action
Visit HealthyStuff.org and check out the car seat rankings. When you choose a safer seat, you not only make a safer environment for your child, you vote with your dollar. You can also check out their other consumer tips, like for example limiting the amount of time your child spends in a car, and dusting and vacuuming the car often to help remove contaminants.
YOU MIGHT ALSO LIKE
Big Ag Claims Cancer-Causing Glyphosate No More Dangerous Than 'Coffee or Working the Night Shift'
Find Out Which Brands Still Use Toxic BPA-Lined Cans (And Which Don't)
EcoWatch Daily Newsletter
In tea, food, or just on your windowsill, embrace the fragrance and fantastic healing potential of herbs.
By Ana Santos Rutschman
The world of food and drug regulation was rocked earlier this month by the news of a change in leadership at the Food and Drug Administration. Commissioner Scott Gottlieb resigned and will step down in early April. His temporary replacement is Dr. Ned Sharpless, director of the National Cancer Institute.
MartinPrescott / iStock / Getty Images
On Wednesday the U.S. Environmental Protection Agency (EPA) announced the first 20 chemicals it plans to prioritize as "high priority" for assessment under the Toxic Substances Control Act. Given the EPA's record of malfeasance on chemicals policy over the past two years, it is clear that these are chemicals that EPA is prioritizing to ensure that they are not properly evaluated or regulated.
Strawberries top the Environmental Working Group's "Dirty Dozen" list of U.S. produce most contaminated with pesticides. DANIEL LEAL-OLIVAS / AFP / Getty Images
Which conventionally-grown fruits and vegetables in the U.S. are most contaminated with pesticides? That's the question that the Environmental Working Group answers every year with its "Dirty Dozen" list of produce with the highest concentration of pesticides after being washed or peeled.
A drilling rig in a Wyoming natural gas field. William Campbell / Corbis via Getty Images
A U.S. federal judge temporarily blocked oil and gas drilling on 300,000 acres of federal leases in Wyoming Tuesday, arguing that the Bureau of Land Management (BLM) "did not sufficiently consider climate change" when auctioning off the land, The Washington Post reported.
Mizina / iStock / Getty Images
Oats are widely regarded as one of the healthiest grains you can eat, as they're packed with many important vitamins, minerals, and fiber.
JPMorgan Chase building in New York City. Ben Sutherland / CC BY 2.0
By Sharon Kelly
A report published Wednesday names the banks that have played the biggest recent role in funding fossil fuel projects, finding that since 2016, immediately following the Paris agreement's adoption, 33 global banks have poured $1.9 trillion into financing climate-changing projects worldwide.
Sriram Madhusoodanan of Corporate Accountability speaking on conflict of interest demand of the People's Demands at a defining action launching the Demands at COP24. Corporate Accountability
By Patti Lynn
2018 was a groundbreaking year in the public conversation about climate change. Last February, The New York Times reported that a record percentage of Americans now believe that climate change is caused by humans, and there was a 20 percentage point rise in "the number of Americans who say they worry 'a great deal' about climate change."