This website uses cookies to ensure you get the best experience while browsing it. By clicking 'Got It' you're accepting these terms.
If you wash down your daily multivitamin with a green juice every morning, you might be patting yourself on the back for being healthy—but are you actually getting too much of a good thing? If you're eating a relatively nutritious diet, the truth is, your multivitamin isn't doing you much good.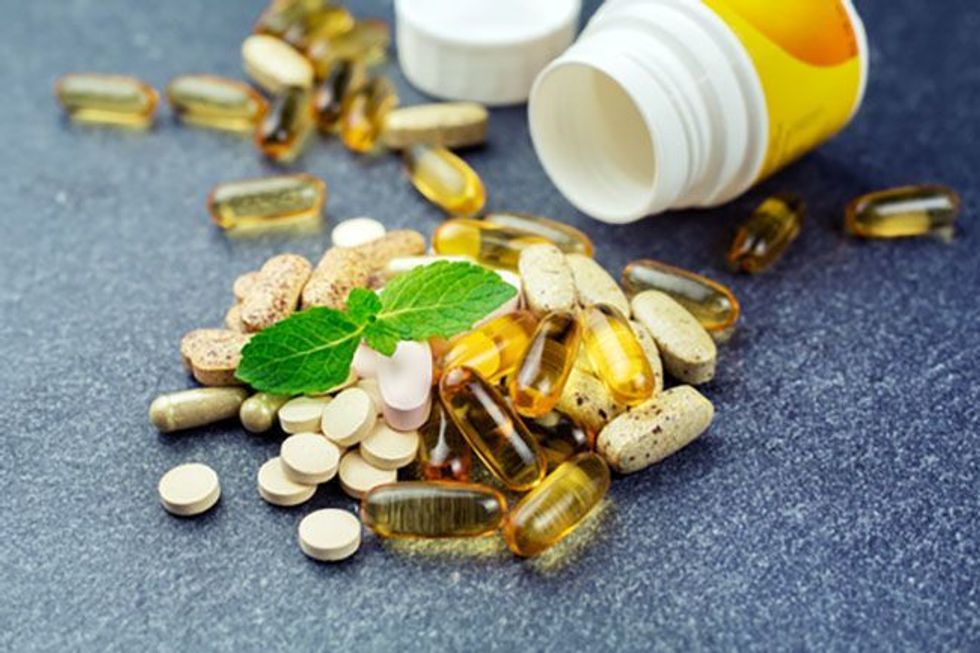 If your diet is really unhealthy, a multivitamin may be in order, but most of us are getting the majority of our essential nutrients from food. Photo credit: Shutterstock
Ideally, our bodies absorb all the nutrients they need from the food we eat—but let's face it, you probably don't have a perfect diet every single day. If your diet is really unhealthy, a multivitamin may be in order, but most of us are getting the majority of our essential nutrients from food. So unless you're chasing your Big Mac with a chocolate milkshake for every meal, popping a multivitamin is kind of redundant.
Instead, supplement only the nutrients you aren't receiving on a daily basis. Let's break down which five vitamins and minerals you need to supplement in your life and why you should kick your multivitamin habit, stat.
1. Magnesium
Magnesium is at the top of our list for a reason. An essential mineral to the human body, magnesium helps with more than 300 enzymatic processes and it's integral to DNA and RNA, so it's kind of a big deal. Bad news: the majority of us don't get enough magnesium in our daily diets and that can lead to headaches, muscle cramps, nausea, metabolic syndrome, migraines, PMS, and heart attacks. Yes, pretty much everything you don't want to happen to you. So take magnesium nightly before bed (and it will help you get a good night's sleep) for optimal benefits.
Eat: Kale, spinach, and swiss chard are all high in magnesium, but you'd need to eat almost 50 cups of raw spinach to get your daily value of magnesium. Supplement with about 300-400 mg per day.
2. Vitamin C
It's your go-to vitamin when you're feeling sick, but vitamin C is good for more than just kicking the common cold. Vitamin C is an antioxidant that fights free radicals in the body and it's beneficial for tissue formation. If you're an athlete, vitamin C can help you repair from your workouts and if you're a stress case, vitamin C can help stabilize your cortisol levels, so you'll feel less stressed and tired after a rough day at work. Best taken on an empty stomach, start your day with this powerful supplement.
Eat: Papaya, broccoli, bell peppers, brussels sprouts, and strawberries all offer you more than 100 percent of your daily intake of vitamin C. If you're watching your daily sugar consumption and don't want to eat too much fruit, training everyday, or feel a cold coming on take 65-90 mg a day.
3. Krill or Fish Oil 
We won't sugar-coat it—the thought of swallowing krill or fish oil every morning isn't necessarily appetizing. Kind of stinky but super potent, fish oil offers all the omega-3 DHA and EPA nutrients you need. Linked to reducing inflammation, supporting brain function and even muscle growth, fish oil is also beneficial in maintaining healthy hair and skin.
Eat: If you're regularly eating wild-caught fish or eating grass fed beef, you're already ingesting a pretty good amount of this brain-boosting fat. If you run in the opposite direction when you see a sardine, add a supplement of about 600-1000 mg per day to your diet.
4. Vitamin A
If you're vegan or vegetarian, it's especially important that you make sure you're supplementing your diet with vitamin A. Found in animal byproducts, vitamin A (retinol) supports healthy vision, bones and teeth, and many metabolic functions. Vitamin A also prevents wrinkles and sagging skin—bonus.
Eat: If you're eating a hearty amount of egg yolks, organ meats and dairy products you might be getting enough vitamin A daily, but studies tell us that only 25 percent of Americans consume enough vitamin A. If you're in the other 75 percent of the population, remember to take a 5,000 IUs.
5. Zinc
Whether you're fighting off acne, combating the flu, or running a marathon, zinc is your new best friend. Zinc is an essential mineral needed to help catalyze your body's chemical responses. Best known for its ability to boost immunity, zinc has also been studied for its effect on diabetes, macular degeneration and HIV/AIDS. Zinc is also notable for its acne-fighting powers as well as its effect on depression—it seems like there's nothing this little mineral can't do.
Eat: Most easily absorbed by your body when found in foods like shellfish and beef, zinc is also prevalent in nuts and legumes. Phytic acid, an anti nutrient found in unsprouted nuts and legumes, inhibits the absorption of zinc. Make sure you're reaping all the benefits of zinc by ingesting at least 40 mg a day.
When in doubt, rely on your daily meals to you get your nutrients. But if you think you need a little extra pick-me-up, try these five vitamins to boost your energy and health.
YOU MIGHT ALSO LIKE
7 Nutrients You Can't Get From Plant-Based Foods
8 Vegetables You Should Eat Raw
EcoWatch Daily Newsletter
Coldplay is releasing a new album on Friday, but the release will not be followed by a world tour.
Ash dieback is seen infecting a European ash (Fraxinus excelsior) in Bottomcraig, Scotland, UK on Aug. 10, 2016.
nz_willowherb / Flickr
Scientists have discovered a genetic basis to resistance against ash tree dieback, a devastating fungal infection that is predicted to kill over half of the ash trees in the region, and it could open up new possibilities to save the species.
Truth in Action is a day-long global conversation on the climate crisis and how we solve it. The Climate Reality Project
Former Vice President Al Gore kicked off 24 hours of climate talks in the U.S. and 77 other countries around the world Wednesday night.
Activists highlighted the climate emergency outside Scottish Government headquarters at St Andrew's House in Edinburgh on Oct. 13, 2017. Usage of the term "climate emergency" spiked in 2019, according to Oxford Dictionaries.
By Jessica Corbett
Climate advocates and experts celebrated Oxford Dictionaries' announcement Wednesday that "climate emergency" is the Oxford Word of the Year 2019.
By Kieran Cooke
There could be a way of countering one key aspect of the climate emergency by making much greater use of a widely-available plant: bamboo building.