This website uses cookies to ensure you get the best experience while browsing it. By clicking 'Got It' you're accepting these terms.
Why Coconut Oil Is King
Aug. 09, 2015 10:16AM EST
Food
Every time we cover research indicating that fat hurts your body, the immediate response is, "What about coconut oil?" Now, we have a great answer for you: Yes, it is a better option than the fats you'll usually find lurking in processed food, according to University of California, Riverside researchers.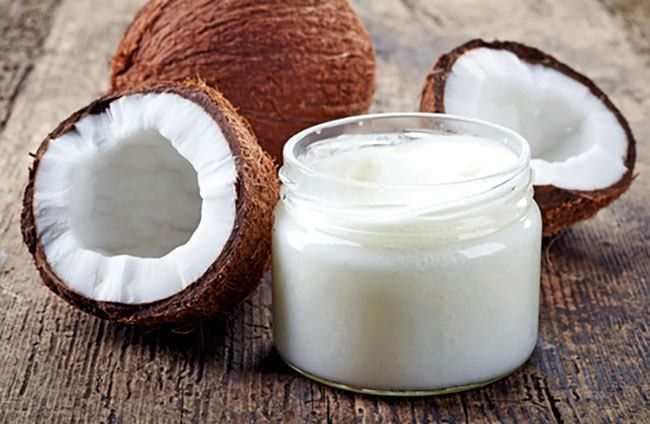 Coconut oil is a better option than the fats you'll usually find lurking in processed food. Photo credit: Shutterstock
The researchers found that, compared to mice fed a high-fat diet based on coconut oil, mice fed a high-fat diet based on soybean oil gained more weight, had larger fat deposits and had increased instances of fatty liver with signs of injury, diabetes and insulin resistance. In fact, the mice on the soybean oil diet gained 25 percent more weight than the mice on the coconut oil diet did.
Previous research found similar negative health responses with corn oil.
This stands against a lot of the research that condemns saturated fats (like coconut oil) and hails polyunsaturated fats (like vegetable or soybean oils). In the 1960s, research that correlated saturated fat consumption with heart disease led to dietary guidelines that led to major increases in soybean oil consumption and now 60 percent of the edible oil consumed in the U.S. is soybean oil. However, the researchers point out that saturated fats from animal product have longer chain length than coconut oil, which could explain why we see the same cardiovascular disease with coconut oil as we do with fatty meats and cheeses.
"Since the 1950s, global production of this 'king bean' has skyrocketed, increasing 15 times over," says Jayson Calton, PhD, one of the authors of The Mirconturient Miracle. "Soybean oil, often listed as vegetable oil on labels, makes up 27 percent of the worldwide oil production, making it one of the most common forms of oil at the dinner table."
"There seems to be a ton of oils, margarines, and shortenings claiming to be healthy alternatives to saturated fats, such as butter, ghee, lard, tallow, duck fat, cream, palm oil and coconut oil," adds Mira Calton, CN, the other author of The Mirconturient Miracle. "Well, we are here to tell you that with the exception of the sparing use of organic extra-virgin olive oil, avocado oil, macadamia nut oil, flaxseed oil and chia oil, none of them are included in the Micronutrient Miracle plan."
One aspect that the researchers didn't evaluate was the fact that most soybean oil comes from GMO soy.
"According to 2014 U.S. Department of Agriculture (USDA) statistics, 94 percent of the U.S. soy produced is genetically modified" adds Jayson. "We don't just avoid  crops because of the lack of long-term safety data. We also dodge them because they are mineral deficient due to being sprayed with dangerous glyphosate, aka Roundup."
YOU MIGHT ALSO LIKE
8 Superfoods You Don't Even Know About
12 High-Carb Foods That Are Incredibly Healthy for You
EcoWatch Daily Newsletter
picture-alliance / AP Images / D. Goldman
By Daniel Moattar
Eastern Kentucky's hills are interrupted by jarring flats of bare rock: the aftermath of mountaintop removal mining, which uses explosives to destroy and harvest coal-rich peaks.
By Molly Taft
Lisa Marshall isn't your typical activist. For one thing, she's not into crowds. "I don't really like rallies," Marshall, a mom of three from upstate New York, said. "They're a little stressful — not my favorite thing."

An oil drilling site in a residential area of Los Angeles, California on July 16, 2014.
Faces of Fracking / Flickr
By Jake Johnson
A comprehensive analysis of nearly 1,500 scientific studies, government reports, and media stories on the consequences of fracking released Wednesday found that the evidence overwhelmingly shows the drilling method poses a profound threat to public health and the climate.

sonsam / iStock / Getty Images
By Grace Francese
A new Environmental Working Group (EWG) study published in Environmental Research found that nitrate, one of the most common contaminants of drinking water, may cause up to 12,594 cases of cancer per year, but that's not its only danger: It can pose unique health risks to children.
Melt water from Everest's Khumbu glacier. Ed Giles / Getty Images
EPA Administrator Andrew Wheeler signs his replacement for the Clean Power Plan. Win McNamee / Getty Images
Oil palm plantations in northeastern Borneo, state of Sabah, Malaysia. Recently planted oil palms can be seen in the bright green grassy areas and a tiny bit of natural rainforest still struggles for survival farther away. Vaara / E+ / Getty Images