This website uses cookies to ensure you get the best experience while browsing it. By clicking 'Got It' you're accepting these terms.
Why Coconut Oil Is King
Aug. 09, 2015 10:16AM EST
Food
Every time we cover research indicating that fat hurts your body, the immediate response is, "What about coconut oil?" Now, we have a great answer for you: Yes, it is a better option than the fats you'll usually find lurking in processed food, according to University of California, Riverside researchers.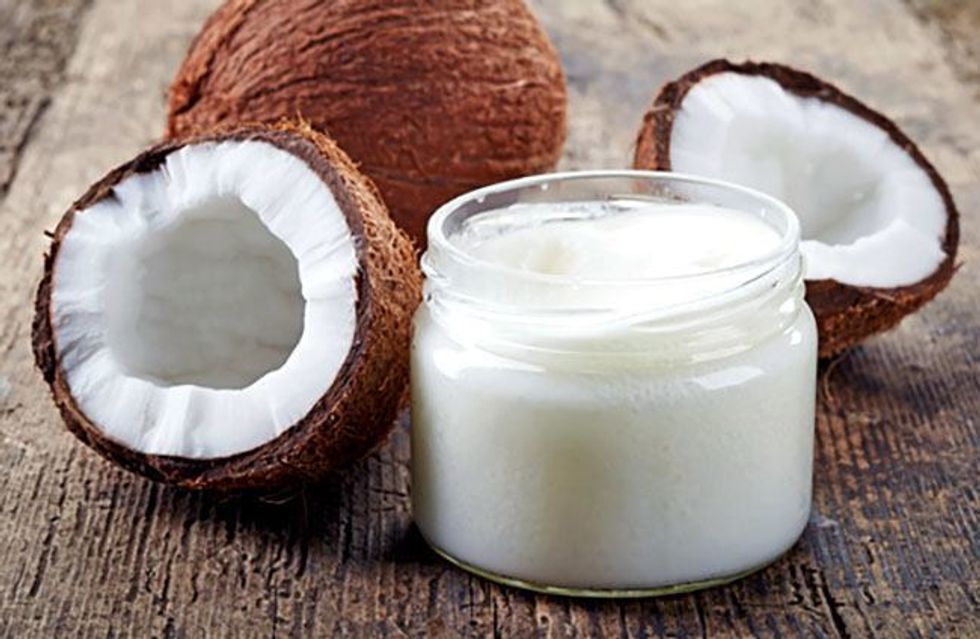 Coconut oil is a better option than the fats you'll usually find lurking in processed food. Photo credit: Shutterstock
The researchers found that, compared to mice fed a high-fat diet based on coconut oil, mice fed a high-fat diet based on soybean oil gained more weight, had larger fat deposits and had increased instances of fatty liver with signs of injury, diabetes and insulin resistance. In fact, the mice on the soybean oil diet gained 25 percent more weight than the mice on the coconut oil diet did.
Previous research found similar negative health responses with corn oil.
This stands against a lot of the research that condemns saturated fats (like coconut oil) and hails polyunsaturated fats (like vegetable or soybean oils). In the 1960s, research that correlated saturated fat consumption with heart disease led to dietary guidelines that led to major increases in soybean oil consumption and now 60 percent of the edible oil consumed in the U.S. is soybean oil. However, the researchers point out that saturated fats from animal product have longer chain length than coconut oil, which could explain why we see the same cardiovascular disease with coconut oil as we do with fatty meats and cheeses.
"Since the 1950s, global production of this 'king bean' has skyrocketed, increasing 15 times over," says Jayson Calton, PhD, one of the authors of The Mirconturient Miracle. "Soybean oil, often listed as vegetable oil on labels, makes up 27 percent of the worldwide oil production, making it one of the most common forms of oil at the dinner table."
"There seems to be a ton of oils, margarines, and shortenings claiming to be healthy alternatives to saturated fats, such as butter, ghee, lard, tallow, duck fat, cream, palm oil and coconut oil," adds Mira Calton, CN, the other author of The Mirconturient Miracle. "Well, we are here to tell you that with the exception of the sparing use of organic extra-virgin olive oil, avocado oil, macadamia nut oil, flaxseed oil and chia oil, none of them are included in the Micronutrient Miracle plan."
One aspect that the researchers didn't evaluate was the fact that most soybean oil comes from GMO soy.
"According to 2014 U.S. Department of Agriculture (USDA) statistics, 94 percent of the U.S. soy produced is genetically modified" adds Jayson. "We don't just avoid  crops because of the lack of long-term safety data. We also dodge them because they are mineral deficient due to being sprayed with dangerous glyphosate, aka Roundup."
YOU MIGHT ALSO LIKE
8 Superfoods You Don't Even Know About
12 High-Carb Foods That Are Incredibly Healthy for You
EcoWatch Daily Newsletter
Get ready for double the cuteness! Red pandas, the crimson-colored, bushy-tailed forest dwellers who gave Firefox its name, actually consist of two different species.
A view of a washed out road near Utuado, Puerto Rico, after a Coast Guard Air Station Borinquen MH-65 Dolphin helicopter crew dropped relief supplies to residents Tuesday, Oct. 3, 2017. The locals were stranded after Hurricane Maria by washed out roads and mudslides. U.S. Coast Guard photo by Petty Officer 3rd Class Eric D. Woodall /
CC BY-NC-ND 2.0
By Coral Natalie Negrón Almodóvar
The Earth began to shake as Tamar Hernández drove to visit her mother in Yauco, Puerto Rico, on Dec. 28, 2019. She did not feel that first tremor — she felt only the ensuing aftershocks — but she worried because her mother had an ankle injury and could not walk. Then Hernández thought, "What if something worse is coming our way?"
Flooded battery park tunnel is seen after Hurricane Sandy in 2012.
CC BY 2.0
President Trump has long touted the efficacy of walls, funneling billions of Defense Department dollars to build a wall on the southern border. However, when the U.S. Army Corps of Engineers (USACE) released a study that included plans for a sea wall to protect New Yorkers from sea-level rise and catastrophic storms like Hurricane Sandy, Trump mocked it as ineffective and unsightly.
A general view of fire damaged country in the The Greater Blue Mountains World Heritage Area near the town of Blackheath on Feb. 21, 2020 in Blackheath, Australia. Brook Mitchell / Getty Images
In a post-mortem of the Australian bushfires, which raged for five months, scientists have concluded that their intensity and duration far surpassed what climate models had predicted, according to a study published yesterday in Nature Climate Change.