This website uses cookies to ensure you get the best experience while browsing it. By clicking 'Got It' you're accepting these terms.
Why Coconut Oil Is King
Aug. 09, 2015 10:16AM EST
Food
Every time we cover research indicating that fat hurts your body, the immediate response is, "What about coconut oil?" Now, we have a great answer for you: Yes, it is a better option than the fats you'll usually find lurking in processed food, according to University of California, Riverside researchers.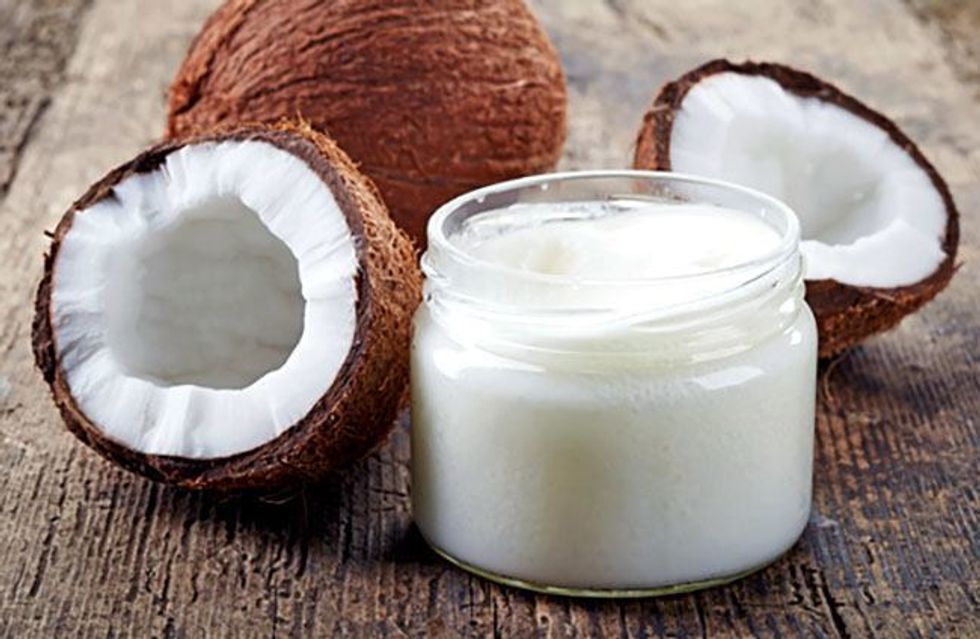 Coconut oil is a better option than the fats you'll usually find lurking in processed food. Photo credit: Shutterstock
The researchers found that, compared to mice fed a high-fat diet based on coconut oil, mice fed a high-fat diet based on soybean oil gained more weight, had larger fat deposits and had increased instances of fatty liver with signs of injury, diabetes and insulin resistance. In fact, the mice on the soybean oil diet gained 25 percent more weight than the mice on the coconut oil diet did.
Previous research found similar negative health responses with corn oil.
This stands against a lot of the research that condemns saturated fats (like coconut oil) and hails polyunsaturated fats (like vegetable or soybean oils). In the 1960s, research that correlated saturated fat consumption with heart disease led to dietary guidelines that led to major increases in soybean oil consumption and now 60 percent of the edible oil consumed in the U.S. is soybean oil. However, the researchers point out that saturated fats from animal product have longer chain length than coconut oil, which could explain why we see the same cardiovascular disease with coconut oil as we do with fatty meats and cheeses.
"Since the 1950s, global production of this 'king bean' has skyrocketed, increasing 15 times over," says Jayson Calton, PhD, one of the authors of The Mirconturient Miracle. "Soybean oil, often listed as vegetable oil on labels, makes up 27 percent of the worldwide oil production, making it one of the most common forms of oil at the dinner table."
"There seems to be a ton of oils, margarines, and shortenings claiming to be healthy alternatives to saturated fats, such as butter, ghee, lard, tallow, duck fat, cream, palm oil and coconut oil," adds Mira Calton, CN, the other author of The Mirconturient Miracle. "Well, we are here to tell you that with the exception of the sparing use of organic extra-virgin olive oil, avocado oil, macadamia nut oil, flaxseed oil and chia oil, none of them are included in the Micronutrient Miracle plan."
One aspect that the researchers didn't evaluate was the fact that most soybean oil comes from GMO soy.
"According to 2014 U.S. Department of Agriculture (USDA) statistics, 94 percent of the U.S. soy produced is genetically modified" adds Jayson. "We don't just avoid  crops because of the lack of long-term safety data. We also dodge them because they are mineral deficient due to being sprayed with dangerous glyphosate, aka Roundup."
YOU MIGHT ALSO LIKE
8 Superfoods You Don't Even Know About
12 High-Carb Foods That Are Incredibly Healthy for You
EcoWatch Daily Newsletter
A harbour seal on an ice floe in Glacier Bay, Alaska. A new study shows that the climate crisis has warmed waters, changing ecosystems and crippling sea ice growth. Janette Hill / robertharding / Getty Images Plus
Doctors report that only 1 in 4 children are getting the recommended 60 minutes of physical activity per day. Ronnie Kaufman / DigitalVision / Getty Images
By Dan Gray
Pediatricians are being urged to start writing "exercise prescriptions" for the children they see in their office.
A First Nations protester walks in front of a train blockade in Tyendinaga, near Belleville, Ontario, Canada on Feb. 21, 2020. LARS HAGBERG / AFP via Getty Images
An indigenous rail blockade that snarled train travel in Canada for more than two weeks came to an end Monday when police moved in to clear protesters acting in solidarity with another indigenous community in British Columbia (B.C.), which is fighting to keep a natural gas pipeline off its land.
A rainbow snake, a rare reptile spotted in a Florida county for the first time in more than 50 years, seen here on July 5, 2013.
Kevin Enge / FWC Fish and Wildlife Research Institute / Flickr
A Florida hiker recently stumbled across a slithering surprise — a rare snake that hadn't been spotted in the area for more than 50 years.
We need our government to do everything it can to stop PFAS contamination and exposure from wreaking havoc in communities across the country. LuAnn Hun /
Unsplash
By Genna Reed
The EPA announced last week that it is issuing a preliminary regulatory determination for public comment to set an enforceable drinking water standard to two of the most common and well-studied PFAS, PFOA and PFOS.
This decision is based on three criteria:
PFOA and PFOS have an adverse effect on public health
PFOA and PFOS occur in drinking water often enough and at levels of public health concern;
regulation of PFOA and PFOS is a meaningful opportunity for reducing the health risk to those served by public water systems.