This website uses cookies to ensure you get the best experience while browsing it. By clicking 'Got It' you're accepting these terms.


The best of EcoWatch, right in your inbox. Sign up for our email newsletter!
A female Aedes aegypti mosquito resting after a blood meal.
USDA-ARS
You can love it or hate it, but coconut oil certainly has many uses. Now, federal researchers have added one more function of the tropical favorite to the list.
Turns out, coconut oil fatty acids have strong repellency and long-lasting effectiveness against bloodsuckers and disease-carriers such as mosquitoes, ticks, biting flies and bed bugs, according to a new U.S. Department of Agriculture (USDA) study published in Scientific Reports.
Pexels
Is coconut oil healthy for you or not? A Harvard professor has joined the debate, calling it "pure poison" in a lecture that has gone viral.
The sweet-smelling tropical staple has gotten a lot of attention in recent years as a "superfood." Enthusiasts love its bounty of potential health benefits from fighting diabetes, to losing weight and even treating Alzheimer's disease. Folks following the high-fat, low-carb ketogenic diet like plunking the oil into coffee or blending it into smoothies.
EcoWatch Daily Newsletter
By Rosemary Stanton, Nutritionist & Visiting Fellow, UNSW
Coconuts have been a valued food in tropical areas for thousands of years, traditionally enjoyed as coconut water from the centre of the coconut, coconut flesh or coconut "milk" (made by steeping the flesh in hot water).

Solid white coconut oil (I'll use this popular term, although technically it's a fat not an oil) is now the darling of celebrities and bloggers, paleo enthusiasts and sellers of so-called superfoods. Claims for its supposed medical value reverberate around the internet, but how well do they stand up to scientific scrutiny?
Shutterstock
Did you know that 50 percent of media headlines about medical studies are dead wrong? And that many of these headlines don't accurately match the conclusions of the studies they cover? That's from a review published in the New England Journal of Medicine.
It makes me sad and furious at the same time that journalists don't do their homework and create firestorms of confusion because of their negligent work.
Is coconut oil:
good for you
bad for you
neither good nor bad
scientists don't know
The subject of this question is the source of a disagreement. Initially, the question was thought to be settled decades ago, when scientist Ancel Keys declared all saturated fats unhealthy. Coconut oil, which is solid at room temperature, is a saturated fat.
Shutterstock
By Jacky Miller
Coconut oil is the extracted oil from coconut, the fruit of the coconut tree that's well-known for growing in tropical areas. It's also an outrageously popular topic among social media and health outlets in recent years.
Typically coconut oil is refined, bleached and deodorized using high heat. The bleach filters the oil to eliminate any impurities and sodium hydroxide is used as a preservative and to get rid of excess fatty acids. Coconut oil typically has a long shelf life because its high saturated fat content prevents oxidation.
Coconut oil is the topic of hot debate, typically known for being fairly high in saturated fats. This can put it off-limits for some people trying to consume a low-fat diet plan. However, the benefits of coconut oil span much further than the detrimental effects of its saturated fat content and not just in the digestive tract. It can be used in lots of different ways.
In addition to being consumed as part of the diet, coconut oil can also be applied for health benefits in a lot of different ways. It can be used topically, as a lotion, melted and inhaled as a vapor solution or used as shampoo.
Coconut oil is made by compressing the fats out of the white part of coconut flesh. Its reputation for being high in saturated fat is not unjustified—around 84 percent of the calories in coconut oil are from saturated fat. This is incredibly high when compared to another organic oil like olive oil, which only contains 14 percent saturated fat. Even butter contains just more than 60 percent saturated fat.
How Can a Food High in Saturated Fat Be Healthy?
Coconut oil has been studied for its effects on preventing Alzheimer's, heart disease, cholesterol buildup and blood pressure. It's been studied for its ability to prevent kidney disease and inflammation and for its defensive capabilities at fighting the development of cancer. How can one food—a food high in saturated fat, no less—be responsible for so many amazing health benefits?
First, coconut oil's saturated fats are mostly composed of medium-chain fatty acids. The most dangerous fatty acids are long-chain fatty acids. Certain types of long-chain fatty acids are known for contributing to heart disease, though some can be neutral. Most people consume far too many of the unhealthy long-chain fats and this is largely what leads to heart disease.
There are three main long-chain fatty acids: Myristic acid (coconut oil contains between 16 and 21 percent), palmitic acid and stearic acid. Myristic and palmitic acid have been shown to increase LDL cholesterol. LDL cholesterol is short for low-density lipoprotein cholesterol. LDL cholesterol is highly reactive and can oxidize easily, leading to heart disease, strokes and an increased chance of cancer.
Myristic acid was more potent in this regard and has a higher chance of increasing LDL cholesterol. Myristic acid is also rarely found in natural foods and is more likely to be obtained in junk food.
Stearic acid has been shown to actually help balance cholesterol levels and is the healthiest of the three long-chain fatty acids.
In comparison, coconut oil's primary fat constituents are medium-chain fatty acids, including lauric acid (45 to 52 percent), caprylic acid (5 to 10 percent) and capric acid (4 to 8 percent).
The most common medium-chain fat in coconut oil is lauric acid, making up almost 75 percent of coconut oil's fait content. Medium chain fatty acids are connected with a higher rate of weight loss; in fact, subjects in a study who replaced olive oil with coconut oil or palm oil were shown to lose weight at a much quicker rate. These medium-chain fatty acids have also been studied for their efficacy at treating Alzheimer's and helping the body absorb nutrients more efficiently.
The rest of coconut oil's fat composition is made up of a mixture of caproic acid, oleic acid, palmitoleic acid and linoleic acid. Most of these are short-chain fatty acids.
How Does Coconut Oil Improve My Diet?
Residents of the South Pacific, who get up to 60 percent of their total calories—not just their total fat—from the highly saturated fat that is coconut oil, are shown to have virtually non-existent rates of heart disease.
The particular types of saturated fats in coconut oil are proven to not only not damage your cardiovascular system but are proven to improve it. Regular intake of coconut oil can improve heart health, help you lose weight, boost your metabolism, give you short and long-lasting energy. Most of these benefits are due to lauric acid, one of the medium-chain fatty acids in coconut oil. Lauric acid is the fat that composes the most significant percentage of coconut oil's profile.
The body converts lauric acid into a new substance, known as monolaurin. This particular compound is an antiviral, anti-bacterial and immune-boosting substance. Being a fat itself, it can also attack lipid-coated bacteria and pathogens such as herpes and HIV, the flu (caused by the influenza virus), measles and lipid-based protozoa and bacteria.
Lauric acid is extremely effective at battling viruses and bacteria and coconut oil has more of it, gram for gram, than any other substance.
Health Benefits of Coconut Oil
Coconut oil's benefits can be experienced by using coconut oil as a topical lotion, a food additive or even a vapor rub. Here are the top health benefits and the best ways to receive them.
1. Coconut Oil Helps Fight Diabetes
The human body typically makes use of medium-chain fatty acids, like the ones in coconut oil, by sending them to your liver for energy production. Since coconut oil is extremely high in medium-chain fat content, it's a great source of energy.
The energy coconut oil provides is instant due to the quick metabolization of fats, which is usually only provided by carbohydrates. The most important difference between the fats in coconut oil and carbs? Coconut oil doesn't cause a blood sugar spike or tax your body of insulin. You get all the energy from a burst of carbohydrates, but don't have to deal with the dangerous after-effects that come alongside excessive carbohydrate or sugar consumption.
Diabetes is caused, among other things, by the body developing insulin sensitivity. This comes by frequent and repeated blood sugar spikes. Insulin is the body's hormone that regulates the production of glucose (sugar) and the conversion of carbohydrates into sugar and energy. With a high carbohydrate diet comes an excessive release of insulin and with that, the body develops a sensitivity. People develop insulin sensitivity when they become dependent on large doses of carbohydrates for energy.
A quick-acting, long-lasting energy source that doesn't cause a blood sugar spike is extremely useful for diabetics and health-conscious individuals who want to avoid diabetes. Coconut oil has been shown to minimize weight gain in people with diabetes and pre-diabetics. This is very helpful at preventing diabetes from reaching type-2 stage.
2. Coconut Oil is a Great Fighter Against Cardiovascular Disease
Diabetes isn't the only blood-related illness that coconut oil fights. It has been shown in multiple clinical trials to combat a number of cardiovascular diseases, to limit heart attacks and strokes and help manage cholesterol.
Managing cholesterol is, alone, a huge improvement towards preventing heart disease. Coconut oil has a few other tricks up its sleeve though.
The nutritional profile of coconut oil helps the body form fewer blood clots, lowers the risk of developing free radicals and keeps higher reserves of antioxidants in cells. Free radicals are "rogue" atoms that are missing an electron in their outermost shell. These electrons compensate by stealing an electron from a neighboring atom and when uncontrolled, create a chain reaction of electron-theft. Each stolen electron creates an unstable atom which can spread and lead to cancer.
Many heart diseases are caused by atherosclerosis, the hardening of the arteries. This is caused by excess of plaque in the arteries, which can be caused by a variety of things: toxins, viral or bacterial infections, free radicals.
Much like blood will clot to heal wounds on the outer layer of skin, it sends platelets to heal wounds affecting the cardiovascular system itself. Platelets are proteins that stick together and stick to damaged tissue. They act similar to a bandaid for the cardiac system. The combination of platelets, minerals, cholesterol and scarred tissue build up in the body and can eventually harden, leading to potentially deadly disease.
Having effective systems to produce enough platelets is important. If your body cannot properly bandage an internal injury, your veins will produce too much scar tissue.
3. Coconut Oil is Great at Lowering Cholesterol
In one study on coconut oil's effect on cholesterol, 40 subjects were given either two tablespoons of coconut oil or two tablespoons of soybean oil daily for 12 weeks. The group taking soybean oil saw an increase in LDL cholesterol (not the kind you want) and a decrease in HDL cholesterol, whereas the coconut oil group saw only an increase in HDL.
HDL cholesterol can help the body wipe out LDL cholesterol. Since HDL (high density lipoprotein) cholesterol, as its name indicates, is dense, it can sweep LDL cholesterol off the walls of veins and arteries. This prevents excess cholesterol from building up, which is one of the biggest causes of cardiovascular disease.
By Helen West
Coconut oil is an extremely versatile health and beauty product.
People use it for all sorts of things, from cooking and cleaning to moisturizing their skin and removing their makeup.
Others often use coconut oil to help improve the health and condition of their hair.
This article explores the pros and cons of using coconut oil on your hair.
Daily Grooming Practices Can Damage Your Hair
Daily grooming practices like washing, brushing and styling can cause damage to your hair and leave it looking frizzy, broken and dry.
To understand why this happens, you need to know more about your hair's structure. Your hair is made up of three layers:
The medulla: This is the soft, central part of the hair shaft. Interestingly, thick hair contains large amounts of medulla, while fine hair has almost none.
The cortex: This is the thickest layer of your hair. It contains lots of fibrous proteins and the pigment that gives your hair its color.
The cuticle: The cuticle is the tough, protective outer layer of your hair.
Washing, styling and coloring your hair can damage the cuticle, rendering it unable to protect the central parts of the hair shaft.
This causes you to lose some of the fibrous proteins that make up your hair's cortex, making your hair thin, fragile and prone to breakage (1, 2, 3).
Bottom Line: Washing, brushing, coloring and styling your hair can damage its structure, leaving it more prone to breakage.

Why Coconut Oil Is Better at Protecting Your Hair Than Other Oils
Coconut oil is often said to be the best oil to use on your hair to reduce protein loss and keep it looking healthy.
Given the current popularity of coconut oil, this would be easy to dismiss as a trend.
However, there is some evidence behind this claim.
One study examined the effects of applying coconut, sunflower or mineral oil to hair before or after washing (4).
To see which oil was best for protecting hair health, the researchers measured the amount of protein the hair lost after each of these treatments.
They found that coconut oil was better at preventing protein loss than both the mineral and sunflower oils when applied either before or after the hair was washed.
In fact, coconut oil came out on top in all of their studies and reduced protein loss in hair that was undamaged, bleached, chemically treated and UV exposed.
On the other hand, both the mineral and sunflower oils did not have this effect and weren't found to be effective at reducing protein loss from hair.
It's thought that coconut oil's chemical structure is behind its superior ability to protect hair (5).
Coconut oil is predominantly made up of a medium-chain fatty acid called lauric acid. This gives coconut oil a long, straight structure, which is more easily absorbed deep into the hair shaft.
Sunflower oil contains mostly linoleic acid, which has a much bulkier structure, so it's not as easily absorbed into the hair.
This means that oils like mineral oil and sunflower oil can coat the hair, but they aren't absorbed as well into the hair shaft (6).
Bottom Line: When applied to hair before washing, coconut oil has been shown to reduce protein loss more than sunflower and mineral oils.

Rubbing Oil on Your Hair Before or After Washing Helps Prevent Damage
There are a few ways you can apply oil to your hair to help protect it from damage.
First, applying oil to your hair before it's washed can help reduce the amount of damage it sustains during washing and while it's wet.
Interestingly, hair is most vulnerable to damage when it's wet. This is because of subtle, structural changes that occur when it absorbs water.
When you wet your hair, the thick, central cortex soaks up the water and swells, causing a structural change in the cuticle.
The hair cuticle is actually made up of flat, overlapping scales that are attached towards the root end of your hair and point towards the tip.
When the cortex of your hair absorbs water and swells up, these scales are pushed outward so they stick up. This makes wet hair much easier to damage, especially when brushing or styling.
Applying oil to your hair before you wash it can reduce the amount of water absorbed by the hair shaft and the degree to which the cuticle scales "stick up." This makes it less prone to damage while it's wet.
Second, coating your hair in oil after you wash it helps make it softer and smoother. This reduces the amount of friction caused by styling, making your hair less likely to snag and break (5).
Bottom Line: Your hair is most vulnerable to damage when it's wet. Applying oil to your hair both before and after you wash it helps protect it from damage.

Coconut Oil Could Help You Grow Your Hair Longer
Lots of people want to grow long, sleek and shiny hair.
However, day-to-day wear and tear on your hair caused by styling, grooming, the weather and pollutants can damage it.
This can make growing longer hair difficult, as your hair can become more worn and tired the longer it gets.
Coconut oil could help you grow your hair longer by:
Moisturizing your hair and reducing breakage
Protecting your hair from protein loss and damage when wet
Protecting your hair from environmental damage like wind, sun and smoke
To get the most out of coconut oil, you'll probably need to make it a regular part of your beauty regimen.
Bottom Line: Coconut oil reduces damage to your hair caused by day-to-day wear and tear. Using coconut oil in your hair care routine could help you grow longer, healthier hair.

Other Benefits of Coconut Oil for Hair
Coconut oil may also have other benefits for your hair. However, many of them haven't been examined in properly controlled studies.
Possible benefits include:
Lice prevention: One small study found that when combined with anise in a spray, coconut oil was 40 percent more effective at treating head lice than the chemical permethrin (7).
Hair loss prevention: Excessive grooming can damage the hair shaft, which in extreme circumstances can cause hair loss. Coconut oil can help keep your hair in good condition and prevent this.
It's also claimed that consuming coconut oil can be beneficial for hair health due to the nutrients it provides. However, there is little evidence that this is the case (13).
Bottom Line: Coconut oil could help get rid of lice, protect your hair from the sun and reduce dandruff, but more studies are needed.

Does Coconut Oil Have Any Negative Effects on Hair?
Coconut oil is generally considered safe to apply to your skin and hair (14).
However, using too much could cause a buildup of oil on your hair and scalp.
This could make your hair greasy and dull, especially if you have very fine hair.
To avoid this, make sure you start with only a small amount and begin by rubbing the coconut oil through your hair, from the midsection to the ends. People with very fine hair may want to avoid putting coconut oil on their scalp altogether.
Furthermore, while it's normal to lose about 50–100 hairs a day, many people also report losing lots of hair when they use coconut oil.
But coconut oil is not usually the culprit. Simply applying the oil allows hair that has already detached from your scalp to fall away.
Bottom Line: Using too much coconut oil can make your hair greasy. It usually doesn't cause hair loss, but it can cause previously detached hair to fall away from your scalp more easily.

How to Use Coconut Oil for Beautiful Hair
Here are a few ways to use coconut oil to help improve the health of your hair.
As a conditioner: Shampoo your hair as normal and then comb coconut oil through your hair, from the midsection to the ends.
As a hair mask: Rub coconut oil through your hair and let it sit for a few hours (or even overnight) before washing it out.
As a pre-wash hair protector: Rub coconut oil through your hair before you wash it.
As a scalp treatment: Before bed, massage a small amount of coconut oil into your scalp. Leave it overnight and wash it off with shampoo in the morning.
These techniques can be used regularly or once in a while (depending on your hair type) to give you beautiful, healthy and shiny hair.
The amount of coconut oil you'll need will depend on your hair length and type. Most people use just enough to cover the midsection to the ends of their hair to avoid their hair getting greasy.
The best approach is to start with the smallest amount you think you will need and gradually increase from there.
If you have short or very fine hair, you may need as little as one teaspoon. However, people with long, thick hair may want to use as much as two tablespoons.
There are also many different types of coconut oil to choose from. Some people prefer to choose a virgin (unrefined) coconut oil, as they also use it in their diet.
However, there aren't any specific studies on whether one type of coconut oil is better for your hair than another. Additionally, both unrefined and refined coconut oil have the same moisturizing properties.
Bottom Line: Coconut oil can be used as a conditioner, hair mask or scalp treatment to give you shiny, healthy hair.
Take Home Message
Coconut oil is an excellent moisturizing product for your hair.
It can be used both before and after you wash your hair to help prevent damage and keep your hair looking shiny and healthy.
Reposted with permission from our media associate Authority Nutrition.
By Brianna Elliott
Coconut oil has become quite trendy in recent years.
Studies show that it has several impressive health benefits for humans.
Many people also give coconut oil to their dogs or apply it to their dogs' fur.Pexels
Interestingly, many people also give coconut oil to their dogs or apply it to their dogs' fur.

While most studies on coconut oil have been conducted on humans, their results may be applicable to dogs as well.
This article explores the benefits and risks of using coconut oil on dogs.
Coconut Oil May Help Your Dog's Skin Issues
Using coconut oil to treat skin conditions is a common practice with well-known benefits. The positive effects are likely due to its antibacterial and anti-inflammatory properties.
One study found that coconut oil effectively hydrates the skin of people with xerosis, a condition characterized by dry and itchy skin (1).
This study was conducted on humans—not dogs. However, many dog owners and veterinarians claim that coconut oil can help treat dry skin and eczema in dogs when applied topically.
Bottom Line: Coconut oil may help treat skin conditions in humans and some people claim that it also helpful for the skin of dogs.
It Can Improve the Appearance of Your Dog's Fur
Coconut oil may improve the appearance of your dog's fur.
When applied to the skin, it can make hair shinier and less prone to damage.
This is because lauric acid, the main fatty acid in coconut oil, has a unique chemical makeup that allows it to easily penetrate hair shafts (2).
Other types of fat don't have this same ability, so using coconut oil may help keep your dog's coat healthy and beautiful.
Bottom Line: The lauric acid in coconut oil has been shown to keep hair healthier than other fatty acids. It can be used to improve the health and appearance of your dog's fur.
It May Help Fight off Pests
The antimicrobial effects of coconut oil may prevent dogs from being infected by ectoparasites, such as ticks, fleas and mange mites.
It has also been shown to help eliminate these pests in dogs that have already been infected.
These effects were confirmed by two studies in which dogs were treated with a shampoo made with coconut oil (3, 4).
In one of these studies, coconut oil also appeared to facilitate wound healing in dogs with ectoparasite bites. This is likely associated with coconut oil's ability to inhibit bacterial growth (4).
Moreover, coconut oil has also been shown to kill bacteria, viruses and fungi in lab studies (5, 6, 7).
Bottom Line: Coconut oil may be beneficial for preventing pest infections and treating bites.
Risks Associated With Using Coconut Oil on Dogs
Although adverse effects are rare, there are a few things to consider before using coconut oil on your dog.
There is always the risk of an allergic reaction when introducing something new to your dog's diet or grooming regimen. If a reaction occurs, stop using it.
Also, some studies have shown that coconut oil can cause high cholesterol in dogs. In extreme cases, this can cause fatty plaques to develop in the arteries (8, 9).
Furthermore, due to its high calorie content, using coconut oil in excess may lead to weight gain.
Lastly, one study concluded that a diet high in saturated fat reduces dogs' scent-detecting abilities. More research is needed to better understand this finding, but you may want to take caution with coconut oil if you have a working dog (10).
Bottom Line: Coconut oil may cause high cholesterol, hardening of the arteries and weight gain in some dogs. If your dog is prone to any of these conditions, talk with a veterinarian before use.
How to Use Coconut Oil on Dogs
Coconut oil is generally safe for dogs to eat or have applied to their skin or fur.
When it comes to selecting a brand, virgin coconut oil is best, as most of coconut oil's benefits have been observed with this type.
According to PetMD, coconut oil can generally be given to dogs 1–2 times a day with meals.
The amount you give your dog will depend on its size. If your dog is overweight or obese, do not give it coconut oil more than once a day.
Veterinarians stress the importance of starting slowly with coconut oil. This will allow you to monitor how your dog reacts to it.
Start by giving 1/4 teaspoon daily to small dogs or 1 tablespoon daily to big dogs and gradually increase the amount. If your dog tolerates it well after two weeks, increase the dose to 1 teaspoon per 10 pounds (4.5 kg) of body weight.
Due to a lack of research, these recommendations are not established. It's often a matter of trial and error, and your dog may need more or less for benefits to occur.
Do not feed your dog coconut oil alone. Instead, mix it in with your dog's regular food. This will keep its diet varied and nutrient dense.
All dogs being fed coconut oil should be monitored for weight gain, diarrhea and other symptoms that may signify intolerance.
If you're applying the coconut oil topically, rub a small amount onto your hands and then gently pat its coat, running your fingers through the fur and massaging a little into its skin.
Bottom Line: Coconut oil can be fed to dogs or applied to their skin. Start slowly and increase the amount you give your dog gradually.
Takeaway
Research on using coconut oil for pets is lacking. The benefits are mainly anecdotal, as well as based on findings in humans, rodents and test-tube studies.
Despite the lack of research, giving it to your dog in proper doses is relatively safe.
Ultimately, it's a personal choice. Using coconut oil on your dog has a few potential benefits and might be worth trying.
The risks are unlikely but worth keeping in mind. It's important to monitor your dog's health after adding anything to its regimen, including coconut oil.
Seek advice from a veterinarian if you have further questions or concerns about giving your dog coconut oil.
Reposted with permission from our media associate Authority Nutrition.

A perfect example of a healthy food that has been demonized by mainstream nutrition professionals is coconut oil.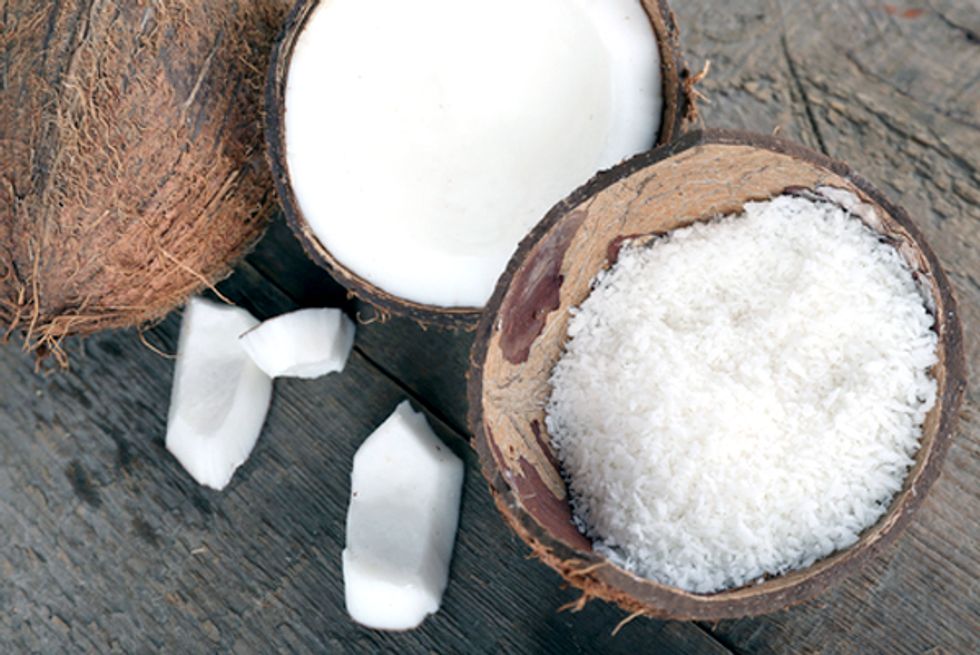 Photo credit: Shutterstock
It has mainly gotten a bad rap because it is very high in saturated fat.
But as we know, saturated fat is not so bad and what we're left with is a perfectly healthy cooking oil.
Coconut Oil Got a Bad Rap in The Past
Coconut oil is one of the richest sources of saturated fat you can find, with around 90 percent of calories as saturated fat.
Saturated fat was unfairly demonized a few decades ago by a few biased but highly influential scientists. However, new studies show that there is no association between saturated fat and heart disease.
The initial studies on coconut oil that supposedly demonstrated that it was unhealthy used refined and hydrogenated coconut oil that contained trans fats.
These studies have no relevance to the unrefined, organic, virgin coconut oil that is commonly found in health food stores today… which is the subject of this article.
Populations That Eat a lot of Coconut Are Healthy
If coconut fat were bad for you, then we should see some very sick people in populations that eat a lot of it.
But we don't. Populations who eat a large percentage of calories from coconuts are much healthier than Western nations.
The Tokelauans ate more than 50 percent of calories as coconut and were the biggest consumers of saturated fat in the world [in addition to the country's commitment to renewable energy]. The Kitavans ate up to 17 percent of calories as saturated fat, mostly from coconut.
Both of these populations had no traces of cardiovascular disease despite the high saturated fat consumption and were overall in exceptional health.
Bottom Line: Populations that eat a lot of coconut are in excellent health.
Coconut Oil Has a Unique Composition of Fatty Acids
Coconut oil is very different from most other cooking oils and contains a unique composition of fatty acids.
The fatty acids are about 90 percent saturated.
This makes coconut oil highly resistant to oxidation at high heats. For this reason, it is the perfect oil for high-heat cooking methods like frying.
Additionally, coconut oil consists almost entirely of Medium Chain Triglycerides.
These fatty acids go straight from the digestive tract to the liver, where they are likely to be turned into ketone bodies and provide a quick source of energy.
Epileptic patients on ketogenic diets often use these fats to induce ketosis while allowing for a little bit of carbs in the diet.
Bottom Line: Coconut oil is rich in saturated medium chain fatty acids. They are resistant to high heat and can easily turn into ketone bodies in the liver.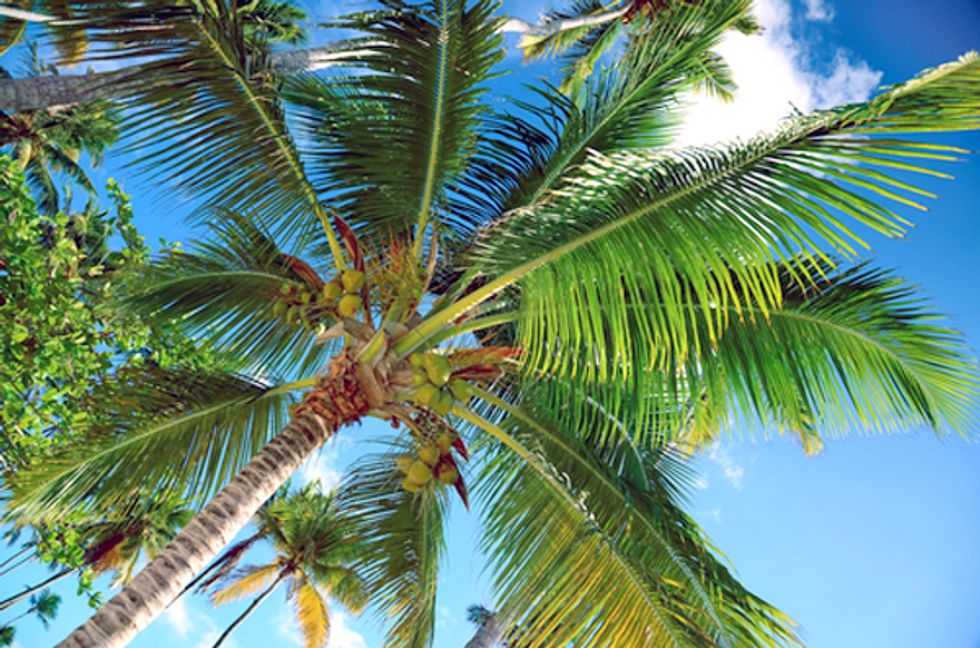 Photo credit: Shutterstock
Coconut Oil is Rich in Lauric Acid
The most abundant fatty acid in coconut oil is the 12-carbon Lauric Acid, which is broken down into a compound called monolaurin in the body.
Lauric acid and monolaurin are both very interesting due to the fact that they can kill microbes like bacteria, fungi and viruses.
For this reason, coconut oil can be protective against various infections.
Bottom Line: The main fatty acid in coconut is an efficient killer of pathogens.
Coconut Oil, Blood Lipids and Cardiovascular Disease
Unrefined coconut oil actually improves blood lipid profiles.
In two separate rat studies, virgin coconut oil was compared against copra oil (refined coconut oil) and corn oil.
The virgin coconut oil significantly reduced Total and LDL cholesterol, oxidized LDL, triglycerides and increased HDL (the good) cholesterol.
It also had favorable effects on blood coagulation factors and antioxidant status.
In a study of women with abdominal obesity, coconut oil increased HDL and lowered the LDL:HDL ratio, while soybean oil increased Total and LDL cholesterol and decreased HDL.
Medium chain triglycerides (the fats in coconut oil) have also been shown to reduce blood triglycerides compared to long chain fats.
Coconut oil may be protective against heart disease, not the other way around.
Bottom Line: Coconut oil improves blood lipids in both animals and humans.
Coconut Oil Can Help You Lose Weight
There is considerable evidence that coconut oil can help you lose weight.
In a study of 40 women with abdominal obesity, coconut oil reduced waist circumference compared to soybean oil while also improving health markers (see above).
Medium chain triglycerides have also been consistently shown to promote weight loss in both animal and human studies:
They lead to a greater proportion of the weight lost come from fat, indicating that they may be muscle sparing.
Substituting other calorie sources for coconut oil is likely to help you lose weight.
Bottom Line: The fatty acids in coconut oil can increase energy expenditure, improve satiety and help you lose weight.
Coconut Oil Has Other Amazing Health Benefits
Like I mentioned above, coconut oil is likely to turn into ketone bodies in the liver.
Ketone bodies can provide energy for the brain. They are particularly useful against epilepsy and may also improve various other disorders.
Coconut oil applied topically can also moisturize skin and protect against hair damage.
To top it all off, coconut oil goes with almost any food and tastes awesome.