This website uses cookies to ensure you get the best experience while browsing it. By clicking 'Got It' you're accepting these terms.
USDA to Allow Chickens From U.S. to Be Shipped to China for Processing and Back to U.S. for Consumption, Just Like Seafood
Mar. 05, 2014 09:03AM EST
Food
[Editor's note: For the latest on this issue, click here.]
Scores of Americans are in an uproar since Food Safety News revealed the U.S. Department of Agriculture (USDA) will soon allow U.S. chickens to be sent to China for processing before being shipped back to the states for human consumption.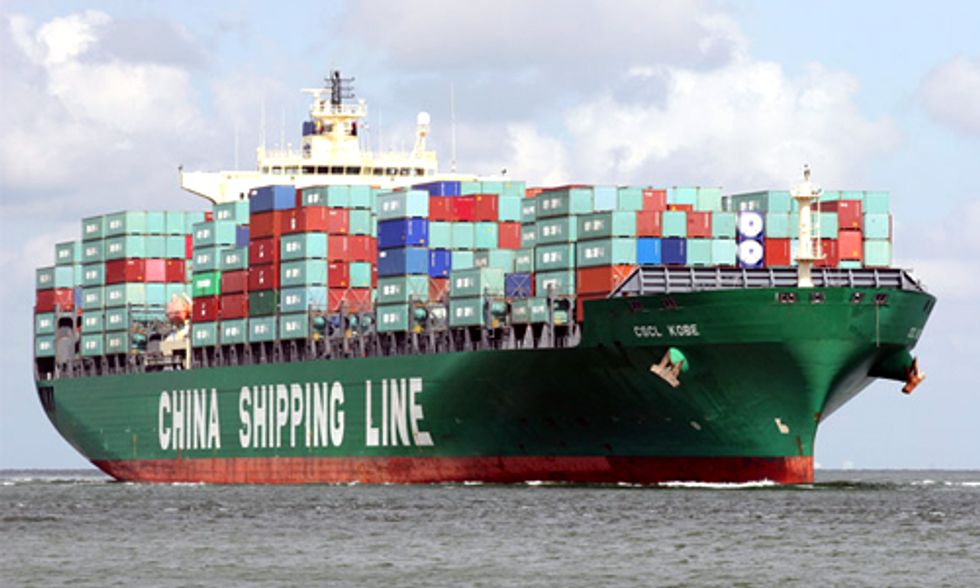 This arrangement is especially disturbing given China's subpar food safety record and the fact that there are no plans to station on-site USDA inspectors at Chinese plants. Also, American consumers won't know which brands of chicken are processed in China because there's no requirement to label it as such.
To ease concerns, lobbyists and chicken industry proponents argue no U.S. company will ever ship chicken to China for processing because it wouldn't work economically.
"Economically, it doesn't make much sense," said Tom Super, spokesman for the National Chicken Council, in a recent interview with the Houston Chronicle. "Think about it: A Chinese company would have to purchase frozen chicken in the U.S., pay to ship it 7,000 miles, unload it, transport it to a processing plant, unpack it, cut it up, process/cook it, freeze it, repack it, transport it back to a port, then ship it another 7,000 miles. I don't know how anyone could make a profit doing that."
Yet, a similar process is already being used for U.S. seafood.
According to the Seattle Times, domestically caught Pacific salmon and Dungeness crab are being processed in China and shipped back to the U.S. because of significant cost savings.
"There are 36 pin bones in a salmon and the best way to remove them is by hand," said Charles Bundrant, founder of Trident, which ships about 30 million pounds of its 1.2 billion-pound annual harvest to China for processing. "Something that would cost us $1 per pound labor here, they get it done for 20 cents in China."
Bureau of Labor Statistics data estimates that American poultry processors are paid roughly $11 per hour on average. In China, reports have circulated that the country's chicken workers can earn significantly less—$1 to 2 per hour—which casts doubt on Super's economic feasibility assessment.
China's food safety system, which is said to be decades behind America's, is highly questionable given some of the more recent food safety scandals that have surfaced in the country:
Food Safety News aims to spread awareness of the pending USDA agreement and stop Chinese-processed chicken from ever reaching supermarkets or school lunchrooms.
YOU MIGHT ALSO LIKE
What's the Beef with the U.S./China Chicken Deal?
10 Foods Banned in Other Parts of the World, But Not in America
EcoWatch Daily Newsletter
Investing in grid infrastructure would enable utilities to incorporate modern technology, making the grid more resilient and flexible. STRATMAN2 / FLICKR
By Elliott Negin
The Royal Swedish Academy of Sciences' recent decision to award the 2019 Nobel Prize in Chemistry to scientists who developed rechargeable lithium-ion batteries reminded the world just how transformative they have been. Without them, we wouldn't have smartphones or electric cars. But it's their potential to store electricity generated by the sun and the wind at their peak that promises to be even more revolutionary, reducing our dependence on fossil fuels and protecting the planet from the worst consequences of climate change.
Two Javan rhinos deep in the forests of Ujung Kulon National Park, the species' last habitat on Earth. Sugeng Hendratno / WWF
The global population of the critically endangered Javan rhinoceros has increased to 72 after four new calves were spotted in the past several months.
A tiger looks out from its cage at a new resort and zoo in the eastern Lao town of Tha Bak on Dec. 5, 2018. Karl Ammann believes the "zoo" is really a front for selling tigers. Terrence McCoy / The Washington Post / Getty Images
Are tigers extinct in Laos?
That's the conclusion of a detailed new study that found no evidence wild tigers still exist in the country.
A group of scientists is warning that livestock production must not expand after 2030 for the world to stave off ecological disaster.
The largest wetland in Africa is in the South Sudan. George Steinmetz / Corbis Documentary / Getty Images Plus
Methane emissions are a far more powerful greenhouse gas than carbon dioxide – about 28 times more powerful. And they have been rising steadily since 2007. Now, a new study has pinpointed the African tropics as a hot spot responsible for one-third of the global methane surge, as Newsweek reported.