This website uses cookies to ensure you get the best experience while browsing it. By clicking 'Got It' you're accepting these terms.


The best of EcoWatch, right in your inbox. Sign up for our email newsletter!
Justin Sullivan / Getty Images
The FDA oversees about 80 percent of the nation's food supply.
liz west / Flickr / CC BY 2.0
Americans only just survived the great romaine lettuce scare of 2018, and now the U.S. Food and Drug Administration (FDA) has postponed routine domestic food safety inspections due to the partial federal government shutdown, the agency's commissioner said on Wednesday.
FDA commissioner Scott Gottlieb tweeted that the agency usually conducts about 160 domestic inspections on manufacturing and food processing plants each week. About a third of that inventory are foods considered at high risk for causing foodborne illnesses, such as seafood, dairy products, fruits and vegetables. The ongoing government impasse, however, has postponed much of these inspections.
EcoWatch Daily Newsletter
haha21 / E+ / Getty Images
Anyone planning to serve shrimp with their champagne this New Year's Eve should check their receipts.
Pexels
Last month, the Centers for Disease Control and Prevention (CDC) warned consumers not to eat any romaine lettuce, due to a large outbreak of E. coli contamination. Now, Adams Bros Farming Inc, a huge farm in California, is recalling more products that may have been contaminated in the same way.
A recall of ready-made meat and poultry products included three Harris Teeter deli meals, like from this store in Apex, NC.
Mike8411251995
A problem at a single food-processing plant in California has led to a massive recall impacting millions of pounds of pre-made salads and meals, more than two dozen chains and 13 food companies, USA Today reported Tuesday.
The problem started October 15 when McCain Foods USA recalled the Fire Roasted Black Bean Corn processed at its plant in Colton, California near Los Angeles for potential contamination with Listeria monocytogenes or Salmonella, Food Safety News reported. McCain Foods has since recalled all products from its Colton plant, which makes fire roasted, caramelized and sauteed frozen fruit and vegetables.
Ground beef meat products at a grocery store in Fairfax, Virginia. USDA Photo by Lance Cheung
Two massive meat recalls were issued this week following outbreaks of food-borne illnesses.
Arizona-based meat producer JBS Tolleson Inc. recalled more than 6.5 million pounds of "various raw, non-intact beef products"—i.e. ground beef—that may be contaminated with salmonella, the U.S. Department of Agriculture (USDA) announced Thursday.
Denise Taylor / Moment / Getty Images
By Dan Nosowitz
A report from the Office of the Inspector General found that the U.S. Food and Drug Administration (FDA) was not only slow to find problems in food production but that it often didn't take the right steps to correct violations and ensure that proper procedures were followed after violations were found. Foodborne illnesses, in some ways, are on the rise, and certainly, reporting of those violations are more visible than ever before. But there are still issues to correct.
United Nations Development Programme
An official with the United Nations' Food and Agriculture Organization (FAO) warns that climate change and conflict are leading to food insecurity for millions of people living in Africa.
"Undernourishment appears to have risen from about 21 percent to nearly 23 percent between 2015 and 2016," Bukar Tijani, FAO's assistant director general for Africa, said Monday at a conference in Sudan.
By Sandra Eskin
Three days before 2018 arrived, officials from the Centers for Disease Control and Prevention (CDC) announced they were investigating a foodborne E. coli outbreak that ultimately resulted in one death and sickened at least 25 people in 15 states. "Leafy greens" were identified as the likely source, but the Food and Drug Administration (FDA) continues to work with state and local partners to determine the specific products that made people ill and where they were grown, distributed and sold, all with the goal of finding points where the E. coli contamination might have occurred.
USDA / Flickr
By Dan Nosowitz
Food safety concerns have been ratcheting up lately: major outbreaks of salmonella, listeria and other food-borne bacteria seem to be on the rise. Given that, you might expect any changes in federal oversight to work toward fixing that. Not so fast!
The meat industry likes to say that factory farms are modern, efficient and produce cheap food. But in reality, factory farms increase the risk of pathogens like E. coli and salmonella that cause food-borne illness in people.
You might be surprised to find out, in this quiz from the Natural Resources Defense Council (NRDC), the high percentage of supermarket chicken that has E. coli.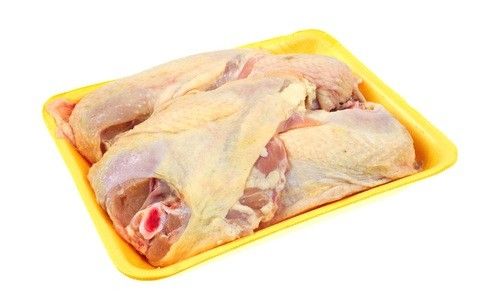 Shutterstock
The bacteria is commonly found in the lower intestine of warm-blooded organisms and, when people eat food contaminated with E. coli, they can develop diarrhea, urinary tract infections, respiratory illness and pneumonia and other illnesses.
You can guard against food-borne illnesses by making sure your food handling practices at home are effective. Here's a list from the U.S Food and Drug Administration of four steps to food safety in your kitchen:
1. Wash hands and surfaces often. Bacteria can spread throughout the kitchen and get onto hands, cutting boards, utensils, counter tops and food.
Wash your hands with warm water and soap for at least 20 seconds before and after handling food and after using the bathroom, changing diapers and handling pets.
Wash your cutting boards, dishes, utensils and counter tops with hot soapy water after preparing each food item and before you go on to the next food.
Consider using paper towels to clean up kitchen surfaces. If you use cloth towels wash them often in the hot cycle of your washing machine.
Rinse fresh fruits and vegetables under running tap water, including those with skins and rinds that are not eaten.
Rub firm-skin fruits and vegetables under running tap water or scrub with a clean vegetable brush while rinsing with running tap water.
Clean canned goods lids before opening. 
2. Separate raw meats from other foods. Cross-contamination can occur when bacteria are spread from one food to another. This is especially common when handling raw meat, poultry, seafood and eggs. The key is to keep these foods—and their juices—away from ready-to-eat foods. 
Separate raw meat, poultry, seafood and eggs from other foods in your grocery shopping cart, grocery bags and in your refrigerator.
Use one cutting board for fresh produce and a separate one for raw meat, poultry and seafood.
Never place cooked food on a plate that previously held raw meat, poultry, seafood or eggs.
Don't reuse marinades used on raw foods unless you bring them to a boil first. 
3. Cook to the right temperatures. Food is safely cooked when it reaches a high enough internal temperature to kill the harmful bacteria that cause illness.
Use a food thermometer to measure the internal temperature of cooked foods. Check the internal temperature in several places to make sure that the meat, poultry, seafood, eggs or dishes containing eggs are cooked to safe minimum internal temperatures as shown in the Safe Cooking Temperatures Chart. Color is not a reliable indicator of doneness.
Cook eggs until the yolk and white are firm. Only use recipes in which eggs are cooked or heated thoroughly.
When cooking in a microwave oven, cover food, stir and rotate for even cooking. Or rotate the dish by hand once or twice during cooking. Always allow standing time, which completes the cooking, before checking the internal temperature with a food thermometer. Food is done when it reaches the safe minimum internal temperature.
Bring sauces, soups and gravy to a boil when reheating. 
4. Refrigerate foods promptly. Cold temperatures slow the growth of harmful bacteria. Do not over-stuff the refrigerator. Cold air must circulate to help keep food safe. Keeping a constant refrigerator temperature of 40 degrees Fahrenheit  or below is one of the most effective ways to reduce the risk of foodborne illness. Use an appliance thermometer to be sure the temperature is consistently at 40 degrees or below and the freezer temperature is zero degrees or below.
Refrigerate or freeze meat, poultry, eggs, seafood and other perishables within two  hours of cooking or purchasing. Refrigerate within one hour if the temperature outside is above 90ºF.
Never thaw food at room temperature, such as on the counter top. Food must be kept at a safe temperature during thawing  : in the refrigerator, in cold water, and in the microwave. Food thawed in cold water or in the microwave should be cooked immediately.
Always marinate food in the refrigerator.
Divide large amounts of leftovers into shallow containers for quicker cooling in the refrigerator.
Use or discard refrigerated food on a regular basis. Follow the recommendations in the USDA's Refrigerator & Freezer Storage Chart.
Visit EcoWatch's FOOD page for more related news on this topic.