Top 10 Vegan Recipes of 2014
Dec. 29, 2014 09:29AM EST
Food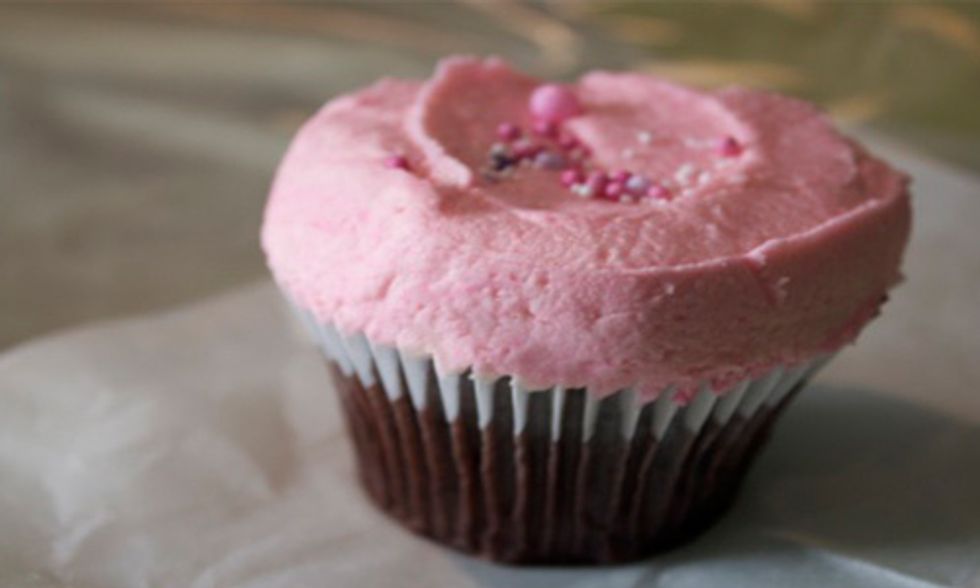 A vegan diet has been proven to reduce your environmental footprint dramatically since meat and dairy production contribute heavily to greenhouse gas emissions. But it can be hard to eat vegan year-round. Luckily, we've found PETA's top 10 scrumptious vegan recipes of 2014 that provide many options for your next meal.
Tofu-Spinach Lasagne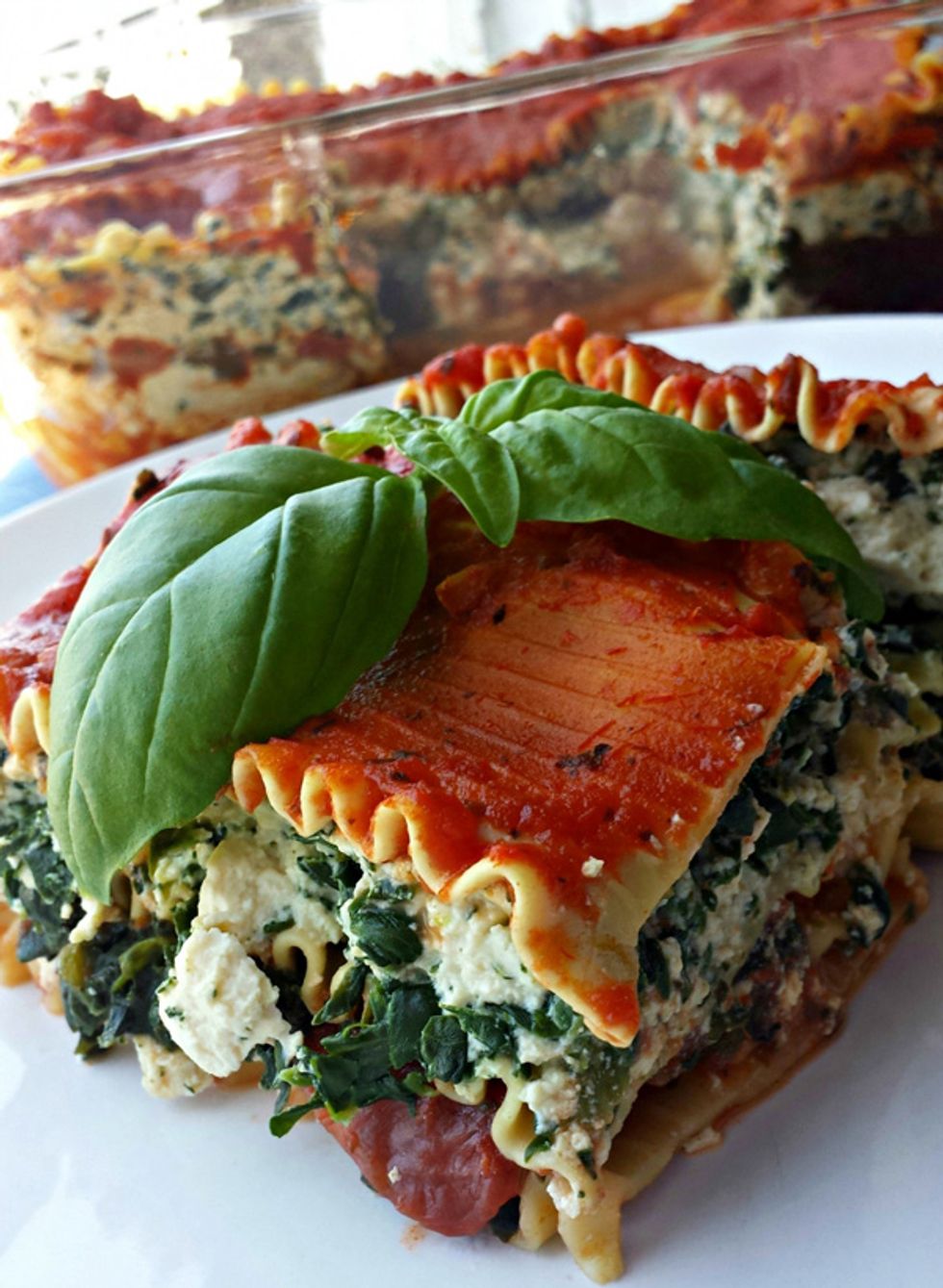 1/2 lb. lasagne noodles
2 10-oz. packages frozen chopped spinach, thawed and drained
1 lb. soft tofu
1 lb. firm tofu
1 Tbsp. sugar
1/4 cup soy milk
1/2 tsp. garlic powder
2 Tbsp. lemon juice
3 tsp. minced fresh basil
2 tsp. salt
4 cups tomato sauce
Cook the lasagne noodles according to the package directions. Drain and set aside.

Preheat the oven to 350 degrees F.

Squeeze the spinach as dry as possible and set aside.

Place the tofu, sugar, soy milk, garlic powder, lemon juice, basil, and salt in a food processor or blender and blend until smooth. Stir in the spinach.

Cover the bottom of a 9-inch-by-13-inch baking dish with a thin layer of tomato sauce, then a layer of noodles (use about one-third of the noodles). Follow with half of the tofu filling. Continue in the same order, using half of the remaining tomato sauce and noodles and all of the remaining tofu filling. End with the remaining noodles, covered by the remaining tomato sauce. Bake for 25 to 30 minutes.
Makes 6 to 8 servings
Easy Vegan Cupcakes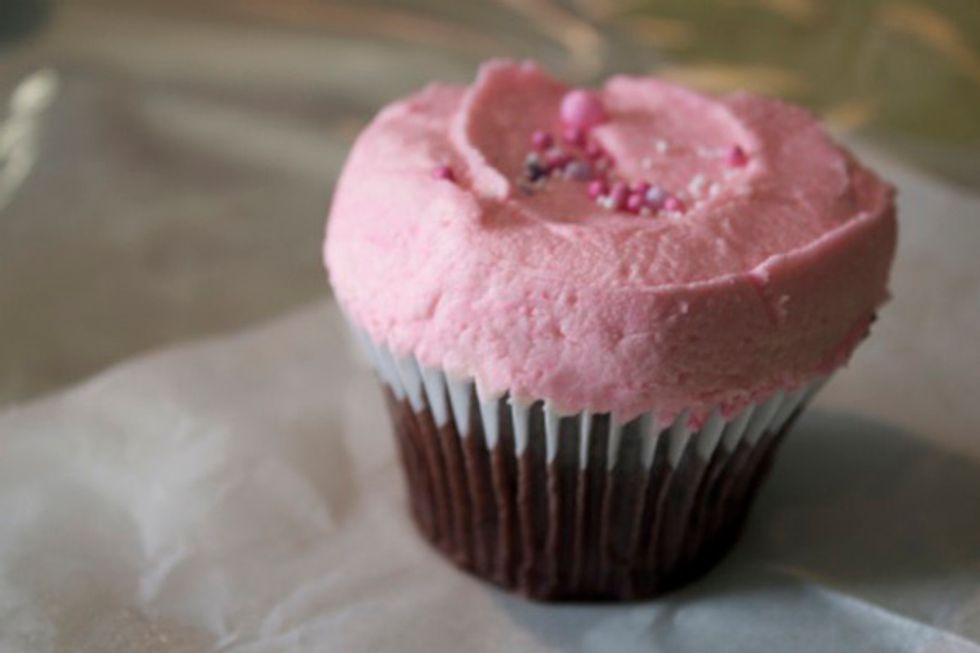 1 cup sugar
1 3/4 cups all purpose flour
1 tsp. baking powder
1/2 tsp. salt
1 tsp. baking soda
1/2 cup oil
1 cup unsweetened soy milk
2 tbsp. vanilla extract
1 tbsp. vinegar
Heat the oven to 350 degrees.

Line two cupcake pans with cupcake liners.

In a large bowl, whisk together the sugar, flour, baking powder, baking soda and salt.

In a medium bowl, whisk together the oil, soy milk, vinegar and vanilla.

Pour the wet mixture into the dry mixture and whisk together until just combined.

Fill the cupcake liners two-thirds full with the batter.

Bake 15-18 minutes.

Cool completely.

Frost your cupcakes!
Frosting
1/2 cup vegetable shortening
1 1/2 cups powdered sugar
1/2 tsp vanilla extract
1-3 tbsp. unsweetened soy milk
Using a mixer, beat the vegetable shortening until light and airy.

With the mixer on low, add the powdered sugar, vanilla and one tablespoonful of the soy milk at a time until smooth.

Beat on high for another two minutes until light and fluffy.
Makes 24 cupcakes
Sumptuous Spinach Salad With Orange-Sesame Dressing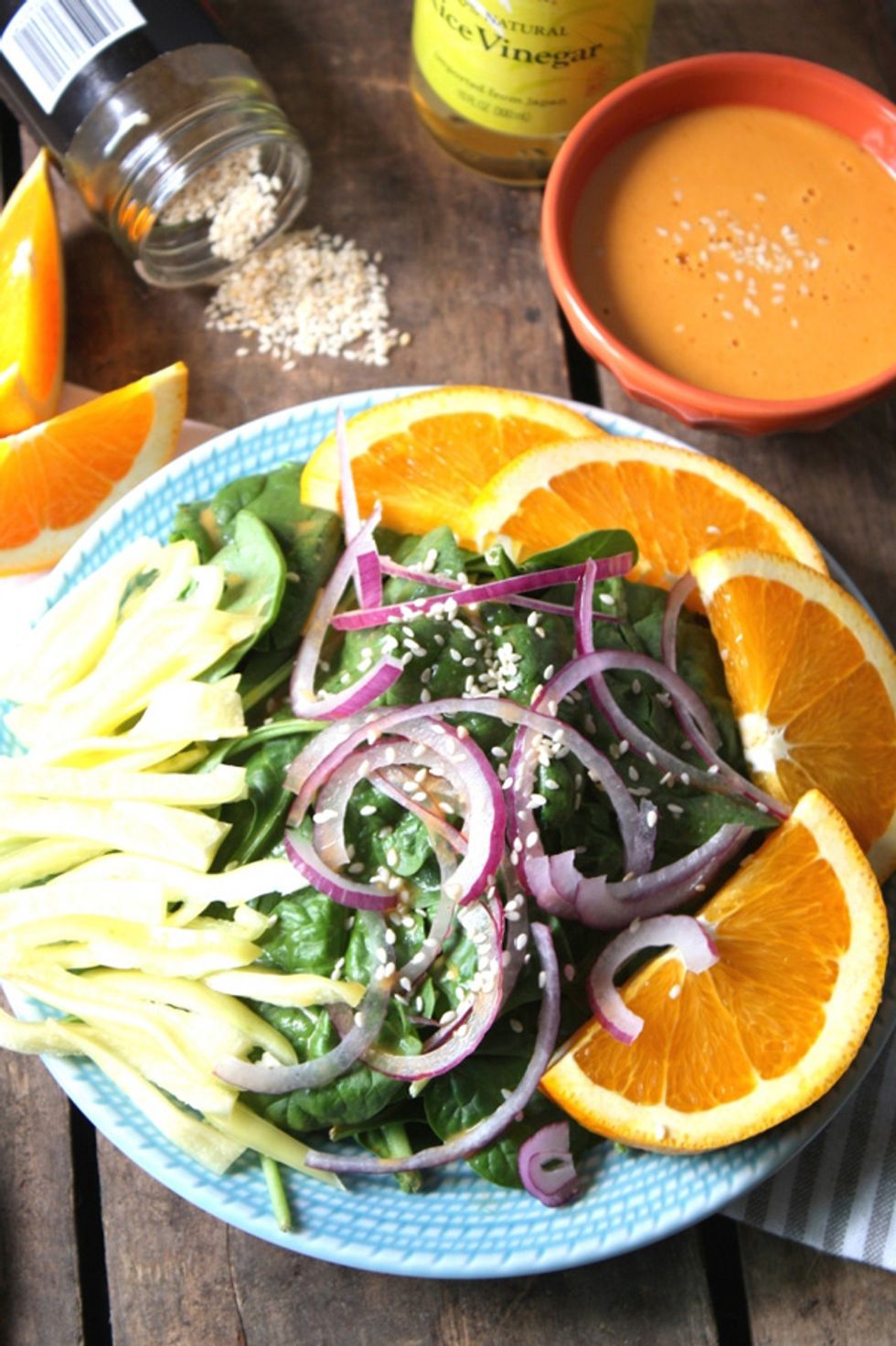 2 tbsp. olive oil
2 tbsp. rice vinegar
2 tbsp. freshly squeezed orange juice
1 tbsp. toasted sesame oil
1 tbsp. agave nectar
1 clove garlic
1/4 tsp. smoked paprika
1 bunch fresh spinach, washed, drained, and chopped
2 medium-sized sweet peppers, sliced and deseeded
1/2 red onion, thinly sliced
1/2 orange, sliced into rounds or halves
Sesame seeds, for garnish
Combine the olive oil, rice vinegar, orange juice, sesame oil, agave nectar, garlic, and smoked paprika in a food processor or high-speed blender and blend until combined. Adjust the flavors, as needed, then set aside.

In a large bowl, combine the spinach, peppers, onions, and orange slices, then drizzle with the orange-sesame dressing. Garnish with sesame seeds and enjoy!
Makes 4 to 6 servings
Avocado Reuben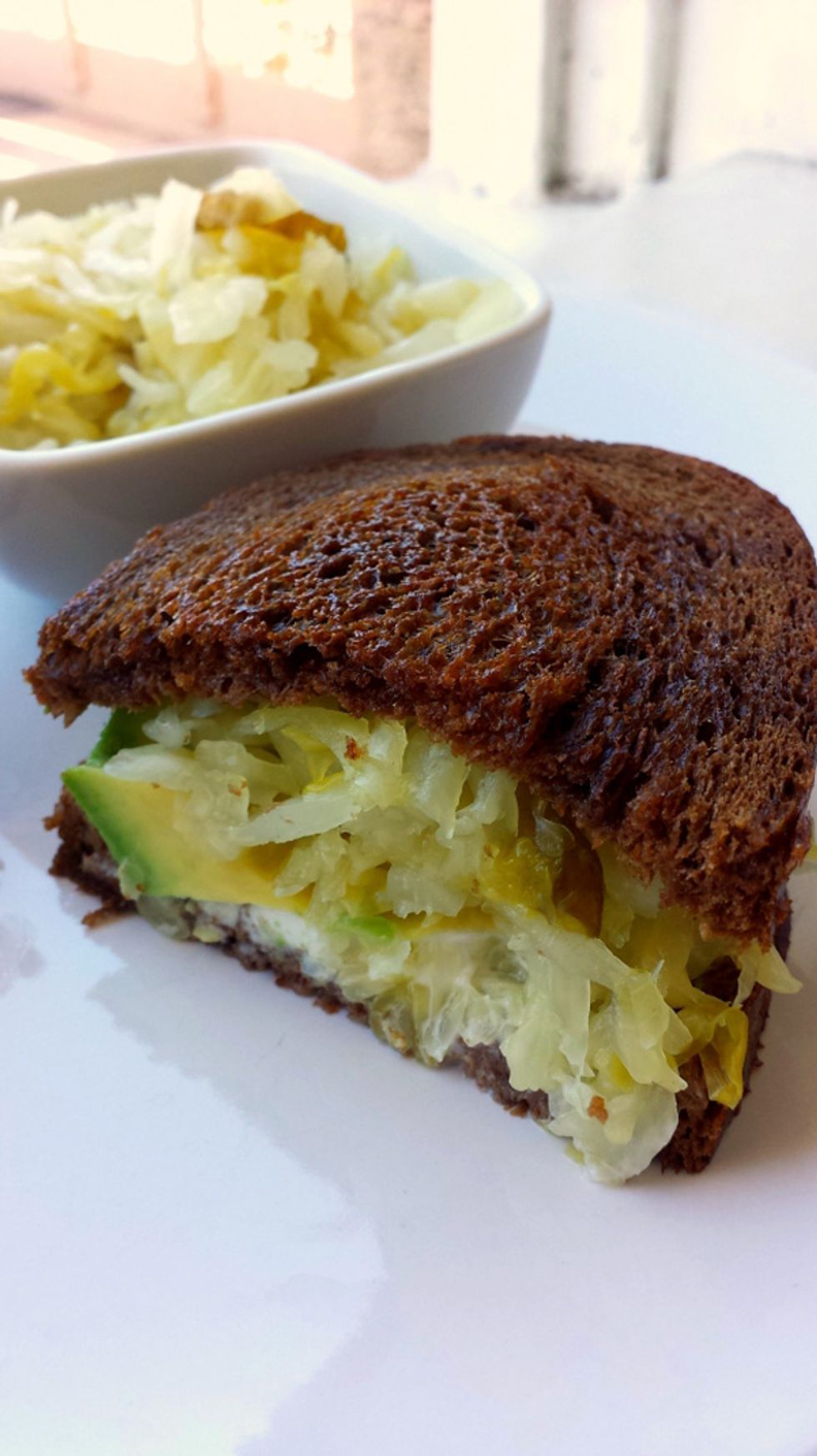 2 slices rye or pumpernickel bread
Mustard
1/2 avocado, pitted, peeled, and mashed
1/4 cup sauerkraut
Spread one slice of bread with some mustard, the other slice with Thousand Island dressing.

Place the bread slices, dry side down, in a lightly oiled skillet. Top one slice with avocado, and the other with sauerkraut.

Over medium heat, grill the sandwich until lightly browned and hot, about 5 minutes. Put the sandwich halves together and enjoy!
Makes 1 sandwich
Chef Chloe's Tiramisù Pancakes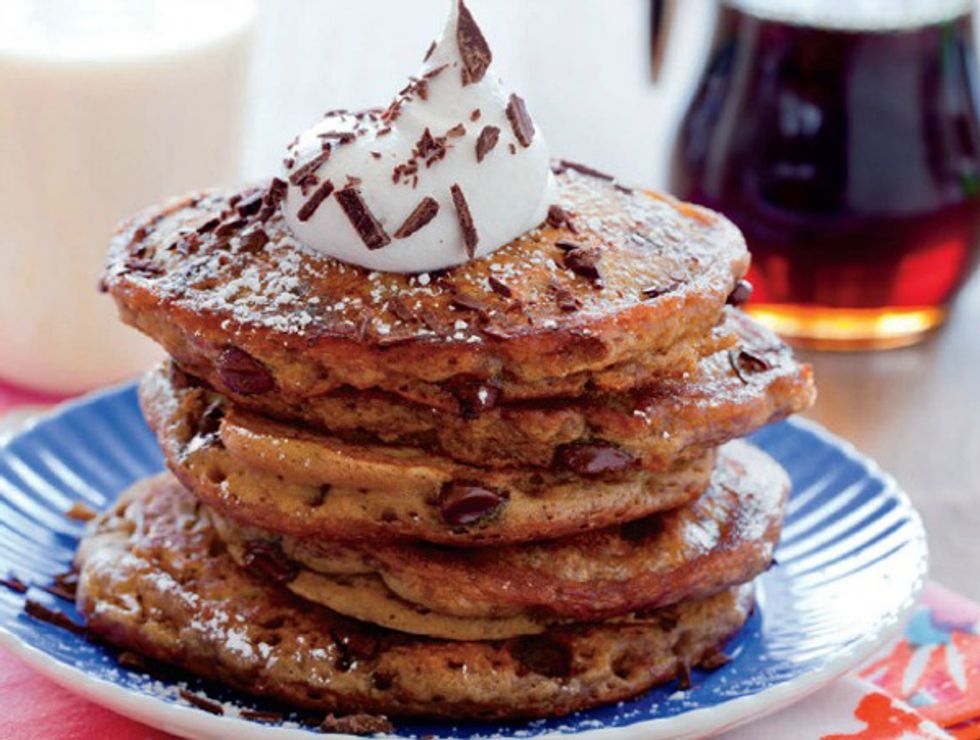 1 cup all-purpose flour
1 tbsp. baking powder
1 tbsp. instant espresso powder
½ tsp. salt
¾ cup water
¼ cup maple syrup
1 tbsp. dark rum
1 cup nondairy semisweet chocolate chips
Canola oil
Powdered sugar
Vegan whipped cream, optional
In a large bowl, whisk together the flour, baking powder, espresso powder, and salt.

In a separate small bowl, whisk together the water, maple syrup, and rum.

Add the liquid to the flour mixture and whisk until just combined. Do not overmix; the batter should have some lumps in it.

Gently fold in the chocolate chips.

Lightly oil a large nonstick skillet or griddle and heat over medium-high heat.

Pour ¼ cup batter onto the skillet. When bubbles appear in the center of the pancake, flip it.

Let cook on the other side until lightly browned and cooked through, about 1 minute more.

Remove from the skillet and keep warm in the oven.

Repeat with the remaining batter, adding more oil to the skillet as needed. If the batter becomes too thick, add a little more water, 1 tablespoonful at a time.

To serve, dust the pancakes with powdered sugar and top with a dollop of vegan whipped cream if desired.
Makes 2-3 servings
Easy Vegan Pad Thai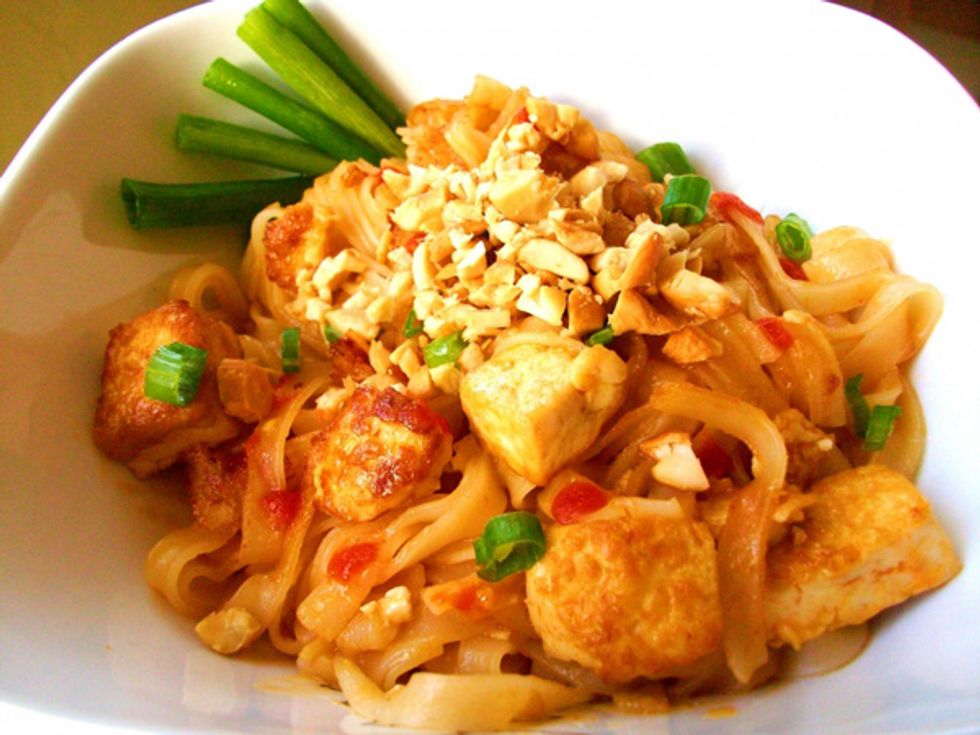 1 cup water, plus more for soaking the noodles
1 10-oz. package rice noodles or ramen-style noodles
2 Tbsp. olive oil
2 cloves garlic
1/2 12-oz. package extra-firm tofu, drained and cut into chunks
4 Tbsp. soy sauce
2 Tbsp. peanut butter
Juice of 2 limes
3 Tbsp. sugar
Sriracha, to taste
Sliced green onions, for garnish
Chopped peanuts, for garnish (optional)
Fill a large microwave-safe bowl with water and heat in the microwave until boiling. Carefully submerge the rice noodles in the water and let soak for about 15 minutes.

In a large frying pan, heat the olive oil over medium heat and add the garlic cloves and tofu chunks. Drizzle 1 tablespoon of the soy sauce over the tofu and sauté until golden brown.

In a small bowl, whisk together the peanut butter, lime juice, sugar, Sriracha, remaining soy sauce, and 1 cup of water.

Add the soaked noodles and peanut butter mixture to the tofu and cook through, about 5 minutes.

Garnish with sliced green onions and chopped peanuts and serve right away. Enjoy!
Servings: 2-3
Vegan Pizza in 5 Steps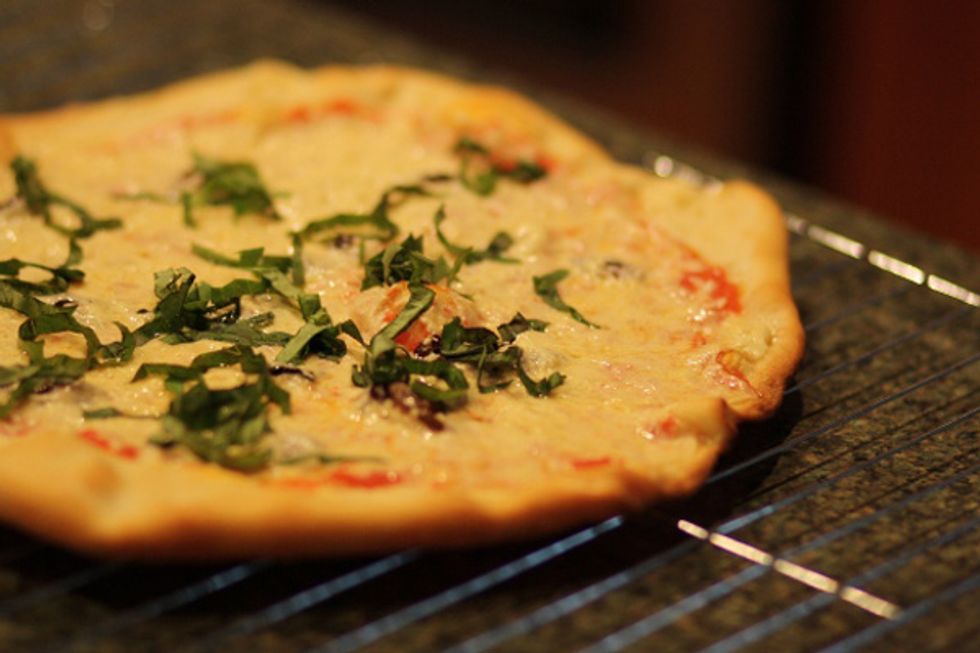 1. Roll out your store-bought or homemade dough and place it on a pizza stone or wooden pizza peel.
2. Top it with fresh ripe tomato sauce or some accidentally vegan store-bought sauce.
3. Add some optional toppings to spice things up, such as vegan bacon for a salty crunch or fresh sliced bell peppers and/or mushrooms for a savory veggie fix.
4. This is the best step! Grab a few kinds of your favorite vegan cheese and sprinkle them all over your pie. My personal favorite is Daiya mozzarella with a smattering of GO Veggie! parmesan sprinkled on top and over the crust.
5. Bake the pizza in an oven preheated to 550 degrees (yep, you read that right!) for eight to 10 minutes or until the cheese has melted and the crust begins to brown
That's it! Go enjoy your delicious vegan pizza, maybe with some fresh herbs sprinkled on top! If you've got some time to spare before dinner is served, check out our delicious Caesar salad to serve alongside your pizza.
Creamy Dill Potato Salad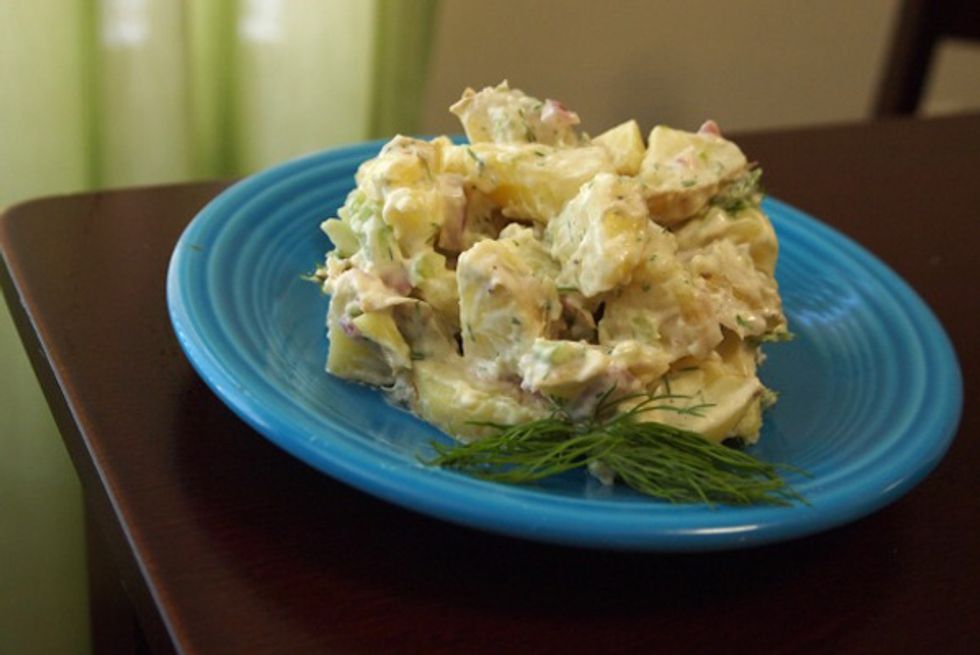 3 lbs. Yukon Gold potatoes, peeled
Sea salt and freshly ground black pepper, to taste
2 celery stalks, finely diced
1 cup vegan mayonnaise (try Vegenaise)
1 small red onion, finely chopped
1/4 cup chopped fresh dill
1 1/2 tbsp. cider vinegar
1 tbsp. lemon juice
1-2 tbsp. Dijon mustard
Place the potatoes in a large pot and fill with enough water to cover completely. Add some salt and bring to a boil. Cook for 20 to 25 minutes, until just tender but not falling apart.

Drain the potatoes in a colander and let cool.

Combine all the remaining ingredients in a large bowl.

Cut the cooled potatoes into 1-inch cubes and add them to the bowl, stirring carefully until coated.
Makes 6 to 8 servings
Italian Stuffed Zucchini Boats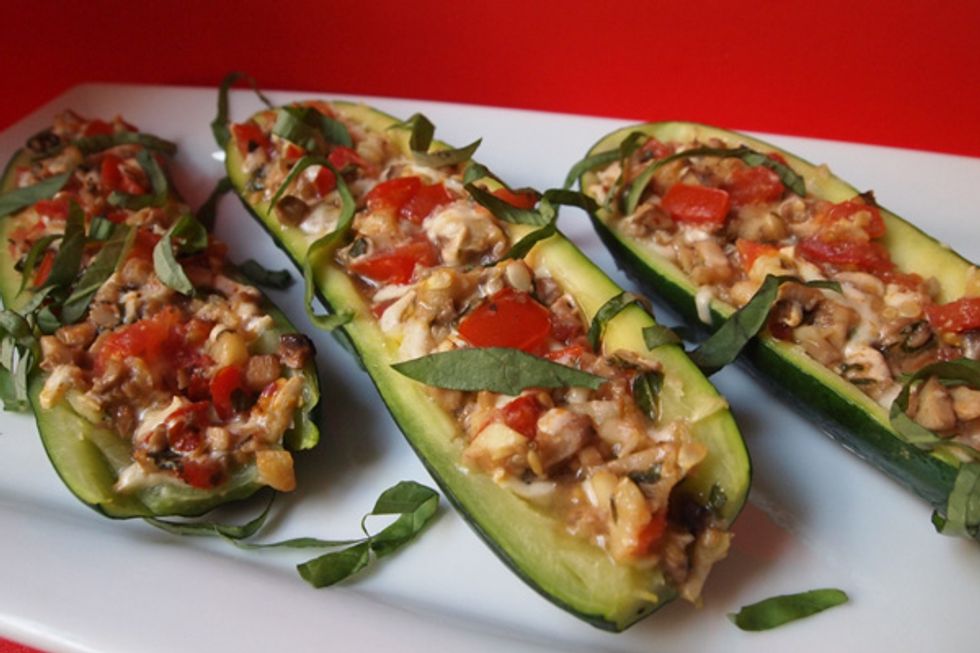 2 medium zucchini
2 garlic cloves
1 medium tomato, seeded and finely chopped
1/2 cup finely chopped fresh mushrooms
1/2 tsp. dried basil
1/2 tsp. dried oregano
1/4 tsp. crushed red pepper flakes
2 Tbsp. olive oil
3/4 cup vegan grated Parmesan cheese
2 Tbsp. fresh basil, chopped
Preheat the oven to 400°F.

Cut the zucchini in half lengthwise. Scoop out the pulp and seeds, leaving a 1/4-inch-thick shell (use a spoon for this). Chop up the pulp from the zucchini.

Combine the zucchini pulp, garlic, tomato, mushrooms, basil, oregano, crushed red pepper flakes, olive oil and 1/2 cup of the vegan Parmesan cheese in a medium bowl. Divide the mixture among the zucchini shells.

Place the stuffed zucchini in a 13-inch-by-9-inch baking dish and cover with foil. Bake for 25 minutes, or until the zucchini is tender.

Bake uncovered for 5 minutes more. Top with the fresh basil.
Makes 2 to 4 servings
SpicyBuffalo Cauliflower 'Wings'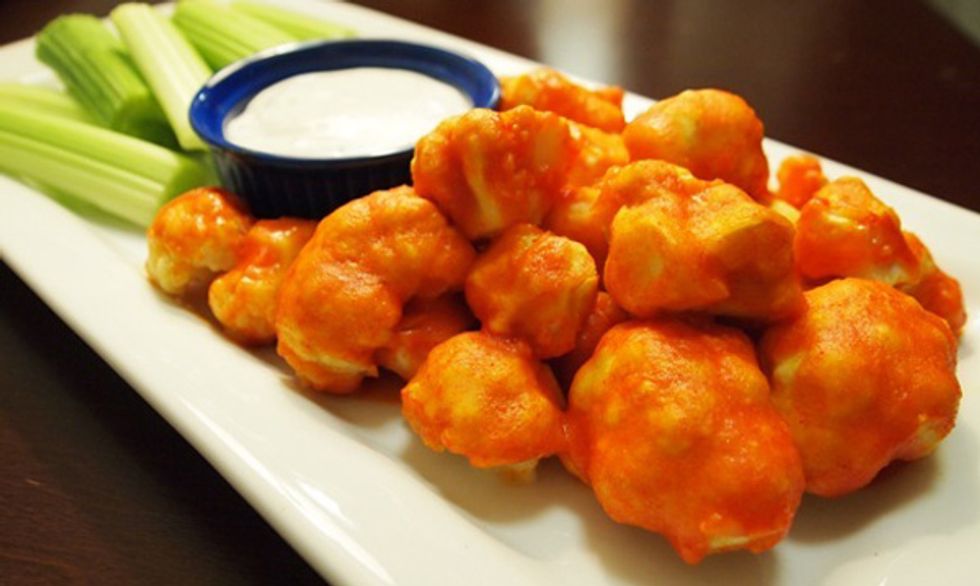 1 cup water or soy milk
1 cup flour (any kind will work—even gluten-free!)
2 tsp. garlic powder
1 head of cauliflower, chopped into pieces
1 cup buffalo or hot sauce
1 Tbsp. olive oil or melted vegan margarine
Preheat the oven to 450°F.

Combine the water or soy milk, flour, and garlic powder in a bowl and stir until well combined.

Coat the cauliflower pieces with the flour mixture and place in a shallow baking dish. Bake for 18 minutes.

While the cauliflower is baking, combine your buffalo sauce and olive oil or margarine in a small bowl.

Pour the hot sauce mixture over the baked cauliflower and continue baking for an additional 5 to 8 minutes.

Serve alongside vegan blue cheese dressing and celery sticks.
Makes 4 servings
YOU MIGHT ALSO LIKE
8 Reasons to Consider the Mediterranean Diet
6 Ways to Eat, Drink and Still Be Merry
Recycling and general waste plastic wheelie bins awaiting collection for disposal in Newport, Rhode Island. Tim Graham / Getty Images
Reduce. Reuse. Recycle. According to The National Museum of American History, this popular slogan, with its iconic three arrows forming a triangle, embodied a national call to action to save the environment in the 1970s. In that same decade, the first Earth Day happened, the EPA was formed and Congress passed the Resource Conservation and Recovery Act, encouraging recycling and conservation of resources, Enviro Inc. reported.
According to Forbes, the Three R's sustainability catch-phrase, and the recycling cause it bolstered, remain synonymous with the U.S. environmental movement itself. There's only one problem: despite being touted as one of the most important personal actions that individuals can take to help the planet, "recycling" – as currently carried out in the U.S. – doesn't work and doesn't help.
Turns out, there is a vast divide between the misleading, popular notion of recycling as a "solution" to the American overconsumption problem and the darker reality of recycling as a failing business model.
Tiffany Duong is an avid ocean advocate. She holds degrees from UCLA and the University of Pennsylvania Carey Law School and is an Al Gore Climate Reality Leader and student member of The Explorer's Club.
She spent years as a renewable energy lawyer in L.A. before moving to the Amazon to conduct conservation fieldwork (and revamp her life). She eventually landed in the Florida Keys as a scientific scuba diver and field reporter and writes about the oceans, climate, and the environment from her slice of paradise. Follow her on Twitter/Instagram @lilicedt.
EcoWatch Daily Newsletter
The coal-fired Huaneng Power Plant in Huai 'an City, Jiangsu Province, China on Sept. 13, 2020. Costfoto / Barcroft Media via Getty Images
Overall energy demand is expected to rise 4.6 percent this year compared to 2020 and 0.5 percent compared to 2019, according to the IEA's Global Energy Review 2021. Demand for fossil fuels is expected to jump to such an extent that emissions will rise by nearly five percent in 2021. This will reverse 80 percent of the emissions decline reported in 2020, to end emissions just 1.2 percent below 2019 emissions levels. Because the lockdown saw the biggest drop in energy demand since World War II, the projected increase in carbon dioxide emissions will still be the second-highest on record, BBC News pointed out.
"This is a dire warning that the economic recovery from the COVID crisis is currently anything but sustainable for our climate," IEA Executive Director Fatih Birol said in a statement reported by AFP.
Birol said much of that increase was being driven by the resurgence of coal use. In fact, coal demand is expected to increase by 60 percent more than all forms of renewable energy, according to the report. Overall coal demand is expected to increase by 4.5 percent in 2021. More than 80 percent of that growth is in Asia, and more than 50 percent is in China. While coal use is expected to increase in the U.S. and Europe as well, it will remain far below pre-pandemic levels. Still, global coal use is expected to rise to nearly its 2014 peak, BBC News reported.
Natural gas demand is also expected to rise by 3.2 percent in 2021, to put it more than one percent above 2019 levels, according to the report.
There are, however, two bright spots in the report from a climate perspective. The first is that oil demand, while up 6.2 percent from 2020, is still expected to remain around 3 percent below 2019 levels. This is because oil use for ground transportation is not expected to recover until the end of 2021, and oil use for air travel is expected to remain at 20 percent below 2019 levels by December of 2021.
"A full return to pre-crisis oil demand levels would have pushed up CO2 emissions a further 1.5%, putting them well above 2019 levels," the report authors wrote.
The second bright spot is that renewable energy demand is set to rise in all sectors in 2021. In power, where its rise is the greatest, it is set to increase by more than eight percent. This is "the largest year-on-year growth on record in absolute terms," the report authors wrote.
Renewable energy will provide 30 percent of electricity overall, BBC News reported, which is the highest percentage since the industrial revolution. The problem is that the increase in renewables is running parallel to an increase in fossil fuels in some places. China, for example, is also expected to account for almost half of the rise in renewable electricity.
"As we have seen at the country-level in the past 15 years, the countries that succeed to cut their emissions are those where renewable energy replaces fossil energy," energy expert and University of East Anglia professor Corinne Le Quéré told BBC News. "What seems to be happening now is that we have a massive deployment of renewable energy, which is good for tackling climate change, but this is occurring alongside massive investments in coal and gas. Stimulus spending post-Covid-19 worldwide is still largely funding activities that lock us into high CO2 emissions for decades."
To address this issue, Birol called on the world leaders gathering for U.S. President Joe Biden's climate summit Thursday and Friday to pledge additional action before November's UN Climate Change Conference, according to AFP.
"Unless governments around the world move rapidly to start cutting emissions, we are likely to face an even worse situation in 2022," said Birol.
From Your Site Articles
Related Articles Around the Web
A grizzly bear killed an outdoor guide in a rare attack near Yellowstone Park. William Campbell / Corbis / Getty Images
Representative Alexandria Ocasio-Cortez (D-NY) re-introduces the Green New Deal in Washington, D.C. on April 20, 2021. Mandel Ngan / AFP / Getty Images
By Brett Wilkins
In the latest of a flurry of proposed Green New Deal legislation, Reps. Cori Bush and Alexandria Ocasio-Cortez on Monday introduced the Green New Deal for Cities Act of 2021, a $1 trillion plan to "tackle the environmental injustices that are making us and our children sick, costing us our homes, and destroying our planet."
Offshore oil and gas drillers have left more than 18,000 miles of pipelines at the bottom of the Gulf of Mexico. Drew Angerer / Getty Images
Offshore oil and gas drillers have discarded and abandoned more than 18,000 miles of pipelines on the floor of the Gulf of Mexico since the 1960s, a report from the Government Accountability Office says.
The industry has essentially recovered none of the pipelines laid in the Gulf in the last six decades; the abandoned infrastructure accounts for more than 97% of all of the decommissioned pipelines in the Gulf.
The pipelines pose a threat to the habitat around them, as maritime commerce and hurricanes and erosion can move sections of pipeline.
The Bureau of Safety and Environmental Enforcement does not conduct undersea inspections even though surface monitoring is "not always reliable for detecting ruptures," according to the GAO.
For a deeper dive:
For more climate change and clean energy news, you can follow Climate Nexus on Twitter and Facebook, sign up for daily Hot News, and visit their news site, Nexus Media News.