Top 10 Vegan Recipes of 2014
Dec. 29, 2014 09:29AM EST
Food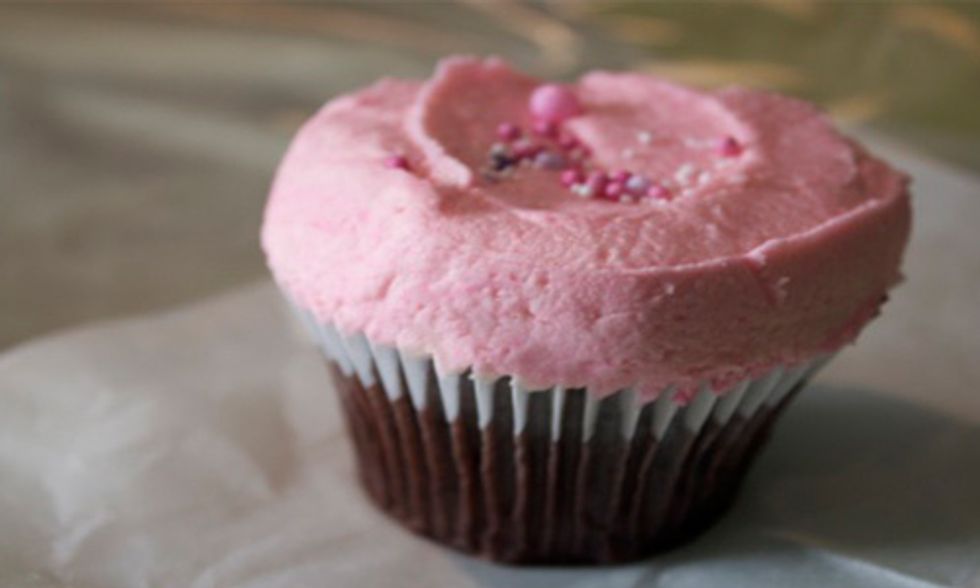 A vegan diet has been proven to reduce your environmental footprint dramatically since meat and dairy production contribute heavily to greenhouse gas emissions. But it can be hard to eat vegan year-round. Luckily, we've found PETA's top 10 scrumptious vegan recipes of 2014 that provide many options for your next meal.
Tofu-Spinach Lasagne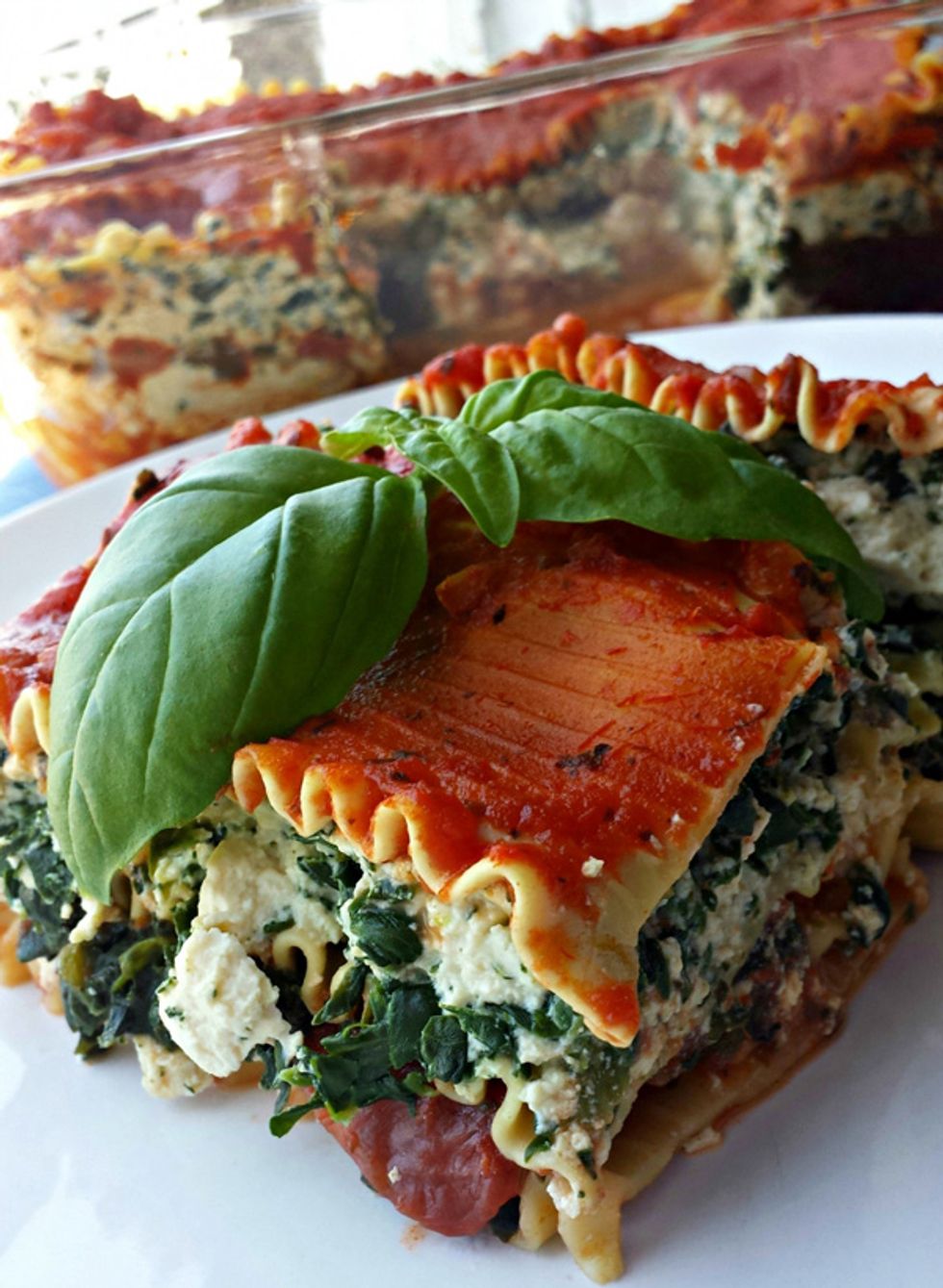 1/2 lb. lasagne noodles
2 10-oz. packages frozen chopped spinach, thawed and drained
1 lb. soft tofu
1 lb. firm tofu
1 Tbsp. sugar
1/4 cup soy milk
1/2 tsp. garlic powder
2 Tbsp. lemon juice
3 tsp. minced fresh basil
2 tsp. salt
4 cups tomato sauce
Cook the lasagne noodles according to the package directions. Drain and set aside.

Preheat the oven to 350 degrees F.

Squeeze the spinach as dry as possible and set aside.

Place the tofu, sugar, soy milk, garlic powder, lemon juice, basil, and salt in a food processor or blender and blend until smooth. Stir in the spinach.

Cover the bottom of a 9-inch-by-13-inch baking dish with a thin layer of tomato sauce, then a layer of noodles (use about one-third of the noodles). Follow with half of the tofu filling. Continue in the same order, using half of the remaining tomato sauce and noodles and all of the remaining tofu filling. End with the remaining noodles, covered by the remaining tomato sauce. Bake for 25 to 30 minutes.
Makes 6 to 8 servings
Easy Vegan Cupcakes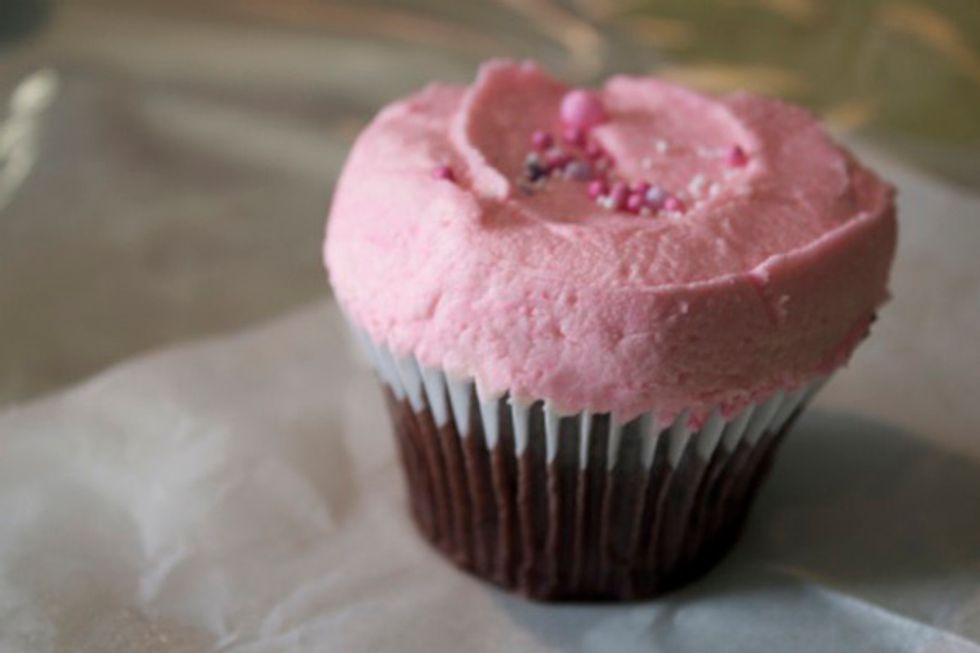 1 cup sugar
1 3/4 cups all purpose flour
1 tsp. baking powder
1/2 tsp. salt
1 tsp. baking soda
1/2 cup oil
1 cup unsweetened soy milk
2 tbsp. vanilla extract
1 tbsp. vinegar
Heat the oven to 350 degrees.

Line two cupcake pans with cupcake liners.

In a large bowl, whisk together the sugar, flour, baking powder, baking soda and salt.

In a medium bowl, whisk together the oil, soy milk, vinegar and vanilla.

Pour the wet mixture into the dry mixture and whisk together until just combined.

Fill the cupcake liners two-thirds full with the batter.

Bake 15-18 minutes.

Cool completely.

Frost your cupcakes!
Frosting
1/2 cup vegetable shortening
1 1/2 cups powdered sugar
1/2 tsp vanilla extract
1-3 tbsp. unsweetened soy milk
Using a mixer, beat the vegetable shortening until light and airy.

With the mixer on low, add the powdered sugar, vanilla and one tablespoonful of the soy milk at a time until smooth.

Beat on high for another two minutes until light and fluffy.
Makes 24 cupcakes
Sumptuous Spinach Salad With Orange-Sesame Dressing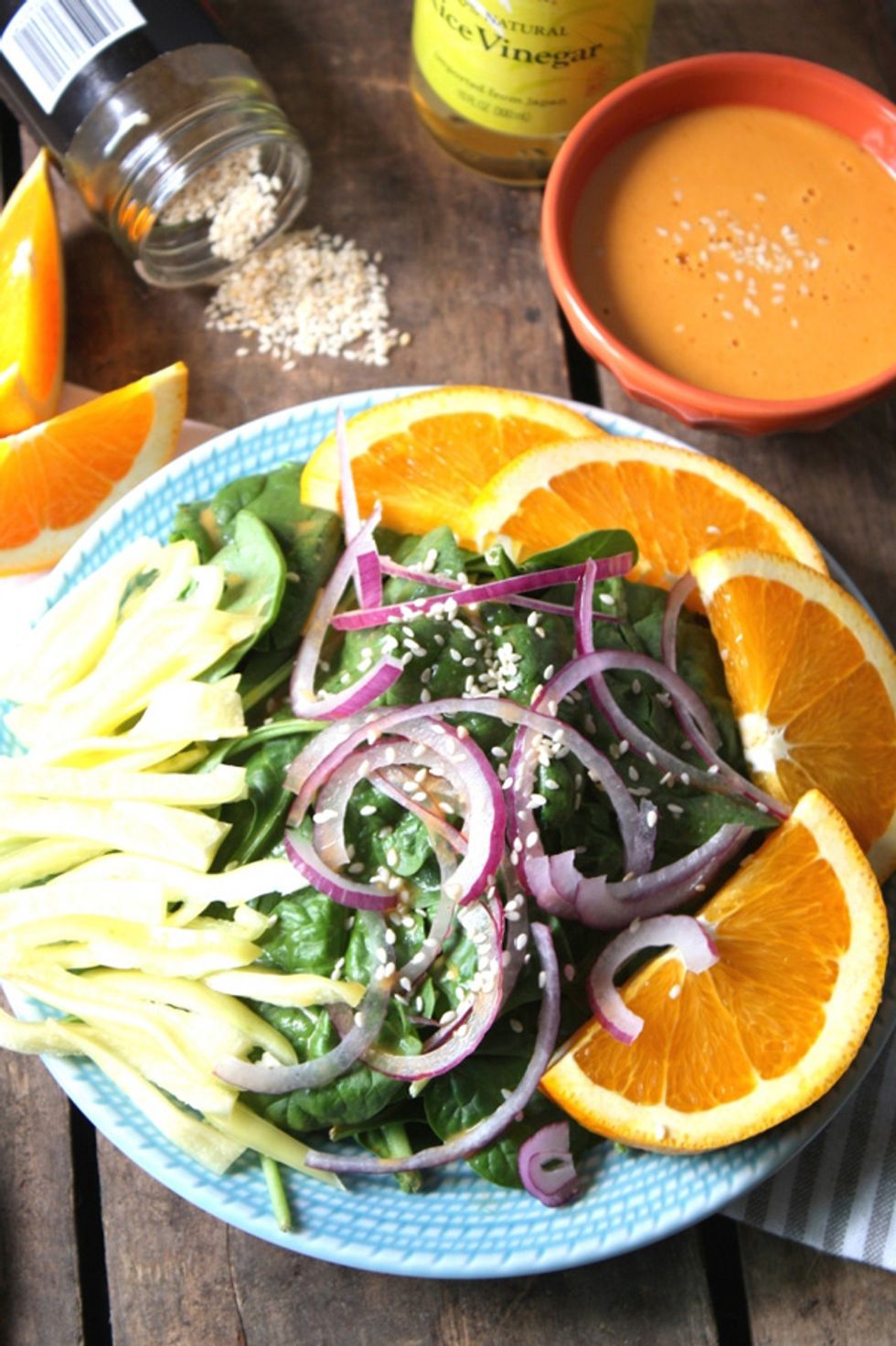 2 tbsp. olive oil
2 tbsp. rice vinegar
2 tbsp. freshly squeezed orange juice
1 tbsp. toasted sesame oil
1 tbsp. agave nectar
1 clove garlic
1/4 tsp. smoked paprika
1 bunch fresh spinach, washed, drained, and chopped
2 medium-sized sweet peppers, sliced and deseeded
1/2 red onion, thinly sliced
1/2 orange, sliced into rounds or halves
Sesame seeds, for garnish
Combine the olive oil, rice vinegar, orange juice, sesame oil, agave nectar, garlic, and smoked paprika in a food processor or high-speed blender and blend until combined. Adjust the flavors, as needed, then set aside.

In a large bowl, combine the spinach, peppers, onions, and orange slices, then drizzle with the orange-sesame dressing. Garnish with sesame seeds and enjoy!
Makes 4 to 6 servings
Avocado Reuben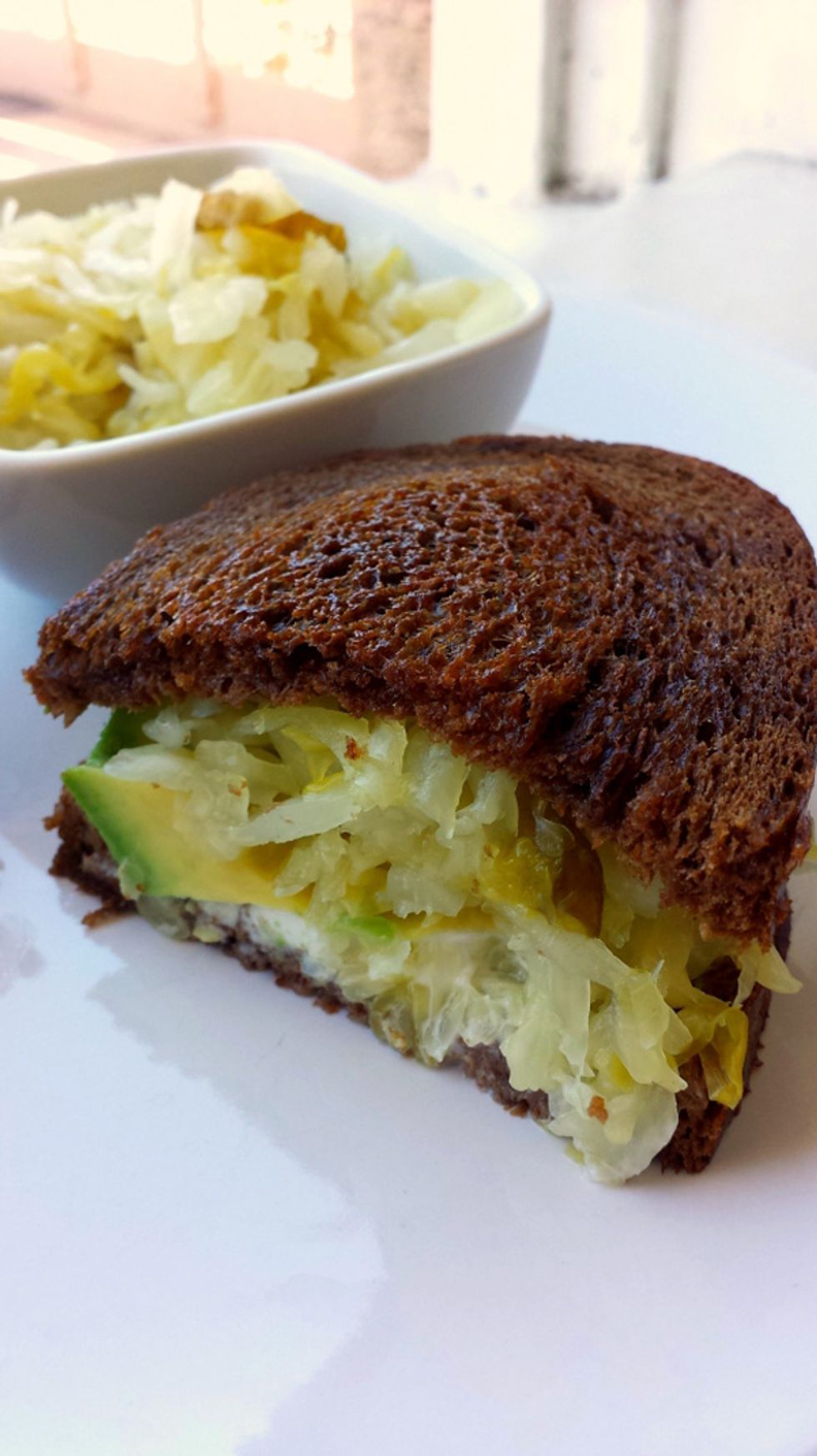 2 slices rye or pumpernickel bread
Mustard
1/2 avocado, pitted, peeled, and mashed
1/4 cup sauerkraut
Spread one slice of bread with some mustard, the other slice with Thousand Island dressing.

Place the bread slices, dry side down, in a lightly oiled skillet. Top one slice with avocado, and the other with sauerkraut.

Over medium heat, grill the sandwich until lightly browned and hot, about 5 minutes. Put the sandwich halves together and enjoy!
Makes 1 sandwich
Chef Chloe's Tiramisù Pancakes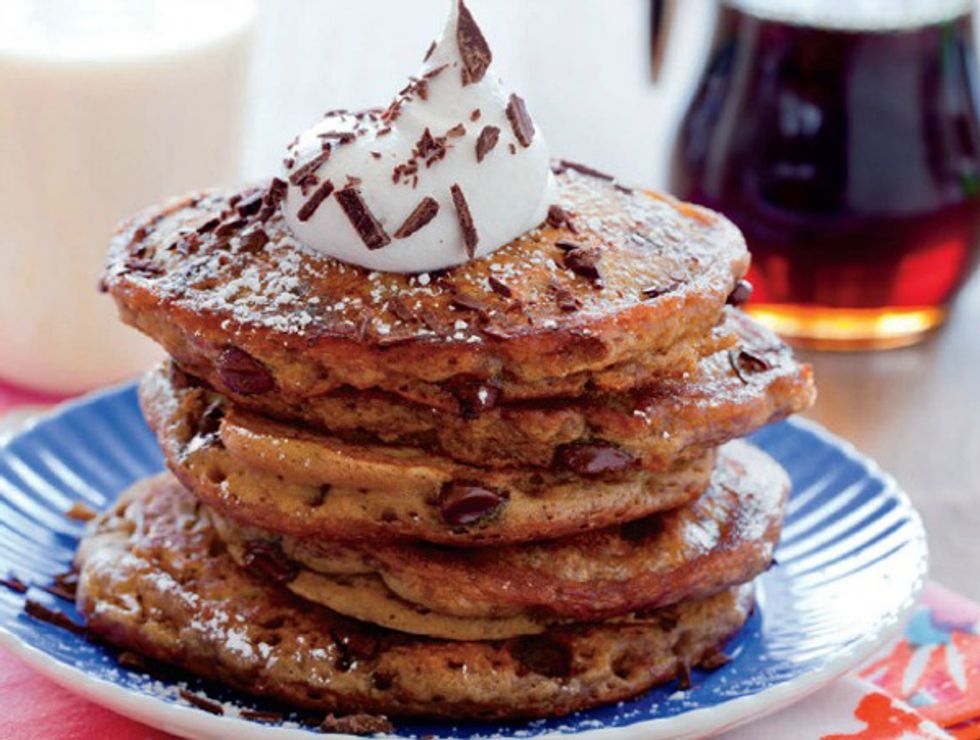 1 cup all-purpose flour
1 tbsp. baking powder
1 tbsp. instant espresso powder
½ tsp. salt
¾ cup water
¼ cup maple syrup
1 tbsp. dark rum
1 cup nondairy semisweet chocolate chips
Canola oil
Powdered sugar
Vegan whipped cream, optional
In a large bowl, whisk together the flour, baking powder, espresso powder, and salt.

In a separate small bowl, whisk together the water, maple syrup, and rum.

Add the liquid to the flour mixture and whisk until just combined. Do not overmix; the batter should have some lumps in it.

Gently fold in the chocolate chips.

Lightly oil a large nonstick skillet or griddle and heat over medium-high heat.

Pour ¼ cup batter onto the skillet. When bubbles appear in the center of the pancake, flip it.

Let cook on the other side until lightly browned and cooked through, about 1 minute more.

Remove from the skillet and keep warm in the oven.

Repeat with the remaining batter, adding more oil to the skillet as needed. If the batter becomes too thick, add a little more water, 1 tablespoonful at a time.

To serve, dust the pancakes with powdered sugar and top with a dollop of vegan whipped cream if desired.
Makes 2-3 servings
Easy Vegan Pad Thai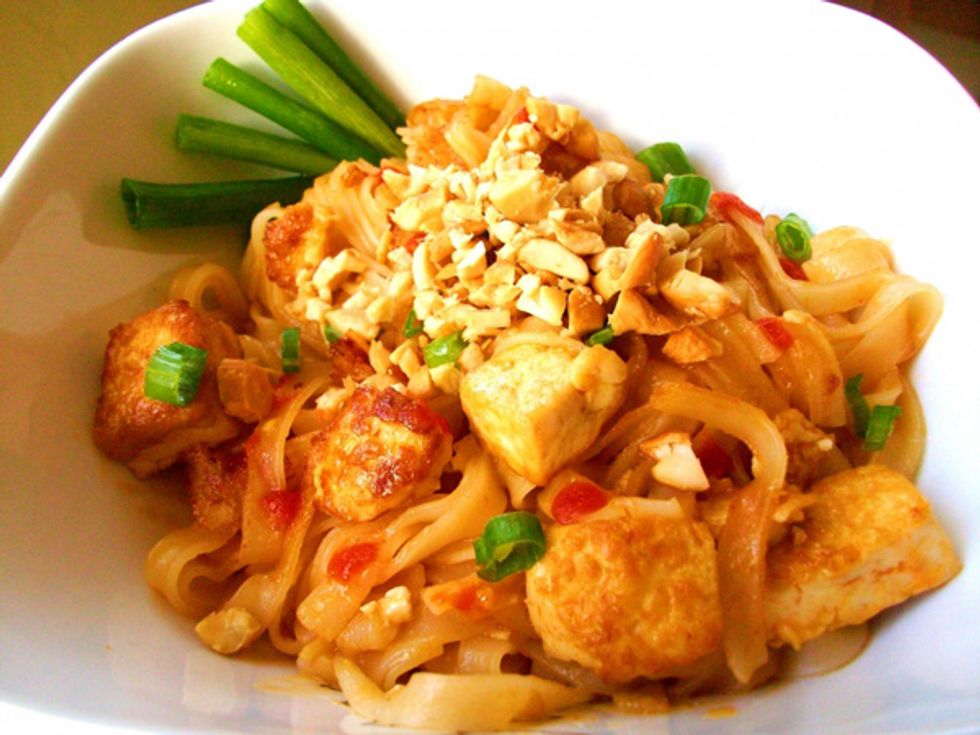 1 cup water, plus more for soaking the noodles
1 10-oz. package rice noodles or ramen-style noodles
2 Tbsp. olive oil
2 cloves garlic
1/2 12-oz. package extra-firm tofu, drained and cut into chunks
4 Tbsp. soy sauce
2 Tbsp. peanut butter
Juice of 2 limes
3 Tbsp. sugar
Sriracha, to taste
Sliced green onions, for garnish
Chopped peanuts, for garnish (optional)
Fill a large microwave-safe bowl with water and heat in the microwave until boiling. Carefully submerge the rice noodles in the water and let soak for about 15 minutes.

In a large frying pan, heat the olive oil over medium heat and add the garlic cloves and tofu chunks. Drizzle 1 tablespoon of the soy sauce over the tofu and sauté until golden brown.

In a small bowl, whisk together the peanut butter, lime juice, sugar, Sriracha, remaining soy sauce, and 1 cup of water.

Add the soaked noodles and peanut butter mixture to the tofu and cook through, about 5 minutes.

Garnish with sliced green onions and chopped peanuts and serve right away. Enjoy!
Servings: 2-3
Vegan Pizza in 5 Steps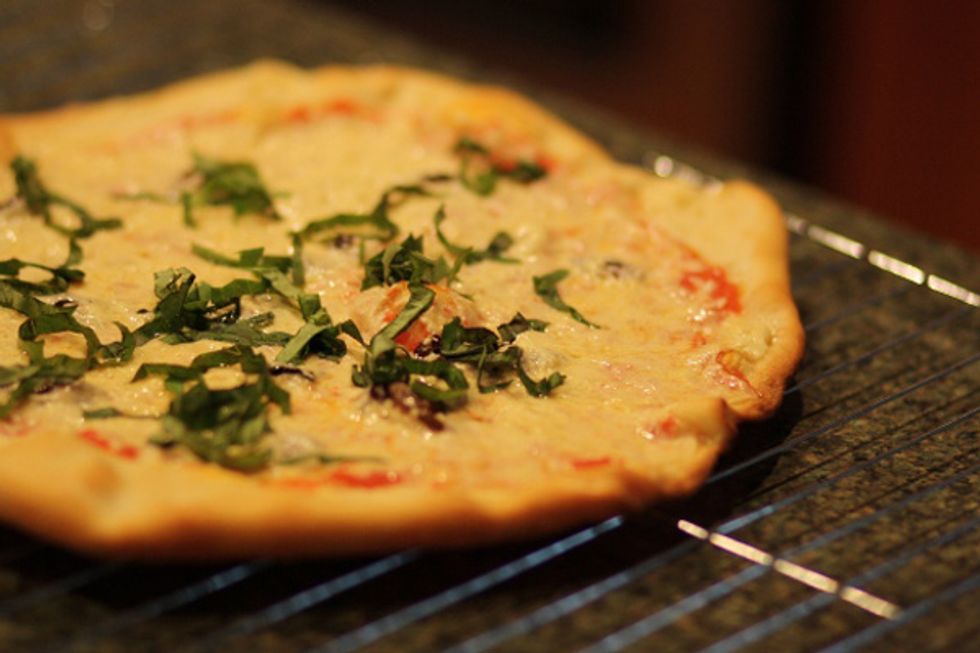 1. Roll out your store-bought or homemade dough and place it on a pizza stone or wooden pizza peel.
2. Top it with fresh ripe tomato sauce or some accidentally vegan store-bought sauce.
3. Add some optional toppings to spice things up, such as vegan bacon for a salty crunch or fresh sliced bell peppers and/or mushrooms for a savory veggie fix.
4. This is the best step! Grab a few kinds of your favorite vegan cheese and sprinkle them all over your pie. My personal favorite is Daiya mozzarella with a smattering of GO Veggie! parmesan sprinkled on top and over the crust.
5. Bake the pizza in an oven preheated to 550 degrees (yep, you read that right!) for eight to 10 minutes or until the cheese has melted and the crust begins to brown
That's it! Go enjoy your delicious vegan pizza, maybe with some fresh herbs sprinkled on top! If you've got some time to spare before dinner is served, check out our delicious Caesar salad to serve alongside your pizza.
Creamy Dill Potato Salad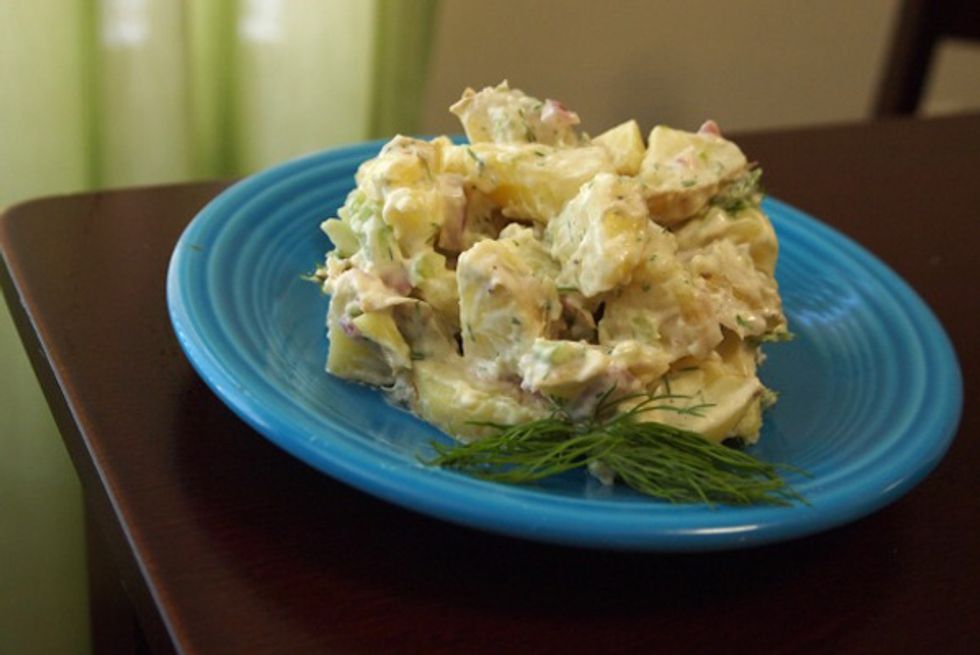 3 lbs. Yukon Gold potatoes, peeled
Sea salt and freshly ground black pepper, to taste
2 celery stalks, finely diced
1 cup vegan mayonnaise (try Vegenaise)
1 small red onion, finely chopped
1/4 cup chopped fresh dill
1 1/2 tbsp. cider vinegar
1 tbsp. lemon juice
1-2 tbsp. Dijon mustard
Place the potatoes in a large pot and fill with enough water to cover completely. Add some salt and bring to a boil. Cook for 20 to 25 minutes, until just tender but not falling apart.

Drain the potatoes in a colander and let cool.

Combine all the remaining ingredients in a large bowl.

Cut the cooled potatoes into 1-inch cubes and add them to the bowl, stirring carefully until coated.
Makes 6 to 8 servings
Italian Stuffed Zucchini Boats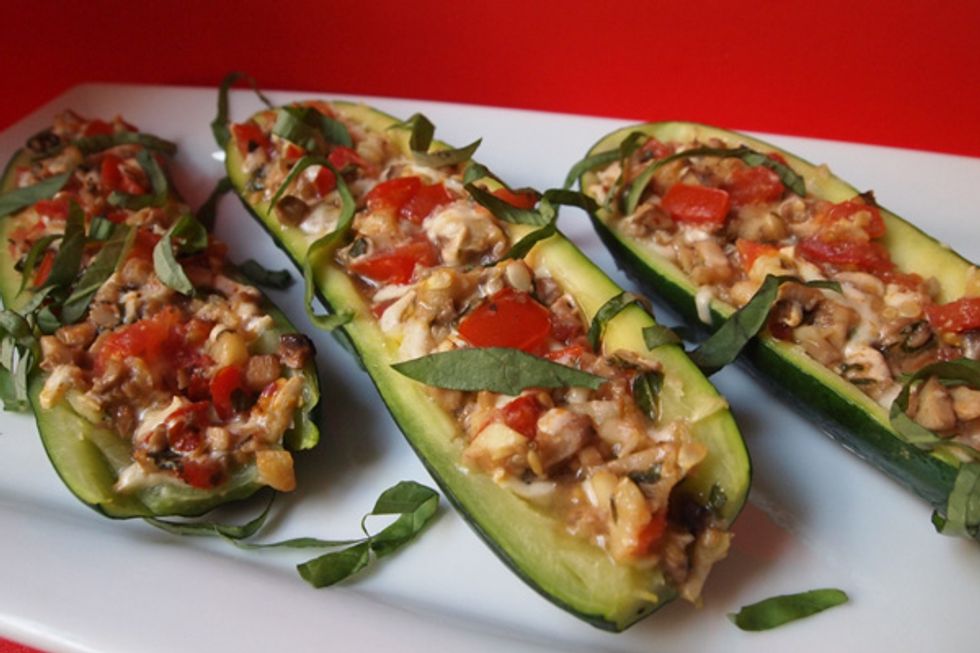 2 medium zucchini
2 garlic cloves
1 medium tomato, seeded and finely chopped
1/2 cup finely chopped fresh mushrooms
1/2 tsp. dried basil
1/2 tsp. dried oregano
1/4 tsp. crushed red pepper flakes
2 Tbsp. olive oil
3/4 cup vegan grated Parmesan cheese
2 Tbsp. fresh basil, chopped
Preheat the oven to 400°F.

Cut the zucchini in half lengthwise. Scoop out the pulp and seeds, leaving a 1/4-inch-thick shell (use a spoon for this). Chop up the pulp from the zucchini.

Combine the zucchini pulp, garlic, tomato, mushrooms, basil, oregano, crushed red pepper flakes, olive oil and 1/2 cup of the vegan Parmesan cheese in a medium bowl. Divide the mixture among the zucchini shells.

Place the stuffed zucchini in a 13-inch-by-9-inch baking dish and cover with foil. Bake for 25 minutes, or until the zucchini is tender.

Bake uncovered for 5 minutes more. Top with the fresh basil.
Makes 2 to 4 servings
SpicyBuffalo Cauliflower 'Wings'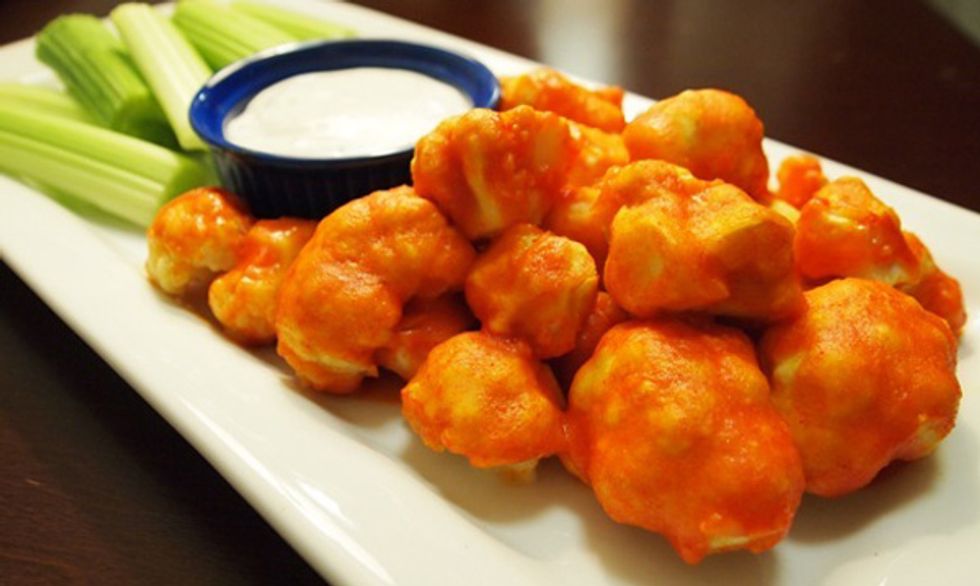 1 cup water or soy milk
1 cup flour (any kind will work—even gluten-free!)
2 tsp. garlic powder
1 head of cauliflower, chopped into pieces
1 cup buffalo or hot sauce
1 Tbsp. olive oil or melted vegan margarine
Preheat the oven to 450°F.

Combine the water or soy milk, flour, and garlic powder in a bowl and stir until well combined.

Coat the cauliflower pieces with the flour mixture and place in a shallow baking dish. Bake for 18 minutes.

While the cauliflower is baking, combine your buffalo sauce and olive oil or margarine in a small bowl.

Pour the hot sauce mixture over the baked cauliflower and continue baking for an additional 5 to 8 minutes.

Serve alongside vegan blue cheese dressing and celery sticks.
Makes 4 servings
YOU MIGHT ALSO LIKE
8 Reasons to Consider the Mediterranean Diet
6 Ways to Eat, Drink and Still Be Merry
EcoWatch Daily Newsletter