This website uses cookies to ensure you get the best experience while browsing it. By clicking 'Got It' you're accepting these terms.
Oregon Governor Bans Canola Production Citing GMO Contamination Risks
Aug. 19, 2013 03:06PM EST
Health + Wellness
Gov. John Kitzhaber (D-OR) signed a bill into law last week, banning commercial production of canola—also known as rapeseed—until 2019 inside the 3 million acre Willamette Valley Protected District, one of the world's pre-eminent vegetable seed producing regions.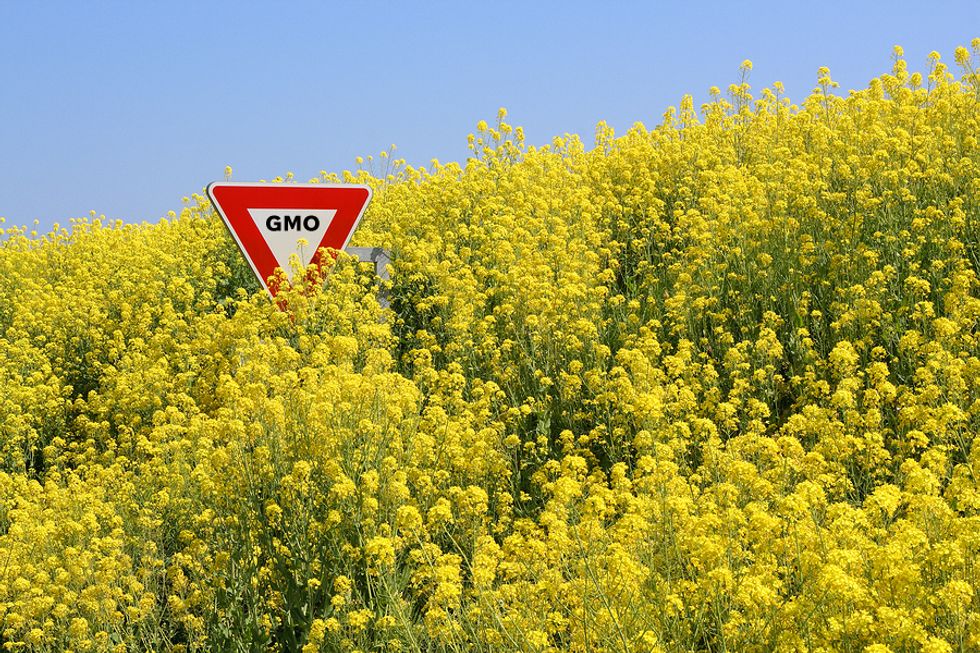 Center for Food Safety (CFS) had sued the Oregon Department of Agriculture after seed and organic vegetable farmers objected to a controversial decision to permit canola production in the Willamette Valley. In court filings, Center for Food Safety argued that canola readily cross-pollinates with brassica specialty seed crops like broccoli, kale and cabbage; spreads plant diseases and pests to brassica vegetable and seed crops; and can contaminate pure lots of vegetable and clover seed, rendering them unsalable in international and local markets.
According to Scientific American, 90 percent of canola is genetically engineered, which contaminates organic and conventional varieties, as well as cross-pollinates with weeds, creating new invasive species problems, as herbicide resistant traits spread to native weed populations.
"Oregon's lawmakers and governor have made the right decision: To protect the valuable industry in the Willamette Valley. The Oregon Department of Agriculture's unlawful action would have allowed dangerous canola planting into the Valley, jeopardizing both Oregon's farmers and environment," said George Kimbrell, senior attorney for Center for Food Safety. "This important agricultural market will now continue to be a revenue center for the state of Oregon and a source of good jobs for Oregonians."
"We applaud Governor Kitzhaber for signing HB 2427 into law. Canola is a very risky crop to introduce due to cross-pollination risk and increased pest and disease pressure on other important regional crops. The Willamette Valley should ultimately be protected for the long term, but this bill provides certainty and protections for the Willamette Valley's valuable specialty seed, fresh market vegetable and organic industries for the next several years, while ensuring future decisions are based on rigorous, peer-reviewed science," said Ivan Maluski, policy director for Friends of Family Farmers.
The new law overturns an unlawful rule adopted by the Oregon Department of Agriculture (ODA) in February 2013 that would have allowed thousands of acres of industrial canola to be planted over the next decade in a region where production of the plant for its seed has long been banned. The Oregon Department of Agriculture attempted in August 2012 to open the valley to widespread canola planting despite overwhelming public opposition. Center for Food Safety and Friends of Family Farmers, on behalf of individual growers, challenged ODA's original temporary rule, which would have allowed canola planting in the fall of 2012. The Oregon Court of appeals halted that rule-making as unlawful. Because of this successful challenge, no planting of canola has been allowed in the Willamette Valley.
ODA did not give up, again proposing planting this past spring. Thus on April 25, Center for Food Safety filed another lawsuit to halt ODA's rule to allow canola in the Willamette Valley on behalf of Friends of Family Farmers, Center for Food Safety, Universal Seed and Wild Garden Seed.
"Working closely with the farmers and allies, we were able to act fast to prevent ODA's disastrous decision from taking effect. Our court case prevented any canola from being planted, allowing time for our legislative strategy to work. Fortunately, this new law will trump the agency's unlawful rule that would have allowed planting. This valuable industry is safe from the threat of canola," added Kimbrell.
Visit EcoWatch's GE FOOD pages for more related news on this topic.
——–
EcoWatch Daily Newsletter
A sign marks the ground covering TransCanada's Keystone I pipeline outside of Steele City, Nebraska on April 21, 2012. Lucas Oleniuk / Toronto Star via Getty Images

The company behind the controversial and long-delayed Keystone XL pipeline announced it would proceed with the project Tuesday, despite concerns about the climate impacts of the pipeline and the dangers of transporting construction crews during a pandemic.
Penguins are seen near the Great Wall station in Antarctica, Feb. 9, days after the continent measured its hottest temperature on record at nearly 65 degrees Fahrenheit. Xinhua / Liu Shiping / Getty Images
By Richard Connor
Scientists have recorded Antarctica's first documented heat wave, warning that animal and plant life on the isolated continent could be drastically affected by climate change.
The Athos I tanker was carrying crude oil from Venezuela when a collision caused oil to begin gushing into the Delaware River.
U.S. Department of the Interior
A case that has bounced around the lower courts for 13 years was finally settled yesterday when the U.S. Supreme Court upheld a lower court decision, finding oil giant Citgo liable for a clean up of a 2004 oil spill in the Delaware River, according to Reuters.
The buildings of downtown Los Angeles are partially obscured in the late afternoon on Nov. 5, 2019, as seen from Pasadena, California, a day when air quality for Los Angeles was predicted to be "unhealthy for sensitive groups." Mario Tama / Getty Images
The evidence continues to build that breathing dirty air is bad for your brain.
Wave power in Portugal. The oceans' energy potential is immense. Luis Ascenso, via Wikimedia Commons
By Paul Brown
The amount of energy generated by tides and waves in the last decade has increased tenfold. Now governments around the world are planning to scale up these ventures to tap into the oceans' vast store of blue energy.