This website uses cookies to ensure you get the best experience while browsing it. By clicking 'Got It' you're accepting these terms.
Oregon Governor Bans Canola Production Citing GMO Contamination Risks
Aug. 19, 2013 02:06PM EST
Health + Wellness
Gov. John Kitzhaber (D-OR) signed a bill into law last week, banning commercial production of canola—also known as rapeseed—until 2019 inside the 3 million acre Willamette Valley Protected District, one of the world's pre-eminent vegetable seed producing regions.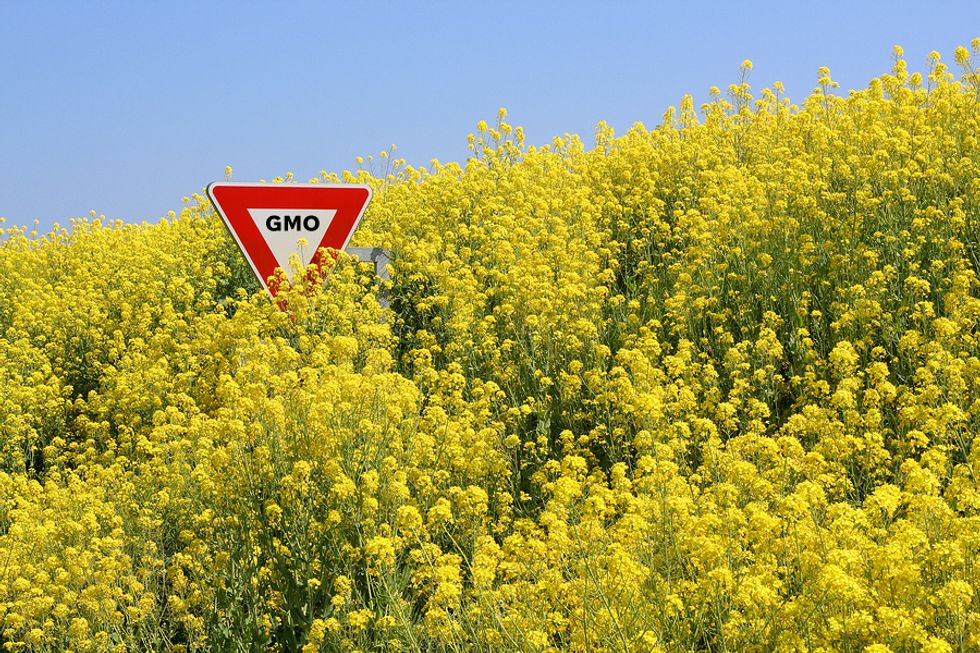 Center for Food Safety (CFS) had sued the Oregon Department of Agriculture after seed and organic vegetable farmers objected to a controversial decision to permit canola production in the Willamette Valley. In court filings, Center for Food Safety argued that canola readily cross-pollinates with brassica specialty seed crops like broccoli, kale and cabbage; spreads plant diseases and pests to brassica vegetable and seed crops; and can contaminate pure lots of vegetable and clover seed, rendering them unsalable in international and local markets.
According to Scientific American, 90 percent of canola is genetically engineered, which contaminates organic and conventional varieties, as well as cross-pollinates with weeds, creating new invasive species problems, as herbicide resistant traits spread to native weed populations.
"Oregon's lawmakers and governor have made the right decision: To protect the valuable industry in the Willamette Valley. The Oregon Department of Agriculture's unlawful action would have allowed dangerous canola planting into the Valley, jeopardizing both Oregon's farmers and environment," said George Kimbrell, senior attorney for Center for Food Safety. "This important agricultural market will now continue to be a revenue center for the state of Oregon and a source of good jobs for Oregonians."
"We applaud Governor Kitzhaber for signing HB 2427 into law. Canola is a very risky crop to introduce due to cross-pollination risk and increased pest and disease pressure on other important regional crops. The Willamette Valley should ultimately be protected for the long term, but this bill provides certainty and protections for the Willamette Valley's valuable specialty seed, fresh market vegetable and organic industries for the next several years, while ensuring future decisions are based on rigorous, peer-reviewed science," said Ivan Maluski, policy director for Friends of Family Farmers.
The new law overturns an unlawful rule adopted by the Oregon Department of Agriculture (ODA) in February 2013 that would have allowed thousands of acres of industrial canola to be planted over the next decade in a region where production of the plant for its seed has long been banned. The Oregon Department of Agriculture attempted in August 2012 to open the valley to widespread canola planting despite overwhelming public opposition. Center for Food Safety and Friends of Family Farmers, on behalf of individual growers, challenged ODA's original temporary rule, which would have allowed canola planting in the fall of 2012. The Oregon Court of appeals halted that rule-making as unlawful. Because of this successful challenge, no planting of canola has been allowed in the Willamette Valley.
ODA did not give up, again proposing planting this past spring. Thus on April 25, Center for Food Safety filed another lawsuit to halt ODA's rule to allow canola in the Willamette Valley on behalf of Friends of Family Farmers, Center for Food Safety, Universal Seed and Wild Garden Seed.
"Working closely with the farmers and allies, we were able to act fast to prevent ODA's disastrous decision from taking effect. Our court case prevented any canola from being planted, allowing time for our legislative strategy to work. Fortunately, this new law will trump the agency's unlawful rule that would have allowed planting. This valuable industry is safe from the threat of canola," added Kimbrell.
Visit EcoWatch's GE FOOD pages for more related news on this topic.
——–
EcoWatch Daily Newsletter
A new report spotlights a U.N. estimate that at least 275 million people rely on healthy coral reefs. A sea turtle near the Heron Island in the Great Barrier Reef is seen above. THE OCEAN AGENCY / XL CATLIN SEAVIEW SURVEY
In a new report about how the world's coral reefs face "the combined threats of climate change, pollution, and overfishing" — endangering the future of marine biodiversity — a London-based nonprofit calls for greater global efforts to end the climate crisis and ensure the survival of these vital underwater ecosystems.
Half of the extracted resources used were sand, clay, gravel and cement, seen above, for building, along with the other minerals that produce fertilizer. Cavan Images / Cavan / Getty Images
The world is using up more and more resources and global recycling is falling. That's the grim takeaway from a new report by the Circle Economy think tank, which found that the world used up more than 110 billion tons, or 100.6 billion metric tons, of natural resources, as Agence France-Presse (AFP) reported.
By Gero Rueter
Heating with coal, oil and natural gas accounts for around a quarter of global greenhouse gas emissions. But that's something we can change, says Wolfgang Feist, founder of the Passive House Institute in the western German city of Darmstadt.

By George Citroner
Recent research finds that official government figures may be underestimating drug deaths by half.
Researchers estimate that 142,000 people died due to drug use in 2016.
Drug use decreases life expectancy after age 15 by 1.4 years for men and by just under 1 year for women, on average.
Government records may be severely underreporting how many Americans die from drug use, according to a new study by researchers from the University of Pennsylvania and Georgetown University.
Water coolers in front of shut-off water fountains at Center School in Stow, MA on Sept. 4, 2019 after elevated levels of PFAS were found in the water. David L. Ryan / The Boston Globe via Getty Images
In a new nationwide assessment of drinking water systems, the Environmental Working Group found that toxic fluorinated chemicals known as PFAS are far more prevalent than previously thought.