Neil Young and Monsanto Reignite War Over GMOs Since Release of 'Seeding Fear'
Jul. 25, 2015 09:57AM EST
Food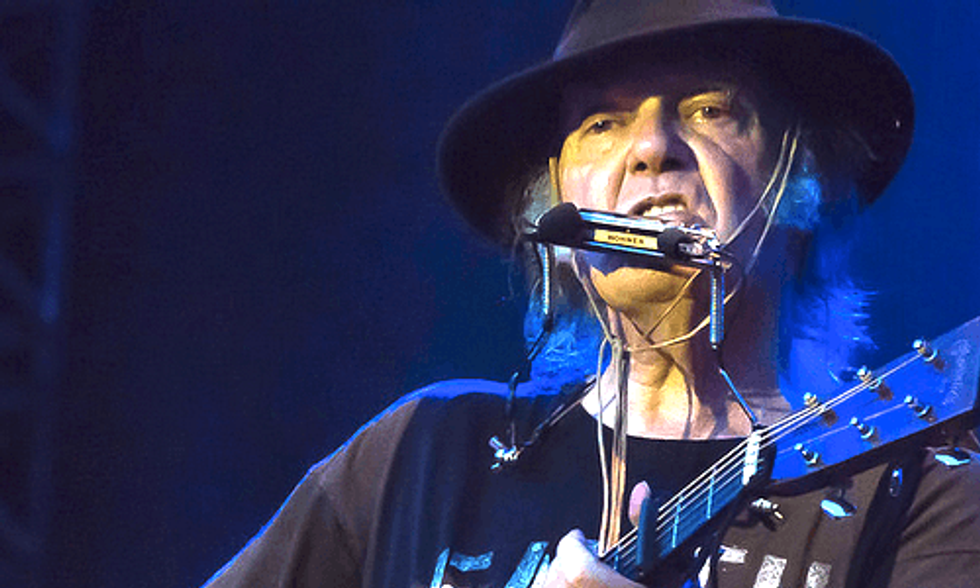 Neil Young and Monsanto are once again trading barbs over genetically modified organisms (GMOs). This time, it's over Young's new documentary, "Seeding Fear," the story of Alabama farmers Michael White and his father who were sued by the agrochemical giant in 2003 for patent infringement of its GM soybeans.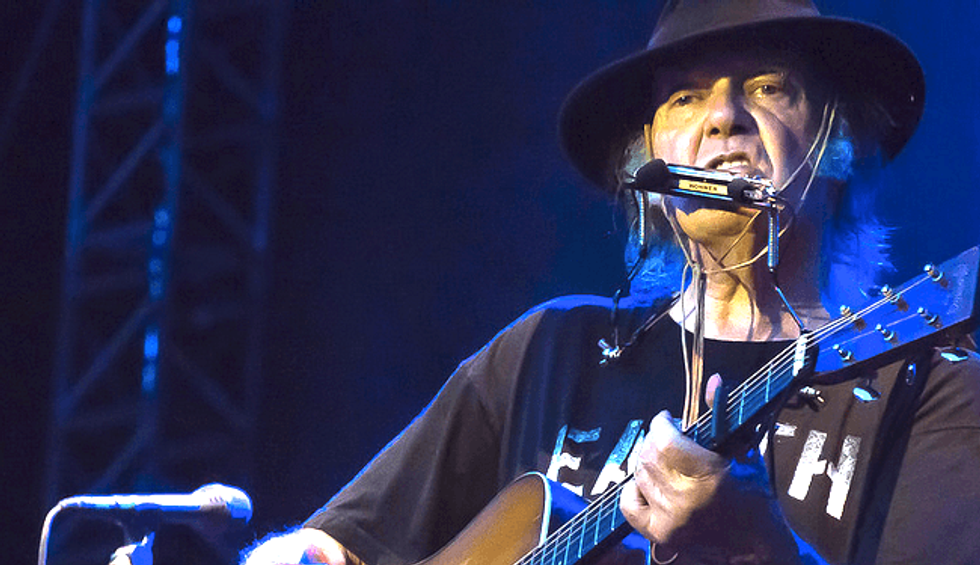 Photo credit: Flickr
The lawsuit between the Whites and Monsanto was settled in 2006 out of court.
"Even after the lawsuit was over, I couldn't make him believe it was over. He would cry and keep saying, 'Oh, they're going to come back and sue me again,'" Michael says in the documentary. "It destroyed him. It destroyed his life. He went to his grave—this grave—still afraid of [Monsanto]."
Young, a co-executive producer of the film, wrote on Facebook, which has more than 3 million likes, "Monsanto is a corporation with great wealth, now controlling over 90 percent of soybean and corn growth in America. Family farms have been replaced by giant agri corp farms across this great vast country we call home. Farm aid and other organizations have been fighting the losing battle against this for 30 years now."
"The film I would like you to see tells the story of a farming family in America, but the same thing is happening around the world," Young added. "It is a story that takes 10 minutes of your time to see. It is a simple human one, telling the heartbreaking story of one man who fought the corporate behemoth Monsanto, and it illustrates why I was moved to write 'The Monsanto Years,'" referring to the "Rockin' in the Free World" singer's latest album that attacks the corporation.
The documentary was also timed to bring attention to a House of Representatives bill dubbed the Deny Americans the Right to Know, or DARK Act, to block states from requiring GMO labels on food. The bill passed on Thursday.
Following the release of the short, Rolling Stone reached out to Monsanto for a statement.
Monsanto has fired back at Neil Young over singer's new documentary, calling his subject "not transparent" http://t.co/McK9AVrHra

— Rolling Stone (@RollingStone) July 24, 2015
"Mr. White is not transparent in describing his actions or the situation," a representative told the publication. "He actually admitted to knowingly planting, producing, saving, cleaning and selling Roundup Ready soybeans illegally. All of this information is available in court documents."
"Protecting patents and copyrights can be difficult in any business—including the entertainment industry," the rep continued to Rolling Stone. "Mr. White's actions are equivalent to pirating an album, producing thousands of copies and selling bootleg copies—all while knowing what you're doing is illegal and that it will result in criminal charges if caught."
"Although they have tended to get a lot of attention, lawsuits between us and farmers who plant seeds without paying for them are actually very rare," the rep concluded. "Every year, hundreds of thousands of farmers plant our seeds. Since 1997, when we started trying to protect the patents on our seeds, we have gone to trial with a fraction of one percent of those customers. In addition, all of the proceeds we receive from any settlement—including Mr. White's settlement—are donated to youth leadership initiatives and to support the local communities in which farmers live and work."
Monsanto's rep also pointed out a recent LinkedIn blog post from Monsanto's chief technology officer Robb Fraley that invited Young to "establish a dialogue" and to visit the company.
Fraley, a big fan of the Canadian singer/songwriter, also wrote: "If you listen to [Young's] new album, you'll hear a rehash of many of the myths we've long heard about our company. Unfortunately, some of these myths are now so well-established in some circles that people don't even question them. Young suggests, for example, that our company is making life more difficult for farmers, that we bully them with lawsuits, and that we're all about greed. None of this is accurate."
Monsanto also wrote a blog post, "Correcting 'The Monsanto Years,'" that addresses Young's album directly: "Unfortunately, the depiction of agriculture in his lyrics is inaccurate, and the album fails to reflect our strong beliefs in what we do every day to help make agriculture more sustainable."
Young declined to reply to Monsanto's latest statement to Rolling Stone.
Incidentally, Bill Nye the Science Guy, who now has a favorable opinion of GMOs, spoke about GM-seeds being planted by farmers during a recent appearance on StarTalk Radio.
"[In the] infamous cases, where when people claim they got canola growing that flew into their fields accidentally and started growing, there's substantial evidence that those cultivars were carefully cultivated," Nye said. "That is to say, one guy claimed that these seeds flew into his field, but they really didn't—he really planted them."
Whose side are you on?
YOU MIGHT ALSO LIKE
House Passes DARK Act, Banning States From Requiring GMO Labels on Food
The Monsanto Years: Neil Young Plays Jones Beach, Rev. Billy Opens the Show
EcoWatch Daily Newsletter