This website uses cookies to ensure you get the best experience while browsing it. By clicking 'Got It' you're accepting these terms.
How to Give BPA the Boot
Mar. 11, 2014 02:55PM EST
By now you are probably familiar with BPA (or byphenol A)—and the dangers of exposure to this estrogen-mimicking industrial chemical.
BPA, a proven endocrine disruptor, has been implicated in a number of maladies, from prostate and breast cancer to hyperactivity in boys, as well as an increase in the risk of miscarriages.
A major culprit in BPA exposure is the epoxy lining in canned foods and drinks—including soup and infant formula—and plastics—including some sippy cups and baby bottles. BPA is also found in paper, such as thermal cash register receipts, which is then easily transferred to our skin. Unfortunately, there is also a potential for contamination during the paper recycling process, which could result in trace amounts of BPA in paper products ranging from toilet paper to business cards.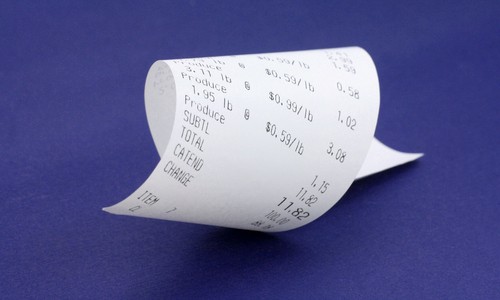 Photo courtesy of Shutterstock
It could get overwhelming trying to avoid this chemical, since it seems ubiquitous. Here are some pointers so you can say "hit the road, BPA!"
Some easy starters for minimizing BPA exposure in your life are provided by Women's Voices for the Earth:
Opt for fresh or frozen foods instead of canned. A 2011 study by the Breast Cancer Fund showed that people decreased the amount of BPA in their bodies by 60 percent in just three days when they eliminated canned foods and food packaged in plastics from their diet. Another study found that eating one can of soup every day for five days increased the BPA in a body by 1200 percent!
Look for products packaged in glass or lined cardboard instead of cans.
Store food in glass or ceramic containers instead of plastic.
Use stainless steel or glass water bottles instead of plastic bottles.
Refuse receipts when you don't need them. BPA rubs off easily onto hands, and then gets into mouths or eyes.
Store receipts you need in an envelope separate from your wallet or purse, and wash your hands after handling them.
Avoid plastic where possible or look for plastics with the recycle symbol #5, which signifies polypropylene, a safer plastic.
If you must use plastic, here are some tips on safer use:
Keep plastic products away from heat, as heat tends to promote the leaching of chemicals. Even the safer types of plastics may leach chemicals due to heat or prolonged storage.
Do not reuse plastic drink bottles that were intended for a single use.
Bottled drinks should be used quickly as chemicals from the plastic leach over time. Don't buy plastic bottles of drinks if it has been on store shelves for a long time.
Taste—if your drink has even a bit of a plastic taste to it, don't drink it.
If you are a fan of purchasing canned food to keep a well-stocked pantry, check out these suggestions from Breast Cancer Fund:
Beans
Some companies have already started using BPA-free alternatives in their canned beans, although Eden Foods is the only company that includes "BPA-free" on the label. Unfortunately, most companies aren't disclosing what they're using instead of BPA and we don't know which replacements are safe.
Some companies are selling frozen cooked beans, so check the freezer section.
If you're looking for a cheaper alternative, try soaking dry beans overnight and cooking them yourself. You'll get affordable, BPA-free beans for the next day's recipe. You can even make a large batch and freeze them for future heat-and-eat convenience. Just don't reheat them in plastic containers, which can leach BPA or other plastic chemicals.
Fruits
The best BPA-free alternative to canned fruit is simply replacing it with dried or fresh fruit. An added bonus is that many canned fruits contain added sugar so cutting the BPA might also cut the calories.
Ravioli, Pasta With Meatballs and Other Canned Meals
These all-in-one meals have some of the highest levels of BPA of any canned foods, possibly because their high fat and sodium content encourages leaching of the chemical. That means ridding your pantry of these foods offers great BPA-free bang for your buck. If you crave convenience or can't cook, try replacing canned with frozen meals. Just make sure to pop the meal out of the plastic (the tray too, not just the film cover) before throwing it into the microwave!
Restaurant Meals
Going out to eat can be a challenge because you don't know if the meal you ordered contains canned food or not. Your server, however, should have this information, so don't be afraid to ask. Generally speaking, many restaurants use canned foods so it might be tough to completely avoid BPA in your restaurant meal.

Soups
Many soups are available in Tetra Pak containers, which look like oversized juice boxes (you might recognize them from the soy milk section of the store). Tetra Paks are BPA-free, made from cardboard lined with aluminum foil and with a layer of PET (plastic code #1). However, some cities don't recycle Tetra Paks—check with your city's waste program and urge your city to recycle them if it doesn't already.
In need of chicken, beef or vegetable broth? Many broths also come in Tetra Pak containers, or you can use bouillon cubes and water to create the same broth flavor in recipes. If you enjoy cooking, you can also make your own broth and freeze extra in glass jars for later use.
Vegetables
Cracking open a can of veggies is definitely convenient, but vegetables have some of the highest levels of BPA among canned foods, according to product tests. For heat-and-serve convenience, buy frozen vegetables and steam in the microwave in a glass or ceramic bowl covered with a plate (ditch the steam-in plastic bag).
Canned tomatoes are a pantry staple, but you can get them without the can: some grocers now stock tomatoes in Tetra Paks or glass. If your favorite store doesn't carry them, ask.
Of course, fresh vegetables are always the best option. Check out what's local and seasonal in your area—they're likely the least expensive, freshest and tastiest produce selections around.
That covers two of the largest sources of BPA exposure: plastic containers and canned foods. But here are some tips from the David Suzuki Foundation on how to avoid BPA in less expected places:
 Swap out plastic wrap—Parchment paper, glass jars, beeswax cotton wraps or recycled aluminum foil are better options.
Keep plastic out of the freezer, microwave and dishwasher. BPA and phthalates leach from plastics at a higher rate in hot or cold temperatures.
Enjoy BPA-free coffee and tea at home. Use a glass French-press, stainless steel electric percolator or glass kettle to avoid piping hot water against plastic pieces.
Bring your own mug. Disposable paper cups are often lined with plastic—and they're wasteful.
Skip aluminum soda cans—also lined with BPA.
Play it safe. Wood and cloth toys are excellent, toxin-free alternatives to plastics.
Talk to your dentist. Dental sealants and composites can contain BPA.
Breastfeed (or use powdered baby formula). BPA transfers through breast milk, so protecting you also protects baby. More BPA leaches into liquid than powdered formula.
In addition, Silent Spring Foundation points out studies have shown that people who eat more meals outside of the home have higher levels of BPA. So consider eating in and cooking with fresh ingredients to further reduce BPA exposure at mealtime.
Still have some nagging or more detailed questions about how to avoid BPA? See if these facts from Environmental Working Group (EWG) help:
Infant formula: All U.S. manufacturers use BPA-based lining on the metal portions of the formula containers. Tests of liquid formulas by FDA and EWG show that BPA leaches into the formula from all brands tested. Enfamil formula appears to have the highest concentrations of the 20 tests. Choose powdered formula which may not have BPA in packaging and which is more diluted with water. If your baby needs liquid formula look for types sold in plastic or glass containers.
Our testing of canned foods found that BPA leaches from the liner into the food itself. Beverages appear to contain less BPA residues, while canned pasta and soups contain the highest levels. Rinsing canned fruit or vegetables with water prior to heating and serving could lessen BPA ingestion.
Soft or cloudy-colored plastic does not contain BPA.
Some metal water bottles are lined with a plastic coating that contains BPA. Look for stainless steel bottles that do not have a plastic liner.
Visit EcoWatch's TIPS and HEALTH pages for more related news on this topic.

EcoWatch Daily Newsletter
Two Sherpa descending from Everest Base Camp, Himalayas, Khumbu, Nepal. Joel Addams / Aurora Photos / Getty Images
Climate change is having a grizzly effect on Mount Everest as melting snow and glaciers reveal some of the bodies of climbers who died trying to scale the world's highest peak.
Navajo Generating Station, Arizona. Wolfgang Moroder / Wikimedia / CC BY-SA 3.0
The Navajo Nation have decided to stop pursuing the acquisition of a beleaguered coal-fired power plant in Arizona, locking in the plant to be taken offline and its associated coal mine to close later this year.
A Navajo Nation Council committee voted 11-9 last week to stop pursuing the purchase of the 2,250-megawatt Navajo Generating Station, which with the Kayenta coal mine provides more than 800 jobs to primarily Navajo and Hopi workers as well as tribal royalties.
A coalition of utilities that own the plant said in 2017 it would cease operations due to increased economic pressure, and the plant's future has proved a flash point for national and regional energy policy and raised larger questions on how Native communities will handle ties to fossil fuel industries as the economy changes.
For a deeper dive:
Arizona Republic, Indian Country Today, AP, WOKV, Farmington Daily Times
For more climate change and clean energy news, you can follow Climate Nexus on Twitter and Facebook, and sign up for daily Hot News.
Related Articles Around the Web
Sir David Attenborough opens Woodberry Wetlands on April 30, 2016 in London, United Kingdom. Danny Martindale / WireImage
An extended version of the Fuxing bullet train at the China National Railway Test Center on Oct. 15, 2018 in Beijing, China. VCG / VCG via Getty Images
By Jeff Turrentine
Is it just us?
Other countries don't seem to have a problem getting their high-speed rail systems on track. This superfast, fuel-efficient form of mass transit is wildly popular throughout Asia and the European Union. Japan's sleek Shinkansen line, the busiest high-speed rail system in the world, carries an estimated 420,000 riders every weekday. In China, the new Fuxing Hao bullet train now hurries more than 100 million passengers a year between Beijing and Shanghai at a top speed of 218 miles an hour, allowing its riders to make the trip of 775 miles — roughly the distance from New York City to Chicago — in about four and a half hours. Spain, Germany and France together have more than 4,500 miles of track dedicated to high-speed rail, over which more than 150 million passengers travel annually.
Ocean Heroes Bootcamp
By Coda Christopherson (11) and Lea Eiders (15)
Growing up in a plastic-free home, I was sheltered from the plastic waste crisis. I (Coda) went to a very progressive school that had vegan lunch items, farm animals and ran on solar power. My mom produces zero-waste events and my dad is a sailor, so we're very passionate about the ocean. When I was nine years old, we moved back to Manhattan Beach, California and I started 3rd grade in a public school. This was the first time I really understood that plastic-free living is not the norm; single-use plastics were everywhere, especially in the cafeteria. Once I recognized this problem, I knew I had to make a difference.
A major California avocado producer issued a voluntary recall of the popular fruit over concerns they could be contaminated with Listeria monocytogenes, USA Today reported.
Henry Avocado issued the recall Saturday after a routine government inspection at its California packing facility turned up positive test results for the bacteria on "environmental samples," the company said in a statement. No illnesses have been reported.
Acting Secretary David Bernhardt visited Watson Hopper Inc., a manufacturer of rigs and oil drilling equipment in Hobbs, New Mexico on Feb. 6, 2019.
Tami A. Heilemann / DOI
Oil executives gathered for a conference laughed about their "unprecedented" access to Trump administration officials, according to a recording obtained by Reveal from the Center for Investigative Reporting.
In the recording, taken at a June 2017 meeting of the Independent Petroleum Association of America (IPAA) at a Ritz-Carlton in Southern California, members expressed excitement about one official in particular: David Bernhardt, who had been nominated that April to be deputy secretary at the Department of Interior (DOI). Bernhardt would be confirmed the following month.
"We know him very well, and we have direct access to him, have conversations with him about issues ranging from federal land access to endangered species, to a lot of issues," IPAA political director Dan Naatz said in the recording.