This website uses cookies to ensure you get the best experience while browsing it. By clicking 'Got It' you're accepting these terms.
Adrian Grenier's New Entourage and Lonely Whale Foundation
Dec. 07, 2015 08:42AM EST
Animals
Actor, filmmaker and social advocate Adrian Grenier is best known for his role as the leading man in the HBO series and movie Entourage. By Grenier's own account, the "show promotes a culture of conspicuous consumerism" with Hollywood's elite purchasing cars, homes and big ticket luxury items in nearly every episode. However, Grenier's new "entourage," his co-presenters at the World Climate Summit and Sustainia Award Ceremony in Paris on Dec. 6, are focused on solutions that create a sustainable future.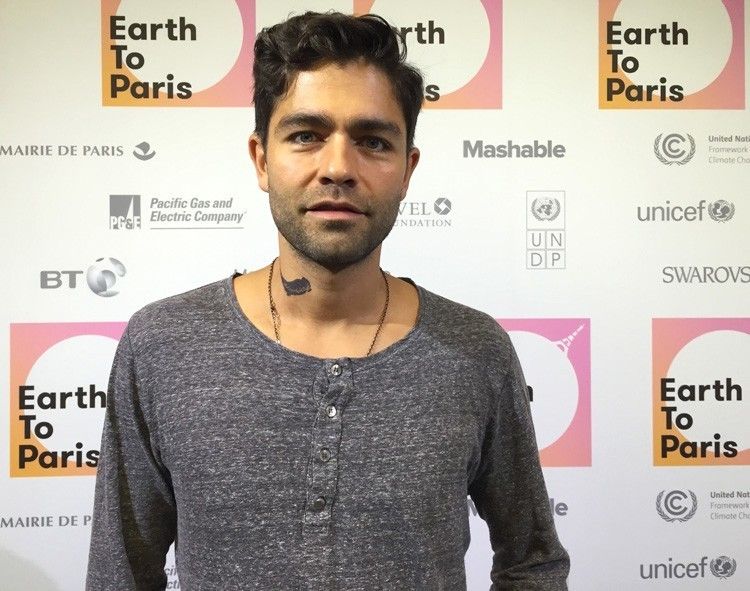 Grenier shared the stage Sunday night with world leaders, CEOs and entrepreneurs—including Sir Richard Branson, Ted Turner and former Mexico President Felipe Calderon—to honor innovators from around the globe. Grenier presented the Sustainia Community Award to Plastic Bank, a company that makes plastic waste a currency to help reduce global poverty while stopping plastic from entering our oceans.
Plastic Bank's mission to clean up the ocean is a cause near and dear to the actor's heart. Just days before Grenier arrived in Paris for COP21, he launched the Lonely Whale Foundation, along with Producer Lucy Sumner and Director Josh Zeman. Inspired by the heartfelt story of a solitary whale, the Lonely Whale Foundation promotes ocean health awareness through conversation and immersive experience.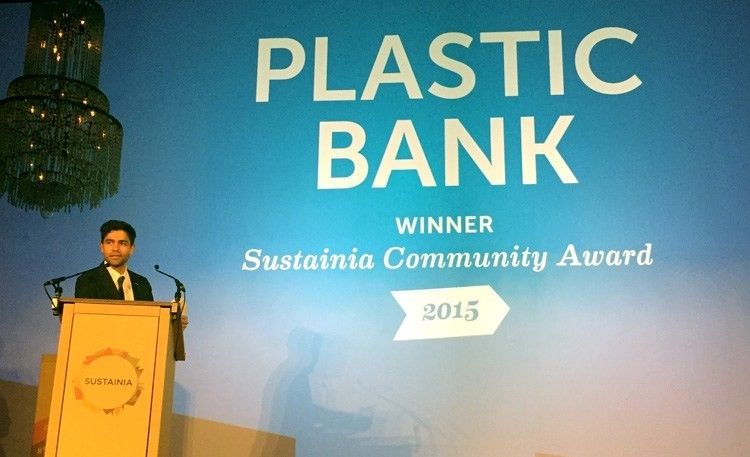 Stefanie Spear, founder and CEO of EcoWatch, had the chance to speak with Grenier at the World Climate Summit.
"I'm here to share my support and stand for strong climate action," Grenier told Spear. "I'm actually quite encouraged by the fact that the world is coming together to unite against our greatest common enemy which is climate change and environmental destruction.
"We just launched the Lonely Whale Foundation two days ago for ocean education and awareness. We are building an education curriculum to use our hero symbolic character the lonely whale as an ambassador, as a 'spokeswhale' for all marine wildlife and protection of marine habitats. I'm here with a virtual reality experience that we built to give you an introduction to the story of the lonely whale, and the plight of whales and what they have to face in the oceans with ocean noise pollution and plastics pollution, and to give an immersive experience for those that don't have an opportunity to connect and bond and create those intimate connections with the ocean.
"We believe that if people could experience the ocean and connect with it, they would be more apt to want to protect it because they would have empathy that they gain from the experience.
"One of our missions is to create the bonds and connections for the majority of us who don't have the opportunity to experience what's happening below the surface of the ocean."
The project first began as a focus on the 52 Hertz Whale, a whale that has spent its entire life in solitude—resulting in the feature film 52: The Search for the Loneliest Whale, produced by entertainment and media company Alldayeveryday and Reckless Production.
According to the Lonely Whale Foundation, it operates on the belief that in order to achieve a healthier ocean and environment for marine wildlife, humans must assume the roles of global citizens and work together as stewards of the planet to make positive change in the fragile and complex bodies of water that make up more than 70 percent of the planet.
"The Lonely Whale is not only a real animal, swimming in the pacific, looking for companionship but a symbol of our lack of ocean awareness, and how that disconnect is affecting these beautiful life forms," Grenier said. "The mission for this foundation has been years in the making, and we hope the result will be greater understanding of our oceans, as well as mobilize our society to ensure that these creatures do not disappear from our oceans."
YOU MIGHT ALSO LIKE
Richard Branson Presents Sustainia Award for World's Most Innovative City Solution
Leonardo DiCaprio: 'Do Not Wait Another Day' to Move to 100% Renewable Energy
Mark Ruffalo: 'Monsanto Chief is Horrible'
EcoWatch Daily Newsletter
Tuna auctions are a tourist spectacle in Tokyo. Outside the city's most famous fish market, long queues of visitors hoping for a glimpse of the action begin to form at 5 a.m. The attraction is so popular that last October the Tsukiji fish market, in operation since 1935, moved out from the city center to the district of Toyosu to cope with the crowds.

gmnicholas / E+ / Getty Images
Kristan Porter grew up in a fishing family in the fishing community of Cutler, Maine, where he says all roads lead to one career path: fishing. (Porter's father was the family's lone exception. He suffered from terrible seasickness, and so became a carpenter.) The 49-year-old, who has been working on boats since he was a kid and fishing on his own since 1991, says that the recent warming of Maine's cool coastal waters has yielded unprecedented lobster landings.
Aerial view of lava flows from the eruption of volcano Kilauea on Hawaii, May 2018. Frizi / iStock / Getty Images
Hawaii's Kilauea volcano could be gearing up for an eruption after a pond of water was discovered inside its summit crater for the first time in recorded history, according to the AP.
The Eqip Sermia Glacier is seen behind a moraine left exposed by the glacier's retreat during unseasonably warm weather on Aug. 1 at Eqip Sermia, Greenland. Sean Gallup / Getty Images
hadynyah / E+ / Getty Images
By Johnny Wood
The Ganges is a lifeline for the people of India, spiritually and economically. On its journey from the Himalayas to the Bay of Bengal, it supports fishermen, farmers and an abundance of wildlife.
The river and its tributaries touch the lives of roughly 500 million people. But having flowed for millennia, today it is reaching its capacity for human and industrial waste, while simultaneously being drained for agriculture and municipal use.
Here are some of the challenges the river faces.
By Jake Johnson
As a growing number of states move to pass laws that would criminalize pipeline protests and hit demonstrators with years in prison, an audio recording obtained by The Intercept showed a representative of a powerful oil and gas lobbying group bragging about the industry's success in crafting anti-protest legislation behind closed doors.
Reposted with permission from our media associate Common Dreams.

DESIREE MARTIN / AFP / Getty Images
Wildfires raging on Gran Canaria, the second most populous of Spain's Canary Islands, have forced around 9,000 people to evacuate.