This website uses cookies to ensure you get the best experience while browsing it. By clicking 'Got It' you're accepting these terms.
Heartland Institute Threatens Critics after Leaked Documents
Feb. 20, 2012 09:13AM EST
Climate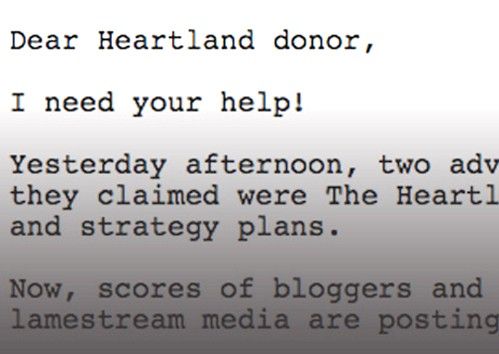 By Andy Rowell
The climate skeptic think tank, the Heartland Institute, that last week was the victim of a devastating leak of information, has decided that attack is the best form of defense and has started threatening organizations and websites that published the leaked documents.
It is interesting to dissect how Heartland, which has been in crisis mode for a week now, has reacted to this scandal. And it smacks of hypocrisy.
Its first response was to argue that the authenticity of the documents had not been confirmed. It then argued that one of the most damaging documents—its leaked 2012 Strategy—was a fake "apparently intended to defame and discredit The Heartland Institute." This was a clear attempt to stop people from quoting from it.
The Heartland then "respectfully" asked "all activists, bloggers, and other journalists to immediately remove all of these documents and any quotations taken from them, especially the fake "climate strategy" memo and any quotations from the same, from their blogs, Web sites, and publications, and to publish retractions."
In a section on the lessons learned it argued that "honest disagreement" over the causes of climate change "should never be used to justify the criminal acts and fraud that occurred in the past 24 hours. As a matter of common decency and journalistic ethics, we ask everyone in the climate change debate to sit back and think about what just happened."
If Heartland had a track record of honestly portraying the science of climate change and not exploiting previous stolen information it might well have a leg to stand on. Instead we are dealing with an institute that is used to promoting climate denial and one that ruthlessly exploited the leaked emails from scientists, not just with the first leak in November 2009, but also the second leak at the end of last year.
Just check a short selection of some of their headlines:
So the hypocrisy and irony of Heartland asking people to refrain from using the documents has not been lost on seven scientists whose emails featured in "Climategate."
In a letter published in the Guardian at the end of last week, the scientists wrote:
"As scientists who have had their emails stolen, posted online and grossly misrepresented, we can appreciate the difficulties the Heartland Institute is currently experiencing following the online posting of the organization's internal documents earlier this week. However, we are greatly disappointed by their content, which indicates the organization is continuing its campaign to discredit mainstream climate science and to undermine the teaching of well-established climate science in the classroom."
The letter continued—"Despite multiple independent investigations, which demonstrated that allegations against scientists were false, the Heartland Institute continued to attack scientists based on the stolen emails … So although we can agree that stealing documents and posting them online is not an acceptable practice, we would be remiss if we did not point out that the Heartland Institute has had no qualms about utilizing and distorting emails stolen from scientists."
It also said—"We hope the Heartland Institute will heed its own advice to 'think about what has happened' and recognize how its attacks on science and scientists have helped poison the debate over climate change policy. The Heartland Institute has chosen to undermine public understanding of basic scientific facts and personally attack climate researchers rather than engage in a civil debate about climate change policy options."
Rather than "thinking about what has happened" the Institute is now trying to gag websites  from using the information. It has sent legal notices to numerous Web sites, blogs and publications asking them to take down documents.
For once I agree with Heartland's Joseph Bast when he writes, "We realize this will be portrayed by some as a heavy-handed threat to free speech."
One of those whom has received a legal letter is of course DeSmogBlog, which leaked the original documents.
As Richard Littlemore from the blog notes—"Heartland Institute general counsel Maureen Martin has sent letters to the DeSmogBlog and several other publications demanding that we remove all Heartland-related documents that we posted on February 14, as well as all related commentary."
So good on DeSmogBlog for not buckling under the pressure.
As they say, "We will leave them in place – in the public interest."
For more information, click here.
EcoWatch Daily Newsletter
Food manufacturer General Mills issued a voluntary recall of more than 600,000 pounds, or about 120,000 bags, of Gold Medal Unbleached All Purpose Flour this week after a sample tested positive for a bacteria strain known to cause illness.
Imelda flooded highway 69 North in Houston Thursday. Thomas B. Shea / Getty Images
Extreme weather events supercharged by climate change in 2012 led to nearly 1,000 more deaths, more than 20,000 additional hospitalizations, and cost the U.S. healthcare system $10 billion, a new report finds.
Giant sequoia trees at Sequoia National Park, California. lucky-photographer / iStock / Getty Images Plus
A Bay Area conservation group struck a deal to buy and to protect the world's largest remaining privately owned sequoia forest for $15.6 million. Now it needs to raise the money, according to CNN.
This aerial view shows the Ogasayama Sports Park Ecopa Stadium, one of the venues for 2019 Rugby World Cup. MARTIN BUREAU / AFP / Getty Images
The Rugby World Cup starts Friday in Japan where Pacific Island teams from Samoa, Fiji and Tonga will face off against teams from industrialized nations. However, a new report from a UK-based NGO says that when the teams gather for the opening ceremony on Friday night and listen to the theme song "World In Union," the hypocrisy of climate injustice will take center stage.
Vera_Petrunina / iStock / Getty Images Plus
By Wudan Yan
In June, New York Times journalist Andy Newman wrote an article titled, "If seeing the world helps ruin it, should we stay home?" In it, he raised the question of whether or not travel by plane, boat, or car—all of which contribute to climate change, rising sea levels, and melting glaciers—might pose a moral challenge to the responsibility that each of us has to not exacerbate the already catastrophic consequences of climate change. The premise of Newman's piece rests on his assertion that traveling "somewhere far away… is the biggest single action a private citizen can take to worsen climate change."

Volunteer caucasian woman giving grain to starving African children.
Bartosz Hadyniak / E+ / Getty Images
Food will be scarce, expensive and less nutritious," CNN warns us in its coverage of the UN's new "Climate Change and Land" report. The New York Times announces that "Climate Change Threatens the World's Food Supply."
By Adam Vaughan
Two-thirds of people in the UK think the amount people fly should be reined in to tackle climate change, polling has found.