GMO Labeling Defeated in Colorado, Too Close to Call in Oregon
Nov. 05, 2014 11:05AM EST
Food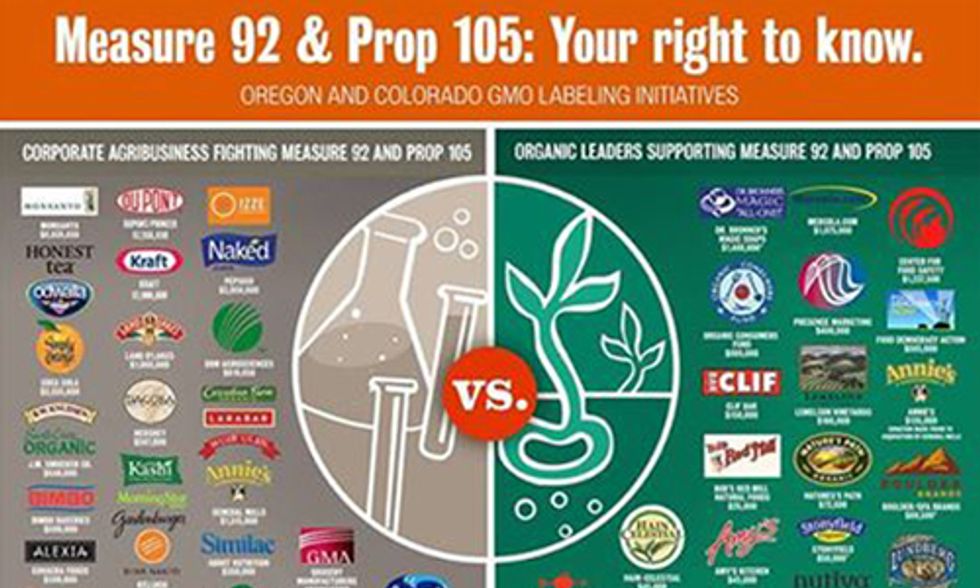 Monsanto's heavy spending netted it a victory over Colorado's attempt to institute a mandatory labeling law for genetically modified (GMO) foods, one of two states to have such a measure on the ballot. While two-thirds of the voters in Colorado rejected the measure, Proposition 105, a similar labeling issue in Oregon was too close to call this morning, although it was trailing.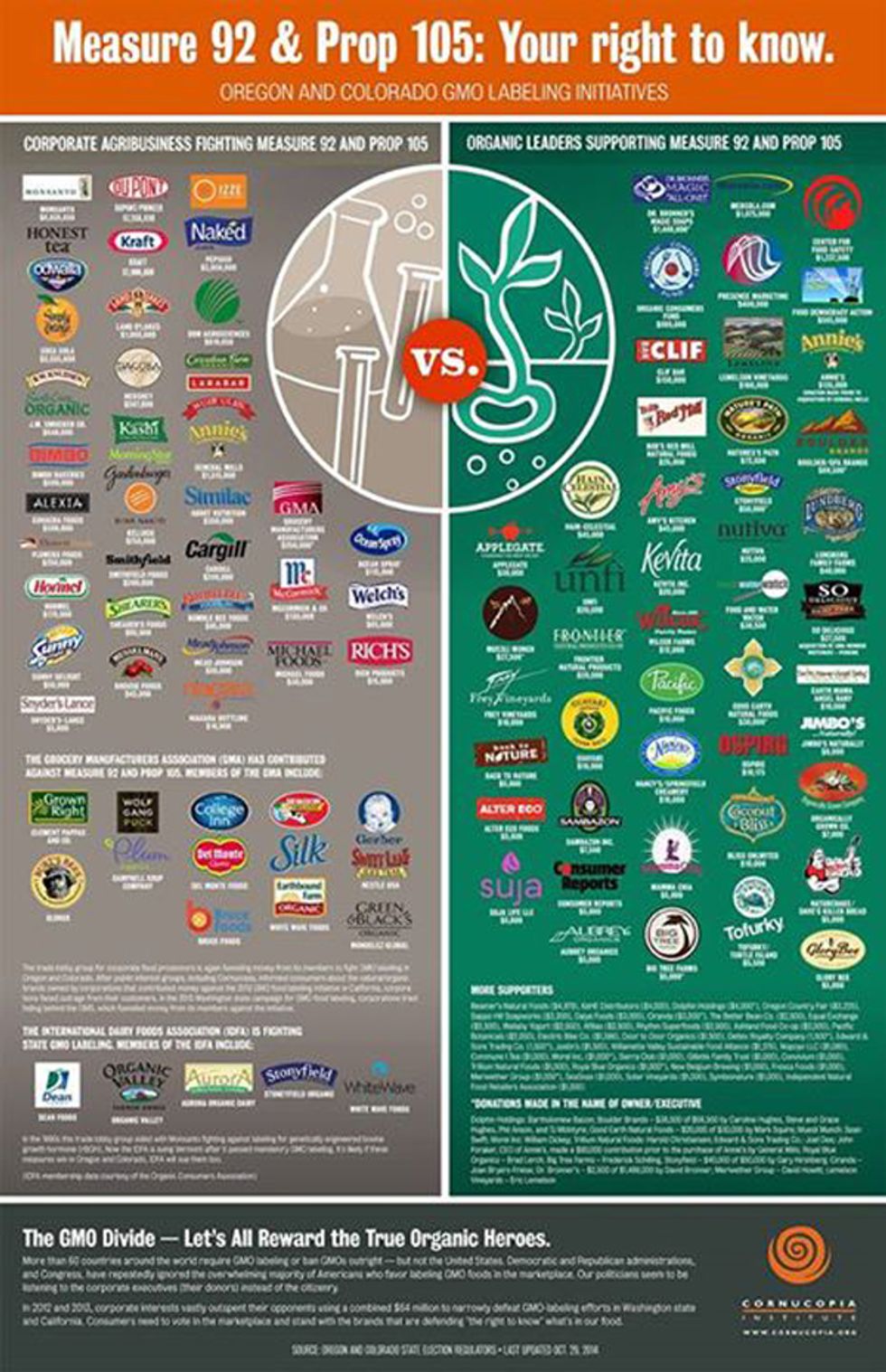 The grassroots effort Right to Know Colorado was supported by grocers like Whole Foods and Natural Grocers, but they were drastically outspent by opponents, led by Monsanto. Corporate food and biotech interests spent $17 million against less than $1 million spent by labeling supporters.
"Every day, Coloradans took to the streets and to social media to talk to their neighbors, friends and family about why Colorado should offer families the same transparency afforded families in 64 countries worldwide—the right to know what's in our food," said Lisa Trope, Colorado organizer for Food & Water Watch, which worked with Right to Know Colorado on the issue.
"But Goliath prevailed over David; the biotech industry poured $11 million into a flood of television propaganda to drown out the voice of the people. Corporate interests can only keep people in the dark about what we're eating for so long, and Food & Water Watch will continue to fight to make sure Coloradans know if their food in genetically engineered."
In Oregon, supporters of Measure 92 were also outspent, though less drastically, with $7 million invested by supporters and more than $20 million pouring in from Monsanto, DuPont, Pepsi, Coca-Cola and Kraft Foods to push their claims that GM labeling would be costly for food producers and increase the price of groceries. (The measure did not apply to restaurant food).
In Hawaii, Maui County voters passed by a slim margin to temporarily ban genetically engineered crops, which goes far beyond labeling.
"The county's first-ever ballot initiative targeting global agriculture companies Monsanto and Dow AgroSciences attracted nearly $8 million from opponents," Honolulu Civil Beat reports, "making it the most expensive campaign in Hawaii's history."
The expense for the campaign equates to "more than $75 per registered voter in Maui County, which has a population of just around 160,000."
Humboldt County, California also passed a GMO crop ban, joining bordering Mendocino and Trinity counties in prohibiting the growing of GMO crops.
YOU MIGHT ALSO LIKE
7 Ways to Fight Back Against Monsanto and Other Corporate Bullies of the GMA
Bill Nye the Science Guy's Take on GMO Foods
GMO Crops Accelerate Herbicide and Insecticide Use While Mainstream Media Gets It Wrong
EcoWatch Daily Newsletter