This website uses cookies to ensure you get the best experience while browsing it. By clicking 'Got It' you're accepting these terms.
Do Documentary Films Play an Integral Role in Environmental Education?
May. 09, 2014 08:34AM EST
Amanda Giddon is a rising senior at Duke University studying Environmental Sciences and Policy and Visual Media. Amanda is interested in exploring the intersection between the two disciplines.
Social movements are created out of social media interactions alone, and many students are opting to learn online, rather than in a conventional classroom environment. Accordingly, educators have come to a fork in the road: do we disparage screen time, and hope that today's youth will cling to established teaching methods, or do we embrace visual media in our day-to-day lesson plans? How do we get students to listen, and more importantly, how do we inspire them to act?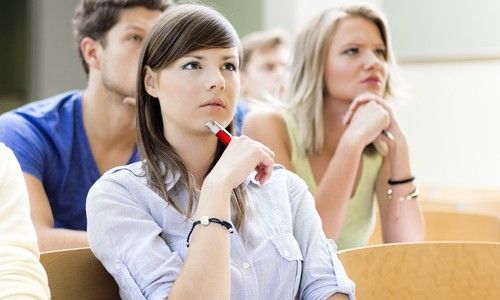 Photo courtesy of Shutterstock
This question is especially relevant to environmental education, which relies heavily upon the support and proactivity of young people. It appears that environmental activists are opting to embrace the shift. Environmental education and advocacy has adopted a digital channel to increase awareness and promote behavioral change—documentary film.
Researchers have begun to study what specific features make environmental documentaries compelling, informative and inspiring. Several recent case studies have made progress in identifying these operative characteristics, but there remain many unanswered questions about what makes for the most effective environmental picture.
One study by Tasod A. Barbas found that non-verbal, less conventional documentary was more effective in the development of environmental knowledge and feelings about insects than the traditional medium. Another study by Mo Bahk found that narrative films (in place of non-fictional documentaries) could also be an effective educational and motivational tool due to their ability to create suspense, their non-invasive ability to present environmental issues in "a natural setting of life experiences," and their increased capacity to provoke emotional, empathic responses.
A study by Jessica M. Nolan evaluated the effectiveness of the renowned documentary An Inconvenient Truth. The results showed that after seeing the film, viewers exhibited significantly more knowledge and concern about global warming, in addition to an increase in motivation to reduce greenhouse gasses through behavioral change. However, after a one-month period only a few participants took substantial actions to reduce greenhouse gasses. Accordingly, this study confirms the public criticism that An Inconvenient Truth functions as a successful informational tool, but may fall short as a valuable motivational technique.
These experimental studies yield thought-provoking results, but are limited by sample size and highly specific conditions. The studies leave many stones unturned, spawning numerous opportunities for further research. Some important areas for further study include the duration of impact of environmental films, how the degree to which environmental documentaries assign blame for environmental issues affects the motivation of audiences to take action, and how documentaries of diverse subject matter differ in effect.
The film-to-film comparison is effective and insightful, but not entirely comprehensive. To more meticulously evaluate environmental pictures as an educational tool, the films should be measured against traditional teaching techniques such as assigned textbook readings and lectures. The lack of scholarship comparing formal teaching methods and digital media prompted my own experimental study.
To compare the educational value of environmental film and traditional classroom lecture, I split up a class of Duke University students into two groups. The control group received a lecture about smart growth technologies while the experimental group saw a documentary of comparable duration and subject matter, Build Green.
In response to the in-class lecture, many students suggested that the lesson be more interactive. Several students proposed that the teacher employ a Socratic technique, where the professor would ask the class to answer questions about smart growth before he or she continued on to explain the subject. Students also requested more anecdotal evidence from a range of international locations, in addition to more tangible examples of how to realistically implement smart growth technologies as a college student.
Students also found that the video lecture fell short in several capacities. Several students suggested that the video be supplemented by lecture notes to cover relevant topics that were not discussed in the film, in addition to a post-video group discussion to debrief about the lesson's core concepts. A few participants also found the video to be too lengthy, and suggested that it be cut down in detail. Students suggested that making the video more relatable could also help hold their attention.
My experimental design comparing lecture-based lessons and film-based lessons illustrates that students are receptive to both modes of teaching. However, the feedback from both groups seems to suggest that a combination of lecture, interactivity and media support and reinforcement might provide an optimal mix of inputs to generate the most engagement and commitment. 
 These results are in tune with the onslaught of online learning, specifically the "flipped classroom" dynamic, where students watch video lectures outside of the classroom, and participate in discussion or do practice problems during the class period. Although these techniques are undoubtedly increasing in popularity and scope, more research should be done in regards to the teaching style's relative effectiveness and motivational value. Further investigation can help revolutionize the way students perceive environmental issues, in addition to a range of other disciplines.
——–
YOU MIGHT ALSO LIKE
'Just Eat It': Documentary Explores Food Waste From Farm to Fridge
Sean Penn's 'The Human Experiment' Reveals the Toll of Toxic Chemicals
EcoWatch Daily Newsletter
People carry children on a flooded street in Almoradi, Spain on Sept. 13. JOSE JORDAN / AFP / Getty Images
Large food companies are following in the footsteps of fast-food restaurants such as Burger King and KFC by offering meat alternatives. Getty Images
By Elizabeth Pratt
Hormel, Kellogg's, and Kroger are among the large companies now planning to offer "fake meat" products at grocery stores.
Experts say the trend toward plant-based meats coincides with consumers' desires to eat less meat.
However, experts urge consumers to closely check package labels as a product isn't necessarily healthy just because it's described as plant-based.
In grocery stores and fast-food outlets around the U.S., a revolution is taking place.
Colombia rainforest. Marcel Oosterwijk / CC BY-SA 2.0
Many of us think of the Amazon as an untouched wilderness, but people have been thriving in these diverse environments for millennia. Due to this long history, the knowledge that Indigenous and forest communities pass between generations about plants, animals and forest ecology is incredibly rich and detailed and easily dwarfs that of any expert.
picture-alliance / Newscom / R. Ben Ari
By Wesley Rahn
Plastic byproducts were found in 97 percent of blood and urine samples from 2,500 children tested between 2014 and 2017, according to a study by the German Environment Ministry and the Robert Koch Institute.

Pexels
Medically reviewed by Daniel Bubnis, MS, NASM-CPT, NASE Level II-CSS
Hot yoga has become a popular exercise in recent years. It offers many of the same benefits as traditional yoga, such as stress reduction, improved strength, and flexibility.
Lara Hata / iStock / Getty Images
By SaVanna Shoemaker, MS, RDN, LD
Rice is a staple in many people's diets. It's filling, inexpensive, and a great mild-tasting addition to flavorful dishes.
An image of the trans-alaskan oil pipeline that carries oil from the northern part of Alaska all the way to valdez. This shot is right near the arctic national wildlife refuge. kyletperry / iStock / Getty Images Plus
The Trump administration has initialized the final steps to open up nearly 1.6 million acres of the protected Alaskan National Wildlife Refuge to allow oil and gas drilling.