This website uses cookies to ensure you get the best experience while browsing it. By clicking 'Got It' you're accepting these terms.
Chipotle Proves Sustainable Food Sourcing Is Profitable
Feb. 06, 2015 01:45PM EST
Food
By any measure, the Chipotle Mexican Grill chain of fast casual restaurants has been a huge success. Founded in 1993 with one restaurant in Denver, it now has nearly 1,800 outlets across the U.S., Canada and Europe, opening 192 new locations in 2014 alone. Its stock has been trending steadily upwards for the last decade, while more traditional fast food chains like McDonald's, a former investor in Chipotle which divested in 2006, have been experiencing sales drops.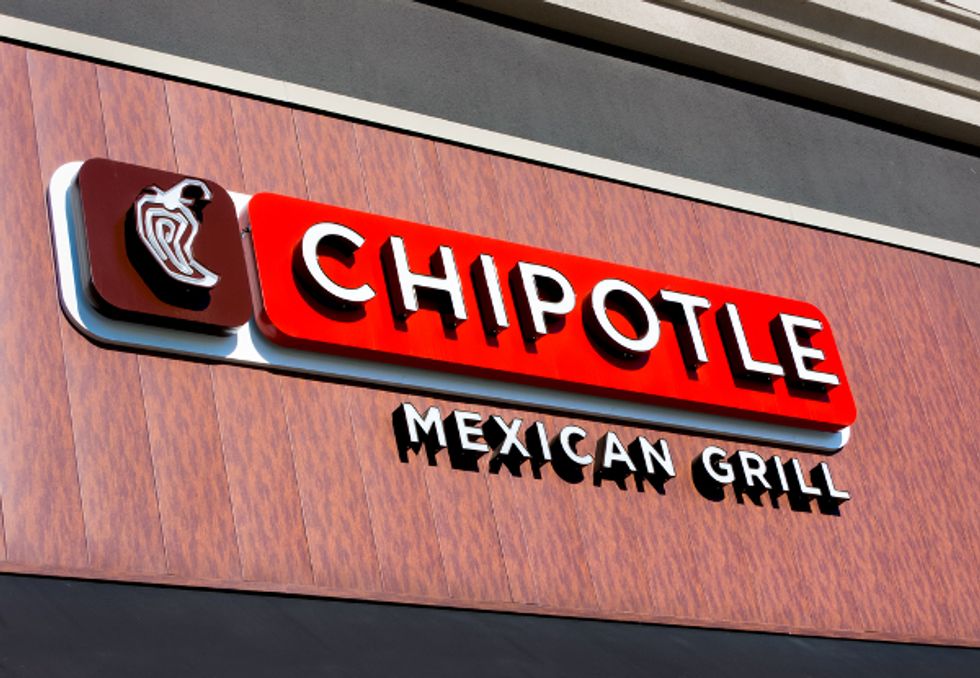 Photo credit: Shutterstock
At the same time, it has been more conspicuous than virtually any other major food chain in touting its sustainability efforts. It released a mission statement in 2001 called Food With Integrity (FWI), which launched its journey to using more organic produce, pasture-raised dairy, and hormone- and antibiotic-free meat raised humanely as well as sourcing more of its food from family farmers in the area where each restaurant is located.
In January, it demonstrated its commitment to the program when it removed pork from the menus of hundreds of its restaurants after an audit of its supply chain showed pigs raised in confined quarters. That's in violation of the statement on Chipotle's website that says, "There are farmers whose pigs are raised outside or in deeply bedded pens, are never given antibiotics and are fed a vegetarian diet. It's the way animals were raised before huge factory farms changed the industry. We call this style of farming and ranching naturally raised, and since 2001, Chipotle has sourced 100 percent of our pork from producers who follow these guidelines."
In its earnings call this week, chain founder and CEO Steve Ells said that although that decision could cost the company $2 million in sales, he did not believe it would hurt the company in the long run.
"Recently we've seen strong evidence that our commitment to sourcing sustainably raised ingredients is resonating with many consumers," said Ells. "In January we decided to spend one of our pork suppliers after a routine audit reveal that they were not following all of our animal welfare protocols. Choosing to suspend the supplier meant that we would not be able to supply carnitas to about one third of our restaurants. While we could have chosen to replace this supply with pork from conventionally raised pigs, we decided not to because most conventionally raised pigs are subjected to conditions that we find unacceptable. These conventional practices are unacceptable to us and we refuse to serve pork from animals raised in that manner."
"Since we made this decision, the majority of sentiment from our customers has been very supportive in the email and web comments along with social media posts," Ells continued. "Customers are applauding our commitment to our vision, thanking us for standing on principal, commending us for taking action against the inhumane treatment of animals and congratulating us for standing by our business values."
Chipotle makes no claim to being fully organic and humane in its food sourcing, but it has expanded its efforts over time.
"Organic is great, but it's not always appropriate for the food we serve," the company says. "Sometimes we can find farmers who focus on responsible or sustainable practices but aren't certified organic. We make that call market-by-market, ingredient-by-ingredient, always keeping the big picture in mind."
It points to its sourcing of a key Mexican food ingredient, beans.
"Currently, a portion of our beans is organically grown, which has a number of benefits including a reduction in chemical pesticide usage," according to the company's website. "We have been increasing our use of organically grown beans over the last few years and may use even more in the coming years."
In the earnings call, Ells also said that the chain had served 165 million pounds of responsibly raised meat in 2014, an increase of more than 20 percent over 2013. He promoted the chain's appeal to younger diners and said, "We believe that our popularity among these younger consumers is tied to our vision and the growing interest in issues related to food and how it is raised. Our own research shows that these issues are clearly becoming more relevant and important when customers choose where they will dine."
The company's commitment to organic produce and humane animal practices has to do both with providing better quality of food to consumers increasingly concerned with the source of what they eat, but also to protect the environment.
"Industrial ranching and factory farming produce tons of waste while depleting the soil of nutrients," says the company's Food With Integrity statement. "These seem like bad things to us. So we work hard to source our ingredients in ways that protect this little planet of ours."
That concern extends to recycling. The company also uses 100 percent recycled napkins, saying that that saves more than 2 million gallons of water annually. Its burrito bowls are made from 91 percent recycled materials and its aluminum lids are 95 percent recycled.
YOU MIGHT ALSO LIKE
10 Reasons Consumers Buy Organic
Ice Cream Giant Announces Plans to Stop Using Milk From Cows Treated With Artificial Hormone rBST
Diane Rehm Examines the Dangers of Monsanto's Roundup and Dow's Enlist Duo Herbicides
EcoWatch Daily Newsletter
The CDC has emphasized that washing hands with soap and water is one of the most effective ways to prevent the spread of COVID-19. Guido Mieth / Moment / Getty Images
The Centers for Disease Control has emphasized that washing hands with soap and water is one of the most effective measures we can take in preventing the spread of COVID-19. However, millions of Americans in some of the most vulnerable communities face the prospect of having their water shut off during the lockdowns, according to The Guardian.
A California newt (Taricha torosa) from Napa County, California, USA. Connor Long /
CC BY-SA 3.0
Aerial photos of the Sierra Nevada — the long mountain range stretching down the spine of California — showed rust-colored swathes following the state's record-breaking five-year drought that ended in 2016. The 100 million dead trees were one of the most visible examples of the ecological toll the drought had wrought.
Now, a few years later, we're starting to learn about how smaller, less noticeable species were affected.
Disinfectants and cleaners claiming to sanitize against the novel coronavirus have started to flood the market.
Natthawat / Moment / Getty Images
Disinfectants and cleaners claiming to sanitize against the novel coronavirus have started to flood the market, raising concerns for the U.S. Environmental Protection Agency (EPA), which threatened legal recourse against retailers selling unregistered products, according to The New York Times.
A customer packs groceries in reusable bags at a NYC supermarket on March 1, 2020. Eduardo Munoz Alvarez/Getty Images
The global coronavirus pandemic has thrown our daily routine into disarray. Billions are housebound, social contact is off-limits and an invisible virus makes up look at the outside world with suspicion. No surprise, then, that sustainability and the climate movement aren't exactly a priority for many these days.
Ingredients are displayed for the Old School Pinto Beans from the Decolonize Your Diet cookbook by Luz Calvo and Catriona Rueda Esquibel. Melissa Renwick / Toronto Star via Getty Images
By Molly Matthews Multedo
Livestock farming contributes to global warming, so eating less meat can be better for the climate.