15 Indigenous Vegetables that are Nutritious and Delicious
Nov. 19, 2013 02:28PM EST
Food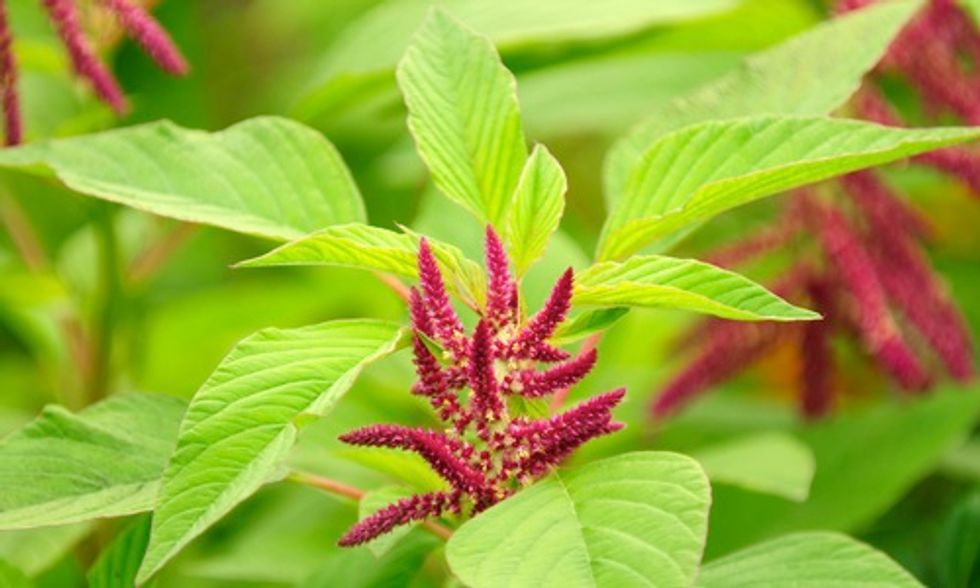 The incredible variety of the planet's plant life is disappearing. The U.N. Food and Agriculture Organization (FAO) reports that approximately 75 percent of the Earth's plant genetic resources are now extinct. Another third of plant biodiversity is expected to disappear by 2050. Unfortunately, most investment in agriculture is for crops such as wheat, rice, and maize, rather than more nutritious foods. But many indigenous crops can be environmentally sustainable, improve food security, help prevent malnutrition, and increase incomes.
There are thousands of other indigenous crops you may not know exist. Here, courtesy of Food Tank, are 15 indigenous vegetables that are nutritious, delicious and contribute to the livelihoods of people around the globe.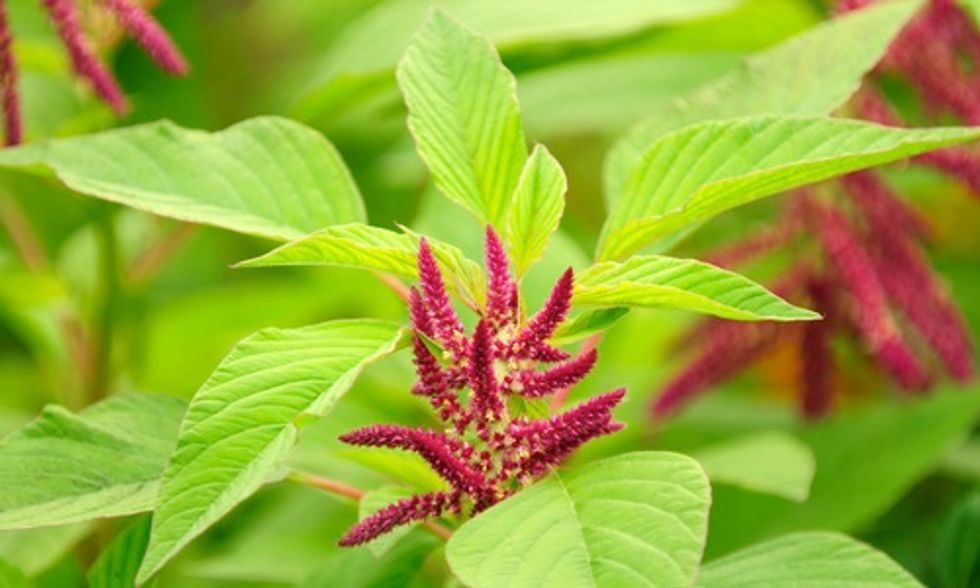 Shutterstock
1. Amaranth: This versatile plant, which grows quickly in the humid lowlands of Africa, is a leafy vegetable typically consumed in Togo, Liberia, Guinea, Benin and Sierra Leone. The plant thrives in hot weather and is an excellent source of protein, vitamins, and essential minerals, including calcium, iron, magnesium, potassium and zinc.
2. Bunya nut: Bunya nuts have long been a prominent food in the culture of Australian Aboriginals - so much so that, prior to European settlement, Aboriginal tribes would travel long distances to attend festivals celebrating the Bunya season. The Bunya nut is similar to the chestnut, both in appearance and taste. The nuts grow on enormous Bunya pines in the few rainforest regions on the continent.
3. Cowpea: Originating in Central Africa, this legume is one of the region's oldest crops. It is also drought resistant and can thrive in poor soil conditions. In addition to the peas, the leaves of the plant are also consumed.
4. Enset: Also known as the false banana, enset is native to tropical regions of Africa. The plant's outward appearance resembles that of a banana tree, but the two actually are very different. Fruit of the enset tree is inedible, so the plant is primarily grown for the meat inside its trunk and roots. The pulp inside the tree is similar in both taste and appearance to a potato. Enset has been a staple crop in Ethiopia for thousands of years.
5. Filder pointed cabbage: The cruciferous vegetable provides a rich source of beta-carotene, vitamins C and K and fiber, and it serves as an antioxidant and anti-inflammatory. Cabbage can be stored cold for months at a time and is eaten in the dead of winter when other vegetables are dormant.
6. Formby asparagus: Formby asparagus is notable for its coloration: white base, green stem and purple-tinged tip. The vegetable is rich in protein, fiber, vitamin B6, calcium, magnesium and zinc. It aids in protein synthesis, reduces calcium loss and has antioxidant properties.
7. Hinkelhatz pepper: The Hinkelhatz pepper has been cultivated by the Pennsylvania Dutch since the 1880s. The plant produces small, heart-shaped peppers with a red or yellow color. Hinkelhatz peppers have a stocky, spicy flavor, so they are frequently pickled or pureed into a pepper vinegar used as a food topping. The pepper is important because it is cold-tolerant, pest and disease-resistant and a prolific producer.
8. Kumara: Also known as the sweet potato, kumara is cultivated in many Pacific Islands and was a staple crop for hundreds of years. The vegetable is a great source of protein, vitamins A and C, iron, calcium and fiber.
9. Lifou Island yam: This starchy tuber plays an important role in both nutrition and food security in many Pacific Island nations. The vegetable is also very versatile--it can be roasted, fried, grilled, boiled, smoked, or grated. Yams are important because they can be stored for long period of time and the vegetable has a social and cultural significance on many islands.
10. Målselvnepe turnip: This hardy, root vegetable variety has been improved over the years through selective cultivation in Norway. It has a strong and distinct taste compared to other turnip varieties. It can be eaten raw, roasted, baked and boiled and is frequently used to enhance the flavor of soups, salads and side dishes. The turnip is an excellent source of vitamin C and potassium.
11. Mungbean: The mungbean is important in Asian diets and valuable for its easily digestible protein. High levels of iron in the vegetable can help improve the diets of the most vulnerable women and children and mungbean production offers an opportunity for increased income for small-scale farmers. In addition, the vegetable can fix nitrogen in the soil, making it valuable for crop rotations.
12. Okra: The edible green seed pods of this plant are a common ingredient in soups and sauces and popular in Indian and Pakistani cuisine. Okra is also an important export crop in The Philippines, Thailand, Malaysia and Vietnam. The vegetable is a rich source of vitamins and minerals and the seeds provide quality oil and protein.
13. Papalo: This popular herb, known for its strong skunk-like smell, is used in the American Southwest, Mexico and South America. Papalo, typically eaten as a garnish, is valued for its medicinal properties, including regulating blood pressure, relieving stomach disorders and addressing liver problems. This unique herb has a hardiness to heat, allowing it flourish in hot climates.
14. Perinaldo artichokes: This popular thistle vegetable, valued for its tasty center, is native to the Mediterranean region and originally cultivated in ancient Greece. The edible flower bud is a good source of fiber, vitamin C, folic acid and various minerals. This variety of artichoke is drought resistant and very hardy.
15. Rourou (taro leaves): In a number of Pacific Island countries, including Fiji, taro leaves are eaten and used in various cooking techniques. The leaves provide an excellent source of vitamins A and C. The leaves also have a social importance in ceremonial feasts and are a good local cash crop. In addition, the corms of the giant swamp taro plant have the potential to help feed a large number of Pacific Island countries.
Here is a video by Food Tank that explains more:

Recycling and general waste plastic wheelie bins awaiting collection for disposal in Newport, Rhode Island. Tim Graham / Getty Images
Reduce. Reuse. Recycle. According to The National Museum of American History, this popular slogan, with its iconic three arrows forming a triangle, embodied a national call to action to save the environment in the 1970s. In that same decade, the first Earth Day happened, the EPA was formed and Congress passed the Resource Conservation and Recovery Act, encouraging recycling and conservation of resources, Enviro Inc. reported.
According to Forbes, the Three R's sustainability catch-phrase, and the recycling cause it bolstered, remain synonymous with the U.S. environmental movement itself. There's only one problem: despite being touted as one of the most important personal actions that individuals can take to help the planet, "recycling" – as currently carried out in the U.S. – doesn't work and doesn't help.
Turns out, there is a vast divide between the misleading, popular notion of recycling as a "solution" to the American overconsumption problem and the darker reality of recycling as a failing business model.
Tiffany Duong is an avid ocean advocate. She holds degrees from UCLA and the University of Pennsylvania Carey Law School and is an Al Gore Climate Reality Leader and student member of The Explorer's Club.
She spent years as a renewable energy lawyer in L.A. before moving to the Amazon to conduct conservation fieldwork (and revamp her life). She eventually landed in the Florida Keys as a scientific scuba diver and field reporter and writes about the oceans, climate, and the environment from her slice of paradise. Follow her on Twitter/Instagram @lilicedt.
EcoWatch Daily Newsletter
The coal-fired Huaneng Power Plant in Huai 'an City, Jiangsu Province, China on Sept. 13, 2020. Costfoto / Barcroft Media via Getty Images
Overall energy demand is expected to rise 4.6 percent this year compared to 2020 and 0.5 percent compared to 2019, according to the IEA's Global Energy Review 2021. Demand for fossil fuels is expected to jump to such an extent that emissions will rise by nearly five percent in 2021. This will reverse 80 percent of the emissions decline reported in 2020, to end emissions just 1.2 percent below 2019 emissions levels. Because the lockdown saw the biggest drop in energy demand since World War II, the projected increase in carbon dioxide emissions will still be the second-highest on record, BBC News pointed out.
"This is a dire warning that the economic recovery from the COVID crisis is currently anything but sustainable for our climate," IEA Executive Director Fatih Birol said in a statement reported by AFP.
Birol said much of that increase was being driven by the resurgence of coal use. In fact, coal demand is expected to increase by 60 percent more than all forms of renewable energy, according to the report. Overall coal demand is expected to increase by 4.5 percent in 2021. More than 80 percent of that growth is in Asia, and more than 50 percent is in China. While coal use is expected to increase in the U.S. and Europe as well, it will remain far below pre-pandemic levels. Still, global coal use is expected to rise to nearly its 2014 peak, BBC News reported.
Natural gas demand is also expected to rise by 3.2 percent in 2021, to put it more than one percent above 2019 levels, according to the report.
There are, however, two bright spots in the report from a climate perspective. The first is that oil demand, while up 6.2 percent from 2020, is still expected to remain around 3 percent below 2019 levels. This is because oil use for ground transportation is not expected to recover until the end of 2021, and oil use for air travel is expected to remain at 20 percent below 2019 levels by December of 2021.
"A full return to pre-crisis oil demand levels would have pushed up CO2 emissions a further 1.5%, putting them well above 2019 levels," the report authors wrote.
The second bright spot is that renewable energy demand is set to rise in all sectors in 2021. In power, where its rise is the greatest, it is set to increase by more than eight percent. This is "the largest year-on-year growth on record in absolute terms," the report authors wrote.
Renewable energy will provide 30 percent of electricity overall, BBC News reported, which is the highest percentage since the industrial revolution. The problem is that the increase in renewables is running parallel to an increase in fossil fuels in some places. China, for example, is also expected to account for almost half of the rise in renewable electricity.
"As we have seen at the country-level in the past 15 years, the countries that succeed to cut their emissions are those where renewable energy replaces fossil energy," energy expert and University of East Anglia professor Corinne Le Quéré told BBC News. "What seems to be happening now is that we have a massive deployment of renewable energy, which is good for tackling climate change, but this is occurring alongside massive investments in coal and gas. Stimulus spending post-Covid-19 worldwide is still largely funding activities that lock us into high CO2 emissions for decades."
To address this issue, Birol called on the world leaders gathering for U.S. President Joe Biden's climate summit Thursday and Friday to pledge additional action before November's UN Climate Change Conference, according to AFP.
"Unless governments around the world move rapidly to start cutting emissions, we are likely to face an even worse situation in 2022," said Birol.
From Your Site Articles
Related Articles Around the Web
A grizzly bear killed an outdoor guide in a rare attack near Yellowstone Park. William Campbell / Corbis / Getty Images
Representative Alexandria Ocasio-Cortez (D-NY) re-introduces the Green New Deal in Washington, D.C. on April 20, 2021. Mandel Ngan / AFP / Getty Images
By Brett Wilkins
In the latest of a flurry of proposed Green New Deal legislation, Reps. Cori Bush and Alexandria Ocasio-Cortez on Monday introduced the Green New Deal for Cities Act of 2021, a $1 trillion plan to "tackle the environmental injustices that are making us and our children sick, costing us our homes, and destroying our planet."
Offshore oil and gas drillers have left more than 18,000 miles of pipelines at the bottom of the Gulf of Mexico. Drew Angerer / Getty Images
Offshore oil and gas drillers have discarded and abandoned more than 18,000 miles of pipelines on the floor of the Gulf of Mexico since the 1960s, a report from the Government Accountability Office says.
The industry has essentially recovered none of the pipelines laid in the Gulf in the last six decades; the abandoned infrastructure accounts for more than 97% of all of the decommissioned pipelines in the Gulf.
The pipelines pose a threat to the habitat around them, as maritime commerce and hurricanes and erosion can move sections of pipeline.
The Bureau of Safety and Environmental Enforcement does not conduct undersea inspections even though surface monitoring is "not always reliable for detecting ruptures," according to the GAO.
For a deeper dive:
For more climate change and clean energy news, you can follow Climate Nexus on Twitter and Facebook, sign up for daily Hot News, and visit their news site, Nexus Media News.