This website uses cookies to ensure you get the best experience while browsing it. By clicking 'Got It' you're accepting these terms.
11 Ways to Use Coconut Oil Everywhere for Everything
Oct. 10, 2015 08:01AM EST
Food
This jewel of the tropics is known as the tree that gives all that is necessary for living. Smear it, cook with it, eat it—there's almost nothing it cannot do. The divine oil that seems to be the hottest thing to drop lately. From the outside in and back again, here are 11 Core Functions of this tropical multi-tasker.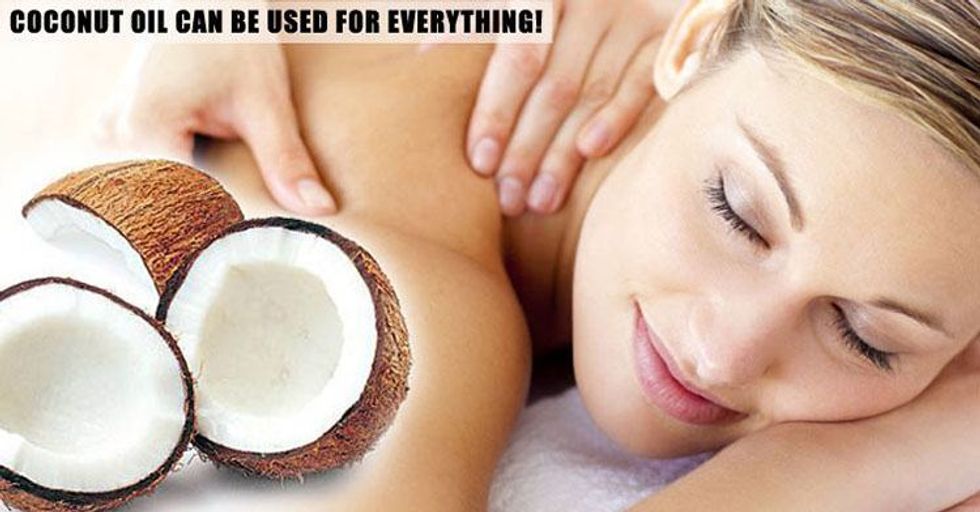 Photo credit: DavidWolfe.com
1. Coconut Oil for Your Hair
Coconut oil is rich in carbohydrates, vitamins and minerals that are good for the human body. This signature tree of the tropics has been in use as hair oil for thousands of years and it has shown remarkable results. Certain components in it keep the hair strong, nourished and protected from the effects of premature aging. Hair conditioning, dandruff, lice protection, split ends and baldness are just a few extraordinary uses that this godly grease pertains.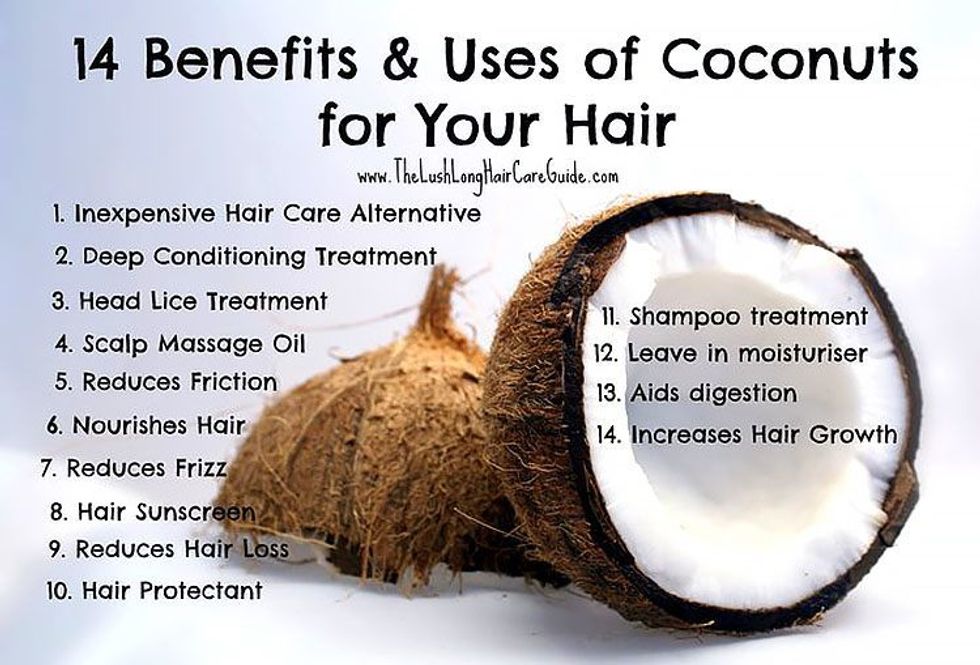 2. Coconut Oil for Your Skin
The tropical oil is famous throughout the world not only as an edible oil and hair tonic but also as an excellent massage oil and moisturizer for the skin. This tree of heaven produces numerous uses for magical skin care formulas and maintaining skin health. Coconut oil mixed with baking soda assists in a brighter complexion. Coconut oil, brown sugar and citrus essential oil, create a fantastic skin scrub and helping with cellulite reduction. The magic of coconut oil can even treat sunburns and chronic skin conditions like eczema.
3. Coconut Oil for Your Face
You can create a face mask using coconut oil and raw honey. Leave it on for 15 minutes and then rinse off with warm water. Makeup remover, pore minimizer, lip balm, acne treatment, stretch marks, varicose veins and several skin disorders can all be addressed using coconut oil. When using coconut oil for skin, use organic, unrefined, cold pressed, extra virgin oil so that you can avoid skin irritations.
4. Other Beauty Uses for Coconut Oil
Make yourself a tropical toothpaste. The multi-purpose oil helps fight against the bacteria responsible for tooth decay. Mix aluminum free baking soda with coconut oil, making a non-foaming paste. The result, a healthy pearly white smile 100 percent fluoride-free. Coconut oil is a natural anti-fungal and anti-bacterial and kills yeast, fungi and bacteria, creating an excellent deodorant. Replacing your conventional deodorant (which likely contains aluminum) with coconut oil is one of the best things you can do.
5. Coconut Oil for You Furniture and Accessories
Conventional furniture polish is actually toxic. Usually, it contains phenol and nitrobenzene that is damaging to your health. Coconut oil can be used as a natural wood finish that replenishes dry wood. It helps prolong the life of the furniture and can even be used for cleaning wooden cooking utensils.
6. Coconut Oil for Cleaning
Coconut oil is great for polishing and cleaning metal. It can be used to clean the tub and remove gum from almost any surface, including hair.
7. Coconut Oil and Cooking
Cooking and using coconut oil as a butter replacement. Coconut is possibly the most magical food you can imagine when it comes to enhancing your recipes and health at the same time. It has such a perfect source of essential fatty acids, brain-boosting nutrients and organic fiber as well as protein. Perfect for a dairy-free option.
8. Coconut Oil for Repairs and Maintenance
Coconut oil can be used as a lubricant for squeaky hinges, a stuck zipper and for small motors. Coconut oil and baking soda can be used as a sticker remover and coconut oil-coated cotton balls may be used as a fire starter.
9. Coconut Oil for Your Pets
Adding coconut oil to your pet's food will improve your pet's coat, health and digestion. Coconut oil has antioxidant properties and it helps in the absorption of other minerals. Coconut also reduces allergic reactions in pets. There is nothing better for our furry friends.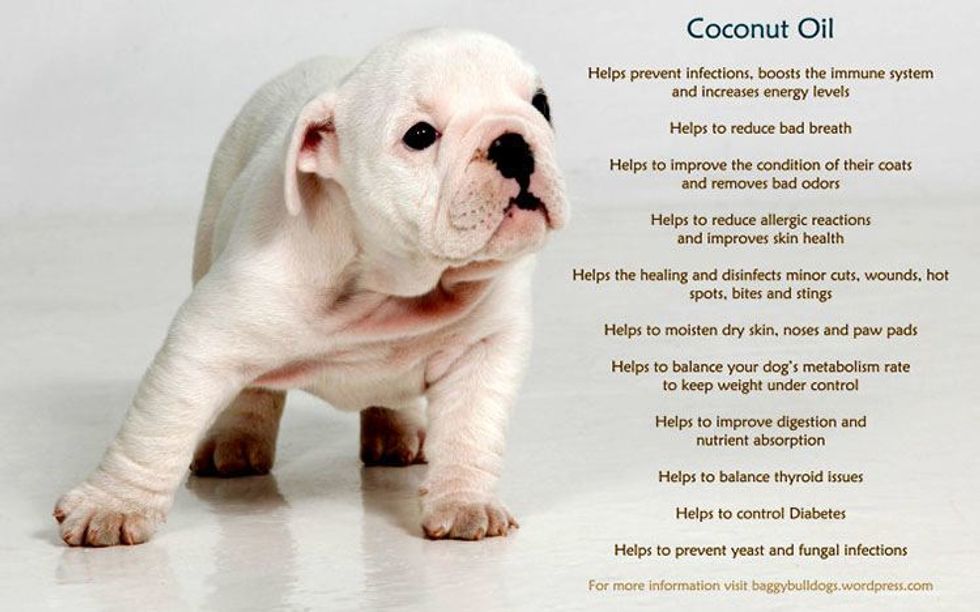 10. Coconut Oil for Your Health
Coconut oil pulling (holding coconut oil in your mouth and around your teeth for 15 minutes), coconut oil is useful in attacking Streptococcus mutans bacteria which causes cavities. It is rich in medium chain triglycerides and high in lauric acid. Also, coconut oil helps to ease a sore throat and boosts your immune system. Coconut oil can be added to a vapor rub to reduce congestion and it can be used to treat ear infections. There are even more health-based uses for coconut oil. Try them out.
11. Coconut Oil in the Bedroom
A tropical lover indeed, coconut oil is an excellent lubricant. It is an organic, yummy alternative to drugstore lube brands. Not only does it feel, taste and smell good, but it's good for you with moisturizing, anti-fungal and anti-bacterial properties. You can also create an invigorating massage oil for you and your partner, using coconut oil and a favorite essential oil. Reminder, don't use coconut oil if you are using latex condoms, it may weaken latex and increase the risk of breakage. Other than that one cannot go wrong with coconut oil in the bedroom.
YOU MIGHT ALSO LIKE
David Wolfe: 10 Natural Antibiotics That Fight Infection
15 Best Protein Alternatives to Meat Besides Tofu
5 Reasons High Fructose Corn Syrup Will Kill You
EcoWatch Daily Newsletter
Farm waste being prepared for composting. USDA / Lance Cheung

By Tim Lydon
Can the United States make progress on its food-waste problems? Cities like San Francisco — and a growing list of actions by the federal government — show that it's possible.
Pexels
By C. Michael White
More than two-thirds of Americans take dietary supplements. The vast majority of consumers — 84 percent — are confident the products are safe and effective.
The common giant tree frog from Madagascar is one of many species impacted by recent climate change. John J. Wiens /
EurekAlert!
The human-caused climate crisis could cause the extinction of 30 percent of the world's plant and animal species by 2070, even accounting for species' abilities to disperse and shift their niches to tolerate hotter temperatures, according to a study published this week in the journal Proceedings of the National Academy of Sciences.

SolStock / Moment / Getty Images

By Tyler Wells Lynch
For years, Toni Genberg assumed a healthy garden was a healthy habitat. That's how she approached the landscaping around her home in northern Virginia. On trips to the local gardening center, she would privilege aesthetics, buying whatever looked pretty, "which was typically ornamental or invasive plants," she said. Then, in 2014, Genberg attended a talk by Doug Tallamy, a professor of entomology at the University of Delaware. "I learned I was actually starving our wildlife," she said.