This website uses cookies to ensure you get the best experience while browsing it. By clicking 'Got It' you're accepting these terms.
Washington GMO Labeling Campaign Picks Up Where California Left Off
Aug. 21, 2013 09:03AM EST
Food
By Erin Sagen
If Initiative 522 succeeds, it could push manufacturers nationwide to begin labeling foods that contain genetically modified organisms.
After California failed to pass Proposition 37—a bill that would have required labeling of food containing genetically modified organisms, or GMOs—last November, the attitude among its supporters was surprisingly cheery.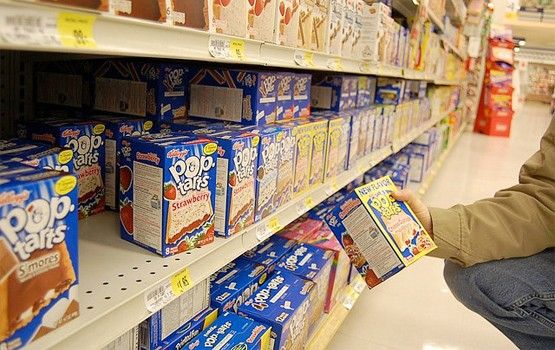 MTSOfan / Flickr
.
"We're looking forward to continuing this battle," Ronnie Cummins of the Organic Consumers Association told YES! shortly after the bill was rejected by voters. Cummins was not the only labeling advocate who was optimistic about the future.
Despite being outspent about five-to-one by opponents—a group including corporations like Monsanto, DuPont and PepsiCo—Prop 37 was defeated by a relatively narrow margin, with about 47 percent of voters supporting it and about 53 percent voting against it. Those results left backers of the measure with plenty of confidence to move forward.
And they wasted no time. On the heels of Prop 37's defeat, labeling advocates placed another bill on the ballot, this time in Washington state. With that bill, known as Initiative 522, they're turning California's loss into a campaign that already looks promising.
If it's successful, I-522 could become the most important labeling law in the U.S. Connecticut and Maine recently passed labeling laws, but are unlikely to influence whether food is labeled at the national level because their respective populations are too small. With a population greater than Connecticut and Maine combined, Washington would have a greater impact, putting pressure on food companies nationwide to consider labeling.
It would pick up where California left off. And it would also be the first state where voters, rather than the state legislature, directly decided to require labeling of genetically modified food.
Learning from California
"You have to get organized and start early," said Elizabeth Larter, communications director for Yes on 522, Washington's pro-labeling campaign. Petitioners in the state gathered over 350,000 signatures to put the measure on the ballot in November, exceeding the minimum number by more than 100,000.
Yes on 522 has many advantages that eluded California's campaign—including more support from conventional farmers—but, Larter said, she does not see the point in comparing the two states.
"I can't speak to California's efforts, but I know you just have to move forward," she said. "I know that because of Prop 37, people who wouldn't be involved in the political process are." And that, according to her and many others, is huge.
"It brought the issue of [GMO] labeling to the national stage," said Stacy Malkan, who served as media director for Yes on 37. "There is incredible momentum right now to label," she said. "It's unstoppable."
Malkan reflected on what her campaign learned during the race, especially from the opposing side, who "carpet-bombed California the night before the election with deceptive advertising." Television ads, especially ones saying the measure would increase the costs of groceries, were incredibly effective at swaying voters to the other side, she said.
"It's very important voters understand that grocery costs will not go up," she added. "But there's better chances for [I-522]. There's more simplicity in the language of the bill and more awareness among consumers."
Shifts in Awareness
When it comes to GMOs, a lot has happened since last November.
Grocery chain Whole Foods announced that all products in its U.S. and Canadian stores must have GMO labeling by 2018, and a poll conducted by The New York Times this year found that "Americans overwhelmingly support labeling, with 93 percent of respondents saying that foods containing such ingredients should be identified."
Malkan has noticed that shift. "I think food companies will eventually realize it's not worth billions of dollars in spending to defeat because more and more customers will demand labeling where they shop."
And it's not just shoppers who are demanding more accountability about GMOs. In Washington, farmers are doing so as well, but for different reasons.
In April, an Oregon farmer discovered growing on his property a strain of genetically engineered wheat that had never been approved for commercial use by the Department of Agriculture. The discovery preceded a series of similar discoveries throughout the country: In June, two wheat farmers in Yakima, WA, and a farmer in Kansas filed suits against agricultural giant Monsanto. Since then, more farmers—from Idaho, Kansas and Washington—have joined the fight.
The various lawsuits are claiming the discovery of the unapproved wheat has hurt the farmers' exports: Japan and South Korea banned certain imports of American wheat shortly after the Oregon incident, and the European Union urged its 27 nations to increase testing of imports.
A new sense of urgency can be felt among producers of food, according to Katherine Paul, media director at the Organic Consumers Association. "Washington has more support from farmers and fishermen than California did. The response has been overwhelming. People are fired up."
Paul added that the Organic Consumers Association has "been working on GMOs for more than a decade, but it's only become a mainstream public health issue in the last year."
It's an incredibly important time to act, Malkan said. She pointed out that while only a few GMO crops are currently in production—especially corn, wheat, soy and cotton—more are currently being developed. "In Washington state, that means apples and genetically engineered salmon," she said.
This time around, if labeling passes, it would send a message on behalf of consumers, farmers and citizens alike.
The measures passed in Connecticut and Maine are important, said Paul, but I-522 is different. "It's voter-approved. It will force national labeling."
Visit EcoWatch's GE FOOD page for more related news on this topic.

EcoWatch Daily Newsletter

georgeclerk / E+ / Getty Images
By Jennifer Molidor
One million species are at risk of extinction from human activity, warns a recent study by scientists with the United Nations. We need to cut greenhouse gas pollution across all sectors to avoid catastrophic climate change — and we need to do it fast, said the Intergovernmental Panel on Climate Change.
This research should serve as a rallying cry for polluting industries to make major changes now. Yet the agriculture industry continues to lag behind.
Edwin Remsburg / VW Pics / Getty Images
Botswana, home to one third of Africa's elephants, announced Wednesday that it was lifting its ban on the hunting of the large mammals.
"The Ministry of Environment, Natural Resources Conservation and Tourism wishes to inform the public that following extensive consultations with all stakeholders, the Government of Botswana has taken a decision to lift the hunting suspension," the government announced in a press release shared on social media.
Pxhere
By Richard Denison
Readers of this blog know how concerned EDF is over the Trump EPA's approval of many dozens of new chemicals based on its mere "expectation" that workers across supply chains will always employ personal protective equipment (PPE) just because it is recommended in the manufacturer's non-binding safety data sheet (SDS).
By Grant Smith
From 2009 to 2012, Gregory Jaczko was chairman of the Nuclear Regulatory Commission, which approves nuclear power plant designs and sets safety standards for plants. But he now says that nuclear power is too dangerous and expensive — and not part of the answer to the climate crisis.
A lake in Rocky Mountain National Park. Brett Walton / Circle of Blue
By Brett Walton
When Greg Wetherbee sat in front of the microscope recently, he was looking for fragments of metals or coal, particles that might indicate the source of airborne nitrogen pollution in Rocky Mountain National Park. What caught his eye, though, were the plastics.
Gabriele Holtermann Gorden / Pacific Press / LightRocket / Getty Images
In a big victory for animals, Prada has announced that it's ending its use of fur! It joins Coach, Jean Paul Gaultier, Giorgio Armani, Versace, Ralph Lauren, Vivienne Westwood, Michael Kors, Donna Karan and many others PETA has pushed toward a ban.
This is a victory more than a decade in the making. PETA and our international affiliates have crashed Prada's catwalks with anti-fur signs, held eye-catching demonstrations all around the world, and sent the company loads of information about the fur industry. In 2018, actor and animal rights advocate Pamela Anderson sent a letter on PETA's behalf urging Miuccia Prada to commit to leaving fur out of all future collections, and the iconic designer has finally listened.
Amer Ghazzal / Barcroft Media / Getty Images
If people in three European countries want to fight the climate crisis, they need to chill out more.
That's the conclusion of a new study from think tank Autonomy, which found that Germany, the UK and Sweden all needed to drastically reduce their workweeks to fight climate change.
Amazon Employees for Climate Justice held a press conference after the annual shareholder meeting on May 22. Amazon Employees for Climate Justice