Was I Exposed to Radiation From Fukushima?
Jun. 06, 2014 12:02PM EST
Energy
Recent additions of the Japanese manga (comics) called Oishinbo published in the weekly Big Comic Spirits magazine depict characters suffering from nosebleeds after visiting the Fukushima Daiichi Nuclear Power Plant. This was part of an attempt by the author Kariya Tetsu to shed light on the grim reality that Fukushima citizens still face.
Despite the author's sincere intention to tell the truth about the ongoing crisis in Fukushima, the magazine's publisher, Shogakukan Inc., received a flood of criticism from politicians at the national and local level.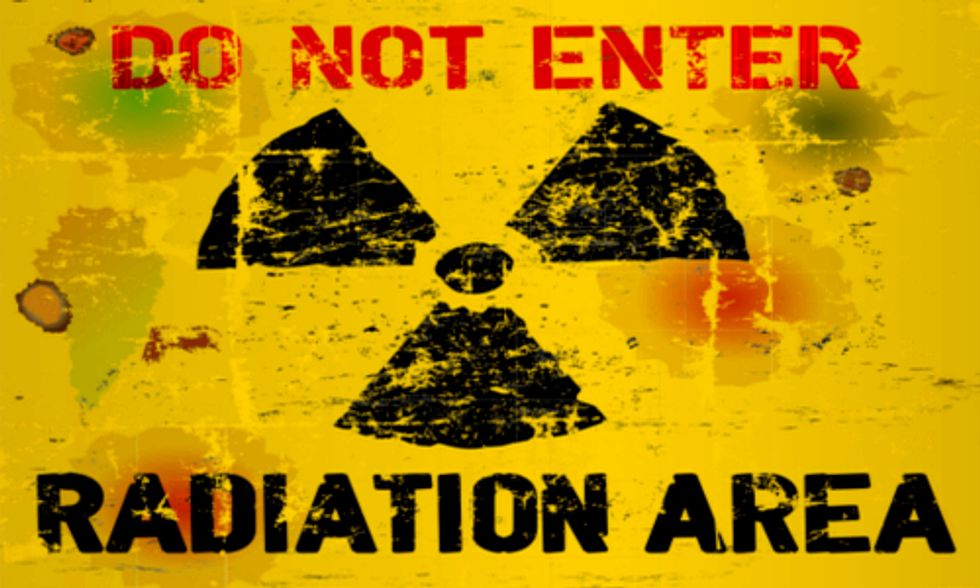 Photo courtesy of Shutterstock
Environment Minister Nobuteru Ishihara "underscored the importance of keeping unfounded rumors in check [and] that doctors with special knowledge have denied a causal relationship between exposure to radiation after the nuclear accident and nosebleeds," the Yomiuri Shimbun reported on May 10.
Katsutaka Idogawa, former mayor of the Fukushima Prefecture town of Futaba, was depicted in the manga as himself, experiencing nosebleeds as a result of radiation exposure. Idogawa said he would not retract his comments in the manga because they are true. He said he suffers from daily nosebleeds, lethargy, muscle weakness and worsened vision since the triple meltdown in March 2011.
In the fall of 2012, I participated in a study abroad program in Kyoto, Japan, for three months. During the penultimate week of my stay in Japan, I spent three days in both Nikko, about 200 kilometers (124 miles) south of Fukushima, and Sendai, about 100 kilometers(62 miles) north of Fukushima.
While in Nikko, where I went hiking through forests of colorful maple leaves, I began experiencing strange headaches and fatigue. At the time, I had not even considered the possibility of radiation exposure in that area. I was ignorant of the ongoing crisis at Fukushima Daiichi and the nuclear fallout from the March 2011 meltdowns that covered areas of land in the prefectures surrounding Fukushima in the northern half of Honshu.
As I traveled by bullet train to Sendai, the train stopped in Fukushima. For the first time, the possibility of radiation exposure crossed my mind. The doors opened to let passengers pass through, and I felt a heavy mood in the air. The passengers around me seemed to be folding downward. Some covered their noses and mouths with their hands or sleeves, and some even tucked their faces into the tops of their jackets. Did they know something that I didn't?
My headache that was lingering for the past three days suddenly magnified into a piercing migraine. I had experienced migraines in the past, though it had been over six months since the last one. How unusual that something could have triggered a migraine so quickly.
The migraine lasted up to an hour. The pressure in my head eased as the train continued northward. By the time I arrived in Sendai, my pain had completely dissipated. For the next three days, I felt fine.
In mid-November I returned to Kyoto, where I spent my final week in Japan. During the last four days, I experienced a migraine again. On departure day, I flew from Osaka to Tokyo and then from Tokyo to the U.S. During the entire transpacific flight, I felt unexplainable stabbing pains in my stomach, nausea and delirium. The pain was far greater than any kind of food poisoning I had ever experienced.
By the time I arrived back home, I felt relieved that my pain was gone. What I thought was the end of my strange symptoms was actually the beginning. The following morning I woke up with a bloody nose. During the next month, I experienced daily nosebleeds, headaches and dizziness. I felt chronic fatigue and weakness, and my mind was clouded.
During the second week of December, I vomited for two days straight, uncontrollably purging all of the liquids from my body. On those days, I could not consume food. My body became weak and drained of energy. I continued to have nosebleeds halfway into January.
Since mid-January 2013, these symptoms have stopped. I have sought the advice of several doctors of both western and eastern medicine, and they have confirmed that I experienced typical symptoms of radiation exposure. They say there is nothing I can do now to test if I have internal damage or to prevent long-term effects of radiation.
Still now, one and a half years after studying in Japan, I notice a change in my physical health. My muscles are weak, and it seems that exercising and lifting weights three to four times a week does not help me gain strength.
It is not possible for me to attribute my nosebleeds, headaches, nausea and fatigue to radiation exposure, either inhaled or ingested. I am not a scientist, and I do not have the scientific evidence or laboratory test results to prove the causal relationship without a shred of a doubt.
But does the lack of scientific evidence nullify my experience? Like the citizens of Fukushima Prefecture who have suffered from numerous unexplainable symptoms, does the lack of causal proof of radiation sickness justify others to ignore their suffering and simply look the other way?
A number of courageous citizens of Fukushima Prefecture have tried sharing their life stories since March 2011, despite the Act on Protection of Specified Secrets passed last December by the Japanese Diet. The act makes possible up to a 10-year prison sentence for anyone who exposes the truth about Fukushima contamination and nuclear plant mismanagement via the arbitrary definition of "Specified Secrets."
It is hardly a secret that of a total of 89 confirmed and suspected cases of thyroid cancer in children from Fukushima Prefecture who were under age 18 during the triple meltdowns, 50 are confirmed to have thyroid cancer, an increase of 17 children since the last report on Feb. 7, 2014, according to the Fukushima Prefecture government.
Thyroid cancer, a rare disease in children, began appearing in children affected by the Chernobyl meltdown five years after the disaster. It has only been three years and three months since the Fukushima meltdowns.
Mako Oshidori, a Japanese freelance journalist and comedian, spoke at an international conference called "Effects of Nuclear Disasters on Natural Environment and Human Health" in March, 2014, near Frankfurt, Germany. She revealed the extent of government censorship of information gathered and research conducted in Fukushima Prefecture and the nuclear power plant.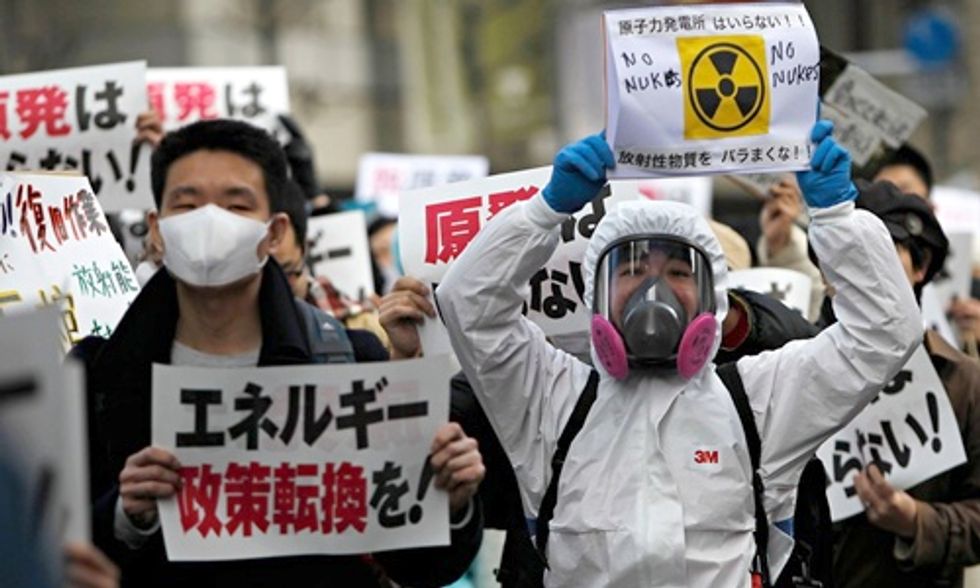 She interviewed a former nurse at Fukushima Daiichi who worked there in 2012 and quit his job in 2013.
Oshidori said: "As of now, there are multiple Nuclear Power Plant (NPP) workers who have died, but only the ones who died on the job are reported publicly. Some of them have died suddenly while off work, for instance, during the weekend or in their sleep, but none of their deaths are reported. Not only that, they are not included in the worker death count. For example, there are some workers who quit their job after a lot of radiation exposure, such as 50, 60 to 70 mSv, and end up dying a month later, but none of these deaths are either reported, or included in the death toll. This is the reality of the NPP workers."
Despite the sickness of children and young adults from Fukushima Prefecture, the unknown number of deaths of Fukushima workers, the death of Masao Yoshida, who was the manager of Fukushima Daiichi at the time of the disaster and died of esophageal cancer, the Japanese government still insists that contaminated areas in Fukushima Prefecture are safe to live in.
Radiation monitors near schools and public spaces in Fukushima Prefecture cities show radiation levels below the legal limit of one millisievert per year.
Yet proactive Japanese citizens and independent foreign researchers who are concerned that only the areas near the radiation monitors are decontaminatedhave been taking their own Geiger-counter readings that show radiation levels up to 30 times over the legal limit.
For school lunches for children in Fukushima Prefecture, the local government has insisted upon using only foods produced in Fukushima in order "to appeal the safety of the food," Oshidori said in her speech in Germany. Mothers who fear that the food is contaminated are collecting petition signatures to appeal to the local government to use food from uncontaminated areas in school lunches.
To add insult to injury, the Fukushima Prefecture government signed an agreement of cooperation with the International Atomic Energy Agency (IAEA), a pro-nuclear agency, to help conduct a health survey in Fukushima Prefecture and work on the decontamination effort. Half of the Fukushima residents are opposed to this agreement.
Not only is the health survey conducted by a pro-nuclear entity, but according to a document released in May 2011 by the Ministry of Health, Labor and Welfare and the Ministry of Education, Culture, Sports, Science and Technology to universities, academic societies and research institutions all over Japan, "detailed study should not be done without permission for the reason of avoiding burden on the residents," Oshidori said.
Rather than allowing private institutions to conduct field research in contaminated areas, "a large-scale health survey in Japan is being conducted only at Fukushima Medical University, designated by the Japanese government," Oshidori said.
Instead of denying the health effects of radiation exposure, the Japanese government must look out for the interests of its people and protect them from the physical suffering that only exacerbates the suffering they have experienced from having their lives uprooted and transplanted from the Tohoku earthquake and tsunami and Fukushima Daiichi triple meltdowns.
It is time for the Japanese government and Tokyo Electric to take responsibility for the Fukushima crisis by prioritizing the safety of Japanese citizens. There must be full transparency of information regarding the Fukushima Daiichi decommissioning efforts and the risks of radiation exposure. Independent research by private institutions must be allowed and encouraged, with public access to the information readily available. And most important of all, women of child-bearing age and mothers with young children, together with their families, must be given the option of moving away from the Fukushima area at Tokyo Electric and government expense. They and their offspring must not be further victimized by additional exposure to radiation.
--------
YOU MIGHT ALSO LIKE
50 Reasons We Should Fear the Worst From Fukushima
Canadian 10th Grader Discovers Radioactive Imported Seafood Long After Government Stopped Testing 
PBS Takes Us on a Terrifying 'Post-Apocalyptic' Tour Inside Fukushima 
-------- 
EcoWatch Daily Newsletter