This website uses cookies to ensure you get the best experience while browsing it. By clicking 'Got It' you're accepting these terms.
This Pennsylvania Community Is Determined to Ban GMOs and Pesticides
Oct. 07, 2015 09:47AM EST
Food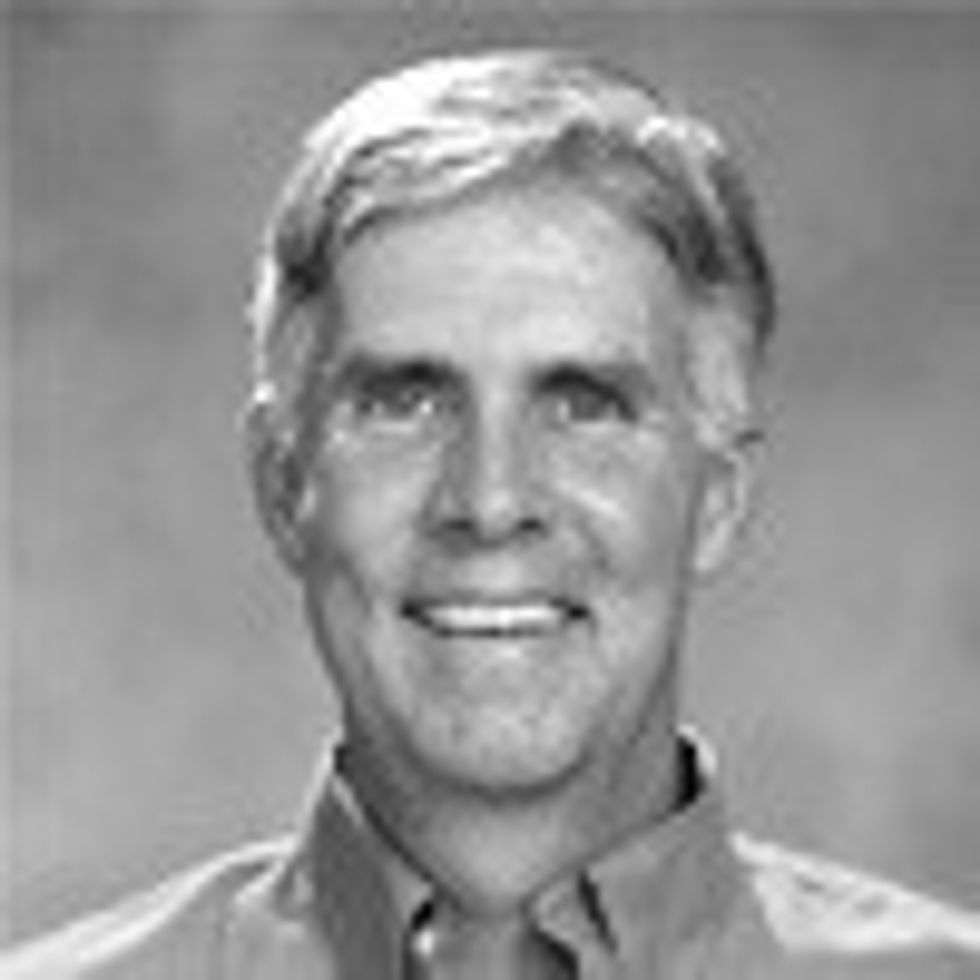 As an Episcopal pastor, Dan Hinkle is a man of peace and faith, but the issue of genetically modified foods (GMOs) makes him angry.
"We don't know the long-term effects of genetic engineering; this is a questionable process," said Hinkle, who lives in Lancaster, Pennsylvania. "We have been force fed something we should not have been. People are being hurt by this technology. If GMOs are so safe and feed the world, why not tell us about it? These issues have gotten me fired up."
Hinkle's concern about GMOs led him to become a founding member of GMO Free Lancaster, a non-profit group that is working to ban GMOs and pesticides in Lancaster County, Pennsylvania.
Zoe Swartz, a mother, started the group after the first March Against Monsanto in May 2013.
"There was no one involved in the march in Lancaster so we started organizing," she said.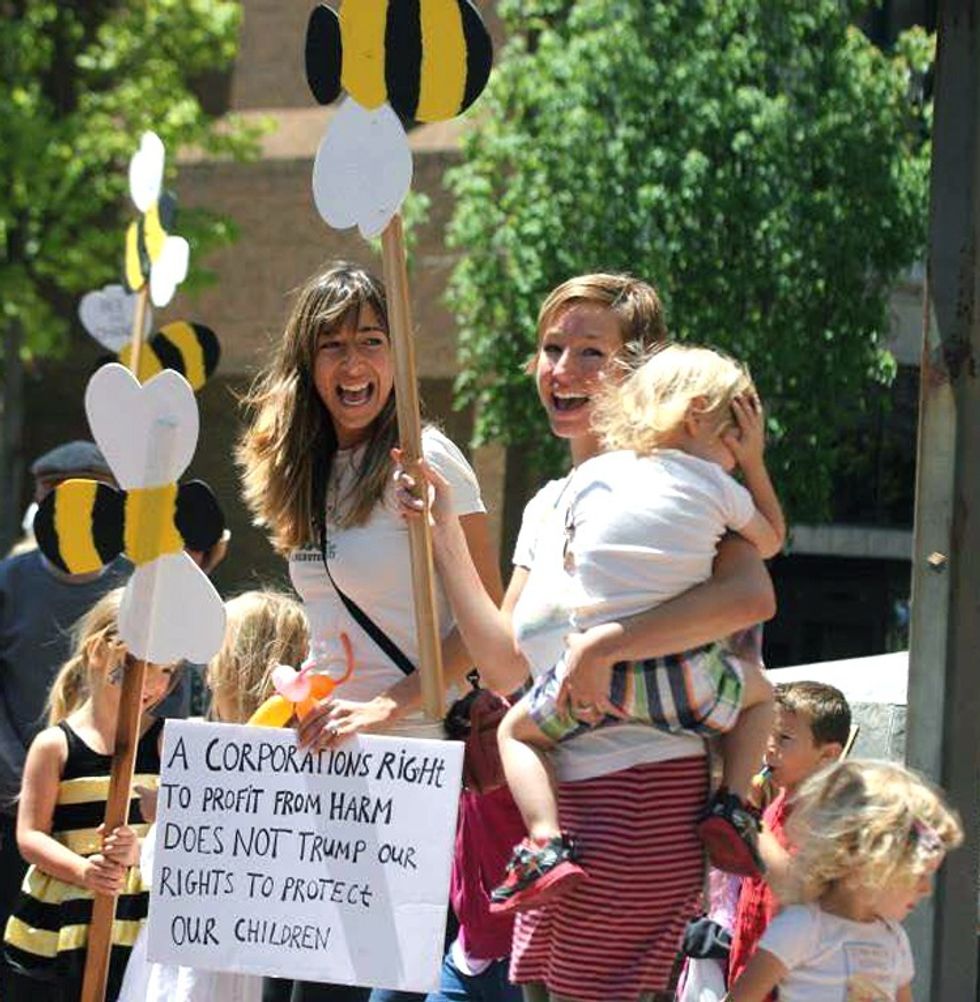 Zoe Swartz, leader of GMO Free Lancaster (left), with daugher Lily (in bee costume) and friend Sheena Good (right), at Lancaster's March Against Monsanto last May.
Hinkle calls GMO Free Lancaster a "classic American grassroots organization of concerned citizens."
At first, the group focused on lobbying to pass a GMO labeling bill in Pennsylvania, but Swartz and other group members became frustrated by the political process.
"We met with our legislators but got disheartened because they weren't responsive to a labeling bill," Swartz said. "We came to the conclusion that it may not be a good idea to pour money into labeling."
Since then the group has focused on community rights and working to ban GMOs and pesticides in Lancaster city. They plan to use a citizen initiative process to either get the city of Lancaster council to pass an ordinance restricting pesticides or put it on the ballot for a vote. According to Swartz, citizens' initiatives can change state laws.
"We want to urge people to re-frame the conversation around community rights instead of on legislators' terms," she said. "People who are affected have the right to decide. We can just say no (to GMOs and pesticides), not on our lands, or on our tables."
Breast Milk Testing
Because Lancaster County is an agricultural area, Swartz said that threats from pesticides are much greater.
"There are huge fields sprayed with pesticides that are near areas where children play," she said.
To drive home the health dangers of pesticides, GMO Free Lancaster organized to test the breast milk of 50 mothers in the county for residues of glyphosate, the main ingredient in Monsanto's Roundup herbicide. The highest level detected so far is 91 parts per billion in a mother who lives on a conventional farm where glyphosate is used. Sadly, the mother has an infant child with neuroblastoma, a form of cancer that affects young children.
GMO Free Lancaster hopes the test results will encourage Lancaster's city leaders to take action.
"We hope the breast milk test will compel people to support the ban," Swartz said. "We want to ban GMOs and associated chemicals starting with Lancaster city and then moving forward into the county."
Highest Number of Organic Farms in Pennsylvania
Lancaster County is fertile ground for taking action against GMOs. The county is home to the highest concentration of organic farms in Pennsylvania with more than 100; the county's Amish population accounts for many of those farms. Lancaster is also a leader in farmland preservation. The area is known for its rich soils.
"Organic is a big thing in this area, but there are also a lot of agricultural chemicals and GMOs," said Justin Snyder, an organic farmer with Lancaster Organic Growers.
GMO Free Lancaster is also trying to educate people about the benefits of organic food by providing resources for local organic food and giving presentations.
Susan Love, GMO Free Lancaster's outreach coordinator, has seen positive changes in her family's health since they switched to an organic diet. Her 20-year-old daughter is autistic, has Crohn's disease and suffered from many ulcers. Since switching to an organic diet, her daughter's health improved. A recent colonoscopy detected just one ulcer. She also started to talk more and recently began working at a local Goodwill office.
"We had lived with chronic illness for 20 years," Love said. "It didn't get better until we ate organic."
"No One has the Right to Keep Us in the Dark About What We Eat"
Getting rid of GMOs and pesticides is just the first step for GMO Free Lancaster.
"We want to create a sustainable food system with urban gardens and people sharing food and growing the local food economy," Swartz said.
Beyond the health and environmental concerns of GMOs and pesticides, Dan Hinkle has moral and theological reasons for being a part of GMO Free Lancaster.
"Food is sacred," he said. "At the heart of Christian worship is a sacred meal, called the Holy Eucharist or Holy Communion. Eating means life. No one has the right to keep us in the dark about what we eat or feed our children and families."
YOU MIGHT ALSO LIKE
Watch Colbert Mock 'Cage-Free' Whole Foods for Getting Caught Using Prison Labor
Confirmed: American Academy of Pediatrics Cuts Ties With Monsanto
EcoWatch Daily Newsletter
Protesters holding signs in solidarity with the Wet'suwet'en Nation outside the Canadian Consulate in NYC. The Indigenous Peoples Day NYC Committee (IPDNYC), a coalition of 13 Indigenous Peoples and indigenous-led organizations gathered outside the Canadian Consulate and Permanent Mission to the UN to support the Wet'suwet'en Nation in their opposition to a Coastal GasLink pipeline scheduled to enter their traditional territory in British Columbia, Canada. Erik McGregor / LightRocket / Getty Images
Tensions are continuing to rise in Canada over a controversial pipeline project as protesters enter their 12th day blockading railways, demonstrating on streets and highways, and paralyzing the nation's rail system
Horseshoe Bend (seen above) is a horseshoe-shaped meander of the Colorado River in Page, Arizona.
didier.camus
/ Flickr /
public domain
Millions of people rely on the Colorado River, but the climate crisis is causing the river to dry up, putting many at risk of "severe water shortages," according to new research, as The Guardian reported.
An alarming sign of an impending drought is the decreased snowpack in the Sierra Nevada Mountain range, as seen here in Christmas Valley, South Lake Tahoe, California on Feb. 15, 2020.
jcookfisher
/
CC BY 2.0
California is headed toward drought conditions as February, typically the state's wettest month, passes without a drop of rain. The lack of rainfall could lead to early fire conditions. With no rain predicted for the next week, it looks as if this month will be only the second time in 170 years that San Francisco has not had a drop of rain in February, according to The Weather Channel.
New and recent books explore how we can effectively respond to climate change while enhancing our health and happiness. Kei Uesugi / DigitalVision / Getty Images
A warm day in winter used to be a rare and uplifting relief.

Now such days are routine reminders of climate change – all the more foreboding when they coincide with news stories about unprecedented wildfires, record-breaking "rain bombs," or the accelerated melting of polar ice sheets.
Where, then, can one turn for hope in these dark months of the year?