This website uses cookies to ensure you get the best experience while browsing it. By clicking 'Got It' you're accepting these terms.
This Pennsylvania Community Is Determined to Ban GMOs and Pesticides
Oct. 07, 2015 09:47AM EST
Food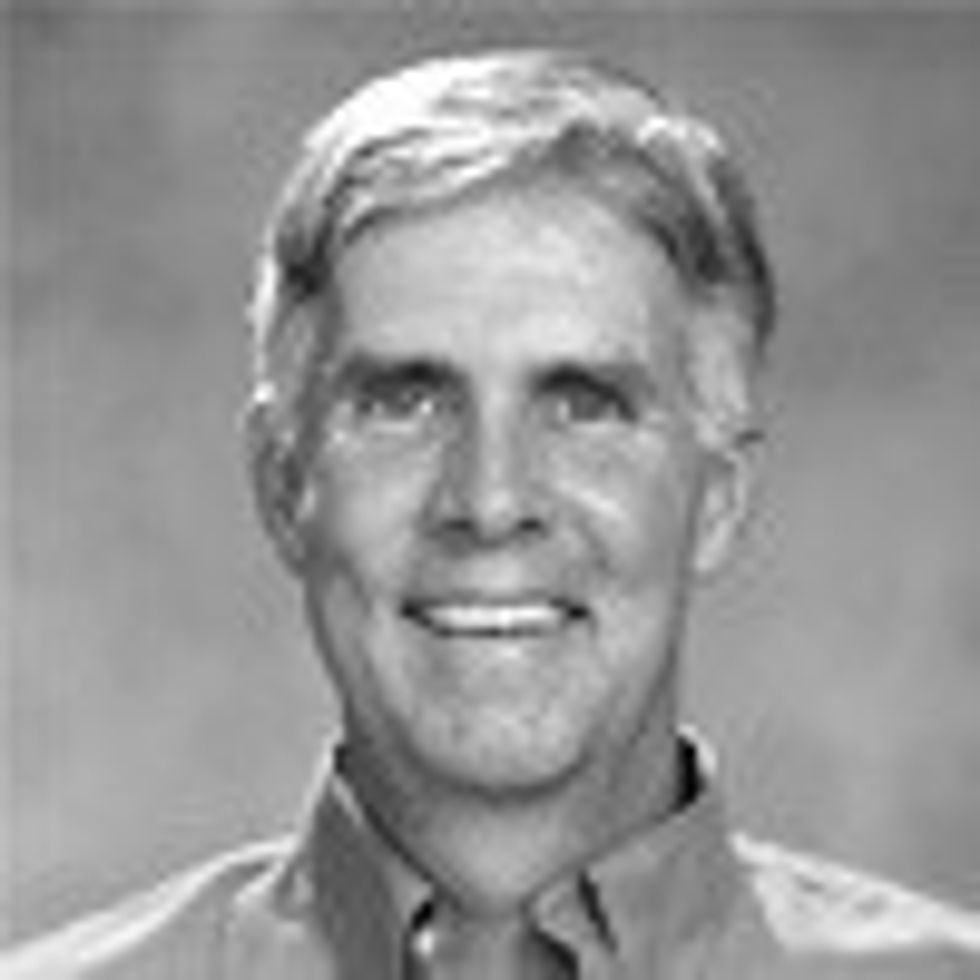 As an Episcopal pastor, Dan Hinkle is a man of peace and faith, but the issue of genetically modified foods (GMOs) makes him angry.
"We don't know the long-term effects of genetic engineering; this is a questionable process," said Hinkle, who lives in Lancaster, Pennsylvania. "We have been force fed something we should not have been. People are being hurt by this technology. If GMOs are so safe and feed the world, why not tell us about it? These issues have gotten me fired up."
Hinkle's concern about GMOs led him to become a founding member of GMO Free Lancaster, a non-profit group that is working to ban GMOs and pesticides in Lancaster County, Pennsylvania.
Zoe Swartz, a mother, started the group after the first March Against Monsanto in May 2013.
"There was no one involved in the march in Lancaster so we started organizing," she said.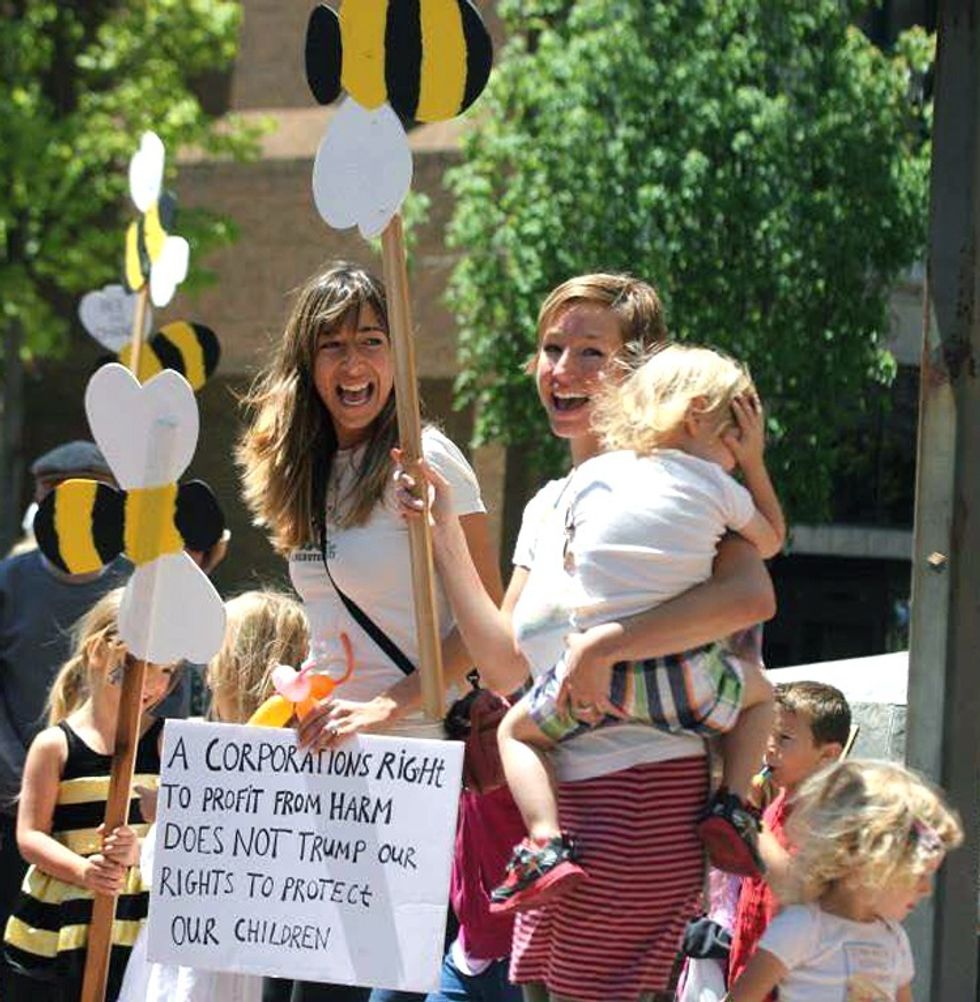 Zoe Swartz, leader of GMO Free Lancaster (left), with daugher Lily (in bee costume) and friend Sheena Good (right), at Lancaster's March Against Monsanto last May.
Hinkle calls GMO Free Lancaster a "classic American grassroots organization of concerned citizens."
At first, the group focused on lobbying to pass a GMO labeling bill in Pennsylvania, but Swartz and other group members became frustrated by the political process.
"We met with our legislators but got disheartened because they weren't responsive to a labeling bill," Swartz said. "We came to the conclusion that it may not be a good idea to pour money into labeling."
Since then the group has focused on community rights and working to ban GMOs and pesticides in Lancaster city. They plan to use a citizen initiative process to either get the city of Lancaster council to pass an ordinance restricting pesticides or put it on the ballot for a vote. According to Swartz, citizens' initiatives can change state laws.
"We want to urge people to re-frame the conversation around community rights instead of on legislators' terms," she said. "People who are affected have the right to decide. We can just say no (to GMOs and pesticides), not on our lands, or on our tables."
Breast Milk Testing
Because Lancaster County is an agricultural area, Swartz said that threats from pesticides are much greater.
"There are huge fields sprayed with pesticides that are near areas where children play," she said.
To drive home the health dangers of pesticides, GMO Free Lancaster organized to test the breast milk of 50 mothers in the county for residues of glyphosate, the main ingredient in Monsanto's Roundup herbicide. The highest level detected so far is 91 parts per billion in a mother who lives on a conventional farm where glyphosate is used. Sadly, the mother has an infant child with neuroblastoma, a form of cancer that affects young children.
GMO Free Lancaster hopes the test results will encourage Lancaster's city leaders to take action.
"We hope the breast milk test will compel people to support the ban," Swartz said. "We want to ban GMOs and associated chemicals starting with Lancaster city and then moving forward into the county."
Highest Number of Organic Farms in Pennsylvania
Lancaster County is fertile ground for taking action against GMOs. The county is home to the highest concentration of organic farms in Pennsylvania with more than 100; the county's Amish population accounts for many of those farms. Lancaster is also a leader in farmland preservation. The area is known for its rich soils.
"Organic is a big thing in this area, but there are also a lot of agricultural chemicals and GMOs," said Justin Snyder, an organic farmer with Lancaster Organic Growers.
GMO Free Lancaster is also trying to educate people about the benefits of organic food by providing resources for local organic food and giving presentations.
Susan Love, GMO Free Lancaster's outreach coordinator, has seen positive changes in her family's health since they switched to an organic diet. Her 20-year-old daughter is autistic, has Crohn's disease and suffered from many ulcers. Since switching to an organic diet, her daughter's health improved. A recent colonoscopy detected just one ulcer. She also started to talk more and recently began working at a local Goodwill office.
"We had lived with chronic illness for 20 years," Love said. "It didn't get better until we ate organic."
"No One has the Right to Keep Us in the Dark About What We Eat"
Getting rid of GMOs and pesticides is just the first step for GMO Free Lancaster.
"We want to create a sustainable food system with urban gardens and people sharing food and growing the local food economy," Swartz said.
Beyond the health and environmental concerns of GMOs and pesticides, Dan Hinkle has moral and theological reasons for being a part of GMO Free Lancaster.
"Food is sacred," he said. "At the heart of Christian worship is a sacred meal, called the Holy Eucharist or Holy Communion. Eating means life. No one has the right to keep us in the dark about what we eat or feed our children and families."
YOU MIGHT ALSO LIKE
Watch Colbert Mock 'Cage-Free' Whole Foods for Getting Caught Using Prison Labor
Confirmed: American Academy of Pediatrics Cuts Ties With Monsanto
EcoWatch Daily Newsletter
A new report spotlights a U.N. estimate that at least 275 million people rely on healthy coral reefs. A sea turtle near the Heron Island in the Great Barrier Reef is seen above. THE OCEAN AGENCY / XL CATLIN SEAVIEW SURVEY
In a new report about how the world's coral reefs face "the combined threats of climate change, pollution, and overfishing" — endangering the future of marine biodiversity — a London-based nonprofit calls for greater global efforts to end the climate crisis and ensure the survival of these vital underwater ecosystems.
Half of the extracted resources used were sand, clay, gravel and cement, seen above, for building, along with the other minerals that produce fertilizer. Cavan Images / Cavan / Getty Images
The world is using up more and more resources and global recycling is falling. That's the grim takeaway from a new report by the Circle Economy think tank, which found that the world used up more than 110 billion tons, or 100.6 billion metric tons, of natural resources, as Agence France-Presse (AFP) reported.
By Gero Rueter
Heating with coal, oil and natural gas accounts for around a quarter of global greenhouse gas emissions. But that's something we can change, says Wolfgang Feist, founder of the Passive House Institute in the western German city of Darmstadt.

By George Citroner
Recent research finds that official government figures may be underestimating drug deaths by half.
Researchers estimate that 142,000 people died due to drug use in 2016.
Drug use decreases life expectancy after age 15 by 1.4 years for men and by just under 1 year for women, on average.
Government records may be severely underreporting how many Americans die from drug use, according to a new study by researchers from the University of Pennsylvania and Georgetown University.
Water coolers in front of shut-off water fountains at Center School in Stow, MA on Sept. 4, 2019 after elevated levels of PFAS were found in the water. David L. Ryan / The Boston Globe via Getty Images
In a new nationwide assessment of drinking water systems, the Environmental Working Group found that toxic fluorinated chemicals known as PFAS are far more prevalent than previously thought.