This website uses cookies to ensure you get the best experience while browsing it. By clicking 'Got It' you're accepting these terms.


The best of EcoWatch, right in your inbox. Sign up for our email newsletter!
We are thrilled to announce our third challenge of the year in hopes of inspiring you to take part in a sustainable solution. It's simple: go vegan for 10 days, talk about it in your daily life and create social media posts about your experience using the hashtag #Vegan4TenDays. For a chance to be featured on EcoWatch's Instagram, tag EcoWatch in your stories.
Going vegan is proven to be the best thing you can do for the planet so EcoWatch teamed up with the executive producer of What the Health? Sailesh Rao and VBites head of marketing Jasper Wilkins via Facebook Live to break down the vegan lifestyle for you in a digestible manner.
Ivan / Getty Images
By Dan Nosowitz
There has been much concern in recent years about the encroachment of factory farms onto organic territory; with the premium prices organic foods can bring, many larger farms have engaged in a race to the bottom of quality, trying to just barely squeak above the organic regulations to grab that label without adhering to the spirit of the law.
EcoWatch Daily Newsletter
Aquaculture Stewardship Council
By Ronnie Cummins
Factory farming and fish production are now a multi-trillion-dollar monster with a growing and devastating impact on public health, animal welfare, small farmers and farmworkers, rural and fishing communities, ocean marine life, water quality, air pollution, soil health, biodiversity and last but not least, global warming.
Wilfredorrh / Flickr
By Jessica Corbet
Angering organic farmers and advocates, the Trump administration announced on Monday that it will officially withdraw a rule that would have added animal welfare regulations for meat, eggs and dairy marketed as "organic."
Nearly all dairy cows live in factory farms, which make up 99 percent of farms, and they spend their lives almost entirely indoors. Shutterstock
By Rachel Krantz
For most of my life, I genuinely believed the false advertising used to sell dairy. When I learned the truth—that nearly all cows used for dairy are kept inside, locked up, forcibly inseminated, and hooked up to painful milking machines—I was heartbroken. How had I never put two and two together: that for humans to consume cow's milk, mother cows must have their calves taken?
I had been duped by dairy brands, whose misleading ads have never been regulated, despite truth-in-advertising laws. This discrepancy prompted a 2003 lawsuit involving the "Happy Cows" campaign, but the case was thrown out over a technicality. "The state's false advertising law simply doesn't apply to the government," explained Mercy For Animals lawyer Rachel Faulkner. The 'Happy Cow' ads were run by the California Milk Advisory Board, a marketing arm of the California Food and Agriculture Department.
Cows on a dairy farm. U.S. Department of Agriculture / Flickr
About 10 years ago, Monsanto's genetically engineered bovine growth hormone, rBST or rBGH, was in trouble. Leading dairy processors and major supermarket chains, such as Wal-Mart, Costco, Kroger and Safeway were banning the use of rBST in dairy production. Monsanto had big plans for rBST, which is injected into cows to increase milk production. But consumers didn't like the idea of consuming milk, one of the the most wholesome foods, with GMO hormones. As a result, dairy products labeled "rBST-free" became common.
To counter consumer opposition, a Monsanto PR firm launched a "grassroots advocacy group" with a slick website called "American Farmers for the Advancement and Conservation of Technology" (AFACT). The aim was to defend farmers' use of rBST and "educate" the public about it.
Cows rotate in the milking parlor at Fair Oaks Farms, a large-scale dairy and tourist attraction, near Rensselaer, Ind. Dan Charles / NPR
By Susan Levin
When students returned to Los Angeles public schools this fall, for the first time in five years, chocolate milk was back on the menu.
No one would argue that a carton of chocolate milk—full of cholesterol, saturated fat and more sugar than two Krispy Kreme doughnuts combined—is healthy. So why has it made its way back onto the lunch line, and what can you do about it?
Michael Kappel / Flickr
The most important thing we can do today as conscious consumers, farmers and food workers is to regenerate public health, the environment and climate stability. We can do this most readily by moving away from industrial, GMO and factory-farm food toward an organic, pasture-based, soil-regenerative, humane, carbon-sequestering and climate-friendly agriculture system.
What's standing in the way of this life-or-death transformation? Rampant greenwashing. The proliferation of $90 billion worth of fraudulently labeled or advertised "natural" and "socially responsible" food products in the U.S. confuses even the most well-intentioned of consumers and lures them away from purchasing genuine organic or grass-fed products.
Why are so many people convinced that dairy is the best source of calcium? A strategic marketing campaign from the dairy industry would have us believe that by drinking milk, we will be protected from bone crippling osteoporosis, but the opposite may be true.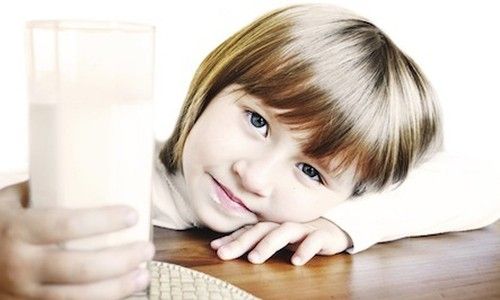 Starting them young: the dairy industry supplies school curriculum that teaches children about the "nutrition" in cow's milk. Also, most western doctors carry the "3 glasses of a milk a day for strong bones" message to their patients. So how has the dairy industry been so successful in spreading this misinformation campaign?
It might have something to do with the fact that over $8 million was spent in lobbying efforts in 2013 alone. Additionally, dairy program subsidies in the U.S. totaled $5.3 billion from 1995-2012, including $171,578,059 in "milk marketing fees." That's right, we're paying to be misled, and the hidden cost may be our impaired health.
So what is the misinformation in these campaigns? While dairy products from cows' milk does contain calcium, we don't absorb all of it. In order to absorb calcium, the body needs comparable amounts of another mineral element, magnesium. Milk and dairy products contain only small amounts of magnesium. Without the presence of magnesium, the body absorbs only 25 percent of the available dairy calcium content. Without magnesium, this excess calcium is utilized by the body in injurious ways.
Additionally, consumption of high protein dairy products like milk creates an acidic environment in the body, which triggers a release of calcium from the bones to bring the blood PH back into balance, and can cause a 50 percent loss of calcium in the urine. In other words, drinking milk leaches calcium from our bones and thereby creates a deficiency in calcium, the exact opposite of the the claims of the dairy industry.
This may explain why, as found in The China Study, the countries that are known to consume the highest levels of dairy also tend to have the highest incidence of osteoporosis.
Dr. T. Colin Campbell, the world's leading epidemiological researcher in the field of diet and health, who happened to be raised on a dairy farm, says, "The dairy folks, ever since the 1920s, have been enormously successful in cultivating an environment within virtually all segments of our society–from research and education to public relations and politics–to have us believing that cow's milk and its products are manna from heaven … Make no mistake about it; the dairy industry has been virtually in total control of any and all public health information that ever rises to the level of public scrutiny."
"The association between the intake of animal protein and fracture rates appears to be as strong as the association between cigarette smoking and lung cancer," he added.
Contrary to the dairy industry's clever marketing, there are some other reasons why dairy may not be the healthiest source of calcium. High saturated fat content of many dairy products is a risk factor for heart disease. According to Harvard, milk may also lead to an increased risk of ovarian cancer in women and a probable increased risk in prostate cancer in men.
As stated on their website, "Clearly, although more research is needed, we cannot be confident that high milk or calcium intake is safe." Another issue with milk for a lot of people, particularly those of non-Northern European descent, is lactose intolerance. For them, eating or drinking dairy products causes problems like cramping, bloating, gas and diarrhea.
Cows' milk is intended for baby cows, not humans. We are the only species that habitually drinks milk from other species, and into adulthood, no less. Dairy cows are kept continually pregnant, and their calves are separated from them upon birth, so the milk intended for them can be sold to us.
In the '40s, the average dairy cow produced less than 5,000 pounds of milk in its lifetime. Now, the average cow produces over 21,000 pounds of milk. That's with an increase of 15 percent in just the last 10 years. Cows are often genetically manipulated, artificially inseminated and drugged in order to force them to produce about four and a half times as much milk as they naturally would to feed their calves.
Factory farming has proven to be very profitable for the dairy industry, while harming air, land and water and causing needless suffering to millions of animals. Cows can live up to 25 years, but in the dairy industry cows are typically slaughtered for low-grade beef around their fifth birthday. Most male calves are slaughtered for veal, while most female calves are doomed to the same fate as their mothers.
Adequate, lifelong dietary calcium intake is necessary to reduce the risk of osteoporosis. Consuming adequate calcium and vitamin D and performing regular, weight-bearing exercise are also important to build maximum bone density and strength. With all the delicious substitutes for dairy products these days, one can easily omit dairy from their diet. According to the recommended guidelines for calcium, children ages 4 to 8 need 1000 mg; ages 9 to 13 need 1,300 mg; and adults, including lactating mothers, need 1,000 mg.
There is a long list of plant foods that supply plenty of calcium that is easily absorbed by the body: legumes, green leafy vegetables like kale, collards, mustard greens, turnip greens, bok choy, parsley, broccoli, cabbage, oats, beans, sesame seeds, almonds, asparagus, as well as fortified plant milks, fortified juices and firm tofu made with calcium-sulfate.
So when you next hear a dairy advertisement tell you that you need calcium for healthy bones, think about what they aren't telling you. There are alternatives that may not only be healthier for you, but also kinder to cows, calves and the environment.
--------
Related Content:
Europe Installs Raw Milk Vending Machines While U.S. Rules Unpasteurized Dairy Illegal
Alternatives to Factory Farmed Milk
Coalition Sues NY State for Putting Industrial Milk Production Before Clean Water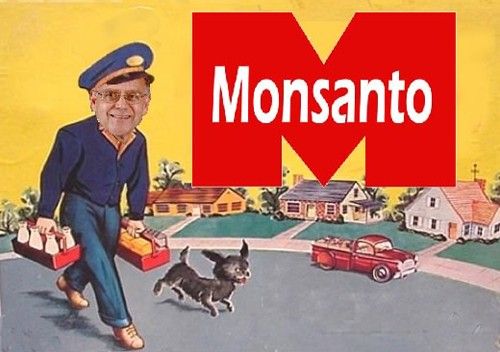 Why is a former Monsanto lobbyist currently serving as the U.S. Food and Drug Administration's (FDA) food safety czar waging war on small dairy farms that produce fresh milk?
While factory farm operators are getting away with serious food safety violations, raw milk dairy farmers and distributors across the country have been subjected to armed raids and hauled away in handcuffs.
The FDA is running sting operations followed by "guns-drawn raids usually reserved for terrorists and drug lords" as part of a crackdown on unpasteurized milk.1 Meanwhile, the FDA is letting the highly consolidated industrial meat and factory farm industry off the hook despite growing problems.
Not surprisingly, the person responsible for prioritizing armed raids on small dairies over holding agribusiness accountable is a former Monsanto attorney and chief super lobbyist. Monsanto's Michael Taylor is the second highest-ranking official at the FDA, and as food safety czar is responsible for implementing the day-to-day policies that govern the food safety laws for the U.S. 2
Tell President Obama to fire Monsanto's Michael Taylor from his job as food czar at the FDA.
Whether or not you think unpasteurized milk is a good idea, it's clear that the FDA under Michael Taylor has its priorities wrong. When industrial agribusiness sickens thousands of people, it's absurd for the FDA to target Amish farmers producing fresh milk, much less to engage in "guns drawn" enforcement raids.
CREDO is joining our allies at Food Democracy Now! in calling on the president to fire Monsanto's Michael Taylor from the FDA. Midwestern farmers will play an important symbolic role in President Obama's reelection campaign. We need to let the president know that we stand with small farmers and not Monsanto.
Michael Taylor seems focused on entirely the wrong aspects of food safety enforcement. Rather than making sure that food safety inspections are done properly at our nation's largest factory farms, where antibiotic resistance has run amuck, Taylor has been leading a departmental crusade against small raw milk dairy producers. So far several dairy farmers have been subject to a year-long undercover sting operation from the East Coast to California.
Incredibly, Michael Taylor and FDA inspectors have not arrested or fined the Iowa agribusinessman—Jack DeCoster—who was wholly responsible for the more than 500 million eggs that were recalled in 2010 salmonella-tainted egg recall.3 Though this industrial agribusinessman endangered the health of millions, Michael Taylor thinks Amish farmers producing fresh milk are more deserving targets of his FDA enforcement raids with guns drawn.
While CREDO recognizes the inherent risks that are involved in food production, it's time that the U.S. government start responsibly looking into the real origins of our nation's largest food safety recalls and stop harassing family farmers trying to survive in the excessively consolidated food and agricultural sectors.
Thanks for standing up for small farmers and taking our government back from Monsanto.
For more information, click here.
—————
1. Food Safety Chief Defends Raw Milk Raids, San Francisco Chronicle, June 7, 2011
2. Monsanto's Man Taylor Returns to FDA in Food-Czar Role, Grist, July 8, 2009.
3. DeCoster Gets Warning, Hillandale Sales OK'd, Food Safety News, October 19, 2010.