This website uses cookies to ensure you get the best experience while browsing it. By clicking 'Got It' you're accepting these terms.
Sen. Ron Wyden's Visit to Fukushima Raises New Concerns over Safety
May. 03, 2012 07:00AM EST
Energy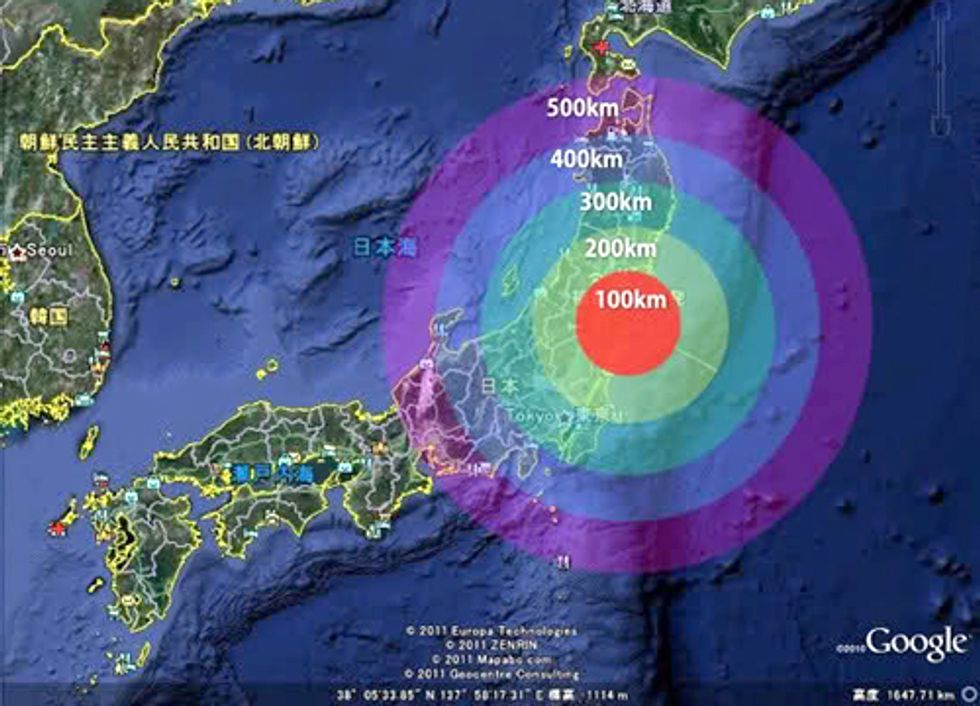 By Ethan A. Huff
During a recent Congressional delegation trip to Japan, Sen. Ron Wyden (D-OR) witnessed with his own eyes the horrific aftermath of the Fukushima Daiichi nuclear disaster, which we have heard very little about from the media in recent months. The damage situation was apparently so severe, according to his account, that he wrote a letter to Ichiro Fujisaki, Ambassador of Japan, petitioning for more to be done, and offering any additional support and assistance that might help contain and resolve the situation as quickly as possible.
The letter, which many experts see as the ominous writing on the wall for the grave severity of the circumstances, offers a disturbing glimpse into what is really going on across the Pacific Ocean that the mainstream media is apparently ignoring. While referencing the fact that all four of the affected reactors are still "badly damaged," Sen. Wyden seems to hint in his letter that Reactor 4, which has reportedly been on the verge of collapse for many months now, could be nearing catastrophic implosion.
According to Christina Consolo, an award-winning biomedical photographer and host of Nuked Radio, Reactor 4 has remained in such bad shape that even a very small earthquake could quickly level the building, sending the fuel from more than 1,500 unused fuel rods into the environment. And with Reactor 4 still filled with the highest levels of radioactive MOX and other fuels, the consequences of this potential collapse could be far worse than anything that has happened thus far as a result of the earthquake and tsunami.
"[S]itting at the top of [Reactor 4], in a pool that is cracked, leaking and precarious even without an earthquake, are 1,565 fuel rods (give or take a few), some of them 'fresh fuel' that was ready to go into the reactor on the morning of March 11 when the earthquake and tsunami hit," writes Consolo. "If they are MOX fuel, containing six percent plutonium, one fuel rod has the potential to kill 2.89 billion people."
Sen. Wyden is also asking U.S. Secretary of Energy Steven Chu, Secretary of State Hillary Clinton and Chairman of the U.S. Nuclear Regulatory Commission Gregory Jaczko to assess how much additional assistance their agencies might be willing to provide to help Japan, and the entire world, avoid a nuclear catastrophe of Biblical proportions.
"The scope of damage to the plants and to the surrounding area was far beyond what I expected and the scope of the challenges to the utility owner, the government of Japan, and to the people of the region are daunting," wrote Sen. Wyden in his letter, dated April 16, 2012. "The precarious status of the Fukushima Daiichi nuclear units and the risk presented by the enormous inventory of radioactive materials and spent fuel in the event of further earthquake threats should be of concern to all and a focus of greater international support and assistance."
For more information, click here.
EcoWatch Daily Newsletter
The Visible Infrared Imaging Radiometer Suite on the Suomi NPP satellite acquired this image of forest fire smoke hovering over North America on Aug. 15, 2018. NASA Earth Observatory
New York City isn't known for having the cleanest air, but researchers traced recent air pollution spikes there to two surprising sources — fires hundreds of miles away in Canada and the southeastern U.S.
If temperatures continue to rise, the world is at risk from global
sea-level rise
, which will flood many coastal cities as seen above in Bangladesh. NurPhoto / Contributor / Getty Images
The mounting climate emergency may spur the next global financial crisis and the world's central banks are woefully ill equipped to handle the consequences, according to a new book-length report by the Bank for International Settlements (BIS), as S&P Global reported. Located in Basel, Switzerland, the BIS is an umbrella organization for the world's central banks.
Two ice fishers with a truck cut a hole in the ice near an ice fishing hut on frozen Lake Winnebago.
Richard Hamilton Smith / Corbis NX / Getty Images
By Susan Cosier
Come February in Wisconsin, almost everything will be covered in ice and snow. In little shanties on frozen Lake Winnebago, a 30-by-13-mile lake in the eastern part of the state, fishers will keep watch over rectangular holes cut into the ice with a chainsaw. When they spot a fin passing below, they'll jab their spears down deep. The lucky ones will earn themselves a lake sturgeon, a species that has prowled the earth's waters for more than 150 million years.
Fresno, California, seen above, is receiving $66 million for walking trails, sidewalks, bike lanes, and more. DenisTangneyJr / iStock / Getty Images
Grecia Elenes grew up in Fresno, California. She says some parts of the city have been neglected for decades. When she moved back after college she realized nothing has changed.
People are seen embracing at Numeralla Rural Fire Brigade near the scene of a water tanker plane crash on Jan. 23 in Cooma, Australia. Three American firefighters have have died after their C-130 water tanker plane crashed while battling a bushfire near Cooma in southern NSW this afternoon. Jenny Evans / Getty Images
Three U.S. firefighters gave their lives battling Australia's historic wildfires Thursday when their airborne water tanker crashed.