This website uses cookies to ensure you get the best experience while browsing it. By clicking 'Got It' you're accepting these terms.
Sen. Ron Wyden's Visit to Fukushima Raises New Concerns over Safety
May. 03, 2012 07:00AM EST
Energy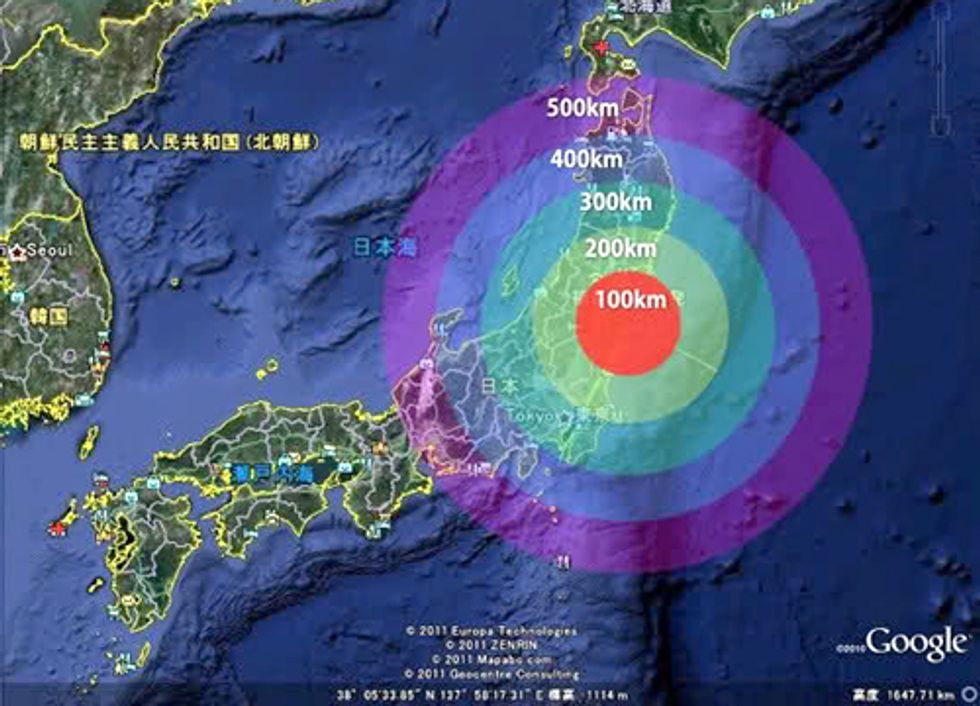 By Ethan A. Huff
During a recent Congressional delegation trip to Japan, Sen. Ron Wyden (D-OR) witnessed with his own eyes the horrific aftermath of the Fukushima Daiichi nuclear disaster, which we have heard very little about from the media in recent months. The damage situation was apparently so severe, according to his account, that he wrote a letter to Ichiro Fujisaki, Ambassador of Japan, petitioning for more to be done, and offering any additional support and assistance that might help contain and resolve the situation as quickly as possible.
The letter, which many experts see as the ominous writing on the wall for the grave severity of the circumstances, offers a disturbing glimpse into what is really going on across the Pacific Ocean that the mainstream media is apparently ignoring. While referencing the fact that all four of the affected reactors are still "badly damaged," Sen. Wyden seems to hint in his letter that Reactor 4, which has reportedly been on the verge of collapse for many months now, could be nearing catastrophic implosion.
According to Christina Consolo, an award-winning biomedical photographer and host of Nuked Radio, Reactor 4 has remained in such bad shape that even a very small earthquake could quickly level the building, sending the fuel from more than 1,500 unused fuel rods into the environment. And with Reactor 4 still filled with the highest levels of radioactive MOX and other fuels, the consequences of this potential collapse could be far worse than anything that has happened thus far as a result of the earthquake and tsunami.
"[S]itting at the top of [Reactor 4], in a pool that is cracked, leaking and precarious even without an earthquake, are 1,565 fuel rods (give or take a few), some of them 'fresh fuel' that was ready to go into the reactor on the morning of March 11 when the earthquake and tsunami hit," writes Consolo. "If they are MOX fuel, containing six percent plutonium, one fuel rod has the potential to kill 2.89 billion people."
Sen. Wyden is also asking U.S. Secretary of Energy Steven Chu, Secretary of State Hillary Clinton and Chairman of the U.S. Nuclear Regulatory Commission Gregory Jaczko to assess how much additional assistance their agencies might be willing to provide to help Japan, and the entire world, avoid a nuclear catastrophe of Biblical proportions.
"The scope of damage to the plants and to the surrounding area was far beyond what I expected and the scope of the challenges to the utility owner, the government of Japan, and to the people of the region are daunting," wrote Sen. Wyden in his letter, dated April 16, 2012. "The precarious status of the Fukushima Daiichi nuclear units and the risk presented by the enormous inventory of radioactive materials and spent fuel in the event of further earthquake threats should be of concern to all and a focus of greater international support and assistance."
For more information, click here.
EcoWatch Daily Newsletter
One of the 25 new Long Beach Transit hybrid gasoline-electric buses on April 23, 2009. Jeff Gritchen / Digital First Media / Orange County Register / Getty Images
In Long Beach, California, some electric buses can charge along their route without cords or wires.
When a bus reaches the Pine Avenue station, it parks over a special charging pad. While passengers get on and off, the charger transfers energy to a receiver on the bottom of the bus.
Semi trucks travel along I94 on June 21 near Lake forest, Illinois. Scott Olson / Getty Images
The Trump administration pushed through an exemption to clean air rules, effectively freeing heavy polluting, super-cargo trucks from following clean air rules. It rushed the rule without conducting a federally mandated study on how it would impact public health, especially children, said the Environmental Protection Agency (EPA) Inspector General Charles J. Sheehan in a report released yesterday, as the AP reported.

A time-restricted eating plan provides a new way to fight obesity and metabolic diseases that affect millions of people worldwide. RossHelen / iStock / Getty Images Plus
By Satchin Panda and Pam Taub
People with obesity, high blood sugar, high blood pressure or high cholesterol are often advised to eat less and move more, but our new research suggests there is now another simple tool to fight off these diseases: restricting your eating time to a daily 10-hour window.
Kunhui Chih / iStock / Getty Images Plus
A man and his dog walk past an H&M store in Stockholm, Sweden on March 11, 2014. Melanie Stetson Freeman / The Christian Science Monitor via Getty Images
By Ashutosh Pandey
H&M's flagship store at the Sergels Torg square in Stockholm is back in business after a months-long refurbishment. But it's not exactly business as usual here.