This website uses cookies to ensure you get the best experience while browsing it. By clicking 'Got It' you're accepting these terms.
Outrage Follows World Food Prize Award to GMO Scientists
Oct. 18, 2013 08:46AM EST
Food
Petitions signed by more than 345,000 people were delivered to the World Food Prize headquarters Thursday opposing the awarding of this year's prize to top researchers from agrichemical giants Monsanto and Syngenta whose contributions led to the development of genetically engineered (GE) crops.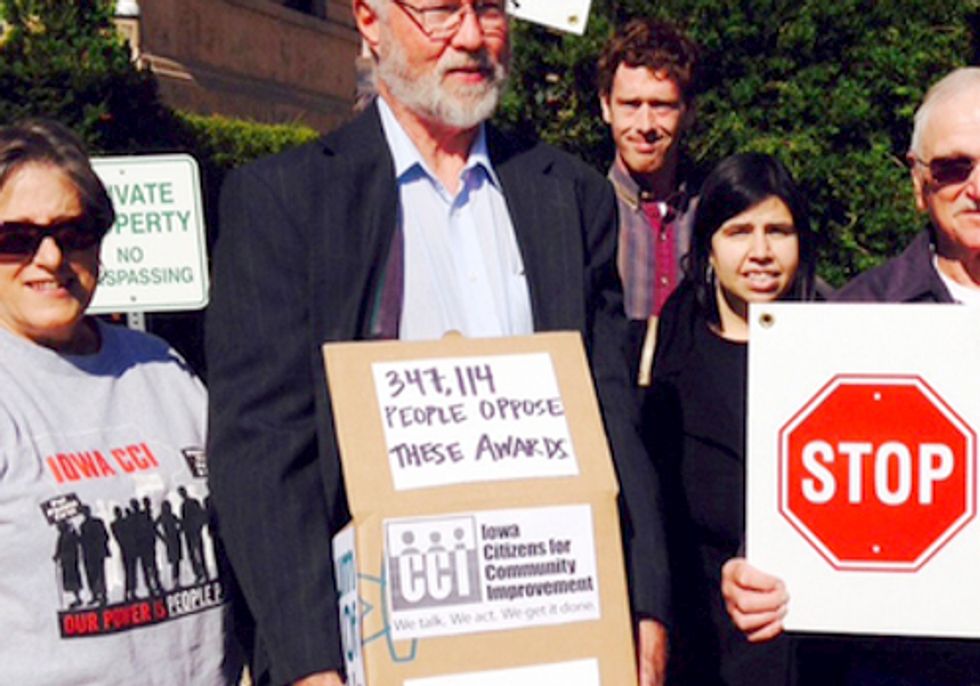 The prize, awarded Thursday, is part of the annual World Food Day celebrations and is considered the foremost prize in agriculture. The World Food Prize goal is to recognize "the achievements of individuals who have advanced human development by improving the quality, quantity or availability of food in the world."
The Center for Food Safety, Iowa Citizens for Community Improvement, Pesticide Action Network North America and other groups delivered a petition signed by more than 345,000 people opposed to genetically engineered (GE) crops. The petition delivery kicked off a four-hour vigil in front of the World Food Prize Foundation headquarters in Iowa.
"With this award, the World Food Prize is perpetuating the false notion that genetically engineered crops are a solution to world hunger and malnutrition," said Andrew Kimbrell, executive director for Center for Food Safety. "This kind of biotech propaganda obscures the huge potential of low-cost agricultural techniques that actually increase food production and alleviate hunger. Awarding the World Food Prize to these biotech giants only serves to divert attention from these truly nutritious and sustainable approaches."
The high cost of GE seeds and chemicals, along with uncertain crop yields, make GE crops a poor choice for farmers, particularly in the developing world, said a joint project between the United Nations and the World Bank. African scientists representing many of the nations affected by poverty and hunger say GE crops undermine the nations' capacities to feed themselves by destroying established diversity, local knowledge and sustainable agricultural systems, the Center for Food Safety said.
Three researchers—Mary-Dell Chilton of Syngenta, Robert T. Fraley of Monsanto and Marc Van Montagu of Belgium—received the prestigious World Food Prize for their work.
"My hope is this will put to rest the misguided opposition" to the crops, Chilton said after receiving the award. She called genetically modified organisms a "wonderful tool" in the fight against hunger.
The Union of Concerned Scientists said Thursday that while the scientists have made valuable scientific discoveries, the biotechnology companies grossly overhype genetic engineering's ability.
Further, Monsanto and other agricultural companies are generous sponsors of the World Food Prize—including a $5 million donation from Monsanto—which creates a conflict of interest for company scientists who receive the prize, Union of Concerned Scientists said.

EcoWatch Daily Newsletter
A Starbucks barista prepares a drink at a Starbucks Coffee Shop location in New York. Ramin Talaie / Corbis via Getty Images
By Cathy Cassata
Are you getting your fill of Starbucks' new Almondmilk Honey Flat White, Oatmilk Honey Latte, and Coconutmilk Latte, but wondering just how healthy they are?
By Sharon Kelly
Back in April last year, the Trump administration's Environmental Protection Agency decided it was "not necessary" to update the rules for toxic waste from oil and gas wells. Torrents of wastewater flow daily from the nation's 1.5 million active oil and gas wells and the agency's own research has warned it may pose risks to the country's drinking water supplies.
Swedish climate activist Greta Thunberg takes part in a "Friday for Future" youth demonstration in a street of Davos on Jan. 24, 2020 on the sideline of the World Economic Forum annual meeting. FABRICE COFFRINI / AFP via Getty Images
Treasury Secretary Steven Mnuchin pretended not to know who Greta Thunberg is, and then he told her to get a degree in economics before giving world leaders advice, as The Guardian reported.
The Visible Infrared Imaging Radiometer Suite on the Suomi NPP satellite acquired this image of forest fire smoke hovering over North America on Aug. 15, 2018. NASA Earth Observatory
New York City isn't known for having the cleanest air, but researchers traced recent air pollution spikes there to two surprising sources — fires hundreds of miles away in Canada and the southeastern U.S.
If temperatures continue to rise, the world is at risk from global
sea-level rise
, which will flood many coastal cities as seen above in Bangladesh. NurPhoto / Contributor / Getty Images
The mounting climate emergency may spur the next global financial crisis and the world's central banks are woefully ill equipped to handle the consequences, according to a new book-length report by the Bank for International Settlements (BIS), as S&P Global reported. Located in Basel, Switzerland, the BIS is an umbrella organization for the world's central banks.