This website uses cookies to ensure you get the best experience while browsing it. By clicking 'Got It' you're accepting these terms.


The best of EcoWatch, right in your inbox. Sign up for our email newsletter!
Outrage Continues at Susan G. Komen's 'Frack for the Cure' Pinkwashing Campaign
Oct. 24, 2014 03:06PM EST
Energy
October is Breast Cancer Awareness Month, and in what seems to be getting to be a regular occurrence, it's bringing unwanted awareness to the activities of Susan G. Komen for the Cure (SGK), the behemoth of breast cancer charities, founded in 1982.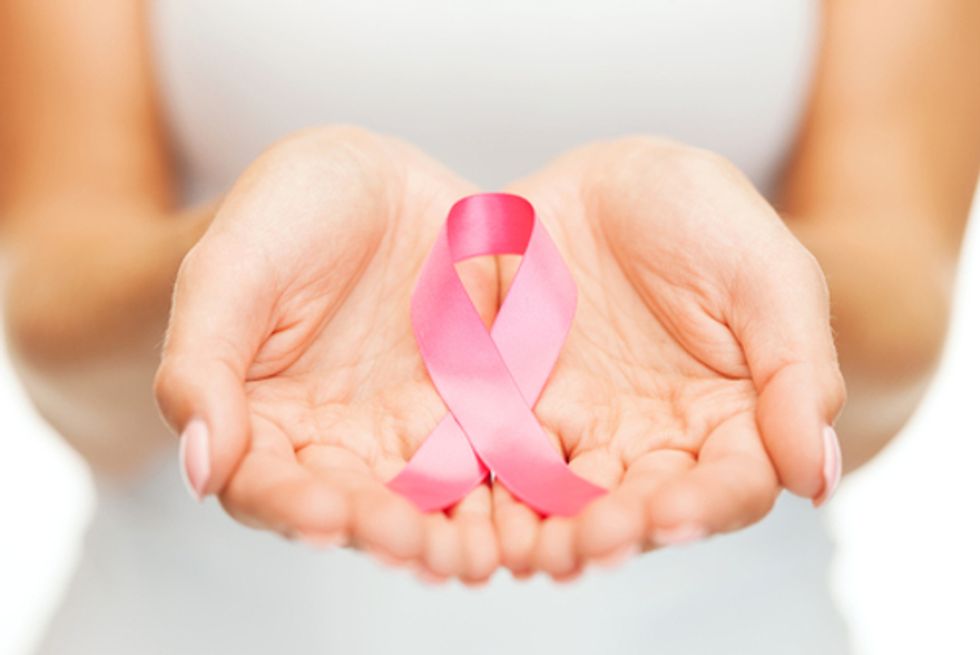 Photo credit: Shutterstock
Charges of "pinkwashing"—slapping their pink-ribbon logo on hundreds of items manufactured in their signature hot pink—reached a whole new level earlier this month when a story came out that the foundation had made a deal with Houston-based oilfield services company Baker Hughes to launch a "Doing Our Bit for the Cure" campaign. The centerpiece of the campaign is painting 1,000 fracking drill bits hot pink and packing them with information about breast cancer which presumably the mostly male oilfield workers will devour eagerly. "Baker Hughes supports Susan G. Komen's Mission to End Breast Cancer Forever," the campaign website proclaimed.
"For the second consecutive year, Baker Hughes is donating $100,000 to support Susan G. Komen, the world's leading breast cancer organization," said Baker Hughes. "The year-long partnership with Komen is an extension of the company's participation each year in the Komen Houston Race for the Cure, where Baker Hughes sponsors the Survivor Pin Celebration. This year, the company will paint and distribute a total of 1,000 pink drill bits worldwide. The pink bits serve as a reminder of the importance of supporting research, treatment, screening and education to help find the cures for this disease, which claims a life every 60 seconds."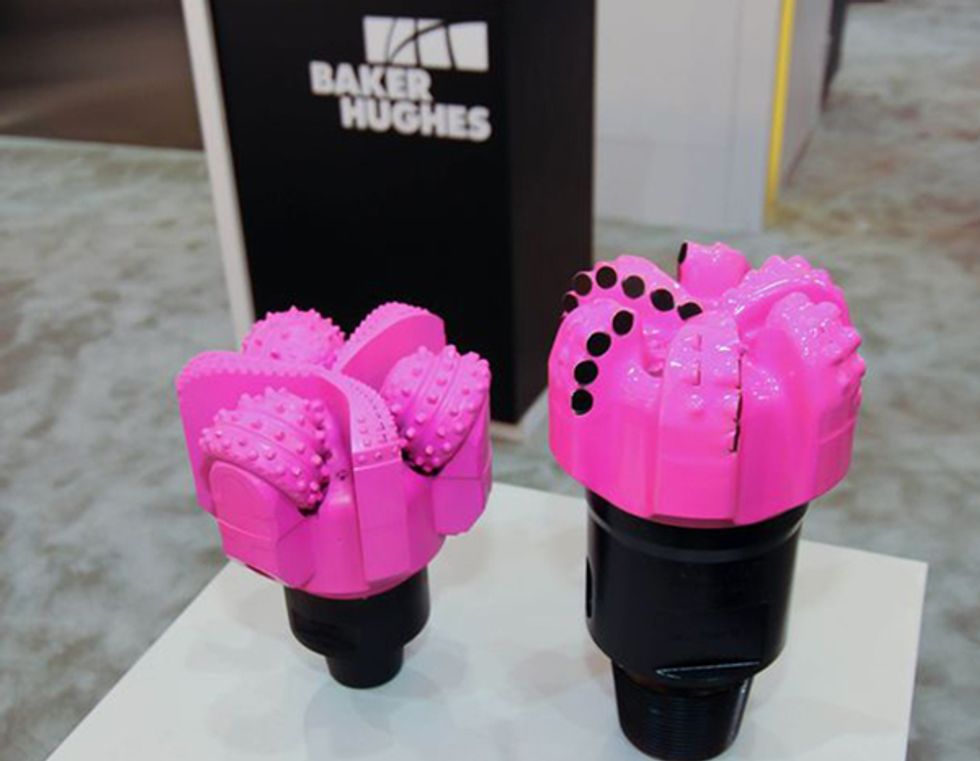 Fracking, of course, pumps hundreds of chemicals, many of them known carcinogens, into the environment, so many would assert that ending fracking would be a giant step forward in the campaign to "end breast cancer forever."
This Sunday, Karuna Jaggar, executive director of breast cancer charity watchdog Breast Cancer Action (BCA), will be joining other breast cancer, health and environmental advocates in Pittsburgh where they'll rally outside the Pittsburgh Steelers game from 2-4 p.m. In a bizarre clash of constituencies and yet another example of SGK's tone-deafness, Baker Hughes CEO Martin Craighead is scheduled to present the $100,000 check to SGK founder Nancy Brinker during the game. What will the rowdy, beer-swilling, mostly male football fans make of that? At least they'll cheer loudly for the word "breast."
"Our health is not for sale, and we'll be saying so loud and clear in Pittsburgh this weekend," said Jaggar. "With these pink drill bits Komen and Baker Hughes have taken pinkwashing to new depths—literally. By poisoning our water, food and air, Baker Hughes is doing more to cause breast cancer than to cure it. And with its poisonous partnerships, Komen provides the perfect pink cover."
Breast cancer, health and environmental advocates have been collecting petitions and today they delivered more than 160,000 signatures, gathered in the last two weeks, to SGK executive director Judith Salerno, urging the foundation to refuse the check, end the partnership and fight fracking.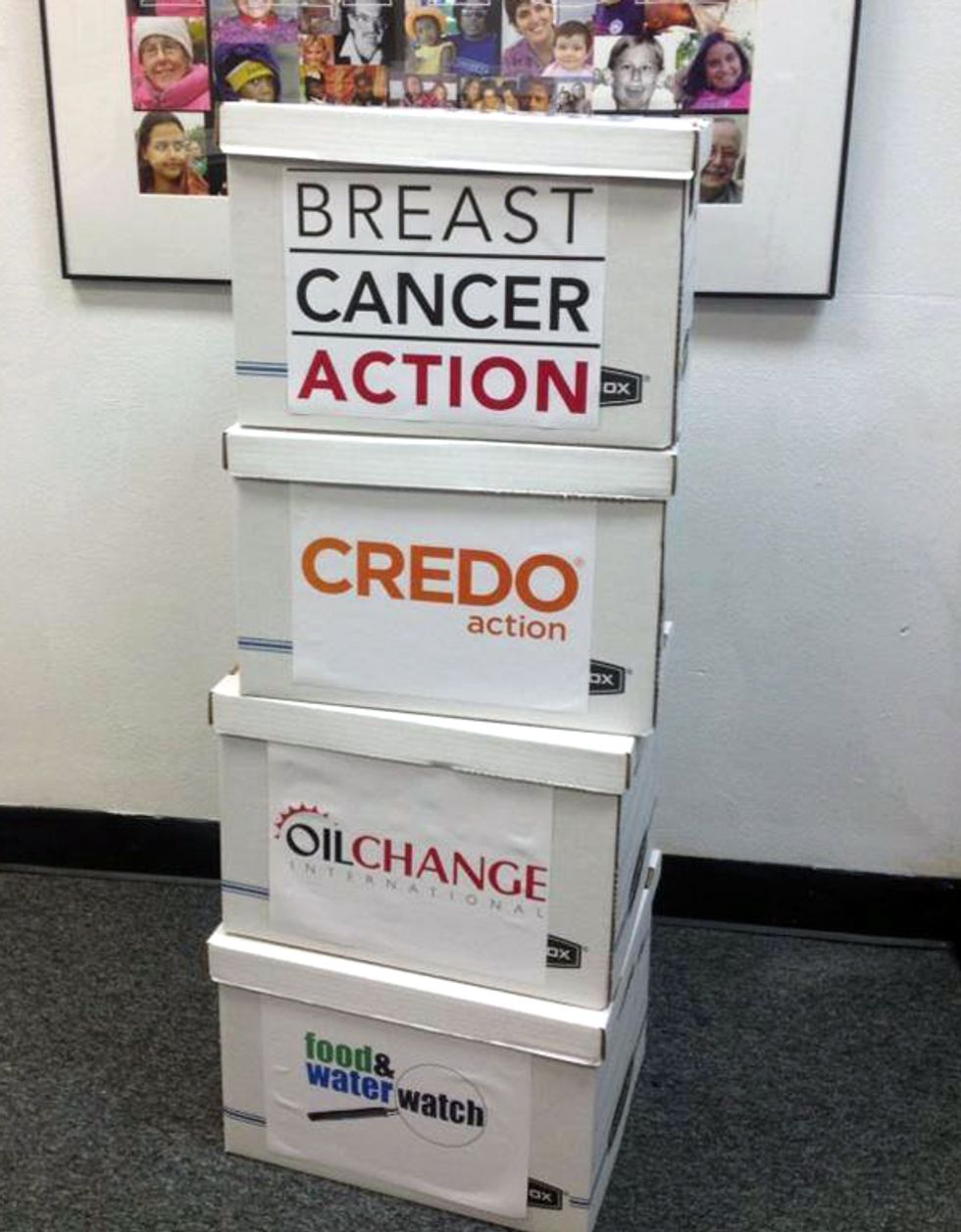 "It boggles the mind that the Susan G. Komen Foundation would agree to shill in public for a company whose toxic fracking practices can be linked to breast cancer," said Credo campaign manager Heidi Hess. "We stand with Breast Cancer Action in asking Susan G. Komen to refuse to accept the $100,000 it earned to pinkwash fracking and get back to its core mission of raising money and awareness to fight breast cancer."
For an organization as big, high-profile and well-funded, Susan G. Komen has a knack for getting involved in things that don't further the goal to end breast cancer—or that even clash with it—and angering potential and current contributors. The highest profile debacle was early 2012 decision to end its funding to Planned Parenthood to support PP's breast cancer screening program, egged on by SGK vice president/anti-choice politician Karen Handel on the grounds that the group was "under investigation"—a political witch hunt by a single congressional Republican. That blew up in their face, causing donations to drop 22 percent in the following year and participation in their signature "3-Day" events plummeting so much that some had to be cancelled, with half as many of the events taking place in 2014 as before the controversy broke.
But those aren't the only times SGK has attracted attention for making partnership decisions that negatively impact women's health and their ability to survive breast cancer. In 2010, the foundation was called out for its partnership with fried chicken chain KFC. The chain offered pink "Buckets for the Cure" featuring breast cancer facts, survivor stories and a pledge to donate 50 cents for each bucket purchased. It aimed to raise $8.5 million for SGK.
Barbara Brenner, then-executive director of Breast Cancer Action, said, "KFC locates its stores in the poorest communities where people have limited access to healthy food. Komen for the Cure claims to care about low-income women. Yet they have partnered with a corporation on a campaign that will severely aggravate the condition of women's health in these communities, not improve it."
BCA, which sponsors the "Think Before you Pink" website, pointed out that the fatty, calorie-laden, inexpensive food KFC sells appeals heavily to low-income women with high rates of breast cancer as well as obesity, which has been linked to breast cancer. It said, "KFC is currently embroiled in a suit related to their chicken's high levels of PhIP, a byproduct of the grilling process listed on the state of California's list of carcinogens. While there is much that isn't known about PhI—Komen's representative acknowledged that the NCI has not established safe or unsafe levels for its consumption—it seems both ridiculous and unethical to frame the breast cancer epidemic as something 'curable' through repeated consumption of these ingredients."
The following year, the group again caught flak for its "Promise Me" perfume, which contained galaxolide, a hormone disrupter, and toluene, a neurotoxin banned by the International Fragrance Association. While SGK responded by discontinuing the manufacture of the perfume, they did not recall the existing stocks.
YOU MIGHT ALSO LIKE 
Tell Susan G. Komen Don't Frack With Our Health
Pinkwashing: Fracking Company Teams Up With Susan G. Komen to 'End Breast Cancer Forever'
EcoWatch Daily Newsletter
Pexels
By Danielle Nierenberg and Katherine Walla
As the holiday season ramps up for many across the world, Food Tank is highlighting 15 children's books that will introduce young eaters, growers and innovators to the world of food and agriculture. Authors and organizations are working to show children the importance — and fun — of eating healthy, nutritious and delicious food, growing their own produce, and giving food to others in need.
Pixabay
Purple cabbage, also referred to as red cabbage, belongs to the Brassica genus of plants. This group includes nutrient-dense vegetables, such as broccoli, Brussels sprouts, and kale.
Pexels
By Lauren Wolahan
For the first time ever, the UN is building out a roadmap for curbing carbon pollution from agriculture. To take part in that process, a coalition of U.S. farmers traveled to the UN climate conference in Madrid, Spain this month to make the case for the role that large-scale farming operations, long criticized for their outsized emissions, can play in addressing climate change.
Pexels
In recent years, acai bowls have become one of the most hyped-up health foods on the market.
They're prepared from puréed acai berries — which are fruits grown in Central and South America — and served as a smoothie in a bowl or glass, topped with fruit, nuts, seeds, or granola.
Investing in grid infrastructure would enable utilities to incorporate modern technology, making the grid more resilient and flexible. STRATMAN2 / FLICKR
By Elliott Negin
The Royal Swedish Academy of Sciences' recent decision to award the 2019 Nobel Prize in Chemistry to scientists who developed rechargeable lithium-ion batteries reminded the world just how transformative they have been. Without them, we wouldn't have smartphones or electric cars. But it's their potential to store electricity generated by the sun and the wind at their peak that promises to be even more revolutionary, reducing our dependence on fossil fuels and protecting the planet from the worst consequences of climate change.