Outrage Continues at Susan G. Komen's 'Frack for the Cure' Pinkwashing Campaign
October is Breast Cancer Awareness Month, and in what seems to be getting to be a regular occurrence, it's bringing unwanted awareness to the activities of Susan G. Komen for the Cure (SGK), the behemoth of breast cancer charities, founded in 1982.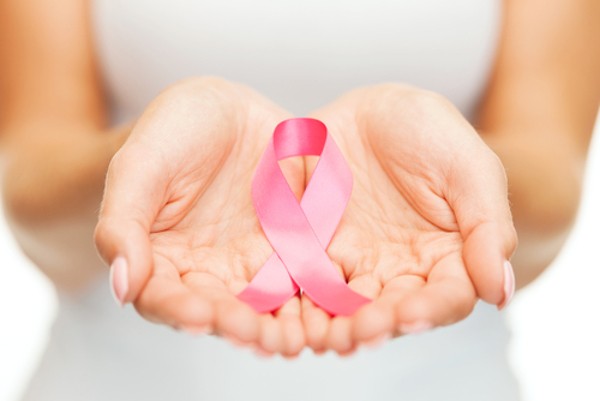 Photo credit: Shutterstock
Charges of "pinkwashing"—slapping their pink-ribbon logo on hundreds of items manufactured in their signature hot pink—reached a whole new level earlier this month when a story came out that the foundation had made a deal with Houston-based oilfield services company Baker Hughes to launch a "Doing Our Bit for the Cure" campaign. The centerpiece of the campaign is painting 1,000 fracking drill bits hot pink and packing them with information about breast cancer which presumably the mostly male oilfield workers will devour eagerly. "Baker Hughes supports Susan G. Komen's Mission to End Breast Cancer Forever," the campaign website proclaimed.
"For the second consecutive year, Baker Hughes is donating $100,000 to support Susan G. Komen, the world's leading breast cancer organization," said Baker Hughes. "The year-long partnership with Komen is an extension of the company's participation each year in the Komen Houston Race for the Cure, where Baker Hughes sponsors the Survivor Pin Celebration. This year, the company will paint and distribute a total of 1,000 pink drill bits worldwide. The pink bits serve as a reminder of the importance of supporting research, treatment, screening and education to help find the cures for this disease, which claims a life every 60 seconds."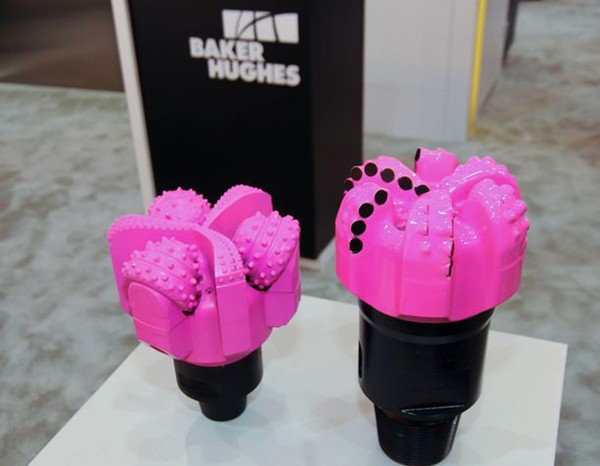 Fracking, of course, pumps hundreds of chemicals, many of them known carcinogens, into the environment, so many would assert that ending fracking would be a giant step forward in the campaign to "end breast cancer forever."
This Sunday, Karuna Jaggar, executive director of breast cancer charity watchdog Breast Cancer Action (BCA), will be joining other breast cancer, health and environmental advocates in Pittsburgh where they'll rally outside the Pittsburgh Steelers game from 2-4 p.m. In a bizarre clash of constituencies and yet another example of SGK's tone-deafness, Baker Hughes CEO Martin Craighead is scheduled to present the $100,000 check to SGK founder Nancy Brinker during the game. What will the rowdy, beer-swilling, mostly male football fans make of that? At least they'll cheer loudly for the word "breast."
"Our health is not for sale, and we'll be saying so loud and clear in Pittsburgh this weekend," said Jaggar. "With these pink drill bits Komen and Baker Hughes have taken pinkwashing to new depths—literally. By poisoning our water, food and air, Baker Hughes is doing more to cause breast cancer than to cure it. And with its poisonous partnerships, Komen provides the perfect pink cover."
Breast cancer, health and environmental advocates have been collecting petitions and today they delivered more than 160,000 signatures, gathered in the last two weeks, to SGK executive director Judith Salerno, urging the foundation to refuse the check, end the partnership and fight fracking.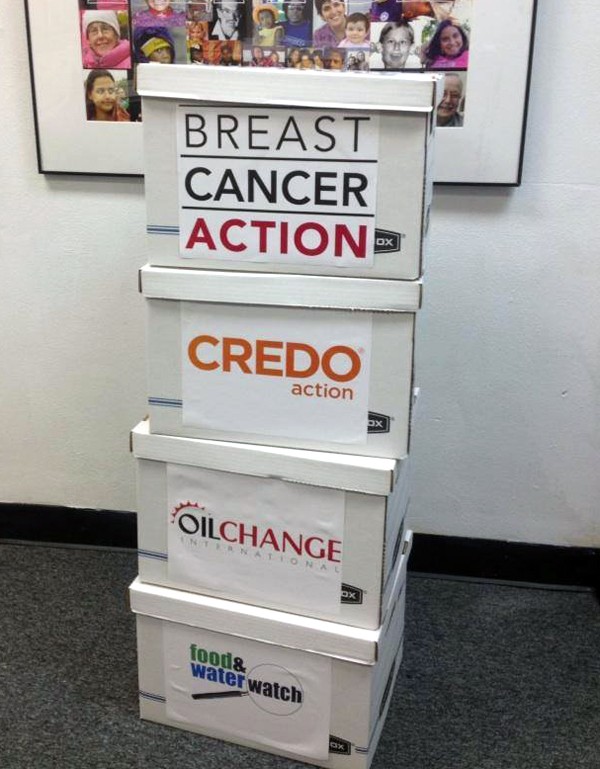 "It boggles the mind that the Susan G. Komen Foundation would agree to shill in public for a company whose toxic fracking practices can be linked to breast cancer," said Credo campaign manager Heidi Hess. "We stand with Breast Cancer Action in asking Susan G. Komen to refuse to accept the $100,000 it earned to pinkwash fracking and get back to its core mission of raising money and awareness to fight breast cancer."
For an organization as big, high-profile and well-funded, Susan G. Komen has a knack for getting involved in things that don't further the goal to end breast cancer—or that even clash with it—and angering potential and current contributors. The highest profile debacle was early 2012 decision to end its funding to Planned Parenthood to support PP's breast cancer screening program, egged on by SGK vice president/anti-choice politician Karen Handel on the grounds that the group was "under investigation"—a political witch hunt by a single congressional Republican. That blew up in their face, causing donations to drop 22 percent in the following year and participation in their signature "3-Day" events plummeting so much that some had to be cancelled, with half as many of the events taking place in 2014 as before the controversy broke.
But those aren't the only times SGK has attracted attention for making partnership decisions that negatively impact women's health and their ability to survive breast cancer. In 2010, the foundation was called out for its partnership with fried chicken chain KFC. The chain offered pink "Buckets for the Cure" featuring breast cancer facts, survivor stories and a pledge to donate 50 cents for each bucket purchased. It aimed to raise $8.5 million for SGK.
Barbara Brenner, then-executive director of Breast Cancer Action, said, "KFC locates its stores in the poorest communities where people have limited access to healthy food. Komen for the Cure claims to care about low-income women. Yet they have partnered with a corporation on a campaign that will severely aggravate the condition of women's health in these communities, not improve it."
BCA, which sponsors the "Think Before you Pink" website, pointed out that the fatty, calorie-laden, inexpensive food KFC sells appeals heavily to low-income women with high rates of breast cancer as well as obesity, which has been linked to breast cancer. It said, "KFC is currently embroiled in a suit related to their chicken's high levels of PhIP, a byproduct of the grilling process listed on the state of California's list of carcinogens. While there is much that isn't known about PhI—Komen's representative acknowledged that the NCI has not established safe or unsafe levels for its consumption—it seems both ridiculous and unethical to frame the breast cancer epidemic as something 'curable' through repeated consumption of these ingredients."
The following year, the group again caught flak for its "Promise Me" perfume, which contained galaxolide, a hormone disrupter, and toluene, a neurotoxin banned by the International Fragrance Association. While SGK responded by discontinuing the manufacture of the perfume, they did not recall the existing stocks.
YOU MIGHT ALSO LIKE 
Tell Susan G. Komen Don't Frack With Our Health
Pinkwashing: Fracking Company Teams Up With Susan G. Komen to 'End Breast Cancer Forever'
Dow CEO Andrew Liveris and President Donald Trump in February.
U.S. Environmental Protection Agency (EPA) administrator Scott Pruitt met with Dow Chemical CEO Andrew Liveris before deciding to reverse an earlier EPA decision to ban the company's toxic and widely used pesticide, chlorpyrifos.
According to records obtained by the Associated Press, the EPA boss met with Liveris for about 30 minutes at a Houston hotel on March 9. Later that month, Pruitt announced that he would no longer pursue a ban on chlorpyrifos from being used on food, ignoring his agency's own review that even small amounts of the pesticide could impact fetus and infant brain development.
Keep reading...
Show less
www.facebook.com
Native communities and environmental justice advocates in Louisiana opened a new resistance camp Saturday to oppose the proposed Bayou Bridge Pipeline project. Called L'eau Est La Vie, or Water is Life, the camp will consist of floating indigenous art structures on rafts and constant prayer ceremonies during its first two weeks.
Keep reading...
Show less
Continuing its march toward elimination of key Clean Water Act protections, the U.S. Environmental Protection Agency (EPA) on Tuesday issued a formal notice of withdrawal of the Obama administration's rule defining which waters can be protected against pollution and destruction under federal law.
Keep reading...
Show less
The U.S. Environmental Protection Agency (EPA) is not doing enough to prevent weed resistance to the herbicide glyphosate (Roundup) says a new report from the EPA's Inspector General's Office, which draws in part on a report from the agbiotech company, Pioneer: Weed Management in the Era of Glyphosate Resistance.
Keep reading...
Show less
SUMR
When it comes to the latest wind turbine technologies, size matters. A group of six institutions and universities is designing an offshore wind turbine that will stand 500 meters in height. That's taller than the Eiffel Tower and the Empire State Building.
The research team, led by researchers at the University of Virginia, believes that its wind turbine concept will produce 50 megawatts of peak power, or about 10 times more powerful than conventional wind turbines.
Keep reading...
Show less
www.facebook.com
Natural gas is often considered the cleanest fossil fuel, but could it actually be dirtier than coal?
Watch as New York Times reporter Mark Bittman, in the above Year's of Living Dangerously video, investigates how much methane is leaking at fracking wells. Find out how the natural gas industry's claims compare to what scientists are reporting.
See what happens when Gaby Petron, an atmospheric scientist with NOAA, converts her van into a mobile methane detector and sets out across northeastern Colorado for two years, taking thousands of readings to uncover the truth.
www.youtube.com
Adrian Grenier was named UN Goodwill Ambassador earlier this month. The Hollywood actor, best known for his iconic role of A-list movie star Vincent Chase in the HBO smash hit and film Entourage, will advocate for drastically reducing single-use plastic and protection of marine species, and encourage his followers to make conscious consumer choices to reduce their environmental footprint, according to the UN Environment announcement.
"Together we must usher in a new era of compassion and carefulness through forward thinking environmental programs to drive measurable change," Grenier said. "I am personally committed to creating ways in which the global community can come together to help solve our most critical climate crises through routine, collective action.
"The more we connect to nature in our daily lives, the more dedicated we will become to our individual commitments. Together, I believe we can go further, faster in our race to achieve the UN Sustainable Development Goals by 2030."
Watch the video above to learn more.
The last week has seen a flood of stories on clean energy's prospects—stories that make your head spin with their conflicting tales of renewable energy's prospects of ending our dangerous addiction to fossil fuel power from coal and gas.
Keep reading...
Show less