Neil Young Blasts Starbucks for Supporting Monsanto and GMOs in Rock Anthem
Jun. 01, 2015 11:52AM EST
Food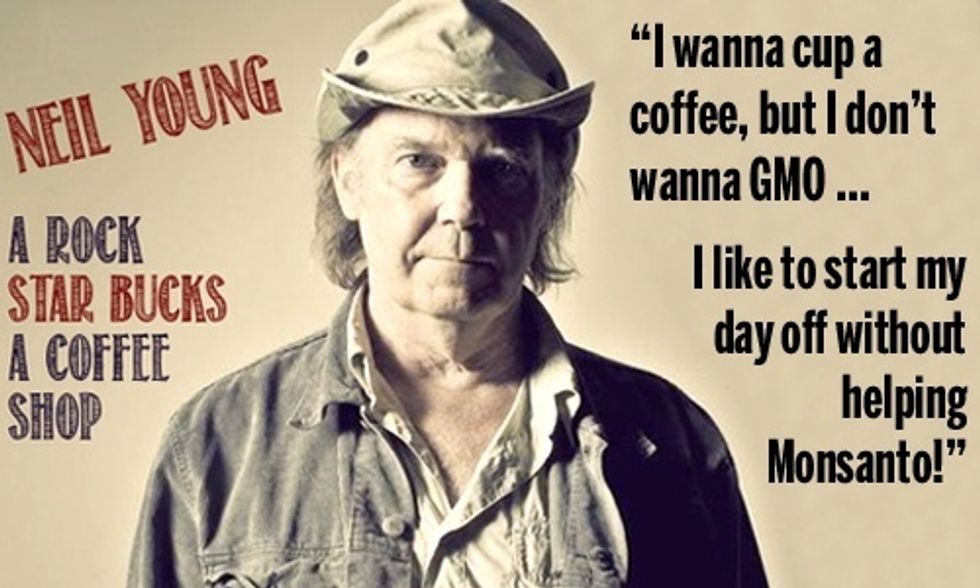 Sorry Taylor Swift, it looks like Neil Young is most definitely not a "Starbucks lover." Young released a new anthem last week decrying Starbucks for its alleged support of Monsanto and genetically modified organisms (GMOs). "I want a cup of coffee, but I don't want a GMO. I'd like to start my day off, without helping Monsanto," Young sings.
Neil Young is using his musical talent to spread the word about #Monsanto and @Starbucks! http://t.co/lq5m793XKd #gmo pic.twitter.com/fjlgnGNOzL

— GMWatch (@GMWatch) May 30, 2015
Young and the band The Promise of The Real debuted an acoustic version of the song, "A Rock Star Bucks A Coffee Shop," in Maui, Hawaii at "OUTGROW Monsanto," an event put on to call attention to Monsanto's destructive practices in Hawaii.
Hawaii is considered the global epicenter for GMO seed testing, according to Paul Towers of Pesticide Action Network. Corporations based around the globe test and grow GMO seeds in Hawaii, which can be grown year-round in the islands' tropical climate, before shipping them to places like Iowa to sell to U.S. farmers and across the globe, according to Towers. Earlier this month, a jury awarded 15 residents $500,000 in damages for pesticide contamination from the biotech company DuPont-Pioneer.
Young's new song is part of his upcoming album "The Monsanto Years," due out June 29. Young has been a food advocate for years. He's the co-founder of Farm Aid, and when it came to light that Starbucks was supporting Monsanto in fighting Vermont's GMO labeling law last fall, Young publicly declared he would be boycotting Starbucks.
Starbucks says it has been wrongly accused of supporting the lawsuit, and the Grocery Manufacturers' Association, which brought the lawsuit, has said neither Starbucks nor Monsanto are participating in the lawsuit, according to Reuters. Still, groups, such as GMO Inside, have been calling for Starbucks to cut ties with the Grocery Manufacturers' Association, of which it's an affiliate member (and thus a financial contributor), and to buy only GMO-free, organic milk.
"Starbucks has not taken a position on the issue of GMO labeling," the company says on their website. "As a company with stores and a product presence in every state, we prefer a national solution."
Watch the official music video right here:
YOU MIGHT ALSO LIKE
Biotech Giant Found Guilty of Pesticide Contamination
8 Reasons the Clean Water Rule Fails to Protect People and the Planet
EcoWatch Daily Newsletter
Related Articles from EcoWatch
Recent Stories from EcoWatch