This website uses cookies to ensure you get the best experience while browsing it. By clicking 'Got It' you're accepting these terms.


The best of EcoWatch, right in your inbox. Sign up for our email newsletter!
NBA Superstar Ray Allen to Open Organic Fast-Food Restaurant
Feb. 22, 2016 11:13AM EST
Ray Allen and his wife, Shannon Allen, are launching an organic fast-food restaurant in Miami called Grown.
The Allens were inspired to open the environmentally-friendly space because they wanted to find healthy options for their son Walker, who was diagnosed with Type I diabetes when he was only 17 months old, the Miami Herald reported.
"People want to be healthier, eat cleaner and feel better about what they're putting in their bodies," the former Miami Heat player told the Herald. "I know this from personal experience, and when Grown opens it will very much be a concept unlike anything else, designed to be accessible by everyone, from the weekend warrior to the soccer mom and anyone in between."
Grown, set to open in March, will feature healthy, gluten-free and low-cost fare such as juices, smoothies, soups, sandwiches, wraps, baked goods and coffee with prices ranging from $4-18. It will also have a drive-through, carry-out and grab-and-go options.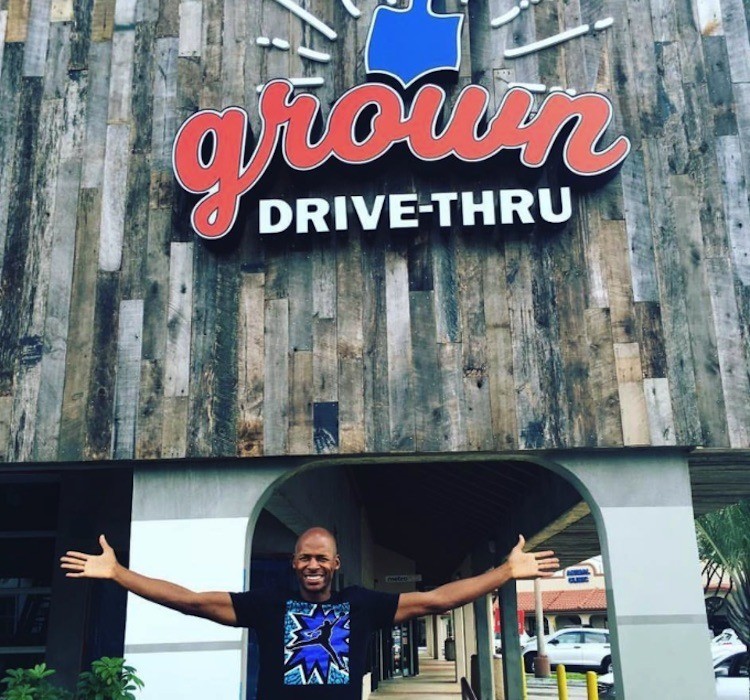 The co-founder standing in front of his newly installed drive thru signage. Allen played for several NBA teams including two seasons for the Miami Heat.  Photo credit: Pre-Game Meal Facebook
Shannon told the Herald that the Allen family decided to open their restaurant because they were searching for healthy yet convenient food for her now 9-year-old son.
"I had an aha moment where I realized I couldn't sit around helpless waiting for someone else to create a fast-food option that met our family's dietary needs, and as we did our research it became obvious that this wasn't a struggle unique to us, families everywhere are looking for convenience without compromise," she said.
Shannon, who is the creator and executive producer of the cooking show The Pre-Game Meal, told CBS Miami that she carefully monitors what Walker, and the rest of the family, eats: "We're so diligent about everything we put in our mouths."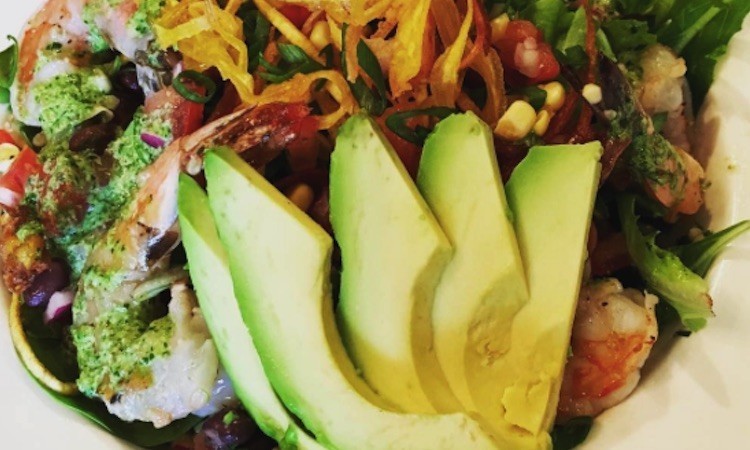 Grown's Santa Fe Salad comes with organic greens, avocado, fresh corn and tomato salsa, grilled shrimp and plantain strips. Photo credit: Grown Instagram
The Allen family has done a number of public appearance and public service announcements to advocate for more diabetes research. Three million people in the U.S. are diagnosed with Type 1 Diabetes.
As for the restaurant itself, "every inch" of the 1,900-square-foot space will be environmentally friendly, according to the Miami Herald.
Its host of green building elements include a rooftop garden where vegetables and herbs will be harvested for use in the restaurant's kitchen. The building's facade will be built from 100-year-old reclaimed barn wood.
To inspire a healthy eating lifestyle for kids, the restaurant's interactive iPad bar will have nutritional- and fitness-themed games. Not only that, the menus and food packaging will be plantable.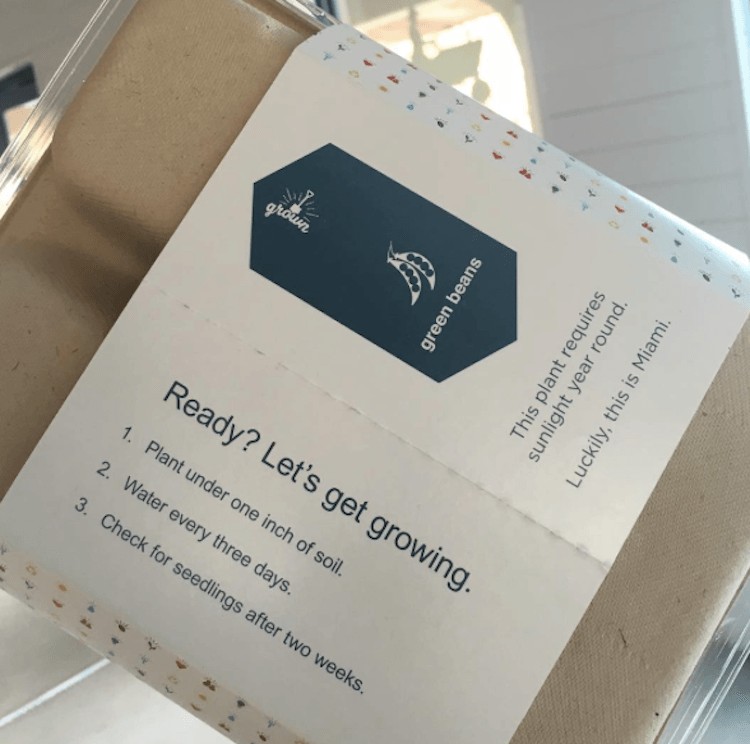 The restaurant will use plantable and compostable take-out boxes. Photo credit: Grown Instagram
Shannon wrote on her Facebook page that the flagship came after six years of conceptualizing, planning, assembling their team, scouting locations and building the restaurant.
Grown will be located at 8211 S. Dixie HWY, Miami, Fl 33143.
YOU MIGHT ALSO LIKE 
Artist Turns Old Skateboards Into Beautiful New Guitars
Shipping Containers Are Becoming 'Home, Sweet Home' All Over the World
Want to Get Off the Grid and Live in Harmony With Nature? Build an Earthship
EcoWatch Daily Newsletter
A metal fence marked with the U.S. Border Patrol sign prevents people to get close to the barbed/concertina wire covering the U.S./Mexico border fence, in Nogales, Arizona, on Feb. 9. ARIANA DREHSLER / AFP / Getty Images
D'Bone Collector Museum head Darrell Blatchley shows plastic found inside the stomach of a Cuvier's beaked whale in the Philippines this weekend. - / AFP / Getty Images
Yet another whale has died after ingesting plastic bags. A young male Cuvier's beaked whale was found washed up in Mabini, Compostela Valley in the Philippines Friday, CNN reported. When scientists from the D' Bone Collector Museum in Davao investigated the dead whale, they found it had died of "dehydration and starvation" after swallowing plastic bags―40 kilograms (approximately 88 pounds) worth of them!
Pexels
By Jeff Turrentine
"Be careful what you wish for; you just might get it." This is something that everybody has to learn at some point. Lately, the lesson has hit home for a group of American automakers.
Art direction: Georgie Johnson. Illustrations: Freya Morgan
By Joe Sandler Clarke
"Don't expect us to continue buying European products," Malaysia's former plantations minister Mah Siew Keong told reporters in January last year. His comments came just after he had accused the EU of "practising a form of crop apartheid."

A few months later Luhut Pandjaitan, an Indonesian government minister close to President Joko 'Jokowi' Widodo, warned his country would retaliate if it was "cornered" by the EU.
Torres and his parents walk along the Rio Grande. Luis Torres / Earthjustice
By Luis Torres
For some people who live along the U.S.-Mexico border, President Trump's attempt to declare a national emergency and extend the border wall is worse than a wasteful, unconstitutional stunt. It's an attack on their way of life that threatens to desecrate their loved ones' graves.
Flooding caused by last week's bomb cyclone storm has broken records in 17 places across the state of Nebraska, CNN reported Sunday. Around nine million people in 14 states along the Mississippi and Missouri Rivers were under a flood watch, CNN meteorologist Karen Maginnis said.
A car destroyed by Cyclone Idai in Beira, Mozambique. ADRIEN BARBIER / AFP / Getty Images
At least 150 people have died in a cyclone that devastated parts of Mozambique, Zimbabwe and Malawi over the weekend, The Associated Press reported Sunday. Cyclone Idai has affected more than 1.5 million people since it hit Mozambique's port city of Beira late Thursday, then traveled west to Zimbabwe and Malawi. Hundreds are still missing and tens of thousands are without access to roads or telephones.
"I think this is the biggest natural disaster Mozambique has ever faced. Everything is destroyed. Our priority now is to save human lives," Mozambique's Environment Minister Celso Correia said, as AFP reported.