This website uses cookies to ensure you get the best experience while browsing it. By clicking 'Got It' you're accepting these terms.
Monsanto's GMO Crops Already Planted in North Dakota
Aug. 09, 2013 11:32AM EST
GMO
Early in July, Monsanto rolled out the red carpet for farm media in North Dakota, promoting its new, yet highly controversial, herbicide-resistant genetically engineered (GE) seeds. Touted at an industry field day in Cass County, these new soybean seeds are designed to be used with the volatile herbicide, dicamba—a close cousin of 2,4-D.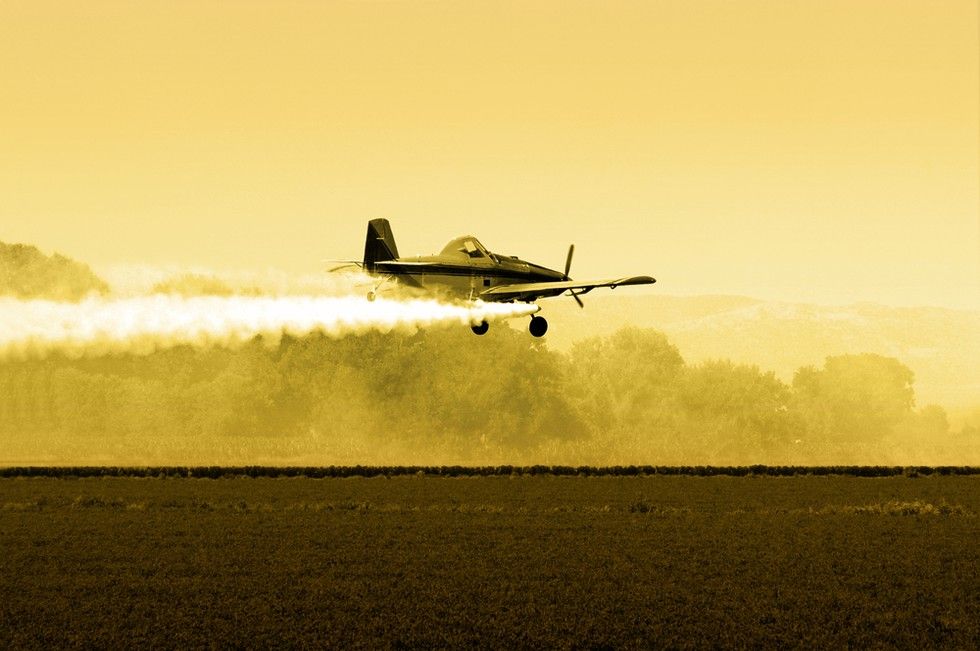 Photo courtesy of Shutterstock
Dicamba-resistant soy is still awaiting U.S. Department of Agriculture approval, as are 2,4-D-resistant corn and soy. And after receiving hundreds of thousands of comments opposing the approval of these crops, the agency recently extended its decision-making timeline. Despite the outcry, however, Monsanto has plowed full speed ahead, planting and spraying these crops in large, field-sized "ground-breaker" demonstration plots in North and South Dakota and in research plots in undisclosed locations.
Farmers, as well as other concerned citizens, are particularly worried about pesticide drift, crop damage and health harms that would likely accompany planting and spraying of dicamba- and 2,4-D-resistant crops.
Most at risk are fruit, nut and vegetable growers around the country, whose produce is highly susceptible to severe damage from 2,4-D and dicamba—herbicides known to volatilize and drift for miles. In one incident in California's San Joaquin valley, 2,4-D drifted 100 miles from where it was applied, damaging 15,000 acres of cotton and a pomegranate orchard along the way.
Not Buying "Improvements"
At the field day in July, a Monsanto representative claimed that the corporation was working on a new formulation of dicamba that wouldn't volatilize quite so easily or drift quite so far. The Monsanto employee acknowledged that dicamba residue in sprayer tanks would also be a serious problem, but explained that if growers are "good," "sophisticated" and "rigorous" in following detailed directions about nozzle size, wind speed and cleaning out their sprayers with 45 solid minutes of rinsing after use, then risk of destroying their own or neighbors' crops with inadvertent dicamba exposure could be minimized.
Waiting and watching until winds are precisely between three and ten mph? Not so feasible when you have to schedule a pesticide applicator's visit to your field well in advance. Forty-five minutes of rinsing? That's a lot of water to expect farmers to use, in a time of unpredictable rain and increasing water scarcity. Sounds a lot like a company set-up to blame the farmer as soon as anything goes wrong.
Produce industry leaders aren't convinced either. Steve Smith, agriculture director at Indiana-based Red Gold, the largest tomato processor outside of California, firmly rejected Monsanto's assurances. In an interview last week, Smith described Monsanto's guidelines as "woefully inadequate." Predicting growers will see a surge in dicamba-caused crop damage, Smith explained:
"Both the volatility and the direct drift threat are very real with dicamba. And it's not just to our crop. It's to homeowners and rural gardeners, it's to landscapes in the countryside, and we believe there's going to be a lot of people that's going to see effects from this." ­
Grape growers are also getting worried. With new wine industries emerging in virtually every state across the country—providing growers with a much-needed economic boost and way to diversify their production—reaction to the possible introduction of 2,4-D and dicamba crops has been negative.
Pesticide Drift: Old Problem, About to Get Worse
"We disked it up. They were gone. Two and a half acres of nothing, just bare ground." — Brett Middlesworth, Indiana tomato grower, describing crop loss due to herbicide drift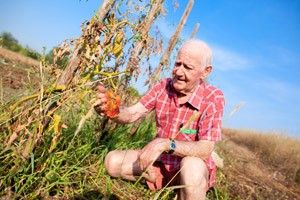 For years, pesticide drift has been hurting farmers, damaging their crops and making families in rural communities sick. One Indiana tomato farmer lost $45,000 worth of his crop and sustained permanent damage to his larynx after getting sprayed with RoundUp last summer. Organic farmers in Minnesota lost their organic certification and their crops as a result of drift. A generation of rural communities in California and Hawaii have been getting sick, while government agencies inexplicably delay implementing rules to safeguard children's health.
If 2,4-D and dicamba crops are introduced into the picture, the drift problem will quickly go from bad to worse. I've already written about the livelihood harms, and my colleague, Margaret Reeves, has warned of the health harms of these herbicide-based GE crops.
Apparently aware of growing opposition to these new herbicide-resistant crops—and in particular, farmers' worries that they will drive the emergence of yet more resistant superweeds—Monsanto is planning to offer financial incentives to farmers to spray additional types of herbicides. And if soybean growers don't adopt the new dicamba seeds, their conventional (or even their RoundUp-Ready) soy will be threatened, as dicamba drifts over from their neighbors' fields. So they'll pretty much have to get with the dicamba program.
Monsanto's latest product line might boost company sales for a time, but it fails to provide a pathway towards the safe, healthy and sustainable farming that American farmers want and deserve. For state-of-the-art, innovative pathways to such a vision, growers are practicing ecological farming methods across the U.S. today.
Visit EcoWatch's GE FOOD page for more related news on this topic.

EcoWatch Daily Newsletter
Large food companies are following in the footsteps of fast-food restaurants such as Burger King and KFC by offering meat alternatives. Getty Images
By Elizabeth Pratt
Hormel, Kellogg's, and Kroger are among the large companies now planning to offer "fake meat" products at grocery stores.
Experts say the trend toward plant-based meats coincides with consumers' desires to eat less meat.
However, experts urge consumers to closely check package labels as a product isn't necessarily healthy just because it's described as plant-based.
In grocery stores and fast-food outlets around the U.S., a revolution is taking place.
Colombia rainforest. Marcel Oosterwijk / CC BY-SA 2.0
Many of us think of the Amazon as an untouched wilderness, but people have been thriving in these diverse environments for millennia. Due to this long history, the knowledge that Indigenous and forest communities pass between generations about plants, animals and forest ecology is incredibly rich and detailed and easily dwarfs that of any expert.
picture-alliance / Newscom / R. Ben Ari
By Wesley Rahn
Plastic byproducts were found in 97 percent of blood and urine samples from 2,500 children tested between 2014 and 2017, according to a study by the German Environment Ministry and the Robert Koch Institute.

Pexels
Medically reviewed by Daniel Bubnis, MS, NASM-CPT, NASE Level II-CSS
Hot yoga has become a popular exercise in recent years. It offers many of the same benefits as traditional yoga, such as stress reduction, improved strength, and flexibility.
Lara Hata / iStock / Getty Images
By SaVanna Shoemaker, MS, RDN, LD
Rice is a staple in many people's diets. It's filling, inexpensive, and a great mild-tasting addition to flavorful dishes.
An image of the trans-alaskan oil pipeline that carries oil from the northern part of Alaska all the way to valdez. This shot is right near the arctic national wildlife refuge. kyletperry / iStock / Getty Images Plus
The Trump administration has initialized the final steps to open up nearly 1.6 million acres of the protected Alaskan National Wildlife Refuge to allow oil and gas drilling.