Monsanto Supersizes Farmers' Weed Problem, But Science Can Help
When Monsanto came up with its Roundup Ready system of genetically engineered seeds in the 1990s, designed for immunity to the herbicide glyphosate, the Big Ag giant seemed like a superhero to farmers looking for an effective way to fight weeds.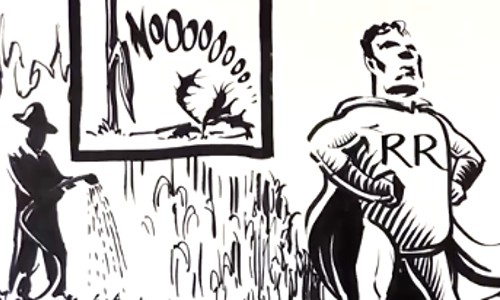 Clip from Nathan Shields' animation, 'Monsanto Supersizes Weed Problems.'
But alas, this was a superhero with a fatal flaw. Before they knew what hit them, farmers' weed problems morphed into a national superweed crisis. Superweeds have now spread to more than 60 million acres of U.S. farmland, wreaking environmental and economic havoc along the way.
Monsanto and other Big Ag companies say they can fix this problem, but their solutions look awfully similar to the one that has already failed. Why consider this "let's do it again" approach when there are real solutions available? A Union of Concerned Scientists (UCS) briefing paper, The Rise of Superweeds, explains how this crisis developed—and outlines what can be done about it. UCS calls the solution healthy farms, which use practices grounded in the science of agroecology that are "sustainable and cost-effective, and more and more farmers are putting it into practice." These practices make farms healthier, and recent research shows that they work.
To transition to healthy farms, the U.S. needs new policies and farmers need more research. UCS recommends that Congress and the U.S. Department of Agriculture take the following actions:
Fund and implement the Conservation Stewardship Program, which provides support for farmers using sustainable weed control methods.
Institute new regional programs that encourage farmers to address weed problems through sustainable techniques.
Support organic farmers and those who want to transition to organic farming with research, certification, cost-sharing and marketing programs. (Organic farming serves as a "test kitchen" for integrated weed management practices that can be broadly applied to conventional farm systems.)
Support multidisciplinary research on integrated weed management strategies and educate farmers in their use.
Bring together scientists, industry, farmers and public interest groups to formulate plans preventing or containing the development of herbicide-resistant weeds, and make the approval of new herbicide-tolerant crops conditional on the implementation of such plans.
Fund and carry out long-term research to breed crop varieties and cover crops that compete with and control weeds more effectively.
The grim reality being faced by farmers across the U.S.—and what can be done about it—is depicted in the following animation created by UCS member Nathan Shields of Draw4.Us.
——–
YOU MIGHT ALSO LIKE
Open Source Seeds: A Threat to Monsanto
USDA Invests $7 Million to Research Small Farm Challenges
How Buying Local Food Grows Local Economies
——–
A coalition of conservation groups and others announced Thursday that a historic number of comments and petitions of support have been submitted to the U.S. Department of the Interior in support of Bears Ears National Monument. Despite the entirely inadequate 15-day comment period ending on May 26, more than 685,000 comments in support of Bears Ears National Monument have been collected.
Keep reading...
Show less
Rink Glacier in western Greenland, with a meltwater lake visible center. NASA/OIB
Scientists have had their eyes on Greenland as its iconic glaciers have begun disappearing due to a warming climate. But, what they didn't expect to see was a whole new type of melting.
Keep reading...
Show less
Mountain View Fire
By Lena Moffitt
An oil tanker in Mead, Colorado exploded, killing one and injuring three on Thursday. Authorities are continuing to investigate the cause of the explosion.
Keep reading...
Show less
Banner created by Alliance for Climate Education
Keep reading...
Show less
Twenty-two GOP senators sent a letter Thursday urging Donald Trump to pull out of the Paris agreement. They argued remaining in the deal could "upend" the administration's ability "to fulfill its goal of rescinding the Clean Power Plan."
Keep reading...
Show less
By Cheryl Johncox
The Federal Energy Regulatory Commission (FERC) rejected on Thursday Energy Transfer Partners' request to resume horizontal directional drilling at two sites for its Rover fracked gas pipeline. This rejection comes after numerous leaks into Ohio's wetlands, and Clean Air and Clean Water act violations. FERC has halted the process at only eight locations of the 32 where drilling is taking place under Ohio's wetlands and streams.
Keep reading...
Show less
By Nadia Prupis
A majority of people in eight countries say they are ready to change their lifestyles if it would prevent climate catastrophe, a survey on global threats released Wednesday found.
Keep reading...
Show less
May. 25, 2017 01:55PM EST
Bill Maher is sick of billionaires' obsession with Mars, more like "Mars-a-Lago," he said.
In a new animation produced by ATTN:, the popular talk show host of Real Time, discusses the perils of our planet, including how "climate change is killing us."
Keep reading...
Show less