Millions Against Monsanto: On the Road to Victory
Jul. 22, 2013 10:28AM EST
Food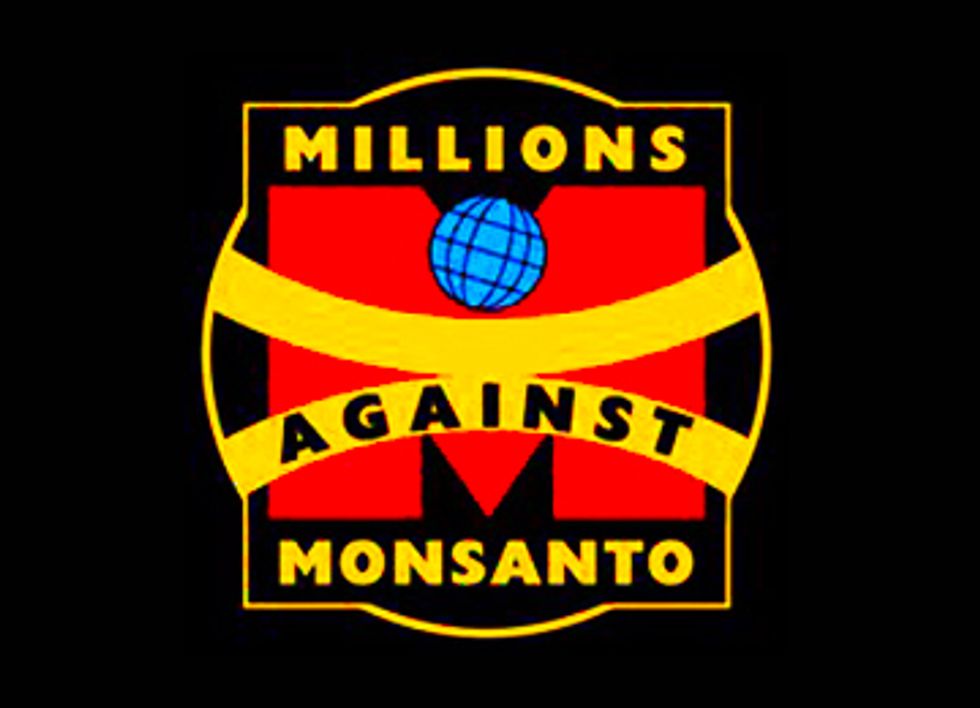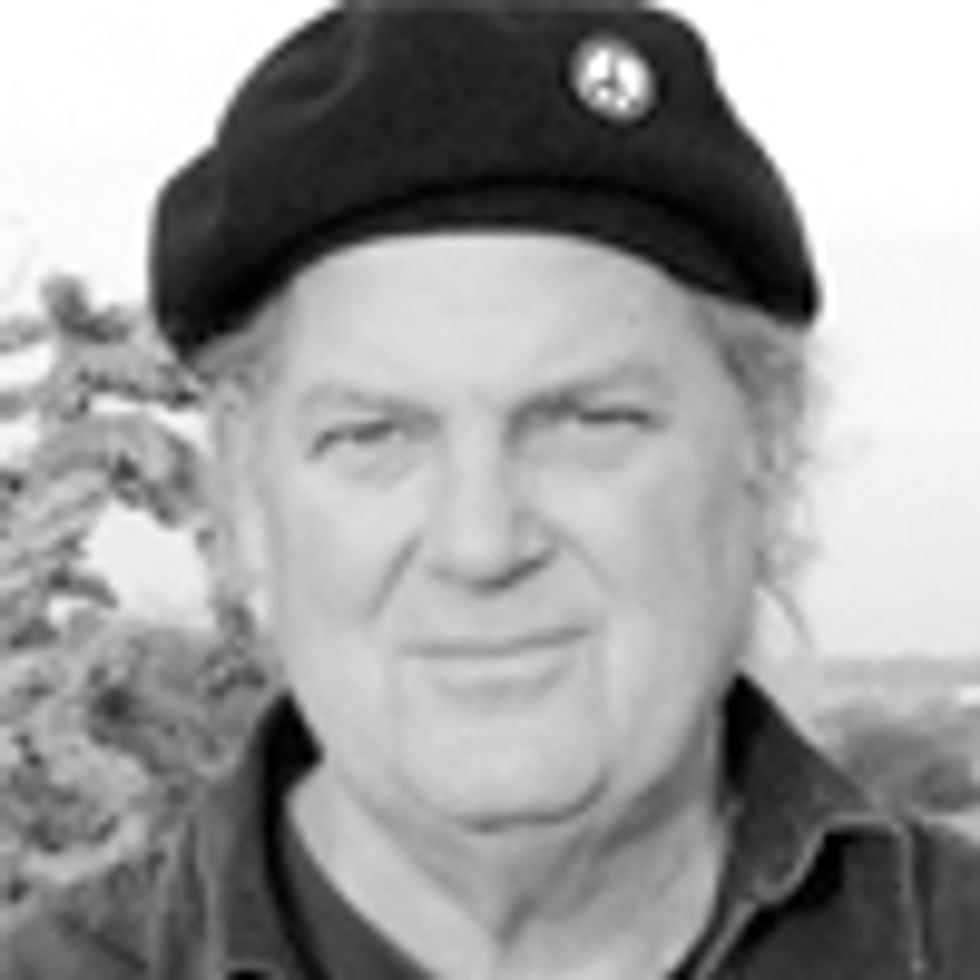 "The harder they come the harder they fall, one and all." - Jimmy Cliff, reggae classic.
After enjoying a year of maximum profits, record stock prices, the defeat of a major GMO [genetically modified organisms] labeling campaign in California, pro-industry court decisions and a formidable display of political power in Washington, D.C.—including slipping the controversial Monsanto Protection Act into the Federal Appropriations bill in March—the "Biotech Bully" from St. Louis now finds itself on the defensive.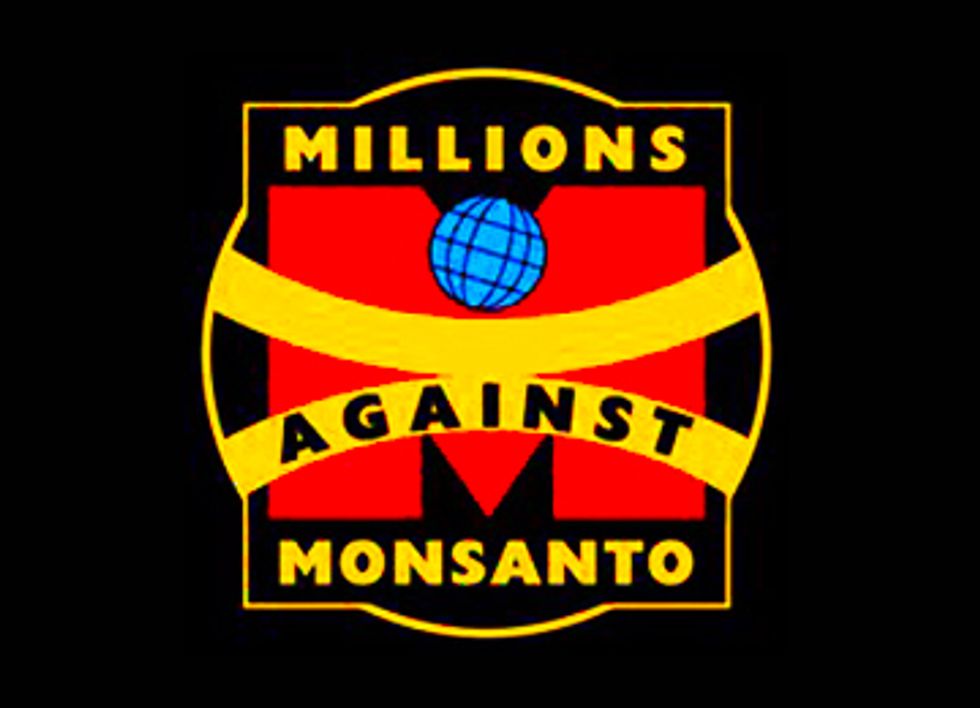 It is no exaggeration to say that Monsanto has now become the most hated corporation in the world.
Plagued by a growing army of Roundup-resistant superweeds and Bt-resistant superpests spreading across the country, a full 49 percent of American farmers are now frantically trying to kill these superweeds and pests with ever-larger quantities of toxic pesticides, herbicides and fungicides including glyphosate (Roundup), glufosinate, 2,4-D (Agent Orange), dicamba and neonicotinoids (insecticides linked to massive deaths of honey bees).
Reacting to this dangerous escalation of chemical farming, toxic residues on foods and environmental pollution, over a million consumers and organic farmers have pressed the Obama administration to reject a new generation of GE "Agent Orange" and dicamba-resistant crops, forcing the U.S. Department of Agriculture (USDA) to postpone commercialization of these crops, at least temporarily.
According to the Trade Press, thousands of U.S. farmers, as well as farmers worldwide, are moving away from biotech crops and searching for non-GMO alternatives. At the same time, U.S. and global market demand for non-GMO organic foods and crops is steadily increasing.
Compounding Monsanto's superweed and superpest problems, scientific evidence continues to mount that GMO feed and foods, laced with Bt [Bacillus thuringiensis] toxins and contaminated with ever-increasing residues of Monsanto's deadly weedkiller, Roundup, are severely damaging animal and human health.
As the June 24, 2013, issue of Green Medical News puts it:
"... within the scientific community and educated public alike, there is a growing awareness that Roundup herbicide, and its primary ingredient glyphosate, is actually a broad spectrum biocide, in the etymological sense of the word: "bio" (life) and "cide" (kill)—that is, it broadly, without discrimination kills living things, not just plants. Moreover, it does not rapidly biodegrade as widely claimed, and exceedingly small amounts of this chemical—in concentration ranges found in recently sampled rain, air, groundwater and human urine samples—have DNA-damaging and cancer cell proliferation stimulating effects."
On May 25, two million people from 436 cities, in 52 countries, on six continents took to the streets in a global "March Against Monsanto." From New York to New Delhi, protestors reaffirmed their determination not only to force the labeling of genetically engineered (GE) foods, as has already been accomplished in the European Union, India and at least 36 other nations, but also to drive all GMOs off the market. That includes GMOs in human food, animal feed, cotton, nutritional supplements, body care products and GMO cotton and biofuels.
The same week as the global March Against Monsanto, The New York Times reported that U.S. food companies, "large and small" are starting to make arrangements to reformulate the ingredients in their processed foods and reorganize their supply lines so to avoid having to admit that their brand name products contain GMOs. Monsanto and its "Junk Food" allies recognize that if the Washington State ballot initiative on mandatory GMO labeling passes on November 5, which now appears likely, their ability to keep food consumers in the dark will be over.
Large processed food and beverage companies, such as Kellogg's, General Mills, Nestle, Coca-Cola, Pepsi, Kraft, Unilever, Dean Foods, Wal-Mart and others understand that once labeling is required in one strategic state, such as Washington, they will be forced to label in all 50 states.
The anti-GMO movement in the U.S. has identified Monsanto's "Achilles Heel"—GMO food labeling at the state level—and has begun to achieve some preliminary victories, both in the marketplace and in the legislative arena. For example, Whole Foods Market and dozens of natural food stores and co-ops, along with restaurants like Chipotle, are, or are planning to, voluntarily label GMOs. And Connecticut and Maine have passed GMO labeling laws.
Our common task now must be to win the all-important Washington State ballot initiative. This will require a tremendous fundraising effort and netroots-grassroots "get out the vote" effort. If you have not already made a donation to this effort, please do so now. If you would like to volunteer, sign up here.
Monsanto's Minions React
The food industry knows it will be difficult to stop voters in Washington State from bypassing the politicians and the federal government and directly voting into law a mandatory GMO food labeling initiative on November 5. So, the Grocery Manufacturers Association (GMA) is circling the wagons. Claiming that pro-labeling consumers have created "an unprecedented period of turmoil" for the food industry, the GMA convened a meeting, on July 10, in Washington DC, of large food manufactures and supermarkets. Their agenda? Figure out how to co-opt and neutralize the growing anti-GMO movement.
One of the strategies apparently being put forth by members of the GMA is to ask the U.S. Food & Drug Administration (FDA) to step in and formulate watered-down federal rules on GMO food labeling. The GMA would like weak labeling laws, similar to those in Japan and other nations, that would contain loopholes, high tolerances and weak enforcement, coupled with a lengthy implementation period, so as to preempt strict state labeling requirements and deflate the growing GMO-Right to Know movement.
On the international level, Monsanto and Big Food, joined by other large corporations concerned about the growing grassroots power of consumer, environmental and Fair Trade networks, are lobbying for fast track passage of new secretly negotiated Free Trade Agreements, the Trans-Atlantic Trade and Investment Partnership (TTIP), popularly known as "TAFTA," and the Trans-Pacific Partnership (TPP). Both TAFTA and TPP are basically supercharged versions of the highly unpopular NAFTA and WTO trade agreements.
These "forced trade" agreements would, among other things, lower standards on food safety and environmental protection, including taking away the rights of nations and states to require strict GMO food labeling and safety-testing. Provisions in these trade agreements would allow corporations to sue a nation if pro-consumer or environmental laws interfered with their trade and "expected profits." Judgments and penalties would be determined by secret trade tribunals, with corporate lawyers serving as judges. Under the TAFTA/TPP regime, the U.S. and other countries would be required to hand over national sovereignty to foreign investors and multinational corporations.
So even as we mobilize for strategic GMO right-to-know victories in Washington, Vermont and other states, we must simultaneously mobilize the public to fight against federal preemption on GMO labeling, and stop the next generation of these secret "forced trade" agreements.
GMO Food Labeling: Just the First Step
Passing I-522, Washington State's GMO labeling initiative, is a necessary first step toward honest labeling of GMO ingredients in the U.S. But Monsanto has survived mandatory food labeling in the EU and scores of other nations. The biotech giant will likely survive strict labeling requirements by U.S. states, too. What Monsanto can't survive is mass awareness and rejection of all GMOs, especially GMO cotton and GMO animal feed on factory farms. A successful global boycott of factory-farmed meat and animal products and GMO-tainted cotton, combined with GMO food labeling, will literally drive genetic engineering out of the marketplace.
Eighty percent of all processed foods in the U.S. contain GMOs. Yet if we examine the entire global production and consumption cycle of GMOs, we learn that only 20 percent of GMOs grown worldwide go into human food. The other 80 percent end up in animal feed, cotton production, biofuels, body care products and nutritional supplements.
Even in Europe, where GE foods are rarely sold in grocery stores or restaurants, several billion dollars worth of GE animal feed from North America, Brazil and Argentina are imported every year. Although EU consumers have forced voluntary labeling of GMO-fed non-organic meat and animal products in Germany, France and Austria, and in large chains throughout Europe, there is no mandatory GMO animal feed labeling law in the EU. India is the only major country up until now that requires labels on GMO animal feed. No country yet requires labels on GMO cotton clothing, nutritional supplements, body care products or biofuels.
Almost half of Monsanto's profits now derive from its sales outside the U.S., especially GMO crops for animal feed.  So if we're serious about turning back the biotech threat, and building up an alternative food and farming system that is organic, local, climate-friendly and humane, we need to strengthen our international solidarity and cooperation as well as our domestic efforts. Once we take into account the full scope of agricultural biotechnology and its myriad products, we can position ourselves for the next stage of the battle: a comprehensive and global anti-GMO offensive, strategically targeting the entire GMO food, fiber, fuel, supplements and body care industry where they are most vulnerable. This Great GMO Boycott and GMO Right to Know mobilization will require a broader coalition, both domestically and internationally, and an unprecedented mass education effort around the role of GMOs and factory farms in exacerbating our health, environmental, animal welfare and climate crisis.
All Out for Washington State Nov. 5
But first things first. The consumer, farmer and fishing community insurgency that frightens Monsanto and its allies the most is the upcoming ballot initiative (I-522) in Washington State on Nov. 5. As Monsanto and its allies, such as the GMA, understand, this is the most crucial battle against GMOs today. If voters pass mandatory labeling in Washington, reinforced by contingent state labeling laws already passed or in progress in Connecticut, Maine and Vermont, it will mean the end of the road for genetically engineered food in U.S. grocery stores.
As the biotech lobby has readily admitted, GMO food labeling is a "skull and crossbones" that will drive genetically engineered foods off the market in the U.S. and North America. As evidenced by marketplace trends in Europe, the largest agricultural market in the world, once GMOs are labeled, consumers will not buy them, food companies and grocery stores will not sell them and farmers will not grow them. This is why Monsanto and Big Food corporations—hiding behind the façade of their trade association, the GMA—will likely pour up to $20 million into defeating I-522. Pro-labeling forces currently have a commanding lead in the polls in Washington. But we need to raise at least $4 million more (to augment the $4 million we've raised already) to buy enough TV and radio time to counter the forthcoming flood of lies that Monsanto and its minions will launch in Washington State. We already know what those lies will look like: Labeling will raise food prices, hurt family farmers and confuse consumers.
The "Road to Victory" means building up our war chest in Washington State for the Nov. 5 ballot initiative. Please spread the word. This is the most important food and farming battle in the world today. If you haven't already made a donation to the Yes on I-522 campaign, please do so now.
Visit EcoWatch's GE FOODS pages for more related news on this topic.
——–

A warming climate can lead to lake stratification, including toxic algal blooms. UpdogDesigns / Getty Images
By Ayesha Tandon
New research shows that lake "stratification periods" – a seasonal separation of water into layers – will last longer in a warmer climate.
These longer periods of stratification could have "far-reaching implications" for lake ecosystems, the paper says, and can drive toxic algal blooms, fish die-offs and increased methane emissions.
The study, published in Nature Communications, finds that the average seasonal lake stratification period in the northern hemisphere could last almost two weeks longer by the end of the century, even under a low emission scenario. It finds that stratification could last over a month longer if emissions are extremely high.
If stratification periods continue to lengthen, "we can expect catastrophic changes to some lake ecosystems, which may have irreversible impacts on ecological communities," the lead author of the study tells Carbon Brief.
The study also finds that larger lakes will see more notable changes. For example, the North American Great Lakes, which house "irreplaceable biodiversity" and represent some of the world's largest freshwater ecosystems, are already experiencing "rapid changes" in their stratification periods, according to the study.
'Fatal Consequences'
As temperatures rise in the spring, many lakes begin the process of "stratification." Warm air heats the surface of the lake, heating the top layer of water, which separates out from the cooler layers of water beneath.
The stratified layers do not mix easily and the greater the temperature difference between the layers, the less mixing there is. Lakes generally stratify between spring and autumn, when hot weather maintains the temperature gradient between warm surface water and colder water deeper down.
Dr Richard Woolway from the European Space Agency is the lead author of the paper, which finds that climate change is driving stratification to begin earlier and end later. He tells Carbon Brief that the impacts of stratification are "widespread and extensive," and that longer periods of stratification could have "irreversible impacts" on ecosystems.
For example, Dr Dominic Vachon – a postdoctoral fellow from the Climate Impacts Research Centre at Umea University, who was not involved in the study – explains that stratification can create a "physical barrier" that makes it harder for dissolved gases and particles to move between the layers of water.
This can prevent the oxygen from the surface of the water from sinking deeper into the lake and can lead to "deoxygenation" in the depths of the water, where oxygen levels are lower and respiration becomes more difficult.
Oxygen depletion can have "fatal consequences for living organisms," according to Dr Bertram Boehrer, a researcher at the Helmholtz Centre for Environmental Research, who was not involved in the study.
Lead author Woolway tells Carbon Brief that the decrease in oxygen levels at deeper depths traps fish in the warmer surface waters:
"Fish often migrate to deeper waters during the summer to escape warmer conditions at the surface – for example during a lake heatwave. A decrease in oxygen at depth will mean that fish will have no thermal refuge, as they often can't survive when oxygen concentrations are too low."

This can be very harmful for lake life and can even increase "fish die-off events" the study notes.
However, the impacts of stratification are not limited to fish. The study notes that a shift to earlier stratification in spring can also encourage communities of phytoplankton – a type of algae – to grow sooner, and can put them out of sync with the species that rely on them for food. This is called a "trophic mismatch."
Prof Catherine O'Reilly, a professor of geography, geology and the environment at Illinois State University, who was not involved in the study, adds that longer stratified periods could also "increase the likelihood of harmful algae blooms."
The impact of climate change on lakes also extends beyond ecosystems. Low oxygen levels in lakes can enhance the production of methane, which is "produced in and emitted from lakes at globally significant rates," according to the study.
Woolway explains that higher levels of warming could therefore create a positive climate feedback in lakes, where rising temperatures mean larger planet-warming emissions:
"Low oxygen levels at depth also promotes methane production in lake sediments, which can then be released to the surface either via bubbles or by diffusion, resulting in a positive feedback to climate change."

Onset and Breakup
In the study, the authors determine historical changes in lake stratification periods using long-term observational data from some of the "best-monitored lakes in the world" and daily simulations from a collection of lake models.
They also run simulations of future changes in lake stratification period under three different emission scenarios, to determine how the process could change in the future. The study focuses on lakes in the northern hemisphere.
The figure below shows the average change in lake stratification days between 1900 and 2099, compared to the 1970-1999 average. The plot shows historical measurements (black), and the low emission RCP2.6 (blue), mid emissions RCP6.0 (yellow) and extremely high emissions RCP8.5 (red) scenarios.
Change in lake stratification duration compared to the 1970-1999 average, for historical measurements (black), the low emission RCP2.6 (blue) moderate emissions RCP6.0 (yellow) and extremely high emissions RCP8.5 (red). Credit: Woolway et al (2021).
The plot shows that the average lake stratification period has already lengthened. However, the study adds that some lakes are seeing more significant impacts than others.
For example, Blelham Tarn – the most well-monitored lake in the English Lake District – is now stratifying 24 days earlier and maintaining its stratification for an extra 18 days compared to its 1963-1972 averages, the study finds. Woolway tells Carbon Brief that as a result, the lake is already showing signs of oxygen depletion.
Climate change is increasing average stratification duration in lakes, the findings show, by moving the onset of stratification earlier and pushing the stratification "breakup" later. The table below shows projected changes in the onset, breakup and overall length of lake stratification under different emission scenarios, compared to a 1970-1999 baseline.
The table shows that even under the low emission scenario, the lake stratification period is expected to be 13 days longer by the end of the century. However, in the extremely high emissions scenario, it could be 33 days longer.
The table also shows that stratification onset has changed more significantly than stratification breakup. The reasons why are revealed by looking at the drivers of stratification more closely.
Warmer Weather and Weaker Winds
The timing of stratification onset and breakup in lakes is driven by two main factors – temperature and wind speed.
The impact of temperature on lake stratification is based on the fact that warm water is less dense than cool water, Woolway tells Carbon Brief:
"Warming of the water's surface by increasing air temperature causes the density of water to decrease and likewise results in distinct thermal layers within a lake to form – cooler, denser water settles to the bottom of the lake, while warmer, lighter water forms a layer on top."

This means that, as climate change causes temperatures to rise, lakes will begin to stratify earlier and remain stratified for longer. Lakes in higher altitudes are also likely to see greater changes in stratification, Woolway tells Carbon Brief, because "the prolonging of summer is very apparent in high latitude regions."
The figure below shows the expected increase in stratification duration from lakes in the northern hemisphere under the low (left), mid (center), and high (right) emission scenarios. Deeper colors indicate a larger increase in stratification period.
Expected increase in stratification duration in lakes in the northern hemisphere under the low (left), mid (centre) and high (right) emissions scenarios. Credit: Woolway et al (2021).
The figure shows that the expected impact of climate change on stratification duration becomes more pronounced at more northerly high latitudes.
The second factor is wind speed, Woolway explains:
"Wind speed also affects the timing of stratification onset and breakdown, with stronger winds acting to mix the water column, thus acting against the stratifying effect of increasing air temperature."

According to the study, wind speed is expected to decrease slightly as the planet warms. The authors note that the expected changes in near-surface wind speed are "relatively minor" compared to the likely temperature increase, but they add that it may still cause "substantial" changes in stratification.
The study finds that air temperature is the most important factor behind when a lake will begin to stratify. However, when looking at stratification breakup, it finds that wind speed is a more important driver.
Meanwhile, Vachon says that wind speeds also have implications for methane emissions from lakes. He notes that stratification prevents the methane produced on the bottom of the lake from rising and that, when the stratification period ends, methane is allowed to rise to the surface. However, according to Vachon, the speed of stratification breakup will affect how much methane is released into the atmosphere:
"My work has suggested that the amount of accumulated methane in bottom waters that will be finally emitted is related to how quickly the stratification break-up occurs. For example, a slow and progressive stratification break-up will most likely allow water oxygenation and allow the bacteria to oxidise methane into carbon dioxide. However, a stratification break-up that occurs rapidly – for example after storm events with high wind speed – will allow the accumulated methane to be emitted to the atmosphere more efficiently."

Finally, the study finds that large lakes take longer to stratify in spring and typically remain stratified for longer in the autumn – due to their higher volume of water. For example, the authors highlight the North American Great Lakes, which house "irreplaceable biodiversity" and represent some of the world's largest freshwater ecosystems.
These lakes have been stratifying 3.5 days earlier every decade since 1980, the authors find, and their stratification onset can vary by up to 48 days between some extreme years.
O'Reilly tells Carbon Brief that "it's clear that these changes will be moving lakes into uncharted territory" and adds that the paper "provides a framework for thinking about how much lakes will change under future climate scenarios."
Reposted with permission from Carbon Brief.
EcoWatch Daily Newsletter
A view of Lake Powell from Romana Mesa, Utah, on Sept. 8, 2018. DEA / S. AMANTINI / Contributor / Getty Images
By Robert Glennon
Interstate water disputes are as American as apple pie. States often think a neighboring state is using more than its fair share from a river, lake or aquifer that crosses borders.
Robert Glennon is a Regents Professor and Morris K. Udall Professor of Law & Public Policy, University of Arizona.

Disclosure statement: Robert Glennon received funding from the National Science Foundation in the 1990s and 2000s.
Reposted with permission from The Conversation.
Plugging and capping abandoned and orphaned oil and gas wells in Central Appalachia could generate thousands of jobs. StushD80 / Getty Images
Plugging and capping abandoned and orphaned oil and gas wells in Central Appalachia could generate thousands of jobs for the workers and region who stand to lose the most from the industry's inexorable decline.
According to a new report from the Ohio River Valley Institute, just four states (Ohio, West Virginia, Pennsylvania, and Kentucky) account for at least 538,000 unplugged abandoned oil and gas wells, though that number is almost certainly low.
The first oil well in the U.S. was drilled in Pennsylvania before the Civil War and the timeline of the region's oil and gas production contributes to its disproportionate number of orphaned wells.
Among other toxic pollution released from orphaned wells, Central Appalachian wells dumped 71,000 metric tons of methane — an extremely potent heat trapping gas — into the atmosphere every year.
The report comes as the Biden administration works to allay worries in a region still tied to the fossil fuel industry.
President Biden's infrastructure plan includes $16 billion for plugging and remediating orphaned oil and gas wells and abandoned mines.
For a deeper dive:
Orphaned Wells: Earther, Charleston Gazette-Mail, West Virginia Public Broadcasting, Allegheny Front; Transition: Politico

For more climate change and clean energy news, you can follow Climate Nexus on Twitter and Facebook, sign up for daily Hot News, and visit their news site, Nexus Media News.
Plastic bails, left, and aluminum bails, right, are photographed at the Green Waste material recovery facility on Thursday, March 28, 2019, in San Jose, California. Aric Crabb / Digital First Media / Bay Area News via Getty Images
By Courtney Lindwall
Coined in the 1970s, the classic Earth Day mantra "Reduce, Reuse, Recycle" has encouraged consumers to take stock of the materials they buy, use, and often quickly pitch — all in the name of curbing pollution and saving the earth's resources. Most of us listened, or lord knows we tried. We've carried totes and refused straws and dutifully rinsed yogurt cartons before placing them in the appropriately marked bins. And yet, nearly half a century later, the United States still produces more than 35 million tons of plastic annually, and sends more and more of it into our oceans, lakes, soils, and bodies.
Clearly, something isn't working, but as a consumer, I'm sick of the weight of those millions of tons of trash falling squarely on consumers' shoulders. While I'll continue to do my part, it's high time that the companies profiting from all this waste also step up and help us deal with their ever-growing footprint on our planet.
An investigation last year by NPR and PBS confirmed that polluting industries have long relied on recycling as a greenwashing scapegoat. If the public came to view recycling as a panacea for sky-high plastic consumption, manufacturers—as well as the oil and gas companies that sell the raw materials that make up plastics—bet they could continue deluging the market with their products.
There are currently no laws that require manufacturers to help pay for expensive recycling programs or make the process easier, but a promising trend is emerging. Earlier this year, New York legislators Todd Kaminsky and Steven Englebright proposed a bill—the "Extended Producer Responsibility Act"—that would make manufacturers in the state responsible for the disposal of their products.
Other laws exist in some states for hazardous wastes, such as electronics, car batteries, paint, and pesticide containers. Paint manufacturers in nearly a dozen states, for example, must manage easy-access recycling drop-off sites for leftover paint. Those laws have so far kept more than 16 million gallons of paint from contaminating the environment. But for the first time, manufacturers could soon be on the hook for much broader categories of trash—including everyday paper, metal, glass, and plastic packaging—by paying fees to the municipalities that run waste management systems. In addition to New York, the states of California, Washington, and Colorado also currently have such bills in the works.
"The New York bill would be a foundation on which a modern, more sustainable waste management system could be built," says NRDC waste expert Eric Goldstein.
In New York City alone, the proposed legislation would cover an estimated 50 percent of the municipal waste stream. Importantly, it would funnel millions of dollars into the state's beleaguered recycling programs. This would free up funds to hire more workers and modernize sorting equipment while also allowing cities to re-allocate their previous recycling budgets toward other important services, such as education, public parks, and mass transit.
The bills aren't about playing the blame game—they are necessary. Unsurprisingly, Americans still produce far more trash than anyone else in the world, clocking in at an average of nearly 5 pounds per person, every day—clogging landfills and waterways, harming wildlife, contributing to the climate crisis, and blighting communities. As of now, a mere 8 percent of the plastic we buy gets recycled, and at least six times more of our plastic waste ends up in an incinerator than gets reused.
It's easy to see why. Current recycling rules vary widely depending on where you live—and they're notoriously confusing. Contrary to what many of us have been told, proper recycling requires more than simply looking for that green-arrowed triangle, a label that may tell you what a product is made out of and that it is recyclable in theory, but not whether that material can be recycled in your town—or anywhere at all. About 90 percent of all plastic can't be recycled, often because it's either logistically difficult to sort or there's no market for it to be sold.
That recycling marketplace is also ever changing. When China, which was importing about a third of our country's recyclable plastic, started refusing our (usually contaminated) waste streams in 2018, demand for recyclables tanked. This led to cities as big as Philadelphia and towns as small as Hancock, Maine, to send even their well-sorted recyclables to landfills. Municipalities now had to either foot big bills to pick up recyclables they once sold for a profit or shutter recycling services altogether.
According to Goldstein, New York's bill has a good shot of passing this spring—and it already has the support of some companies that see the writing on the wall, or as the New York Times puts it, "the glimmer of a cultural reset, a shift in how Americans view corporate and individual responsibility." If the bill does go through, New Yorkers could start to see changes to both local recycling programs and product packaging within a few years.
What makes these bills so groundbreaking isn't that they force manufacturers to pay for the messes they make, but that they could incentivize companies to make smarter, less wasteful choices in the first place.
New York's bill, for instance, could help reward more sustainable product design. A company might pay less of a fee if it reduces the total amount of waste of a product, sources a higher percentage of recycled material, or makes the end product more easily recyclable by, say, using only one type of plastic instead of three.
"Producers are in the best position to be responsible because they control the types and amounts of packaging, plastics, and paper products that are put into the marketplace," Goldstein says.
Bills like these embody the principles of a circular economy—that elusive North Star toward which all waste management policies should point. By encouraging companies to use more recycled materials, demand for recyclables goes up and the recycling industry itself is revitalized. What gets produced gets put back into the stream for reuse.
If widely adopted, we could significantly reduce our overall consumption and burden on the planet. With less paper used, more forests would stay intact—to continue to store carbon, filter air and water, and provide habitat for wildlife and sustenance for communities. With less plastic produced, less trash would clog oceans and contaminate ecosystems and food supplies. In turn, we'd give fossil fuels even more reasons to stay in the ground, where they belong.
That would be my Earth Day dream come true—with little hand-wringing of fellow guilt-stricken individuals required.
Courtney Lindwall is a writer and editor in NRDC's Communications department. Prior to NRDC, she worked in publishing and taught writing to New York City public school students. Lindwall has a bachelor's degree in journalism from the University of Florida. She is based in the New York office.
From Your Site Articles
Related Articles Around the Web
Rise and Resist activist group marched together to demand climate and racial justice. Steve Sanchez / Pacific Press / LightRocket / Getty Images
After experiencing California's wildfires, I researched the connection between wildfires and climate change. Even though I was only 13 at the time, I realized I needed to do everything in my power to advocate for our planet and ensure that we have a safe and habitable Earth for not only my generation's future, but for future generations. Every day, our planet is increasing its calls for our help. Our ice caps are melting; sea levels are rising; heatwaves and droughts are increasing. We're seeing more frequent wildfires, hurricanes, tornadoes, and other extreme weather events. Climate change is happening right now, and people all over the world are losing their livelihoods — and even their lives — as a result of the growing number of climate-fueled disasters.
My activism started with the youth climate strike movement, which began when Greta Thunberg started striking in front of the Swedish Parliament in 2018. However, I want to acknowledge that young people, especially youth of color, have been protesting and demanding action for the planet for decades. I'm honored to follow in the footsteps of all the youth activists who paved the way for my activism and for the phenomenal growth of the youth climate movement that we have seen since 2018.
My experiences in the youth climate movement have allowed me to see that one of the greatest barriers we have to urgent climate action is education. Because of the lack of climate education around the world, I founded Earth Uprising International to help young people educate one another on the climate crisis, which ultimately has the effect of empowering young people to take direct action for their futures.
The primary mission of Earth Uprising International is increased climate and civics education for youth. Climate literacy and environmental education are the first steps to mobilizing our generations. By adding climate literacy to curricula worldwide, governments can ensure young people leave school with the skills and environmental knowledge needed to be engaged citizens in their communities. A climate-educated and environmentally literate global public is more likely to take part in the green jobs revolution, make more sustainable consumer choices, and hold world leaders accountable for their climate action commitments. Youth who have been educated about the climate crisis will lead the way in adaptation, mitigation, and solution making. Youth will be the ones who will protect democracy and freedom, advocate for climate and environmental migrants, and create the political will necessary to address climate change at the scale of the crisis.
So this year, for Earth Week, I am thrilled to be organizing a global youth climate summit called "Youth Speaks: Our Message to World Leaders," on April 20. Together, in collaboration with EARTHDAY.ORG and hundreds of youth climate activists around the world, the summit will address our main issues of concern, including climate literacy, biodiversity protection, sustainable agriculture, the creation of green jobs, civic skill training, environmental justice, environmental migration and borders, the protection of democracy and free speech, governmental policy making, and political will.
From this summit, youth climate activists from all over the world will be creating a concise list of demands that we want addressed at President Biden's World Leaders Summit, occurring on Earth Day, April 22. We believe that youth must inform and inspire these critical conversations about climate change that will impact all of us!
For more information about our global youth climate summit, "Youth Speaks: Our Message to World Leaders," go to www.EarthUprising.org/YouthSpeaks2021. There, you will find information about how to participate in our summit as well as be kept up to date on the latest agenda, participants, and follow along as we develop our demands and platform.
The youth will continue to make noise and necessary trouble. There is so much left to be done.
This story originally appeared in Teen Vogue and is republished here as part of Covering Climate Now, a global journalism collaboration strengthening coverage of the climate story.