This website uses cookies to ensure you get the best experience while browsing it. By clicking 'Got It' you're accepting these terms.
Massive Unreported Trade of Endangered Bluefin Tuna Exposed
Oct. 31, 2012 08:52AM EST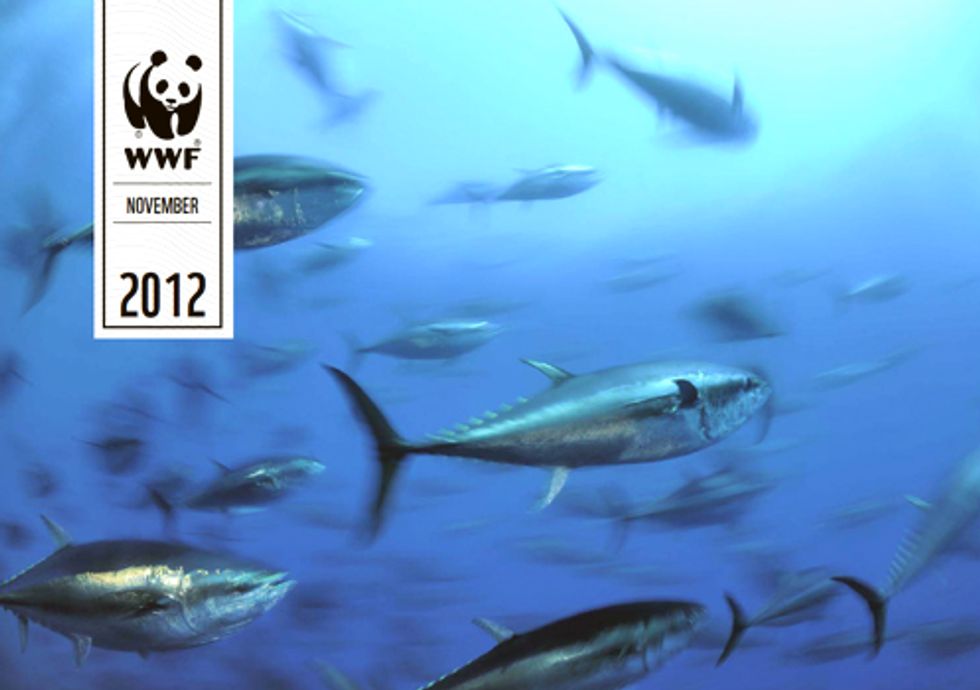 A new study commissioned by the World Wildlife Fund (WWF) uncovers that between 2000 and 2010, the equivalent of 18,704 tons of  live bluefin tuna were traded via Panama without being reported to the International Commission for the Conservation of Atlantic Tunas (ICCAT)—the international body managing the fishery.
Besides Panama, Mediterranean countries including Spain, Italy, Morocco, Tunisia and Turkey were involved, as well as Japan.
WWF calls on ICCAT and the concerned countries to urgently investigate further.  
 
"This is the first ever study on this issue and it probably shows only the tip of the iceberg. We finally managed to get the proof of a situation that has been acknowledged for many years even by ICCAT itself", said Dr. Sergi Tudela, head of WWF Mediterranean Fisheries Program. 
 
Based on official trade and customs databases, it has been revealed that over a decade as much as 14,327 tons of processed Atlantic bluefin was traded via Panama. This volume of trade corresponds to an estimated weight of 18,704 tonnes of live fish. 
 
Bluefin tuna has been exported to Panama from Mediterranean countries including Spain, Italy, Morocco, Tunisia, Turkey and Panama, in turn, re-exported to Japan as much as 13,730 tons of processed bluefin. 
 
The trade detected peaked in 2003 and 2004, with 3000-4000 tons per year, but was still on-going at a lesser extent as late as in 2010.
 
"According to available records, not a single shipment identified by the report was ever reported to ICCAT," added Tudela. "If confirmed, it would fully qualify as illegal, unreported and unregulated (IUU) fishing according to the United Nations' FAO standards and would equal environmental crime."
 
All involved countries mentioned in the study were ICCAT Contracting Parties at the time the unreported trade operations were detected. According to ICCAT rules in force during all the study period, any international trade of Atlantic bluefin tuna had to be duly reported, to enable cross-checking with catch quotas. 
 
The unreported trade of bluefin tuna through Panama, not even recorded in Panama customs, could have happened without the fish having been physically shipped to Panama. Simply, Panamanian-flagged transport vessels and the involvement of intermediary Panama-based companies could have mediated between producer countries and the final market in Japan.
 
According to ICCAT, IUU activities in the bluefin tuna fishery peaked in 2007 with an estimated catch at 61,000 tons, worth more than twice the legal quotas. There is consensus that recent catches have significantly reduced, but strong doubts still exist as to the real amount of fish being caught. 
 
WWF calls on ICCAT, the countries identified in the study and the European Union, to urgently launch a serious investigation that would allow to either ruling out or endorsing the suspicions of IUU activities pinpointed by the study.
EcoWatch Daily Newsletter
Heavy industry on the lower Mississippi helps to create dead zones.
AJ Wallace on Unsplash.
Cutting out coal-burning and other sources of nitrogen oxides (NOx) from heavy industry, electricity production and traffic will reduce the size of the world's dead zones along coasts where all fish life is vanishing because of a lack of oxygen.
Despite the ongoing coronavirus pandemic, which has restricted the ability to gather in peaceful assembly, a Canadian company has moved forward with construction of the controversial Keystone XL pipeline, according to the AP.
A gas flare from the Shell Chemical LP petroleum refinery illuminates the sky on August 21, 2019 in Norco, Louisiana. Drew Angerer / Getty Images.
Methane levels in the atmosphere experienced a dramatic rise in 2019, preliminary data released Sunday shows.
A retired West Virginia miner suffering from black lung visits a doctor for tests. Andrew Lichtenstein / Corbis via Getty Images
In some states like West Virginia, coal mines have been classified as essential services and are staying open during the COVID-19 pandemic, even though the close quarters miners work in and the known risks to respiratory health put miners in harm's way during the spread of the coronavirus.