This website uses cookies to ensure you get the best experience while browsing it. By clicking 'Got It' you're accepting these terms.
Massive Unreported Trade of Endangered Bluefin Tuna Exposed
Oct. 31, 2012 07:52AM EST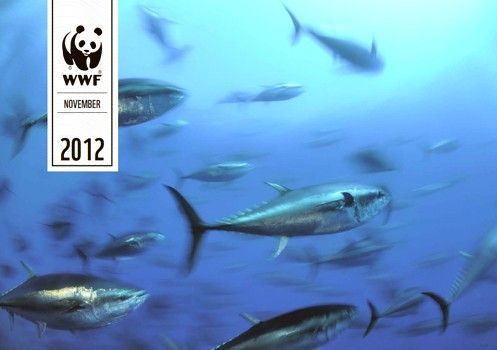 A new study commissioned by the World Wildlife Fund (WWF) uncovers that between 2000 and 2010, the equivalent of 18,704 tons of  live bluefin tuna were traded via Panama without being reported to the International Commission for the Conservation of Atlantic Tunas (ICCAT)—the international body managing the fishery.
Besides Panama, Mediterranean countries including Spain, Italy, Morocco, Tunisia and Turkey were involved, as well as Japan.
WWF calls on ICCAT and the concerned countries to urgently investigate further.  
 
"This is the first ever study on this issue and it probably shows only the tip of the iceberg. We finally managed to get the proof of a situation that has been acknowledged for many years even by ICCAT itself", said Dr. Sergi Tudela, head of WWF Mediterranean Fisheries Program. 
 
Based on official trade and customs databases, it has been revealed that over a decade as much as 14,327 tons of processed Atlantic bluefin was traded via Panama. This volume of trade corresponds to an estimated weight of 18,704 tonnes of live fish. 
 
Bluefin tuna has been exported to Panama from Mediterranean countries including Spain, Italy, Morocco, Tunisia, Turkey and Panama, in turn, re-exported to Japan as much as 13,730 tons of processed bluefin. 
 
The trade detected peaked in 2003 and 2004, with 3000-4000 tons per year, but was still on-going at a lesser extent as late as in 2010.
 
"According to available records, not a single shipment identified by the report was ever reported to ICCAT," added Tudela. "If confirmed, it would fully qualify as illegal, unreported and unregulated (IUU) fishing according to the United Nations' FAO standards and would equal environmental crime."
 
All involved countries mentioned in the study were ICCAT Contracting Parties at the time the unreported trade operations were detected. According to ICCAT rules in force during all the study period, any international trade of Atlantic bluefin tuna had to be duly reported, to enable cross-checking with catch quotas. 
 
The unreported trade of bluefin tuna through Panama, not even recorded in Panama customs, could have happened without the fish having been physically shipped to Panama. Simply, Panamanian-flagged transport vessels and the involvement of intermediary Panama-based companies could have mediated between producer countries and the final market in Japan.
 
According to ICCAT, IUU activities in the bluefin tuna fishery peaked in 2007 with an estimated catch at 61,000 tons, worth more than twice the legal quotas. There is consensus that recent catches have significantly reduced, but strong doubts still exist as to the real amount of fish being caught. 
 
WWF calls on ICCAT, the countries identified in the study and the European Union, to urgently launch a serious investigation that would allow to either ruling out or endorsing the suspicions of IUU activities pinpointed by the study.
EcoWatch Daily Newsletter
Asian elephants in Bandipur National Park, India. Mike Prince / CC BY 2.0
By John R. Platt
Some of the tiniest creatures in Myanmar benefit from living near the largest species in the area.
Eucador's Waorani indigenous people celebrated a court ruling against oil extraction on their ancestral lands.
Oregon state capitol. Tashka / iStock / Getty Images
Oregon republicans fled their state rather than do anything to stop the climate crisis. The state republicans abrogated their duties as elected officials and ran away since they don't have the votes to stop a landmark bill that would make Oregon the second state to adopt a cap-and-trade program to curb greenhouse gas emissions, as Vice News reported.
The Burbo Bank Offshore Wind Farm in the Irish Sea in Wallasey, England. Christopher Furlong / Getty Images
The birthplace of coal power is changing its ways. For the first time since the industrial revolution, the United Kingdom will generate more electricity from clean energy sources like wind, solar and nuclear power rather than from fossil fuel plants, the country's National Grid said Friday, as the BBC reported.
A chimpanzee in Ol Pejeta Conservancy, Kenya. Ray in Manila / CC BY 2.0
By Ashley Edes
Whether you find it fascinating or disquieting, people recognize the inherent similarities between us and our closest primate relatives, especially the great apes. As a primatologist I regularly field questions ranging from how strong gorillas and chimpanzees are (very) to whether monkeys throw poop (not yet observed in the wild) to how smart they are (let's just say I can't compete with their puzzle-solving abilities).
An Impossible Burger. Sarah Stierch / Flickr / CC BY 2.0
By Jaydee Hanson
In the foodie world, 2019 might as well be named The Year of the Impossible Burger. This plant-based burger that "bleeds" can now be found on the menus of Burger King, Fatburger, Cheesecake Factory, Red Robin, White Castle and many other national restaurant chains. Consumers praise the burger's meat-like texture and the product is advertised as an environmentally friendly alternative to traditional beef burgers.