This website uses cookies to ensure you get the best experience while browsing it. By clicking 'Got It' you're accepting these terms.
March Against Monsanto Event Removed by Facebook
Aug. 20, 2013 03:44PM EST

Facebook has been accused of being a facade for free speech as it has been known to censor controversial content. For example, earlier this year, Mark Zuckerberg was called out for practicing censorship when a Facebook ad by CREDO Mobile was pulled for criticizing his financial and political ties to the Keystone XL pipeline. 
The group March Against Monsanto announced yesterday on their Facebook page that Facebook removed an event page promoting a rally in St. Louis, MO, where the biotech giant is headquartered.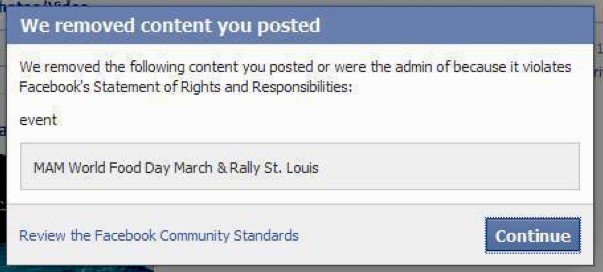 The rally is set to take place on Saturday, Oct. 12, with a broad coalition of regional groups and solidarity activists planning to converge at the company's corporate headquarters. While the event did not contain derogatory or inappropriate content, it was removed for violating Facebook's Statement of Rights and Responsibilities. The group has since created a new event page for the rally.
Back in May, history was made when 2 million people participated in solidarity protests across the globe to raise public awareness of Monsanto's toxic legacy in genetically engineering (GE) the food supply. The protests also aimed to promote sustainable farming while exposing the company's predatory corporate farming and corrupt business practices.
Not only has the outrage over Monsanto driven people to the streets, but it is also driving people to the polls. More than 90 pieces of legislation to label GE ingredients were proposed in at least 26 different states across the U.S. over the past year, with Washington State's Yes on 522 campaign pushing to let voters decide on mandatory GE labeling. The increased consumer demand for labeling is also driving down Monsanto's stock price as it becomes increasingly risky for long term investors.
It's safe to assume that the censorship by the media will continue as critical mass awareness is being reached on the issues that are challenging systemic corruption. But with March Against Monsanto planning more than 600 solidarity events worldwide with an estimated 3.6 million people pledging participation, it is also safe to assume that no amount of censorship is going to keep that awareness from growing.
Visit EcoWatch's GE FOOD page for more related news on this topic.

Pixabay
By John R. Platt
The world needs to change the way it eats, not just as individuals but as a society.
The Russian military is taking measures to protect the residents of a remote Arctic settlement from a mass of polar bears, German press agency DPA reported.
The move comes after regional authorities declared a state of emergency over the weekend after sightings of more than 50 bears in the town of Belushya Guba since December.
This year's letter from Bill and Melinda Gates focused on nine things that surprised them. For the Microsoft-cofounder, one thing he was surprised to learn was the massive amount of new buildings the planet should expect in the coming decades due to urban population growth.
"The number of buildings in the world is going to double by 2060. It's like we're going to build a new New York City every month for the next 40 years," he said.
Over the past few years, it seems vegan cooking has gone from 'brown rice and tofu' to a true art form. These amazing cooks show off the creations on Instagram—and we can't get enough.