This website uses cookies to ensure you get the best experience while browsing it. By clicking 'Got It' you're accepting these terms.
Join the Democratic Food Movement, Demand GMO Labeling
Oct. 24, 2012 07:59AM EST
GMO
By Peter Lehner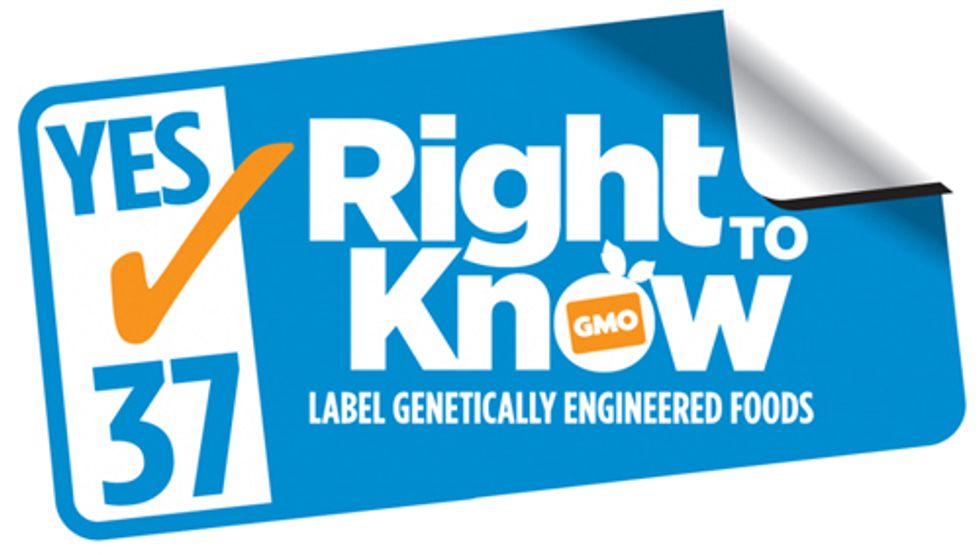 Consumers have a right to know what's in their food. And in much of the world, they do, because of government labeling laws. For example, China, Russia and India are among the 50-odd nations that require labeling of genetically modified foods, or GMOs. Here in America, however, we can't get information on GMO foods. That's because chemical companies and food manufacturers have a stranglehold on the system of government oversight that is supposed to ensure the safety of our food supply.
And it's consumers who are stuck paying the price for this broken system.
Foodborne illnesses sicken millions of Americans each year. Intensive use of antibiotics in the livestock sector breeds resistant superbugs that now threaten people. Millions of pounds of toxic pesticides continue to be released into our environment, threatening farmworkers, farmers and our natural resources. The hormone-disrupting chemical BPA is still used in food packaging, despite reams of scientific data indicating cause for concern. Rampant overuse of chemical fertilizers has created a 6,800 square mile dead zone in the Gulf, now utterly devoid of life.
And so public trust in our food system, and on the government mechanisms that are supposed to ensure its safety, is rightfully crumbling.
But in a couple of weeks, California voters will have an opportunity to send a powerful message to food manufacturers—and to Washington—about the need for greater transparency in our food system. Proposition 37, the California Right to Know Genetically Engineered Food Act, will require the labeling of GMO foods and food ingredients.
Natural Resources Defense Council (NRDC) is not opposed to the use of GMOs. Rather, we support increased transparency in our food supply. Advocates of the proposition are just asking for information. A label. There's no ban. Regardless of the potential costs or benefits of GMOs, consumers have the right to make informed decisions about the food they purchase. As Bill Maher quipped on his show Real Time, "We just want what Russia and China have. We just want to be as open as Russia and China."  
This vote will also send a message to chemical corporations that are perpetuating the mounting and unsustainable use of toxic pesticides. The next generation of GMO crops promises to unleash widescale use of the older, more toxic herbicides 2,4-D (a component of Agent Orange) and dicamba. This trend is a vicious cycle NRDC is fighting. Replacing millions of acres of GMO corn and soy, engineered to tolerate the herbicide known as Roundup, with these new crops geared to withstand the application of even more toxic chemicals, will truly be a disaster for health and the environment. 
California's vote on Nov. 6 is a bellwether for how serious we are about addressing the problems inherent in our industrial food system. If Californians stand up for Prop 37 and demand their right to know, we might, as Michael Pollan observed recently in the New York Times Magazine, really have a true "food movement" on our hands. A democratic food movement capable of effecting real, systemic, lasting change, through the government, on the way we produce and provide food.
Visit EcoWatch's GENETICALLY MODIFIED ORGANISM page for more related news on this topic.
--------
Peter Lehner's post originally appeared on Natural Resources Defense Council's Switchboard.
EcoWatch Daily Newsletter
A Starbucks barista prepares a drink at a Starbucks Coffee Shop location in New York. Ramin Talaie / Corbis via Getty Images
By Cathy Cassata
Are you getting your fill of Starbucks' new Almondmilk Honey Flat White, Oatmilk Honey Latte, and Coconutmilk Latte, but wondering just how healthy they are?
By Sharon Kelly
Back in April last year, the Trump administration's Environmental Protection Agency decided it was "not necessary" to update the rules for toxic waste from oil and gas wells. Torrents of wastewater flow daily from the nation's 1.5 million active oil and gas wells and the agency's own research has warned it may pose risks to the country's drinking water supplies.
Swedish climate activist Greta Thunberg takes part in a "Friday for Future" youth demonstration in a street of Davos on Jan. 24, 2020 on the sideline of the World Economic Forum annual meeting. FABRICE COFFRINI / AFP via Getty Images
Treasury Secretary Steven Mnuchin pretended not to know who Greta Thunberg is, and then he told her to get a degree in economics before giving world leaders advice, as The Guardian reported.
The Visible Infrared Imaging Radiometer Suite on the Suomi NPP satellite acquired this image of forest fire smoke hovering over North America on Aug. 15, 2018. NASA Earth Observatory
New York City isn't known for having the cleanest air, but researchers traced recent air pollution spikes there to two surprising sources — fires hundreds of miles away in Canada and the southeastern U.S.
If temperatures continue to rise, the world is at risk from global
sea-level rise
, which will flood many coastal cities as seen above in Bangladesh. NurPhoto / Contributor / Getty Images
The mounting climate emergency may spur the next global financial crisis and the world's central banks are woefully ill equipped to handle the consequences, according to a new book-length report by the Bank for International Settlements (BIS), as S&P Global reported. Located in Basel, Switzerland, the BIS is an umbrella organization for the world's central banks.