This website uses cookies to ensure you get the best experience while browsing it. By clicking 'Got It' you're accepting these terms.


The best of EcoWatch, right in your inbox. Sign up for our email newsletter!
House Passes DARK Act, Banning States From Requiring GMO Labels on Food
Jul. 24, 2015 09:58AM EST
Legislation dubbed the Deny Americans the Right to Know, or DARK Act (H.R. 1599), passed the House of Representatives yesterday by a vote of 275-150. The bill preempts state and local authority to label and regulate genetically engineered (GE) foods. A Senate version of this bill has not yet been introduced.
DARK Act Vote Shows House Members, Food Companies Oppose Transparency. http://t.co/0wliUvAr6Y #justlabelit pic.twitter.com/fl4OBQyQ6Y

— Just Label It (@justlabelit) July 23, 2015
The bill, backed largely by House Republicans, codifies a voluntary labeling system approach, blocks the U.S. Food and Drug Administration from ever implementing mandatory GE food labeling and allows food companies to continue to make misleading "natural" claims for foods that contain GE ingredients.
A number of farm state Democrats joined House Republicans in passing the bill. Twelve Republicans voted against the bill citing infringement of states' rights and local control.
"It's outrageous that some House lawmakers voted to ignore the wishes of nine out of 10 Americans," said Scott Faber, senior vice president of government affairs for Environmental Working Group (EWG). "Today's vote to deny Americans the right to know what's in their food and how it's grown was a foregone conclusion. This House was bought and paid for by corporate interests, so it's no surprise that it passed a bill to block states and the FDA from giving consumers basic information about their food."
More than 300 organizations, companies and food industry and social justice leaders oppose the DARK Act in the face of massive spending and lobbying by big chemical and food companies, according to EWG. Polls show a large majority of people in key states and across the country support mandatory GMO labeling.
"We're confident the Senate will defeat the DARK Act," added Faber. "We continue to hope that thoughtful food companies that listen to their customers will work with consumer groups to craft a non-judgmental GMO disclosure to put on the back of food packaging. Americans should have the same right as citizens of 64 other countries to know what's in their food and how it's grown."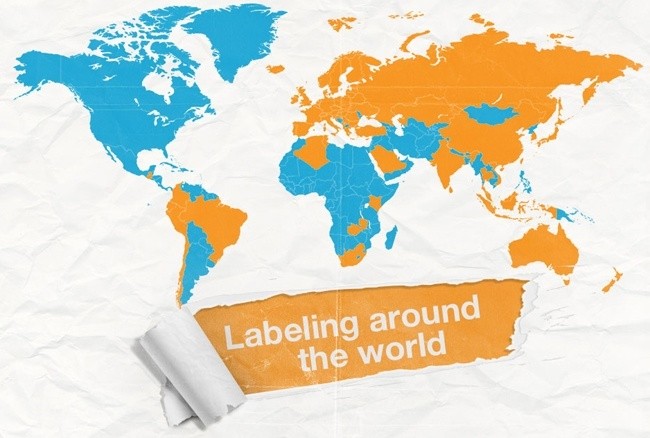 To call on Americans to ask popular food brands to stop funding anti-labeling efforts and stand with the overwhelming number of Americans who support mandatory GMO labeling, Just Label It launched the "Conceal of Reveal" campaign.
"We are disappointed but not surprised that the majority of House members have sided with large chemical and food companies to protect corporate interests over the 90 percent of American citizens who simply want the right to know more about their food," said Gary Hirshberg, chairman of Stonyfield Farm and chairman of Just Label It.
"As a long-time food executive, I find it hard to believe that smart companies like PepsiCo, Coca-Cola, General Mills, Kellogg's and Campbell's are willing to risk their reputations to avoid putting a couple of additional words in their ingredient panelsl" said Hirshberg.
"Instead, they continue to fund efforts that are exactly the opposite of what their consumers clearly want. It is clear that the tide of consumer support favors more transparency. Americans will now know how their representatives voted and that their favorite brands are keeping them in the dark."
More than 30 states introduced legislation to require GE labeling in 2013 and 2014, with laws recently passed in Vermont, Connecticut and Maine, according to Center for Food Safety.
MAP: Across the country, states are acting to pass #GMOlabeling. Congress should listen. #StopTheDARKAct @TrueFoodNow pic.twitter.com/cb4Dv04O0G

— Rep. Jim McGovern (@RepMcGovern) July 23, 2015
"Passage of this bill is an attempt by Monsanto and its agribusiness cronies to crush the democratic decision-making of tens of millions of Americans. Corporate influence has won and the voice of the people has been ignored," said Andrew Kimbrell, executive director of Center for Food Safety. "We remain confident that the Senate will preserve the rights of Americans and stand up for local democracy."
Center for Food Safety supports bipartisan legislation introduced by Sen. Boxer and Rep. DeFazio called the Genetically Engineered Food Right-to-Know Act, which would require that food manufacturers label foods that contain genetically modified ingredients. This bill would guarantee Americans the right to know what is in their foods while respecting the need by companies for a uniform, federal standard.
According to Center for Food Safety, a number of messaging amendments were offered by champions of labeling and states' rights intended to underscore the bill's flaws, however all four failed to pass:
Leading opponent of the bill, Rep. Peter DeFazio (D-OR) offered an amendment that if passed would have required that any U.S. company who produces a product in the U.S. be bound by the same labeling requirement held in another country.
Rep. Chellie Pingree (D-ME) offered an amendment that would have removed everything from the underlying bill with the exception of provisions establishing a non-GMO certification program at USDA.
Rep. Rosa DeLauro (D-CT) offered an amendment to specify that as FDA defines the term "natural," that it does so to exclude GE foods and ingredients.
An amendment offered by Rep. Jared Huffman (D-CA) would have ensured that the preemption provisions in the underlying bill do not abdicate the sovereign right of Native American tribes to prohibit or restrict the cultivation of GE crops on tribal lands.
An amendment to change the name to the Denying Americans the Right to Know or DARK Act was introduced by Rep. Jared Polis (D-CO) after the final vote.
YOU MIGHT ALSO LIKE
9 Out of 10 Americans Want GMO Labeling: Congress Should Vote 'No' on DARK Act
Bill Nye on Glyphosate: 'We Accidentally Decimated the Monarch Butterfly Population'
EcoWatch Daily Newsletter
A metal fence marked with the U.S. Border Patrol sign prevents people to get close to the barbed/concertina wire covering the U.S./Mexico border fence, in Nogales, Arizona, on Feb. 9. ARIANA DREHSLER / AFP / Getty Images
D'Bone Collector Museum head Darrell Blatchley shows plastic found inside the stomach of a Cuvier's beaked whale in the Philippines this weekend. - / AFP / Getty Images
Yet another whale has died after ingesting plastic bags. A young male Cuvier's beaked whale was found washed up in Mabini, Compostela Valley in the Philippines Friday, CNN reported. When scientists from the D' Bone Collector Museum in Davao investigated the dead whale, they found it had died of "dehydration and starvation" after swallowing plastic bags―40 kilograms (approximately 88 pounds) worth of them!
Pexels
By Jeff Turrentine
"Be careful what you wish for; you just might get it." This is something that everybody has to learn at some point. Lately, the lesson has hit home for a group of American automakers.
Art direction: Georgie Johnson. Illustrations: Freya Morgan
By Joe Sandler Clarke
"Don't expect us to continue buying European products," Malaysia's former plantations minister Mah Siew Keong told reporters in January last year. His comments came just after he had accused the EU of "practising a form of crop apartheid."

A few months later Luhut Pandjaitan, an Indonesian government minister close to President Joko 'Jokowi' Widodo, warned his country would retaliate if it was "cornered" by the EU.
Torres and his parents walk along the Rio Grande. Luis Torres / Earthjustice
By Luis Torres
For some people who live along the U.S.-Mexico border, President Trump's attempt to declare a national emergency and extend the border wall is worse than a wasteful, unconstitutional stunt. It's an attack on their way of life that threatens to desecrate their loved ones' graves.
Flooding caused by last week's bomb cyclone storm has broken records in 17 places across the state of Nebraska, CNN reported Sunday. Around nine million people in 14 states along the Mississippi and Missouri Rivers were under a flood watch, CNN meteorologist Karen Maginnis said.
A car destroyed by Cyclone Idai in Beira, Mozambique. ADRIEN BARBIER / AFP / Getty Images
At least 150 people have died in a cyclone that devastated parts of Mozambique, Zimbabwe and Malawi over the weekend, The Associated Press reported Sunday. Cyclone Idai has affected more than 1.5 million people since it hit Mozambique's port city of Beira late Thursday, then traveled west to Zimbabwe and Malawi. Hundreds are still missing and tens of thousands are without access to roads or telephones.
"I think this is the biggest natural disaster Mozambique has ever faced. Everything is destroyed. Our priority now is to save human lives," Mozambique's Environment Minister Celso Correia said, as AFP reported.