This website uses cookies to ensure you get the best experience while browsing it. By clicking 'Got It' you're accepting these terms.
House Passes DARK Act, Banning States From Requiring GMO Labels on Food
Jul. 24, 2015 09:58AM EST
Popular
Legislation dubbed the Deny Americans the Right to Know, or DARK Act (H.R. 1599), passed the House of Representatives yesterday by a vote of 275-150. The bill preempts state and local authority to label and regulate genetically engineered (GE) foods. A Senate version of this bill has not yet been introduced.
DARK Act Vote Shows House Members, Food Companies Oppose Transparency. http://t.co/0wliUvAr6Y #justlabelit pic.twitter.com/fl4OBQyQ6Y

— Just Label It (@justlabelit) July 23, 2015
The bill, backed largely by House Republicans, codifies a voluntary labeling system approach, blocks the U.S. Food and Drug Administration from ever implementing mandatory GE food labeling and allows food companies to continue to make misleading "natural" claims for foods that contain GE ingredients.
A number of farm state Democrats joined House Republicans in passing the bill. Twelve Republicans voted against the bill citing infringement of states' rights and local control.
"It's outrageous that some House lawmakers voted to ignore the wishes of nine out of 10 Americans," said Scott Faber, senior vice president of government affairs for Environmental Working Group (EWG). "Today's vote to deny Americans the right to know what's in their food and how it's grown was a foregone conclusion. This House was bought and paid for by corporate interests, so it's no surprise that it passed a bill to block states and the FDA from giving consumers basic information about their food."
More than 300 organizations, companies and food industry and social justice leaders oppose the DARK Act in the face of massive spending and lobbying by big chemical and food companies, according to EWG. Polls show a large majority of people in key states and across the country support mandatory GMO labeling.
"We're confident the Senate will defeat the DARK Act," added Faber. "We continue to hope that thoughtful food companies that listen to their customers will work with consumer groups to craft a non-judgmental GMO disclosure to put on the back of food packaging. Americans should have the same right as citizens of 64 other countries to know what's in their food and how it's grown."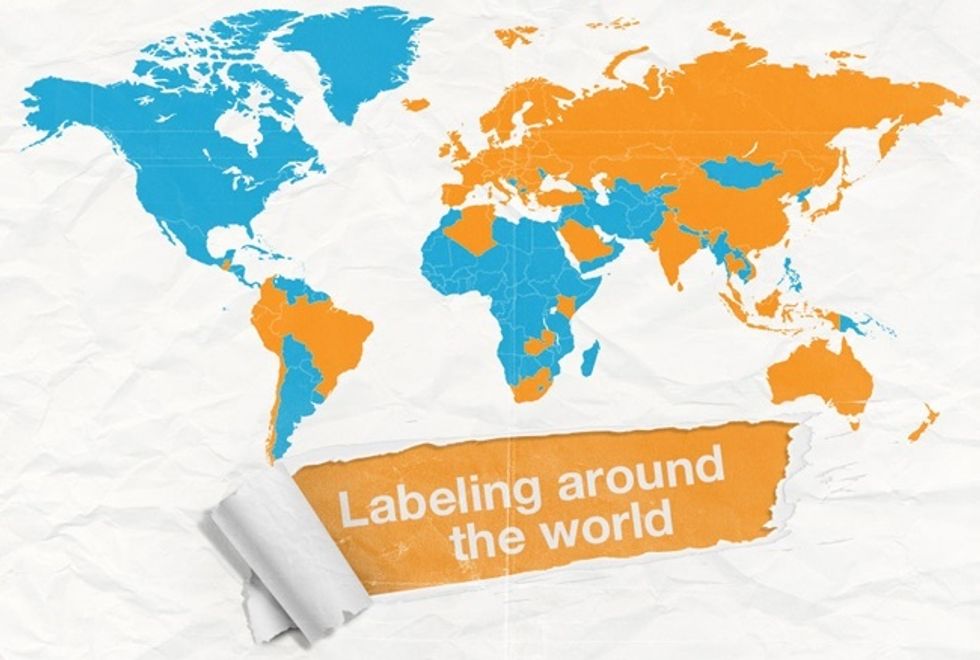 To call on Americans to ask popular food brands to stop funding anti-labeling efforts and stand with the overwhelming number of Americans who support mandatory GMO labeling, Just Label It launched the "Conceal of Reveal" campaign.
"We are disappointed but not surprised that the majority of House members have sided with large chemical and food companies to protect corporate interests over the 90 percent of American citizens who simply want the right to know more about their food," said Gary Hirshberg, chairman of Stonyfield Farm and chairman of Just Label It.
"As a long-time food executive, I find it hard to believe that smart companies like PepsiCo, Coca-Cola, General Mills, Kellogg's and Campbell's are willing to risk their reputations to avoid putting a couple of additional words in their ingredient panelsl" said Hirshberg.
"Instead, they continue to fund efforts that are exactly the opposite of what their consumers clearly want. It is clear that the tide of consumer support favors more transparency. Americans will now know how their representatives voted and that their favorite brands are keeping them in the dark."
More than 30 states introduced legislation to require GE labeling in 2013 and 2014, with laws recently passed in Vermont, Connecticut and Maine, according to Center for Food Safety.
MAP: Across the country, states are acting to pass #GMOlabeling. Congress should listen. #StopTheDARKAct @TrueFoodNow pic.twitter.com/cb4Dv04O0G

— Rep. Jim McGovern (@RepMcGovern) July 23, 2015
"Passage of this bill is an attempt by Monsanto and its agribusiness cronies to crush the democratic decision-making of tens of millions of Americans. Corporate influence has won and the voice of the people has been ignored," said Andrew Kimbrell, executive director of Center for Food Safety. "We remain confident that the Senate will preserve the rights of Americans and stand up for local democracy."
Center for Food Safety supports bipartisan legislation introduced by Sen. Boxer and Rep. DeFazio called the Genetically Engineered Food Right-to-Know Act, which would require that food manufacturers label foods that contain genetically modified ingredients. This bill would guarantee Americans the right to know what is in their foods while respecting the need by companies for a uniform, federal standard.
According to Center for Food Safety, a number of messaging amendments were offered by champions of labeling and states' rights intended to underscore the bill's flaws, however all four failed to pass:
Leading opponent of the bill, Rep. Peter DeFazio (D-OR) offered an amendment that if passed would have required that any U.S. company who produces a product in the U.S. be bound by the same labeling requirement held in another country.
Rep. Chellie Pingree (D-ME) offered an amendment that would have removed everything from the underlying bill with the exception of provisions establishing a non-GMO certification program at USDA.
Rep. Rosa DeLauro (D-CT) offered an amendment to specify that as FDA defines the term "natural," that it does so to exclude GE foods and ingredients.
An amendment offered by Rep. Jared Huffman (D-CA) would have ensured that the preemption provisions in the underlying bill do not abdicate the sovereign right of Native American tribes to prohibit or restrict the cultivation of GE crops on tribal lands.
An amendment to change the name to the Denying Americans the Right to Know or DARK Act was introduced by Rep. Jared Polis (D-CO) after the final vote.
YOU MIGHT ALSO LIKE
9 Out of 10 Americans Want GMO Labeling: Congress Should Vote 'No' on DARK Act
Bill Nye on Glyphosate: 'We Accidentally Decimated the Monarch Butterfly Population'
EcoWatch Daily Newsletter
New pine trees grow from the forest floor along the North Fork of the Flathead River on the western boundary of Glacier National Park on Sept. 16, 2019 near West Glacier, Montana. Chip Somodevilla / Getty Images
Household actions lead to changes in collective behavior and are an essential part of social movements. Pixabay /
Pexels
Talk is cheap, says the acting executive secretary of the United Nations Convention on Biological Diversity, who begged governments around the world to make sure that 2020 is not another year of conferences and empty promises, but instead is the year to take decisive action to stop the mass extinction of wildlife and the destruction of habitat-sustaining ecosystems, as The Guardian reported.
The people of Kiribati have been under pressure to relocate due to sea level rise. A young woman wades through the salty sea water that flooded her way home on Sept. 29, 2015. Jonas Gratzer / LightRocket via Getty Images
Refugees fleeing the impending effects of the climate crisis cannot be forced to return home, according to a new decision by the United Nations Human Rights Committee, as CNN reported. The new decision could open up a massive wave of legal claims by displaced people around the world.
The first day of the Strike WEF march on Davos on Jan. 18, 2020 near Davos, Switzerland. The activists want climate justice and think the WEF is for the world's richest and political elite only. Kristian Buus / In Pictures via Getty Images
By Ashutosh Pandey
Teenage climate activist Greta Thunberg is returning to the Swiss ski resort of Davos for the 2020 World Economic Forum with a strong and clear message: put an end to the fossil fuel "madness."