This website uses cookies to ensure you get the best experience while browsing it. By clicking 'Got It' you're accepting these terms.


The best of EcoWatch, right in your inbox. Sign up for our email newsletter!
House Passes DARK Act, Banning States From Requiring GMO Labels on Food
Jul. 24, 2015 09:58AM EST
GMO
Legislation dubbed the Deny Americans the Right to Know, or DARK Act (H.R. 1599), passed the House of Representatives yesterday by a vote of 275-150. The bill preempts state and local authority to label and regulate genetically engineered (GE) foods. A Senate version of this bill has not yet been introduced.
DARK Act Vote Shows House Members, Food Companies Oppose Transparency. http://t.co/0wliUvAr6Y #justlabelit pic.twitter.com/fl4OBQyQ6Y

— Just Label It (@justlabelit) July 23, 2015
The bill, backed largely by House Republicans, codifies a voluntary labeling system approach, blocks the U.S. Food and Drug Administration from ever implementing mandatory GE food labeling and allows food companies to continue to make misleading "natural" claims for foods that contain GE ingredients.
A number of farm state Democrats joined House Republicans in passing the bill. Twelve Republicans voted against the bill citing infringement of states' rights and local control.
"It's outrageous that some House lawmakers voted to ignore the wishes of nine out of 10 Americans," said Scott Faber, senior vice president of government affairs for Environmental Working Group (EWG). "Today's vote to deny Americans the right to know what's in their food and how it's grown was a foregone conclusion. This House was bought and paid for by corporate interests, so it's no surprise that it passed a bill to block states and the FDA from giving consumers basic information about their food."
More than 300 organizations, companies and food industry and social justice leaders oppose the DARK Act in the face of massive spending and lobbying by big chemical and food companies, according to EWG. Polls show a large majority of people in key states and across the country support mandatory GMO labeling.
"We're confident the Senate will defeat the DARK Act," added Faber. "We continue to hope that thoughtful food companies that listen to their customers will work with consumer groups to craft a non-judgmental GMO disclosure to put on the back of food packaging. Americans should have the same right as citizens of 64 other countries to know what's in their food and how it's grown."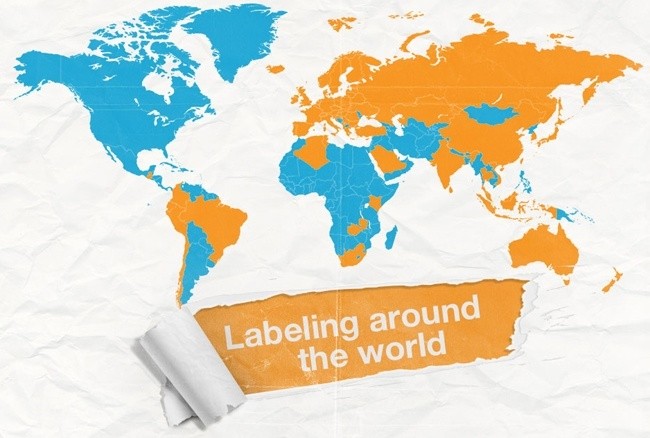 To call on Americans to ask popular food brands to stop funding anti-labeling efforts and stand with the overwhelming number of Americans who support mandatory GMO labeling, Just Label It launched the "Conceal of Reveal" campaign.
"We are disappointed but not surprised that the majority of House members have sided with large chemical and food companies to protect corporate interests over the 90 percent of American citizens who simply want the right to know more about their food," said Gary Hirshberg, chairman of Stonyfield Farm and chairman of Just Label It.
"As a long-time food executive, I find it hard to believe that smart companies like PepsiCo, Coca-Cola, General Mills, Kellogg's and Campbell's are willing to risk their reputations to avoid putting a couple of additional words in their ingredient panelsl" said Hirshberg.
"Instead, they continue to fund efforts that are exactly the opposite of what their consumers clearly want. It is clear that the tide of consumer support favors more transparency. Americans will now know how their representatives voted and that their favorite brands are keeping them in the dark."
More than 30 states introduced legislation to require GE labeling in 2013 and 2014, with laws recently passed in Vermont, Connecticut and Maine, according to Center for Food Safety.
MAP: Across the country, states are acting to pass #GMOlabeling. Congress should listen. #StopTheDARKAct @TrueFoodNow pic.twitter.com/cb4Dv04O0G

— Rep. Jim McGovern (@RepMcGovern) July 23, 2015
"Passage of this bill is an attempt by Monsanto and its agribusiness cronies to crush the democratic decision-making of tens of millions of Americans. Corporate influence has won and the voice of the people has been ignored," said Andrew Kimbrell, executive director of Center for Food Safety. "We remain confident that the Senate will preserve the rights of Americans and stand up for local democracy."
Center for Food Safety supports bipartisan legislation introduced by Sen. Boxer and Rep. DeFazio called the Genetically Engineered Food Right-to-Know Act, which would require that food manufacturers label foods that contain genetically modified ingredients. This bill would guarantee Americans the right to know what is in their foods while respecting the need by companies for a uniform, federal standard.
According to Center for Food Safety, a number of messaging amendments were offered by champions of labeling and states' rights intended to underscore the bill's flaws, however all four failed to pass:
Leading opponent of the bill, Rep. Peter DeFazio (D-OR) offered an amendment that if passed would have required that any U.S. company who produces a product in the U.S. be bound by the same labeling requirement held in another country.
Rep. Chellie Pingree (D-ME) offered an amendment that would have removed everything from the underlying bill with the exception of provisions establishing a non-GMO certification program at USDA.
Rep. Rosa DeLauro (D-CT) offered an amendment to specify that as FDA defines the term "natural," that it does so to exclude GE foods and ingredients.
An amendment offered by Rep. Jared Huffman (D-CA) would have ensured that the preemption provisions in the underlying bill do not abdicate the sovereign right of Native American tribes to prohibit or restrict the cultivation of GE crops on tribal lands.
An amendment to change the name to the Denying Americans the Right to Know or DARK Act was introduced by Rep. Jared Polis (D-CO) after the final vote.
YOU MIGHT ALSO LIKE
9 Out of 10 Americans Want GMO Labeling: Congress Should Vote 'No' on DARK Act
Bill Nye on Glyphosate: 'We Accidentally Decimated the Monarch Butterfly Population'
EcoWatch Daily Newsletter
Aerial view of the explosion site of a chemical factory on March 22 in Yancheng, Jiangsu Province of China. Caixin Media / VCG / Getty Images)
At least 47 people have died in an explosion at a plant in Yancheng, China Thursday run by a chemical company with a history of environmental violations, Sky News reported.
A fishmonger in Elmina, a fishing port in the Central Region of Ghana. Environmental Justice Foundation
By Daisy Brickhill
Each morning, men living in fishing communities along Ghana's coastline push off in search of the day's catch. But when the boats come back to shore, it's the women who take over.
Pexels
By Sam Nickerson
Links between excess sugar in your diet and disease have been well-documented, but new research by Harvard's School of Public Health might make you even more wary of that next soda: it could increase your risk of an early death.
The study, published this week in the American Heart Association's journal Circulation, found that drinking one or two sugar-sweetened beverages (SSBs) each day — like sodas or sports drinks — increases risk of an early death by 14 percent.
Tyson Foods is recalling approximately 69,093 pounds of frozen chicken strips because they may have been contaminated with pieces of metal, the U.S. Department of Agriculture (USDA) Food Safety and Inspection Service (FSIS) announced Thursday.
The affected products were fully-cooked "Buffalo Style" and "Crispy" chicken strips with a "use by" date of Nov. 30, 2019 and an establishment number of "P-7221" on the back of the package.
"FSIS is concerned that some product may be in consumers' freezers," the recall notice said. "Consumers who have purchased these products are urged not to consume them. These products should be thrown away or returned to the place of purchase."
Environmental exposure to pesticides, both before birth and during the first year of life, has been linked to an increased risk of developing autism spectrum disorder, according to the largest epidemiological study to date on the connection.
The study, published Wednesday in BMJ, found that pregnant women who lived within 2,000 meters (approximately 1.2 miles) of a highly-sprayed agricultural area in California had children who were 10 to 16 percent more likely to develop autism and 30 percent more likely to develop severe autism that impacted their intellectual ability. If the children were exposed to pesticides during their first year of life, the risk they would develop autism went up to 50 percent.
The ExxonMobil Torrance Refinery in Torrance, California.
waltarrrr / Flickr
ExxonMobil could be the second company after Monsanto to lose lobbying access to members of European Parliament after it failed to turn up to a hearing Thursday into whether or not the oil giant knowingly spread false information about climate change.
The call to ban the company was submitted by Green Member of European Parliament (MEP) Molly Scott Cato and should be decided in a vote in late April, The Guardian reported.
Bernie Sanders holds his first presidential campaign rally at Brooklyn College on March 02 in Brooklyn, New York. Kena Betancur / VIEWpress / Corbis. Getty Images
Bernie Sanders has become the first contender in the crowded 2020 Democratic presidential primary field to pledge to offset all of the greenhouse gas emissions released by campaign travel, The Huffington Post reported Thursday.