This website uses cookies to ensure you get the best experience while browsing it. By clicking 'Got It' you're accepting these terms.
Gold Mine Planned for Southwest Alaska Threatens Environment and Local Communities
Feb. 27, 2013 10:37AM EST
By Rebecca Siegel
From headwaters at the foot of the Alaska Range, the Kuskokwim River flows through a remote region in southwest Alaska. After leaving the mountains, the river meanders through the Yukon-Kuskokwim delta, a broad expanse of wetlands and tundra the size of Oregon, and enters Kuskokwim Bay on the Bering Sea. This is the longest free-flowing river located entirely in the U.S. Some 25,000 people, the majority of whom are Alaska Native, live along its banks, harvesting the salmon that make their way upstream every year, as well as sheefish, northern pike and other species.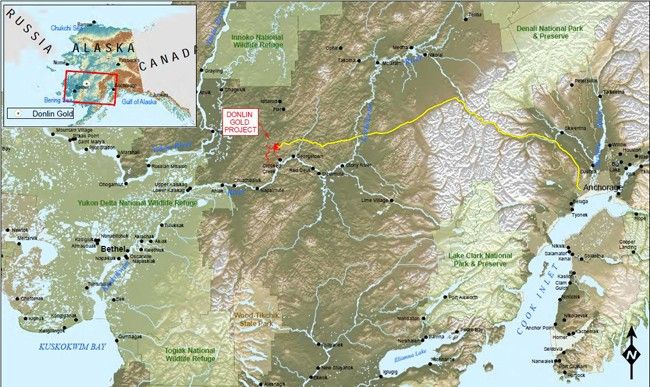 Subsistence fishing is a way of life for many of the people living on the Kuskokwim, where supermarkets—and roads—don't really exist. While the average American ate 15.8 lbs of fish in 2009, residents of Crooked Creek, a village on the north bank of the Kuskokwim, ate more than more than 190 pounds of fish per person. And in Aniak, sixty miles downstream, people ate more than 240 lbs of fish each.
Aside from their nutritional and economic value, traditional foods anchor native culture in the Kuskokwim region, providing the basis for cultural and spiritual well-being. Using and passing down the skills and knowledge required for subsistence preserves and strengthens community and cultural identity. Procuring and processing subsistence food is a community endeavor, and foods are shared among community members.
The Kuskokwim region is at a crossroads. A massive gold mine is planned at Crooked Creek, a tributary of the Kuskokwim. With an estimated 27 year production run churning out more than one million ounces of gold per year, the Donlin Gold mine would require an open pit two miles long, one mile wide and 1,800 feet deep, plus the largest pipeline built in Alaska since the Trans-Alaska Pipeline System.While it promises jobs in a region with few employment opportunities, the mine as currently proposed could have serious consequences for subsistence livelihoods.
Mercury emissions pose one of Donlin Gold's greatest threats to the health of local communities. Mercury, a potent neurotoxin, is harmful to neurodevelopment and has been linked to diseases including cerebral palsy and bronchitis. Children are especially vulnerable because their nervous systems are still developing. During mine operations, mercury vaporized during ore processing could pose a danger to mine workers and could enter the atmosphere as so called "fugitive" emissions, potentially affecting the health of the entire region as it enters the food chain, building up in the fish people eat.
But the risk for contamination would not end when the mine closes. Donlin Gold would likely store mercury, arsenic and selenium-laden tailings behind a 475 foot tall earthen dam forever, with consequences no one seems able to predict or even understand. The abandoned mine pit will fill with water so contaminated it will require water treatment "in perpetuity" to prevent polluting nearby streams, wetlands and, ultimately, the Kuskokwim River itself. Should Donlin's surety bond fail due to global economic problems, which are quite likely over the long haul, governments and local communities are left with the burden of cleanup and water treatment, as has already happened at other abandoned mines on the Kuskokwim River and throughout the world.
Already, mercury levels are of serious concern in the region; any additional pollution could mean problems on a scale roughly a thousand times bigger than any of the historic mine sites. No permits should be issued for the mine until there is a comprehensive plan to address all of these concerns and the need for perpetual water treatment is eliminated. No mine is worth placing such a burden on future generations. If Donlin can't prove that it can fully clean up after itself within 10 years of closing, the mine should not be allowed to proceed.
Increased barge traffic on the river poses yet another threat to the subsistence livelihood of local communities. Two or more barges a day would travel up and down the Kuskokwim, transporting supplies and fuel to the mine. In a recent hearing, residents of Aniak wondered if increased barge traffic would crowd their fishing nets out of the river's narrow, shifting channels. Bank erosion from the barges' wake also raises concerns. Furthermore, it remains unclear whether climate change will ultimately render the river impassable by large industrial barges, just as is occurring today on the Mississippi River.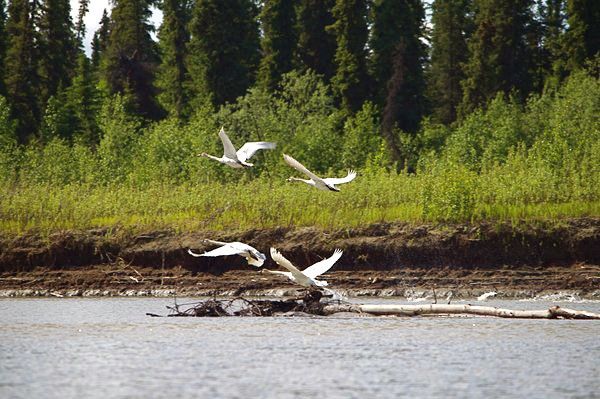 Operating the mine will require vast quantities of energy. The mine plan calls for an average load of 153 megawatts of electricity, roughly the same amount consumed by Fairbanks, Alaska's second largest city. To generate this power, Donlin Gold will build a buried natural gas pipeline running from Beluga, on the west side of Cook Inlet, to the mine—a distance of 313 miles. The pipeline will run through Iditarod Country and along 75 miles of the Iditarod National Historic Trail. The mine plan estimates an annual consumption of 307 million cubic meters of natural gas, and 40 million gallons of diesel fuel. This would emit 597,675 tons of CO2 each year, equivalent to the average annual emissions of 112,959 passenger vehicles and exceeding the nation of Belize's total emissions in 2008, making the mine a major contributor to global warming. Melting permafrost, drying lakes and changing water temperature in the rivers mean that residents of the Kuskokwim are already disproportionately impacted by global warming. Interestingly, Donlin had initially looked at wind generation for a portion of its needs, but abandoned the idea over cost and reliability concerns, moving away from the concept of sustainability so utterly important today.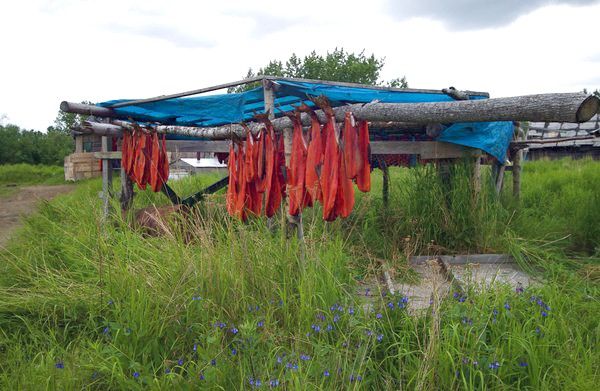 Gold mining is not the only way to create jobs in the region. We can use human capital and ingenuity in ways inherently more useful and less risky than gold mining. The Kuskokwim Region has opportunities for job creation in renewable energy, small scale agriculture (yes, even in Alaska), sustainable forestry projects and more.
Toxins entering the air and river, barges crowding the channels and competing for space with fishing nets, an industrial pipeline buried beneath countless wild streams along one of the most famous trails in the world, and the mine's contribution to climate change all paint the picture of a changing Alaska, a changing culture and a future of great uncertainty. And it's all driven by gold—a substance that no longer carries much real practical value and utility—and largely financed by foreign investors whose main mission is to maximize profit any way they can.
Ultimately, the choice to build a mega-mine should rest on the shoulders of those who have the most to lose from it, not the most to gain. So far, there have been no attempts to create the free, prior, and informed consent process which is now considered industry best practice. Instead, public meetings have been organized and run by the corporations themselves, who cater events, speak at schools about the benefits of mining and sponsor civic activities. No public polling has been conducted; no municipal votes have been cast. Indeed, with so much money to be made, it appears none of the decision makers really want to know what the average person on the river really thinks after all.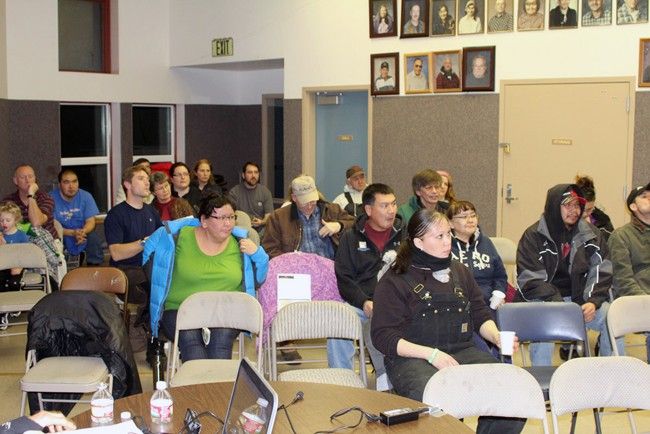 If communities of the Kuskokwim are genuinely supportive of the mine, will Donlin Gold take the easy path, building a dirty mine that maximizes short-term profits but causes long-term harm to the region? Or will they build a cleaner, more sustainable mine, one with protections in place to maintain clean water and healthy fish not just during operations, but after the mine closes? Left to their own devices, they will probably take the cheaper option, but with public pressure, perhaps we can push Donlin to do the right thing.
Permitting has begun for Donlin Gold. The scoping period, an opportunity for the public to give input on the mine, is open until March 29. To learn more about the permitting process, visit www.donlingoldeis.com. To read the scoping comments prepared by the Donlin Gold Working Group, contact Pete Dronkers at pete@northern.org.
Visit EcoWatch's WATER and BIODIVERSITY pages for more related news on this topic.
——–

EcoWatch Daily Newsletter
Artist's conception of solar islands in the open ocean. PNAS
Millions of solar panels clustered together to form an island could convert carbon dioxide in seawater into methanol, which can fuel airplanes and trucks, according to new research from Norway and Switzerland and published in the Proceedings of the National Academy of Sciences journal, PNAS, as NBC News reported. The floating islands could drastically reduce greenhouse gas emissions and dependence on fossil fuels.
Marcos Alves / Moment Open / Getty Images
More than 40 percent of insects could go extinct globally in the next few decades. So why did the U.S. Environmental Protection Agency (EPA) last week ok the 'emergency' use of the bee-killing pesticide sulfoxaflor on 13.9 million acres?
EcoWatch teamed up with Center for Biological Diversity via EcoWatch Live on Facebook to find out why. Environmental Health Director and Senior Attorney Lori Ann Burd explained how there is a loophole in the The Federal Insecticide, Fungicide, and Rodenticide Act under section 18, "that allows for entities and states to request emergency exemptions to spraying pesticides where they otherwise wouldn't be allowed to spray."
Simple swaps that cut down on kitchen trash.
Sponsored
By Kayla Robbins
Along with the bathroom, the kitchen is one of the most daunting areas to try and make zero waste.
View of downtown Miami, Florida from Hobie Island on Feb. 2, 2019.
Michael Muraz / Flickr
The Democratic candidates for president descended upon Miami for a two-night debate on Wednesday and Thursday. Any candidate hoping to carry the state will have to make the climate crisis central to their campaign, as The New York Times reported.
By Sharon Kelly
On Monday, the Wall Street Journal featured a profile of Scott Sheffield, CEO of Pioneer Natural Resources, whose company is known among investors for its emphasis on drawing oil and gas from the Permian basin in Texas using horizontal drilling and hydraulic fracturing, or fracking.
Pexels
By Craig K. Chandler
The federal government has available to it, should it choose to use them, a wide range of potential climate change management tools, going well beyond the traditional pollution control regulatory options. And, in some cases (not all), without new legislative authorization.
Denis Poroy / Getty Images
By Dan Gray
Processed foods, in their many delicious forms, are an American favorite.
But new research shows that despite increasing evidence on just how unhealthy processed foods are, Americans have continued to eat the products at the same rate.
By Sarah Steffen
With a profound understanding of their environmental surroundings, indigenous communities around the world are often cited as being pivotal to tackling climate change.