Fukushima Meltdown Hastens Decline of Nuclear Power
May. 22, 2012 05:50AM EST
Energy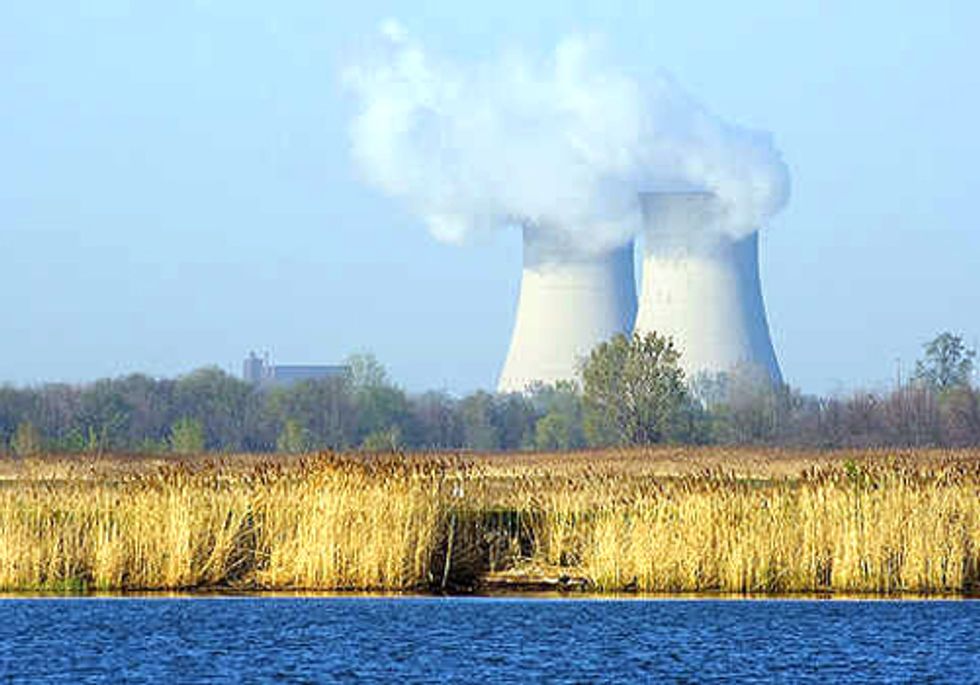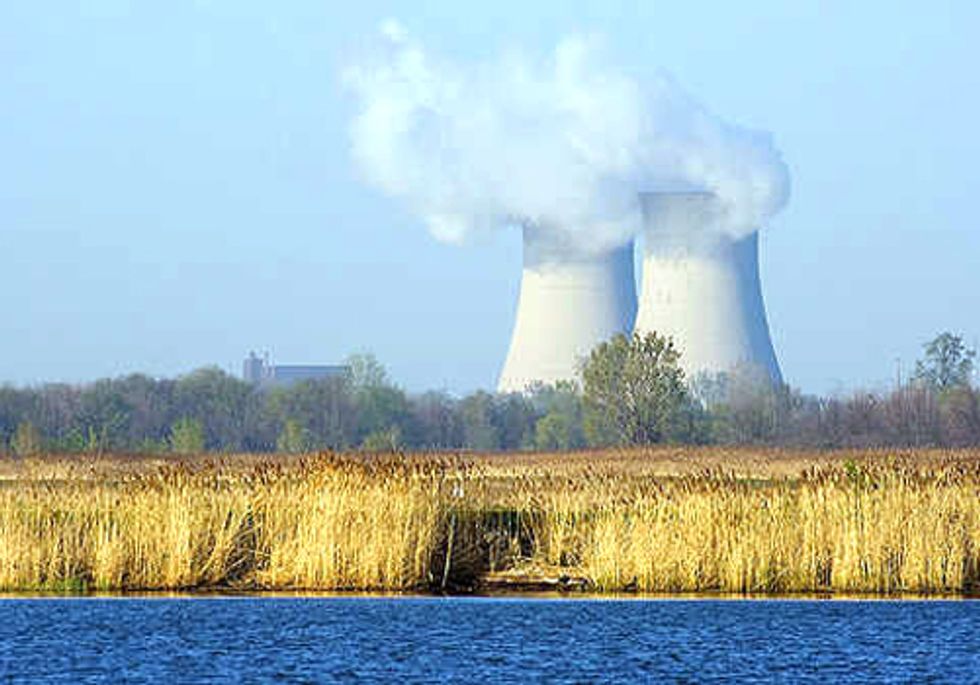 By J. Matthew Roney
On May 5, 2012, Japan shut down its Tomari 3 nuclear reactor on the northern island of Hokkaido for inspection, marking the first time in over 40 years that the country had not a single nuclear power plant generating electricity. The March 2011 earthquake, tsunami and subsequent Fukushima Daiichi nuclear meltdown shattered public confidence in atomic energy, thus far making it politically impossible to restart any of the reactors taken offline. And the disaster's legacy has spread far beyond Japan. Some European countries have decided to phase out their nuclear programs entirely. In other countries, nuclear plans are proceeding with caution. But with the world's fleet of reactors aging, and with new plants suffering construction delays and cost increases, it is possible that world nuclear electricity generation has peaked and begun a long-term decline.
Prior to the Fukushima crisis, Japan had 54 reactors providing close to 30 percent of its electricity, with plans to increase this share to more than 50 percent by 2030. But nuclear power dropped to just 18 percent of Japan's electricity over the course of 2011. When the quake and tsunami hit, 16 reactors had already been temporarily shut down for inspections or maintenance; another 13 underwent emergency shutoffs, including the four Fukushima Daiichi reactors now permanently shut down. Others were subsequently closed due to earthquake vulnerability or for regular inspection. Now that Tomari 3 is offline, all 44,200 megawatts of Japan's nuclear capacity that are listed as "operational" by the International Atomic Energy Agency (IAEA) are in fact idle with no set date for restart.
Next to Japan, the most dramatic shift in nuclear energy policy following Fukushima occurred in Germany. Within days of the disaster, Chancellor Angela Merkel announced that Germany's seven oldest reactors, all built before 1980, would shut down immediately. And in May 2011, the government declared that Germany would phase out nuclear entirely by 2022. Nuclear power generated 18 percent of the country's electricity in 2011, down from 24 percent in recent years and well below the peak in 1997 of 31 percent.
Just before Germany's phaseout decision, Switzerland abandoned plans for three new reactors that were going through the approval process. The government also announced that all five of the country's reactors—which for years had provided some 40 percent of its electricity—will close permanently as their operating licenses expire over the next 22 years. Italy, which had discontinued its nuclear program after the infamous 1986 nuclear disaster in Chernobyl, Ukraine, had in 2010 decided to restart it. But in a June 2011 referendum, more than 90 percent of Italian voters chose to ban nuclear power. Later in 2011, Belgium announced plans to phase out the seven reactors that provide more than half of the country's electricity. Even in France, with a world-leading 77 percent of its electricity coming from nuclear power, newly elected President François Hollande has said he intends to reduce this share to roughly 50 percent by 2025.
According to IAEA data, 13 reactors with a combined 11,400 megawatts were permanently shut down in Japan, Germany and the United Kingdom in 2011. Seven new reactors totaling 4,000 megawatts were connected to the grid—three in China and one each in India, Iran, Pakistan and Russia—with less than 1,000 megawatts added through increasing, or "uprating," existing nuclear plant capacities. As of May 2012, after two new reactor connections in South Korea and two permanent U.K. shutdowns, the world's 435 operational nuclear reactors total 370,000 megawatts of capacity. Actual nuclear electricity generation in 2011 fell to 2,520 terawatt-hours, 5 percent below the 2006 peak.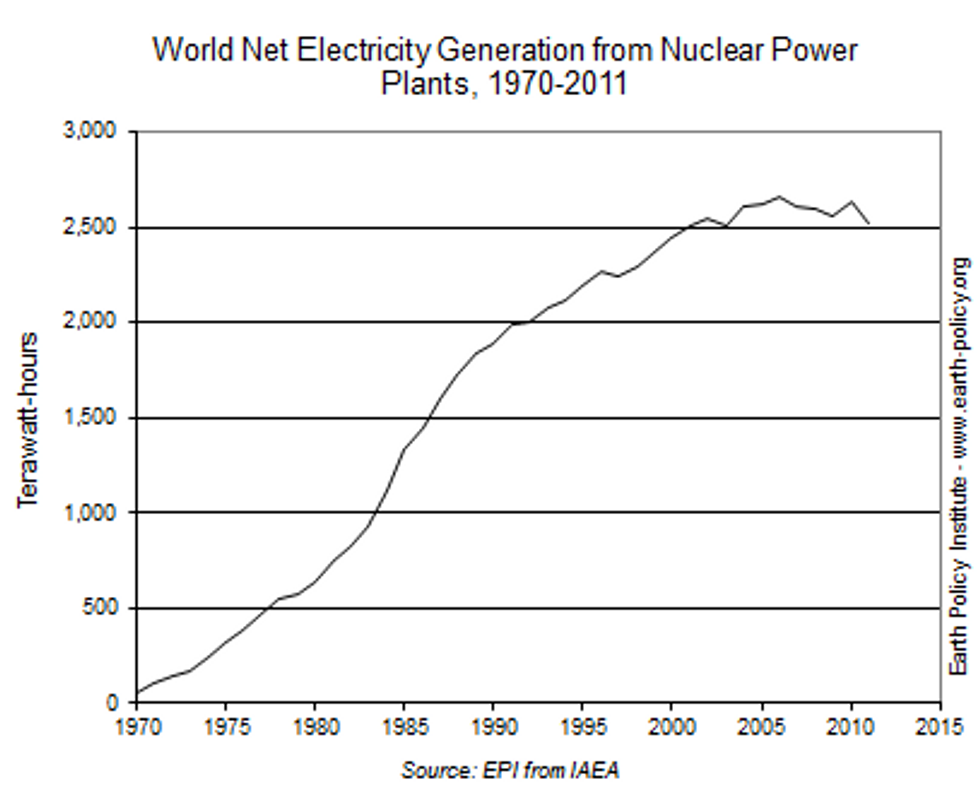 The growth in nuclear generating capacity had slowed to a crawl well before the Fukushima disaster. From 1970 to 1986, cumulative capacity grew at a brisk 19 percent annual rate. Even after Chernobyl, nuclear power capacity grew at 4 percent a year until 1990. But since then the annual growth rate has been just 0.7 percent. (See data.)
In contrast to the backlash in places like Japan and Germany, a number of countries reaffirmed their commitment to nuclear power, while indicating that safety would be a priority. This includes the three countries building the most new reactors: China (with 26 reactors under construction), Russia (11) and India (7). Immediately after the Fukushima incident, China suspended its reactor approval process to review the safety of existing plants, but the government has since indicated that the 26,600 megawatts under construction will move forward. Russia still intends to double its nuclear generating capacity by 2020, and India plans to increase its capacity 14-fold to 63,000 megawatts by 2032.
Of the 62 reactors the IAEA lists as under construction, only 15 have a projected date for connecting to the grid. (Not one of China's 26 units under construction does.) Some of these reactors have been listed this way for more than 20 years. A prime example is the only U.S. reactor under construction, the Watts Bar 2 unit in Tennessee, which started construction in 1972. In April 2012, the startup date was moved from August 2012 to sometime in 2015, as the estimated cost rose 68 percent.
The U.S., home to roughly one quarter of the world's nuclear generating capacity, gets 19 percent of its electricity from nuclear power. The last new U.S. reactor to connect to the grid was Watts Bar 1 in 1996. In early 2012, the U.S. Nuclear Regulatory Commission approved construction permits for four 1,100-megawatt reactors at two existing nuclear plants in the southeastern states of Georgia and South Carolina, the first permits for new plants since 1978. In that region, utilities are allowed to increase their customers' rates to defray the cost of nuclear plants even before construction begins. Despite this advantage, the four permitted reactors may well see the kind of delays and cost escalation that have become typical for the industry. For example, in May 2012, Progress Energy announced that grid connection for the first unit of its planned two-reactor project in Florida would be pushed back three years to 2024. With this delay, the estimated total cost jumped from $17 billion to as high as $24 billion.
Indeed, unlike other energy technologies such as wind turbines and solar panels, where increasing deployment generally leads to economies of scale and falling costs, nuclear power has seen the opposite trend. Even the most recently completed plant in France cost more than three times as much to build and took twice as long to finish as the first plant did. Nuclear costs would be even more prohibitive if the damages for which nuclear utilities were liable in case of a meltdown were in line with realistic estimates of potential harm. In the U.S., nuclear plant operators pay into a $12-billion fund that would be used in case of an accident. But an estimate from Sandia National Laboratory indicates that a worst-case incident could cost more than $700 billion. The poor economic case for nuclear power helps explain why most new nuclear construction is happening in countries with government-controlled electricity markets: private investors are leery of the risks.
New nuclear capacity additions over the long term are unlikely to make up for shutdowns as the world's reactors, already averaging 27 years in operation, age further. Nearly 180 reactors have reached age 30 or higher. The 140 reactors already permanently shut down averaged 23 years of service at the time of closure. While some reactors have been granted lifetime extensions beyond the typical 40 years—many U.S. units have, for example—these may not be as readily approved after the demise of the four Fukushima reactors, which averaged 37 years old when disaster struck.
Whether or not nuclear generation has truly peaked will depend on a number of factors, including how many Japanese reactors resume operation, how many licenses are extended for aging reactors worldwide, and the pace and magnitude of uprating existing units. But regardless of whether the peak has already come or will do so soon, poor economics and sluggish new construction indicate that nuclear power is on a decline path. Rather than replacing this energy source with fossil fuels, thus boosting carbon emissions and encouraging runaway climate change, the world can use this opportunity to pursue a much safer electricity sector powered largely by wind, solar and geothermal energy. We know that the potential is there: leading carbon-emitting countries—including China, the U.S., India, Russia and Japan—could meet their electricity needs with wind alone.
For more information, click here.
Recycling and general waste plastic wheelie bins awaiting collection for disposal in Newport, Rhode Island. Tim Graham / Getty Images
Reduce. Reuse. Recycle. According to The National Museum of American History, this popular slogan, with its iconic three arrows forming a triangle, embodied a national call to action to save the environment in the 1970s. In that same decade, the first Earth Day happened, the EPA was formed and Congress passed the Resource Conservation and Recovery Act, encouraging recycling and conservation of resources, Enviro Inc. reported.
According to Forbes, the Three R's sustainability catch-phrase, and the recycling cause it bolstered, remain synonymous with the U.S. environmental movement itself. There's only one problem: despite being touted as one of the most important personal actions that individuals can take to help the planet, "recycling" – as currently carried out in the U.S. – doesn't work and doesn't help.
Turns out, there is a vast divide between the misleading, popular notion of recycling as a "solution" to the American overconsumption problem and the darker reality of recycling as a failing business model.
Tiffany Duong is an avid ocean advocate. She holds degrees from UCLA and the University of Pennsylvania Carey Law School and is an Al Gore Climate Reality Leader and student member of The Explorer's Club.
She spent years as a renewable energy lawyer in L.A. before moving to the Amazon to conduct conservation fieldwork (and revamp her life). She eventually landed in the Florida Keys as a scientific scuba diver and field reporter and writes about the oceans, climate, and the environment from her slice of paradise. Follow her on Twitter/Instagram @lilicedt.
EcoWatch Daily Newsletter
The coal-fired Huaneng Power Plant in Huai 'an City, Jiangsu Province, China on Sept. 13, 2020. Costfoto / Barcroft Media via Getty Images
Overall energy demand is expected to rise 4.6 percent this year compared to 2020 and 0.5 percent compared to 2019, according to the IEA's Global Energy Review 2021. Demand for fossil fuels is expected to jump to such an extent that emissions will rise by nearly five percent in 2021. This will reverse 80 percent of the emissions decline reported in 2020, to end emissions just 1.2 percent below 2019 emissions levels. Because the lockdown saw the biggest drop in energy demand since World War II, the projected increase in carbon dioxide emissions will still be the second-highest on record, BBC News pointed out.
"This is a dire warning that the economic recovery from the COVID crisis is currently anything but sustainable for our climate," IEA Executive Director Fatih Birol said in a statement reported by AFP.
Birol said much of that increase was being driven by the resurgence of coal use. In fact, coal demand is expected to increase by 60 percent more than all forms of renewable energy, according to the report. Overall coal demand is expected to increase by 4.5 percent in 2021. More than 80 percent of that growth is in Asia, and more than 50 percent is in China. While coal use is expected to increase in the U.S. and Europe as well, it will remain far below pre-pandemic levels. Still, global coal use is expected to rise to nearly its 2014 peak, BBC News reported.
Natural gas demand is also expected to rise by 3.2 percent in 2021, to put it more than one percent above 2019 levels, according to the report.
There are, however, two bright spots in the report from a climate perspective. The first is that oil demand, while up 6.2 percent from 2020, is still expected to remain around 3 percent below 2019 levels. This is because oil use for ground transportation is not expected to recover until the end of 2021, and oil use for air travel is expected to remain at 20 percent below 2019 levels by December of 2021.
"A full return to pre-crisis oil demand levels would have pushed up CO2 emissions a further 1.5%, putting them well above 2019 levels," the report authors wrote.
The second bright spot is that renewable energy demand is set to rise in all sectors in 2021. In power, where its rise is the greatest, it is set to increase by more than eight percent. This is "the largest year-on-year growth on record in absolute terms," the report authors wrote.
Renewable energy will provide 30 percent of electricity overall, BBC News reported, which is the highest percentage since the industrial revolution. The problem is that the increase in renewables is running parallel to an increase in fossil fuels in some places. China, for example, is also expected to account for almost half of the rise in renewable electricity.
"As we have seen at the country-level in the past 15 years, the countries that succeed to cut their emissions are those where renewable energy replaces fossil energy," energy expert and University of East Anglia professor Corinne Le Quéré told BBC News. "What seems to be happening now is that we have a massive deployment of renewable energy, which is good for tackling climate change, but this is occurring alongside massive investments in coal and gas. Stimulus spending post-Covid-19 worldwide is still largely funding activities that lock us into high CO2 emissions for decades."
To address this issue, Birol called on the world leaders gathering for U.S. President Joe Biden's climate summit Thursday and Friday to pledge additional action before November's UN Climate Change Conference, according to AFP.
"Unless governments around the world move rapidly to start cutting emissions, we are likely to face an even worse situation in 2022," said Birol.
From Your Site Articles
Related Articles Around the Web
A grizzly bear killed an outdoor guide in a rare attack near Yellowstone Park. William Campbell / Corbis / Getty Images
Representative Alexandria Ocasio-Cortez (D-NY) re-introduces the Green New Deal in Washington, D.C. on April 20, 2021. Mandel Ngan / AFP / Getty Images
By Brett Wilkins
In the latest of a flurry of proposed Green New Deal legislation, Reps. Cori Bush and Alexandria Ocasio-Cortez on Monday introduced the Green New Deal for Cities Act of 2021, a $1 trillion plan to "tackle the environmental injustices that are making us and our children sick, costing us our homes, and destroying our planet."
Offshore oil and gas drillers have left more than 18,000 miles of pipelines at the bottom of the Gulf of Mexico. Drew Angerer / Getty Images
Offshore oil and gas drillers have discarded and abandoned more than 18,000 miles of pipelines on the floor of the Gulf of Mexico since the 1960s, a report from the Government Accountability Office says.
The industry has essentially recovered none of the pipelines laid in the Gulf in the last six decades; the abandoned infrastructure accounts for more than 97% of all of the decommissioned pipelines in the Gulf.
The pipelines pose a threat to the habitat around them, as maritime commerce and hurricanes and erosion can move sections of pipeline.
The Bureau of Safety and Environmental Enforcement does not conduct undersea inspections even though surface monitoring is "not always reliable for detecting ruptures," according to the GAO.
For a deeper dive:
For more climate change and clean energy news, you can follow Climate Nexus on Twitter and Facebook, sign up for daily Hot News, and visit their news site, Nexus Media News.