Feeding GMOs to Wildlife and Spraying Bee-Killing Pesticides at National Refuges?
For nearly 10 years, two nonprofits filed lawsuits, legal petitions and countless administrative actions to stop the U.S. Fish and Wildlife Service (FWS) in its tracks.
The issue that Center for Food Safety and Public Employees for Environmental Responsibility (PEER) took with the FWS? The regular use of genetically engineered (GE) crops and bee-killing neonicotinoid pesticides in national refuge farming programs—which ultimately interfere with the very plants and animals the refuge system is designed to protect.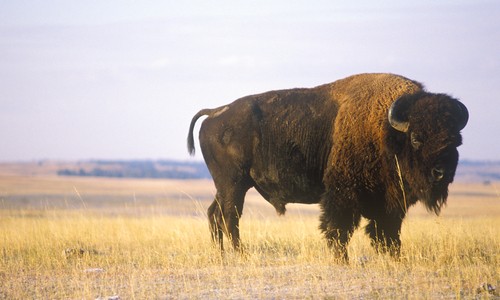 Buffalo grazing in Niobrara National Wildlife Refuge. Photo courtesy of Shutterstock
Today, the FWS announced in an internal memorandum that the agency will ban neonic pesticides and phase out GE feed for wildlife by January 2016.
"GE crops and toxic pesticides violate the basic purposes of our protected national lands," said Andrew Kimbrell, executive director of Center for Food Safety. "We applaud the Fish and Wildlife Service for recognizing what our legal challenges have repeatedly stated and courts have repeatedly held: that they must stop permitting these harmful agricultural practices."
National Wildlife Refuge System Chief James Kurth acknowledged in the memorandum that the agency has demonstrated its ability to "successfully accomplish refuge purposes over the past two years without using genetically modified crops, therefore it is no longer possible to say that their use is essential to meet wildlife management objectives." However, the temporary use of GE crops will be considered on a case-by-case basis for habitat restoration purposes.
Kurth also wrote that the FWS will follow a directive to use long-standing integrated pest management principles to evaluate and guide the agency's pesticide use practices.
"We are gratified that the Fish and Wildlife Service has finally concluded that industrial agriculture, with GE crops and powerful pesticides, is both bad for wildlife and inappropriate on refuge lands," stated PEER Executive Director Jeff Ruch. "Since refuges have already demonstrated that they do not need these practices, we would urge the Fish and Wildlife Service to make the ban immediate, not wait until 2016, and to eliminate the loopholes in its new policy."
The Center for Biological Diversity, Beyond Pesticides and Sierra Club have also been involved in petitions and litigation leading up to the FWS's policy reversal.
You Might Also Like
New Study Shows Glaring Differences Between GMO and Non-GMO Foods
How the EPA's Inaction on Bee-Killing Neonicotinoids Cripples Our Economy
15 Endangered Species You Can Spot in U.S. National Wildlife Refuges
A coalition of conservation groups and others announced Thursday that a historic number of comments and petitions of support have been submitted to the U.S. Department of the Interior in support of Bears Ears National Monument. Despite the entirely inadequate 15-day comment period ending on May 26, more than 685,000 comments in support of Bears Ears National Monument have been collected.
Keep reading...
Show less
Rink Glacier in western Greenland, with a meltwater lake visible center. NASA/OIB
Scientists have had their eyes on Greenland as its iconic glaciers have begun disappearing due to a warming climate. But, what they didn't expect to see was a whole new type of melting.
Keep reading...
Show less
Mountain View Fire
By Lena Moffitt
An oil tanker in Mead, Colorado exploded, killing one and injuring three on Thursday. Authorities are continuing to investigate the cause of the explosion.
Keep reading...
Show less
Banner created by Alliance for Climate Education
Keep reading...
Show less
Twenty-two GOP senators sent a letter Thursday urging Donald Trump to pull out of the Paris agreement. They argued remaining in the deal could "upend" the administration's ability "to fulfill its goal of rescinding the Clean Power Plan."
Keep reading...
Show less
By Cheryl Johncox
The Federal Energy Regulatory Commission (FERC) rejected on Thursday Energy Transfer Partners' request to resume horizontal directional drilling at two sites for its Rover fracked gas pipeline. This rejection comes after numerous leaks into Ohio's wetlands, and Clean Air and Clean Water act violations. FERC has halted the process at only eight locations of the 32 where drilling is taking place under Ohio's wetlands and streams.
Keep reading...
Show less
By Nadia Prupis
A majority of people in eight countries say they are ready to change their lifestyles if it would prevent climate catastrophe, a survey on global threats released Wednesday found.
Keep reading...
Show less
May. 25, 2017 01:55PM EST
Bill Maher is sick of billionaires' obsession with Mars, more like "Mars-a-Lago," he said.
In a new animation produced by ATTN:, the popular talk show host of Real Time, discusses the perils of our planet, including how "climate change is killing us."
Keep reading...
Show less