This website uses cookies to ensure you get the best experience while browsing it. By clicking 'Got It' you're accepting these terms.
Family Farmers Take on Monsanto—Will They Get Justice?
Feb. 03, 2012 03:40PM EST
GMO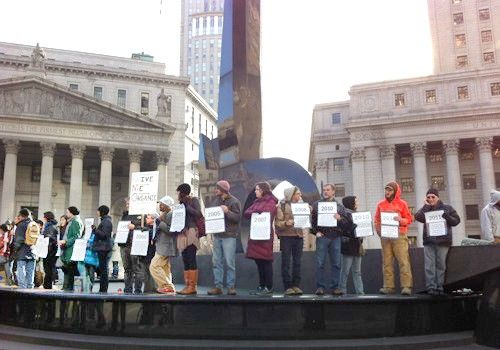 It was standing room only as family farmers from around North America filled Federal Court Judge Naomi Buchwald's courtroom in Manhattan on Tuesday, Jan. 31. The topic was the landmark organic community lawsuit Organic Seed Growers and Trade Association (OSGATA) et al v. Monsanto and the oral argument from Monsanto's pre-trial motion to dismiss, which it filed last July. Plaintiffs from at least 21 States and provinces were in the courtroom including Oregon, California, New Mexico, Colorado, Kansas, Nebraska, South Dakota, Saskatchewan, Missouri, Iowa, Ohio, Florida, North Carolina, Virginia, New Jersey, Pennsylvania, New York, Connecticut, Massachusetts, Vermont and Maine.
Meanwhile, outside the courthouse in Foley Square, hundreds turned out for the citizen's assembly of support for family farmers, an action organized by several groups including Occupy Food Justice. A depiction of Monsanto's infamous 100 year history including Agent Orange, dioxin, PCBs and now gene-spliced food was presented. Speakers addressed topics ranging from sustainable agriculture to risks associated with genetically modified organisms (GMOs) to issues of good food and food justice. After the conclusion of the courtroom oral argument, the plaintiff farmers and their legal team from the Public Patent Foundation provided details and comments on the courtroom proceedings, to supporters at the citizens' assembly.
"We were very pleased that the court granted our request to have oral argument regarding Monsanto's motion to dismiss our case today," said Daniel Ravicher of the Public Patent Foundation, lead lawyer for the plaintiffs. "The judge graciously permitted both parties to raise all the points they wished in a session that lasted over an hour. While Monsanto's attorney attempted to portray the risk organic farmers face from being contaminated and then accused of patent infringement as hypothetical and abstract, we rebutted those arguments with the concrete proof of the harm being suffered by our clients in their attempts to avoid such accusations. The judge indicated she will issue her ruling within two months. We expect she will deny the motion and the case will then proceed forward. If she should happen to grant the motion, we will most likely appeal to the Court of Appeals who will review her decision without deference."
The large group of 83 Plaintiffs in OSGATA v. Monsanto is comprised of individual family farmers, independent seed companies and agricultural organizations. The total number of members within the plaintiff group exceeds 300,000 and includes many thousands of certified organic farmers. The plaintiffs are not seeking any monetary compensation. Instead, the farmers are pre-emptively suing Monsanto and seeking court protection under the Declaratory Judgment Act, from Monsanto-initiated patent infringement lawsuits.
President and lead Plaintiff for Organic Seed Growers and Trade Association—Maine organic seed farmer Jim Gerritsen—was in the courtroom and witnessed the oral argument. Gerritsen had this to say, "Our lawyer did a good job explaining the current injustice farmers face. We have a right to be secure on our farms and to be free from Monsanto's GMO trespass. If we become contaminated by Monsanto, not only is the value of our organic seed crop extinguished but we could also be sued by Monsanto for patent infringement because their contamination results in our 'possession' of their GMO technology. We have farmers who have stopped growing organic corn, organic canola and organic soybeans because they can't risk being sued by Monsanto. It's not fair and it's not right. Family farmers need justice and we deserve the protection of the court."
Early on in the legal process, Monsanto was asked by lawyers for the plaintiffs to provide a binding legal covenant not to sue. Monsanto refused this request and in doing so made clear that it would not give up its option to sue contaminated innocent family farmers who want nothing to do with Monsanto's GMO technology.
In a remarkable demonstration of solid support by American citizens for family farmers, co-plaintiff Food Democracy Now! has collected more than 100,000 signatures on it's petition supporting the rights of family farmers against Monsanto. "For the past 12,000 years farmers have saved the best seeds each year to increase yields and improve traits for the food we eat," said Dave Murphy, founder and executive director of Food Democracy Now! "In 1996, when Monsanto sold its first patented genetically modified (GMO) seed to farmers, this radically changed the idea of how farmers planted and saved seed. Less than two decades later, Monsanto's aggressive patent infringement lawsuits have created a climate of fear in rural America among farmers. It's time for that to end. Farmers should not have to live in fear because they are growing our food."
For more information, click here.
EcoWatch Daily Newsletter
Extreme weather events supercharged by climate change in 2012 led to nearly 1,000 more deaths, more than 20,000 additional hospitalizations, and cost the U.S. healthcare system $10 billion, a new report finds.
Giant sequoia trees at Sequoia National Park, California. lucky-photographer / iStock / Getty Images Plus
A Bay Area conservation group struck a deal to buy and to protect the world's largest remaining privately owned sequoia forest for $15.6 million. Now it needs to raise the money, according to CNN.
This aerial view shows the Ogasayama Sports Park Ecopa Stadium, one of the venues for 2019 Rugby World Cup. MARTIN BUREAU / AFP / Getty Images
The Rugby World Cup starts Friday in Japan where Pacific Island teams from Samoa, Fiji and Tonga will face off against teams from industrialized nations. However, a new report from a UK-based NGO says that when the teams gather for the opening ceremony on Friday night and listen to the theme song "World In Union," the hypocrisy of climate injustice will take center stage.
Vera_Petrunina / iStock / Getty Images Plus
By Wudan Yan
In June, New York Times journalist Andy Newman wrote an article titled, "If seeing the world helps ruin it, should we stay home?" In it, he raised the question of whether or not travel by plane, boat, or car—all of which contribute to climate change, rising sea levels, and melting glaciers—might pose a moral challenge to the responsibility that each of us has to not exacerbate the already catastrophic consequences of climate change. The premise of Newman's piece rests on his assertion that traveling "somewhere far away… is the biggest single action a private citizen can take to worsen climate change."

Volunteer caucasian woman giving grain to starving African children.
Bartosz Hadyniak / E+ / Getty Images
Food will be scarce, expensive and less nutritious," CNN warns us in its coverage of the UN's new "Climate Change and Land" report. The New York Times announces that "Climate Change Threatens the World's Food Supply."
By Adam Vaughan
Two-thirds of people in the UK think the amount people fly should be reined in to tackle climate change, polling has found.
Climate Week NYC
On Monday, Sept. 23, the Climate Group will kick off its 11th annual Climate Week NYC, a chance for governments, non-profits, businesses, communities and individuals to share possible solutions to the climate crisis while world leaders gather in the city for the UN Climate Action Summit.
By Pam Radtke Russell in New Orleans
Local TV weather forecasters have become foot soldiers in the war against climate misinformation. Over the past decade, a growing number of meteorologists and weathercasters have begun addressing the climate crisis either as part of their weather forecasts, or in separate, independent news reports to help their viewers understand what is happening and why it is important.