This website uses cookies to ensure you get the best experience while browsing it. By clicking 'Got It' you're accepting these terms.


The best of EcoWatch, right in your inbox. Sign up for our email newsletter!
'Extreme Levels' of Monsanto's Roundup Herbicide Found in Soy Plants
Apr. 18, 2014 11:01AM EST
Food
A new study led by scientists from the Arctic University of Norway has detected "extreme levels" of Roundup, the agricultural herbicide manufactured by Monsanto, in genetically engineered (GE) soy.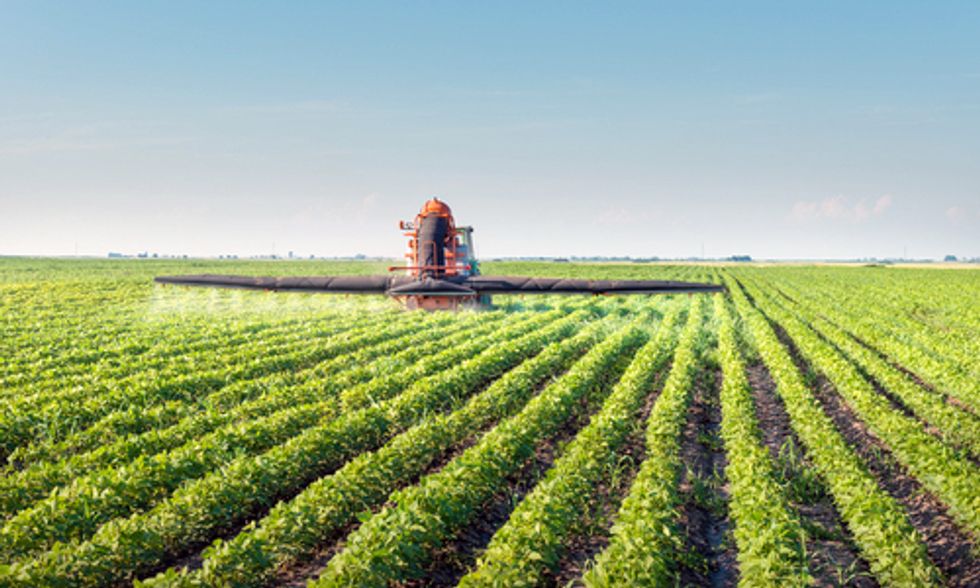 Photo credit: Shutterstock
The study, coming out in June's issue of Food Chemistry and available online, looked at 31 different soybean plants on Iowa farms and compared the accumulation of pesticides and herbicides on plants in three categories: GE "Roundup Ready" soy, conventionally produced (not GE) soy, and soy cultivated using organic practices. They found high levels of Roundup on 70 percent of GE soy plants.
Crop scientists have genetically engineered soy to survive blasts of Roundup so farmers can spray this chemical near crops to get rid of weeds. But some so-called "super weeds" resistant to Roundup have developed. In turn, some farmers use yet more Roundup to try to kill those hardy weeds. This leads to more Roundup chemicals being found on soybeans and ultimately in the food supply.
Who says when Roundup contamination can be considered "extreme?" Monsanto itself. In 1999, the chemical giant defined an "extreme level" of the herbicide as 5.6 milligrams per kilogram of plant weight.
Astonishingly, the Norwegian scientists found a whopping nine milligrams of Roundup per kilogram, on average. What it boils down to is this: every time we eat GE soy we are taking a dose of Roundup with it. This is alarming, because Roundup has been found to be hazardous to human health and sometimes kills human cells. The authors conclude:
This study demonstrated that Roundup Ready [GE]-soy may have high residue levels of glyphosate […] and also that different agricultural practices may result in a markedly different nutritional composition of soybeans […] Lack of data on pesticide residues in major crop plants is a serious gap of knowledge with potential consequences for human and animal health.
Other research has detected Roundup residues in animals and people.
A study led by German researchers found high concentrations of glyphosate, the active ingredient in Roundup, in the urine of dairy cows and humans. This study, published in January in the journal Environmental & Analytical Toxicology, concluded that "the presence of glyphosate residues in both humans and animals could haul the entire population towards numerous health hazards."
Big Ag wants us to believe that there is no difference between GE and conventional crops, but mounting research tells us that just isn't true.
--------
YOU MIGHT ALSO LIKE
Monsanto's Roundup Found in 75% of Air and Rain Samples
Brazil Seeks Ban on Monsanto Herbicide Due to Alarming Toxicity Risks
Supreme Court Denies Family Farmers the Right to Self-Defense From Monsanto Lawsuits
-------- 
EcoWatch Daily Newsletter
Pexels
Up to 20% of people may have a food addiction or exhibit addictive-like eating behavior.
Spiced hot chocolate. Lilechka75 / iStock / Getty Images
Food is the cornerstone of the holiday season. It brings friends and family together to share memories, cultural traditions, and great flavors.
Solar panels at the Renewable Hydrogen Fueling and Production Station on Joint Base Pearl Harbor-Hickam. U.S. Navy / Mass Communication Specialist 2nd Class Daniel Barker / Released
By Tara Lohan
Three years into the Trump administration, its anti-climate and anti-science agenda is well established. Despite dire warnings from the world's leading scientists about the threats from rising greenhouse gas emissions, the administration has stubbornly continued to deny climate change, obstructed and undermined efforts to curb it, and moved again and again to roll back existing regulations that help reduce emissions.
Pexels
Rye bread tends to have a darker color and stronger, earthier taste than regular white and wheat bread, which is one reason why many people enjoy it.
Elva Etienne / Moment / Getty Images
By Ketura Persellin
Gift-giving is filled with minefields, but the Environmental Working Group's (EWG) got your back, so you don't need to worry about inadvertently giving family members presents laden with toxic chemicals. With that in mind, here are our suggestions for gifts to give your family this season.