This website uses cookies to ensure you get the best experience while browsing it. By clicking 'Got It' you're accepting these terms.
Eating Less Meat and Dairy Essential to Curb Climate Change
Dec. 05, 2014 03:52PM EST
Climate
You probably know most vegetarians than you used to. You may even know some vegans—people who eat no animal products, including eggs, butter, milk and cheese. But did you know that their dietary habits may be essential to save the planet? A new research paper from UK think tank Chatham House, Livestock—Climate Change's Forgotten Sector, explains why it may be necessary for a lot more people to go vegetarian or at least dial down their consumption of meat and dairy products, and how to get them to do that.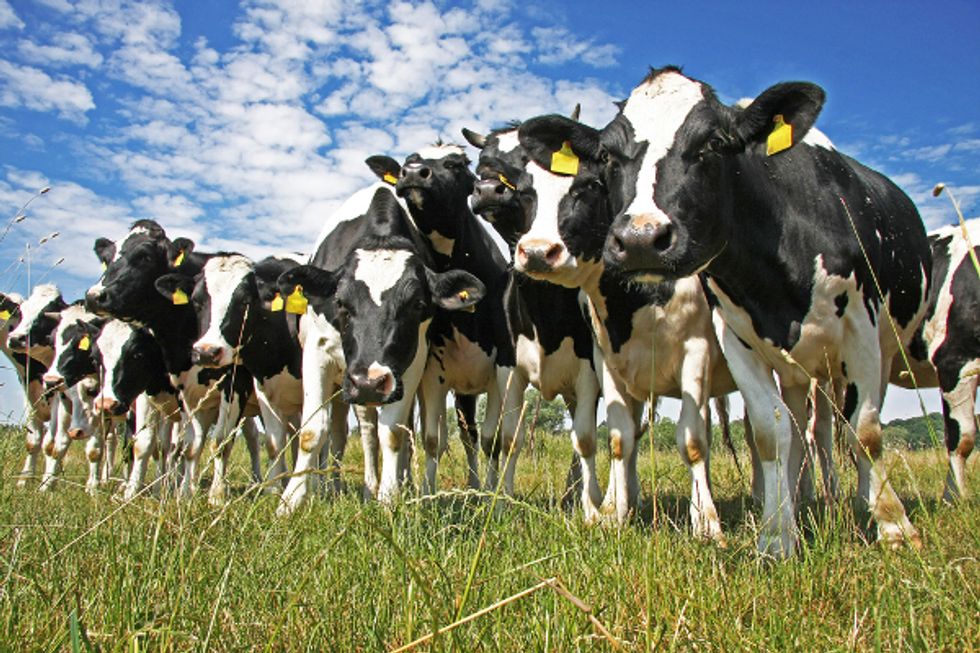 Photo credit: Shutterstock
You may have laughed at the idea that cows and cattle are a major producer of the greenhouse gas emissions that cause climate change. Unfortunately for the steak lovers out there, it's true. Climate-impacting emissions are produced not just by the animals' digestive systems, but also by the fertilizers and manure used to produce feed and the deforestation taking place to provide grazing lands. To add insult to injury, livestock animals consume large amounts of water, agricultural and land resources that could be deployed to support a higher quality of life for humans.
Greenhouse gas emissions from livestock, the study says, account for about 14.5 percent of the global total, more than direct emissions from the transportation sector and more than all the emissions produced by the U.S., the world's biggest economy. And it's probably impossible to keep global temperature increases under 2 degrees Celsius, the commonly cited goal to prevent unstoppable global warming, without addressing livestock production—and global dietary trends.
Those trends illustrate that the demand for livestock products and meat consumption are increasing in countries like China as more people become more affluent. Currently, the biggest meat-eating countries are China, EU, U.S. and Brazil; major dairy consumers are China, India, EU and U.S. And consumption of meat is expected to grow 76 percent by 2050 with dairy consumption projected to increase by 65 percent. Growth in meat consumption in China is projected to be over four times that of the next fastest-growing consumer, Brazil.
"Our LiveWell project has shown we can cut a quarter of our climate emissions from the European food supply chain by eating more pulses, fruit and vegetables and by reducing our meat consumption," Brigitte Alarcon, sustainable food policy officer at WWF, told The Guardian of London. "National governments should improve food education to encourage healthy eating habits and environmental sustainability as a first step."
But the study says that governments and environmental groups have, for the most part, been reluctant to address meat-eating, compared, for instance, to high-profile campaigns on palm oil use.
"A number of factors, not least fear of backlash, have made governments and environmental groups reluctant to pursue policies or campaigns to shift consumer behavior," it says. That means being mocked as a back-to-the-earth hippie type who probably listens to jam bands and makes tie-dye garments in the kitchen sink—with organic dyes.
Yet "Individual and societal behavioral changes are essential to moderate consumption of meat and dairy products," it said. "This in turn will require a greater level of public awareness and understanding of the links between diet and climate change, to both enable voluntary lifestyle changes and ensure acceptance of, and responsiveness to, government policies. However, insufficient attention has been devoted to raising public awareness and preparing to shift societal behaviors."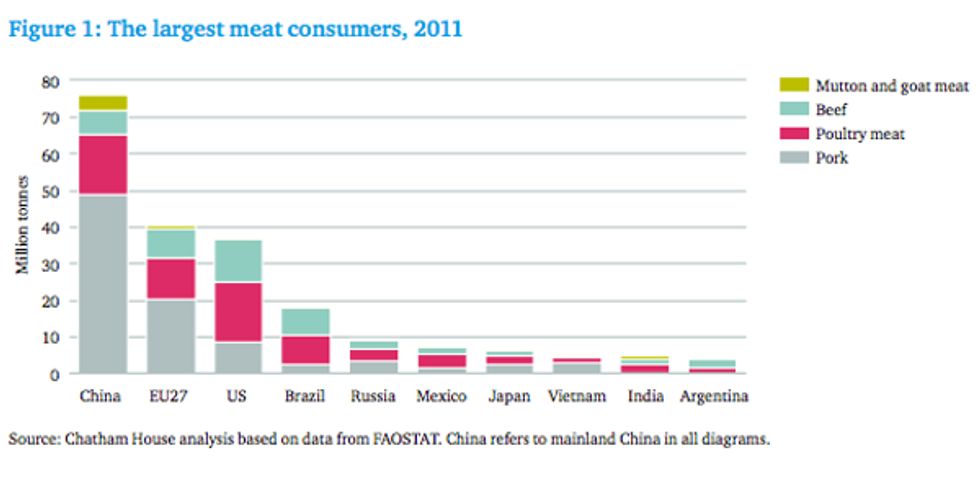 On a positive note, it suggested that people were generally unaware of how livestock contributed to climate change compared to their awareness of other factors. And when they did become aware, they were more likely to cut meat consumption. People's first considerations were likely to be taste, price, health and food safety, which suggests strategies that could be employed in getting people to reduce meat consumption by emphasizing other factors in addition to climate change. And since awareness of, and concern about, manmade climate change especially high in emerging economies whose meat-eating is growing, there's reason for optimism.
"It is encouraging that some of the greatest potential for behavior change appears to be in countries of most importance to future demand for meat and dairy—Brazil, China and India," the study concluded. "Respondents in these countries demonstrated high levels of acceptance of anthropogenic climate change, greater consideration of climate change in their food choices and a greater willingness to modify their consumption behavior than the average of the countries assessed."
YOU MIGHT ALSO LIKE
Cowspiracy Exposes the Truth About Animal Agriculture
How Eating Less Beef Will Benefit the Environment
EcoWatch Daily Newsletter
Investing in grid infrastructure would enable utilities to incorporate modern technology, making the grid more resilient and flexible. STRATMAN2 / FLICKR
By Elliott Negin
The Royal Swedish Academy of Sciences' recent decision to award the 2019 Nobel Prize in Chemistry to scientists who developed rechargeable lithium-ion batteries reminded the world just how transformative they have been. Without them, we wouldn't have smartphones or electric cars. But it's their potential to store electricity generated by the sun and the wind at their peak that promises to be even more revolutionary, reducing our dependence on fossil fuels and protecting the planet from the worst consequences of climate change.
Two Javan rhinos deep in the forests of Ujung Kulon National Park, the species' last habitat on Earth. Sugeng Hendratno / WWF
The global population of the critically endangered Javan rhinoceros has increased to 72 after four new calves were spotted in the past several months.
A tiger looks out from its cage at a new resort and zoo in the eastern Lao town of Tha Bak on Dec. 5, 2018. Karl Ammann believes the "zoo" is really a front for selling tigers. Terrence McCoy / The Washington Post / Getty Images
Are tigers extinct in Laos?
That's the conclusion of a detailed new study that found no evidence wild tigers still exist in the country.
A group of scientists is warning that livestock production must not expand after 2030 for the world to stave off ecological disaster.
The largest wetland in Africa is in the South Sudan. George Steinmetz / Corbis Documentary / Getty Images Plus
Methane emissions are a far more powerful greenhouse gas than carbon dioxide – about 28 times more powerful. And they have been rising steadily since 2007. Now, a new study has pinpointed the African tropics as a hot spot responsible for one-third of the global methane surge, as Newsweek reported.