This website uses cookies to ensure you get the best experience while browsing it. By clicking 'Got It' you're accepting these terms.
Catholic Church Endorses GMOs As Cure for World Hunger
Jun. 26, 2013 08:18AM EST
By Katie Rucke
Genetically modified organisms (GMOs) are the answer to ending world hunger, at least according to the former leader of the Roman Catholic Church, Pope Benedict XVI.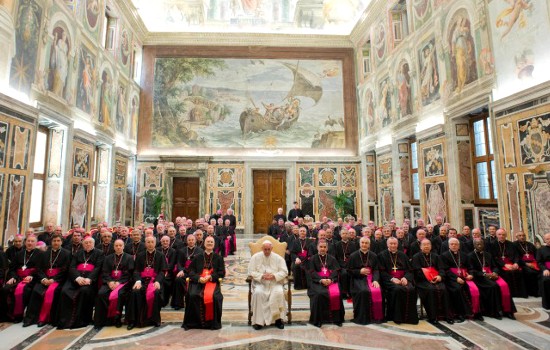 According to a 2009 WikiLeaks cable from the U.S. embassy in the Vatican, it was discovered that "Vatican officials remain largely supportive of genetically modified crops as a vehicle for protecting the environment while feeding the hungry," as a result of lobbying efforts by the U.S.
The cables from the U.S. embassy indicated that if the U.S. could convince the church that GMOs were good, the church would be able to convince its members. This would be a boost for the GMO industry since the Catholic Church claims more than 1 billion members.
Given that GMOs have caused controversy around the world recently as questions arise about their impact on human health, it's uncertain whether the church will be able to convince all its members GMOs are a good thing.
According to the American Academy of Environmental Medicine, doctors should recommend non-GMO diets to all persons, since some animal studies have suggested that diets with GMO foods can lead to organ damage, gastrointestinal and immune system disorders, accelerated aging and infertility.
Several countries have banned the use of GMO ingredients or require labeling for products containing them. In the U.S., home to the big agriculture businesses that created GMOs, there is no GMO ban and Americans have just begun to demand GMO products be labeled as such.
Though the 2009 WikiLeaks cable revealed the Catholic Church was in favor of GMOs, Monsignor James Reinert, a member of the Vatican Council of Justice and Peace, noted that the Catholic Church has come to a "consensus on the need for GMOs with one caveat."
"The Vatican cannot force all bishops to endorse biotechnology," he said, "particularly if their opposition has to do with concerns over protecting profits of large corporations who hold the patents for the crops, versus feeding the hungry."
Poor Health Epidemic Brought On By GMOs?
Some observers think GMO products, introduced by biotechnology companies such as Monsanto in 1996 to work toward ending world hunger and malnutrition, could be connected to an increase in the percentage of Americans with chronic illnesses, food allergies and disorders such as autism, reproductive disorders and digestive problems.
Reports from the International Assessment of Agricultural Knowledge, Science and Technology for Development also indicate that GMO crops do not necessarily increase yields.
According to the report, "assessment of the technology lags behind its development, information is anecdotal and contradictory, and uncertainty about possible benefits and damage is unavoidable." In addition the report states that GMOs "have nothing to offer the goals of reducing hunger and poverty, improving nutrition, health and rural livelihoods, and facilitating social and environmental sustainability."
The three most common GMO crops grown today include corn, soybeans and cotton. According to the Organic Valley Co-Op, the corn and soybeans are animal feed crops and nations that don't consume a lot of meat won't benefit from their use.
Science seems to have also poked holes in the church's argument that GMOs protect the environment. In order to grow GMO crops, farmers have to use hazardous pesticides to remove weeds and keep insects away from the crops.
However, studies indicate that farmers with GMO crops not only have to use more pesticides when they have GMO crops, but have to use more hazardous pesticides.
These pesticides and herbicides have been found to harm birds, insects, amphibians, marine ecosystems and soil organisms. Studies have also found herbicides reduce biodiversity and pollute water.
Not only are these chemicals unsafe, they are expensive. According to the Organic Valley Co-Op, "the only farmers that can afford the seeds and chemicals are those from first-world countries or the wealthy landowners from developing countries, who grow the crops for export, not to feed the poor."
New Pope, New Stance?
While the Catholic Church's initial pro-GMO stance was issued under Pope Benedict XVI, the church's current leader, Pope Francis, has yet to share his view on GMOs.
According to Al Jazeera, Pope Francis is a trained chemist, which gives him more information on the scientific aspect of consuming GMOs than his predecessor. Another factor that may influence Francis is his Argentinian heritage.
Argentina relies heavily on genetically modified crops. But a new documentary demonstrates the high usage of Monsanto-manufactured GMO seeds in the Latin American nation has caused issues with land ownership in addition to health problems.
Filmmaker Glenn Ellis summarized the documentary by saying that "… [D]octors and scientists claim that babies are being born with crippling birth malformations and that in recent years the incidence of childhood cancer has soared. It is a phenomenon, they say, that has coincided with the introduction of Monsanto's seed."
Visit EcoWatch's GE FOOD page for more related news on this topic.

EcoWatch Daily Newsletter
Bernie Sanders holds his first presidential campaign rally at Brooklyn College on March 02 in Brooklyn, New York. Kena Betancur / VIEWpress / Corbis. Getty Images
Bernie Sanders has become the first contender in the crowded 2020 Democratic presidential primary field to pledge to offset all of the greenhouse gas emissions released by campaign travel, The Huffington Post reported Thursday.
An aerial view of the flooding at the Camp Ashland, Nebraska on March 17. Nebraska National Guard / Staff Sgt. Herschel Talley / Flickr / CC BY 2.0
The record flooding in the Midwest that has now been blamed for four deaths could also have lasting consequences for the region's many farmers.
In tea, food, or just on your windowsill, embrace the fragrance and fantastic healing potential of herbs.
By Ana Santos Rutschman
The world of food and drug regulation was rocked earlier this month by the news of a change in leadership at the Food and Drug Administration. Commissioner Scott Gottlieb resigned and will step down in early April. His temporary replacement is Dr. Ned Sharpless, director of the National Cancer Institute.
MartinPrescott / iStock / Getty Images
On Wednesday the U.S. Environmental Protection Agency (EPA) announced the first 20 chemicals it plans to prioritize as "high priority" for assessment under the Toxic Substances Control Act. Given the EPA's record of malfeasance on chemicals policy over the past two years, it is clear that these are chemicals that EPA is prioritizing to ensure that they are not properly evaluated or regulated.
Strawberries top the Environmental Working Group's "Dirty Dozen" list of U.S. produce most contaminated with pesticides. DANIEL LEAL-OLIVAS / AFP / Getty Images
Which conventionally-grown fruits and vegetables in the U.S. are most contaminated with pesticides? That's the question that the Environmental Working Group answers every year with its "Dirty Dozen" list of produce with the highest concentration of pesticides after being washed or peeled.
A drilling rig in a Wyoming natural gas field. William Campbell / Corbis via Getty Images
A U.S. federal judge temporarily blocked oil and gas drilling on 300,000 acres of federal leases in Wyoming Tuesday, arguing that the Bureau of Land Management (BLM) "did not sufficiently consider climate change" when auctioning off the land, The Washington Post reported.
Mizina / iStock / Getty Images
Oats are widely regarded as one of the healthiest grains you can eat, as they're packed with many important vitamins, minerals, and fiber.