GMO
Jun. 26, 2013 08:18AM EST
Catholic Church Endorses GMOs As Cure for World Hunger
By Katie Rucke
Genetically modified organisms (GMOs) are the answer to ending world hunger, at least according to the former leader of the Roman Catholic Church, Pope Benedict XVI.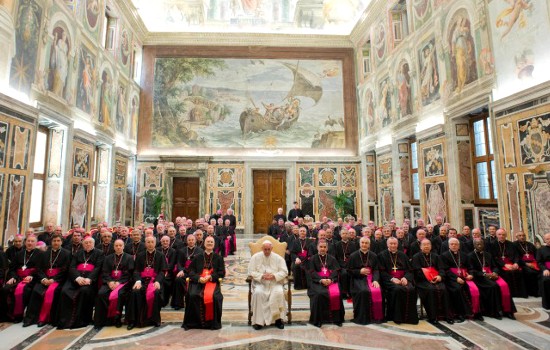 According to a 2009 WikiLeaks cable from the U.S. embassy in the Vatican, it was discovered that "Vatican officials remain largely supportive of genetically modified crops as a vehicle for protecting the environment while feeding the hungry," as a result of lobbying efforts by the U.S.
The cables from the U.S. embassy indicated that if the U.S. could convince the church that GMOs were good, the church would be able to convince its members. This would be a boost for the GMO industry since the Catholic Church claims more than 1 billion members.
Given that GMOs have caused controversy around the world recently as questions arise about their impact on human health, it's uncertain whether the church will be able to convince all its members GMOs are a good thing.
According to the American Academy of Environmental Medicine, doctors should recommend non-GMO diets to all persons, since some animal studies have suggested that diets with GMO foods can lead to organ damage, gastrointestinal and immune system disorders, accelerated aging and infertility.
Several countries have banned the use of GMO ingredients or require labeling for products containing them. In the U.S., home to the big agriculture businesses that created GMOs, there is no GMO ban and Americans have just begun to demand GMO products be labeled as such.
Though the 2009 WikiLeaks cable revealed the Catholic Church was in favor of GMOs, Monsignor James Reinert, a member of the Vatican Council of Justice and Peace, noted that the Catholic Church has come to a "consensus on the need for GMOs with one caveat."
"The Vatican cannot force all bishops to endorse biotechnology," he said, "particularly if their opposition has to do with concerns over protecting profits of large corporations who hold the patents for the crops, versus feeding the hungry."
Poor Health Epidemic Brought On By GMOs?
Some observers think GMO products, introduced by biotechnology companies such as Monsanto in 1996 to work toward ending world hunger and malnutrition, could be connected to an increase in the percentage of Americans with chronic illnesses, food allergies and disorders such as autism, reproductive disorders and digestive problems.
Reports from the International Assessment of Agricultural Knowledge, Science and Technology for Development also indicate that GMO crops do not necessarily increase yields.
According to the report, "assessment of the technology lags behind its development, information is anecdotal and contradictory, and uncertainty about possible benefits and damage is unavoidable." In addition the report states that GMOs "have nothing to offer the goals of reducing hunger and poverty, improving nutrition, health and rural livelihoods, and facilitating social and environmental sustainability."
The three most common GMO crops grown today include corn, soybeans and cotton. According to the Organic Valley Co-Op, the corn and soybeans are animal feed crops and nations that don't consume a lot of meat won't benefit from their use.
Science seems to have also poked holes in the church's argument that GMOs protect the environment. In order to grow GMO crops, farmers have to use hazardous pesticides to remove weeds and keep insects away from the crops.
However, studies indicate that farmers with GMO crops not only have to use more pesticides when they have GMO crops, but have to use more hazardous pesticides.
These pesticides and herbicides have been found to harm birds, insects, amphibians, marine ecosystems and soil organisms. Studies have also found herbicides reduce biodiversity and pollute water.
Not only are these chemicals unsafe, they are expensive. According to the Organic Valley Co-Op, "the only farmers that can afford the seeds and chemicals are those from first-world countries or the wealthy landowners from developing countries, who grow the crops for export, not to feed the poor."
New Pope, New Stance?
While the Catholic Church's initial pro-GMO stance was issued under Pope Benedict XVI, the church's current leader, Pope Francis, has yet to share his view on GMOs.
According to Al Jazeera, Pope Francis is a trained chemist, which gives him more information on the scientific aspect of consuming GMOs than his predecessor. Another factor that may influence Francis is his Argentinian heritage.
Argentina relies heavily on genetically modified crops. But a new documentary demonstrates the high usage of Monsanto-manufactured GMO seeds in the Latin American nation has caused issues with land ownership in addition to health problems.
Filmmaker Glenn Ellis summarized the documentary by saying that "… [D]octors and scientists claim that babies are being born with crippling birth malformations and that in recent years the incidence of childhood cancer has soared. It is a phenomenon, they say, that has coincided with the introduction of Monsanto's seed."
Visit EcoWatch's GE FOOD page for more related news on this topic.

Jul. 21, 2017 01:50PM EST
Will Rose / Greenpeace
Eleven peaceful activists from the Greenpeace ship Arctic Sunrise have taken to the water in inflatable boats with handheld banners to oppose the Statoil Songa Enabler oil rig, 275 km North off the Norwegian coast, in the Arctic Barents sea.
The banners say: "People Vs. Arctic Oil" and are directed at Statoil and the Norwegian government, which has opened a new, aggressive search for oil in the waters of the Barents Sea.
Keep reading...
Show less
Jul. 21, 2017 10:34AM EST
Dominion Pipeline Monitoring Coalition
The Federal Energy Regulatory Commission (FERC) paved the way Friday for the 600-mile, 42-inch fracked gas Atlantic Coast Pipeline to proceed when it issued the final environmental impact statement (FEIS). A joint project of utility giants Duke Energy and Dominion Energy, the Atlantic Coast Pipeline would move fracked gas from West Virginia into Virginia and North Carolina.
In April, the Sierra Club submitted more than 500 pages of legal and technical comments on FERC's draft EIS, which were joined by more than 18,000 individual comments detailing opposition to the project. The pipeline has been met with widespread opposition, with more than 1,000 people participating in public hearings across the three affected states. The Sierra Club recently requested that FERC issue a new environmental review document analyzing information that came in after or late in, the public comment process.
Keep reading...
Show less
Jul. 21, 2017 08:25AM EST
Greenpeace / PolluterWatch
By Jessica Corbett
"It's time Rex Tillerson step down or be removed," said Gigi Kellett of Corporate Accountability International, following an announcement on Thursday that ExxonMobil will pay $2 million for violating U.S. sanctions against Russian officials while the now-secretary of state was the company's CEO.
"ExxonMobil demonstrated reckless disregard for U.S. sanction requirements," according to enforcement filing released by the Treasury Department's Office of Foreign Assets Control (OFAC), which issued the penalty. Though the fine is reportedly the maximum penalty allowed, it's pittance to one of the world's most profitable and powerful corporations, which last year reported a profit of $7.8 billion.
Keep reading...
Show less
Jul. 21, 2017 11:15AM EST
New analysis from Amory B. Lovins debunks the notion that highly unprofitable, economically distressed nuclear plants should be further subsi­dized to meet financial, security, reliability and climate goals. The analysis, which will appear shortly in The Electricity Journal, shows that closing costly-to-run nuclear plants and reinvesting their saved operating costs in energy efficiency provides cheaper elec­tricity, increases grid reliability and security, reduces more carbon, and preserves (not distorts) market integrity—all without subsidies.

Keep reading...
Show less
Jul. 21, 2017 08:44AM EST
Oil Change International / Twitter
By Christian Detisch and Seth Gladstone
In the wake of Senate Republicans' ever-deepening debacle over their flailing attempts to strip health insurance from 22 million people, Majority Leader Mitch McConnell is desperate to do something—anything—to show that he can get legislation passed. To this end, he's bypassing the standard committee review process to push a complex 850+ page energy bill straight to the full Senate floor. Perhaps not surprisingly, this legislation, the Energy and Natural Resources Act of 2017, would be a disaster for public health and our climate.
Keep reading...
Show less
Jul. 21, 2017 08:11AM EST
Rooftop solar panels on a beach house in southern Florida. TAI VIINIKKA / CC BY-NC-ND 2.0
A new law passed this week in South Miami will require all new homes built in the city to install solar panels. The measure, which was inspired by a proposal from a teenage climate activist, will go into effect in September.
The text of the ordinance details the climate impacts facing South Miami.
Keep reading...
Show less
Jul. 21, 2017 10:27AM EST
www.youtube.com
Keep reading...
Show less
Jul. 21, 2017 08:49AM EST
iStock
By Katherine Paul and Ronnie Cummins
A recent series of articles by a Washington Post reporter could have some consumers questioning the value of the U.S. Department of Agriculture's (USDA) organic seal. But are a few bad eggs representative of an entire industry?
Consumers are all for cracking down on the fraudulent few who, with the help of Big Food, big retail chains and questionable certifiers give organics a bad name. But they also want stronger standards, and better enforcement—not a plan to weaken standards to accommodate "Factory Farm Organic."
Keep reading...
Show less