This website uses cookies to ensure you get the best experience while browsing it. By clicking 'Got It' you're accepting these terms.
California Senator Introduces GMO Food Labeling Bill
Feb. 25, 2014 03:19PM EST
Food
If at first you don't succeed, try, try again.
Remember California's Proposition 37, the defunct 2012 ballot initiative that would have required genetically engineered (GE) food sold in the West Coast state to be labeled as such?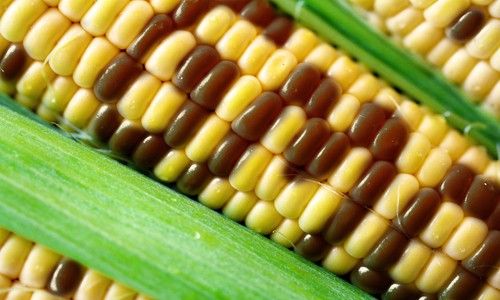 Photo courtesy of Shutterstock
Prop. 37, which also would have blocked GE foods from being labeled "natural," was defeated, with 51-49 by voters. A similar piece of legislation in Washington, Initiative 522, was also defeated. And, with the help of a powerful food industry lobby spending millions to protect GE foods, many state legislatures have rejected GE labeling bills.
Now, California Sen. Noreen Evans (D-Santa Rosa) has breathed new life into the controversy by introducing Senate Bill 1381, which would require GE food labeling, reports Food Safety News. 
Evans' bill is simpler than Prop. 37, according to the Center for Food Safety, which has supported GE labeling initiatives in several states. However, SB 1381 is different from Prop. 37 in how it will either be passed or rejected by the California legislature instead of going before voters.
If approved, the bill would mandate that GE food be labeled appropriately; however, but food containing only some GE ingredients could be labeled "Produced with Genetic Engineering" or "Partially Produced with Genetic Engineering."
The bill will not penalize businesses that fail to label GE foods if less than 1 percent of the ingredients in packaged food is genetically engineered or if the producer didn't know they were using—or didn't intend to use—GE foods, according to Food Safety News. 
The bill provides protections for retail owners who weren't aware they were selling mislabeled food, and it also blocks legal action against farmers. Action against unknowing retailers and farmers was a concern surrounding Prop. 37, even among those who may have otherwise supported GE labeling.
SB 1381 also does not include a provision that would prohibit GE food from being labeled "natural."
The bill's official text cited many justifications. They include:
Protecting California's organic agriculture sector, which has the largest organic farm-gate sales in the country;
Consumer protection from unintended allergens;
Consumers' ability to support more environmentally friendly farming;
Protecting wild salmon fishermen in case FDA approves AquaBounty's GE salmon;
Polls indicating that more than 90 percent of the American public wants to know if their food was genetically engineered;
The often-cited public "right to know" justification, to support informed purchasing decisions.
A major argument against SB 1381 is that a slim majority of "Golden State" voters already rejected GE labeling, which could influence how legislators view the bill.
Warning Labels Coming to a Soda Can Near You?
Apart from the GE fight, a state lawmaker and medical experts introduced legislation earlier this month that would require sugary drinks sold in California to display health warning labels similar to those found on cigarette packs, reports the Los Angeles Times. 
State Sen. Bill Monning (D-Carmel) and the California Medical Association said the bill is necessary in light of research that links sugary drink consumption to the unprecedented spike in diabetes, obesity and tooth decay cases.
"When the science is this conclusive, the State of California has a responsibility to take steps to protect consumers," Monning told the Los Angeles Times. "As with tobacco and alcohol warnings, this legislation will give Californians essential information they need to make healthier choices."
If SB 1000 were to pass, warning labels would appear on the front of all cans and bottles of soda and fruit drinks containing added sweeteners that have 75 or more calories per 12 ounces.
The proposed label would include the following: "STATE OF CALIFORNIA SAFETY WARNING: Drinking beverages with added sugar(s) contributes to obesity, diabetes and tooth decay." 
Visit EcoWatch's GE FOOD page for more related news on this topic.

EcoWatch Daily Newsletter
Artist's conception of solar islands in the open ocean. PNAS
Millions of solar panels clustered together to form an island could convert carbon dioxide in seawater into methanol, which can fuel airplanes and trucks, according to new research from Norway and Switzerland and published in the Proceedings of the National Academy of Sciences journal, PNAS, as NBC News reported. The floating islands could drastically reduce greenhouse gas emissions and dependence on fossil fuels.
Marcos Alves / Moment Open / Getty Images
More than 40 percent of insects could go extinct globally in the next few decades. So why did the U.S. Environmental Protection Agency (EPA) last week OK the 'emergency' use of the bee-killing pesticide sulfoxaflor on 13.9 million acres?
EcoWatch teamed up with Center for Biological Diversity via EcoWatch Live on Facebook to find out why. Environmental Health Director and Senior Attorney Lori Ann Burd explained how there is a loophole in the The Federal Insecticide, Fungicide, and Rodenticide Act under section 18, "that allows for entities and states to request emergency exemptions to spraying pesticides where they otherwise wouldn't be allowed to spray."
Simple swaps that cut down on kitchen trash.
Sponsored
By Kayla Robbins
Along with the bathroom, the kitchen is one of the most daunting areas to try and make zero waste.
View of downtown Miami, Florida from Hobie Island on Feb. 2, 2019.
Michael Muraz / Flickr
The Democratic candidates for president descended upon Miami for a two-night debate on Wednesday and Thursday. Any candidate hoping to carry the state will have to make the climate crisis central to their campaign, as The New York Times reported.
By Sharon Kelly
On Monday, the Wall Street Journal featured a profile of Scott Sheffield, CEO of Pioneer Natural Resources, whose company is known among investors for its emphasis on drawing oil and gas from the Permian basin in Texas using horizontal drilling and hydraulic fracturing, or fracking.
Pexels
By Craig K. Chandler
The federal government has available to it, should it choose to use them, a wide range of potential climate change management tools, going well beyond the traditional pollution control regulatory options. And, in some cases (not all), without new legislative authorization.
Denis Poroy / Getty Images
By Dan Gray
Processed foods, in their many delicious forms, are an American favorite.
But new research shows that despite increasing evidence on just how unhealthy processed foods are, Americans have continued to eat the products at the same rate.
By Sarah Steffen
With a profound understanding of their environmental surroundings, indigenous communities around the world are often cited as being pivotal to tackling climate change.