Food
Mar. 14, 2014 01:05PM EST
'Big Food' Ready for Costly Battle as States Consider GMO Labeling Bills
In 2014, half the states will likely consider placing special labels on food that use genetically modified organisms (GMOs), according to Pamela M. Prah at PEW's Stateline.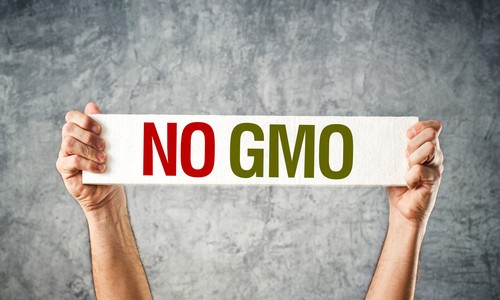 Photo courtesy of Shutterstock
"Big Food" is ready for the challenge though and will use its influence and resources to protect profits gained from GMOs that are found in 80 percent of the food America consumes. 
The fight has some state attorneys general worried if labeling laws would survive court challenges brought on by food producers. No matter the outcome, it would likely cost millions of dollars to defend them. 
"States are getting somewhat gun-shy about being the lead state that's going to have to pay the attorney fees should there be a successful lawsuit attacking the statute," said Vermont Attorney General Bill Sorrell at a recent gathering of attorneys general in Washington, D.C.
"It's coming to a number of your states," he added. "The politics are huge. Good luck."
Some consumer and environmental groups vehemently disapprove of GMOs, calling them "Frankenfood." They argue GMO crops, which include corn, cotton and soybeans, pose unknown health and environmental risks.
About 50 percent of the 169 million acres of U.S. crop land grew genetically engineered crops in 2013, said the U.S Department of Agriculture in a new report. GMOs can be found in most cereals, frozen foods, meat, dairy, canned soup and even baby formula.
Giant "agribusinesses," including Monsanto and DuPont, contend the newest GMO technology is safe and allows them to produce more robust crop yields while using less water and pesticides. Labeling could increase the costs to consumers, they argue.
However, pesticide groups have rejected the claim regarding toxic chemicals, saying pesticide use has grown exponentially over the last 10 years and is only expected to multiply further given Dow AgroSciences' push to approve new, pesticide-resistant corn and soybean crops. 
Regarding money, labeling itself would be "a tiny fraction of the costs" of complying with a labeling law, according to a 2013 report by the Washington Academy of Sciences. The actual costs would come from having to separate genetically engineered ingredients from other foods with those extra costs likely being passed on to consumers.
Washington's state budget office stated it would cost roughly $3.4 million over six years for the state to enforce labeling requirements that voters considered, and rejected, last year.
"This is a national movement," said Hawaii Attorney General David Louie at the recent attorneys general gathering. "Don't think that it's not coming to you." 
Taking Action
Even though 64 countries have mandated the labeling of GMO foods, the U.S. has been slow to adopt such regulation. Connecticut and Maine have passed labeling laws, but the rules do not go into effect until at least three other states establish the same requirement.
Sixty-seven GMO labeling bills have been introduced in 25 states. In 12 of those states, at least one legislative committee has approved a GMO bill.
Other states with pending legislation on GMO labeling include California, Missouri, Minnesota and Rhode Island, according to Prah. In Arizona, Colorado, Florida, Hawaii and Oregon efforts are in motion to put the question on the ballot.
However, the future is less than certain given the food industry's powerful pro-GMO lobby, which helped defeat previous GMO labeling bills in California, New Hampshire and Washington. In Washington alone, the GMO label bill was the most expensive ballot question in the state's history, costing activists and the food industry a combined $40 million. 
States Face Daunting Legal Costs
Prah reports:
Before Maine acted, state Attorney General Janet Mills said she warned lawmakers in a 10-page memo that the GMO bill would certainly face significant legal challenges if enacted and that defending it would be costly. "Without even reading my memo, they went into the back room, caucused 10 minutes and came back out and unanimously passed it. That is how effective I am in my legislature," she said. 
Connecticut Attorney General George Jepsen cautioned that he had to be careful what he said because he might be defending his state's labeling law enacted last year. "I will defend its constitutionality with every effort. But let me put it this way: The year before (it was passed) there was very, very healthy, strong opposition to the bill," he said.
Pushing for Congressional Action
Critics and proponents of GMO labeling are asking Congress to act, but they are pressing for very different legislation.
A campaign led by the Grocery Manufacturers Association supports a federal labeling requirement, but only if the U.S. Food and Drug Administration determines there is a proven health or safety risk to GMOs.
But consumer and advocacy groups have derided the duplicitous initiative, saying it undermines state and federal legislation meant to grant consumers the right to know about the types of foods they're consuming.
"Attacking state labeling laws does nothing to address the increasing call from consumers for transparent (genetically engineered) food labeling," according to a Center for Food Safety statement.
The U.S. House added a provision to the federal farm bill that would have overridden state GMO labeling efforts, but the measure was cut from the final version of the legislation.
Gaining Ground Against GMOs
Whole Foods has announced by 2018 all products sold in its stores in the U.S. and Canada will need to divulge whether or not they contain GMOs. 
Recently the non-profit Green America mobilized 50,000 people to post comments on Cheerios' Facebook wall and prompted more than 35,000 consumers to write in and telephone General Mills asking the major food producer to stop using GMOs in popular cereal brands. The initiative worked, General Mills complied and Post Cereals followed suit, agreeing to phase out GMOs from Grape Nuts, Chipotle, Ben & Jerry's and Kashi.
Kroger and Safeway have made commitments not to sell GMOs.
Visit EcoWatch's GMO page for more related news on this topic.

Jul. 21, 2017 01:50PM EST
Will Rose / Greenpeace
Eleven peaceful activists from the Greenpeace ship Arctic Sunrise have taken to the water in inflatable boats with handheld banners to oppose the Statoil Songa Enabler oil rig, 275 km North off the Norwegian coast, in the Arctic Barents sea.
The banners say: "People Vs. Arctic Oil" and are directed at Statoil and the Norwegian government, which has opened a new, aggressive search for oil in the waters of the Barents Sea.
Keep reading...
Show less
Jul. 21, 2017 10:34AM EST
Dominion Pipeline Monitoring Coalition
The Federal Energy Regulatory Commission (FERC) paved the way Friday for the 600-mile, 42-inch fracked gas Atlantic Coast Pipeline to proceed when it issued the final environmental impact statement (FEIS). A joint project of utility giants Duke Energy and Dominion Energy, the Atlantic Coast Pipeline would move fracked gas from West Virginia into Virginia and North Carolina.
In April, the Sierra Club submitted more than 500 pages of legal and technical comments on FERC's draft EIS, which were joined by more than 18,000 individual comments detailing opposition to the project. The pipeline has been met with widespread opposition, with more than 1,000 people participating in public hearings across the three affected states. The Sierra Club recently requested that FERC issue a new environmental review document analyzing information that came in after or late in, the public comment process.
Keep reading...
Show less
Jul. 21, 2017 08:25AM EST
Greenpeace / PolluterWatch
By Jessica Corbett
"It's time Rex Tillerson step down or be removed," said Gigi Kellett of Corporate Accountability International, following an announcement on Thursday that ExxonMobil will pay $2 million for violating U.S. sanctions against Russian officials while the now-secretary of state was the company's CEO.
"ExxonMobil demonstrated reckless disregard for U.S. sanction requirements," according to enforcement filing released by the Treasury Department's Office of Foreign Assets Control (OFAC), which issued the penalty. Though the fine is reportedly the maximum penalty allowed, it's pittance to one of the world's most profitable and powerful corporations, which last year reported a profit of $7.8 billion.
Keep reading...
Show less
Jul. 21, 2017 11:15AM EST
New analysis from Amory B. Lovins debunks the notion that highly unprofitable, economically distressed nuclear plants should be further subsi­dized to meet financial, security, reliability and climate goals. The analysis, which will appear shortly in The Electricity Journal, shows that closing costly-to-run nuclear plants and reinvesting their saved operating costs in energy efficiency provides cheaper elec­tricity, increases grid reliability and security, reduces more carbon, and preserves (not distorts) market integrity—all without subsidies.

Keep reading...
Show less
Jul. 21, 2017 08:44AM EST
Oil Change International / Twitter
By Christian Detisch and Seth Gladstone
In the wake of Senate Republicans' ever-deepening debacle over their flailing attempts to strip health insurance from 22 million people, Majority Leader Mitch McConnell is desperate to do something—anything—to show that he can get legislation passed. To this end, he's bypassing the standard committee review process to push a complex 850+ page energy bill straight to the full Senate floor. Perhaps not surprisingly, this legislation, the Energy and Natural Resources Act of 2017, would be a disaster for public health and our climate.
Keep reading...
Show less
Jul. 21, 2017 08:11AM EST
Rooftop solar panels on a beach house in southern Florida. TAI VIINIKKA / CC BY-NC-ND 2.0
A new law passed this week in South Miami will require all new homes built in the city to install solar panels. The measure, which was inspired by a proposal from a teenage climate activist, will go into effect in September.
The text of the ordinance details the climate impacts facing South Miami.
Keep reading...
Show less
Jul. 21, 2017 10:27AM EST
www.youtube.com
Keep reading...
Show less
Jul. 21, 2017 08:49AM EST
iStock
By Katherine Paul and Ronnie Cummins
A recent series of articles by a Washington Post reporter could have some consumers questioning the value of the U.S. Department of Agriculture's (USDA) organic seal. But are a few bad eggs representative of an entire industry?
Consumers are all for cracking down on the fraudulent few who, with the help of Big Food, big retail chains and questionable certifiers give organics a bad name. But they also want stronger standards, and better enforcement—not a plan to weaken standards to accommodate "Factory Farm Organic."
Keep reading...
Show less


Get EcoWatch in your inbox